Online Shopping Resources, Delivery & Pick Up Options + Savings & Deals!
This post may contain affiliate links and I may be compensated for this post. Please read our disclosure policy here.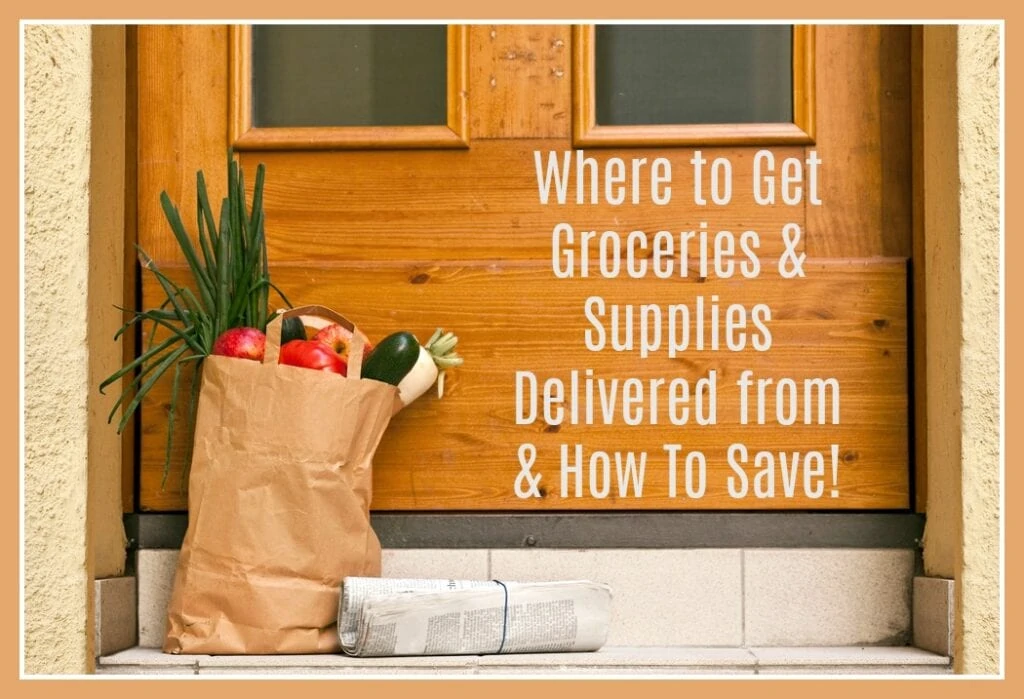 Online Shopping Resources, Delivery & Pick Up Options + Savings & Deals!
With social distancing and all of the other concerns around COVID-19 more people are looking to shop online for supplies and have them delivered to their doors. While there are still a number of things you can get delivered, there seem to be lots of supplies unavailable too. We have compiled a list of places that you can order online, and find some savings, as well as an update on what inventory is looking like and delivery or pick up windows..
Some of the things that stores seem to be selling out of quickly include:
Toilet Paper
Hand Sanitizers
Medicines (cold and flu, fever reducers, etc.)
Cleaning supplies (like Clorox wipes, etc)
Flour
Beans
Rice
Bread
Let folks know if you see places they can buy these things, where you have found them currently available.
We know many folks are asking, where can I buy toilet paper? Initially we were hearing you could get it at places like Home Depot or Office Supply stores, but we are finding that even those locations are sold out online. While we were not successful in finding items like toilet paper available for delivery right now, we do suggest you get signed up and acquainted with some of the services below. All have stated that they are working on restocking inventory, so you will want to be set up once it becomes available again.
We list below a number of places you can shop online, and some savings deals they currently have available to help you make your dollar stretch further during these times. We also discuss what we are finding about their delivery times (are they making them) and availability of products (using toilet paper as the item  – to see if it is in stock or not). If you have personal experience with delivery services with any of these spots or others right now, let others know how it has worked out for you too.
Instacart is one of the most popular services available right now as they seem to be able to get deliveries to your home faster than the rest of them do at this time. You can use this service to deliver groceries to you from most of your local grocers for a fee.
Sams Club Currently is offering a special promotion where you will get $35 eGift Card with $35 membership (so like getting it for free) plus free items too. We have been shopping Sams Club online more often this year, and it can be very convenient! Grab this offer here.
Status on current shipping time frames: 
We are checking items like Toilet Paper and Hand Sanitizer that seem to be hard to find anywhere, and while they look in-stock at Sams Club, they do have a disclaimer that they may be unavailable from time to time (and we were having a hard time finding any to add to our cart).
Right now Costco has an offer for a $20 Costco Shop card with membership purchase. Find that and other membership deals here. Most Costco stores around the country are experiencing alot of instore traffic (ie crowds), so you may be better off shopping online with them right now.
Status on current shipping time frames: 
Costco normally has a two day window for delivery for members shopping online. They currently have a disclaimer that says they will do their best to make that window but with COVID-19 they may not. We could not find any toilet paper in stock online at Costco right now.
If you do not currently have a Target Red Card, you can get a $40 off $40+ Target purchase coupon right now, when you sign up (that is a BIG coupon)! You can get a debit card, and connect it to your checking account to get these same savings, or apply for a credit card if you prefer.
Status on current shipping time frames: 
We checked some of the items that seem to be out of stock elsewhere (like Toilet Paper) and found many out of stock, and currently unavailable at Target too.
Target does offer an order online and pick up in the parking lot option too, but when we found the items (like toilet paper) that had limited stock available in store, they were often not available for pick up options.
Safeway offers both delivery and pick up options, and they let you use coupons on your order, plus offer some special savings (like $20 off $75 + no delivery fee right now). Find all the details on these savings and programs here.
Status on current shipping time frames: 
Last we checked their delivery and pick up times where being pushed about 3 or 4 days out longer than usual (maybe more in some areas). We have also heard of orders being cancelled and not delivered, due to the high demand they are experiencing right now.
Fred Meyers allows you to order online, use ecoupons or paper coupons to shop, and then pick up in a designated area of their parking lot.
Status on current shipping time frames: 
We found pick up times available for as soon as tomorrow (only one slot and I am sure that will be gone quickly), but it had the soonest dates we were able to find compared to other stores we looked at. It may be your best pick up option right now. Like other locations they were out of many items currently though as well.
Amazon has long been a go to resource for quick online orders and deliveries, but they have been significantly impacted by the high order demands resulting from COVID-19.
Amazon is experiencing a number of products being out of stock right now, due to high demand (like toilet paper, hand sanitizer, water etc. The most difficult part of shopping Amazon for many of these products right now are that you might not be able to tell if they are available for delivery until checkout. Early on they did experience some significant price gouging, but have since been working to remove all sellers practicing price gouging.
We do share a round up of some highlighted Amazon Deals here, to help find some  of those as well.
Status on current shipping time frames: 
Amazon is experiencing some delivery delays for Prime, Amazon Fresh and more. Many popular items are not available for any delivery dates currently. Some are seeing a delay of up to 2 weeks. Amazon has announced they are working on restocking and getting those delivery timelines down, so this could change from day to day.
Walgreens is currently offering free shipping on all orders, no minimum right now. This is another option to get many staples delivered to your home. First time customers can get 20% off orders of $45 + with promo code WELCOME20. You can also use coupons online
Status on current shipping time frames: 
Like all of the others, Walgreens is currently out of stock online for toilet paper. However, they tell you right on the order screen – so you know before checking out, which was much more convenient then some of the other stores (so you will quickly when they are back in stock). They also show you which ones are available in store, and you can click on the Find In Store button, to see if there is some available near you.  We did find other hard to find items (like cold medicines) available in limited quantities to ship from here.
Instacart
Instacart will ship for $3.99 or free with Express memberships (you can join for free for 2 weeks, but will be charged the $99 annual fee if you do not cancel before that time is up). The biggest issue with Instacart is that they are delivering from most of the stores we mention above, so you are running into the same limited inventory issues. So in this case, it probably makes sense to use the stores free shipping options when available.
Cleaning Supplies Offers:
Get up to 4 FREE Hand Soaps – Delivered – With Orders Starting at $24!
Get a bulk order at big savings for diapers and wipes from Hello Bello right now here, where you can get a great deal on packages of diapers and wipes to stock up on.
Let us know where you are finding the most success shopping for the items your family needs right now And if you have any elderly or ill people that live near you, be sure to check in on them to see if they need supplies you can help them get.