Safeway Delivery – $20 off $75+ & FREE delivery (Pick Up Options Too)
Safeway is offering a super promotion right now, that might help folks out. I know that many are concerned about COVID-19, and we have been asked to maintain some social distancing to help slow the spread, so here are a couple of ways you can do your grocery shopping at Safeway without actually going into the store. You can order online, and get it delivered or pick up in the parking lot. You can also get $20 off $75+ and FREE Delivery with promo code right now. That means you can get $75 in groceries for only $55 delivered to your door right now (plus we share more ways to save below)!
Safeway Delivery Promotion – $20 Off + FREE Delivery With Safeway Delivery Promo Code!
Safeway.com has a great promotion going on for their grocery delivery service right now for you to try out their delivery service for online groceries to see what you think.  I got this offer in my inbox and headed to the website to see if it was just for old customers or if it's available for everyone, but good news, it is available for everyone to try it out.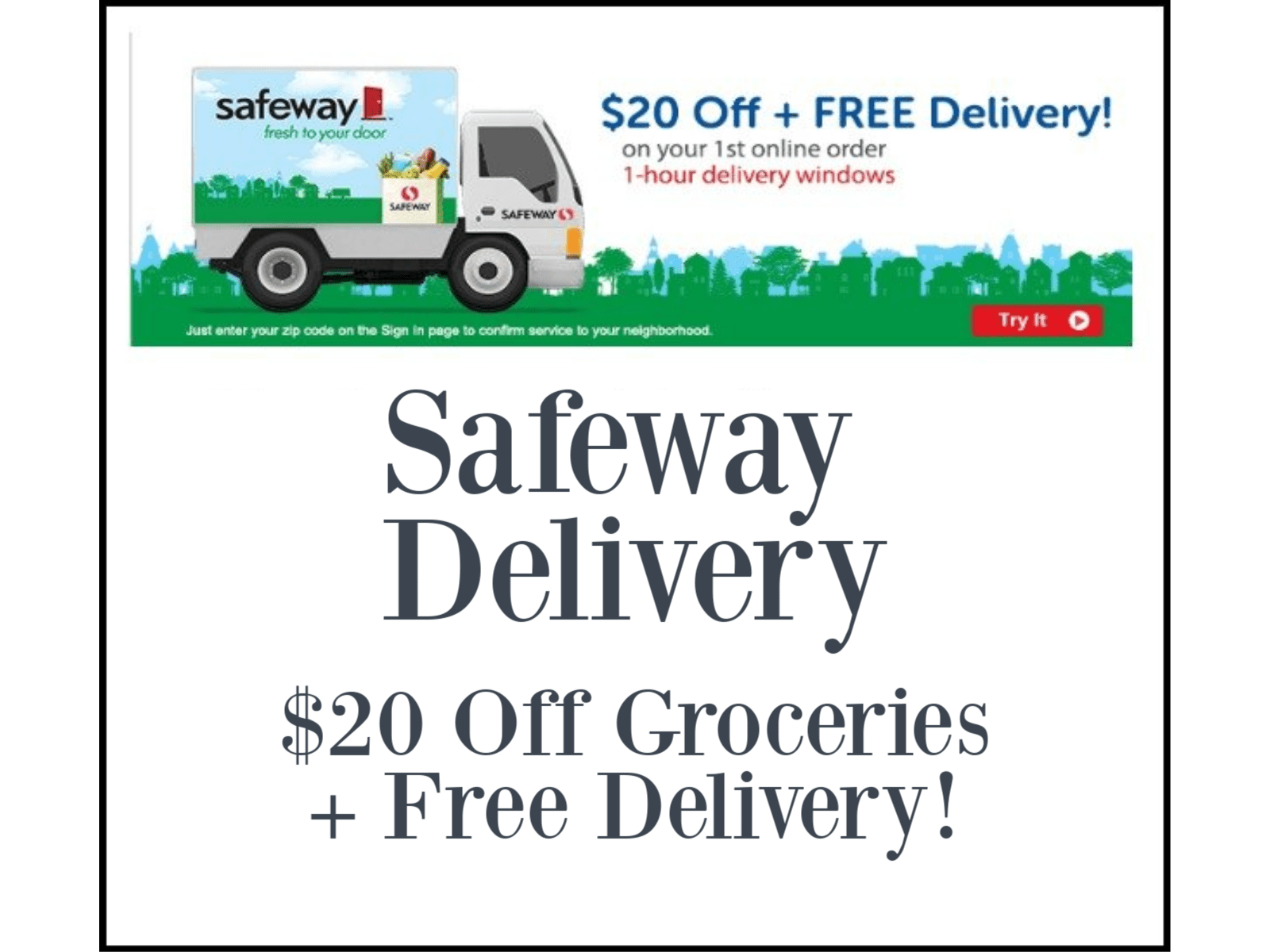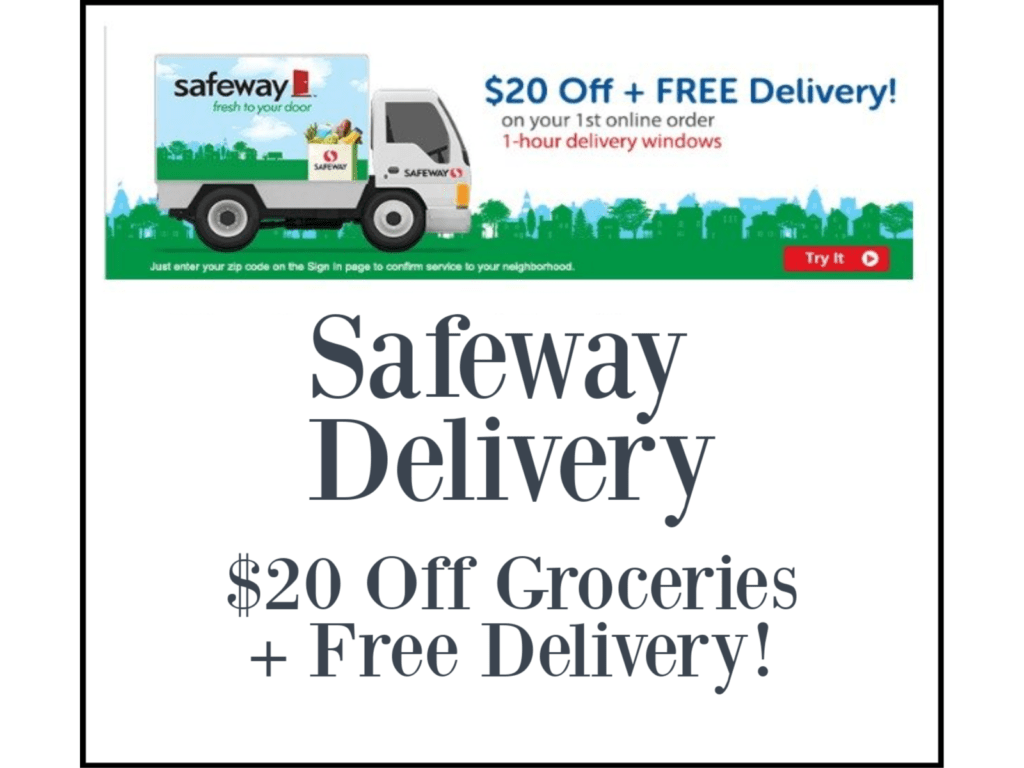 New Customers Offer – 
Right now, you can get $20 off your order of $75 or more + FREE Safeway home delivery. Just use the coupon code: SAVE20 at online checkout.  If you're needing groceries, this is a great way to save! And not have to  leave your house! Hurry, limited time offer. 1 per household
This is a super offer, as you will get $75 worth of groceries for just $55 delivered to your door! It is an awesome way to try this service out, and see if you like it.
Existing Customer Offer – 
Get $20 Off + $75+ & FREE Delivery on your 2nd, 3rd and 4th qualifying orders! Enter Promo Code TWENTYOFF3 at online checkout to save $20 plus FREE Delivery UP TO 3 TIMES by 12/31/2020. Not valid on orders fulfilled by Instacart
** Note on the existing customer offer – You are signing up for the Unlimited Delivery Club, which is a grocery delivery membership program that waives the delivery fee for scheduled deliveries on orders of $30 or more for a monthly Subscription Fee. Your payment card will be charged the subscription fee for the next subscription period if you do not cancel before the end of the 30 days. You can cancel by logging into your account anytime.
They deliver 7 days a week between 8 AM and 10 PM local time, and often have same day delivery options. With fewer people wanting to shop in-store with the COVID-19 concerns right now, these slots may fill up quicker than usual.
I love the convenience of ordering my groceries online, and have used the Safeway service multiple times in the past. It was wonderful after I had my last child, and did not have to worry about running out to grocery shop. If you are ill, or just busy and do not want to spend that time in the store, its great. Right now it is a nice option to maintain social distancing too. It is also a wonderful way to send food to someone in need, if you want to help out. I like to shop at night, when the kids are in bed, and then get my groceries delivered the next day.
"Drive Up & Go" – Pick Up Option –
Safeway also offers an option where you can shop online, and then they will do the shopping for you and load the groceries into your car so you do not have to get out of the car and go into the store. This option is sometimes available sooner than delivery window slots, and there is a smaller fee for this option.
Order pickup is available in select locations in as little as 3 hours of checking out.
The service fee for pick up when I ordered was $4.95.
You are able to use coupons shopping online too. There are a few ways to maximize your savings: 
Shop items that are on sale for the weekly ad (just like you would in store)
Be sure to have created a Just 4 U account, and load the coupons to your card. You will use your card at checking, and while you will not see the coupons deducted there, they will shop up on your final receipt at delivery and you will get those savings. While you cannot use paper coupons, many of the manufactures coupons are now online in the Just 4 U account, and you can use those electronic manufactures coupons along with the Safeway coupons available in your account.
Check out their deal page, for special online savings that they offer, with promo codes. You will see them all listed there, and those should be reflected at checkout.
I find it easier to stick to my list when shopping online, which means I save more but not adding extra things to my cart when I am walking by them and get tempted in the store.
More ways to save on Safeway delivery fees, so you can take advantage of the convenience of shopping online:
If you have already ordered from Safeway.com in the past, you can still get free delivery by using other current promotions. They generally require you to buy a minimum to get the offer, but that is not hard for many if you are doing regular grocery shopping. For example the current offer is that you have to buy 3 participating items and spend a minimum of $99 (they have a promo code on their page for the current offers). There are often also free items you can get when you order the $99 minimum, so be sure to look for those promotions too on the DEALS page.
GREEN delivery windows are more environmentally friendly. They allow us to route your order more efficiently, reducing carbon emissions.
AND, they offer a Drive Up and Go option, where you order online, then drive in and call and they bring your groceries out to you and load them in your car, and you are on your way.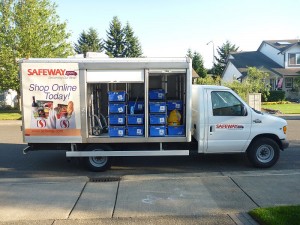 A few things to keep in mind with Safeway delivery:
-You won't see the final total until the delivery driver hands you the receipt – as they have to wait to calculate the exact costs of produce, meat, etc based on how much it weighs.
-To find all of the online specials/promotion code deals – make sure to click on "Online Specials" on the left sidebar. Then click on "Promotion Card Deal" & you'll see the full list of specials & participating products with all the details.
-You can choose your delivery window for drop-off too – and they do often have some options for same-day delivery too (depending on what time you order)
– The delivery driver will load your groceries in to your house for you. They are not allowed to accept tips, but they do love a nice thank you from what I hear!
Let us know what your experience is with the Safeway delivery! I am definitely going to try it out this week, I hope, as it's such a busy week & I just don't have time to head to the store, so this is perfect for me!
Fred Meyer also offers a ClickList service, where you shop online and then pick up in a designated area for convenience too. You can find more info on this service here too.
Fine Print for the $20 off + free delivery offer –  
*THIS OFFER: Not valid on orders fulfilled by Instacart. SUBJECT TO APPLICABLE SERVICE FEE. Order by 12/31/2020. Minimum $75 purchase required. Minimum purchase calculated based on subtotal of all qualifying items in cart at checkout, excluding alcoholic beverages (where available), tobacco and fluid dairy products. Enter Promo Code SAVE20 at checkout. VALID ONLY FOR 1ST TIME ONLINE GROCERY ORDERS. LIMIT 1 PER HOUSEHOLD. May not be combined with any other free/reduced delivery or service fee offer. We reserve the right to modify or cancel offers and/or to correct typographical, pictorial and other ad or pricing errors.
ALL ORDERS: Service available in select areas. In some areas, service may be provided by another Albertsons Companies store banner (that Safeway product availability, pricing and promotions will apply) or a third party service provider; or independently by Instacart (Instacart's terms and conditions, account registration, fees, product availability, pricing and promotions apply). Online orders require a minimum purchase, unless otherwise noted. Prices for products you order online generally are higher than in Safeway physical stores and may vary by fulfillment method chosen. Online promotions, discounts and offers may differ from those in Safeway physical stores. Full terms at albertsonscompanies.com/about-us/our-policies/terms-of-use.html and delivery.Safeway.com/terms