DIY Vanilla Extract – Fun Gift to Give during the Holiday Season!
This post may contain affiliate links and I may be compensated for this post. Please read our disclosure policy here.
DIY Vanilla Extract
This past year for my neighbor's Christmas gifts, I made homemade Vanilla Extract.  I also made myself a bottle.  I was kind of taking a risk since I had never done it before and it could have been a major flop.  Not the best idea to try something new for a gift, but it was a hit!  I can tell you I won't be buying vanilla extract again!!  It is soo good.  The big test I did was I made a batch of chocolate chip cookies and used the homemade extract for ½ the cookies and the store bought stuff for the rest.  We could TOTALLY tell the difference.  I had my sister try them without telling her and she said, "both are yummy, but these are to die for!"  I agreed.
These make a  frugal but thoughtful gift for Christmas, but you'll want to start trying it out now as it does take several months for the vanilla extract to be complete.
Vanilla Extract Recipe:
Supplies:
Glass jars – I found glass jars at the dollar tree that were for olive oil or vinegar, which were perfect.
Vanilla Bean Pods –  Grade B vanilla beans are the best to use for making your own vanilla. We like the Madagascar Organic Vanilla Beans, Grade B 
Bottle of Vodka – The price will depend on the type of vodka you want to use. I paid around $11 for 36 oz for the Smirnoff brand.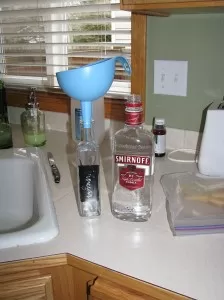 Instructions on making homemade Vanilla Extract:
Slice two vanilla bean pods down the center and then place them in the glass jar.
Fill the jar with vodka.  –simple as that!
Let it sit in a dark cupboard for 2 months
Shake it every once in a while.
After two months, it is ready to use.
The best part is periodically you can just keep filling it with vodka and it will last forever! (well, maybe not forever, but years!)
To give this as a gift, I dressed the bottle up using some scrapbook paper & embellishments along with a tag & ribbon at the top for a super cute gift!  This would make a great teacher gift, too if you want to start it later in the year for Teacher Appreciation time – but could make a nice teacher Christmas gift.
Vanilla Sugar Recipe:
I also have been making vanilla sugar to use for baking – it's super easy!
Fill a mason jar with sugar
Place a vanilla bean pod sliced down the center
Cut into three segments into the jar.
Wait a month or so before using.
I like to use this on baked sliced apples or in coffee. There are so many different uses for this vanilla sugar.
Chocolate Chip Cookie Recipe:
Here is the chocolate chip recipe I used to try out the homemade vanilla extract. This is my absolute favorite recipe -I have thrown out all my other chocolate chip recipes now.
Ingredients:
1 lb butter
1 1/2  cups sugar
2 cups brown sugar (packed)
3 eggs
1 tsp vanilla extract
6 cups flour
1 1/2 tsp salt
1 1/2 tsp baking  soda
4 cups semi- sweet chocolate chips
Directions:
1. Cream together  the butter, sugar and brown sugar.
2. Add 3 eggs one at a time.
3. Add1 tsp. vanilla  (homemade, of course, after you've learned how simple it is)-but if you can't wait 2 months for it to be ready then use regular store-bought vanilla.
4. Separately sift together flour,  salt, and baking soda.  Gradually add to creamed mixture
5. Lastly, add 4 cups semi sweet chocolate chips
6.  Roll into 1″ balls and place on greased cookie sheet
7.  Bake at 350 for 9-10 minutes.  DO NOT OVER BAKE.
8.  Leave on cookie sheet 3 min. before placing on cooling rack.
Goodness after writing this I am really hungry!!!  Let us know how it turns out as you try making homemade vanilla extract!
Contributor: Sarah from Chickie Momma Crafts