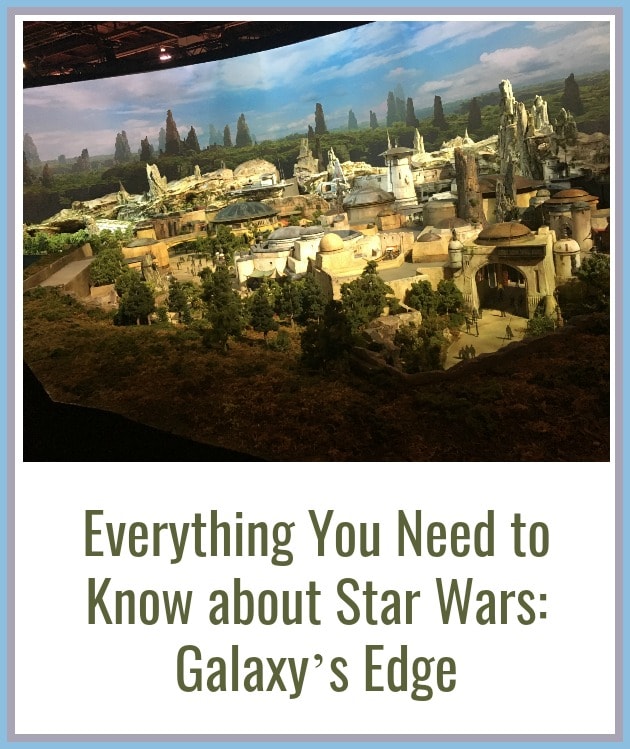 Everything You Need to Know about Star Wars Land Disneyland (Galaxys Edge)
Looking for info on Star Wars Land, Disneyland?  If you haven't heard the big news, Star Wars: Galaxy's Edge  is opening this month! A Galaxy Far, Far Away is officially coming to the Disneyland Resort on May 31, 2019 and we're over the moon with excitement! With so much information coming out about this brand-new land, it can be hard to keep up with the latest updates and exciting news. When we shared recently about the opening date, and how to plan for it here, there were some questions about how this phased roll out was going to work?
On one of our recent trips to Disneyland we were able to see the Star Wars Land they are building from the top of one of the rides, and let me tell you it looked AMAZING! I cannot wait for the chance to visit.
Luckily, we've partnered with Get Away Today to give you a guide on everything you need to know about Star Wars: Galaxy's Edge.
Star Wars Reservations – How They Work & What is Available?
We shared in this opening day announcement article here, that you will need to have reservations to get in to Star Wars: Galaxy Edge, from the opening date through end of June. Well the latest is that the reservations are all booked up through June to the general Disneyland Ticket holder. The only way to get reservations for a June date now, is to book a stay in one of the Disneyland resorts. There are still rooms available through Get Away Today for this timeframe,
Here is what you can expect to pay if you want to see the opening month of Star Wars Galaxy Edge at Disneyland (these are hotel rates, you can buy a package deal to save on tickets and hotel rates too):
Rates stay the same throughout June for the most part (check current rates here). and will cost you around $507/nt for the Paradise Pier Hotel, which is currently the most affordable option. For the Disneyland Hotel it is about $671 per night. and for the Grand Californian it is about $840 per night. Again, this is the only way you will be able to get a reservation into Star Wars Land for June at this as this time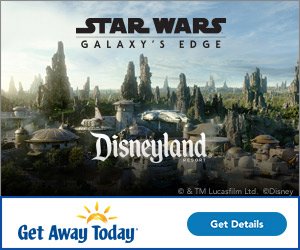 A more affordable option, would be to book your stay in July or August when reservations are no longer required (you will no longer need to book a reservation after June 24th). It can be hotter during these months, but the folks in the industry are reporting that they are not seeing the volume of bookings they generally do for this time of the year, so some may be concerned about crowds – but at this time they are not looking to be much larger then usual for this time of year (based on current bookings).
You can contact Get Away Today to help you book the best option for your family (and mention Thrifty NW Mom to get an extra $10 off your vacation package too)!
The way the current reservation system is working is that each visitor will get a 4 hour window to enter (your reservation time will tell you what that window is). Then you will get a colored bracelet for that timeframe. Once your reservation window is up, Disneyland staff members will know by the color of your bracelet and you may be turned away from attractions, or asked to leave Star Wars land after that. Star Wars Land covers 14 acres and it is anticipated that 4 hours is plenty of time to cover all of that.
Reservations are meant to control crowds, and keep wait times down. The wait times for some of the most popular attractions (like Smugglers Run) are expected to be around 2 hours still, so you will want to take that into consideration when planning your visit (although Disney is suggesting folks wait until the 2nd or 3rd hour of their visit to get in line – so that the lines are evened out throughout the day).
A few more things to note about the initial opening of Star Wars Land and the reservations system: 
Fastpass and Maxpass will not be available to use in Star Wars Land (at least in this initial opening period).
Star Wars: Rise of the Resistance will not be available at the opening of Star Wars: Galaxy's Edge and will open later this year.
Star Wars land is not open for extra magic hours or magic morning hours
Attractions you can expect to find in Star Wars Land at Disneyland:
I have heard these new attractions are going to be pretty amazing. With improvements in technology, I can only imagine how realistic they will be! Here are the new attractions you can expect to fin.
Millennium Falcon: Smuggler's Run
At this attraction, you and five guests will be able to board the Millennium Falcon – the most infamous ship in the universe. Here, you'll be able to choose between being a pilot, engineer or gunner on this intergalactic adventure. Plus, this ride will also allow guests to experience an interactive element while visiting Star Wars: Galaxy's Edge. Depending on how well you do on your mission, you'll either be rewarded or have a bounty placed on your name. With Chewbacca and Hando Onaka by your side, you'll have to work together on Millennium Falcon: Smuggler's Run to try and save the galaxy. No big deal, right?
Star Wars: Rise of the Resistance
If you haven't heard, Star Wars: Rise of the Resistance will not be open when Star Wars: Galaxy's Edge debuts on May 31, 2019. However, with all of the technology and immersive experiences they are creating for this attraction, it's going to be well worth the wait. At Star Wars: Rise of the Resistance, you will join the Resistance on a secret mission to infiltrate the First Order. With appearances from familiar characters like Kylo Ren and Stormtroopers, it sounds like it's going to be an intense battle. While we're not sure when this attraction will officially open, we do know that it will be sometime in 2019.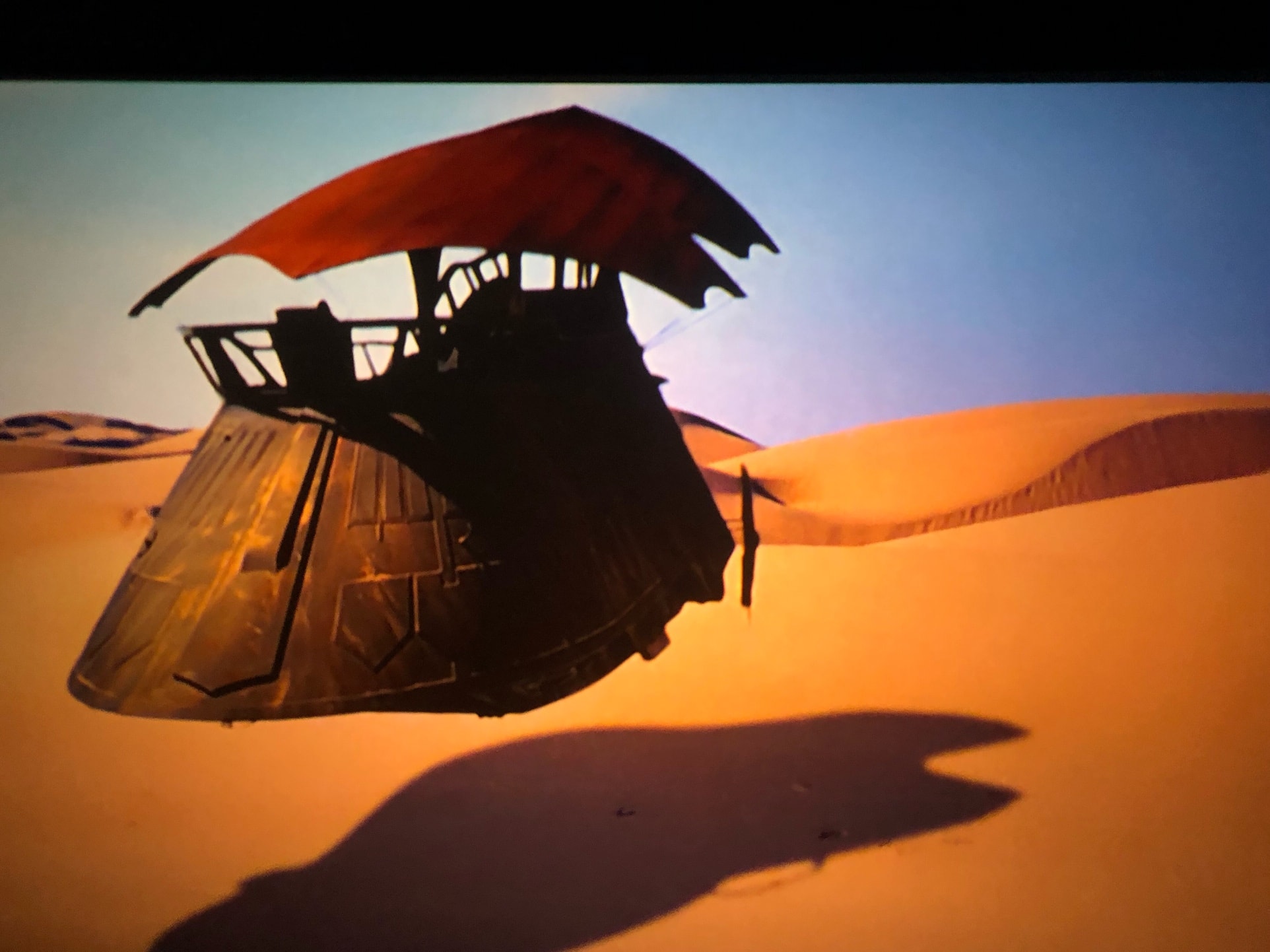 Dining Options in Star Wars Land:
Honestly, I am almost as excited about new restaurant options as I am about the new attractions! Here is what you can expect to open as far as new options to eat at in this area.
Oga's Cantina
At Oga's Cantina, guests of all ages will be able to partake unique concoctions at this smuggler's paradise. Here, you'll be able to try cocktails and mocktails that feature exotic ingredients served in eclectic vessels. Not only will you be able to chat with R-3X, the former Starspeeder 3000 pilot, but you'll also be able to interact with unique creatures and characters from across the galaxy. Oga's Cantina will definitely be the hot-spot for the latest gossip and catchy intergalactic tunes.
Docking Bay 7 Food & Cargo
Docking Bay 7 Food & Cargo is the galaxy's most unique diner. Located in an actual hangar bay, guests can try the unusual dishes that Chef Strono "Cookie" Tuggs has created. Items like Braised Shaak Roast, Fried Endorian Tip-Yip and Felucian Garden Spread are just some of the options we know of so far. With exotic flavors and an eccentric atmosphere, guests are sure to enjoy their visit to Docking Bay 7 Food & Cargo.
Ronto Roasters
If you've been searching for the best sandwiches in the universe, you don't have to look any further. At Ronto Roasters, guests will be able to enjoy mouth-watering sandwiches made in a barbeque pit powered by a recycled podracing engine. Try Turkey Jerky, a Ronto Wrap, Meiloorun Juice and more!
Milk Stand
The Milk Stand at Black Spire Outpost is finally giving longtime Star Wars fans the opportunity to try blue milk. Here, guests can choose between either blue or green "milk," which is likened to a fruity frozen drink or smoothie. It's known to be a favorite treat among the people of Battu, so we can't wait to actually try it!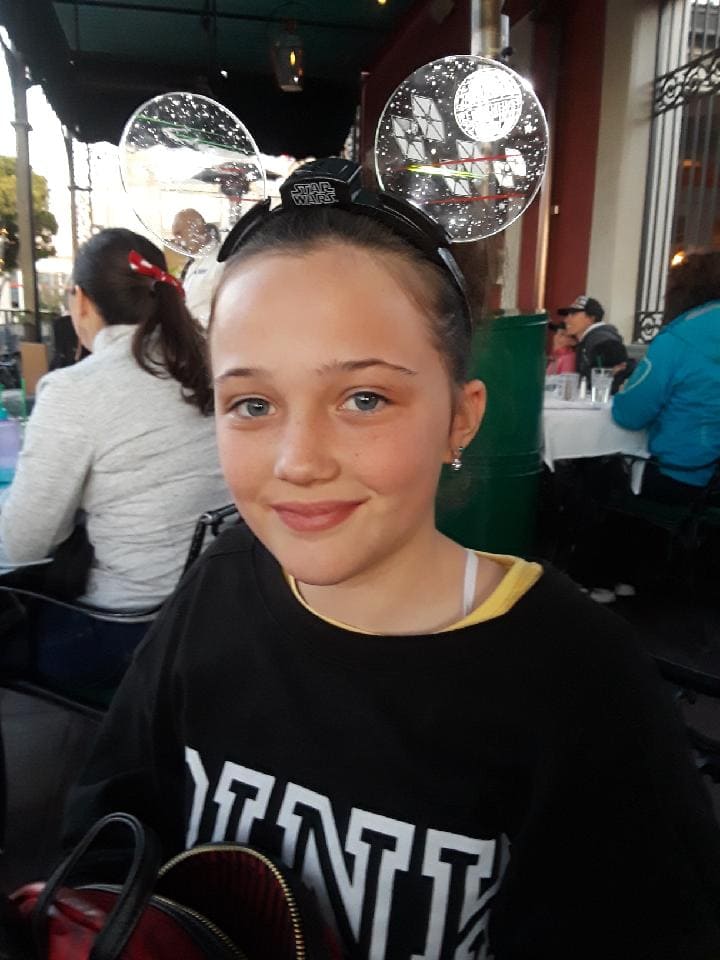 Shopping Options in the New Star Wars Land:
Savi's Workshop – Handbuilt Lightsabers
Guests who visit Savi's Workshop will be able to create a one-of-a-kind lightsaber. With the help of a group called the "Gatherer's," you'll be able to choose between lightsaber themes like Peace and Justice, Power and Control, Elemental Nature and Protection and Defense. No matter what lightsaber you choose, your legendary lightsaber will help you become one with the Force to help protect the galaxy.
Droid Depot
Have you ever wanted your own intergalactic sidekick? Now's your chance! At Droid Depot, you can design and build a BB or R-series unit from various scraps and parts located in Mubo's Workshop. If designing isn't your thing, you can always choose to bring a home a pre-made friend at this machine-driven depot.
Toydarian Toymaker
Zabaka the Toydarian has landed in Battu and is selling her handmade collectibles and artisanal playthings for everyone to enjoy. At this cluttered and peculiar store, guests can take home whimsical trinkets, dolls and toys – unique to Star Wars: Galaxy's Edge.
Dok-Ondar's Den of Antiquities
Dok-Ondar is known as one of the galaxy's most legendary antiquities dealers. At his den, guests can stumble upon rare jewelry, artifacts, kyber crystals and even a collection of famous lightsabers. While no one is sure how he obtained all of these mysterious items, we sure feel special that he's letting us take a sneak-peek.
Creature Stall
If taking home a lightsaber and droid wasn't enough, how about an intergalactic critter? At the Creature Stall, guests will be able to discover some of the galaxy's most unique species. Peer into cages and crates filled with hard-to-find furry companions as you explore the store for your own peculiar friend.
Black Spire Outfitters
At Star Wars: Galaxy's Edge, everything that guests will be able to purchase will be unique to the land. So, at Black Spire Outfitters, don't expect to find Disneyland t-shirts or Minnie Mouse ears. Rather, guests will be able to buy stylish and functional clothing for their stay on the planet Battu. No matter what planet you're traveling to next, Black Spire Outfitters will provide you with the garments you'll need to fit in.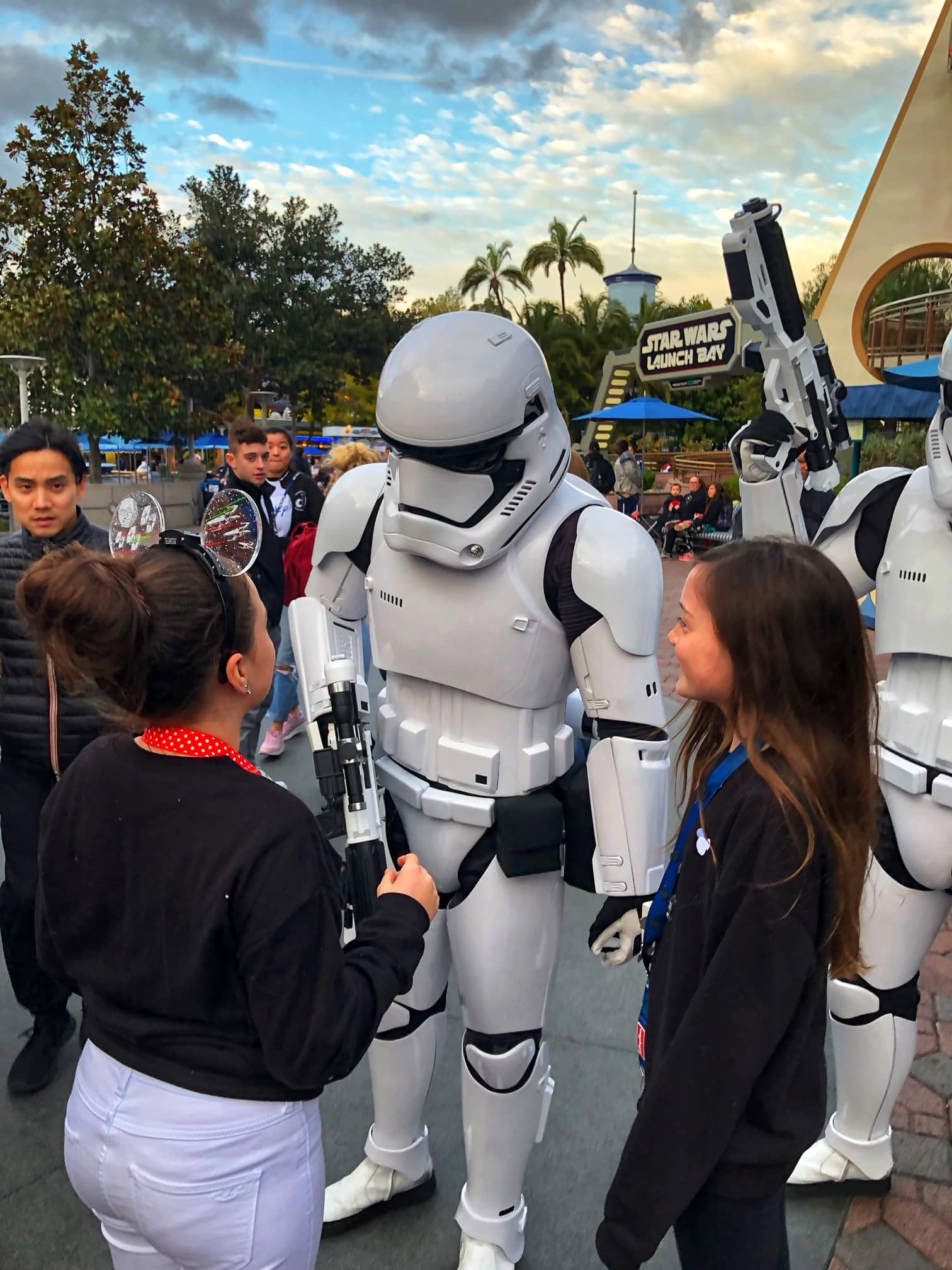 Book NOW to visit Star Wars Land!
As you can see, Star Wars: Galaxy's Edge is truly going to be out of this world, which means that NOW is the time to book your Disneyland Resort vacation. Hotel availability and low rates are bound to go quickly. However, with Get Away Today's interest-free Layaway Plan, you can book your galactic getaway for just $175 down. This way, you'll be able to lock-in your low price without having to worry about anything selling out.
So, what are you waiting for? To book, visit getawaytoday.com or call 855-GET-AWAY to speak to a travel expert directly. Don't forget to mention promo code ThriftyNW to save an additional $10 off your vacation package. Let them know that Thrifty NW Mom sent you!
More Articles You Might Be Interested In:
Find all our Disneyland Deals and Tips here. 
Star Wars: Galaxy's Edge – Opening Date Announced + How to Plan for It
Best Ticket Deals & Offers for Disneyland (Updated Weekly with the best prices)!
Disneylands Spring Savings Sale, Save up to $111 on ticket prices!