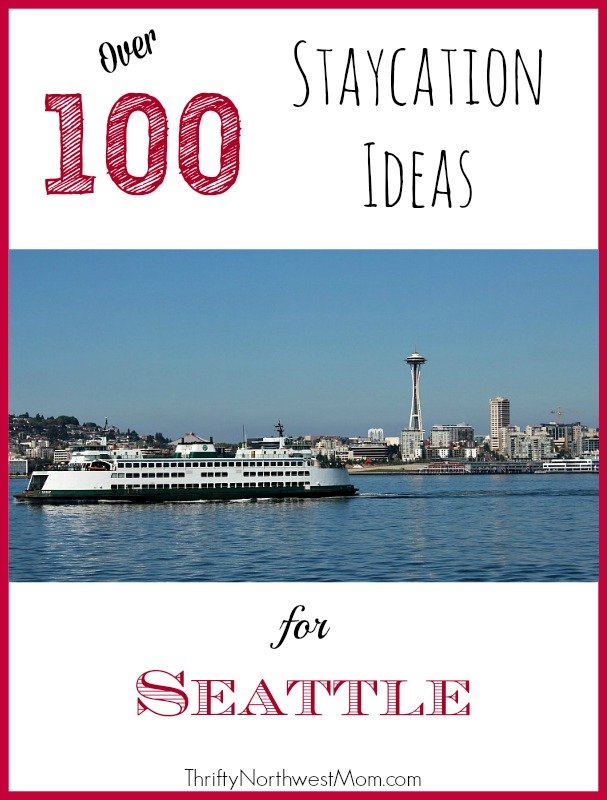 Looking for budget friendly vacation ideas for the Pacific Northwest this year?  With the high cost of airfare you might want to consider taking a "Staycation" in Seattle (or a mini vacation in Seattle if you live within driving distance)! Seattle, the "Emerald City", offers many things to do and explore beyond the well known Space Needle.
We have compiled a huge list of things to do in Seattle  that are budget friendly. Don't forget to subscribe to our Pacific Northwest newsletter to stay updated on other frugal fun ideas and deals available in the Pacific Northwest too!
Find activities by area of interest:
Always Free In Seattle / Frugal Fun In Seattle
Free Museum Days
Festivals, Fairs & Events
National, State and Local Parks
Beaches, Pools & Lighthouses
Movies & Concerts
Sightseeing & Attractions
Discount Tickets for Sporting Events, Theater & More
Open Air Markets
Seattle Staycation Tips
If you are interested in what to do in the Greater Puget Sound area this summer be sure to check out the following:
Fun & Frugal Weekly Events in the Pacific Northwest
Summer Fun Ideas for the Pacific Northwest
Pacific NW Travel Ideas 
Always Free / Frugal Fun In Seattle
Seattle Center Area
The Seattle Center area offers many great options to enjoy the summer. The fountain at the Seattle Center is one of my kids favorite areas to hang out on a hot day. You can then explore the Gates Foundation Visitor Center across the street completely free, and much more! These are our favorite free and cheap ideas for this area, but be sure to scroll down for some of Seattles bigger attractions also located in this area (Space Needle, EMP, Pacific Science Center & more).
Seattle Center International Fountain offers both water play for kids in the summer
The Free festival of lights show also takes place in the evenings on August weekends!
Free Walking Tour (donations accepted) or self guided tour at Seattle Center
The Center for Wooden Boats - The Center for Wooden Boats is a resource for all who love sailing or wooden boats, and it has things to do for free. Admission is free and allows you the chance to get up close to the collection of non-motorized boats. Free sails take place every Sunday on Lake Union. They also offer free reading time for kids and more!
Frye Museum - They offer free admission and free parking (big perk in downtown Seattle!) 
Check out the festivals, and movies and concerts section (below) for more free fun here!
The Seattle Waterfront offers some great spots to eat, parks, ferries, the Aquarium, The Great Wheel and Boardwalks just for starters. You can then take an elevator or walk up some stairs to enjoy the Pike Place Market, The Post Alley, and then you are about a 10 minute walk from Seattles Shopping district.
Here are our favorite free and frugal ideas for this area:
Arcade on the waterfront – there are games, as well as an indoor Carousel, cotton candy and many photo opps ont he walk in!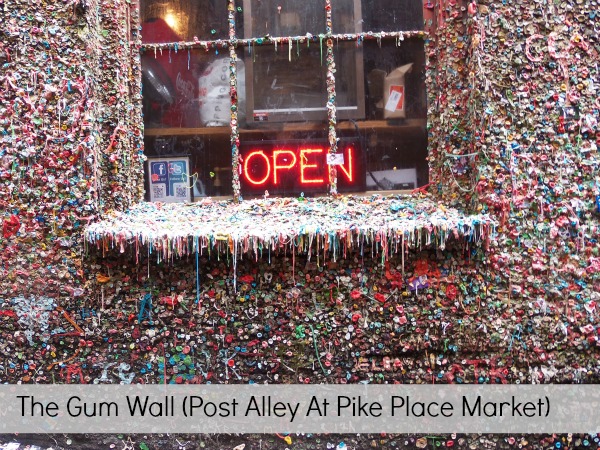 Pike Place Market (just above the waterfront). Don't forget to visit the Notorious Gum Wall)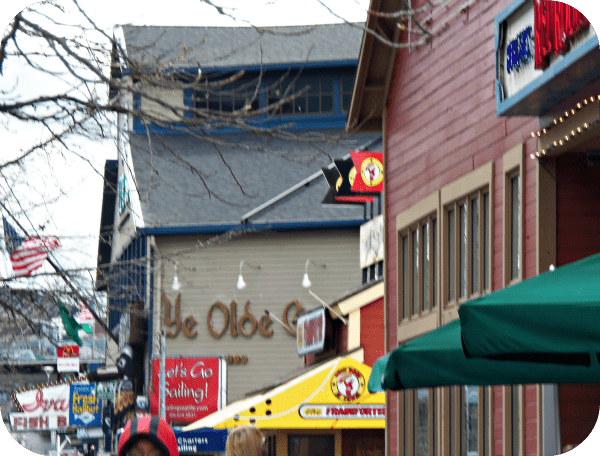 Ye Old Curiousity Shop – Ye Olde Curiosity Shop is a store, but also a bit of a museum. You can see Sylvester the mummy, a collection of shrunken human heads, and other surprising and interesting items.
Olympic Sculpture Park – You can park for up to 4 hours for $5 on the weekends too.

Don't forget to check out the festivals section (below) for special events on the waterfront!
Heart Of Downtown
Downtown Seattle (sometimes referred to as the Shopping District), boasts the 5th Avenue Theater, Benoraya Hall, The Seattle Public Library, Westlake and Pacific Place Malls, Sky bridges, and great shopping.
If you love coffee visit the Monorail Espresso, one of Seattle's original Espresso Bars and my favorite cup of java in the city!
Chinatown in Seattle is a truly authentic experience. There are wonderful restaurants, great markets and festivals too! Another benefit of visiting Chinatown is that parking rates are much more affordable in the International District than they are in Downtown Seattle. Find details on parking prices and maps here for this location. Here are our favorite free and affordable picks for the area.
Uwajimaya – Large Asian Market, full of plenty of goodies!
Wing Luke Museum (check out the free days below)
Visit the Seattle Pinball Museum
West Seattle
Positioned across the water from Seattle, you can get there from Seattle by crossing the West Seattle Bridge, or by boat. It offers great beach fun, wonderful restaurants, art and more!
Alki Beach -

A favorite local beach, lined with sandy beaches on one side, and rocky shores around the corner. There are miles of bike or skating paths, restaurants and coffee shops, beautiful vies of Seattle and more! 

West Seattle Water Taxi – Operates between Seacrest Park in West Seattle and Pier 50 on the downtown Seattle waterfront.  Not only is it a great way to get back and forht from the Seattle Waterfront to West Seattle, but its like a mini ferry ride, or harbor cruise for a fraction of the cost! Adults are $3.50 with an Orca card, or $4 without. Kids 6-18 are $2.75 with Orca card or $4 without, Seniors are $1.75 and kids 5 and under ride for free. 
California Avenue – full of restaurants, shops and an old theater for second run movies!
Museums
Seattle offers so many opportunities to enjoy museums and the arts for free. More then just about any other city I have been to. Here is a list of how to get into Seattle area museums completely free!
Always FREE:
Frye Museum 

- They offer free admission and free parking (big perk in downtown Seattle!)
Seattle Area Museums offering free admission on the first Thursday of each month: 
Seattle Area Museums offering free admission on the first Friday of each month: 
More Free Museum Days:
Festivals, Fairs and Events
Here are the main festivals, fairs and events going on around greater Seattle this summer:
Seattle International Film Festival -  May 15th – June 8th; This is an opportunity to view films from famous directors to independent filmmakers, with over 300 films to choose from. Takes place at theaters all around Seattle.
Northwest Folk Life Festival - May 23rd – 26th at Seattle Center. This is a chance to experience the music, art, dance & stories of the Northwest. Activities range from Family Hands-On Activity area, Family Dance Tent, milk carton derby & more.
Waterfront Whimsea –  – June 8th, Seattle Waterfront Park. FREE event with clowns, entertainment, enjoy a bouncy house, games with prizes and more!
Lake Union Wooden Boat Festival -  July 4th – 6th, 2014;  Lake Union park; Free admission, free boat ride, food, music & more
Seattle's Family 4th of July Event - held at Gasworks Park with fireworks viewed over Lake Union. From 12pm – 1opm. Tons of family & kid events all day long with the entertainment, the Seafair Princesses, Clowns & Pirates & more.
West Seattle SummerFest - July 11th – 13th; free 3 day street fair; arts & crafts, shopping, live music, local food, kids play area & more
Chinatown International District DragonFest - July 12th & 13th; Seattle; Includes Japanese drumming, Chinese Martial Arts, Filipino dancing, Lion & Dragon Dances, Live Entertainment, Food, Karaoke & more.
Bite of Seattle - July 18th – 20th;  Seattle Center; free admission. A chance to sample 50+ Seattle-area restaurants offerings, celebrity chef cooking demonstrations & more.
White Center Jubilee Days - July 12th – 20th. This includes a street fair, carnival, car show, parade, garden tour, fireworks & more
Seafair -   The main festival takes place August 1sts – 3rd; Boeing Airshow, Hydroplane races & much more. Seafair events start as early as the SeaFair Pirates Landing on June 28th on Alki Beach, though, with events continuing all of July including the Torchlight Parade & Events on Saturday July 26th.
SLU 2013 Block Party – August 8th- Free, South Lake Union; Beer garden, burger grilling competition, food sampling, children's play area, movies and more.
Bumbershoot – Seattle's Music & Arts Festival - August 30th- September 1st; Seattle Center. This is Seattle's popular music & arts festival over Labor Day weekend, which features the best in music, film, comedy, dance, theater, visual arts & more. They also have a "Youngershoot" Festival  for kids, which is put on by the Children's Museum of Seattle with indoor & outdoor activities for kids ages 10 & under
National, State and City Parks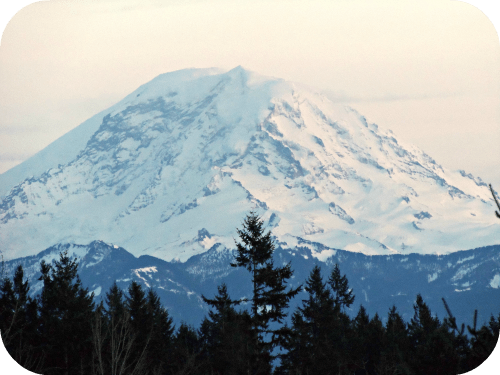 If you are from the Northwest, then it is easy to take for granted what natural beauty surrounds us. We have a number of parks as well as great programs which run in many of the parks throughout the summer!
More City Parks:
Beaches, Pools & Lighthouses
Sunny days may be fewer here in the Northwest, but when they show up we have some great beaches and water activities to enjoy it!
Here are some  of our favorites:
Movies & Concerts
You will find free movies and concerts all throughout the Pacific Northwest during the summer. Here is a list of those included in or near the downtown Seattle area.
Movies -
Concerts – 
Concerts at the Mural 

- Free concerts through out the summer at the Seattle Center 

Seattle Present's at City Hall – Seattle Presents free concerts are outdoor performances that take place noon to 1:30 p.m. Thursdays on the City Hall Plaza, 600 Fourth Ave.
Sightseeing / Attractions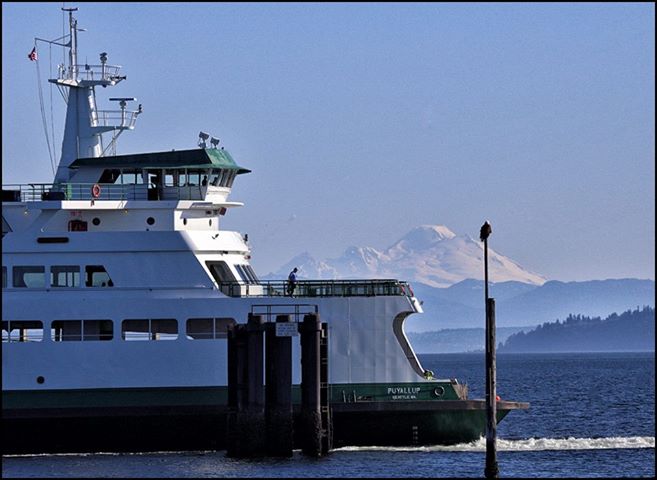 Seattle is famous for some of its well known attractions like the Space Needle, zoos and more. If you plan to visit some of these, I highly recommend looking into the CityPASS. It will allow you to be a tourist in your city for a week at one set cost. There are also more affordable alternatives to some of the more well known attractions like the towers. Here is a list of great Seattle attractions you can explore this summer.
Under $10 Attractions:
Woodland Park Zoo – Go on one of their Half Priced Rainy Day Specials for discounted admission
Ferry Ride – Fares range from around $5-$8 pp (youth fares less) for walk on passengers. Find current Washington State Ferry Fares here.
Columbia Tower – 

Don't want to spend the money on the Space Needle, then head over to the Columbia Tower Observation Deck for amazing views and a much friendlier price (Adults – $9, Children 6-12 – $6, Children 5 & under – free). 

It is the tallest viewing area west of the Mississippi River. You can ride to the 40th floor for free (and get a Starbucks  there) or continue on up to the 73rd floor observation deck for $5.

Smith Tower -

 This observation deck is on the 35th floor and provides views of The Wheel, The Space Needle and more! Its $7.50 per adult, $6 for seniors and students. $5.00 for kids 6-12 and kids 5 and under are free. It is also where you can see the Seattle Chinese Room, a piece of Seattle history!
$10 & up Attractions:
Discount Tickets for Sporting Events, Theater & More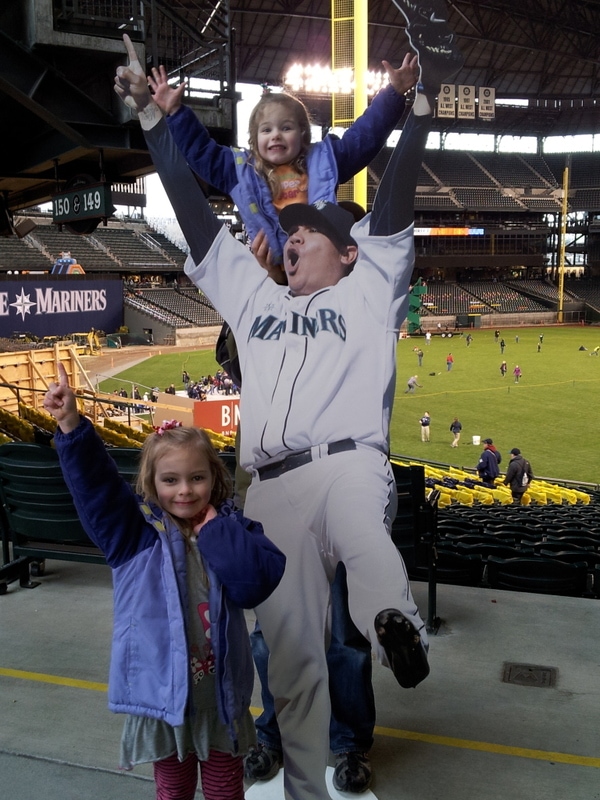 Looking for ways to get a deal on event tickets for sporting or theater events. Here are some resources we have used to help us save with our families:
Goldstar –

Offers discount tickets for many different Seattle area events (everything from Pike Place Market Tours to Argosy Cruises, Sporting events and comedy shows). Its a great way to save!

Teen Tix

  – Teens can get $5 tickets to over 40 Seattle 

area art venues.
Open Air Markets
The markets are a wonderful way to purchase everything from fresh produce and meats to great flowers and keepsakes. They are also lots of fun to just to hang out and people watch. There are often street performers you can enjoy and other events. Turn your grocery shopping into a fun day out!
Staycation Tips
So now you know where to go…here are some of our favorite tips for saving while getting here and throughout your day:
Plan your trip around one of the Free parking days in Seattle
Consider taking mass transit rather then pay for parking. You can ride a bus, or use the Light Rail.
Pack lots of snacks and water, and then splurge on a humbow or mini donuts at the Pike Place Market. Neither will cost you what it would to eat a meal out, but you still get the fun of eating something someone else cooked for you!
Park in West Seattle (free street parking in the neighborhoods) and ride the Water Taxi over to downtown
Use coupons. You can find various deals on restaurants in the Seattle area on sites like Groupon, Living Social and Amazon Local.