Frugal & Free Activities For Kids / Families in the Northwest
Week Of 7/31 – 8/5
Here is this week's list of family-friendly free or frugal events to do with kids for around the Northwest, as well as some events going on around  the country.  We have decided to go back to the list format as the calendar feature did not turn out to be as user-friendly as we had hoped. Hopefully this list feature will be more helpful for you to find the events quickly that you are interested in! Let us know how you like it & if you have any more feedback on how the Event list is working for you!
If you see a fun, frugal event that's not listed, feel free to leave a comment so we can add that event to our list.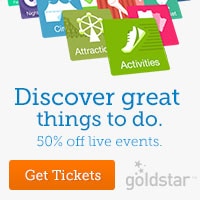 Cheap Event Tickets for Seattle Area
Head to Goldstar and select Family events to easily find these:
Grease – 5th Avenue Theater, Seattle – $42 – $87.25 (reg $80 – $115)
Matilda – 5th Avenue Theater, Seattle – $38 – $120 (Reg $50 – $120)
West Side Story – Tacoma Musical Playhouse – tickets are $15 (reg $29)
Seattle Storm – As low as Free – $17

Find more Cheap Event Tickets for Seattle area on Goldstar

HERE

.
Cheap Event Tickets for Portland Area
Head to Goldstar and select Family events to easily find these:
Mary Poppins – Mago Hunt Theater at University of Portland – $15 (reg $25)
Discount tickets for the Portland Aquarium – $5 (reg $10.95)
Portland Thorns – National Women's League Soccer – $8-12 (reg $13 – $17.50)
Find more Cheap Event Tickets for Portland area on Goldstar HERE.
Don't forget to check out our Seattle Staycation, Festivals in the NW or Summer Fun Page for more ideas on many local activities and events, if you are looking for a specific event and want to save some money!
We also have a parks review page for ideas on fun and free parks to visit with the family!  We'd love if you shared a review of your favorite park as well and if we share it on our page, you'll get a $10 Amazon Gift Card!
Puget Sound Fairs & Festivals:
See our HUGE list of NW Fairs and Festivals here for upcoming events too!
We also have a list of FREE or Frugal Summer Concerts around the Northwest!
Here are a few more family-friendly events you can check out:
Things To Do in Seattle Area
Friday, July 31, 2015 ~
Seafair Hydroplane Races; Genesee Park Seattle; FREE; 8:30 am – 6:00 pm; Kids Zone for giant inflatables, rides, games activities and vendor booths.  Check website for times of events
Summer Bash 2015; Tacoma; Kandle Park;  FREE; Pack your snacks, blankets and lawn chairs and head to the park for a free outdoor movie for the whole family! Summer Bash – featuring Click! Mobile Movies – Dolphin Tale 2, shown at dusk.  Check website for other movies and parks.
Seafair Weekend – Seattle; 7/31 – 8/2; Hydroplane races on Lake Washington, south of the I-90 Bridge. Air Show features the Patriots Jet Team performing, and includes other flight demonstrations. The south beach area will host a wakeboarding demonstration. Shore activities at Genesee Park (3800 Lake Washington Blvd. S., Seattle) and along Lake Washington Boulevard include entertainment, food and more. Check all the details on the website for parking, time and activities!
Thurston County Fair – Lacey; 7/29 – 8/2; Opens 10:00am; Music, home arts demonstrations, 4-H and FFA events, carnival rides and food. Cost: $7, $6 seniors, $5 ages 6 to 14, free ages 5 and younger. Check for special days and pricing.
UmojaFest African American Heritage Festival – Seattle; 7/31 – 8/2; 10:00am – 9:00pm; Children's area, parade (1 p.m. Aug. 1), entertainment, music, basketball tournament (Aug. 1 – 2), vendors and more. 10 a.m. to 8 p.m.
Shakespeare in the Park – various Puget Sound locations; See Shakespeare performances in an all-ages, outdoor format. Bring blankets or low chairs. FREE, donations accepted. Various days and locations through August 16th. See website for time and place details.
Pianos in the Park; From Sea Tac to Bothell; Starts July 16 and last for a month; FREE;  22 beautiful pianos will be unveiled, as well as their locations for the month-long event. KEXP's John Richards, Classical KING FM's Lisa Bergman and Aqueduct and others will perform. Also, find food trucks and more.
Family Movies in the Park – Snohomish; Thursdays starting 7/9 at Willis Tucker Park. Its FREE, but donations accepted.
Cinema under the Stars – Sullivan Park at Silver Lake in Everett; 7pm for family entertainment & movie starts at dusk.  Free admission
Movies in the Park – Puyallup; Fridays starting 7/17; Pre-show activities start at 7 p.m. and the movie starts at dusk. Free.
Kandle Park Sunset Cinema – Tacoma; Friday 7/31; 6:30 – 8pm. Free admission.  Will be showing Dolphin Tale outdoors in the park + there will be family fun & games as well.
Kruckeberg Garden Tots – Seattle; 5/29 – 9/26 Fridays; 10:00am – 1:00pm; Drop in any time between 10 a.m. and 1 p.m. for a fun nature exploration in this unique, naturalistic garden. Each week they offer a simple plant activity, a themed garden exploration, and a craft project. Ideal for ages 2 to 6 with a caregiver. $7 per family, free for KBGF members.
Saturday, Aug 1, 2015 ~
Magnolia Summerfest – Seattle; 8/2 & 8/2; Entertainment, children's entertainment, craft and food booths. Starting off with the Seafair Parade at 10:30 am on Sat.
University Place Sun Fest; University Place; FREE admission; 10:00 am – 5:00 pm;  Adult & Kids Fun Zone, vendors of all kinds, food, games and even a movie in the park at dusk, sponsored by Click! Cable TV
Proctor Arts Fest – Proctor; 8/1; 10:00am – 5:30 pm; Arts and crafts vendors, Bite of Proctor, kids' area, entertainment and more.
Waterfront Art Festival – Mukilteo; 8/1; 10:00am – 6:00pm; Children's creative art and play activities, live music, food and beautiful original arts and crafts created by artists from the Puget Sound region.
Cops, Cars and Kids; Lacey; 11:00 am – 3:00 pm; FREE; Visit the Lacey Police Station and play CSI, lift fingerprints, talk to detectives, check out the police cars and have a hot dog!
Shakespeare in the Park – See Shakespeare performances in an all-ages, outdoor format. Bring blankets or low chairs. FREE, donations accepted. Various days and locations through August 16th. See website for time and place details.
Bell Street Park Saturday Fun Days – Seattle; 2nd and 4th Saturdays through 8/22; 10:00 am – 3:00 pm; Come enjoy giant games, Imagination Playground, art activities and more, Saturdays through Sept. 10. FREE
Free Miniature Train Rides – Skykomish; 10am-4pm Every Weekend Thru November 1st plus Holidays
Crafts of the Past – Tacoma; 11:00am  – 5:00 pm; Each weekend through September; $22 per family. Artist will host different craft making each Saturday at the Fort Nisqually Park in Point Defiance Park! Check site for this weeks schedule!
Summer Concert Series at Chittenden Locks; Seattle; 2:00 pm – 4:00 pm; Free; Saturdays and Sundays
Seattle Center Skatepark; Seattle; Saturdays: 10:00 am – 12:00 pm; June 6 – August 29, 2015 ; Free drop-in clinics for kids age 12 and under.
Bellevue Art Museums Get Crafty Saturday ; Bellevue; 1:00 pm – 3:00 pm; Free craft time for kids each Saturday. $2 material fee or free with admission
Sunday, Aug 2, 2015 ~
Waterfront Whimsea Family Fun Day; Seattle Waterfront; FREE; 11:00 am – 3:00 pm; Kids prepare to take over the waterfront! With music, balloon animals, face painting, games, and more. This family friendly event is going to make everyone smile on this hot summer day! Check times for schedule of events
Adventure Playground – Mercer Island; 1:00pm – 4:00pm; Adventure Playground is a one of a kind play area that allows kids to create their own play adventure, where kids are provided toolboxes, various building supplies, safety items and the freedom to create build-it-yourself play zones with the guidance of staff. Free, but Donations accepted.~See website for closed days and times.
Bicycle Sundays – Seattle; 10:00am – 6:00pm; The four-mile stretch of Lake Washington Boulevard between Mount Baker Beach and Seward Park is closed to motorized traffic 10 a.m. to 6 p.m. several Sundays through September
Cast Off! Free Public Sail at the Center for Wooden Boats – Seattle; 10 a.m.–4 p.m.; Free every Sunday; A Seattle tradition for more than 25 years! Our volunteer skippers and crew take passengers out on Lake Union for unforgettable voyages. Sprit boats, steam boats, electric boats, schooners, ketches, yawls, and yachts: come every Sunday to sail them all, year-round, rain or shine for free.
Monday Aug 3, 2015 ~
Kids Club Entertainment Series – Bonney Lake;  Mondays 6:30 pm & Tuesdays at 11:00 am; FREE; Great family events at the park all summer long! For the third year, Kids Club events are scheduled on BOTH Monday evenings and Tuesdays during the day, so everyone can join in the fun! Check the list of great entertainment!
Jetty Island Open;  Everett; M-Th 10am-6pm  and F, Sa 10am-9pm; $1 – $2 donation.  Hop a little Ferry and take a 5 minute ride to Jetty Island.  Discover the tide pools when the tides are way out. Fun for a day trip.
Tuesday Aug 4, 2015 ~
Kids SummerStage – Auburn; 8/4 and 8/12; Tuesdays; 12:00pm – 1:00pm; Exciting performances designed just for kids. Pack a lunch and enjoy the amenities Les Gove Park has to offer, including a new, state-of-the-art playground and a refreshing spray park, a 1/2 mile trail, the White River Valley Museum and more.
Wednesday Aug 5, 2015 ~
Movies @ Marymoor – Redmond; Wednesdays; 7:00pm; Big-screen movies, cirque performers, movie trivia and the region's best food trucks. Pre movie seating is $5, or you can wait until after the pre movie entertainment and attend the movie for free. 5 and under are always free. Pre-movie entertainment starting at 7 p.m., and movies show at dusk.
Summer Movies in the Park – Bellevue; Movies start at dusk; Bring comfortable low back chair seating and enjoy the movie Epic (PG). FREE for all ages.
Things To Do in Portland
Portland area Festivals:
Friday, July 31, 2015 ~
Tillamook Forest Center – Tillamook; Every Friday 11:30am; FREE; Are you looking for something fun to do in the forest? Join the Tillamook Forest Center staff for a variety of fascinating, forest-related programs. From Dutch oven cooking presentations to wildflower walks we've got something for everyone. Berry Walk, Browsing Beavers and Beautiful Butterflies are just a few of the topics. Check website for fun details.
Tualatin Crawfish Festival; Tualatin; July 31 – Aug 2; FREE; Start the events at 5:00 pm Friday.  Cook-off, eating contests, running events, dog show, kids' zone, weekend beer and wine, and live entertainment.
Lets Go Camping – Various state park locations, weekends through 9/13; $30 per family. Tent, sleeping bags and mattress pads provided if you need them. Lots of fun activities for everyone. A very secure event with ranger-led activities and experienced volunteers on hand to assist you 24/7.
Red Yarn at Warehouse Cafe – Portland; 10:00 am – 10:45 am; Weaving together energetic live music, puppetry and storytelling, Red Yarn teaches positive values while reviving American folklore for a younger generation. Join Red Yarn & his lovable critters every Friday morning at Warehouse Cafe. Audiences will sing, dance, act, and experience the joy of community during Red Yarn's interactive shows. This show is hosted by Warehouse Cafe, a coffee shop, market and community space committed to healthy food at fair.
Music From Mr. Hoo from The Alphabeticians – Portland; 11 am – 12 pm; Mr. Hoo will be singing songs with and for kids. He'll play his guitar and sing some original songs, some Alphabeticians songs, some classic kid songs and Hoo knows what else? $5 per family.
Storytime and Craft at The Craft Factory; Portland; 5:30 pm – 6:00 pm; Free; Crafts and storytime collide! Fun!
Saturday, Aug 1, 2015 ~
Alpenrose's Dairyville ; Portland; Dairyville is open every Sunday afternoon through August; Alpenrose Dairy, Oregon's oldest family-owned dairy, is a Western-themed "town" located right on the 52-acre dairy farm. Visitors can peak into Grandma's Bakery, the Great Western Bank, the Dairyville School, and the post office.  Kids can watch model trains chug through tiny Oregon landscapes and learn from some of the area's train club experts.
Rox in Sox Family Music and Literacy Festival – Lake Oswego; 8/1; 10:00am – 3:00pm;  This unique interactive family festival features  performances by some of the country's leading children's musicians and authors. There are plenty of fun activities for kids and families to enjoy together, great food and a chance to exciting prizes! Bring socks,shoes, and books for kids who need them in the USA, Kenya & Jamaica.
Al's Garden Center; Gresham, Woodburn, Sherwood; 11:00 am; $5 per participant to cover material;  Al's Kids Club offers fun, educational classes designed to nurture children's awareness, confidence and connections to the natural world, and foster hands-on learning. This week: The Very Hairy Caterpillar
Super Saturday Demo Day; Portland; 11:00 am – 5:30 pm; Free; Every Saturday down at Finnegan's Toys and Gifts! We do crafts and demos from 11:00am – 5:30pm. Learn a new game, color a picture, play with some sidewalk chalk, design your own jewelry or paper airplane, the possibilities are endless!
Oregon Pacific Railroad Train Rides at Rail Heritage Center – Portland;  1:00pm – 5:00pm; The Oregon Pacific Railroad is offering round trip diesel locomotive powered passenger train rides to the public from the Oregon Rail Heritage Center, located near OMSI. Passenger trains will operate on Saturdays and depart the Oregon Rail Heritage Center at 1:30pm, 2:30pm, 3:30pm and 4:30 pm. Rides last approximately 45 minutes. Locomotive cab rides are available for an additional fee.  Cost:  $5
Sunday Aug 2, 2015 ~
2015 Dragon Boat Races; Vancouver; FREE; The lake is the home of the Vancouver Lake Aquatics Center and has a six lane, fully buoyed regatta course.  Come and enjoy the races.
Columbia River Concours d'Elegance & Car Show; Vancouver; 9:00 am – 3:00 pm; FREE; Over 150 classic cars and motorcycles will be on display on the grounds of Officers Row. The concours is like a temporary outdoor museum where the public can see a unique collection of a wide variety of vintage cars and motorcycles brought together only for this event.
Traveling Lantern Theatre Company; 11:00 am; $5 for children 5 and over; Artists Rep is thrilled to offer performances for children in its Alder lobby. Traveling Lantern will present interactive theatre performances for children every Sunday morning at 11am. The performances will run approximately 45 minutes and include a Q&A with the cast afterward. Tickets are $5 for all who attend over 5 years old.
Pointed Man Band at Village Ballroom – Portland; 10:00am – 10:45am; Pointed Man Band has stories to tell of adventure, emotions and even fun facts about bugs through music made for all to enjoy.  Original tunes, tall tales and plenty of High-Fives! You'll dance, laugh and sing along as we all grow and play together.  Suggested $5/family
First Tuesday Art Walk; Hillsboro; 5:00 pm – 7:00 pm; FREE; Have a night out enjoying tasty snacks and adult beverages while visiting several downtown Hillsboro venues featuring a variety of art and music
NATIONAL EVENTS:
Michael's Kids Club ~  Aug 1; 10 AM – 12:00; Kids can make and take Kids can make and take a Rain Stick craft . At just $2 per child, they get 30 minutes of creative craft fun, supplies included. Ages 3 and up. Sessions start every half hour from 10 AM – 11:30. See a store associate to sign up.
William Sonoma Junior Chef ~ Aug 1; 10:00 am; Tomatoes are ripe and ready for eating and cooking this summer! Learn some delicious dishes you can make with them.  Be sure and register.
Free Craft Activities at Lakeshore Learning Stores– Saturdays;  11am to 3pm; Kids can come to this free craft time each week for a new craft. This week: Friendship Day Keepsake craft.
Home Depot Kids Workshops – Aug 1; 9:00 am – 12:00 pm; Come learn how to make a chalkboard door hanger FREE hands-on workshops; designed for children ages 5 – 12
Bank Of America Museums On Us Free Entrance –  Aug 1 – 2; Bank Of America card holders can get free entrance to Museums Nationwide. Check website for participating museums in your area.