Frugal & Free Activities For Kids / Families in the Northwest
Week Of 10/9 – 10/15
Here is this week's list of family-friendly free or frugal events to do with kids for around the Northwest, as well as some events going on around  the country.  We have decided to go back to the list format as the calendar feature did not turn out to be as user-friendly as we had hoped. Hopefully this list feature will be more helpful for you to find the events quickly that you are interested in! Let us know how you like it & if you have any more feedback on how the Event list is working for you!
If you see a fun, frugal event that's not listed, feel free to leave a comment so we can add that event to our list.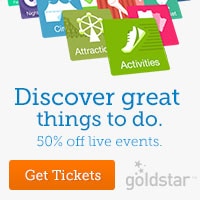 Cheap Event Tickets for Seattle Area
Head to Goldstar and select Family events to easily find these:
Russian Grand Ballet: Swan Lake – Pantages Theater, Tacoma – $46.75 (reg $93.45)
Teatro ZinZanni's Family Show – Seattle – $11.75 – 14.25 (reg $23.50 – $28.50)
Chitty Chitty Bang Bang – Seattle Children's Theater – $12.50 – $22.50
Elephant & Piggie's "We are in a Play" – Seattle Children's Theater – $11 – $20
Chitty Chitty Bang Bang Play – Tacoma Children's Playhouse – $15.50 (Reg $31)
Movie Theater 4 Pack of Tickets for $34 ($54 value)
Alice in Wonderland – Tacoma Children's Playhouse – $7.50 (reg $15)

Find more Cheap Event Tickets for Seattle area on Goldstar

HERE

.
Cheap Event Tickets for Portland Area
Head to Goldstar and select Family events to easily find these:
Junie B Jones – Newmark Theater – Portland – $7 – $14
Elephant & Piggie's "We are in a Play" – Northwest Children's Theater – Portland – $10.50
The Sun Serpent – Northwest Children's Theater Portland – $10.50
Sleeping with the Sharks – Sleepover at the Portland Aquarium – $35 (reg $59.99)
Discount tickets for the Portland Aquarium – $5 (reg $10.95)
Find more Cheap Event Tickets for Portland area on Goldstar HERE.
Don't forget to check out our Seattle Staycation or NW Fall Festivals, Farm Tours & Pumpkin Patches for more ideas on many local activities and events, if you are looking for a specific event and want to save some money!
We also have a  review page of pumpkin patches and fall farm tours for ideas on fall fun!  We'd love if you shared a review of your favorite pumpkin patch as well and if we share it on our page, you'll get a $10 Amazon Gift Card!
If you're interested in going to see the salmon returning & spawning, check out Sounds Fun Mom's list of great places around the South Sound to see the salmon spawn.
Puget Sound Fairs & Festivals:
See our HUGE list of NW Fall Farm Tours, Festivals and Pumpkin Patches here for upcoming events too!
Make sure to check out our Northwest Fall Consignment Sale Roundup for children's clothing sales that will be happening this week and in the weeks to come around the Northwest in Washington, Oregon & Idaho.
Here are a few more family-friendly events you can check out:
Things To Do in Seattle Area
Friday, Oct. 9, 2015 ~
Saint Demetrios Greek Festival – 10/9 – 10/11; Seattle; Free admission; Greek Food, Greek dancing & much more!
Dungeness Crab & Seafood Festival (Crab Fest) – Port Angeles; 10/9 – 10/11; Free admission; Crab Feed, Chowder Cook-Off, Chef Demonstrations, Grab a Crab Tank Derby, Kids activities, craft vendors & more.
Saturday, Oct. 10, 2015 ~
Free Helmet Fitting at Kohl's – Kohl's store in Snohomish; 10 am – 1: pm; Bring your child in to be fitted with a new bike helmet.
Nick Jr. Playday Event!; Westfield Southcenter; FREE; 10 am – 4 pm; Kids and families can come and play with their favorite preschool characters from hit Nick Jr. shows, and participate in exciting activities for an unforgettable day of fun.  Blaze and the Monster Machines, Shimmer and Shine and PAW Patrol will all be there!
SAM Community Day: Intimate Impressionism; Seattle; FREE; 10 am – 3 pm; An amazing day of art making, music and magic in celebration of the new exhibition 'Intimate Impressionism' from the National Gallery of Art. Listen to live music, make art, go on tours, watch performances, and take workshops inspired by the exhibition.
Robot Expo; Seattle; FREE; 9:00 am – 5:30 pm; Amateur robot enthusiasts exhibit new technologies, share ideas, show off robotic creations, and compete at Robothon in the Seattle Center Armory.
Green Tacoma Day – Saturday Oct 10th – 10am – 1pm; Volunteer time to help keep your local park beautiful.
Fire Day at MOHAI; Seattle; FREE; 10 am – 2:00 pm; family friendly event, co-presented with the Seattle Fire Department. Activities include bunking demonstrations, fire safety activities, exploring antique and present day fire engines, hands-on artifacts, crafts, giveaways and more!
Pumpkin Festival; Orting; FREE; Enjoy pumpkin pie, pumpkin milkshakes, pumpkin cotton candy, and even pumpkin pizza at the Orting Pumpkin Fest. Includes family entertainment, a car show, and kids in costume.
Sammamish Arts Fair; Sammamish; Oct 10 – Oct 11; FREE; visit with the artists, see their work and learn about their creative process. Inside the City Hall building, the highest quality and variety of fine art will be available for purchase, and will include original works of art such as; paintings, jewelry, mixed media, encaustic art, glass arts, ceramics, printmaking, woodcarving, photography and textile art.
Vashon CiderFest – Sat 10/10 from 10am – 3pm; Cider pressing, even for kids; Farmers Market & Crafts & more.
Cedar River Salmon Journey – Renton area; 10/10 – 10/25 Saturdays & Sundays; 11:00am – 4:00pm; Join the Cedar River Salmon Journey and see spawning salmon at five sites along the Cedar River near Renton. Experienced volunteer naturalists will be available from 11 a.m. to 4 p.m. each day at Renton Library, Cedar River Park, Riverview Park, Cavanaugh Pond and Landsburg Park and Dam.  All sites except Cavanaugh Pond are ADA accessible. Parking is limited; please carpool.
Kelsey Creek Farm Fair – Bellevue; 11am – 4pm; Free admission; Old fashioned fun activities for kids, pony rides, tractor-pulled hayrides, kids crafts, food, live entertainment, inflatables & more.  Make sure to check out our review of Kelsey Creek Farm too.
Harvest Festival at Country Village Shops – Bothell; 10/10 & 10/11; 11am – 5pm; Craft booths, Paint a Pumpkin, Pony Rides, Train Rides, Face Painting & more
Salmon SEEson in Issaquah – Issaquah; Saturdays & Sundays in Sept. thru Nov.; See salmon return to Issaquah Creek, where you can view spawning from the bridge or through viewing windows. Trained docents from Friends of the Issaquah Salmon  Hatchery (FISH) will give tours (see website for dates and times).
Mary Olson Farm; Auburn; FREE donations appreciated;  12:00 pm – 5:00 pm; Take your family on a trip back in time to the Mary Olson Farm. Kids will love meeting our cows, chickens, horses and goats and going on a tour of the Olson's farmhouse.
Free Miniature Train Rides – Skykomish; 10am-4pm Every Weekend Thru November 1st plus Holidays
Crafts of the Past – Tacoma; 11:00am  – 5:00 pm; Each weekend through September; $22 per family. Artist will host different craft making each Saturday at the Fort Nisqually Park in Point Defiance Park! Check site for this weeks schedule!
Concert Series at Chittenden Locks; Seattle; 2:00 pm – 4:00 pm; Free; Saturdays and Sundays
Bellevue Art Museums Get Crafty Saturday ; Bellevue; 1:00 pm – 3:00 pm; Free craft time for kids each Saturday. $2 material fee or free with admission
Sunday Oct. 11, 2015 ~
Seattle Children's Fair – Seattle Center; FREE; 10am – 5pm; Geared towards kids ages 2-10, presented by Northwest Folklife Festival, with hands on activities, participatory workshops, over 25 performances in five indoor venues.
Neighborhood Festival; Fauntleroy;  FREE; Homemade foods for sale, animals to pet, pony rides, indoor entertainment, and pumpkin painting.
Adventure Playground;  Mercer Island; 1:00pm – 4:00pm; Adventure Playground is a one of a kind play area that allows kids to create their own play adventure, where kids are provided toolboxes, various building supplies, safety items and the freedom to create build-it-yourself play zones with the guidance of staff. Free, but Donations accepted.~See website for closed days and times.
Cast Off! Free Public Sail at the Center for Wooden Boats – Seattle; 10 a.m.–4 p.m.; Free every Sunday; A Seattle tradition for more than 25 years! Our volunteer skippers and crew take passengers out on Lake Union for unforgettable voyages. Sprit boats, steam boats, electric boats, schooners, ketches, yawls, and yachts: come every Sunday to sail them all, year-round, rain or shine for free.
October 15, 2015 ~ Free Third Thursday
Half Priced Admission Imagine Childrens Museum – Everett; 3:00pm – 5:00pm is half priced ( $3.88)
$1 Third Thursdays at KidsQuest – Bellevue; 5:00pm – 8:00pm; Enjoy $1 admission 5 to 8 p.m. on the third Thursday of each month.
Third Thursday Art Mingle – Tacoma; 5:00pm – 8:00pm; Visit Tacoma's downtown galleries. FREE, includes the Museum of Glass, Washington State History Museum (free 2 to 8 p.m.) and Tacoma Art Museum.
Things To Do in Portland
Friday Oct. 9, 2015 ~
Portland Nursery Apple Tasting Event – 10/19 – 10/11; 10am – 5pm; Apple & pear tasting,  cider demos, activities in kids tent, live music, scarecrow contest & more.
Tillamook Forest Center – Tillamook; Every Friday 11:30am; FREE; Are you looking for something fun to do in the forest? Join the Tillamook Forest Center staff for a variety of fascinating, forest-related programs. From Dutch oven cooking presentations to wildflower walks we've got something for everyone. Berry Walk, Browsing Beavers and Beautiful Butterflies are just a few of the topics. Check website for fun details.
Red Yarn at Warehouse Cafe – Portland; 10:00 am – 10:45 am; Weaving together energetic live music, puppetry and storytelling, Red Yarn teaches positive values while reviving American folklore for a younger generation. Join Red Yarn & his lovable critters every Friday morning at Warehouse Cafe. Audiences will sing, dance, act, and experience the joy of community during Red Yarn's interactive shows. This show is hosted by Warehouse Cafe, a coffee shop, market and community space committed to healthy food at fair.
Music From Mr. Hoo from The Alphabeticians – Portland; 11 am – 12 pm; Mr. Hoo will be singing songs with and for kids. He'll play his guitar and sing some original songs, some Alphabeticians songs, some classic kid songs and Hoo knows what else? $5 per family.
Storytime and Craft at The Craft Factory; Portland; 5:30 pm – 6:00 pm; Free; Crafts and storytime collide! Fun!
Saturday Oct. 10, 2015 ~
Kids Bulb Day – Sherwood & Gresham ; FREE; 9:30 – 1:00pm; Kids can plant a pot of bulbs or flowers to bring home; Registration is required ahead of time
Pet Expo; Portland; FREE; 10:00 am – 6:00 pm; Bring your pet (see rules) to the Portland Pet Expo, which offers vendors, vaccinations, entertainment, and adoptions at Portland Expo Center.
Kite Festival; Lincoln City; FREE; Both days of the Lincoln City Fall Kite Festival include a $5 kite-making workshop, kids' parade, and professional shows at the beach. Repeats June.
Second Saturday at Vancouver's Water Center – Vancouver; 10/12; 1:00pm – 3:00pm; Learn about power and electricity;  Free Event Each second Saturday of the month, from 1 to 3 p.m., kids and their families are invited to explore a different topic through hands-on activities, games and stories.
Free Family Day at Washington County Museum – Hillsboro; 10/10; 9:00am – 1:30pm; Free hands-on history and art activities for the whole family. Bring the kids and create a project to take home, enjoy stories, see and touch artifacts, learn about local history and more.
Super Saturday Demo Day; Portland; 11:00 am – 5:30 pm; Free; Every Saturday down at Finnegan's Toys and Gifts! We do crafts and demos from 11:00am – 5:30pm. Learn a new game, color a picture, play with some sidewalk chalk, design your own jewelry or paper airplane, the possibilities are endless!
Oregon Pacific Railroad Train Rides at Rail Heritage Center – Portland;  1:00pm – 5:00pm; The Oregon Pacific Railroad is offering round trip diesel locomotive powered passenger train rides to the public from the Oregon Rail Heritage Center, located near OMSI. Passenger trains will operate on Saturdays and depart the Oregon Rail Heritage Center at 1:30pm, 2:30pm, 3:30pm and 4:30 pm. Rides last approximately 45 minutes. Locomotive cab rides are available for an additional fee.  Cost:  $5
Sunday Oct. 11, 2015 ~
Traveling Lantern Theatre Company; 11:00 am; $5 for children 5 and over; Artists Rep is thrilled to offer performances for children in its Alder lobby. Traveling Lantern will present interactive theatre performances for children every Sunday morning at 11am. The performances will run approximately 45 minutes and include a Q&A with the cast afterward. Tickets are $5 for all who attend over 5 years old.
Pointed Man Band at Village Ballroom – Portland; 10:00am – 10:45am; Pointed Man Band has stories to tell of adventure, emotions and even fun facts about bugs through music made for all to enjoy.  Original tunes, tall tales and plenty of High-Fives! You'll dance, laugh and sing along as we all grow and play together.  Suggested $5/family
NATIONAL EVENTS:
Michael's Kids Club ~  Oct. 3; 10 AM – 12:00; Kids can make and take Kids can make and take a Perler Frankenstein. At just $2 per child, they get 30 minutes of creative craft fun, supplies included. Ages 3 and up. Sessions start every half hour from 10 AM – 11:30. See a store associate to sign up.
Free Craft Activities at Lakeshore Learning Stores– Saturdays;  11am to 3pm; Kids can come to this free craft time each week for a new craft. This week: Not-So-Scary Scarecrow
FREE National Parks Admission for 4th Graders; Starting in September 2015, every 4th grader will get an Every Kid in the Park pass food for FREE admission to all of America's National Parks.
Lowe's Build and Grow; Saturday, October 10th at 10 am. Kids make and take a spooky Haunted Birdhouse. Be sure to register.