Disney on Ice – Lets Celebrate, will be playing at the Everett Comcast Arena this weekend.  Make sure to check out our post on ways to save on tickets to Disney on Ice  to see the show.
Here are the details on the upcoming shows:
Xfinity Arena in Everett:
Thursday, November 20 –  7:00 PM
Friday, November 21 –  7:00 PM
Saturday, November 22 –  11:30 AM, 3:30 PM & 7:00 PM
Sunday, November 23 –  1:00 PM & 5:00 PM
They will also be going to Vancouver, BC the week of Thanksgiving – 11/26 – 11/30.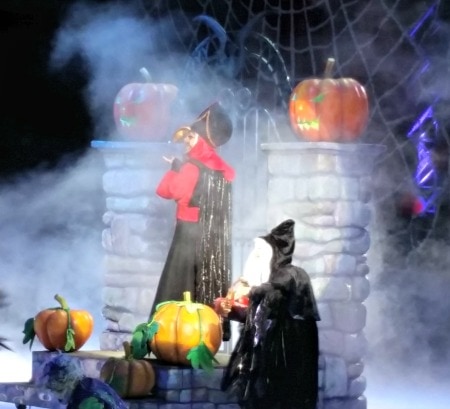 My family went to this past week's show in Kent and had a blast! It was a packed show, so you will definitely want to get your tickets as soon as possible. The theme of Lets Celebrate has the Disney Crew taking you through the holidays, in a series of celebration segments. The story line was a little less cohesive than I have seen in the past (was a little different jumping from the darker Halloween characters, to the princess dance), but overall we really enjoyed the show. I do think the contrast was fun though (not quite sure who might come out next, a villian, princess, Minnie, Mickey, Donald, Daisy and so many more characters)!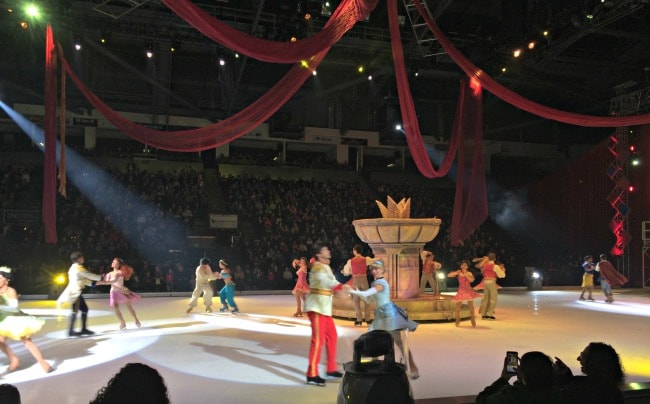 One highlight for my kids was the Valentines Day celebration, when they brought out many of the Disney Princesses and their Princesses. They got to see Cinderella, Mulan, Jasmine, Belle, Snow White and many more!!
They did have audience interactions planned a few spots in the show (they asked the kids to yell out common phrases like "bippity boppity boo" and more. It was fun to see and hear how much all of the kids around us were having. The characters waved out into the audience and the kids were waving back like crazy, trying to connect with the characters.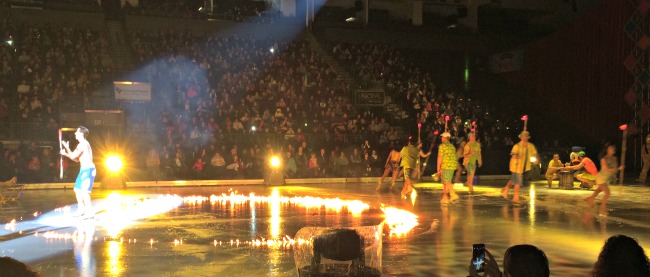 They also added in a scene from Hawaii, which was fun and lighthearted.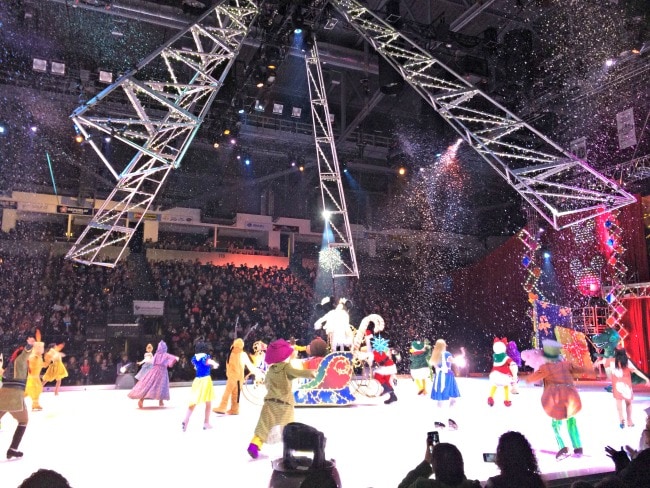 The show ends with a Christmas Celebration, including snow and a light display that mimicked fireworks. They bring out the Toy Story crew, and I felt like this scene had the best interaction with the crowd. It was definitely the highlight of the show. Both my girls LOVED the show, and my husband and I had a great time too!
When we were on our way out, we got a flyer announcing that next year's Disney on Ice show would be about Frozen. My girls were so excited…. they cannot wait for Frozen!
I will warn you ahead of  time, snacks and souvenirs are a fortune. Slushys were $12, popcorn was $12, etc. (I don't think we found anything under that price range). We brought Disney light up princess wands we got at the dollar store and let our girls dress up in their Frozen outfits (we saw many kids dressed up for the event), and avoided the extra costs at the show.
I mention this so you can either be prepared ahead of time for the cost, or prepare your kids ahead of time if you don't plan to buy the extra items. You will find they are selling these items everywhere (even when you are seated), so if you don't want to spend all the money, it did work well to prepare the girls so they knew, before being surrounded by it all.
Disclosure: Disney on Ice provide our families complimentary tickets to be able to provide this review. All opinions are 100% my own.