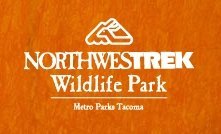 Here's a great Northwest Trek discount for the month of September – get half-price admission for seniors, adults aged 65 & over, for the month of September. You'll also get 10% off your food & beverage purchase at the cafe. The regular rate for seniors is $18.25 through September 30 (or $16.25 for military/Pierce County residents), so that would be $9.13/ea.
I think September is a great time to visit the park as the temperatures have cooled down a little bit, so hopefully the animals will be out roaming around more than they might have been in the summer months – yet you still have some beautiful weather to enjoy the park! We went several times this spring/summer as it is one of our favorite places around to visit the animals.
And for those of you who are looking for a little adventure, Northwest Trek has several zipline / challenge courses called Zip Wild Adventure Courses, for a wide range of ages & sizes (kids as small as 3 feet, 3″ tall can participate). The prices will range from $19.95 – $59.95, in addition to the general admission to NW Trek. However, seniors can get 10% off on the zipline adventures as well!