Staying at Disneyland (and Disneyland Hotel Deals) –
Here are some tips on how to save the most on Hotels and Disneyland stays in the Anaheim area. Be sure to check out our Disneyland Deals page too, for more great ways to save on a Disneyland Vacation!
We will also be updating this with current hot Disneyland Hotel deals as they become available. See the section below on current Disneyland Hotel Deals to see what might be available this month!
There are two ways to save the most on your stay when looking at Disneyland Hotel Deals:
1) Stay during the off season. The off season for Disneyland runs from:
Mid-January through mid-March (except for President's Day Weekend)
Mid-April through mid-May (except during Spring Break)
Mid-September through mid-November (except during Halloween Time at the Disneyland Resort)
Generally speaking, you will save more if you book a weekday stay vs weekends too (plus you miss more crowds this week, but may run into shorter hours, etc).
Disneyland offers a resource here on when to visit Disneyland, with information on what to expect for weather, crowds and more.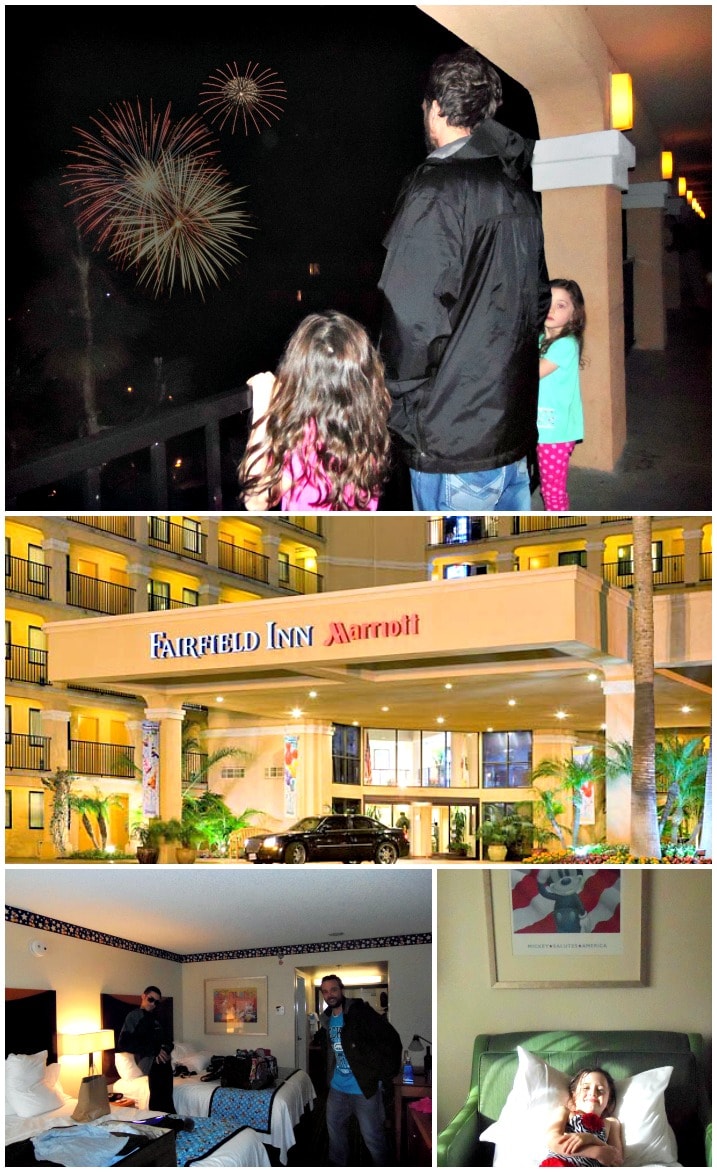 We spent one night at the Fairfield Marriott Anahiem, across the street from Disneyland
2) Stay off site at one of the Disneyland good neighbor hotels ( a non-Disney Hotel) – Staying at one of the Disneyland good neighbor hotels vs a Disney Resort will save you lots of money! I have to be honest and tell you that I am a Disney Resort fan personally, but its really a personal decision so I will point out some of the pros and cons of both (and where to find the best deals). My family has stayed onsite at all three Disneyland Resorts, and off-site in walking distance and off-site requiring a shuttle. Every stay was great, and I recommend them all. Here is some more info when trying to decide whether to stay onsite or off site.
The Disneyland Main Gate area is a great place to stay if you want to be in walking distance to Disneyland. Some of these hotels are directly across the street from the Disneyland Maingate (you walk through the transportation area of Disney where the shuttles drop people off). Two that get great recommendations are The Fairfield Disneyland Maingate and The Howard Johnson Anahiem. We stayed at the Fairfield for a night on our latest trip and we had a front row seat for the evening fireworks from our balcony. The room also accommodated our family of 5 nicely (pull out couch and two queen beds). Customer service was great, there was a pizza hut and arcade on the third floor, Mcdonalds in the parking lot, nice swimming pool and a really easy walk to Disneyland! Plus their online booking system is awesome. Book your hotel stay in advance to secure your rate, but you can keep an eye on the rates and if they drop you can cancel and rebook for the lower rate with no penalty (as long as you are more then 24 hours out from your stay)!!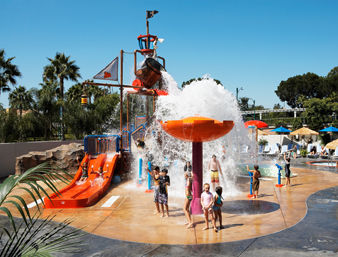 Photo Credit: Howard Johnson website
The Howard Johnson is a little bit of a longer walk, but it includes a small water park on site, so may be fun if you have little ones. I have not stayed here personally, but the reviews are good, and it is the only non-Disney hotel with a waterpark.
Another benefit of staying offsite is that you will have easy access to many more affordable restaurants then if you stay in a Disney resort.
I find Trip Advisor to be a great spot to read the reviews and decide which hotel might best suite your family.
Best ways to save on Off Site hotels near Disneyland:
Cheap Tickets is a branch of Orbitz (legit site for both Disneyland hotels and park tickets – we bought ours through them for our recent stay). They almost always offer a 20% off coupon code, that can really help you save. Find their current promo codes here!
Orbitz also offers promo codes good to use on Hotel deals. Find a list of current promo codes with them here.
Expedia often offers special promotions too. See site for details.
Get Away Today offers some of the best Disneyland discounts as far as travel sites go.  They often include extra promotions (like currently they are offering a free night stays, free kid's backpacks, discounted Character Meals and more).  I found one deal for the Clarion in Anahiem for my family for around $1500 for a 4 day 3 night stay, and includes free parking and free breakfast (and kids eat free for other meals too). This included a 3 day park hopper ticket, and the price of the tickets alone for my family ran around $1200, so this is a pretty amazing deal! I was looking at packages with tickets included, and they were running approx. $500 less then comparable packages on the Disneyland site. Plus TNWM readers can save an extra $10 off with promo code ThriftyNW14  Another benefit for Get Away Today is that you can use their layaway program and make payments on your vacation to spread the cost out over time.
Check to see if your preferred hotel has an online booking site that will not cost you any cancellation penalties (like the Marriott site I mentioned above). That way you can book far in advance, and then keep an eye on rates and cancel and rebook at the lowest rate you find. Many of these sites guarantee lowest rates too, so if you found a lower rate on one of the travel sites you can submit for that rate.
Don't forget to join the rewards programs of these hotel sites too. You could get close to a free nights stay with some, if you are booking 4 or 5 night trips.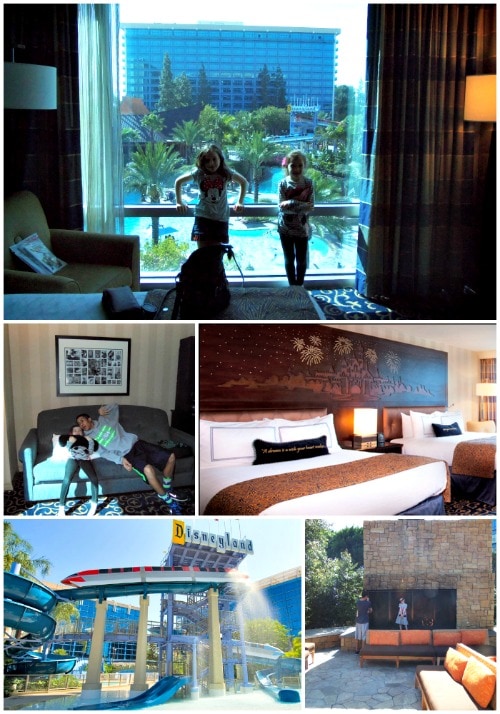 Current Disneyland Hotel Deals: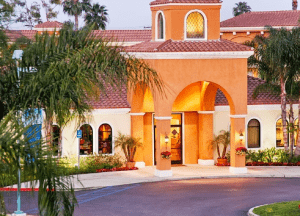 Cortona Inn & Suites Anaheim Resort – Anaheim, CA – as low as $89/nt! This includes a hot complimentary breakfast and there are room options for up to 6 ppl to accommodate larger families.