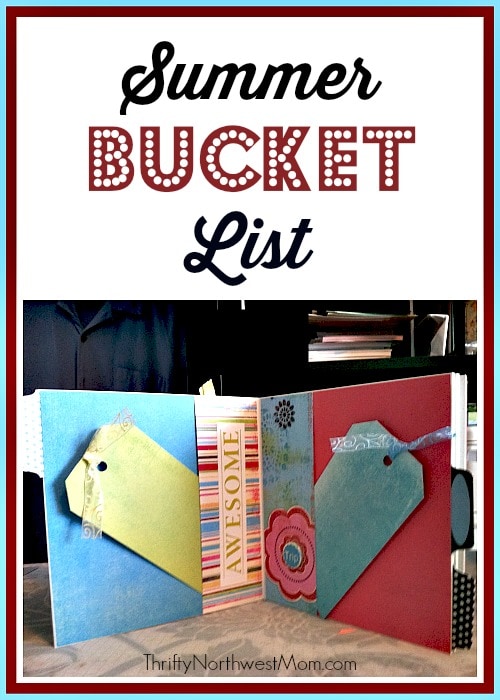 A friend of mine recently shared with me how she creates a family bucket list for each season.  She says it helps her to be intentional with their time and do things they always "talked" about, but never got around to.  I have wanted to do it for a while and summer seems like the perfect time to give it a try.  I always start the summer with grand plans of fun things we are going to do or visit, but it seems like come August we haven't done nearly what I had envisioned!  I am hoping that making a family bucket list will help.
We started first with brainstorming together, as a family, things we each wanted to do.  My husband really wants to go camping, go see CARS 2 and my five year old wants to go fishing, go swimming and on picnics.  My three year old wants to pretty much play in his sandbox all summer!  I want to visit the farmers market, go on some hikes and bike rides.  There are also a few museums that we want to see and local events.  It wasn't hard at all to come up with 50!  In fact we keep thinking of things to add!!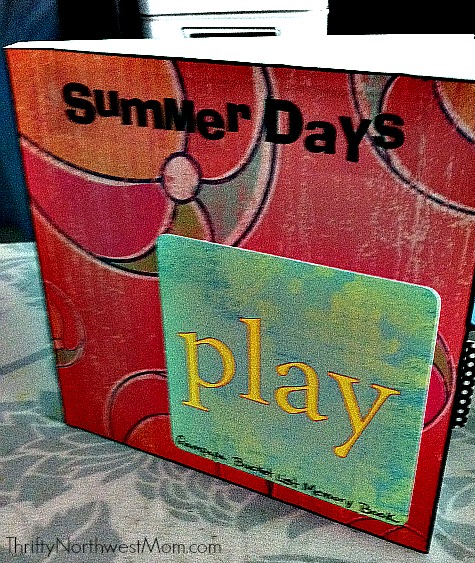 I created a simple sheet in Publisher to keep on a clipboard and mark off as we go.  I am sure if you are a digital scrapbooker you could create something much cuter than mine!  I also decided to make both boys a simple scrapbook so we could put pictures of some of our activities.  I am hoping that will also make me more likely to take some pictures!!  My five year old is beyond excited to get started and frankly so am I!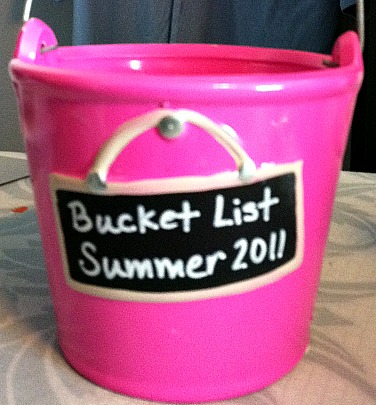 Some other ideas I came across was writing the ideas on strips of paper and putting them in a sand "bucket"-and labeling the bucket, "summer bucket list".   Then everyone can take turns &  draw out a strip with a different activity each day.   You could also make a summer calendar, with different days labeled with activities.  There are so many different ways you could do this same idea for creating a Summer Bucket List!
One thing I was sure to do was make some things really simple.  We can't afford to visit museums every day nor do I want that kind of crazy schedule for the summer.  For example, some of the items are as simple as blowing bubbles, going on a nature walk, or making popsicles!  Others will take more planning like camping, but with that one we will probably do another at the same time like swimming and having campfire.  Just creating the list and making the scrapbooks has gotten me so excited for summer – now if only we will get some summer weather around here!
Free Bucket List Printables:
We have created two versions of a Bucket List printable that you can print off & use as a base for ideas for all the summer fun you want to do as a family this year. It's also fun to check it off to see all that you accomplish!
Print it off & hang on the fridge or put it in an inexpensive picture frame so you can keep it where you can see it & use a dry erase marker to mark off the activities all summer long.
We've created two different versions for you to choose from:
Supplies Used for Scrapbook:
Scrapbook: I picked up the mini blank scrapbook at Michael's for around $5-10.  Use one of their 40% or 50% off one item coupons to lower your price. You can find cute little embellishments in the $1 bins at Michael's or Target's Dollar Spot.
Bucket: You can pick up a bucket or sand pail at a number of places – Target Dollar Spot, the Dollar Tree, Michael's, JoAnn's, Walmart. Just use a sharpie to write on it or use chalkboard paint to make a little chalkboard to write on.
Summer Bucket List Ideas around the NW:
Camping
Picnic at the park
Family Game Night
Puppet Show & make puppets
Nature Walk
Go Mini Golfing
Swim Party
Go to Nisqually Bird Refuge
Build a sand castle
Play Hopskotch
Slumber party with cousins
Have a water fight
Have a watermelon spitting contest
Make rootbeer floats
Visit the King County Fair
Ride the Sounders Train
Visit a new park
Run through the sprinkler
Visit the Seattle Aquarium
Do a science experiment
Have a lemonade stand
Pick berries
Invite friends to a picnic
Visit the Pacific Science Center
Go to the ocean
Make ice cream
Concert in the park
Visit OMSI
Visit Alki Beach
Go to the Dollar Theater
Play with Sidewalk Chalk
Take a family hike
Go to Great Wolf Lodge
Visit the Hands On Children's Museum (Olympia)
Go to the zoo
Celebrate summer birthday's
Go see a new kids movie
Plant something & watch it grow
Make popsicles
Walk the trail at Chambers Bay
Go to the Farmer's Market
Make jam
Go junking
Read a chapter book
Build a campfire
Ride the Portland Aerial Tram
Go for a Sunday Drive
Create art
Go fishing
Movie in the park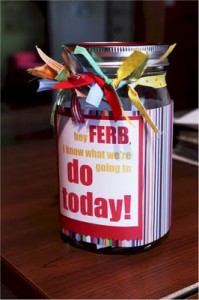 Summer Boredom Jar:
Here is another fun idea to use over the summer – very similar to the Bucket List, but this is called a "Summer Boredom Jar". Fill the jar with simple activities & have your kids pick out a new activity each day. My friend Melissa created this super cute jar using a Phinneas & Herb theme.  You can check out her huge list of summer activities over at "I'm Bored, Let's Make Something".
What is on your summer bucket list??
By  Contributor ,  Sarah from Chickie Momma Crafts