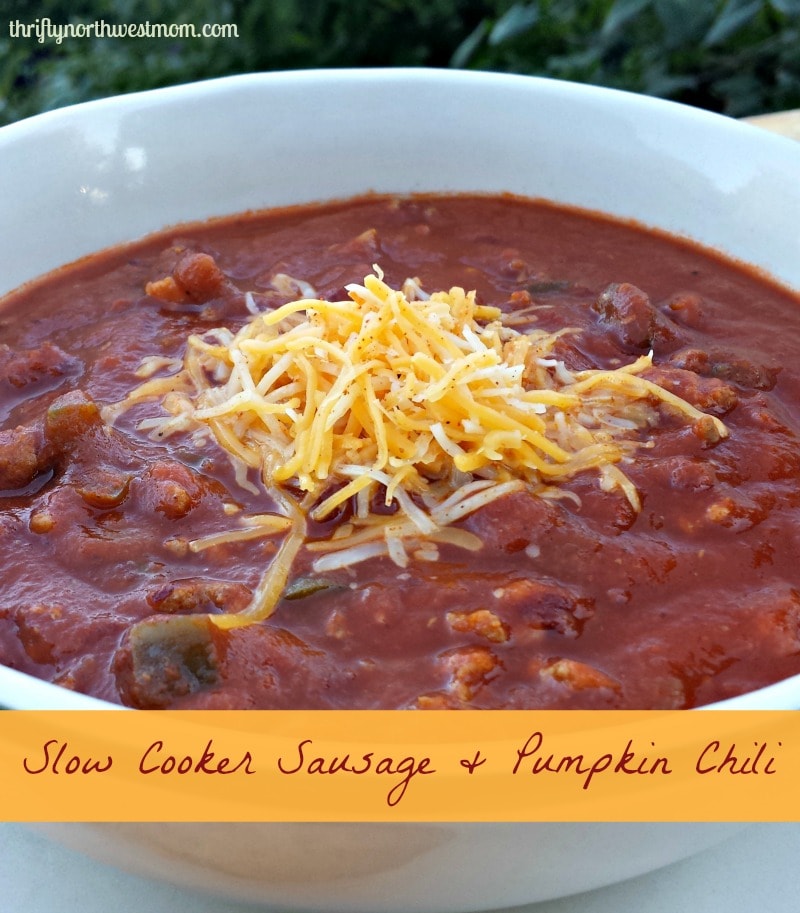 Slow Cooker Sausage and Pumpkin Chili
Nothing says fall like a good bowl of chili. This sausage and pumpkin chili is perfect for the autumn season and you'll love the flavor that the Octoberfest beer adds to it.  You can make this in a crockpot or on the stovetop – either way it's delicious! I love walking in the house after a long day to dinner already made in the slow cooker and this would make a yummy, warm dinner to come home to on one of our dreary Northwest fall days.
Sausage & Pumpkin Chili – Delicious Fall Soup!
Ingredients
2 teaspoons olive oil
1 large yellow onion, diced
1 large green pepper, diced
2 jalapeno peppers, diced
1 teaspoon garlic, minced
1 lb ground sweet Italian sausage
12oz Sam Adams Octoberfest Beer (if you don't have this variety, you can use any Pumpkin/Amber beer in place of it)
1 40oz can of red kidney beans, drained
1 28oz can crushed tomatoes
1 28oz can tomato puree
16oz water
1/2 teaspoon coriander
1 teaspoon cumin
1/2 teaspoon salt
1/2 teaspoon pepper
1-1/2 teaspoons chili powder
1 teaspoon onion powder
1 teaspoon granulated garlic
2 teaspoons sugar
1 cup of pumpkin puree
Instructions
In a large skillet, brown the sausage.
Drain and set aside.
Using the same skillet, cook the peppers and onions until tender over medium low heat, then add the garlic and cook for one more minute.
Turn the heat up to high and add the beer, crushed tomatoes, tomato puree and pumpkin puree.
Bring to a boil, then reduce the heat and simmer for 10 minutes stirring occasionally.
In a large stock pot or crockpot, combine the liquid mixture with the meat, beans and seasonings. Cook on low for 4-6 hours.
Serve with your favorite toppings.
http://www.thriftynorthwestmom.com/slow-cooker-sausage-and-pumpkin-chili/
More Fall Soups & Recipes::
Soups:
More Fall Recipes:
Find our whole database of recipes to check out, too!
What are your favorite fall soups to make?