Easy Homemade Chicken Pies (Use Puff Pastry or Pie Crust)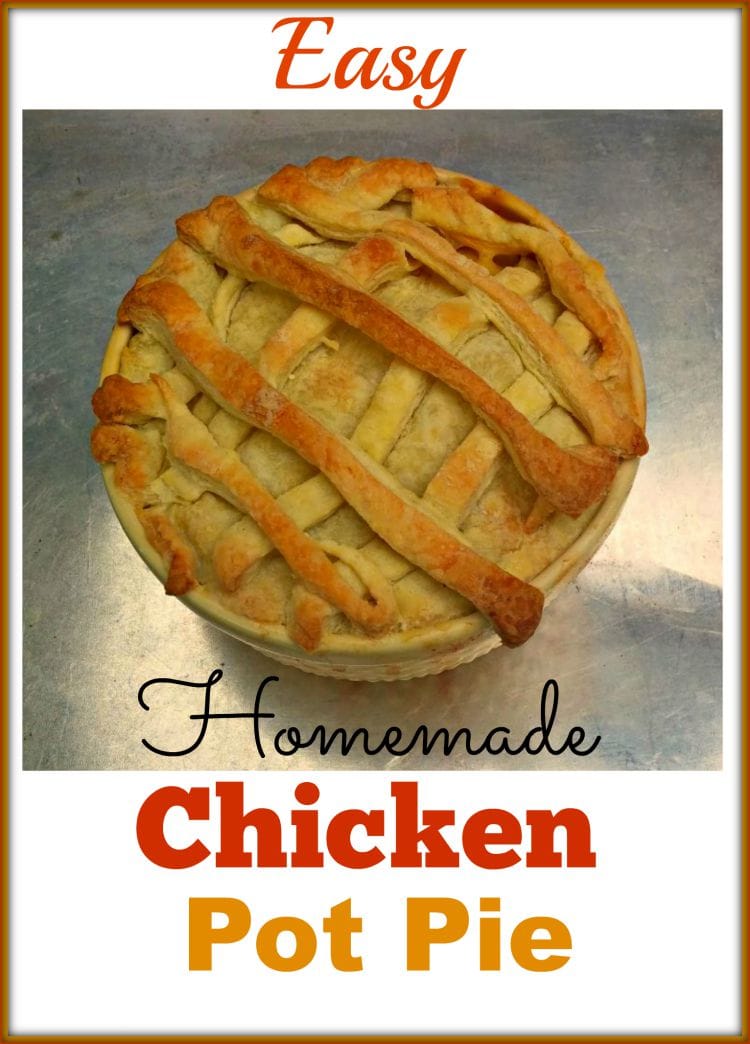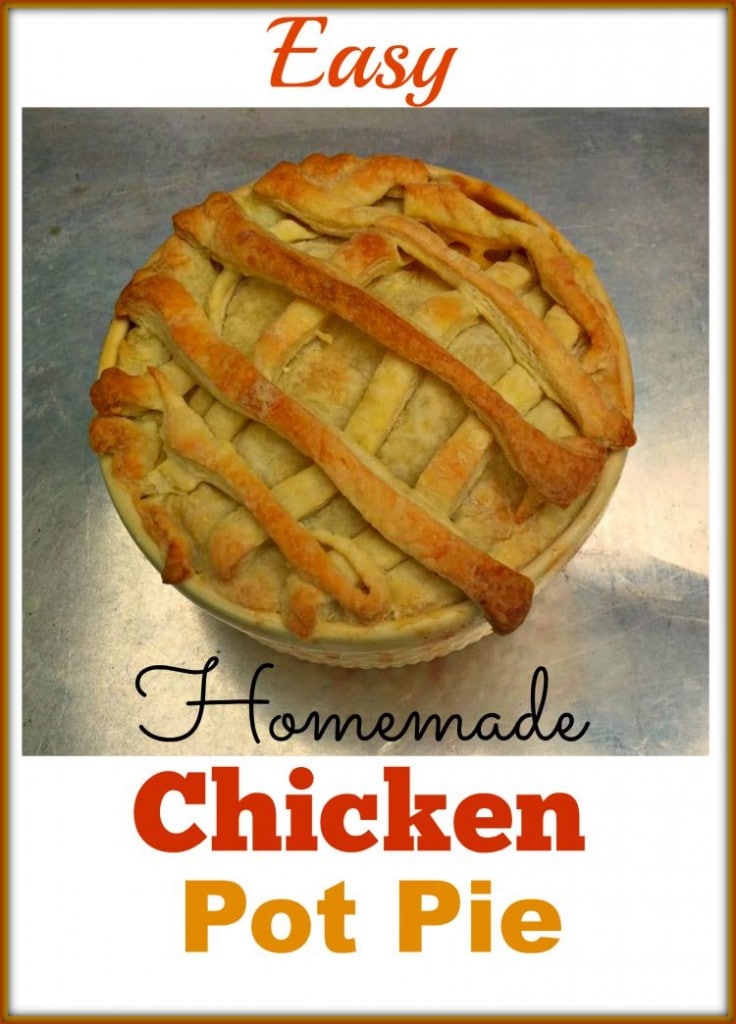 Its that time of the year when I start to crave some of my favorite comfort food recipes. Homemade Chicken Pot Pie is always at the top of that list. I love the recipe because its so affordable to make. My kids love the recipe because they can each have their own pot pie. My husband loves this recipe, as its hearty and filling.
Besides its delicious taste, another thing I love about homemade chicken pot pies is how flexible the recipe is. You can make it as a standard size pie and cut everyone a slice. You can also make everyone their own individual size chicken pot pit. My two preferred methods for making it include using either pie crust (and you can make the pre-made crust you buy at the store) or using puff pastry. Puff pastry is my favorite, but pie crust is usually cheaper. Making the filling is so easy, and then if you use puff pastry or pre-made crust, this is a very easy recipe to put together. Some times I will cut extra lines in the dough and add a design to the top of my pot pies, just to make them prettier, but they taste just as good either way.
I find pot pies are a great option for entertaining on a budget (and you can make them ahead of time and just cook them when your guests arrive so you are not spending a bunch of time in the kitchen). You can even get those small tin pie containers to cook them in for larger crowds.
The pot pie recipe is so versatile, you could even use leftover turkey (after Thanksgiving) or the pre-cooked Rotisserie chickens you can grab at the store to save more time. You can also make up the chicken and vegetable mixture (in recipe below), and freeze it for an easy weeknight freezer meal (simply reheat the mixture and add some puff pastry to the top and bake in the oven! When I use pie crust, I will add it crust to the bottom and top of the pie. When I use puff pastry, I simply cut out circles the same size as the ramekin I am cooking it in (use your dish to cut out the circle and get the size right), and add that to the top.
Here are the recipes I used for a previous party I hosted at my house.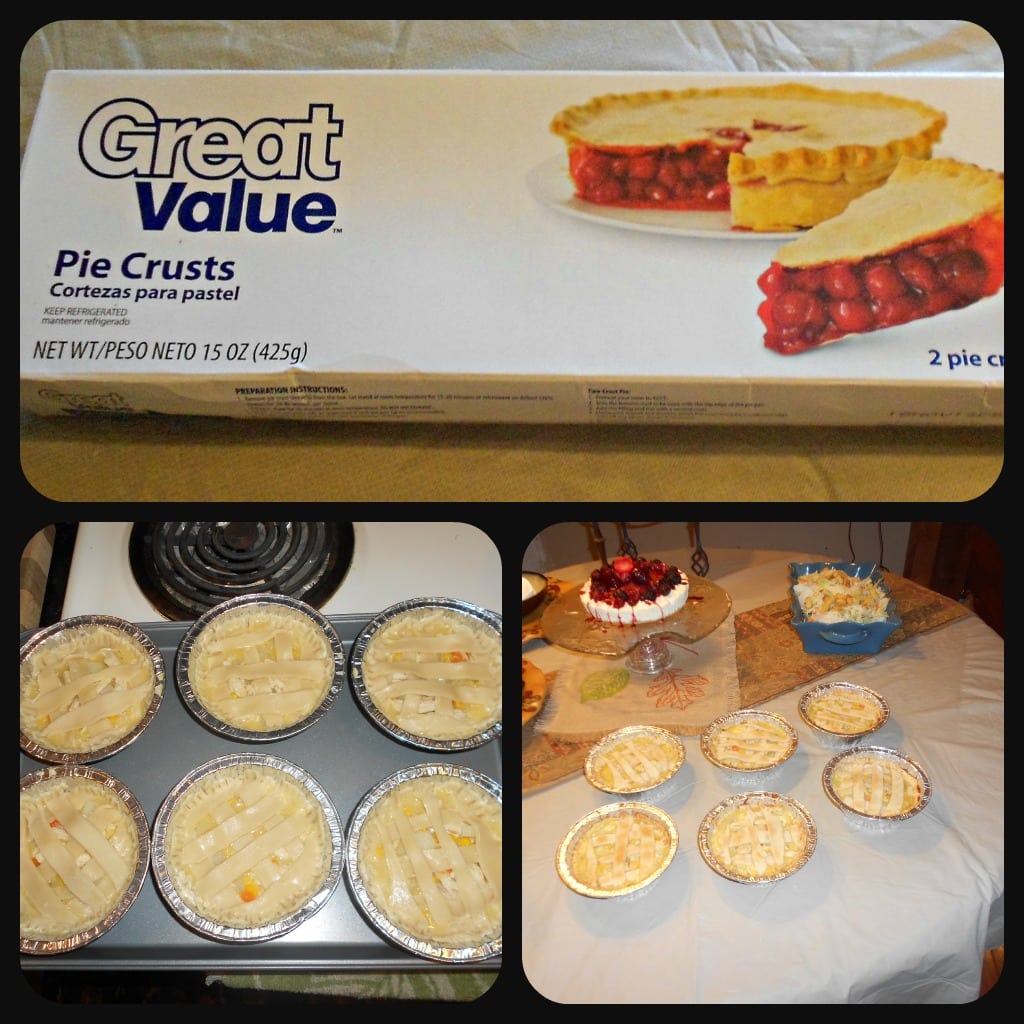 Print
Easy Homemade Chicken Pot Pies
---
Great Value Rolled Out Pie Crust (found at Walmart) (2 boxes for mini pot pies, or one for family size pot pies)

2 cups

of chicken stock

1

can of cream of chicken soup

1

lb of boneless, skinless chicken breast

2

medium potatoes – diced

1

small onion (or

half a

medium sized one) – diced

1 cup

of carrots- diced
Half a can of corn (or 1 cup of frozen corn)
Salt
Pepper
---
Instructions
Boil chicken until cooked through, then shred and set aside.
In a pot add the 2 cups of chicken stock, diced carrots, diced onion and diced potatoes. Cook until soft. Add the corn, and chicken back into the mix. Add can of cream of chicken soup and a dash of salt and dash of pepper. Stir all the ingredients together and simmer, while the mixture thickens.
Preheat the oven to 400 degrees.
For one family size pot pie, roll out one sheet of pie crust and add to the bottom of a pie pan. Pat into sides, and then fill to the top with the chicken and vegetable mixture. Top off with second pie crust, and pinch sides together all the way around the pie. Cut slits in the top of the pie.
For individual sized pot pies, take six mini size pot pie tins and set out on a cookie tray. Use the top of the containers to cut two circles out of one sheet of pie crust. Line to individual size pies with it. Do the same with two more pie crusts to fill all six tins. Fill each tin with chicken and vegetable mixture. Cut remaining pie crust into strips and create a lattice top for each pie. Use a fork to press the sides into the side of the tin, for a finished look.
Bake in preheated oven for 30 minutes, or until golden brown. Remove and let cool for about 5 minutes before serving!