Rotisserie Chicken Recipes – Using Costco Chickens To Make Quick & Affordable Meals
This post may contain affiliate links and I may be compensated for this post. Please read our disclosure policy here.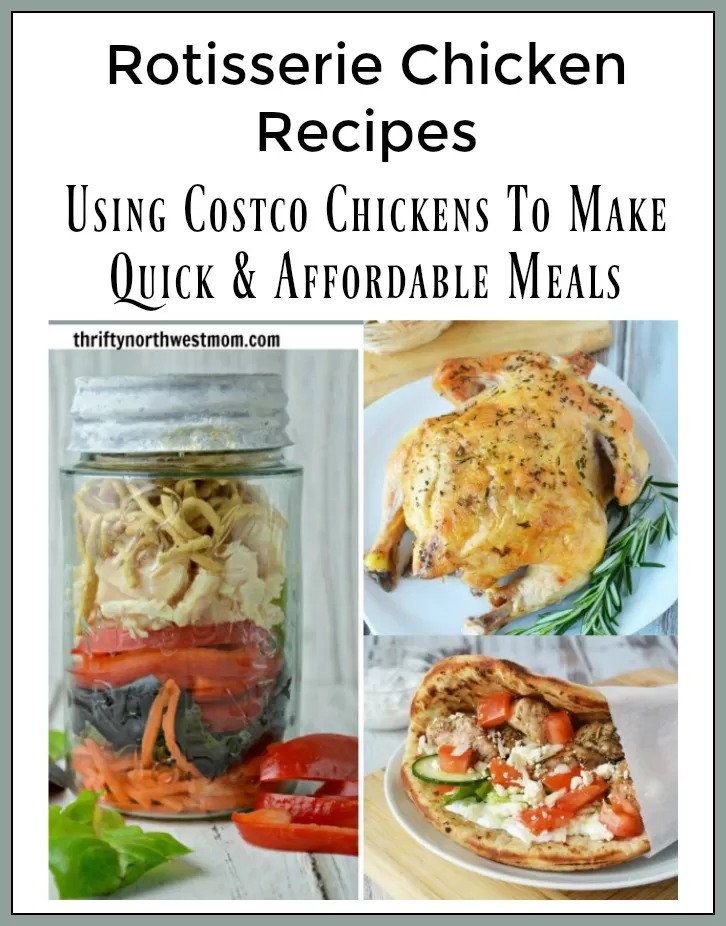 Some weeks are busy. Ok, most weeks are busy! We know that when families get busy, cooking can become a bigger chore, and you may opt to eat out, which generally costs more money and can provide less healthy eating options. To help address this, we have put together this meal plan using 5 Costco Rotisserie Chickens.
Why meal plan around Costco Rotisserie Chickens? Well, because frankly they are so affordable ($5 per chicken), so convenient (already cooked for you), and delicious. This meal plan is perfect for folks with busy schedules, who want to keep their grocery budgets low. The other great thing about this is that the chicken can be easily prepped and stored in your freezer, so you do not have to eat chicken every night to get this cost savings. Plus, this puts some easy meal options right in your freezer!
How far each chicken stretches will depend on the size of your family. Most families of 4 should be able to get around 7 meals out of 5 Costco Chickens. That is $25 + tax per 7 meals, for the meat. We will show you how to make 14 of these meals, most of which are freezer friendly, so you can use them at your convenience throughout the month. That means $50+tax in meat for TWO Weeks of meals (and no long hours in the kitchen).
If you prefer to buy Organic Whole Chickens instead and want to cook your own, we include a recipe below to cook your chicken, and then you can use the rest of the meal ideas the same way. That's the beauty of this plan, simply adapt it to what works best for your families eating habits.
Convenient & Affordable
Those are the two words we built this plan around. That means that many of these recipes are also freezer friendly (you can freeze them to use at a later date, so you don't have to feed your family chicken every night).
I love this plan, as I can prepare the meat needed for all of these meals in about 30 minutes, and spend just $25 for meat for 7 meals!
Costco also now sells the Rotisserie Chicken already deboned for just a little bit more. I sometimes prefer to grab those bags, and save the hassle of deboning the chicken myself. You will have to decide what is best for you, but it is nice to have those options. It sure beats eating out when I don't have the energy to cook fancy meals on busy week nights.
If you have never made freezer meals, you can check out this article for more tips on how to freeze and more.
Rotisserie Chicken Recipes Ideas You Can Use to Make Two Weeks of Delicious Meals:
Here are two weeks of meal plan ideas you can use to make your grocery dollars stretch, as well as keeping things really convenient. The best part is you can freeze most of these, so you do not have to make them back to back, if you want to add some variety to your meal planning for the week. You could use these meal inspirations to make half the meals you need in a month, and then fill in with other kinds of meat or vegetable meals your family loves to mix things up in the kitchen.
Week One Meal Ideas: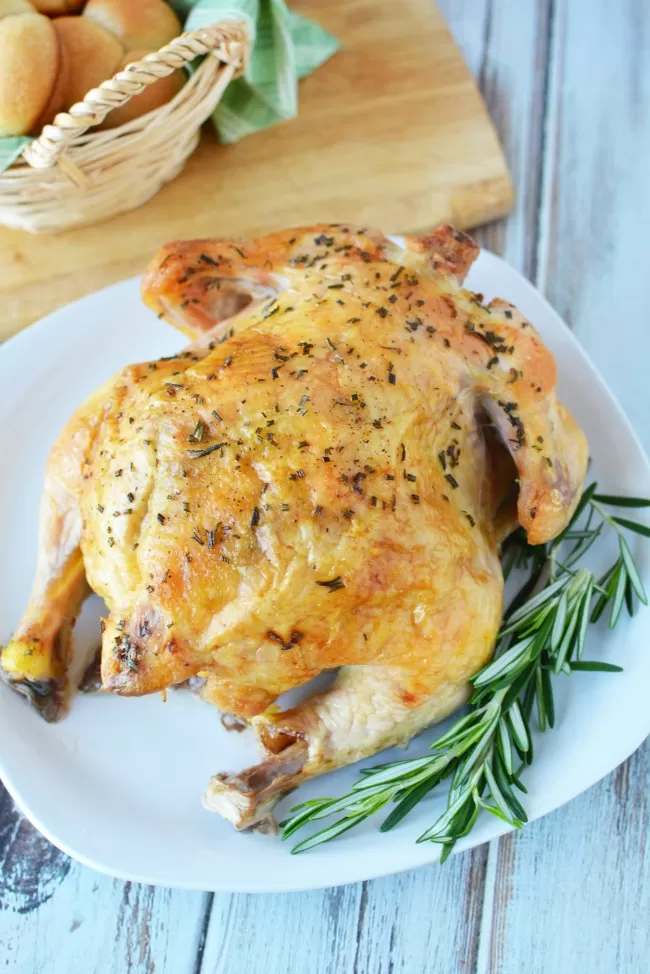 Whole Roasted Chicken (We used Costco Pre-Cooked Chickens, but just in case you want to make your own).
I love to use their pre-cooked chicken for a meal the first night that I buy them, as it frees up your time to de-bone the chicken, and package the rotisserie chicken for meals for the rest of the week, without having to worry about cooking a big meal the night you are dealing with getting the chicken ready for the rest of the week.
Throw in some baked potatoes and make an easy salad for a quick and delicious meal.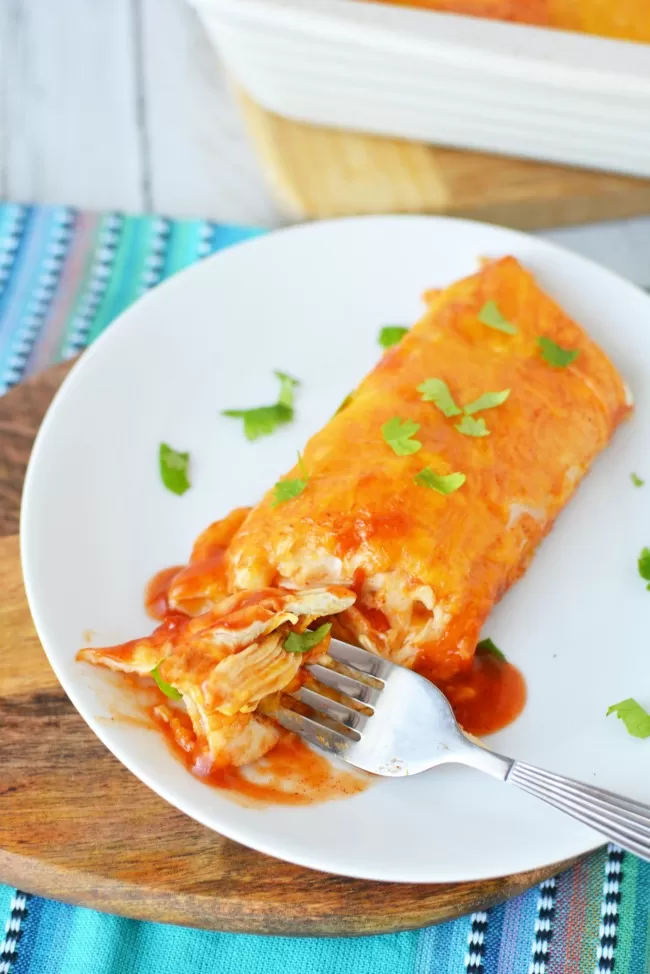 This recipe is really simple to make when you are starting with cooked chicken like you will have from the Costco chickens. It only requires 5 simple, and affordable ingredients, so it is also a great one to make when trying to serve more people. I love to double this recipe, and freeze half of it for a future meal, as it freezes great (freeze it in the foil pans and you can take it directly from the freezer and bake in the oven for a super easy home cooked meal on a busy weeknight.
Chicken Tortilla Soup (Great Freezer Recipe – simply substitute the rotisserie chicken)
This is another great one to double the recipe and freeze half of it for another evening. It is also one that will reuse some of the ingredients from the Chicken Enchilada recipe, so it is great to make the same week to help stretch your ingredients. My favorite thing about this one is you can dump it all in the slow cooker and come home to a delicious meal with little effort.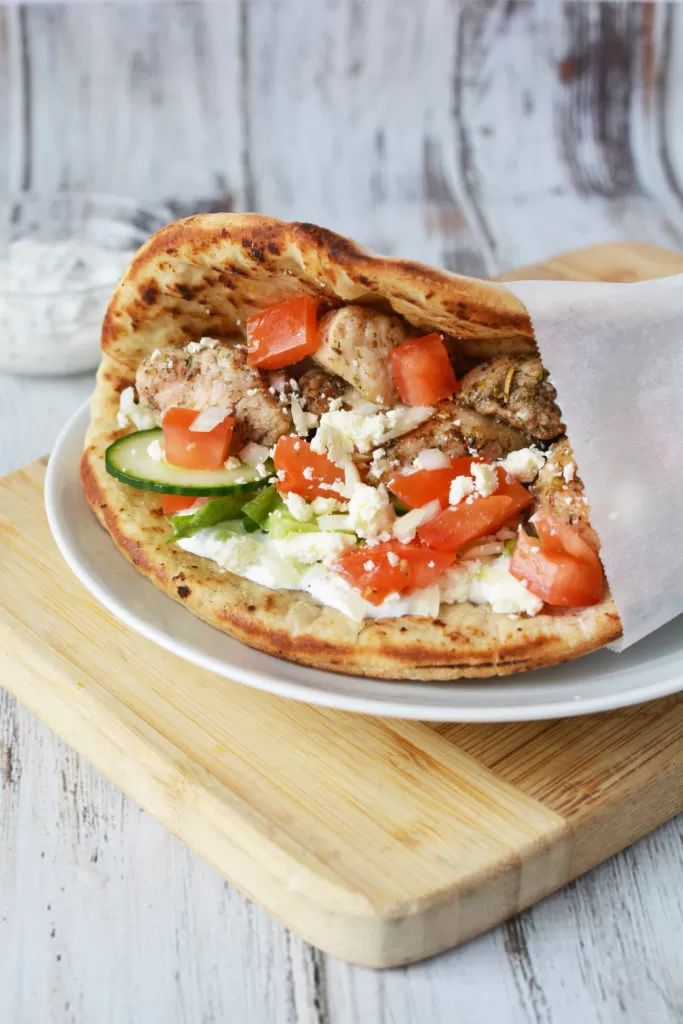 Chicken Gyros (Freeze the Chicken and Gyro Pitas Only and freeze them separately)
This is one of my husband's favorite meals that I make at home. Minus a little prep work dicing veggies and making the tzatziki sauce, it is really a simple meal that tastes like you put a lot more effort into then you really did. If you do not have Pitas, you can alter this recipe to make a beautiful Greek Salad, with all of the ingredients and the tzatziki sauce for your dressing with a little olive oil. This is also a great one to make if you are having company over and want to impress them with a super flavorful meal.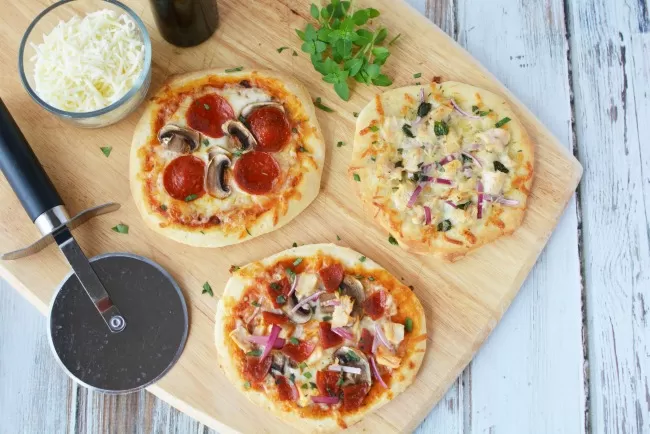 Homemade Pizza using Pitas as crust (Freeze the Chicken and Gyro Pitas, and make fresh from there)
This recipe is a great one to add to the same week you make the Gyros, as it shares ingredients, but makes completely different meals! Two pizza recipes that use chicken that my family loves include, bacon chicken ranch and buffalo chicken pizzas. Both of these pizzas use ranch as the sauce (rather then pizza sauce), spread around on top of the pitas or your pizza crust, and top with mozzarella. For the chicken bacon ranch recipe add shredded or diced chicken, diced bacon, and then whatever veggies you want (green onions, tomatoes and mushrooms go good on this one). For Buffalo Chicken top with shredded or diced chicken, feta cheese, red onion and cilantro. Top off with a splattering of hot buffalo sauce once the pizza has finished baking and yum, yum, yum!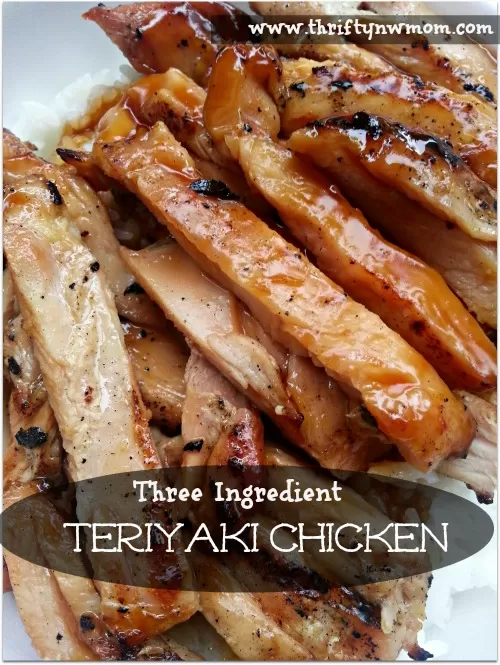 This recipe is generally made with raw chicken, but you could put a portion of the rotisserie chicken in the crock pot with the teriyaki sauce as a short cut to this meal. Just cook until the chicken is warmed through and serve on top of some sticky rice. This recipe is about as simple as it gets (just three ingredients), so is perfect when you really have no energy to cook, but do not want to resort to take out.
Double the batch of teriyaki chicken from the night before, and use it to make this unusual, but delicious nacho recipe! We started making this recipe as a way to use up leftover teriyaki chicken, and grew to love it. You could even fry up wonton sqaures and use those as the base instead of corn chips, and that is even more delicious (but takes some extra time and effort to do that.
Week Two Meal Ideas: 
Whole Roasted Chicken (We used Costco Pre-Cooked Chickens, but just in case you want to make your own)
Just like last week, start your week with the whole chicken for an easy meal to kick the week off with.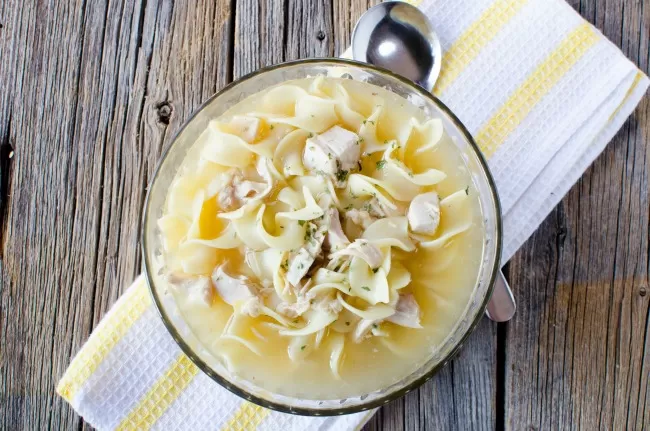 Homemade Chicken Noodle Soup (this recipe only needs three ingredients and is a super easy one, so make it on a busy night).
This recipe is like the teriyaki chicken one listed in week one, in that is it so easy to make and requires only a few ingredients. You can add diced vegetables like carrots, onions and celery to it, but it is not necessary.  My kids always ask for this homemade chicken noodle soup when they are not feeling well, or when it gets really cold out. I love that they love moms homemade soup, and have no idea how easy it really is!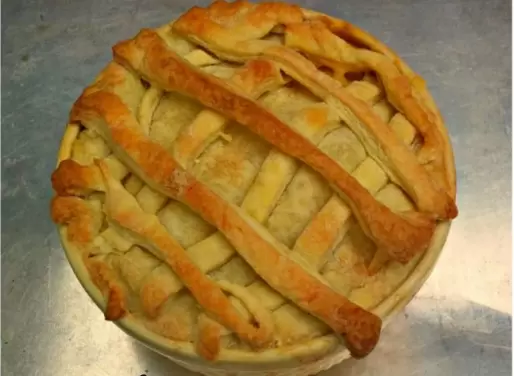 This is a great comfort meal. You can make it family style (by using a regular size pie dish, and then cutting slices for everyone to enjoy) or you can make individual sizes (you can usually find individual size foil pie dishes at the Dollar store if you do not have the ramekins). You can use pie crust, or puff pastry. My favorite way is to use the puff pastry. It tastes so fancy, but is so easy to make.

Chicken and Biscuits (Freezer Friendly, just freeze without biscuits and add those when cooking)
This recipe uses many of the same ingredients as the pot pies. I like to add corn and bacon to my recipe to give it a different flavor than the pot pies. It is another comfort food and so delicious on a cold evening.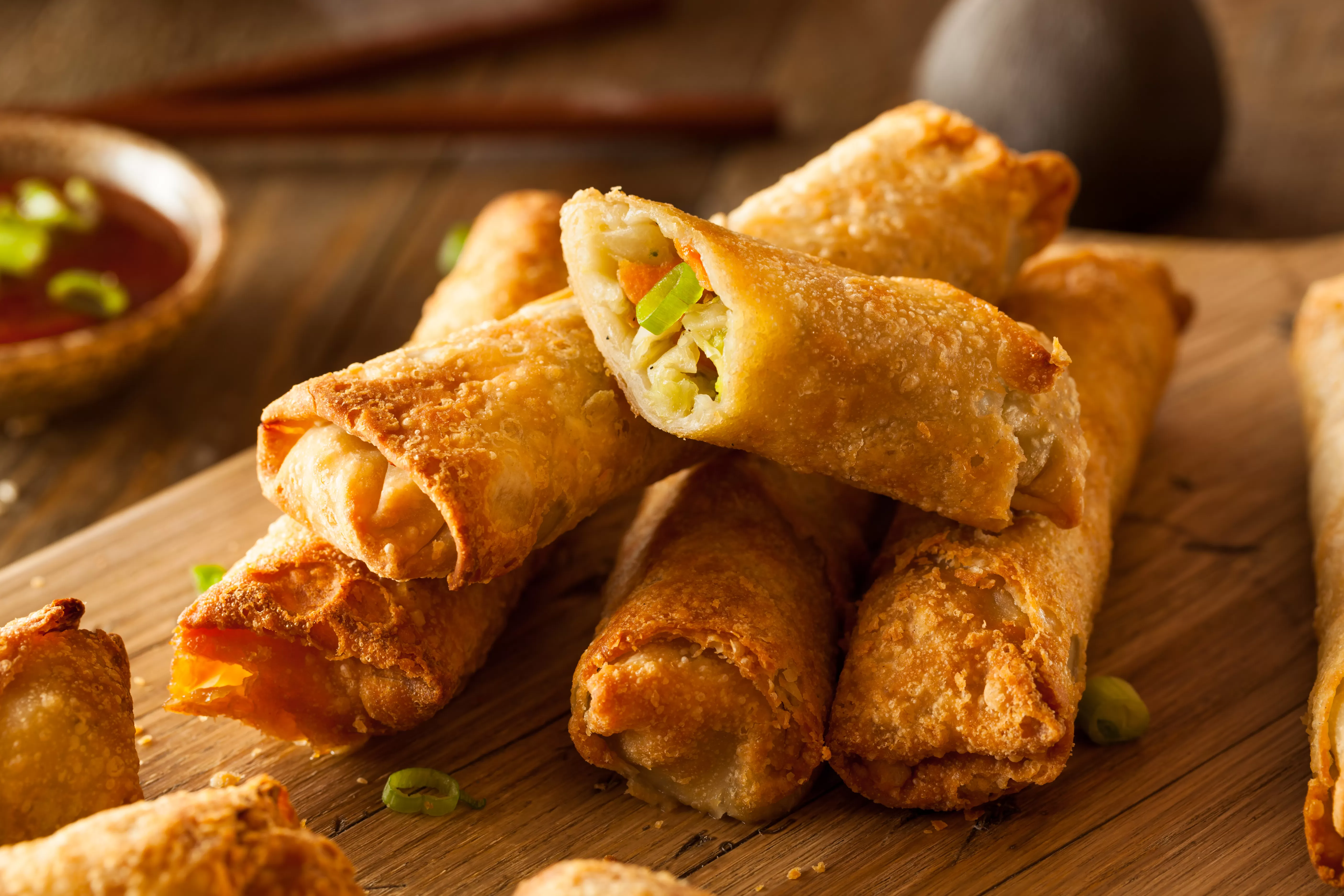 This recipe can take a little longer to make then the others, only because there is some dicing and two cooking stages involved. I like to make the filling ahead of time, when I have a little extra time and then freeze that. Then then the day I want to make them I will take out the filling mix and thaw it, and then wrap and fry the eggrolls up to make it easier. You can use Won Ton wrappers for smaller appetizer sized egg rolls (this is my favorite way to make them).
This is a nice healthy and light recipe, that will be great to add in among some of these heavier comfort foods. This is also a great one to pull out if you need to bring a dish to a party or shower. It is one that is generally well liked by many people. It is also so simple to make it might surprise you.
This soup is packed full of rich flavor, but it is a really simple weeknight meal. You can use your slow cooker or simmer it on the stove top. Then let everyone pick the things they want to add to the top of their soup, and the entire family is happy. I love chowders, and this is one of the simplest (yet so tasty) recipes I have found for a delicious chowder.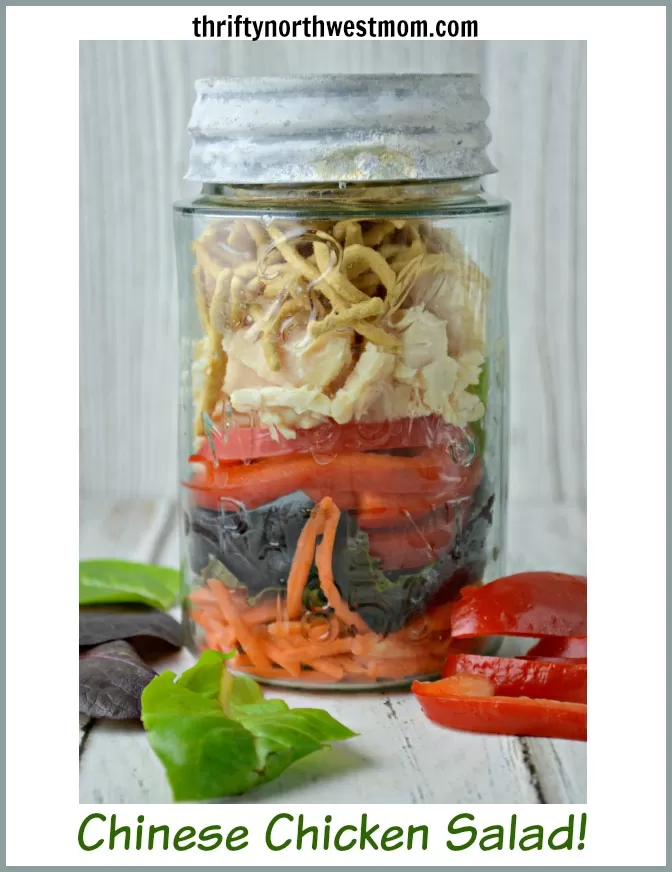 And you can even make these Asian Chicken Salads in a jar with the rotisserie chicken, and keep in the fridge for easy lunches during the week!
We have worked to group the recipes together so that there is maximum overlap in using similar ingredients. You can do the prep work for both weeks of recipes in one day or do one prep day per week.
You can prep and freeze the chicken for all of the recipes listed above, with the exception of the whole chicken recipes. I always get an extra whole chicken, so that I do not have to cook the day I am doing the prep work, and that keeps things simple. We have noted for you which recipes you can freeze the entire recipe, and which ones work best if you just freeze the chicken (but that will save you lots of time in the cooking process).
Now you have two weeks of meals that you can easily take out of the freezer and put together on busy week nights, when you are too tired to cook a big meal. Best part is that you are still providing your family delicious home cooked meals!
Be sure to check out our recipes page, for more inspiration on easy and affordable recipes to make for your family.