Simple Slow Cooker Teriyaki Chicken Recipe – 3 Ingredients & So Easy (& Delicious)!
This post may contain affiliate links and I may be compensated for this post. Please read our disclosure policy here.

Slow Cooker Chicken Teriyaki Recipe
This  Slow Cooker Teriyaki Chicken Recipe is so easy I am almost embarrassed to share it with you. Whenever I make it though, I am always asked for the recipe, so I figured I would just let the whole world know how easy it really is. It only requires three ingredients for this teriyaki chicken breast recipe, so not only is it quick and easy – but that also makes it frugal.
The trick to this recipe (in my humble opinion) is that you MUST use the brand of Teriyaki Sauce and Sticky Rice I have included in the recipe for the best result for this slow cooker chicken teriyaki. If you use the same brands we mention below then it will taste as good as any take-out Teriyaki Chicken (and no, neither of the brands have sponsored this post, nor have any idea I am writing it – that is just my honest opinion).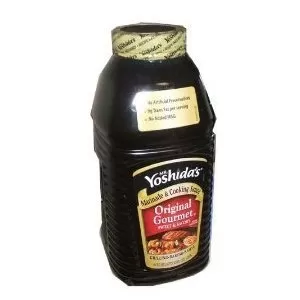 The brand of Teriyaki Sauce I use is Yoshidas Original Teriyaki Sauce. You can get a decent price on Amazon, but they also sell it in many local grocery stores (I have seen it in Safeway and Costco to name two).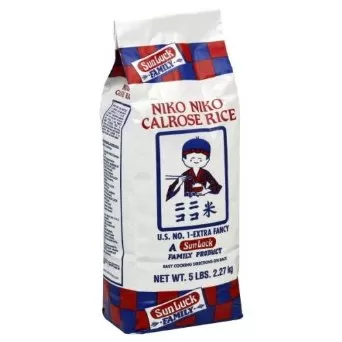 The rice is Niko Niko Calrouse Rice (you have to buy in bulk on Amazon to make it a good price). They sell it in most grocery stores, and its easy to make. If you have not cooked with it before its different then long grain rice in that the finished product has a much more "sticky" texture to it, like take-out rice!
Slow Cooker Teriyaki Chicken Breast Recipe – 3 Ingredients & So Easy!
Ingredients
Boneless Chicken Breasts (I use one chicken breast per person)
Yoshidas Teriyaki Sauce
Niko Niko Calrose Rice
Instructions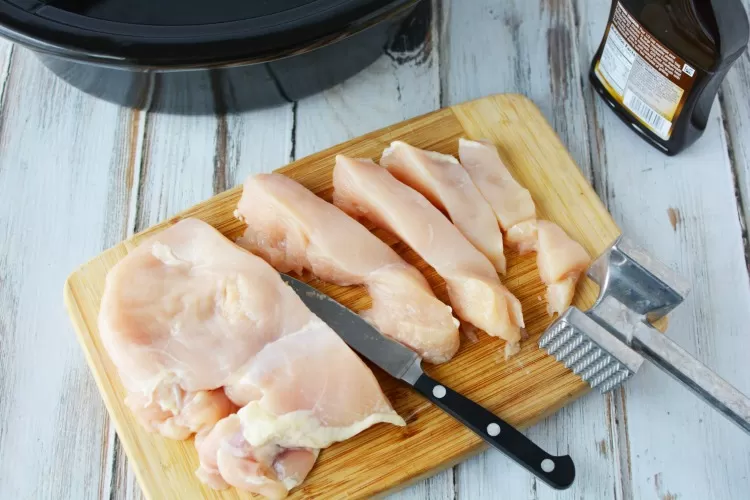 Start by pounding out the chicken breasts to make them a little thinner. You can skip this step if you don't mind your chicken being meatier.
Simply layer your chicken breasts in the bottom of your crock pot (salt and pepper lightly if you want)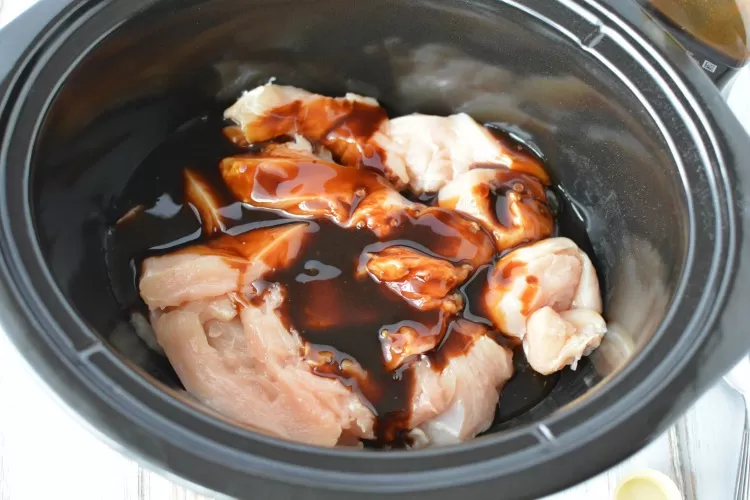 Cover the chicken with the Yoshidas Teriyaki Sauce so that all of your chicken is saturated in the sauce.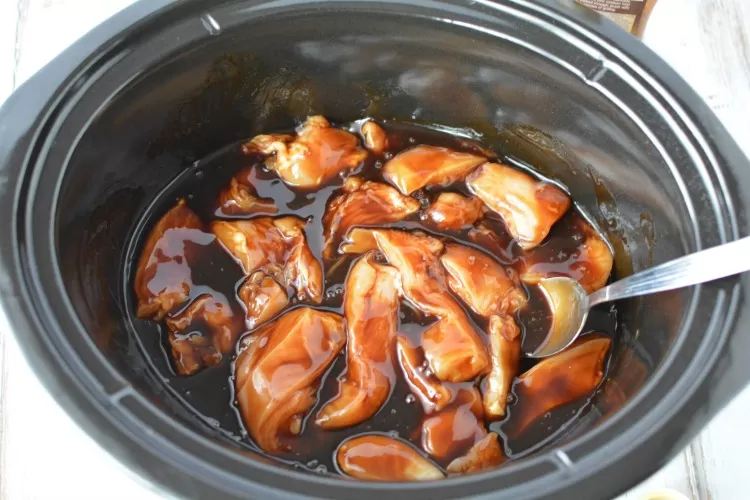 Mix it around slightly, so the sauce gets under the chicken too
Set your crockpot for whatever cycle is most convenient for you and walk away
About 30 minutes before dinner, make the Nikkos sticky rice per instructions on the package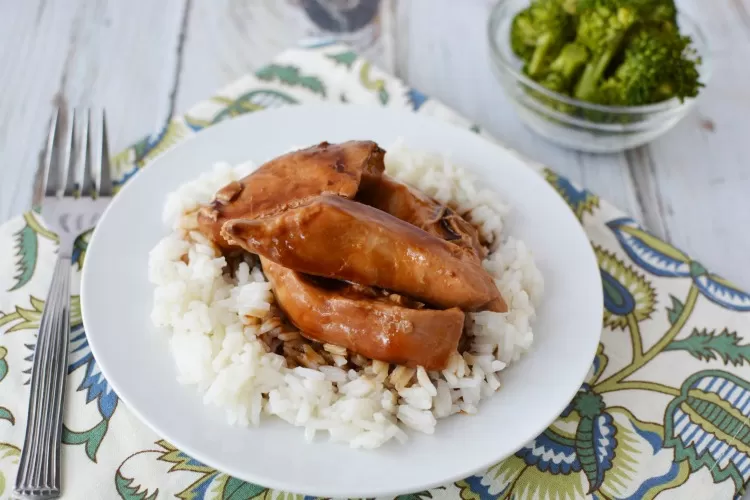 Remove the chicken breasts and place onto a cutting board and slice into strips
Serve over rice with a little extra sauce (I use the sauce it cooked in, but you can warm up some from the Yoshida bottle if you prefer)
You can make this teriyaki chicken slow cooker recipe in a frying pan too (and then its not a slow cooker recipe, but will still be very tasty). It will only take you about 30 minutes if you cook it up over the stove. Or throw it on the grill after marinating in the sauce to get the grill marks. You can use it for a stir fry too, here are some ideas on vegetable you can dice up and add if you are cooking in a wok or frying pan (cook your chicken through, and then add vegetables at the end):
Carrots

Onions

Peas

Bean Sprouts 

Bell Peppers

Broccoli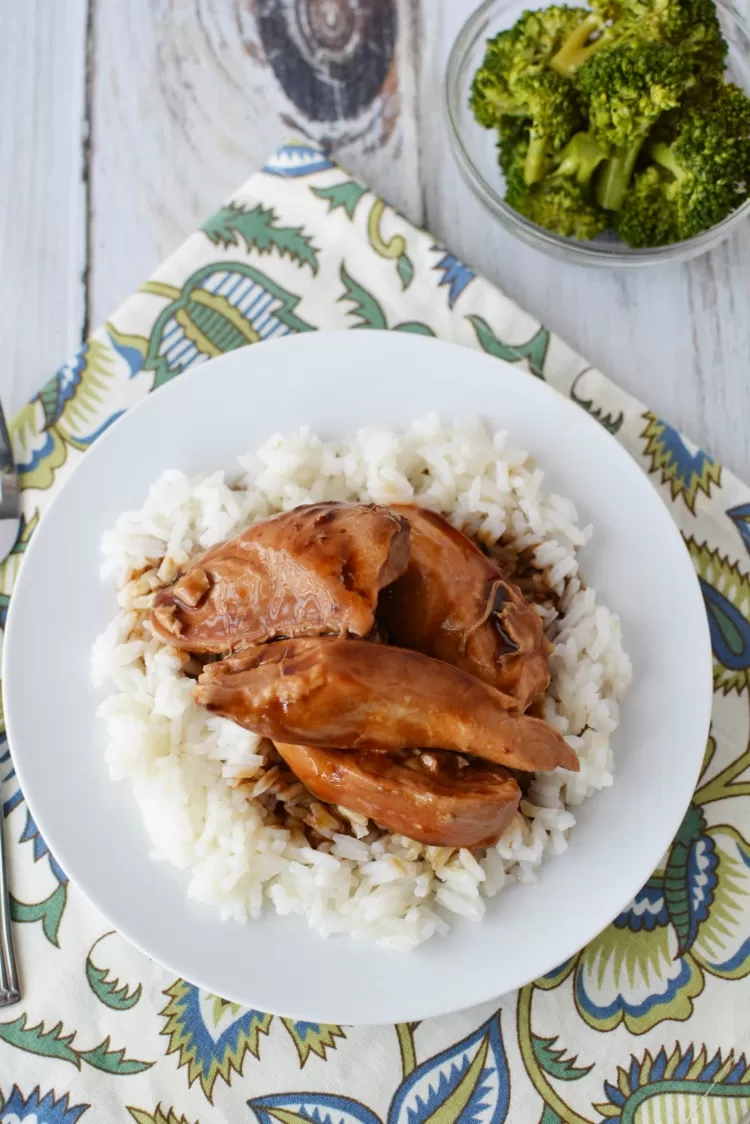 Printable Recipe for 3 Ingredient Slow Cooker Teriyaki: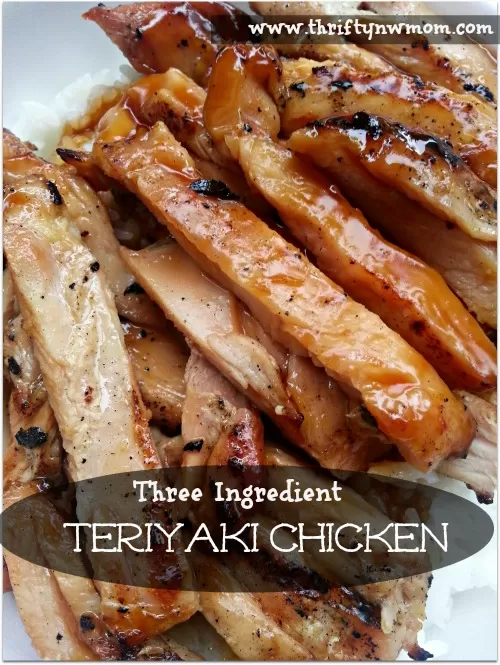 Make sure to print this recipe off to put in your recipe binder.
Print
Slow Cooker Teriyaki Chicken – 3 Ingredients & So Easy!
---
Boneless Chicken Breasts (I use one chicken breast per person)
Yoshidas Teriyaki Sauce
Niko Niko Calrose Rice
---
Instructions
Start by pounding out the chicken breasts to make them a little thinner. You can skip this step if you don't mind your chicken being meatier.
Simply layer your chicken breasts in the bottom of your crock pot (salt and pepper lightly if you want)
Cover the chicken with the Yoshidas Teriyaki Sauce so that all of your chicken is saturated in the sauce.
Mix it around slightly, so the sauce gets under the chicken too
Set your crockpot for whatever cycle is most convenient for you and walk away
About 30 minutes before dinner make the Nikkos sticky rice per instructions on the package
Remove the chicken breasts and place onto a cutting board and slice into strips
Serve over rice with a little extra sauce (I use the sauce it cooked in, but you can warm up some from the Yoshida bottle if you prefer)
Recipe Card powered by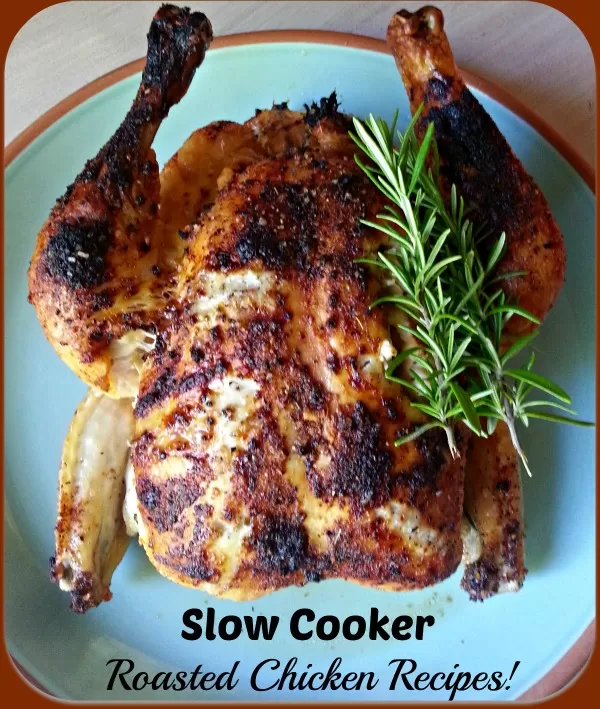 A few more of our favorite chicken recipes include: