Whole Chicken Slow Cooker Recipe – Simple Way to Make Roasted Chicken
This post may contain affiliate links and I may be compensated for this post. Please read our disclosure policy here.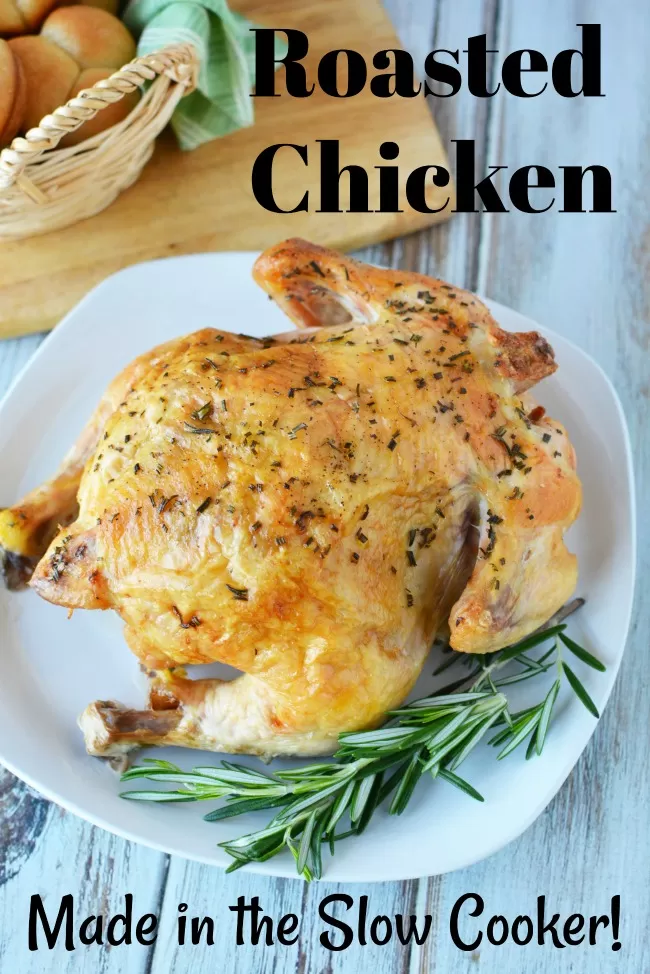 Whole Chicken Slow Cooker Recipe
Whole Chickens are one of the more affordable ways to get some meat on the dinner table for your family. This Whole Chicken Slow Cooker Recipe is not only easy and affordable – but also makes great leftovers for many other recipes! It's even better if you invest in growing a small herb garden. That way you can grab the herbs right out of your own yard.
We often see these whole chickens go on sale, so I lock to stock up and fill my freezer with them when they are on sale. Then I can take them out and roast them, use them for chicken noodle soup or many other recipes. I love roasted chicken, but like to make this whole chicken slow cooker recipe, and then put the chicken in the oven for the last 10 or 15 minutes to give it that crisp outer skin that looks (and tastes) so great. I prefer this method because its easy (I put it in the crock pot in the morning and its cooked by afternoon), and it makes the chicken so tender and juicy, yet you can get that great crisp outer skin without drying out the chicken. Plus, it does not take a lot of cooking skill to use this method, but it tastes like it did.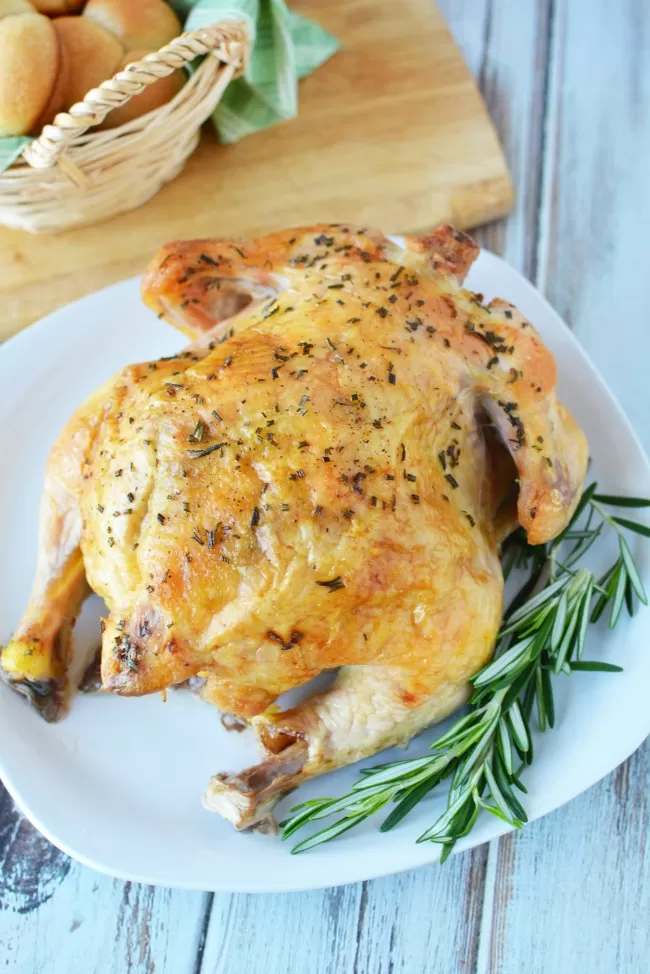 Although its affordable and easy to make, it shows beautifully when you put it on a platter, so its a meal you can serve up for guests too.
To make this Slow Cooker Whole Chicken: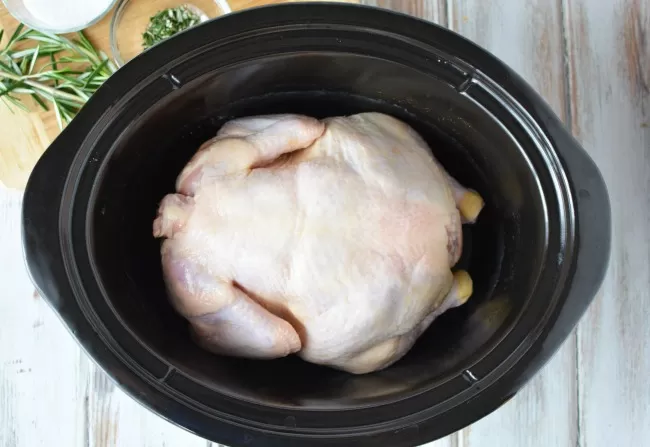 Put your whole chicken in the slow cooker (be sure to clean out the cavity as there may be the liver etc. in there depending on what Chicken you purchased)
Salt and Pepper generously (I probably use a tablespoon of salt and half a tablespoon of pepper, but you can cut that back to taste)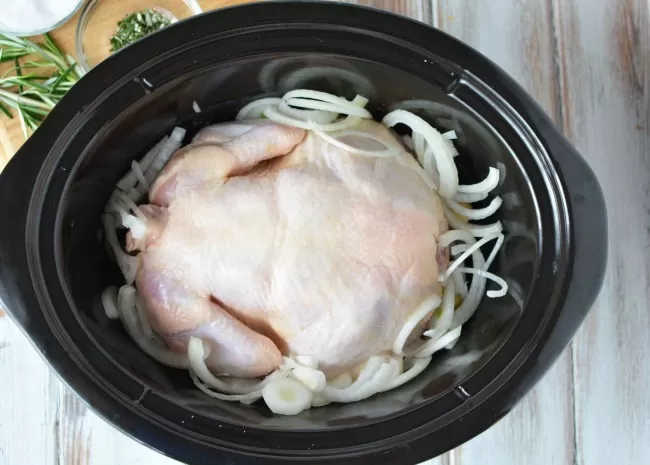 I like to cut an onion into fourths and toss it in the slow cooker with the chicken for added flavor (you can even cut up potatoes and carrots and toss in for a one pot meal)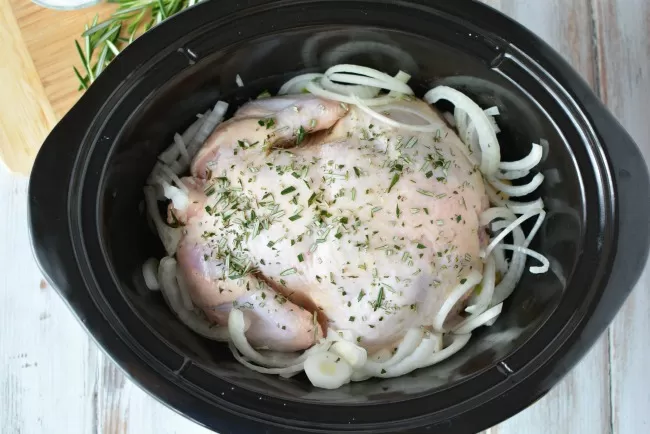 Mince up your herbs (use what you have in the garden or what is on sale). If you do not have fresh herbs, rub dried herbs in the palm of your hand to release oils for better flavor then sprinkle over chicken)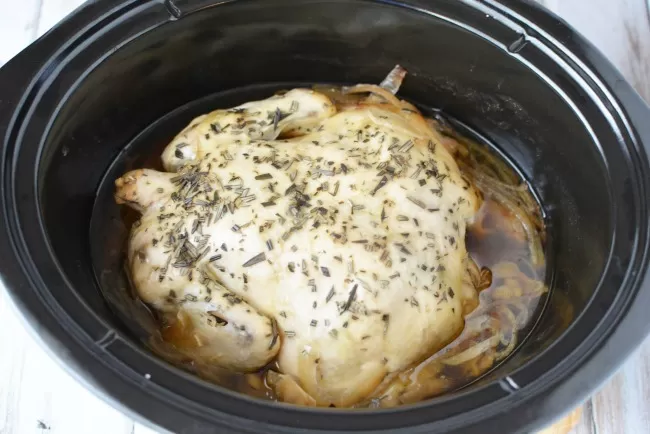 Cook on all day cycle, and let it simmer in its juices.
If you want that crisp, golden skin of the chicken pictured above you will need to finish your Roasted Chicken off in the oven
About 15 minutes before you are ready to serve pre-heat your oven to 400 degrees
Melt a cube of butter in the microwave
Move your slow cooked chicken from the Slow Cooker to an oven safe dish (I use my cast iron pan)
Drizzle half the cube of melted butter over the chicken (you can also use the juices of the chicken if you prefer.
Roast uncovered in the oven for approx. 10 minutes.
Drizzle the last half of the butter (or more juices from the chicken)
Roast until golden brown (approx. 5 minutes more).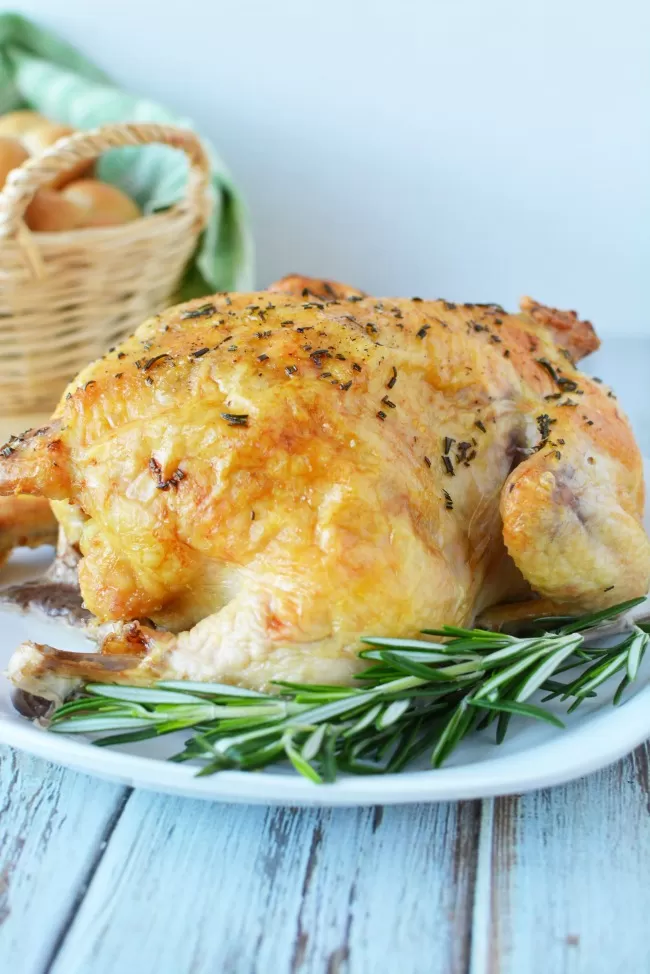 Remove from the oven and let stand for about 5 minutes before serving.
**( TIP: When you have cooked it in the slow cooker all day, the meat will be ready to fall off the bone. For that reason you will not want to use forks to move it from the slow cooker to a baking sheet to crisp up in the oven. You will want to be sure to use a spatula underneath it, and a carving fork on the top to stabilize it, or something that is going to make it easier to move the chicken over from the pot to the baking sheet).
Have leftovers? How about using them in a Chicken Tortilla Soup, Chicken and Corn Chowder or Homemade Chicken Pot Pies?
What are your favorite recipes to use leftover roasted chicken in?
Don't forget to check out our recipes page for more meal ideas like 3 ingredient Take Out Style Teriyaki Chicken & more!
Print
Whole Chicken Slow Cooker Recipe
---
One Whole Chicken
Kosher Course Salt
Cracked Black Pepper
Rosemary or Thyme (1 Tablespoon Minced)

1

Cube of Real Butter
Onion (optional)
---
Instructions
Put your whole chicken in the slow cooker (be sure to clean out the cavity as there may be the liver etc. in there depending on what Chicken you purchased)
Salt and Pepper generously (I probably use a tablespoon of salt and half a tablespoon of pepper, but you can cut that back to taste)
Mince up your herbs (use what you have in the garden or what is on sale). If you do not have fresh herbs, rub dried herbs in the palm of your hand to release oils for better flavor then sprinkle over chicken)
I like to cut an onion into fourths and toss it in the slow cooker with the chicken for added flavor (you can even cut up potatoes and carrots and toss in for a one pot meal)
Cook on all day cycle
If you want that crisp, golden skin of the chicken pictured above you will need to finish your Roasted Chicken off in the oven
About 15 minutes before you are ready to serve pre-heat your oven to 400 degrees
Melt a cube of butter in the microwave
Move your slow cooked chicken from the Slow Cooker to an oven safe dish (I use my cast iron pan)
Drizzle half the cube of melted butter over the chicken (you can also use the juices of the chicken if you prefer.
Roast uncovered in the oven for approx. 10 minutes.
Drizzle the last half of the butter (or more juices from the chicken)
Roast until golden brown (approx. 5 minutes more).
Remove from the oven and let stand for about 5 minutes before serving
Recipe Card powered by