Chicken Gyros Recipe – Delicious & Healthy!
Delicious, Healthy and Easy Chicken Gyro Recipe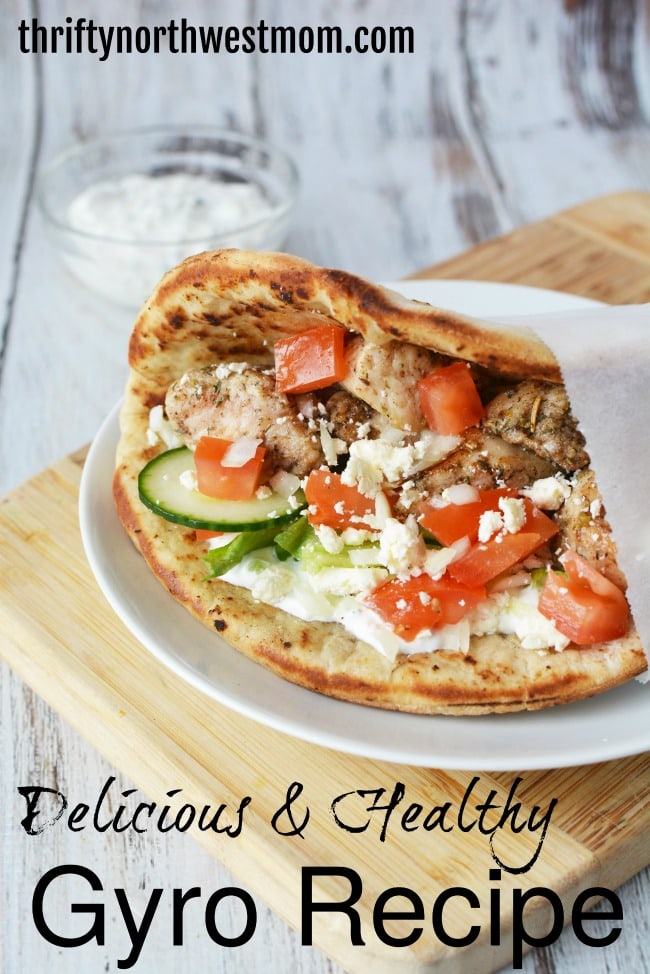 I spent a few of my younger years working in a Greek restaurant, and I adopted this Chicken Gyro recipe from the one that we made in the restaurant. It has become one of my husbands favorite meals, and is a great way to get veggies in the meal too.
I like to dice up extra veggies for this meal, and then I use them to make a Greek salad the following night.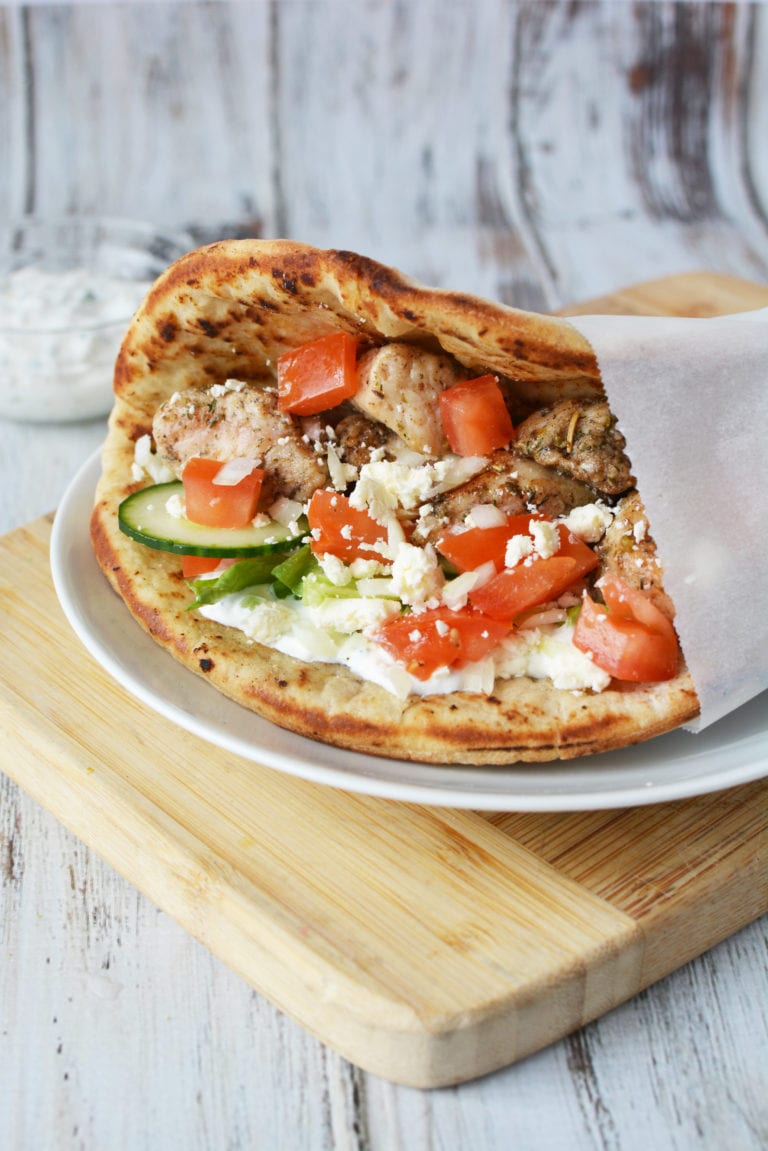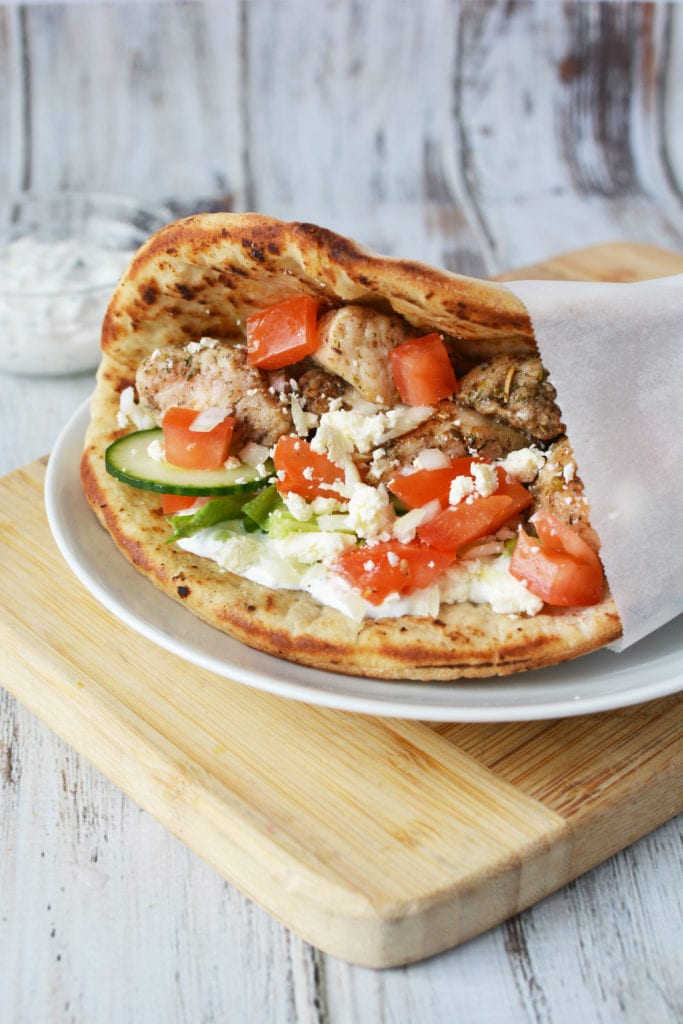 The key to this recipe is not only fresh veggies and Tzaziki sauce, but also a great Greek Pita Bread. I really like the Grecian Delight brand, and pick up a big bag at Costco. I buy the Costco size bag, and divide it into threes. I will then use some for our meal that night, and freeze the rest for two other meals. I have found that it freezes really nicely (I like to freeze overnight in ziploc, and then once they are frozen I transfer to a food saver bag and vac seal them for maximum freshness.
It is a pretty simple recipe, and has come to be one of my families favorites!
Here is how you make it:
Start by dicing up your chicken breasts, and tossing the in olive oil and Italian seasoning mix.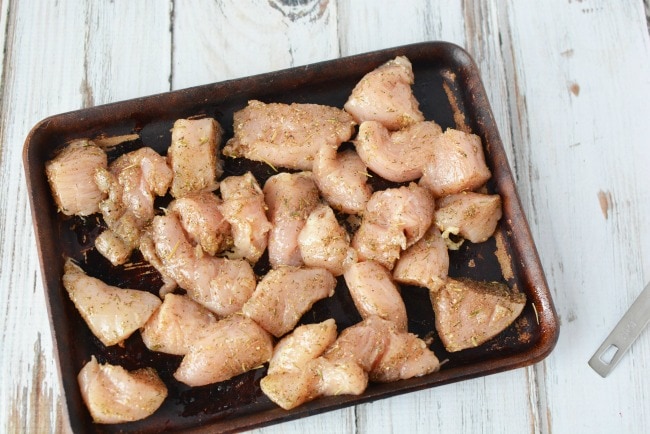 Lay the chicken out on a baking tray, and bake at 350 degrees, until chicken is cooked through (approx. 15 minutes).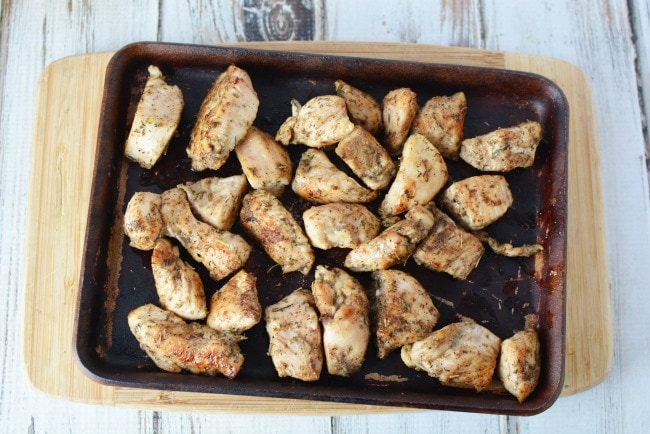 We baked our chicken, but you could put it on skewers and then on the grill during the summer if you prefer.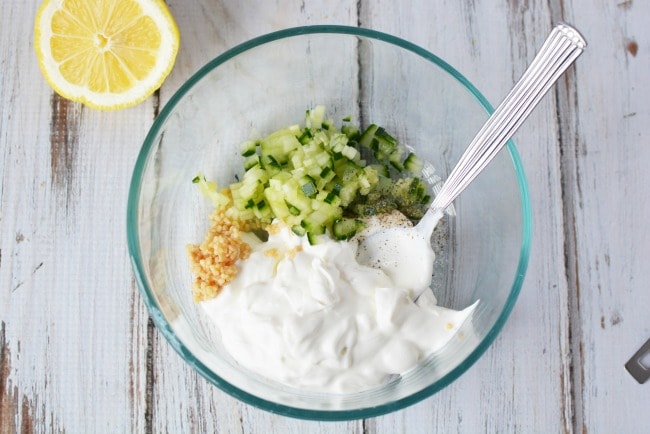 Make your Tzaziki Sauce, per instructions below, with plain Geek yogurt, garlic and cucumber. You can dice your cumbers into tiny pieces, or I prefer to grate my cucumber for the sauce.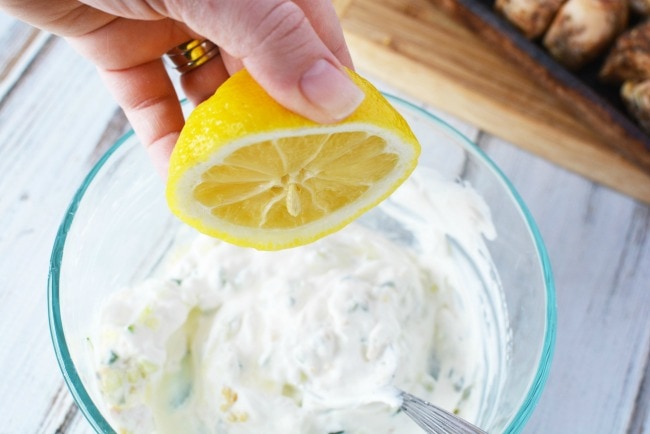 Add your lemon juice and stir well.
Once you have all your ingredients prepared, grill up your greek pita bread (or baste with butter and warm over a saute pan on the stove).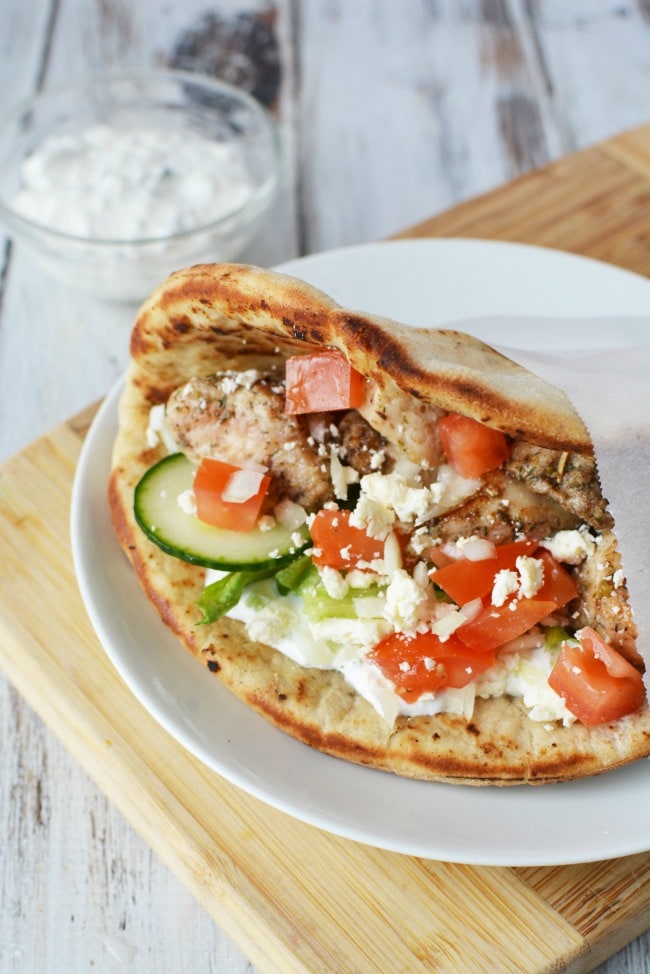 You can then assemble the ingredients to make your gyro I like to use a sheet of parchment paper under the pita break, so I can fold it over and use that to eat them in. Lay out your parchment paper, then the pita on top of that. Down the middle of the pita add your meat, sauce, veggies and top with Feta cheese. Fold it over, and twist the bottom of the parchment paper to make it easy to hold and eat.
They are so delicious and healthy too!
Print
Chicken Gyros Recipe – Delicious!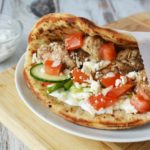 Delicious and Healthy Chicken Gyro recipe.
Greek Pita Bread

2

large chicken breasts

2

tblsp. Mediterranean Seasoning (I like Johnnys)

1/3 cup

Olive Oil
Feta Cheese

1

tomato, diced

1

small white onion, diced

1

Cucumber (half diced, half reserved for tzaziki sauce)

1/2

head of lettuce
Butter (to brown pitas)
[bTzatziki Sauce:
Greek Yogurt (plain)
Half Cucumber, shredded

1

clove of garlic, finely diced

1

lemon
Salt to taste
Instructions
Cut the chicken up into bite size cubes and add to a baking dish
Toss with the Olive Oil and Mediterranean Seasoning until well coated
Bake chicken at 350 until cooked through (approx. 20 minutes)
Prepare your tzatziki sauce by mixing the Greek Yogurt with the shredded cucumber, diced garlic clove and juice from one lemon. Add salt to taste (or skip it)
Once you have your chicken cooked, tzatziki sauce prepared, and veggies diced and shredded, the get ready to cook the pitas. Spread butter on each side of the pita, and warm in a pan on medium low heat until golden brown on each side.
Notes
To assemble your pitas, lay out the pitta with the bottom side up.
Add a layer of chicken down the middle
Add a layer of tzatziki sauce over that
Add a layer of cucumbers
Add a layer of tomatoes
Add a layer of onions
Pile on the Lettuce
Add a handful of Feta Cheese to the top
Fold over and enjoy!