Loaded French Fries in a Cone – Food Truck Style!
This post may contain affiliate links and I may be compensated for this post. Please read our disclosure policy here.

Loaded French Fries in a Cone – Food Truck Style!
If you are looking for something special to serve guests, or just craving some delicious comfort food, this Loaded French Fries in a Cone recipe is the one to go to. This BBQ Pulled Pork, Spicy Smothered French Fry recipe is served in a cone, so it is not only delicious, but also shows really well. This is perfect party food, because everyone can add just what they want, making their own custom food cones.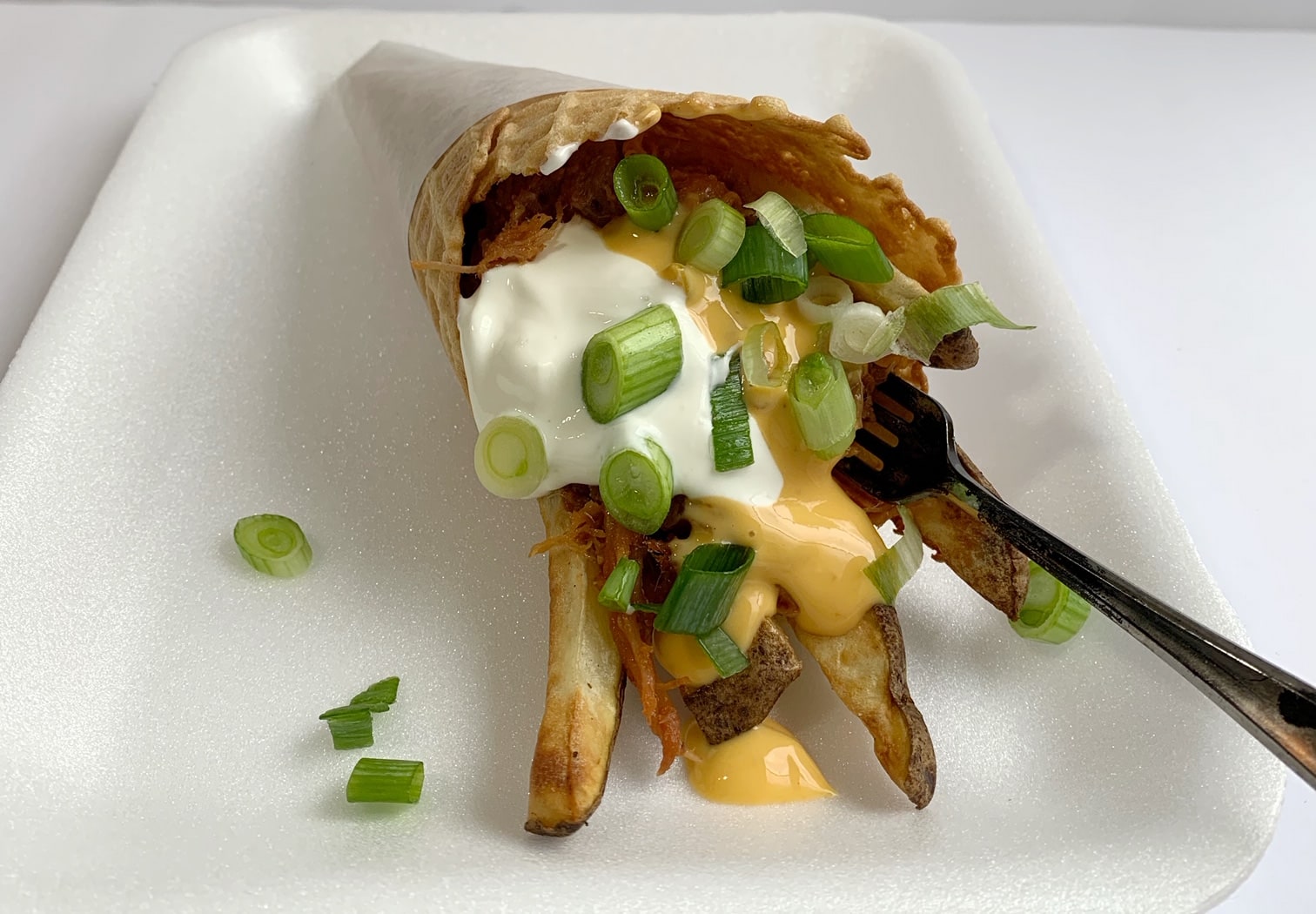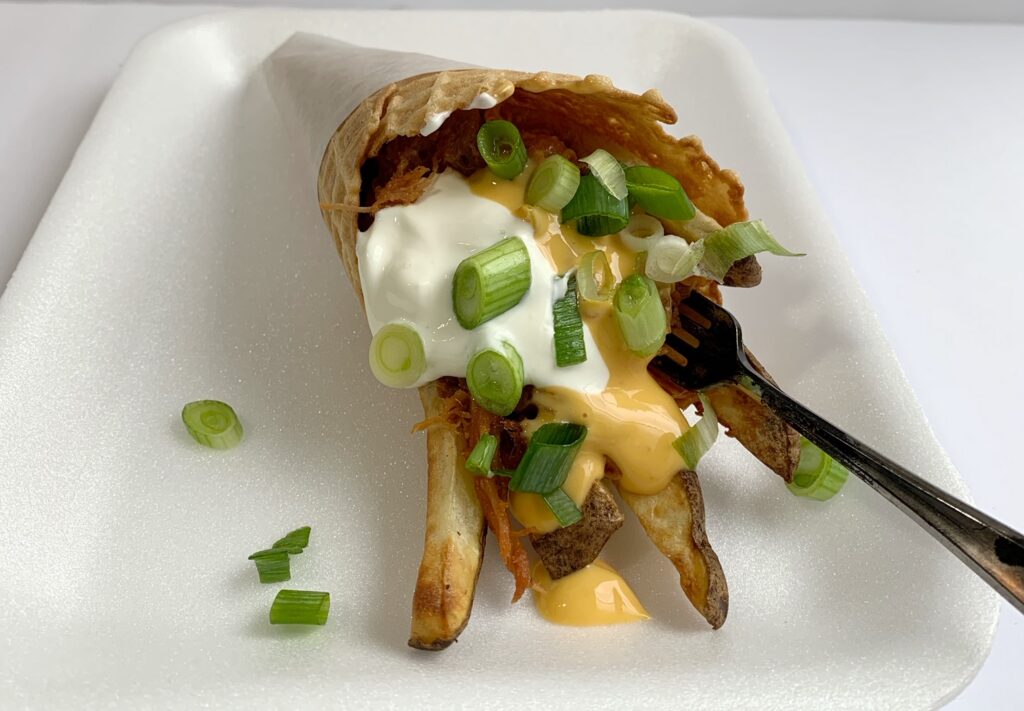 I first encountered the BBQ Pork served in a cone, at a local food truck, and adapted the idea of serving BBQ Pork in a cone, to including it with more of our favorite things all in one cup – like spicy cheese sauce, and french fries. You can serve them as is, or turn it into a buffet bar by adding various toppings like green onions, bacon and sour cream, and then letting folks make up their own smothered fry cones as they like them best!
You can also change out the BBQ for whatever you like best (BBQ Chicken or Beef, or even your favorite chili recipe could work well too). If you prefer Chili to the BBQ meats, check out our Pumpkin Chili recipe here, or our White Chicken Chili recipe here.

Another thing that I love about this recipe, is how convenient it is. We used a few shortcuts, which kept prep time down, without sacrificing taste. You can make everything from scratch if you want, but we share some shortcuts below that are taste tested, and will allow you to get this recipe set up for company with minimal effort.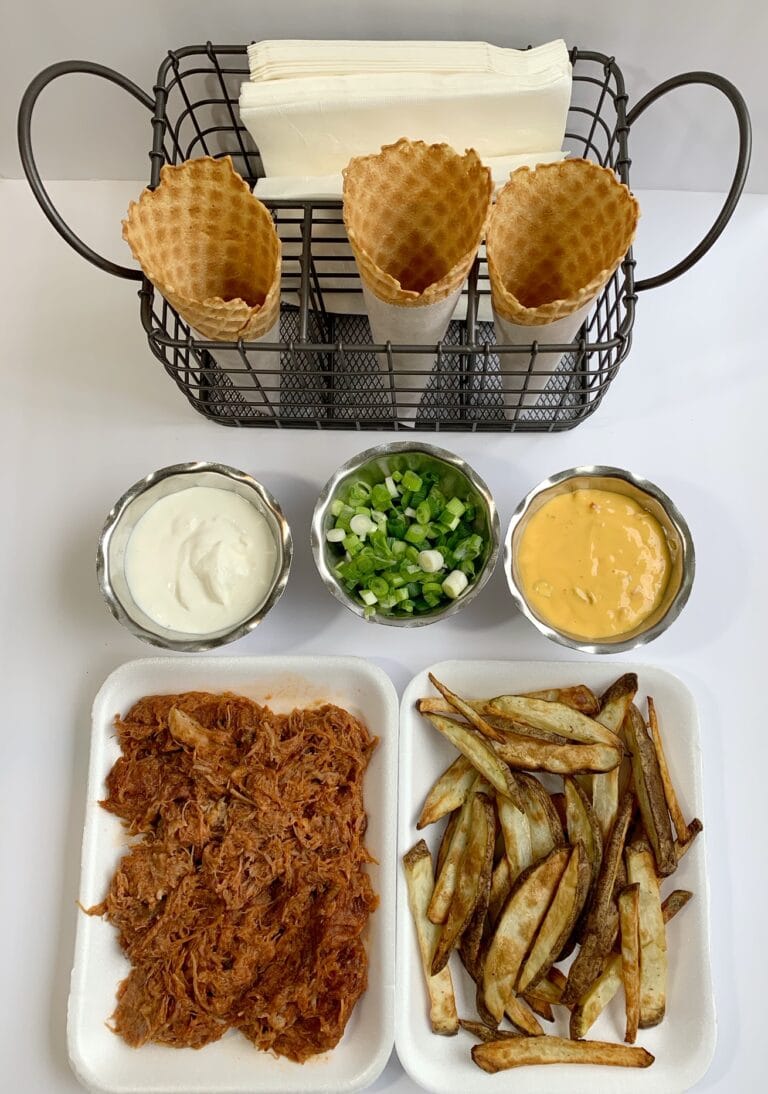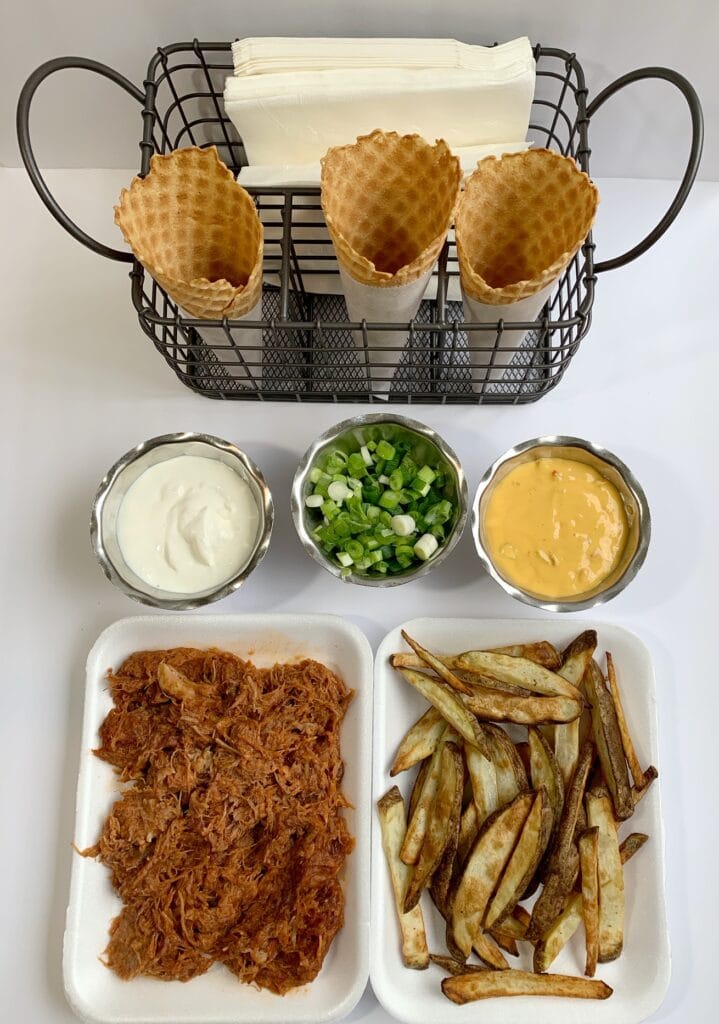 Ingredients Needed for Loaded French Fries in a Cone:
Large Waffle Cones
Niman Ranch All Natural Pulled Pork (or recipe of your choice)
Spicy Cheese Sauce
Green Onions
Sour Cream
How to Make These Pulled Pork Spicy Smother Fries In A Cone: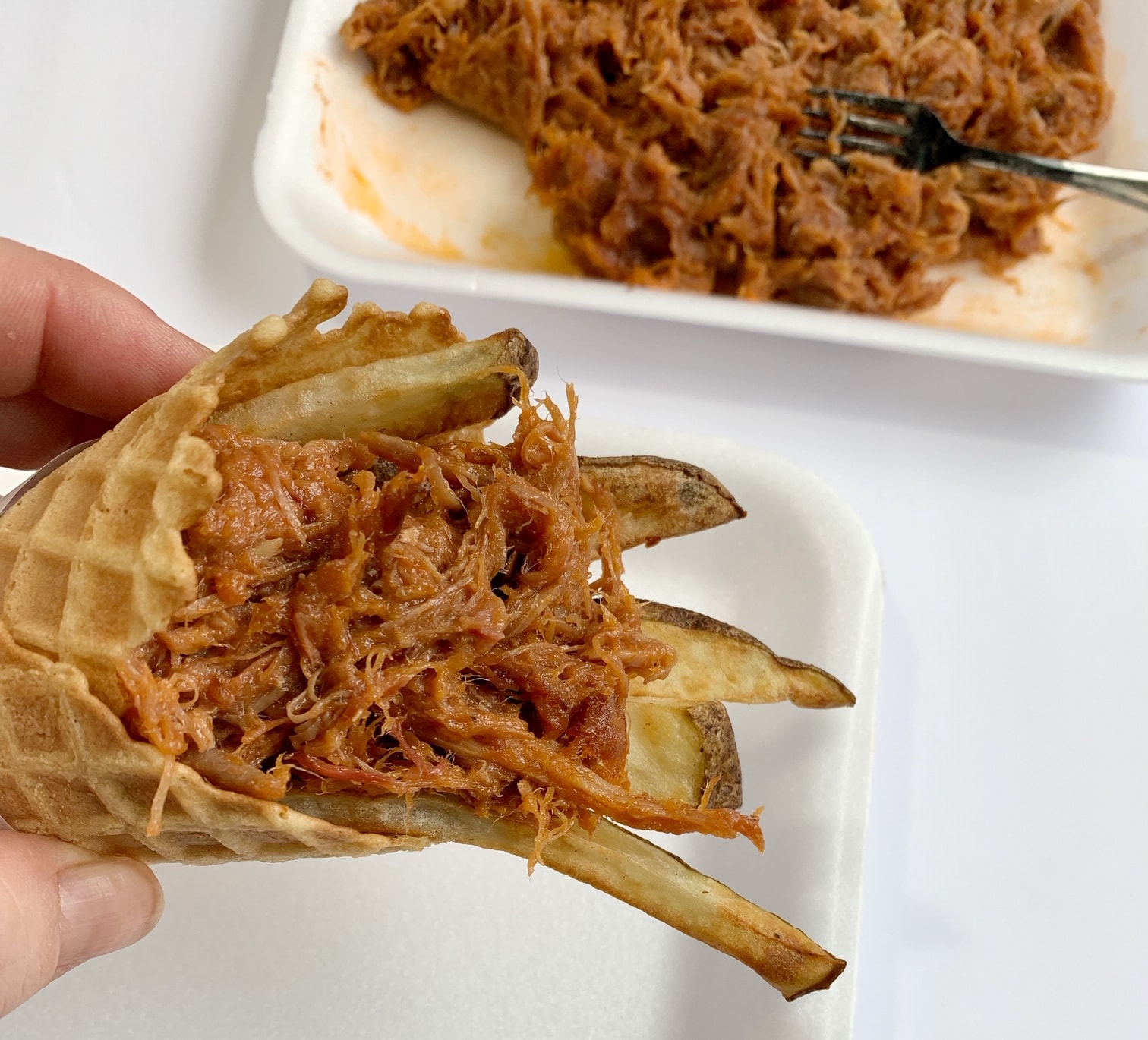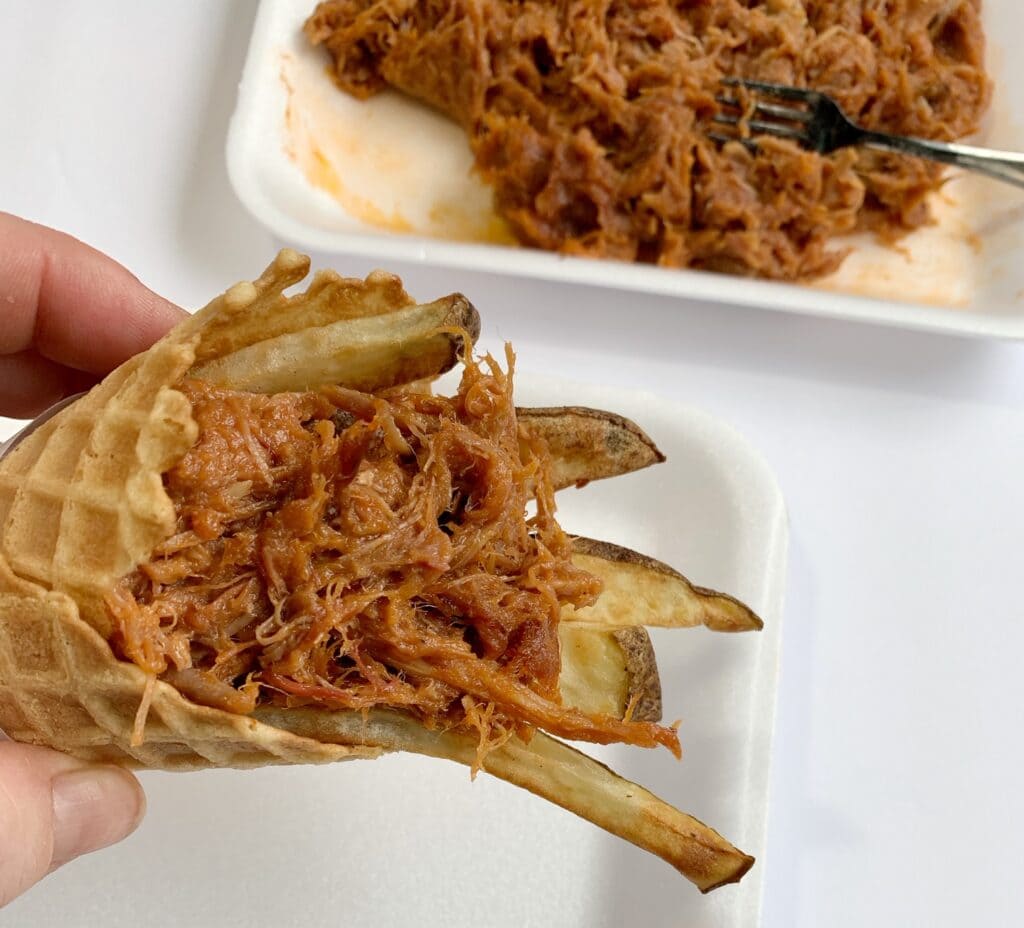 Prepare your BBQ Pulled Pork
You can use any of your favorite recipes for pulled pork, but this is our first "cheat" tip. We used the Niman Ranch All Natural Pulled Pork. It is delicious, and we were able to heat it up in 4 minutes. By using this product, we cut hours of cooking out of the process for this recipe.
I really liked it as much as my homemade recipe, but it was much more convenient to prepare. It is a premium quality meat product (no antibiotics, hormone free, and more).
We got our meat through Perdue Farm website, online here, and they deliver it right to your door. We have a 10% off promo code here if you are interested in using this short cut too. It really is delicious!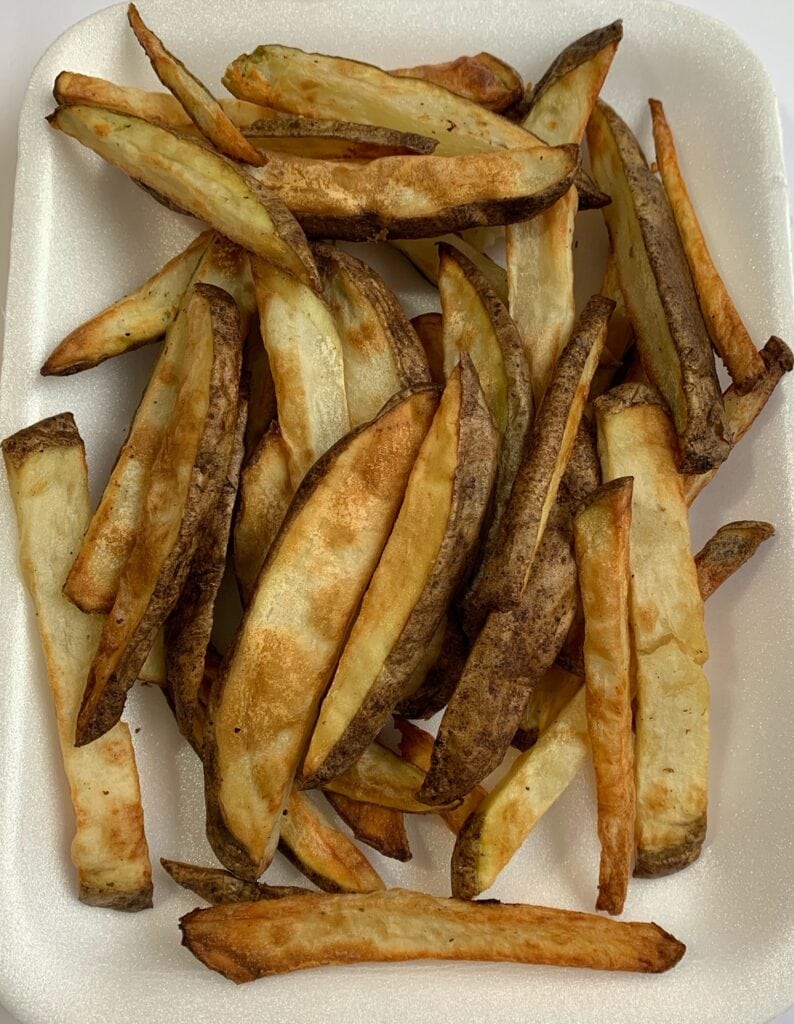 Fry Up Your French Fries
This is another step you can take a short cut on, if you have a favorite version of frozen french fries. I use an Air Fryer, so we make ours homemade, as it is really simple in the Air Fryer (just dice up, spray with oil, and let the Air Fryer do the rest of the work).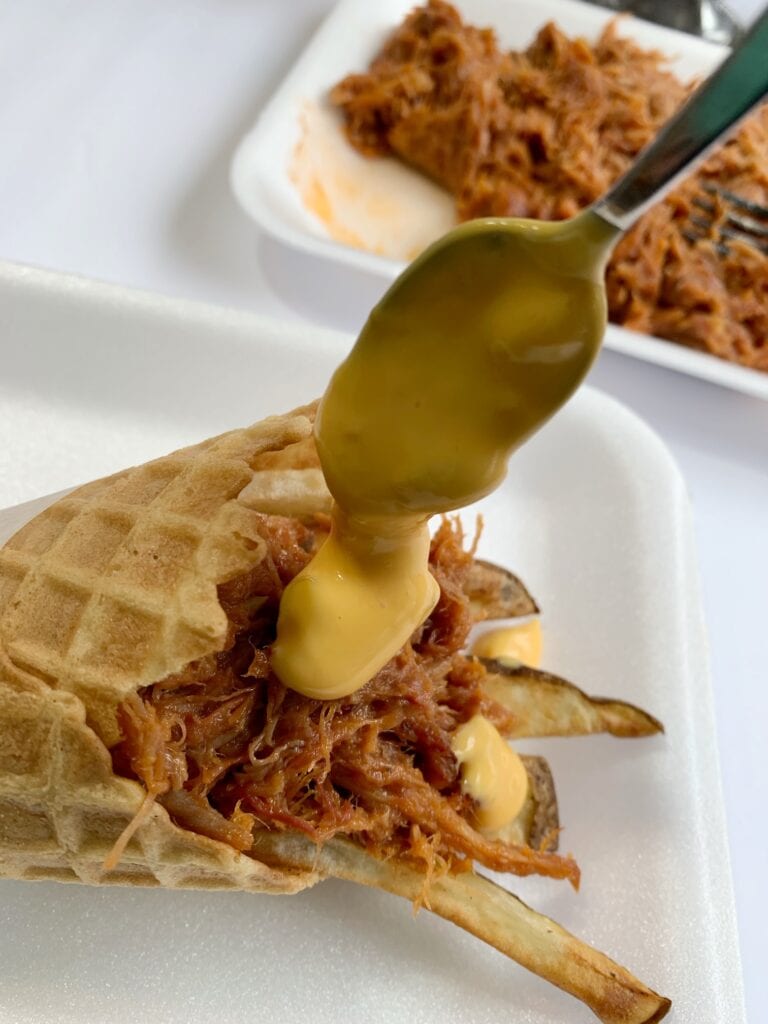 Next Prepare Your Spicy Cheese Sauce
You can also cheat on this step, and grab a good queso dip with salsa, and warm that up in the microwave, and transfer to a pretty bowl to serve.
If you want to make your own, just mix together 2 cup of shredded cheddar cheese to 1 cup of milk, and add a couple dashes of hot sauce (or mix in a 1/4 cup of salsa). Heat over medium low and mix, until it is all melted into a creamy cheese sauce.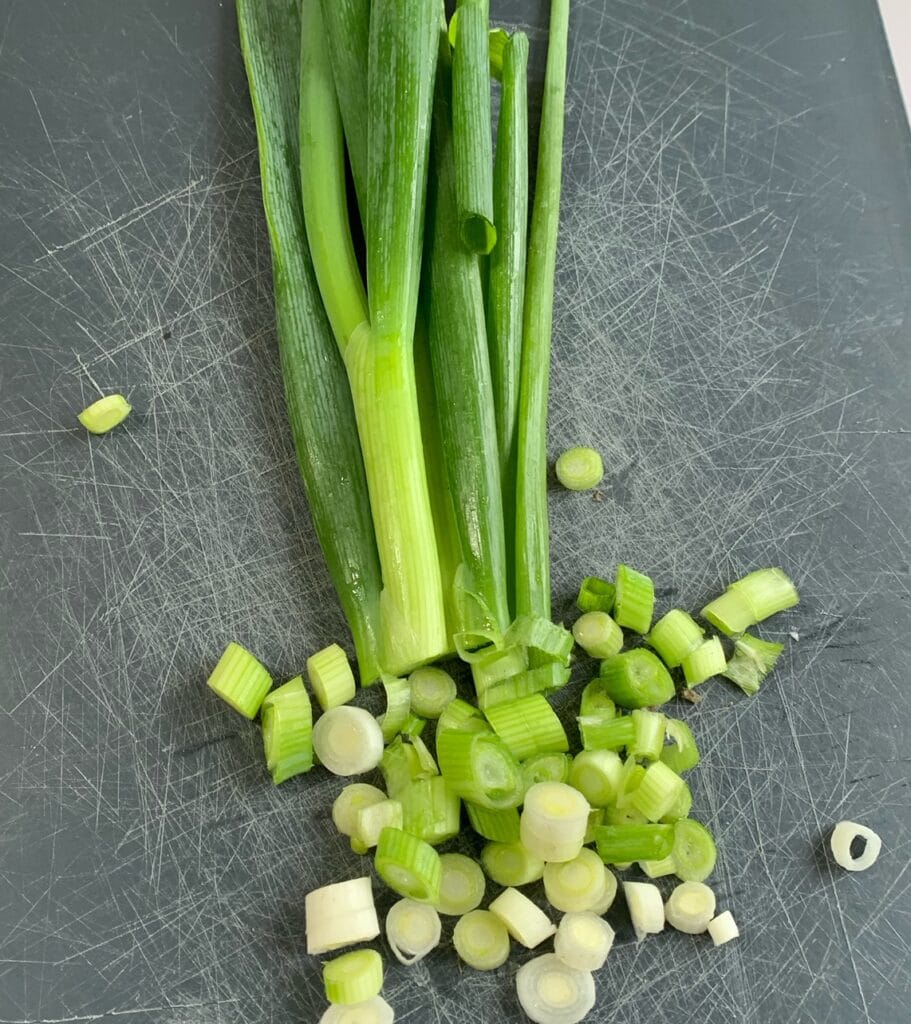 Get Your Toppings Put Together
We diced up green onions, and added a bowl of sour cream to our spread, to top the smothered fry cones in. Some other ideas you could use include:
bacon bits
diced red onions
spicy pickles
Feta Cheese instead of cheese sauce
Serving these Loaded French Fries in a Cone
For these Loaded French Fries in a Cone Recipe, I love to serve them in a way that stands up. I found the silverware serving basket you see at the top of this post, and put the cones with fries in wrappers in that. Then put everything else out that they could top their fries with, buffet style. Your guests can then make their own loaded French fries with whatever toppings they like most!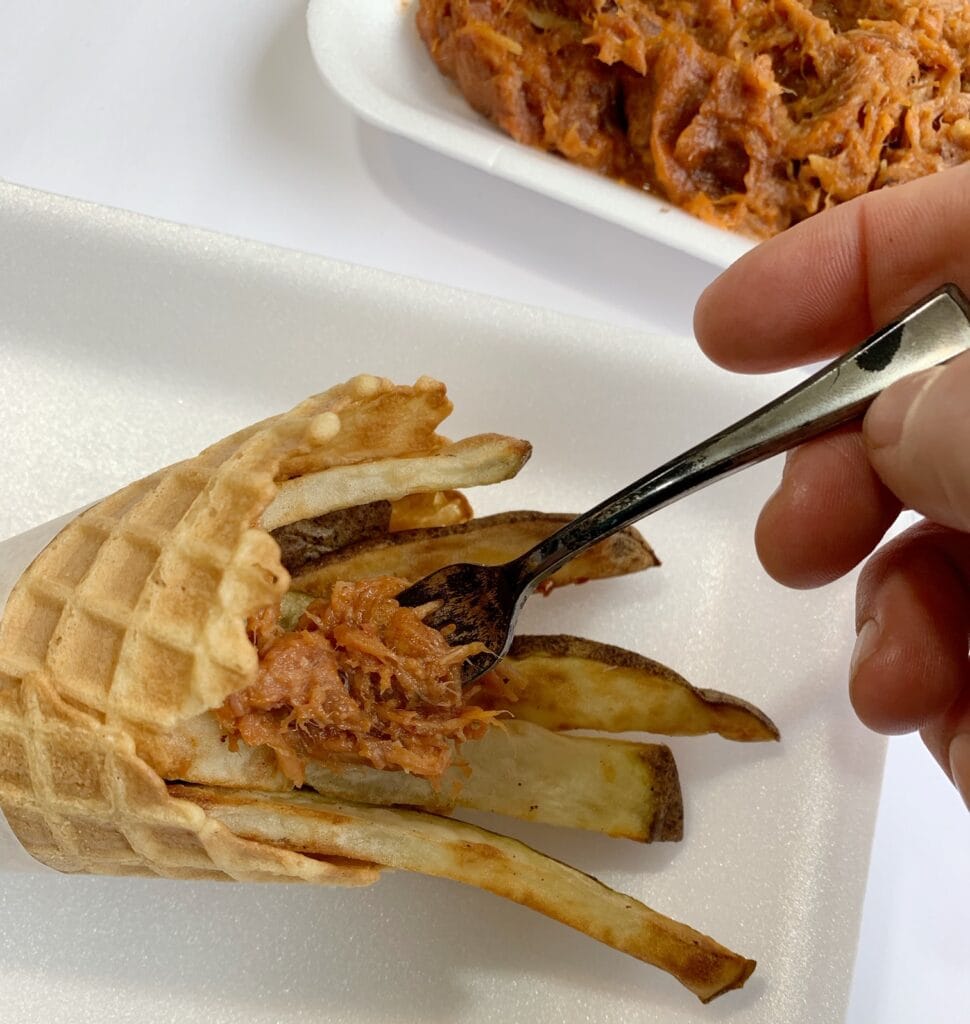 Put Your Loaded Fries in a Cone Together
You can either build cones for folks, and set out in something that will hold them right side up. I also like to wrap my cones in parchment paper (I wrap a square piece around it, fold it up at the bottom and tape that to the sides). This way if they do hold their cones upright, sauces do not run out the bottom.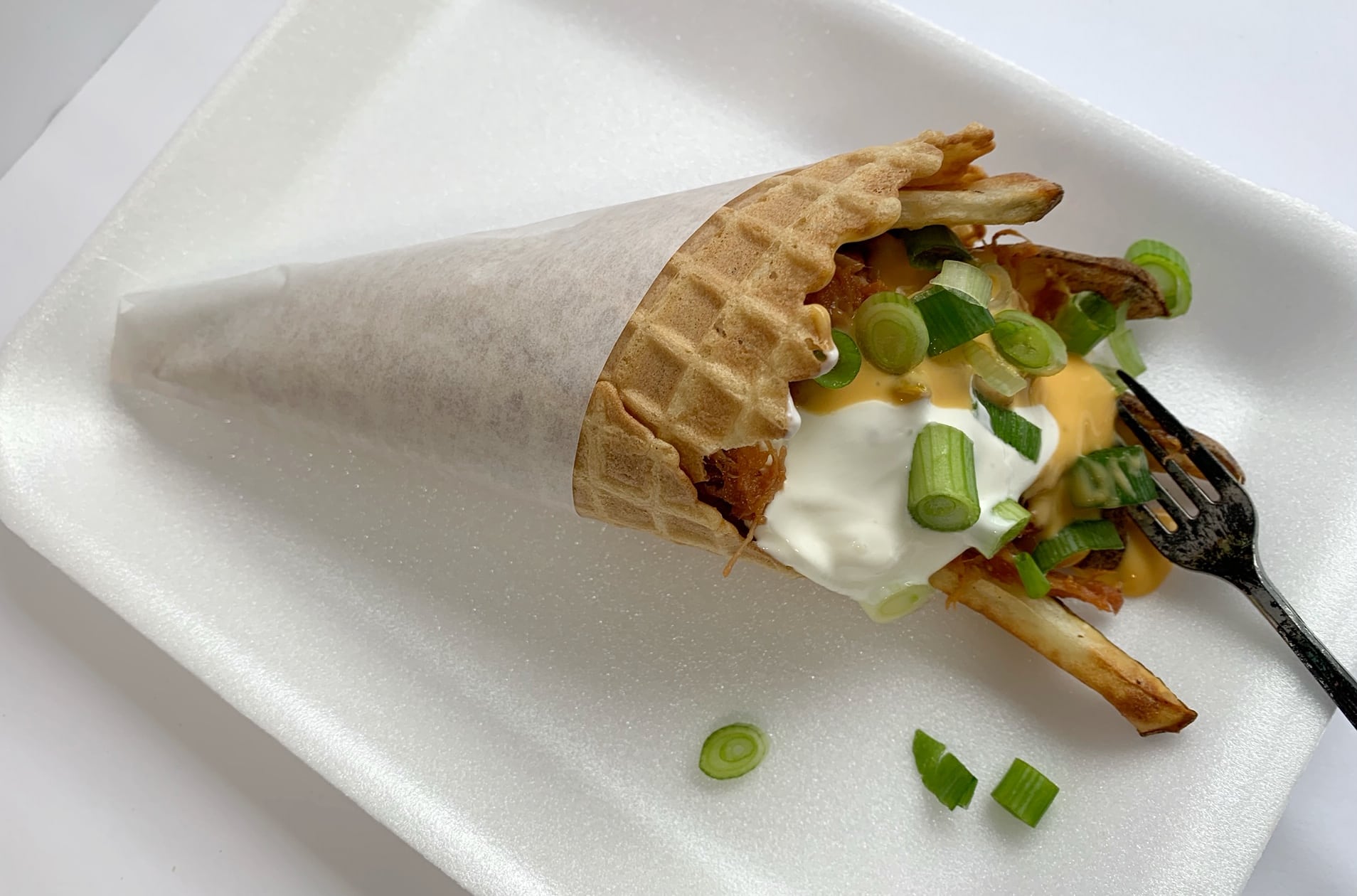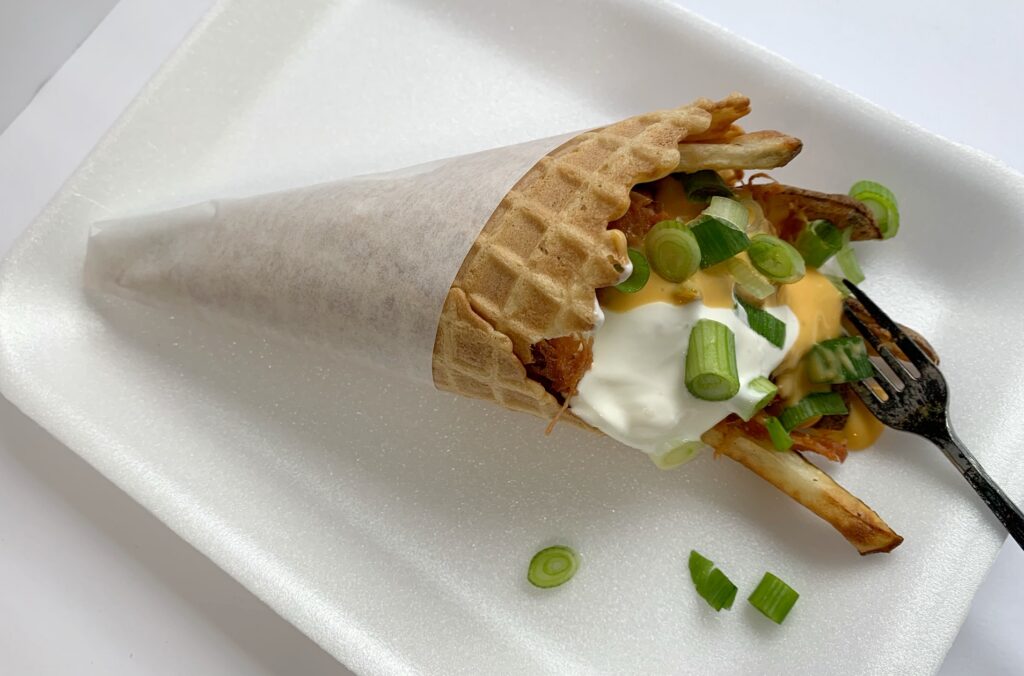 You can then provide food trays, or baskets that they can use to eat their smothered fry cones on. While they can technically be eaten as finger food, providing forks to dig into the cone with is ideal.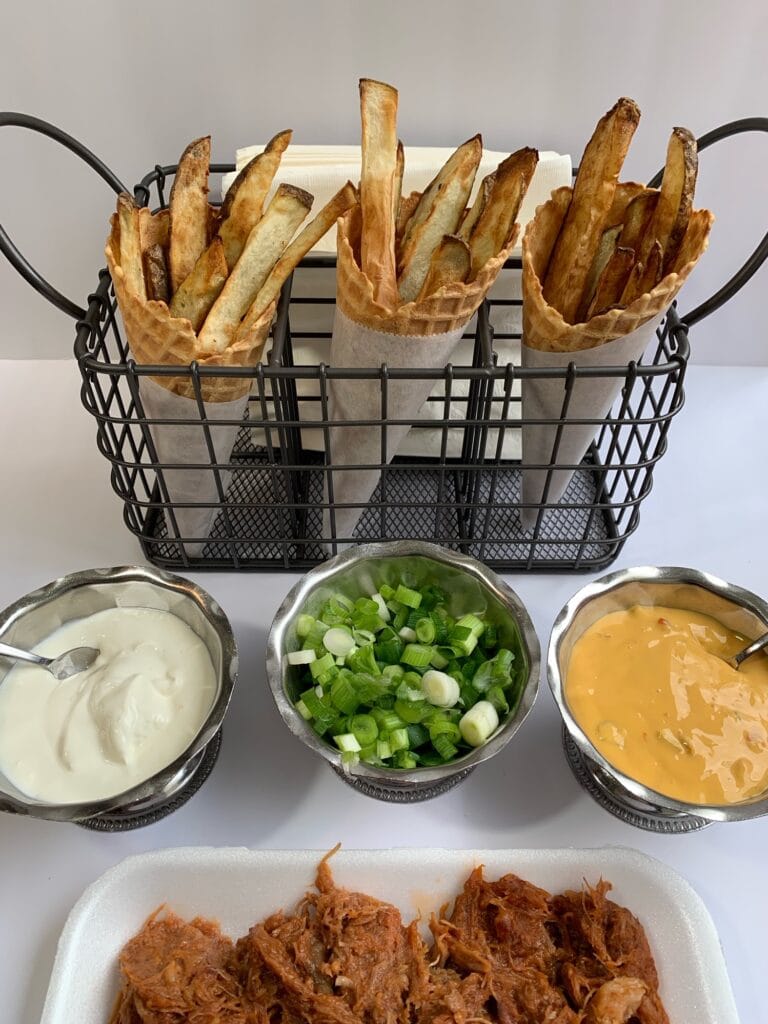 If you are serving them for a party, you can set up buffet style, and let folks add their own foods. I always like to put the french fries in the cups first, as it just makes it easier for folks to add toppings from this point on, and not hold up the buffet line. It works well for parties that kids are at too, as they can just grab a cone full of fries if they are picky eaters.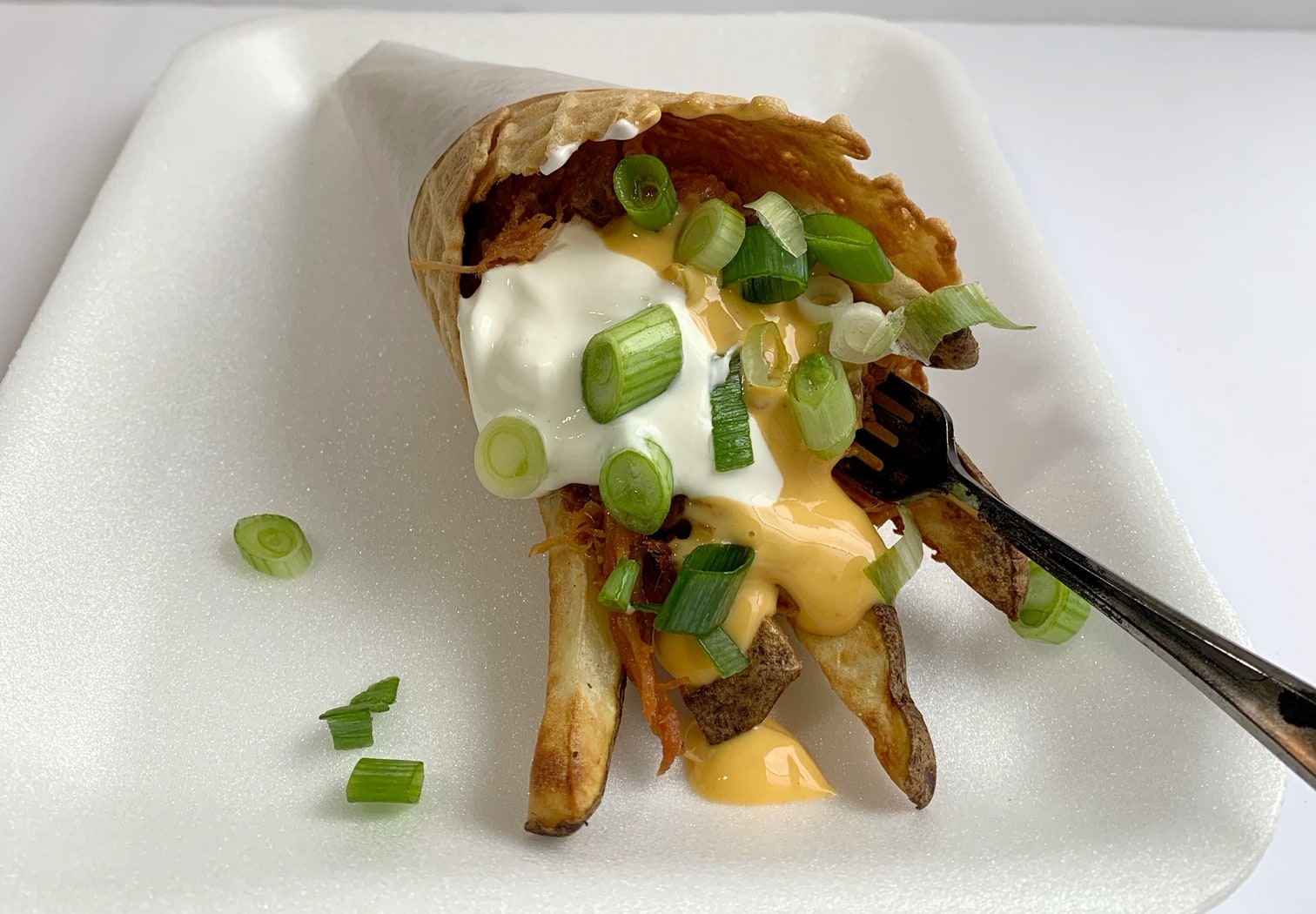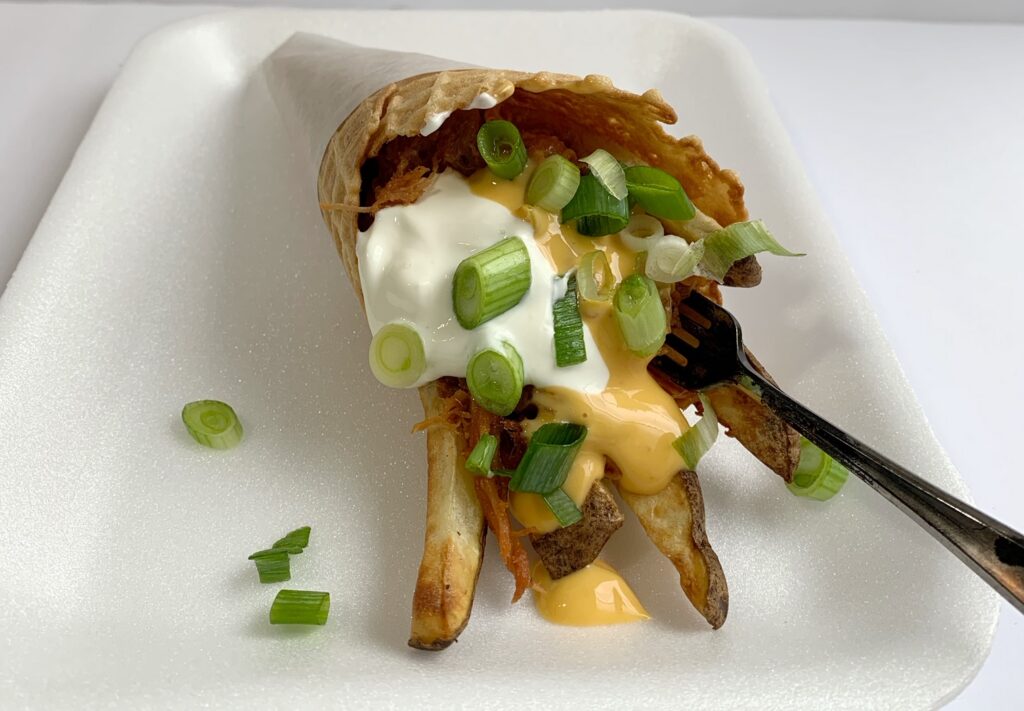 I loved the combination of the sweetness of the bbq pork, and the heat of the spicy queso. It was perfection in my opinion, but you really can do all kinds of other versions if you want. You could do a Mediterranean version for example, with feta instead of queso sauce, white onions diced, tomatoes diced and tzatziki sauce instead of sour cream. This recipe is easily adapted to your personal tastes.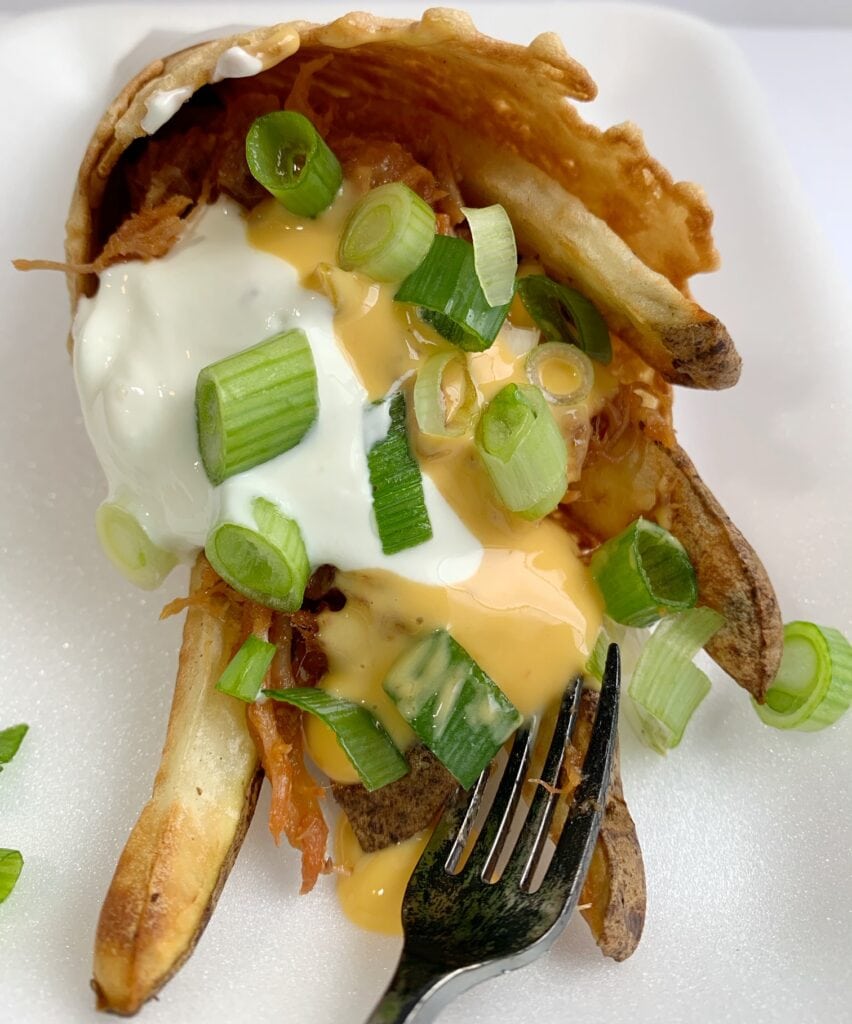 Print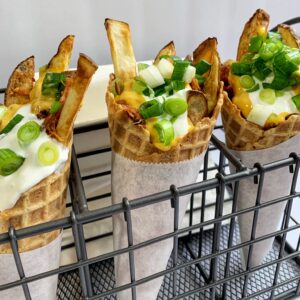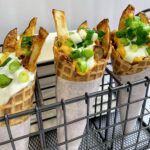 Pulled Pork Spicy Smothered French Fries in a Cone – Food Truck Style!
---
Description
These Pulled Pork Spicy Smother Fries, in a Cone are not only delicious, but are sure to be a crowd hit. It is also a great item to serve at parties with kids, because picky eaters can just grab a cup of fries. This is a recipe your family or guests will be asking you to make again and again.
---
Large Waffle Cones
Niman Ranch All Natural Pulled Pork (or recipe of your choice)
Spicy Cheese Sauce
Green Onions
Sour Cream
---
Instructions
Prepare bbq pulled pork.
Prepare french fries.
Prepare cheese sauce.
Dice green onions
Assemble the cone, with a layer of fries first, then add bbq pork, and drizzle with cheese sauce. Top off with a dollop of sour cream and a sprinkling of green onions and serve!