Egg Roll Recipe – Easier Then You Think!
This post may contain affiliate links and I may be compensated for this post. Please read our disclosure policy here.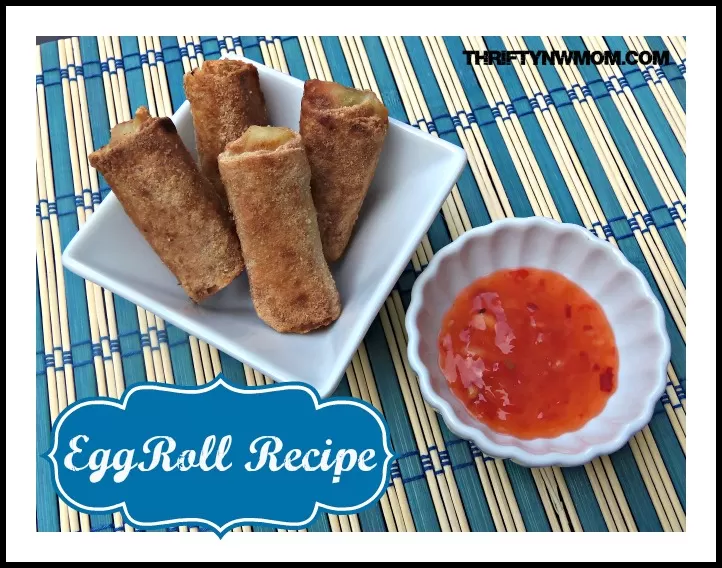 Egg rolls are one of those recipes, that before I started making them they seemed very intimidating. My husband kept asking me to start cooking them, and once I learned how I could not believe how long I waited. They are really very simple.
The hardest part is prep work, but you can make them ahead of time, and freeze them too (or make the filling ahead of time, and freeze just that)! They are great for parties too, as you can really make the ingredients stretch, and they are always a hit with a crowd.
I find them to be an affordable thing to make, as you can use chicken or pork (or beef), or just make a veggie version. The vegetable ingredients are not expensive, and it requires a small amount of meat if you choose to use it (I can get away with one large chicken breast or two small ones). Or use left over meat from a previous meal. Once you have the seasonings in your pantry, buy the eggroll wraps when they go on sale (they freeze nicely), and you do not have to spend a fortune to make these.
I like to make a big batch of the eggrolls, and after we eat them the first night, then we have them in the fridge to snack on for the next few days too.
Tips on Rolling The Egg Rolls:
Drain the mixture and let it cool for best results, before rolling
Keep a damp clothe over the egg roll wrappers to keep them from getting hard on the edges while wrapping
Have baking tray ready, so you can lay the egg rolls out nicely on that when done wrapping. That keeps them from touching each other and sticking together before you start frying
Start small with the filling. A little goes a long way, and smaller egg rolls are easier to cook up nice
Print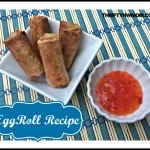 Eggrolls Recipe
---
1

Package of Egg Roll Wrappers

1

lb of shredded chicken or shredded pork (cooked)

1

head of cabbage (finely shredded), You could use a pre-made slaw mix instead of cabbage and carrots to save time, but I prefer to shred my own.

2

carrots (cut julienne style)

1/2

Onion (diced)

1/2 tsp

of finely chopped garlic

1/4 cup

Soy Sauce

1/4 cup

Sweet Sherry Cooking Wine

1/2 tsp

. Black Pepper

1/2 tsp

. Salt
Oil for frying
---
Instructions
Start by cooking your meat (I will often use leftover chicken or pork from dinner the night before, and just shred it up for egg rolls!), then mix in onion, carrots and garlic, and saute briefly.
Add soy sauce and sherry with salt and pepper. Continue to saute just until onions are tender. Transfer mixture to a bowl and set aside.
The last step for making the mixture is to cabbage and allow it to cook down (it will reduce in size significantly). Continue to saute until cabbage is crisp-tender, about 5 minutes. Remove from heat.
Heat up oil, or get your deep fryer ready to go.
Fill each egg roll wrapper with approximately 1/4 cup of filling and roll up according to package directions. Fry until golden brown. Drain on paper towels and serve with Sweet Chili Sauce or your favorite Egg Roll dipping Sauce!
Recipe Card powered by