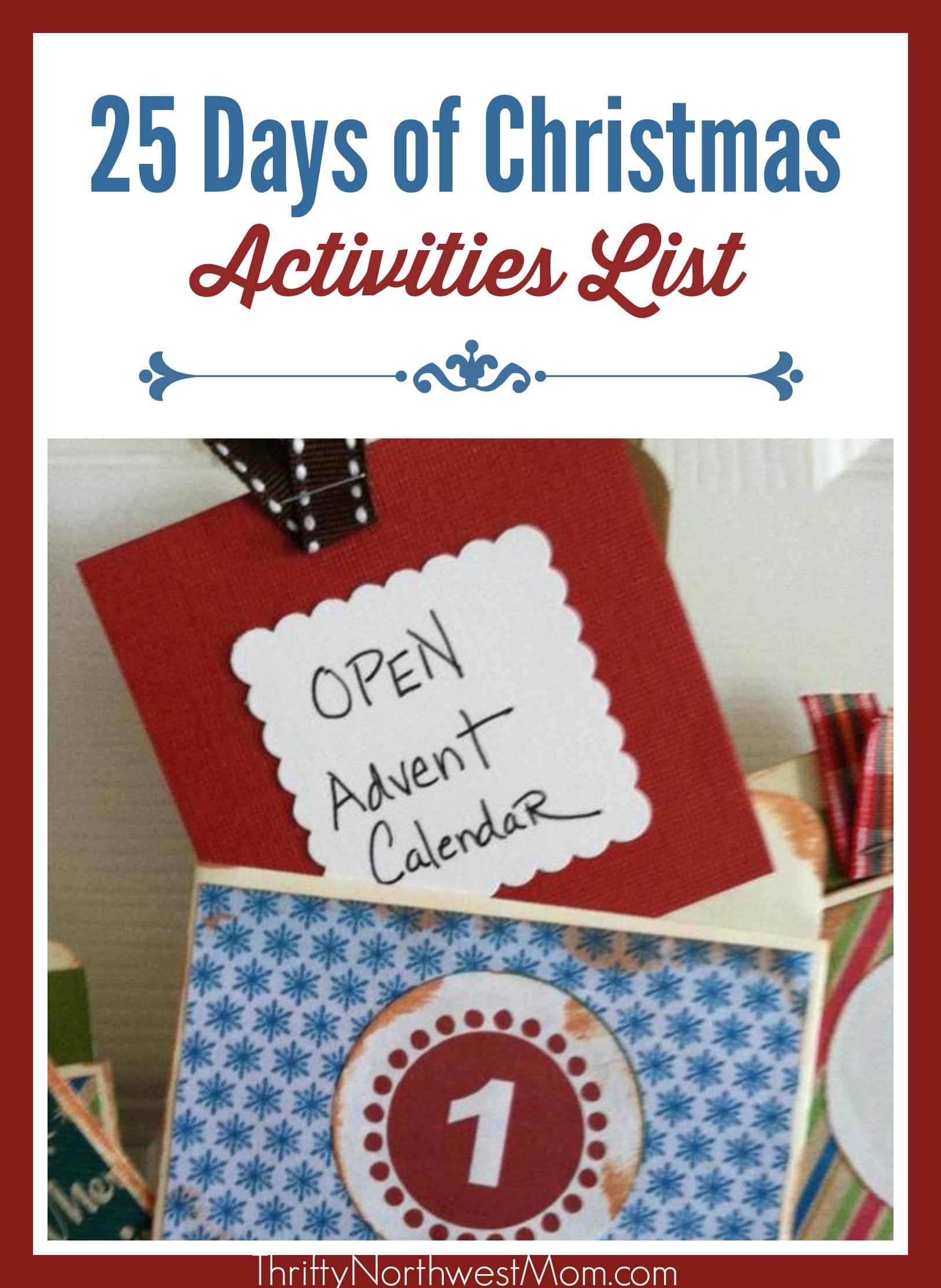 Looking for Advent ideas? We have a big list of Advent Calendar Activities to help inspire you this year!   My family is doing a special 25 Days of Christmas ideas for the month of December, where will do some sort of special activity or event for each day of the month leading to Christmas to celebrate the season of Advent.
You can read all about the 25 Days of Christmas and see a variety of different Advent calendars that you can make yourself! Or just keep it really simple & have your kids help you make a red & green paper chain & you can write the activities on each of the links for the chain. Then have one child pull off a link each day with that day's activity.
I've compiled all sorts of fun ideas of activities that you could do for your 25 Days of Christmas Activities  or 12 Days of Christmas Activities. You can do however many days you want to do – 12 days, 5 days, or even just every few days!
Northwest Christmas Activities List:
If you're in the Northwest, make sure to check out our big list of Pacific Northwest Christmas Events to find some local activities you could add to the list, too.
Read a Christmas Book A Night:
Another idea for fun Christmas Countdown Activities is to read a Christmas book a day during the month of December as you count down to Christmas. This 25 Days of Christmas Books can be books you have on hand or books you get at the library, wrapped up or put in a basket to choose from each night. We have a list of 40 of our favorite Christmas books for kids, too!
Ideas for Advent Activities for Families:
Chocolate Advent Calendar – Give each of your kids a chocolate Advent Calendar to use with your homemade advent calendar (you can find these at the Dollar store, Walgreens, Fred Meyer, World Market, Walgreens, Hallmark, Bed Bath & Beyond) *This is a great activity to do on December 1st
Visit a Living Nativity (check out our PNW Christmas Events list to see a few here in the Puget Sound area ) – great way to kick off the season of Advent & focusing on the true reason for the season!
Picnic next to the Christmas tree
Birthday party for Jesus – have a little birthday party for Jesus & invite your friends or just do it with your family. Make a birthday cake for Jesus
Red & Green Dinner – serve food & drinks that are either red or green for dinner (if you're really ambitious, you could even do this for every meal & make it Red & Green Day)
Make Homemade Ornaments – check out these fun Salt Dough ornaments
Christmas craft day – find some Christmas crafts to do together to decorate your house or to give to family or friends
Make homemade Peppermint Hot Chocolate or go out to Starbucks or a local coffee shop for a fun little outing to get a special Holiday flavored Hot Chocolate
Decorate Gingerbread Houses
Make candied popcorn & Have a Game Night (maybe buy a new game & wrap it for them to open – it could be from a thrift store, it doesn't have to be brand-new –  just new to them)
Write letters to Santa – use our free printable letter to Santa
Cut down your Christmas tree at a Tree Farm or go to pick it out from a lot
Decorate the tree & drink eggnog
Balloon Volleyball – set up a mini volleyball court in your house using balloons as your volleyball! This is sure to cause a lot of laughs!
Date night with dad or mom
Hot cocoa & Christmas books next to the Christmas tree or by the fire
Christmas movie marathon night (or day)
Put on PJ's, bring hot cocoa  & go see local Christmas light displays in neighborhoods (check out our copycat Starbucks hot chocolate recipe)
Make paper snowflakes & decorate the windows, hang them from fishing line in your hall or entry way & more!
Make edible gifts for the birds (e.g., birdseed & peanut butter pinecones)
Make footprint reindeer or penguin (we made the reindeer one year as ornaments, but you could also do it on canvas for a fun holiday picture to hang on your walls at Christmas)
Go ice skating
Sleep on the floor under the Christmas tree one night
Read the true story of Christmas (Luke 2: 1-20)
Write notes to each member of the family telling them how special they are & leave in their stockings to open Christmas morning
Kids Choice day or night – Kids get to choose the meal, game, movie, and more!
Make reindeer cookies or edible wreaths
If any of your activities involve something you will give to your kids, you could wrap those up to correspond with the appropriate date. This just adds to the anticipation and fun for them. You can see where we wrap up Christmas books to read a different Christmas book each night (these are books that we own as well as library books – it's just fun for kids to unwrap & be surprised by the book each night)
Here are a few examples of things you can wrap up::
Chocolate Advent Calendar
New Christmas PJ's
Wrap a new-to-them Christmas book or movie that you'll read or watch as a family 
Give them a new (or new-to-them) toy Nativity set and then act out the Christmas story
Wrap up the fixins' for popcorn & movie night in a fun basket or tub!
Giving/Service Ideas:
Gather allowance money & put in the Salvation Army bucket  (or even better, volunteer as a bell ringer to help raise money for your local Salvation Army – we will be doing that this year again with our whole family – my girls had a blast doing this last year)
Have a shopping date with mom or dad to buy a gift for their sibling(s)
Bake & take cookies to a local organization like a nursing home, veteran's home, hospital, youth center, etc
Bake cookies & bring to your local fire station (maybe they'll even give you a tour of the station & the trucks)
Make gifts or treats for the neighbors & deliver them together – we always do this one day close to Christmas
Gather up toys to donate  – this has an added bonus that it also clears the way for new toys coming at Christmas
Make Christmas gifts for teachers
Adopt a family or a child for the Christmas season – thru Toys for Tots, a local angel/giving tree, your church or school  – have your children help you shop for the items
Go Christmas caroling in your neighborhood or at a local nursing home, hospital, rehab center
"Pay it Forward" Day – look for opportunities to pay it forward such as buying coffee for the person behind you at the coffees shop, give the cashier a gift card at the store you are shopping at, and any other random opportunities you come across where you can do something nice to "pay it forward" to people
*You can find more activities & inspiration on our Pinterest Christmas boards.
Random Acts of Kindness Activities:
A really cool idea too, that you could do for any length of time – a few days here & there, 5 days in a row or more would be to turn your Advent Activities into
"Random Acts of Christmas Kindness"
. This is where you pick an activity to do something nice for someone! You could call it the 25 Days of Giving!
Hopefully this gets you a good start on ideas that you could include in your 25 Days of Christmas! Now, it's your turn – we'd love to hear what type of fun activities you like to do as a family to celebrate the Christmas season? 
More Advent Ideas for Families: