Christmas Light Scavenger Hunt – Free Printable
This post may contain affiliate links and I may be compensated for this post. Please read our disclosure policy here.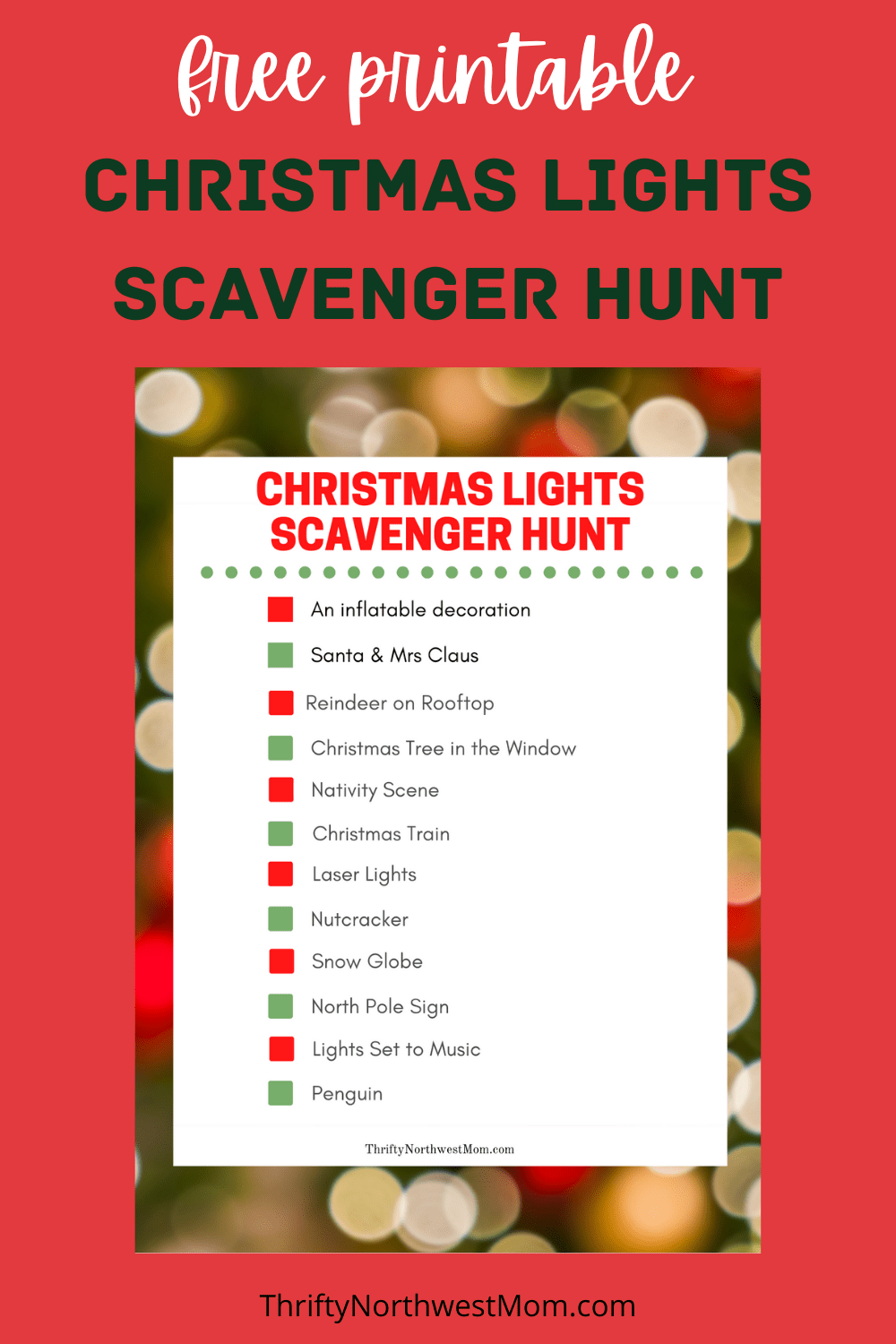 Christmas Light Scavenger Hunt – Free Printable!
One of our most favorite Christmas traditions in our house and part of our 25 Days of Christmas countdown is to drive around to various neighborhoods & look at Christmas lights. We love seeing all the unique Christmas setups  We turn this into an evening of fun by wearing our cozy pajamas and either bringing our own hot cocoa or stopping at a coffee stand for hot cocoa.
Last year, we headed out after we got home from our Christmas Eve church service. We first unwrapped our traditional Christmas Eve present – matching Christmas PJ's (usually it's just for our girls, but last year I decided to buy them for the whole family). We put on our Christmas PJ's, brought our hot cocoa with us & then headed out to see the lights on Christmas Eve. Such a fun evening!
This year, we decided to make this more interactive with a Scavenger Hunt while driving to see Christmas lights. My family is competitive & always loves a good game, so we had fun bringing this free printable Scavenger Hunt with us as we viewed the Christmas lights this year.  It definitely made us really look at the lights & decorations more closely as we drove through the neighborhoods & pay better attention to all of the details of the Christmas decor in yards.
How to Use the Christmas Light Scavenger Hunt Printable: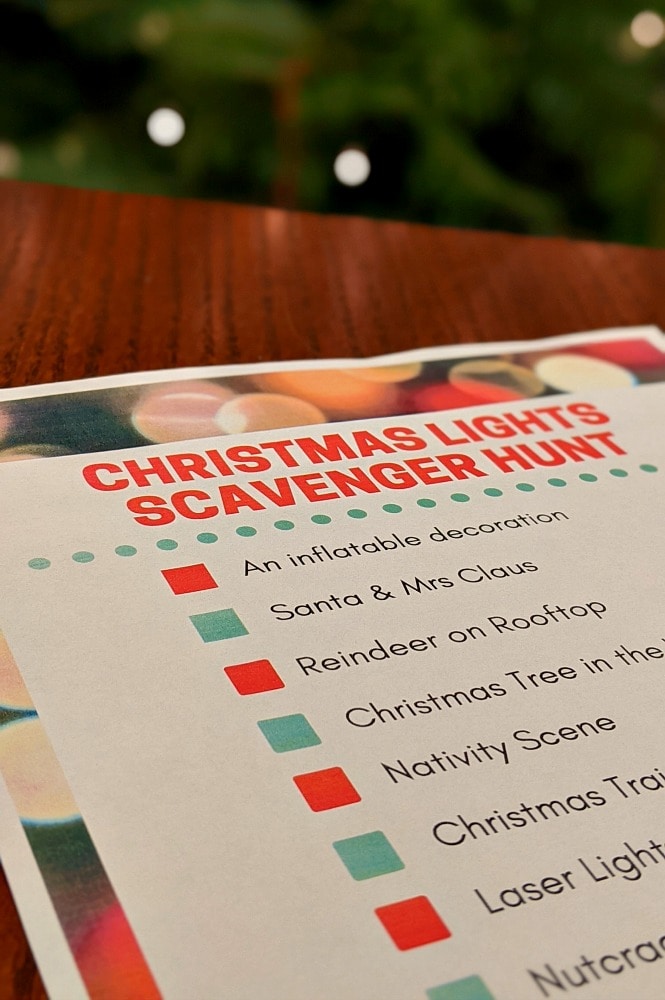 This scavenger hunt can really be used for any age & is just a fun activity for the whole family to get involved in. You could print off just one copy to do together as a family as you drive or print off multiple copies, so you can each play the game & hunt for the Christmas lights & outdoor decor, to see who gets the most items or who's the fastest!
This scavenger hunt printable will also work if you are doing any drive-thru light displays at Christmastime. You could even make it a bit harder & ask your kids to find multiples of each item – see how many of each item they can find & add them up for points to see who has the most points at the end.
For those of you who are local, you might want to check out the Holiday Magic lights display at the Washington State Fairgrounds. Or Fantasy Lights in Spanaway. We have a big list of drive-thru lights displays around the Northwest, too.
Pro Tip:  Download the free Christmas Lights scavenger hunt here, and laminate one for each family member. Then give each person a dry erase pen to mark their findings, and you can erase and reuse them every year. Keep the printables stored with your Christmas decorations, so you can pull them out each year & be prepared for a fun family Christmas outing
Free printable Christmas Lights scavenger hunt for your Christmas light viewing:
Print off this free Christmas Lights scavenger hunt printable to take with you when you head out driving to neighborhoods to see all of the Christmas lights & decorations.
More Fun Scavenger Hunts You Can Print Out For FREE!