Homemade Playdough
This post may contain affiliate links and I may be compensated for this post. Please read our disclosure policy here.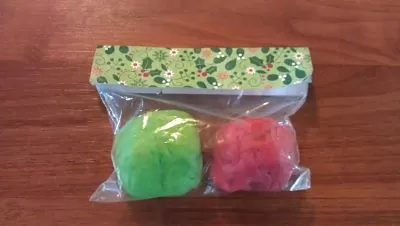 Homemade Playdough 
Every year the boys and I celebrate the days leading up to Christmas with different holiday activities.  We love doing some family traditions, but also love making new projects or new memories.  My youngest, Jack is really into playdough! It's pretty much the only thing he will do for hours.  I decided making play dough would be fun and for Christmas we decided to do red and green.  A friend of mine had made some for a harvest party and she gave me the recipe (she had found it on Pinterest).  It is so much better than the store bought stuff – soft and pliable, but because it is made with kool aid it smells yummy! And what a frugal gift this would make for some kids on your list!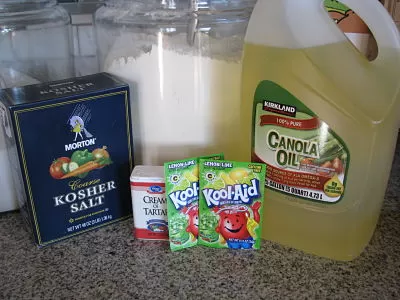 Ingredients:
1 package unsweetened kool aid (small packages- 20 cents each at Walmart)
2 Tablespoons cornstarch
1 cup water
1 cup flour
1/2 cup salt (I only had kosher salt on hand and it worked great)
2 tablespoon oil (I used canola)
Some recipes do not call for the cornstarch-not sure if you need it or not, but the one my friend had given me had it and I loved how hers turned out so I used it-you might be able to try it without.
Directions: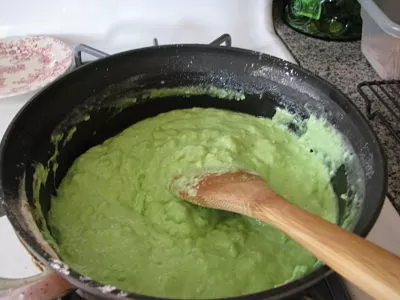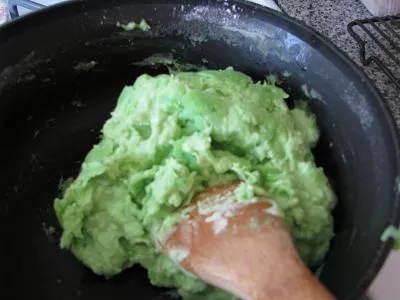 *Mix all the ingredients in a cooking pot until heated through (stirring constantly) and dough forms ball in center.  You can also do without the stove in a bowl, but you must boil the water.  We tried it both ways.  I found the stove method to be faster and gave better results, but my Jack really wanted to stir and I won't let him stir on the stove so we tried the boil method too.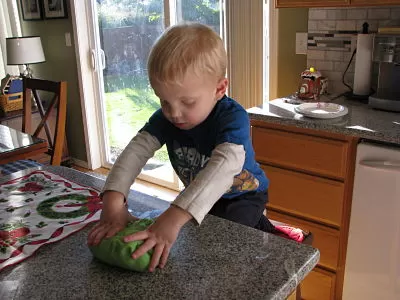 *After the playdough has cooled, store in airtight container such as ziplocks or rubbermaids. We made these for little party favors & just put them in ziploc baggies & folded them down & cut out a piece of holiday scrapbook paper to add to the top & stapled it over the ziploc bag.
We made two batches of red and two batches of green which was the perfect amount to use as party favors at our "Birthday Party for Jesus"  I also think it would be a fun gift for a preschool class, neighbors with kids or even great stocking stuffer for your own little ones.We will definitely be making this again.
For a few more festive playdough ideas – check out some of these fun ideas we found via Pinterest: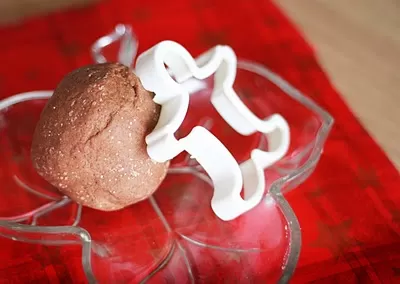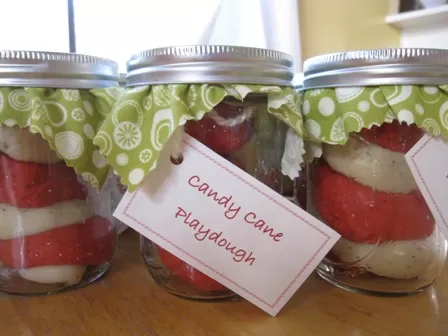 Candy Cane Playdough