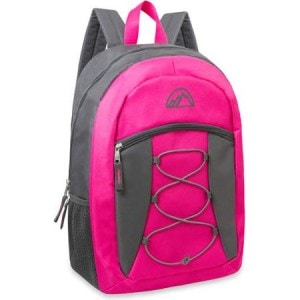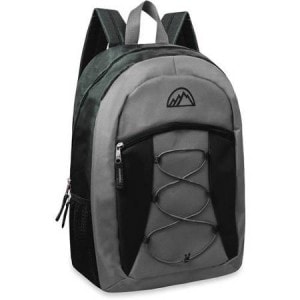 If you are still in need of a Back to School backpack – here is a HOT deal on a FREE Backpack after this cashback offer from TopCashBack. We ran this offer as an exclusive for Thrifty NW Mom readers earlier this month, and it sold out – but its back for everyone now! Walmart is selling this Mountain Edge 17″ bungee front pocket backpack priced at $6.88 and within seven days $8 cashback will post in your TopCashback account. The back-to-school necessity is available in a variety of colors. This offer will cover your tax too! If you select in-store pick up you won't have to pay shipping either.
Here is how this offer works: 
Head to the Thrifty NW Mom Free Backpack Special Offer page here, and click on the Orange *Get Cash Back* button part way down the page
That should take you to the Walmart Page to make your backpack purchase.
Then within 30-90 days the cashback should be payable to you in your TopCashBack account (you can tranfer it to your paypal account or request they send you a check, etc at that time).
IMPORTANT: transactions must only contain one Mountain Edge 17″ bungee front pocket backpack priced at $6.88 to ensure $8 cashback is credited to TopCashback accounts. If another item is purchased or additional items are purchased at the same time, the cashback amount awarded will be 10% or less (depending on the item(s) purchased) instead of $8.
This TopCashback Mountain Edge offer is available:
– until 23:59 PT on Wednesday, September 2, 2015 or stock runs out
– while it's priced at $6.88; if the price changes, the deal is over
– to new TopCashback members only. This is defined as someone who hasn't ever made a transaction through TopCashback.com, regardless of whether they have already created a TopCashback account or not. If an existing member is found to have created more than one account, TopCashback will terminate their accounts and withhold all cashback earnings
– to new, current or past Walmart customers
– for online sales only, for purchases made directly after clicking through TopCashback.com
This offer is available to new TopCashback members only. However as TopCashback doesn't limit accounts to one per household, if you're an existing member now's the perfect time to tell your husband or wife, mom or dad, roommate, neighbor or anyone else about TopCashback and perhaps they'll share their freebie with you!