My family loves Disneyland, but it can be a budget buster. If Disneyland is not an option for you, but you are still looking for some theme park fun for the family, consider Silverwood in Idaho.  Last summer (2011) my family decided to head out to Silverwood, and we loved it! We took a 4 night/ 5 day vacation for approximately $800 for all 5 us (but you could do it for less – we splurged some).  We were able to keep our cost down by camping the first 3 nights, and then headed over to the Spokane Riverfront and got a hotel there for our last night.  Here are some tips on how your family can take a theme park vacation to Silverwood Theme Park, without spending a fortune.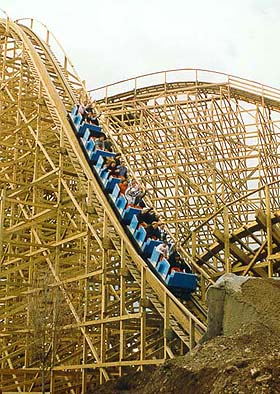 Silverwood Tickets – Go on one of their discount weeks to save on admission.  We paid just over $227 for our family to get 2 day passes (we went the two days before my youngest turned 3 so we only had to buy 4 tickets). There are a handful of discount weekends in the Spring, and late summer where you could get in for $20.99 per person (so 4 people could go for 2 days for only $167.92!).  Check out the the Silverwood deals page here to see their discounts by season.
The park itself has both an amusement park side, and water park side so there is plenty to do for 2 days.  Another great benefit of Silverwood, over a theme park like Disneyland, is that the lines are not bad at all. We were able to go on everything we wanted to, with no unbearable wait times.  Both the amusement park and water park are very friendly for both young kids and teens alike, so its great for families who have kids spanning different age groups. Its themed like the Old West, so its more then just rides too.
For young children there is a small kids ride area, with many rides that are just their size. For the older crowd there are some amazing roller coasters, and rides that provide a bigger rush to keep them interested. There are also rides friendly for the whole family like the log ride, and river rafting ride (my toddlers and teens loved both these). The same is true for the water park. There are a couple of play areas for young kids, with spray fun, forts to play in and wading pools. The big kids can pick from multiple 'big' slides or a lazy river and wave pools (yes plural!).
Its really easy to go back and forth between parks to, so we would spend the hotter part of the day over at the water park, and then dry off and spend some evening fun at the theme park after it cooled off some.
Lodging – We saved alot here by camping! This helped us save on hotel costs as well as food costs (since we could cook our own food). We loved it, so if your down with camping this is a great budget alternative.  We camped at two spots on our vacation so I could compare them for you.  The first night we stayed at the Farragut State Park and the other two nights we stayed at the Silverwood RV Campground.  We had a strong preference for the State Park and this is where we will stay for any future trips.
Farrugut State Park - This campground is huge and there is plenty to do including trails, some scheduled shows in the summer, play grounds for the kids, day use are with larger park, swimming lake, 3 frisbee disk fields and more.  The camp sites were very nice, and shower and bathroom facilities nice too.  There is ice and firewood available on site, but other then that you will want to have the rest of your supplies with you.  It is about an 8 minute drive to Silverwoods parking lot (which is the same location as the Silverwood RV park, so you are not adding much time to your commute to Silverwood when you stay here).   There is a firepit in each camp site with a built in grill top to cook on.  Very convenient.  Grounds were clean, and quiet in the evening.  I loved camping here, and since Silverwood does not even open until 11:00 am its nice to have something to do in the morning with the kids. It cost us just over $28 for a campsite after taxes and fees (per night).
Sorry, I was so uninspired by our campsite at Silverwood, I forgot to take pictures 
Silverwood RV Campground – This campground is right across from Silverwood Theme Parks, so you can walk right over.  It is a bit of a walk though, so it probably took us around 5 minutes to make the walk from our camp site to where the parking lot was (we have young kids).  The majority of this campground is for RVs (you could rent those sites for tents too…they just cost more).  The tent sites are at the very back of the park.  There is only one 'real' bathroom facility at this campground.  Other then that they have Sani Cans all over the place.  Not fun to use with toddlers.  My 3 year old refused to use them, so there were plenty of 'long' walks to the main bathroom facility at inconvenient times. The showers and the bathrooms were in the same location, so if you tried to use the facility during peak hours it was hard to even get in to wash your hands. Too many young girls taking over the counter area to plug in hair dryers and curling irons.  Beyond just the bathroom issue, the campground was dusty, noisy, little privacy and NO fires.  Fires are my favorite part of the end of an evening when camping, and it also means you have to carry some kind of cook stove with you if you want to eat at your site (which you usually do camping anyway…but you could skip this if you want to cook over the fire at Farrugut – we never took our BBQ out there).   This park sits right on the highway so is noisy all night long.  I am not usually bothered by noise, and I had read other reviews that talked about the noise but did not think anything of it.  Once we were there in the tent though, I just wanted a little peace and quiet in the wilderness at night 
  Not only were the sites dusty in general, but there is a dust road that runs directly behind one side of the tent sites (the side we were on). When cars sped down that road, it kicked so much dust up you had to leave the camp site for a few minutes just to breathe.  The site was small and we had a large tent, so it was tough to get that to fit and still have cooking space etc.
The pros of Silverwood are that you can walk to the park.  We had a teenager and toddlers with us, so this was convenient when the young ones wanted to head back to the campsite sooner then the teen.  There is also a convenience store right on site at Silverwood that you can get everything from Lattes in the morning to basic camp supplies.  It was $30 a night to camp here.
Moving forward my family will always stay at the State Park.  If you are just looking for a basic site with a few amenities, and want to be as close to the park as possible you may prefer the Silverwood RV campground. If you want to enjoy more of the camping experience and the park I recommend the State park (Silverwood Theme Park hours are much more limited then someplace like Disneyland so you have plenty of time out of the park too).
We ended our stay with a night at the Red Lion on the Riverfront in Spokane (hotel on the Park).  We loved it with the kids.  It was right on the river, and an easy walk to the Riverfront park with plenty to do with kids.  There were also two swimming pools and a family friendly buffet in the morning.  You could do something really nice like stay at the resort at Couer d'Alene or the Holiday Inn near Silverwood that has go carts, indoor water park and more, as another alternative.   We planned in advance and used a hotel deal so we only had to spend about $40 on this part of our stay.
Food - Some tips on saving on food costs:
Cook breakfast and dinner at your campsite and eat one meal in the park a day.  We did this, so we didn't feel like we were depriving ourselves of the eating out experience.  The meals in the park are pretty affordably priced for theme park food too.  We ate one day in the Saloon on main street with the piano show and the second day we ate at the Pizzeria during the magic show.  Both meals averaged out to just over $30 a meal (family of 5). Plus we got entertainment during each meal which made it feel more like money well spent!
On the way to the hotel grounds there is a Super Walmart you can stop at to purchase your groceries. Bring your coupons along and you will not end up spending any more then you would at home.  We got hot dogs for under $1 a pack, burgers, snacks and much more.  We love to cook over the fire (or bbq) so we found it just as fun to fire up breakfast in the morning as it would have been going out.
Also, we subscribed to Groupon for Spokane/Coeur D'Alene ahead of time to watch for deals on restaurants over there.  There is an Olive Garden and other chain restaurants near Couer D'Alene so you could bring a coupon for one of those and do something along those lines (or check the local zip code on Restaurant.com before you leave to see if they have any restaurants you want to eat at).   We found that the Burger King on the way to our campgrounds sold $1.99 kids meals (with Icees) so we grabbed a couple of those on our way out of town for a cheap lunch.  I had also purchased a deal for a burger place on the way to the pass….so we started our trip off by eating there with a deal voucher.  A little planning can go along way in the food dept.
The Drive – We have a Jeep and it took us one tank of gas over, and one tank back (we did not do much driving once there).  It was about a 5 and a half hour drive for us, but we had more then one bathroom stop, etc.
If you don't mind roughing it and long drives are an adventure and not a chore for you, then its a great family vacation. You could extend it longer and enjoy more of North Idaho – its very pretty. We can't wait to go back, and enjoy even more in the area!
Do you have other great tips for visiting Silverwood?