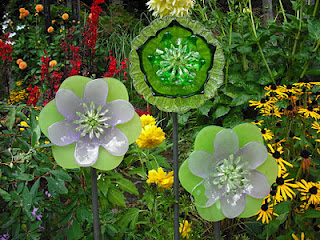 With all of this June rain, your flowers may be taking a little longer to bloom then you had hoped for. How about adding a little floral art to your garden or house using recycled glass (keep an eye out for it at those garage sales!).  The photo below is my front yard. Most of my flowers are growing but not blooming yet, so I use glass flowers made from recycled dishes, to brighten it up during all seasons. The photo at the top of the page is my moms garden, and she uses bouquets (three similar looking flowers grouped together), to create statements in her gardens.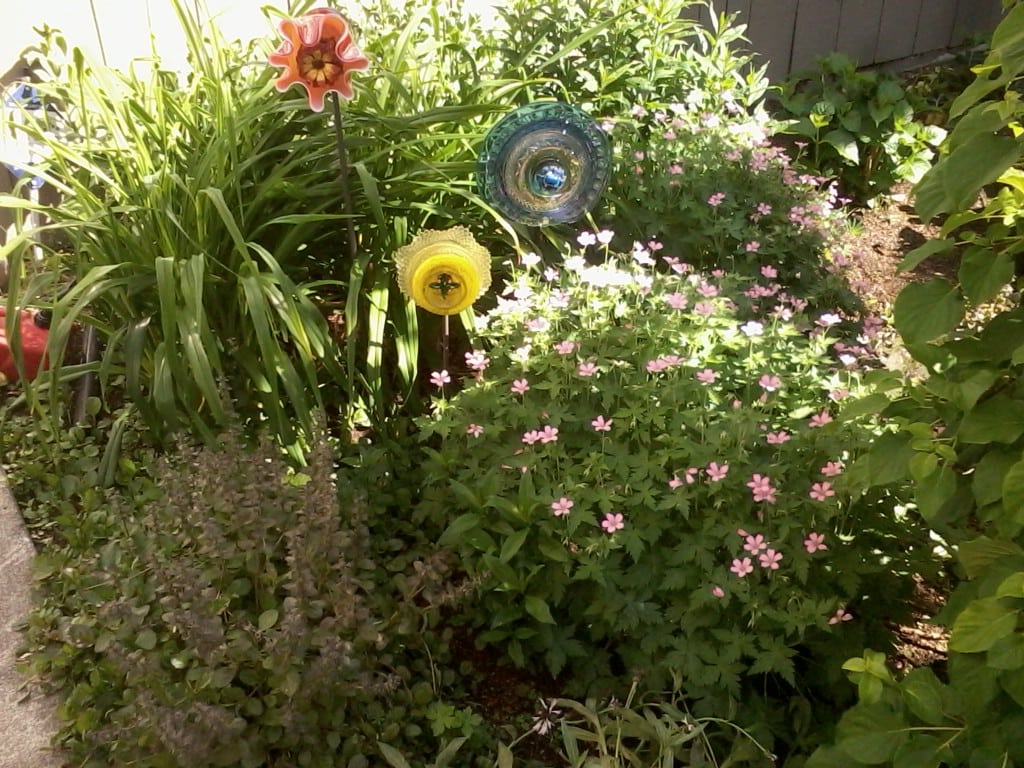 I am very fortunate in that my mom (Debi) owns Misty Meadow Gardens (the maker of all of the glass art work you see in these pictures).  You can visit her photo gallery here, for more ideas on how to put dishes together.  She drills her flowers with a diamond drill bit, and creates stems out of custom made iron work they create on site. These flowers are pricey. They can cost upwards of $100.  The good news though, is that she has shared some tips with us on how you can make your own version of this glasswork on a dime (a $5 version, and a $10 version)!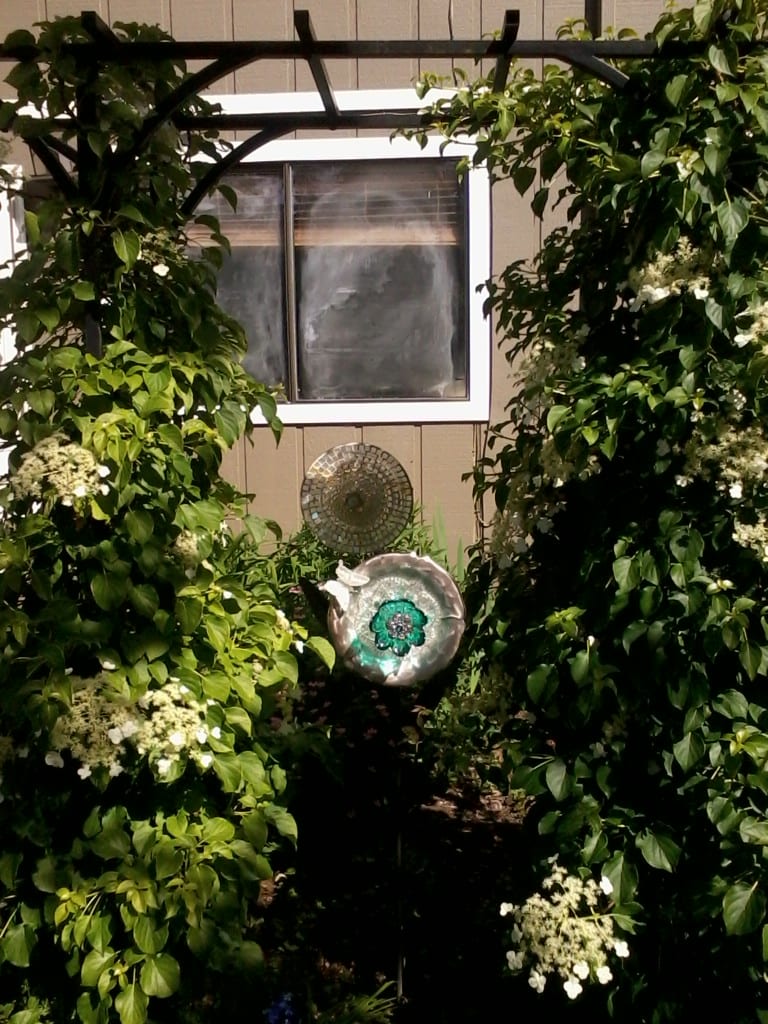 Glue butterflys, ladie bugs, dragon flies, or whatever other creatures you can find to the side of your plate for extra drama.
Here is how you can make your own version of these beautiful glass flowers from items you may have at home, find at a garage or thrift sale, or barter with your friends for. Display them in your house, use them as gifts, or hang them on walls in your garden. However you choose to display them, they are likely to be a big hit with visitors.
Cost: Under $5 for flower shown above, cost will depend on what you pay for your plates.
Supply List:
Plates
Glue (epoxy glue or Gorilla glue)
Plate stand or plate hanger
The most important part of this project is finding the glassware. We found ours at a local second hand store.  The largest size plate for this flower was a salad plate.  That plate and the two yellow plates where $.97 ea. The small flower in the middle was a tealight candle holder we paid $.50 for and the decorative button in the middle was a piece we pulled off a pull knob (another $.50).  The cost of our plates was $3.91.  The plate holder was one we found at the dollar store for you guessed it, $1.  I used glue left over from a cake stand project I did, but you will pay anywhere from $1 – $4 for glue (my dollar store sometimes carries epoxy glue for $1).
The first thing to keep in mind when shopping for glass is to think of the big picture. Each of these pieces on their own might be considered a bit tacky. Take the gold plated cat plate pictured above, that we used for the back of our flower. This is actually 14 carat gold, so a special plate, but because it looked a little dated on its own we got it for a great price. You also want to think about dimensions. Things that fit inside each other, and give a more traditional flower look to them work well. You can use bowls if you want a more dimensional piece (a vase was used for the orange horn style flower pictured above).
Get your plates all set out and design your flower before you start glueing. Once you know what you want your finished flower to look like start with the bottom piece and glue them on in layers, working up to the final center of your flower.   We used the quick set epoxy glue. You will need to follow the instructions on the back of your glue, but essentially you mix a small amounts of a two part glue in a discardable dish and then you are ready to use it. It dries in about 5 minutes, so you will need to go to work right after mixing. You can also use Gorilla Glue for this, but it dries more yellow.
We started by putting a bead of glue around the bottom of the second largest plate and gluing it to the center of the gold cat plate pictured above. If using the epoxy glue method, allow to dry 5 minutes before starting next layer for best results.
We repeated that step for the rest of the layers as well, allowing to dry between layers.
Once you are finished with your flower you could use the same glue method to attach a plate hanger to the back of your flower, or get a plate stand to use to display it in. Its that easy, but makes a gift people will be talking about for a very long time. They are great dining room display, you could use pastel colors for a nursery gift, or do something in green and red to use as a host/hostess gift for a Christmas party. I will be putting this one in my office, just for something pretty to look at.
Want to dress it up as a $10 version?  They sell gold charger plates at my local dollar store, or there were some very nice gold plated chargers I found at Ross for $2 each. That would make a very fancy backing if you wanted to turn it into a more grand display.  Your still well under $10 if you use an affordable charger. I have this rustic Italian style charger lying around my house (my little ones broke the matching ones….so I am stuck with nothing to do with this one). You could use it as a backing for a nice eclectic piece of art. When all was said and done, I liked the small flower, so I did not end up glueing it to the larger charger plate, but its an option.
Flowers and directions on this project were provided by Debi Johnson, of Misty Meadow Gardens. Be sure to check out her artwork online or she sells it locally at many markets throughout the summer.
Do you plan on trying your hand at the glass flowers? Be sure to share a photo with us on Facebook to see what you create!