Guide to Thrifting in the Puget Sound + Some of the Best Thrift Stores In The Area
This post may contain affiliate links and I may be compensated for this post. Please read our disclosure policy here.

Guide to Thrifting in the Puget Sound + Some of the Best Thrift Stores In The Area
The Seattle and surrounding areas are packed full of all kinds of thrift stores, and when you expand that boundary to include the entire Northwest, your options are endless. We share some general tips on thrifting in the Puget Sound, as well as some of the best thrift stores in the area too.
In the Northwest you will find a ton of different types of stores to thrift shop at, so we wanted to break down some of those options, as well as highlight some of our favorites, and why we like them.
Not all thrift stores are created equally. Not only that, you will find second hand stores for everything from designer merchandise, to the bins stores where you root through to see what you can find.
Another thing to keep in mind, is that there are many different reasons people thrift. Your reason for thrifting is going to have a big impact on what stores you like to shop at the most, and so this thrifting guide should help you narrow down some of the spots you might want to visit. Some different reasons why people enjoy thrift shopping can include:
To save money. While this is a common reason, it is not the only reason (and you will find that not all thrift shopping does provide you the lowest prices).
To re-use items, and keep them out of land fills. This shopper loves to give new life to old items, verses buying it now. It is less about saving money, and more about being a good steward of items for them.
The thrill of the hunt. Looking for your items is as much fun as buying them. This type of thrifter can spend a full day in thrift shops, and if they come home with nothing it was still a good day! And if you find that one treasure, it will go down in the books as a day to be remembered.
To find items you cannot find elsewhere. This is particularly true for those that are shopping for those one of a kind pieces, like antiques and furniture that not everyone else has. Or if you are looking for that older book or vinyl you cannot buy new anymore, for example.
To repurpose something new from something old. This is the crafter, or project person, who is looking for some staple pieces that they need to create their vision. It might be home decor, or furniture, or craft projects and more.
I'm sure there are lots more reasons people thrift, but these are some of them we thrift because of, and have met others who do so too. Hopefully our list below will reflect spots that will be useful to all thrifters, regardless of what the reason driving you is.
In addition to breaking down lots of the store options, we have a big list of Tips and Tricks to Use While Thrift Shopping here, you can check out as well.
And if you have teens, we have some reasons why thrift shopping can be especially fun for them too. My kids are now teens, and they love to thrift shop. If you have teens as well, here are 7 reasons to thrift for teens, to inspire this hobby in your family too.
Different Kinds Of Thrift Stores You Will Find ::
There are a number of different types of thrift stores in the Northwest. You will find everything from your standard thrift stores, to thrift stores that are specific to certain products (like construction and home supplies), to small boutique stores. We will break down the differences below between many of the popular NW area thrift stores, so you will know what to expect, and can plan your thrifting experience in the way that fits best for your shopping needs and style.
There are a few larger chain thrift stores (meaning they will be in various cities around the Puget Sound). Many of the chain thrift stores will support a cause (most are non-profit, but not all). One reason to pick a store from this list, is if you want to thrift plus help support that cause. Here are some examples of those, and how they work.
Goodwill Stores – 
Goodwill in is a well known brand of thrift stores, but what you might not know is that Goodwill stores can vary widely, and they have a number of different types of thrift stores too. They provide job training, and we have more detail here in terms of how that works. Here are some of the differences between Goodwill store types as well.
Goodwill stores in the Northwest and managed by regions, so you will find some differences based on the region your are shopping in. In general though, they are broken down like this.
Goodwill stores –
These are the main Goodwill thrift stores, and the ones most people think of when they plan to shop at Goodwill. They generally carry clothing for all ages, shoes, homewares, books and more. These stores can vary quite a bit, based on where you are shopping (what city), with Seattle being the most popular (and largest store).
If you are looking for a destination Goodwill, the Seattle Goodwill is one where many head. This store is massive, and probably the biggest Goodwill in the NW, so lot's to hunt through.
Goodwill stores generally offer lots of additional ways to save while shopping their stores too. They have special event days (like Labor Day) that are like sale days, they mark extra discounts off of certain color tags on certain days, they email and text coupons when you sign up for those, and usually offer Military and Senior discount shopping days too. You will need to check out the specific regions webpage or social media pages for those details. The Goodwill regions in Washington are: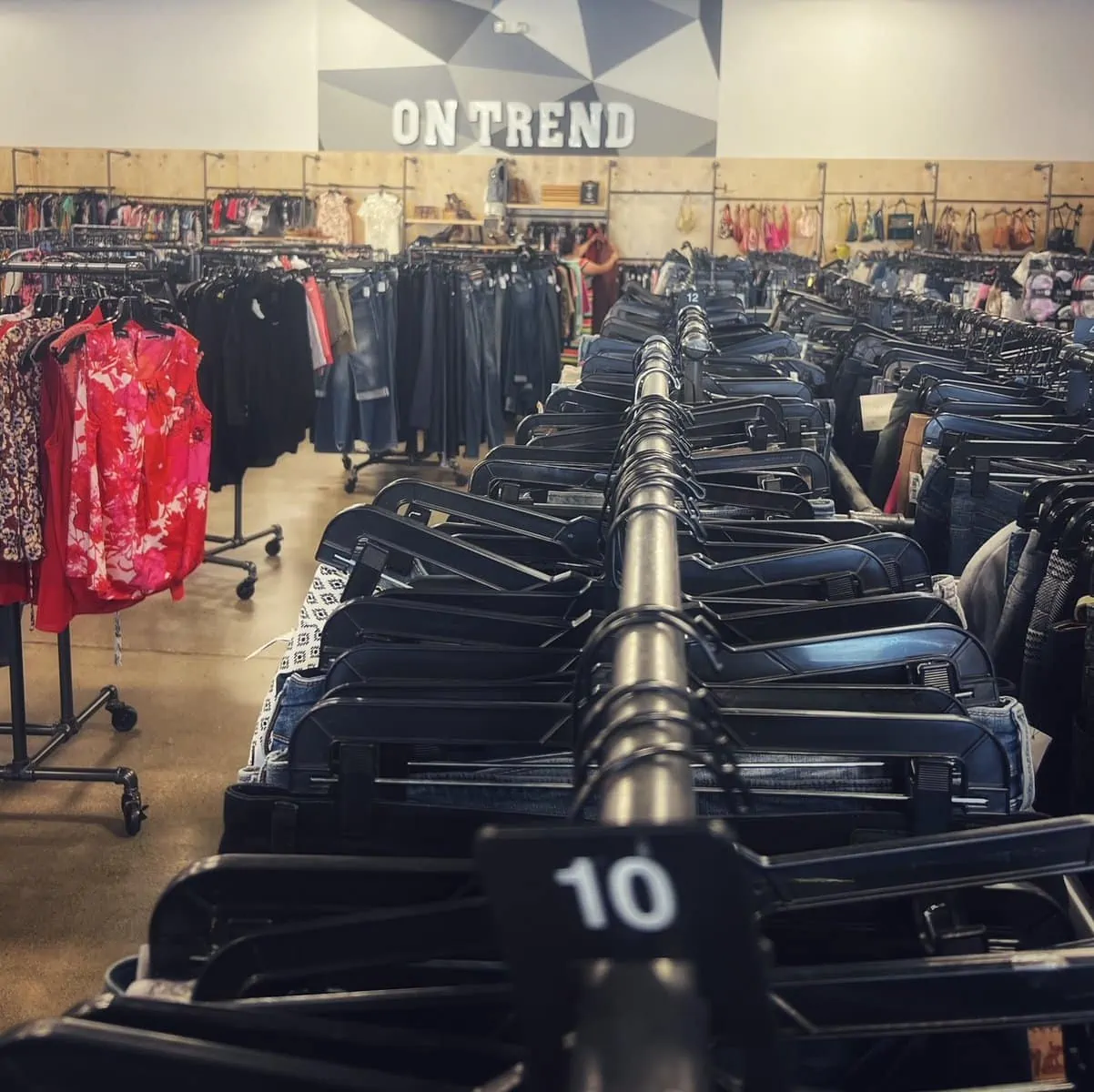 Goodwill 360 thrift store 
As far as I can tell there is only one of the Goodwill 360 stores so far, and it is in Kent. It is one of my favorite Goodwill (and all around thrift stores to shop). It is clean, and well organized, and we often find things we like in there. The other really cool thing about this location is that it is right next door to one of the Goodwill outlets, so you can sort through bins after you are done too.
They do have it set up with a few "trends" sections, making it easy to look through current styles. It is not a huge store, but big enough, and laid out very nicely.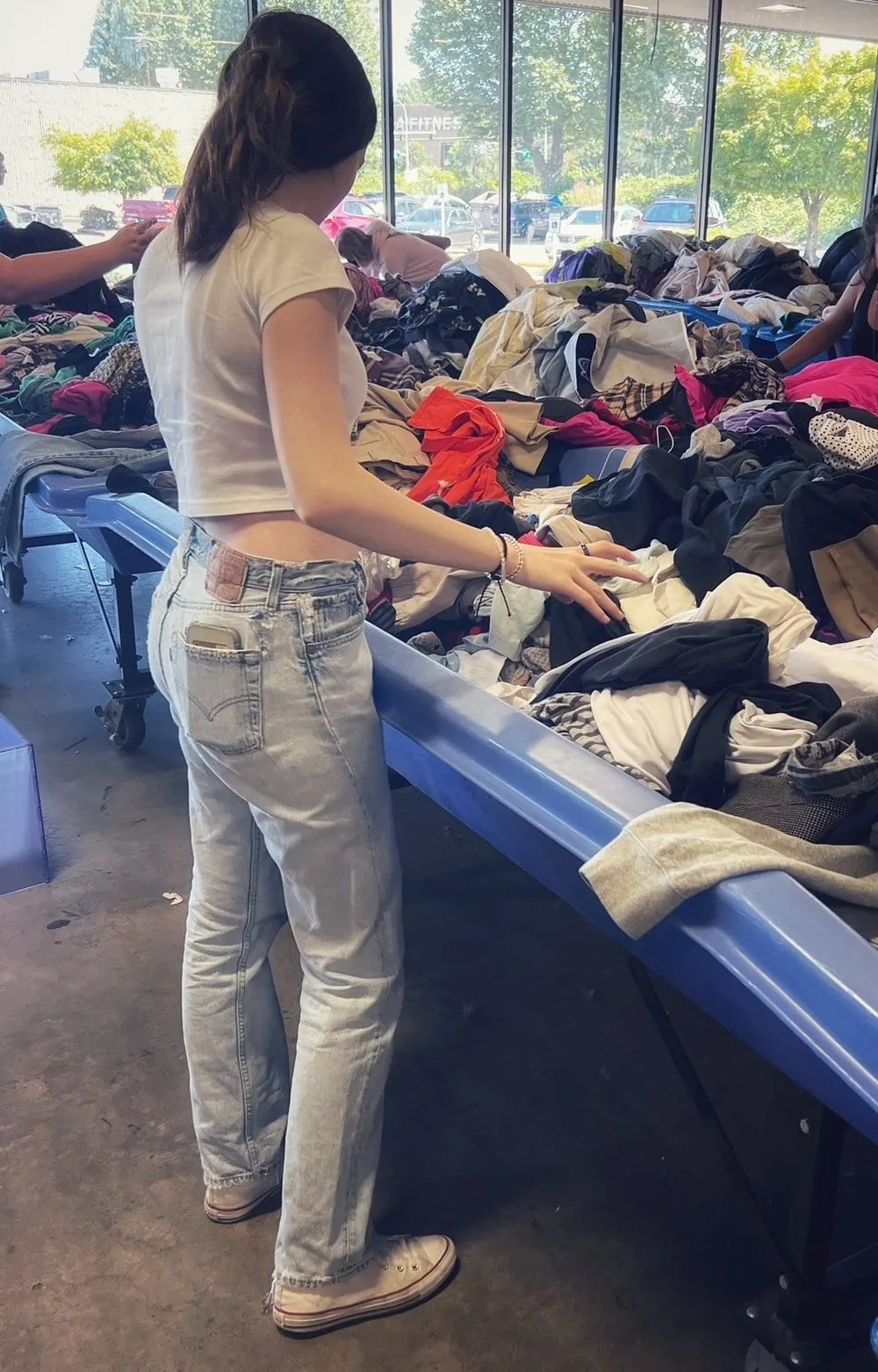 Goodwill Outlet (the bins stores)
The Goodwill Outlet stores, are what you will often hear referred to as the "Bins Stores". They get that nickname because most of the items in these stores are in large blue bins. You route through them to find the treasures you want, and then pay by the pound – so you can get some seriously good deals at these stores.
Some tips we have learned from others, when shopping the bins include: 
Some people like to wear gloves (you will be literally routing through bins)
I have heard that some stores have lines, while they are waiting to roll the bins out (we did not experience this, but have heard from others who did), so be prepared for that with lots of patience.
The Goodwill Blue stores are smaller shops that are boutique style shops, curated with premium brands (for both home decor and apparel). Follow their social media sites as they often give out discounts there (there is $10 off a $40 purchase this month). Since they stock higher end brands, you will also find the Goodwill Blue stores to be a bit pricier than other Goodwill shops.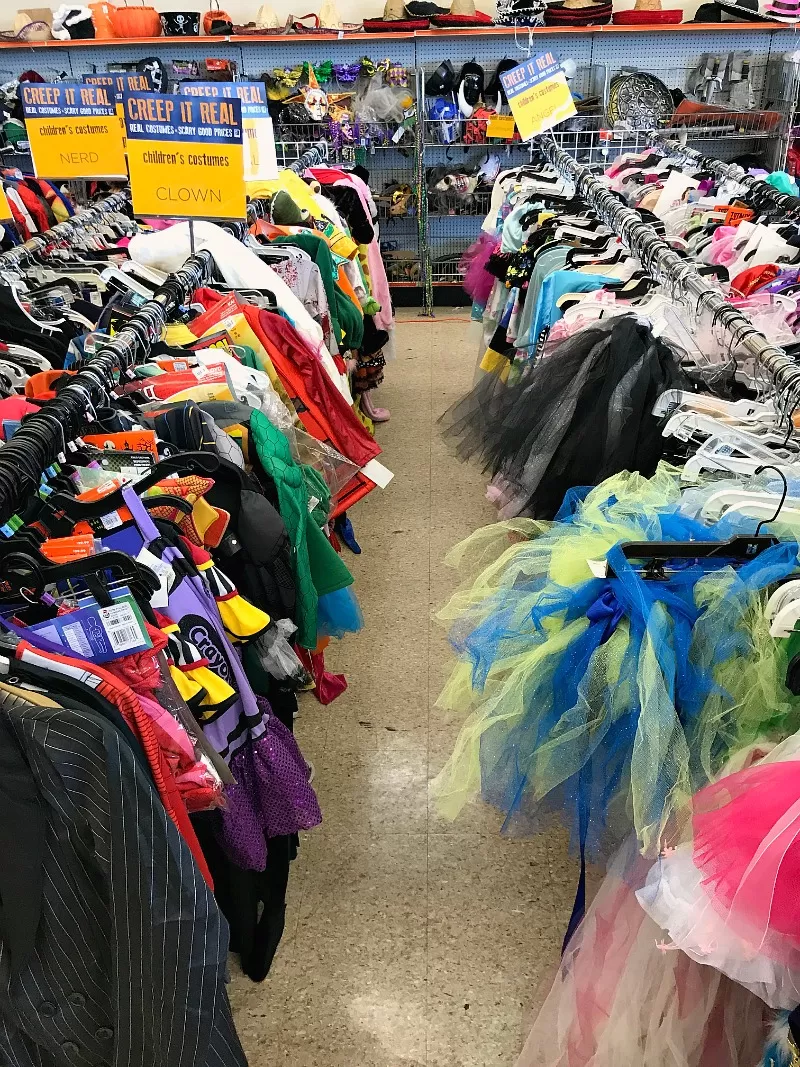 All of the Goodwill's are a great option to shop at to put together a Halloween costume, but did you know there is one store dedicated to Halloween costumes – in Spanaway, Wa. You will find tons of stuff here, including everything from new costumes, to items you can put together to make your own costumes, as well as accessories will be in the store.
Goodwill Online Auctions offers Higher End Products that you can get access to online. Check out this article here for more details on how their online auctions work.
Seattle Children's Hospitals have a number of Bargain Boutiques throughout the area. They have 5 locations in Washington, so they are pretty easy to access.
100% off the proceeds from these stores go back to benefit Children's Hospital in Seattle, making it even better to shop at. I have been to the one in Kent a number of times, and always found something. These stores will carry an assortment of things from furniture to clothing, jewelry, books and more.
The Salvation Army thrift stores will support the Salvation Army services. They offer broad services to their local communities (help to the homeless, addiction services, veteran services, disaster relief and much more).  Their stores will carry everything from furniture to clothing and more. You can find a store near you by putting in your zip code here.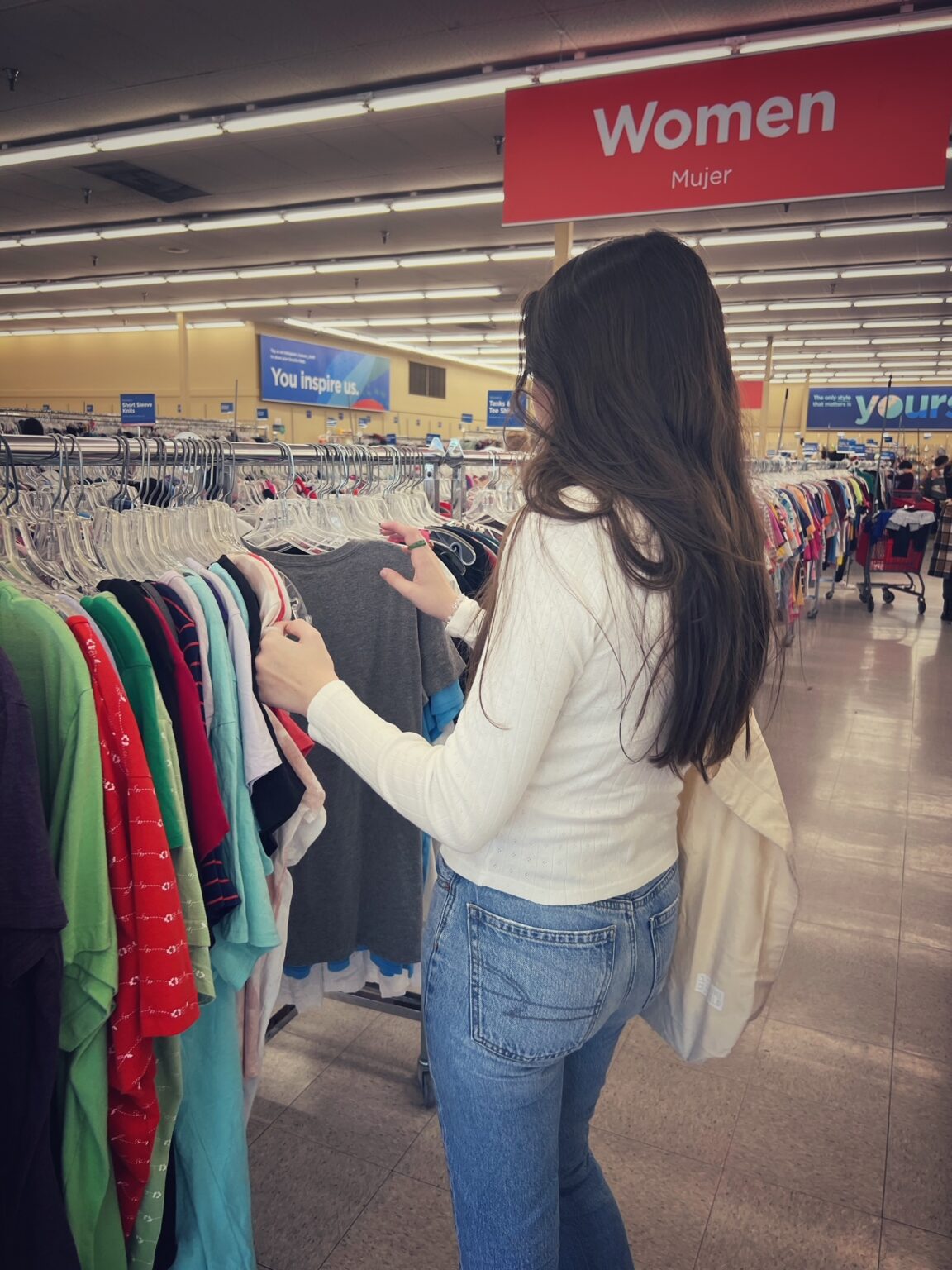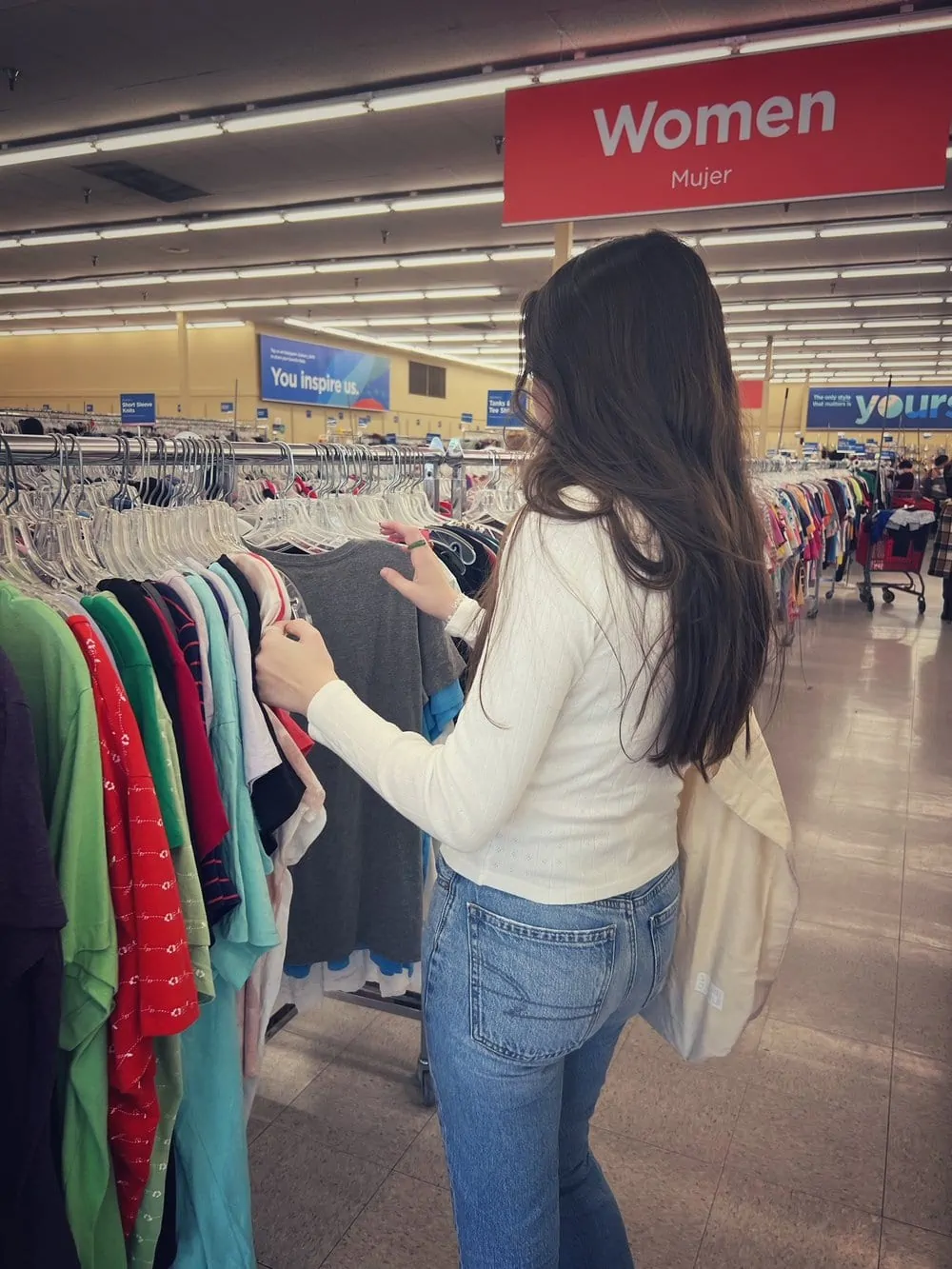 Value Village stores are actually part of the Savers brand, and are for profit stores. I do find that they are often a little easier to navigate, in the sense that they are well organized and better lighting, and they do sometimes have new items for sale too. However, they can also sometimes seem a bit pricier to me as well.
Be sure to shop their super savers clubs to get coupons emailed to you, and notifications of other promotions. You can also get coupons to save more in store when you donate items too (just ask for a coupon when you are dropping off your donation).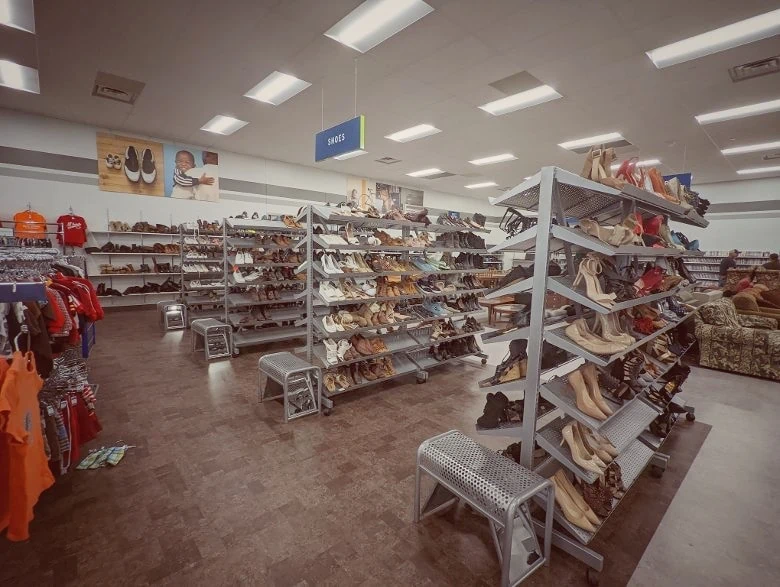 This is a national chain, that is associated with the LDS church, and offer a variety of support services like job training, etc. There are a few stores in the Northwest.
Jens family really likes the Deseret Thrift Store in Puyallup. She loves that it is arranged almost like a typical department store, with racks that are easy to get around and the shoes displayed in a way that you can quickly see what all the options are. It was clean, and had a large assortment of items to shop through on her last visit. This store is large, and worth a visit if you want to do some general thrift shopping.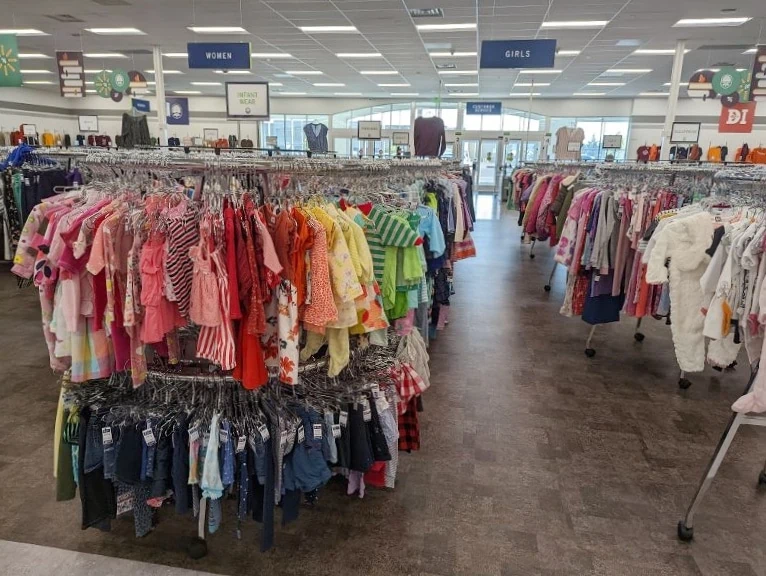 Baby and kids items are more things that are really great to thrift for. So often kids grow out of things, before they get too much use, so buying them second hand will often save you lots, but cost you less!
Church Thrift Stores & Other Thrift Shops Around The Area
(Do a search for Thrifty Stores Near Me, to Find An Assortment of Thrift Stores)
You will find a number of other smaller shops, church run shops, and other thrifting options all throughout the area. The best way to find these options is to search online for thrift stores near you. Word of mouth is also a great option, so if you have a favorite, please share.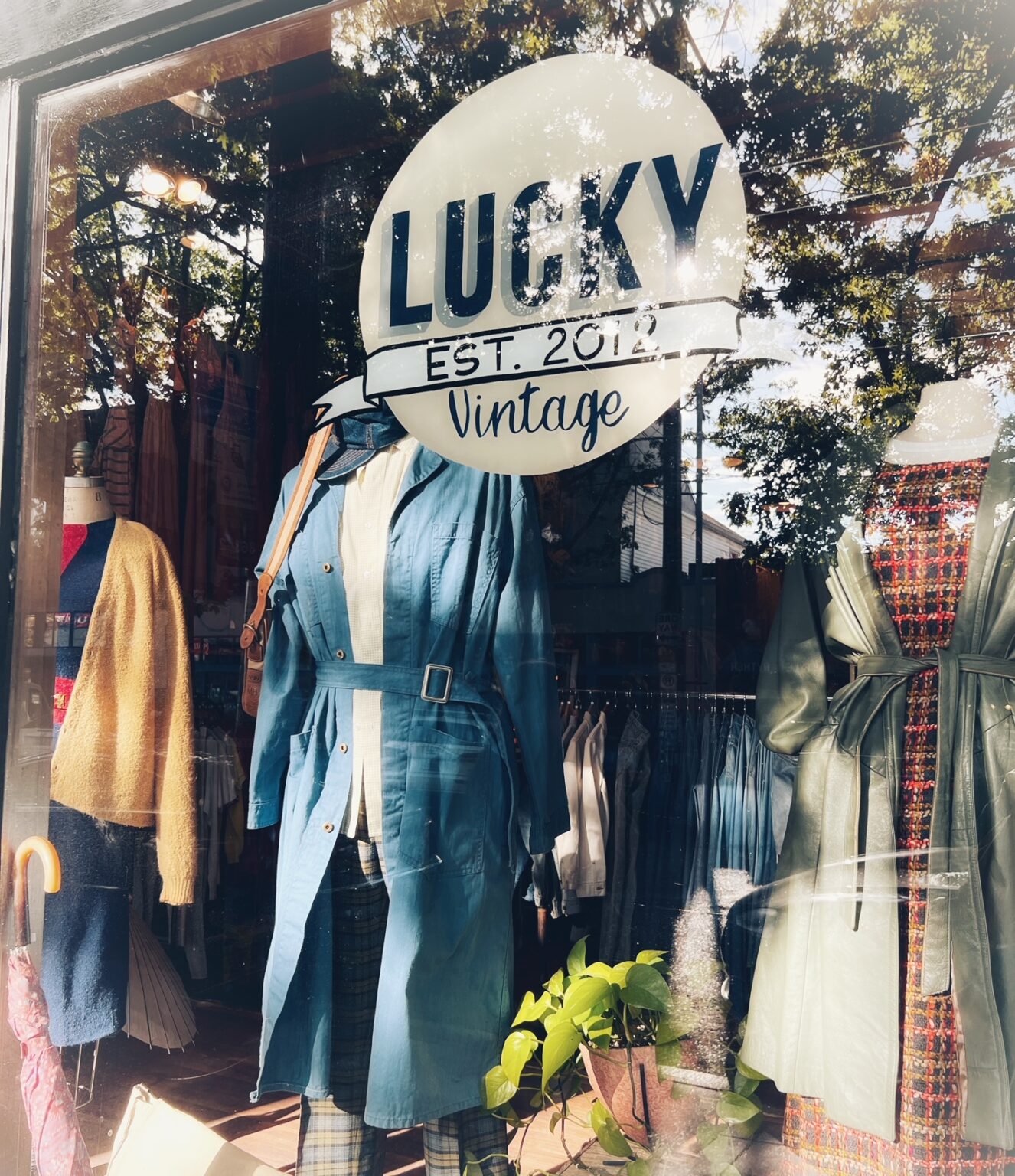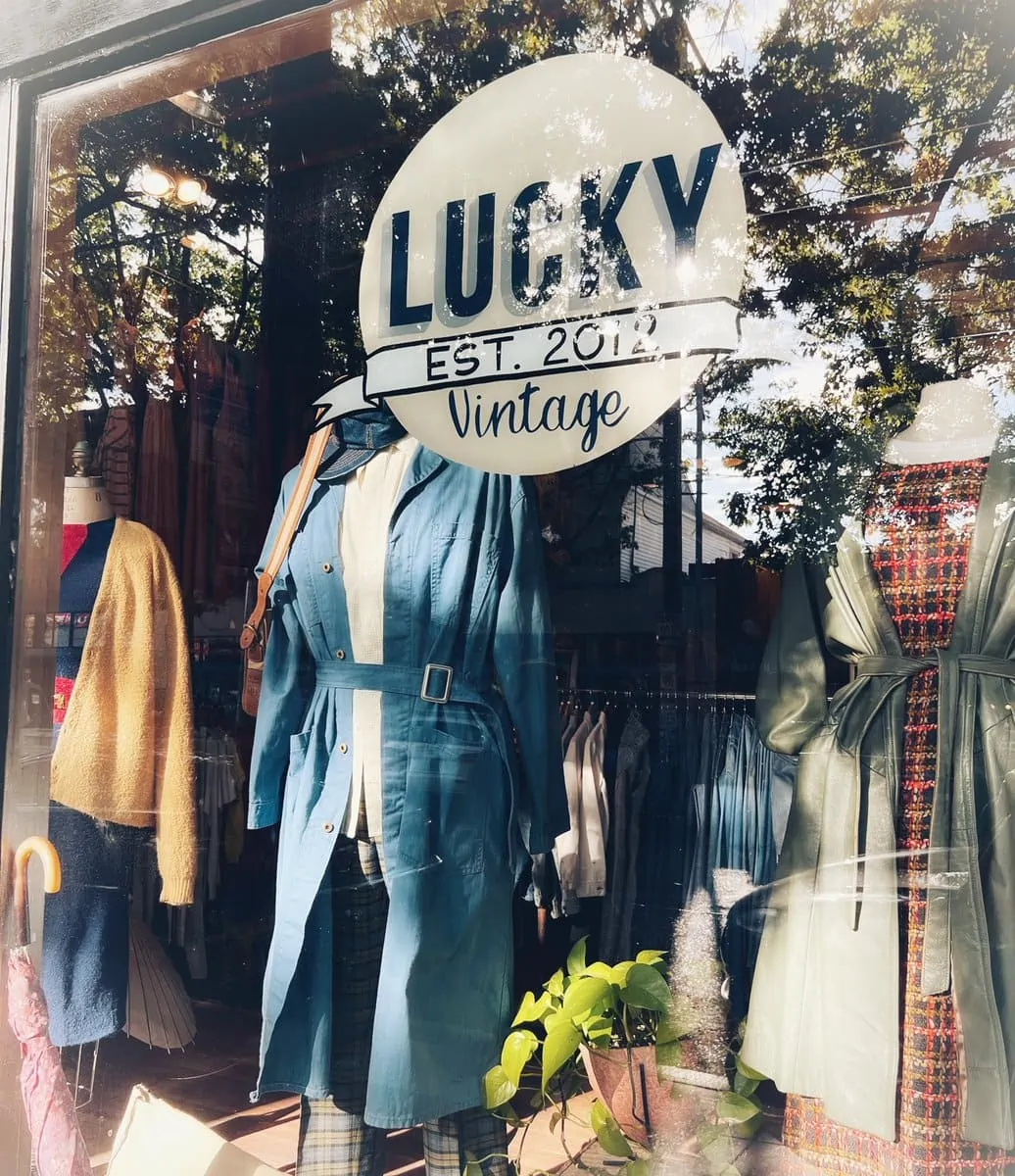 Lucky Vintage in Ballard, near the Matador if you want to make it a lunch and shopping day!
Specialty Thrift Stores
Many of the stores we mention above will offer many different things in one store. Beyond the larger, chain thrift stores, you will also find a number of what I call specialty thrift stores. They are reuse focused stores, where you will buy used goods, but they generally have a specific focus (ie used book stores). There are tons of these types of stores throughout the Pacific Northwest. Here are a few highlights of some of the Puget Sound area that we have enjoyed over the years, and a little info about why we like them.
The  Buffalo Exchange
This is actually a chain, with 40 stores around the country, but there are only two in Washington and two in Oregon (with the only Puget Sound area one in Ballard). I have been going to the Buffalo Exchange since I was a teen. I used to thrift before it was cool, and I could afford to make my money stretch more by exchanging my clothes in here first. That is one of the best parts about thrifting here, especially with your teens/kids. Have them clean out their closets first, then bring the clothes with you to see what you can sell to them. They will either pay you 25% of their selling price in cash or 50% in store credit for anything they are able to buy from you. Take the credit – and use it to do your shopping in store that day. Find out all the details on how that works here.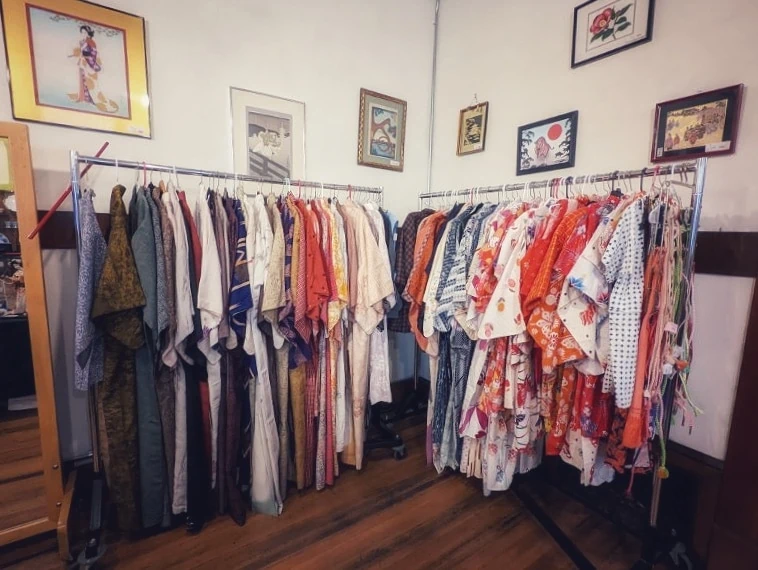 Hosekibako – Japanese Resale Store
This one is a little different than others we have included here, in that it focusses on reselling Japanese items specifically. But that is why we included it, because it is different. It is a small store located in Seattle and they sell a number of Japanese items that have been donated to them.
Because it is a smaller store though, so you might want to plan a visit here with something else to do in the area too. They are located on the Japanese Culture and Community Center Campus in Seattle (limited hours – open every Thursday – Sunday from 10 AM to 3 PM), so one fun idea would be to download this Japanese Walking Tour of the Japanese American Trail Remembrance Map, and enjoy a stop as part of the walking tour!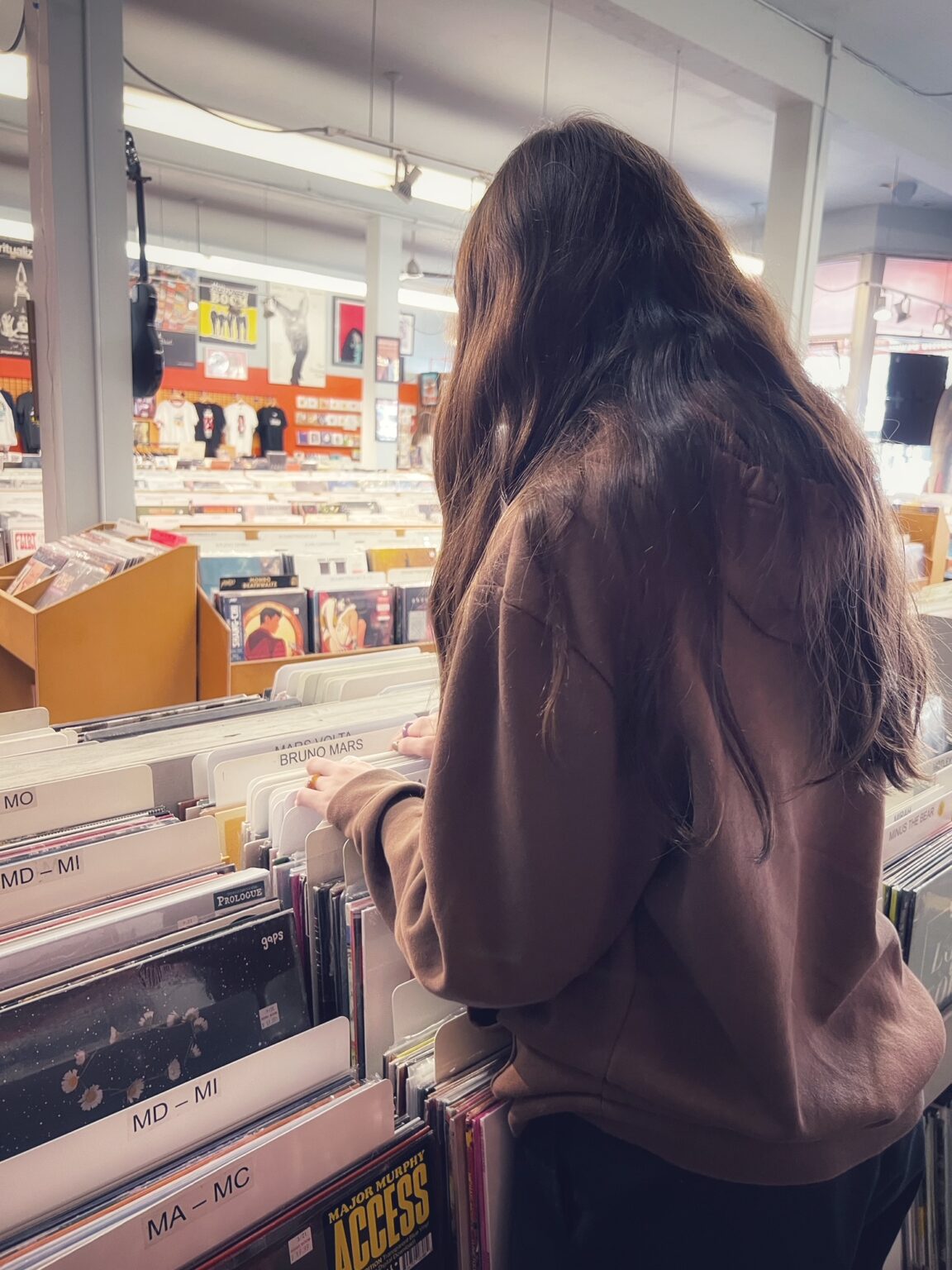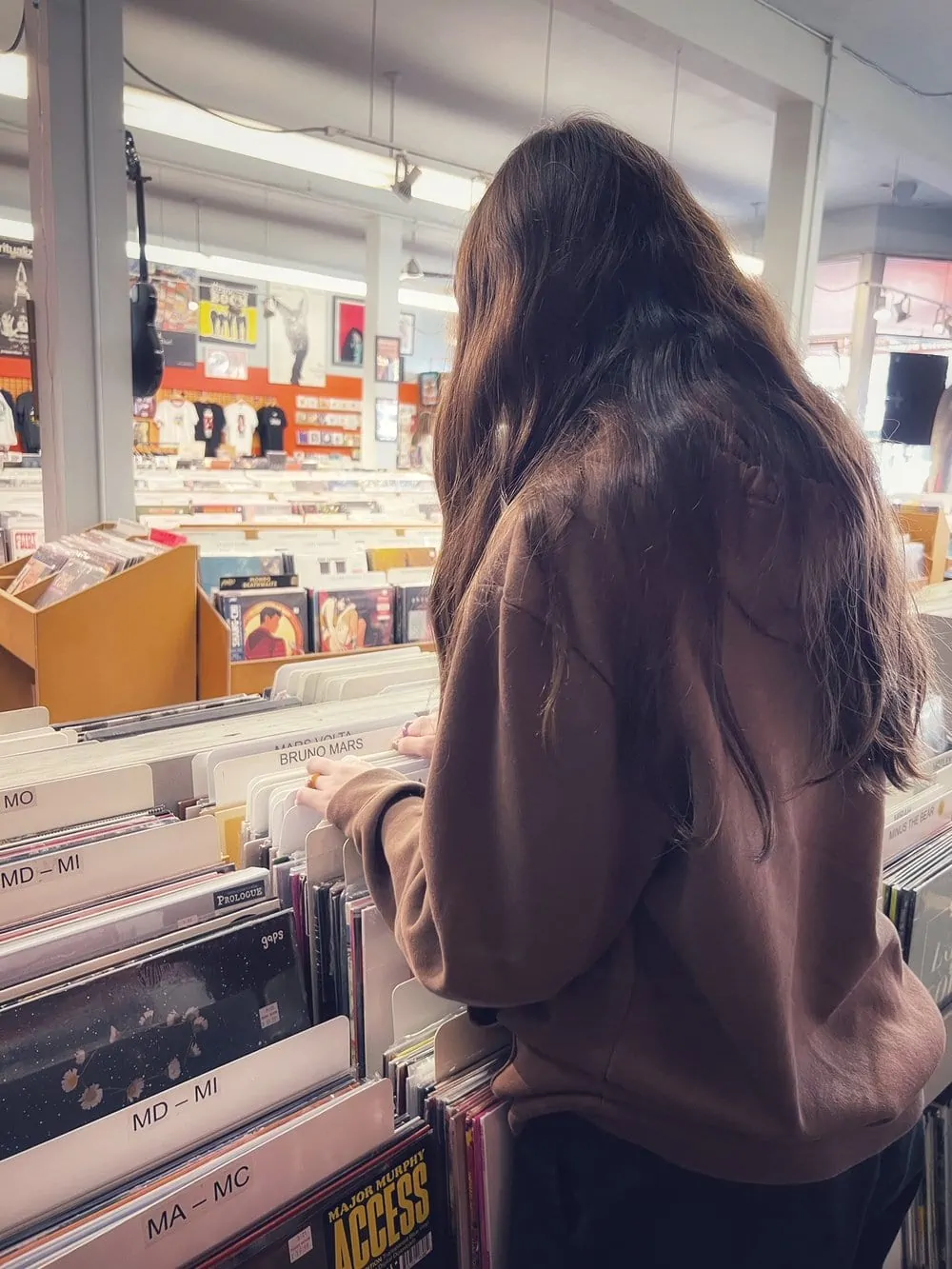 Used Vinyl Stores – 
I have one kiddo who has a record player, and is really into vinyl records right now. It is such a fun hobby for kids, because it is not just about buying the record, but also about the hunt for it, which makes for some really fun afternoons out of bonding with her. And it doesn't cost me anything more than it would if I bought her the record online (well maybe some boba too to stay hydrated during our trips out).
I will say that when you are looking for vinyl's in used stores, you might be surprised by the cost of them if you have not shopped like this before. I know my expectation was very different from the reality I ran into while we were shopping. I did find these stores to be pretty popular, and the older the record does not always mean the cheaper the price. Some of these records are popular, and the price reflects that – even in used sections or stores. For example, The Smiths were apparently a band that was around when I was growing up. Thanks to Tik Tok, they have made a comeback, and their records where harder to find and going for $50+ when we did find them. On  the other hand, my teen was able to find one of the Brian Adam albums she was looking for, for just $9.99 (a steal in this space)! So be prepared for that.

For the very lowest prices you will probably want to go to a regular thrift store. However, your selection will be small and limited, and probably will not include the most popular latest albums (and by latest I just mean what is in now, not what is a new release necessarily). Many of the larger shops do have special sales sections (like $3 per album) so alot of your cost is really going to depend on your music taste – whether they are new or old. Here are a couple my girl likes to shop at.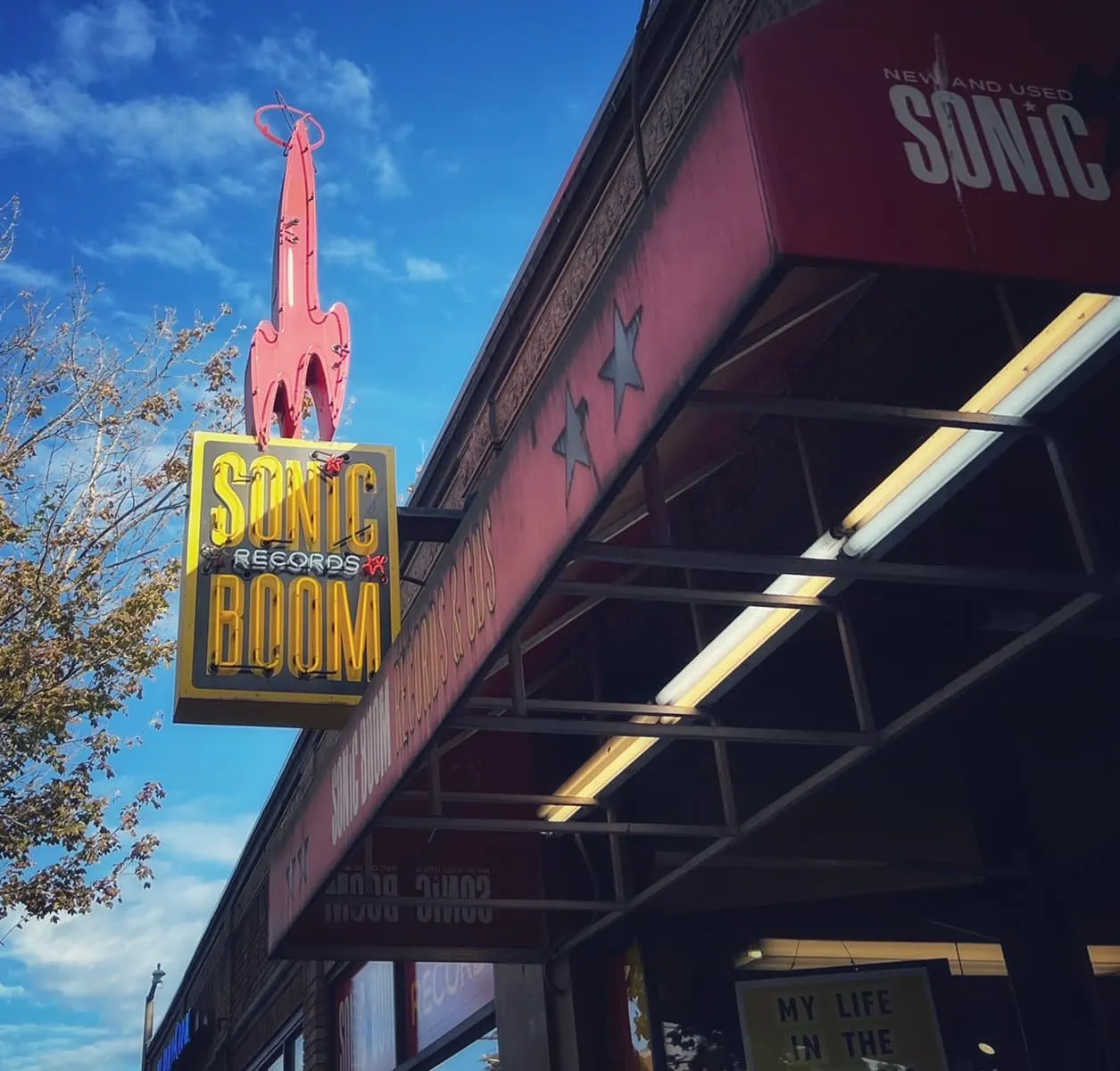 Sonic Records boom – 
This spot is located in the Ballard area, and it is one of our favorite stops. It has a larger selection, includes new and used, and is also in walking distance to book stores, restaurants and more vintage shops if you want to make a full afternoon of it. Salt and Straw is right around the corner from this if you need some ice cream afterwards too.
Jive Time Records – is in the Freemont area, and a fun one to stop at. This spot is smaller than Sonic Records, but does have a nice $3 selection out front of the store if you are looking for rock bottom deals. We have found a few records here she was able to buy in the $10 range too. It also is right next door to a used book store, so if you want to combine a hunt for books and records, this is a great option.
Silver Platters – is in the SODO area, and is a long standing spot with tons of options of all kinds of music. If you want one spot with the most options, this might be it.
There are tons of neighborhood options too, so just google used vinyls near me for more ideas!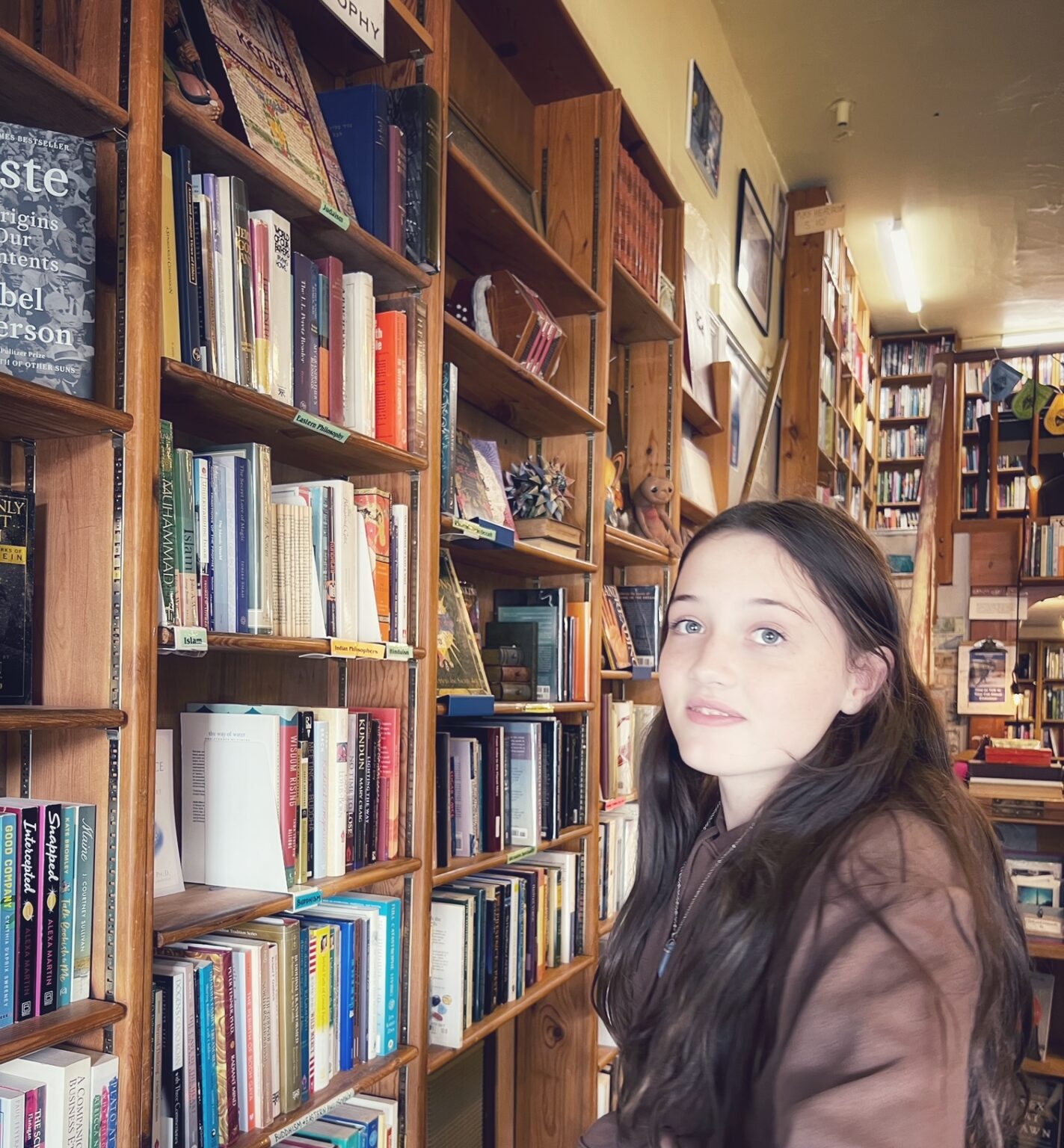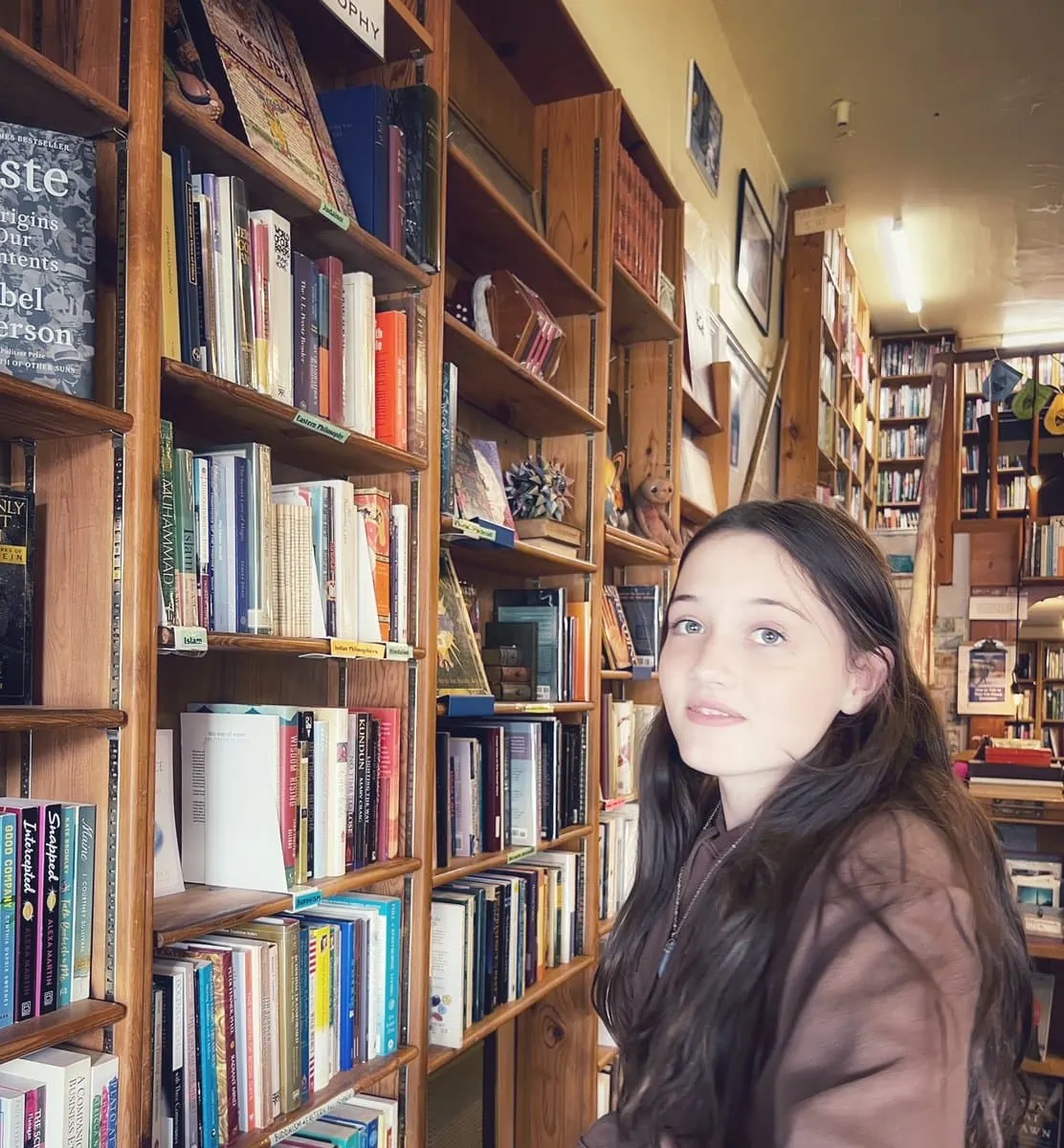 Used Books – 
Used books are a great thing to thrift for. You will find used book sections in most larger thrift stores, and then you will also find lots of smaller used book stores in various neighborhoods throughout the northwest. You will even find the buy books by the pound option, we mention up under the Goodwill stores. One of my kids is an avid reader, and buying books used is a great way to save lots of money on books. Often times they will be in great condition too, and really not too much different than buying them new. We always start by looking for them used, then move to new if we cannot find what we are looking for.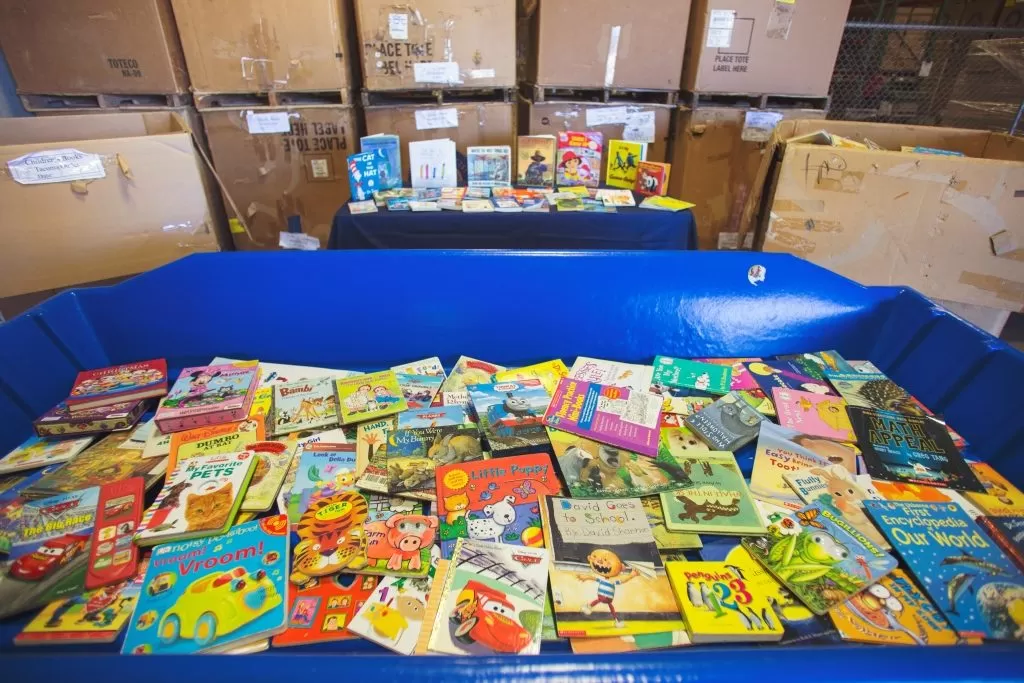 From time to time you will find book events at the Goodwill Outlet stores too, where books are in bins, and sold by the pound!
Antique malls – 
The antique malls are not thrift stores specifically, but they do usually include lots of different thrifting options. They are also nice because there are more spots to explore, and you can make a bigger afternoon visit out of it. Here are a couple of ideas of antique malls in the northwest, but there are lots (so search antique malls near me to find more).
One thing to note about these kinds of spots, is there are some big differences in stores that might seem similar. For example, there are some cool stores that sell "junk" or repurposed items, but they act more like retail stores. This means that they are reselling at full market value, and you might find some cool stuff, but not alot of bargains. If you want to bargains, you want to look for the spots that are reselling things as they were donated, verses upcycling them first.
The Snohomish area has a few options. If you want to go antiquing specifically, this is a great option.
There are also a number of great options that make for wonderful day trips. The Apple Annie's Antique Mall in Cashmere is a large one, and sits adjacent to the 59 Diner (and close enough to Leavenworth) to make it a really fun trip. There are other options out that way too (like the Wenatchee Antique mall), so you could turn it into an entire weekend of hunting for treasures.
Thrifty Stores for Home Building Supplies & Decor
My home is full of items we have bought through repurpose stores. Some of them were new items or like new (stuff builders usually donate when they remodel a home), like moldings and cabinets. Others are older, used pieces, that I bought specifically for the patina (like corbels and old door knobs). Whatever you are looking for, chances are you can find it at these re-use building supply stores. Many of them have inventory online too, so you can shop that way.
Many of the salvage spots are not cheap. Not everything is going to be a super bargain, but you will find lots of pieces with great history and character. You can find deals too though (we got many of the moldings for our home at a super bargain here)!
These are just some ideas of places you can find re-used items for your personal shopping needs, that will hopefully save you some money. The hunt is part of the fun, and I love all the unique pieces we have found over the years from thrifting.
What are your favorite spots to thrift at in the Northwest, and what items do you like to thrift for mostly?