8 Tips for Shopping Goodwill's Online Auction Site for Treasures
This post may contain affiliate links and I may be compensated for this post. Please read our disclosure policy here.
Goodwill Auction – 8 Tips to Get The Best Deals Shopping the Goodwill Auctions Online!
This is post sponsored by Goodwill.  All opinions are 100% my own. See our disclosure policy for more details.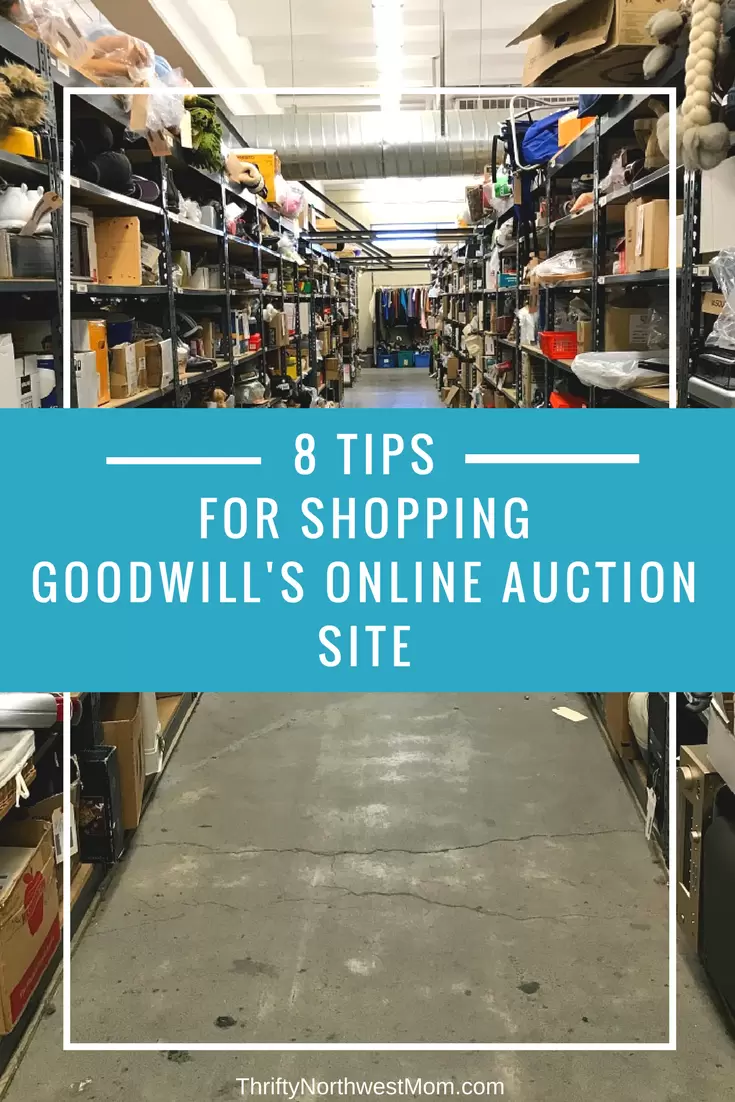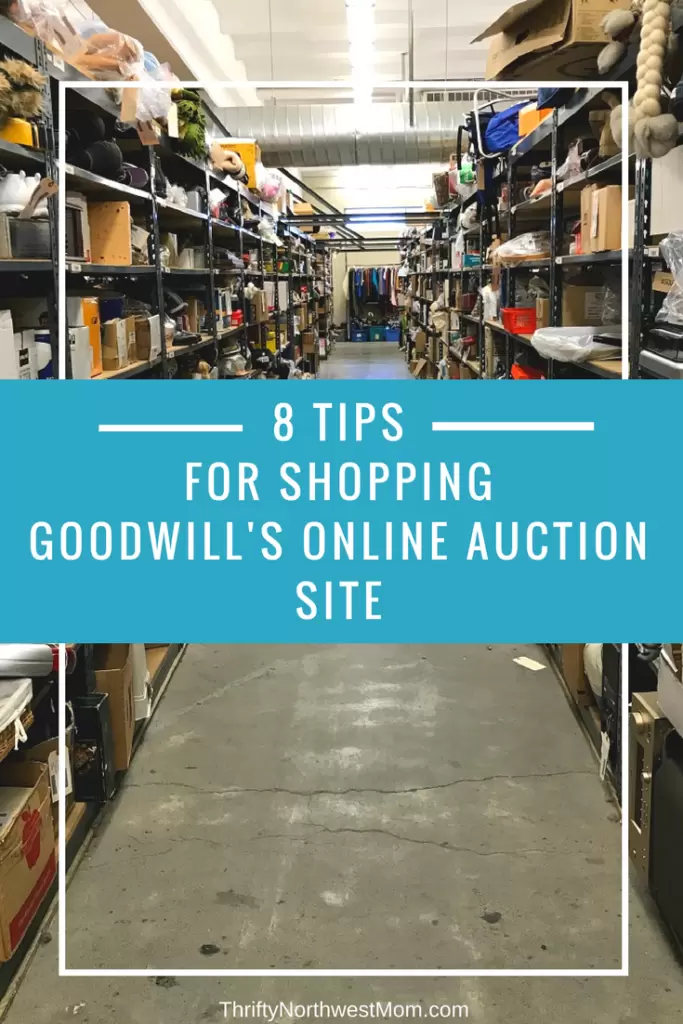 8 Tips for Shopping the Goodwill Auction Site
Did you know that over 100 Goodwill stores across the nation sell items online thru an auction site similar to Ebay. In fact, all Goodwill stores that do sell online use the same website, ShopGoodwill.com, so you can search for unique & unusual treasures nationwide. Here locally in the Northwest, The Goodwill of the Olympics and Rainier region, based in Tacoma, actually has the 2nd largest online Goodwill site in the country, and we have some tips on how to best shop the Goodwill Auction Sites for you.
The Goodwill of the Olympics and Rainier region's online auction site typically has around 18,000 items available in their online shop, just from . This is thanks to donations to their retail stores in 15 counties and 37 stores around the South Sound. As donations come into the retail stores, they then have a process for determining which items will be sold at the retail thrift stores, which items will go to the specialty "Blue Goodwill shops (located in Sumner, Tacoma/Proctor district & Olympia) and which items will be sent to the warehouse to be listed on their online auction site.
Why to Shop Goodwill's Online Auction Site:
I had the opportunity to learn more about Goodwill, the programs they provide, and tips & tricks for navigating the ShopGoodwill.com website,  at an event recently, held at the Milgard Work Center in Tacoma. We had the opportunity to hear more about the mission of Goodwill, which is to provide job training, career skills and job placement services for members of our own communities. Those they serve in the community include at-risk youth, veterans, people with disabilities, seniors, single moms & more.
The revenue from the retail thrift stores and the online auction site fund these important services that Goodwill provides in our community, which I think is important to know where the money is going when you shop at Goodwill stores or shop at the Goodwill online auction site. $.91 of every dollar goes back to the job training & placement program.
In 2017, Goodwill served over 9400 people in the South Sound community with their job training & placement services. I honestly had no idea how many different programs they offer & the variety of groups they serve in the community. They also house the REACH Center, which is the largest "one-stop" network of youth organizations in Pierce County, providing support for youth ages 18-24 with their education and finding a career path.
The Goodwill of Olympics and Rainier region offers the following trainings, just to name a few: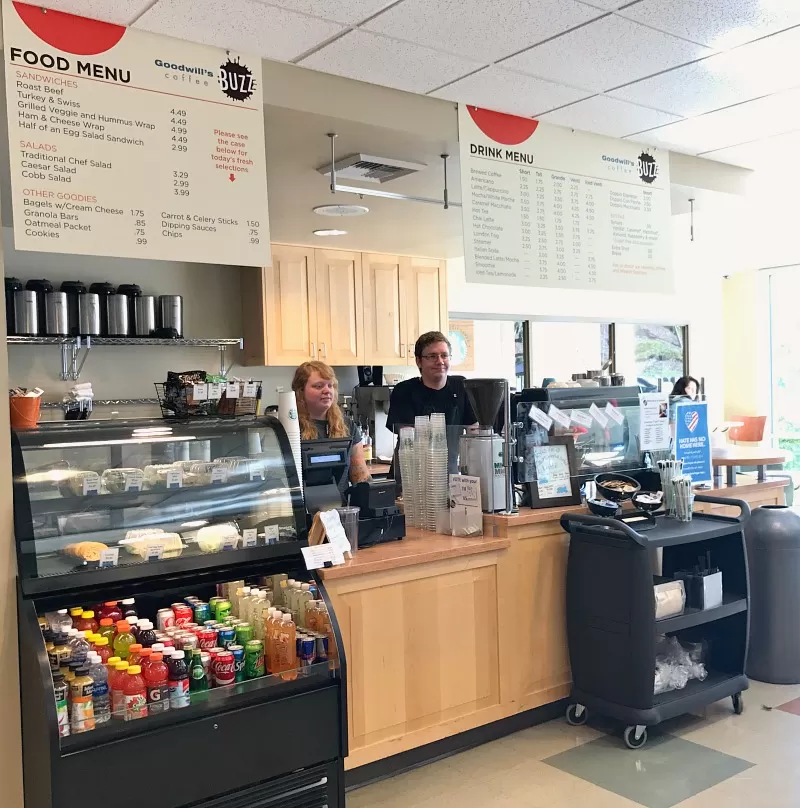 Barista Training Program (in partnership with Starbucks)
Culinary School (we had the opportunity to try out their skills with a delicious lunch) –their cafe is also open to the public for lunch at their Milgard Work Center on 27th St in Tacoma for very reasonable prices.
Warehouse Industry training
Youth Build / Construction training
Financial Literacy
Computer & math skills
GED classes 
And so much more….
We also had the opportunity to get a short behind -the- scenes tour the Goodwill Warehouse that houses all the items for the online auction site. Now, this is quite the gem of hidden treasures galore! Down every aisle, were almost floor to ceiling shelves piled high with so many fun & unique finds.
This time of year is definitely the time to be checking out these online auction sites, as we learned that January & February are the most popular time for donations as so many people are in the process of purging & decluttering, which means you can find all sorts of fun treasures!
A few of the fun items I spotted as I toured the warehouse:
Legos galore – they sell tons of Legos, including sets (even retired sets like that Space Needle set) as well as legos by the pound (I thought this would be a great resource for a Lego party)
High Quality Shoes – such as Danskos (I saw tons of these), Sorel boots, Keen boots and much more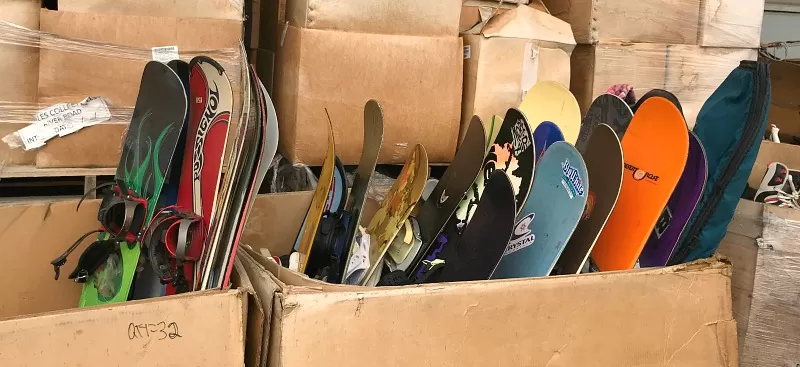 Sporting & Outdoor Equipment/Gear – everything from snowboards to vintage Radio Flyer sleds, Osprey backpacks, and much more
Cameras – I saw everything from vintage cameras to newer cameras – there was quite a selection if you like to collect cameras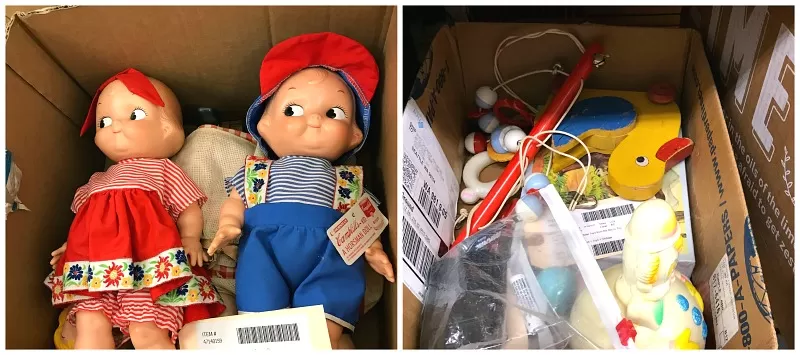 Vintage toys – loved seeing all the toys back from my childhood era that are now  considered "Vintage"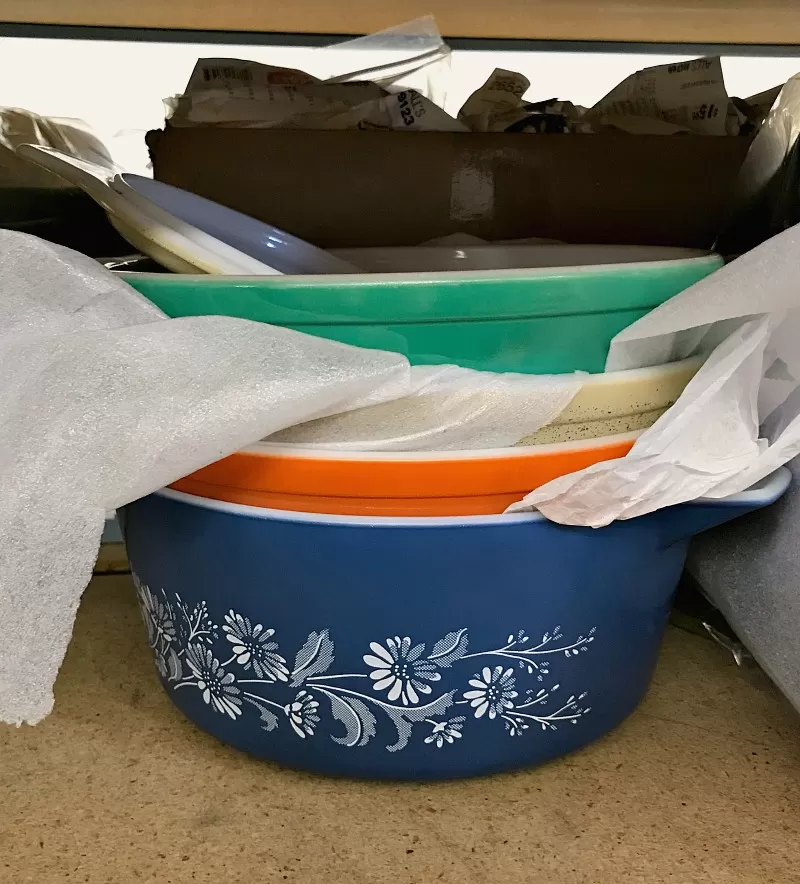 Vintage Pyrex – I know finding unique & vintage Pyrex is quite the hunt for many, and the ShopGoodwill.com site will have quite a collection for you to check out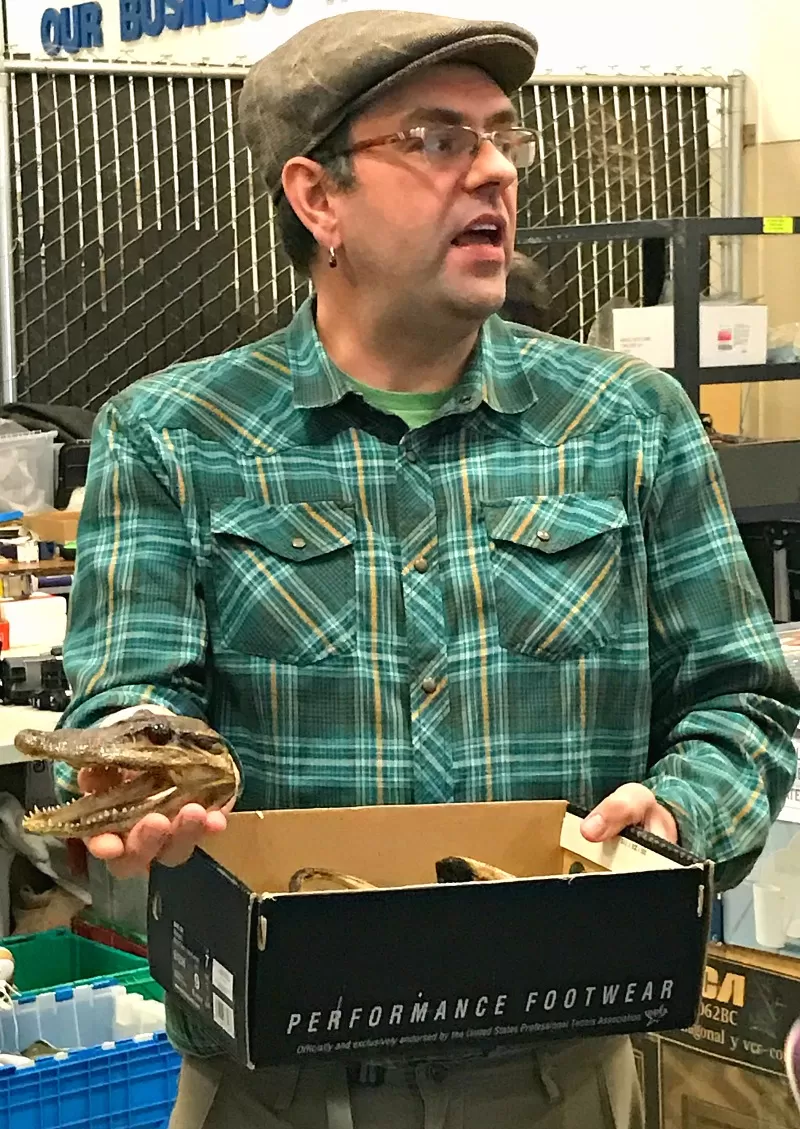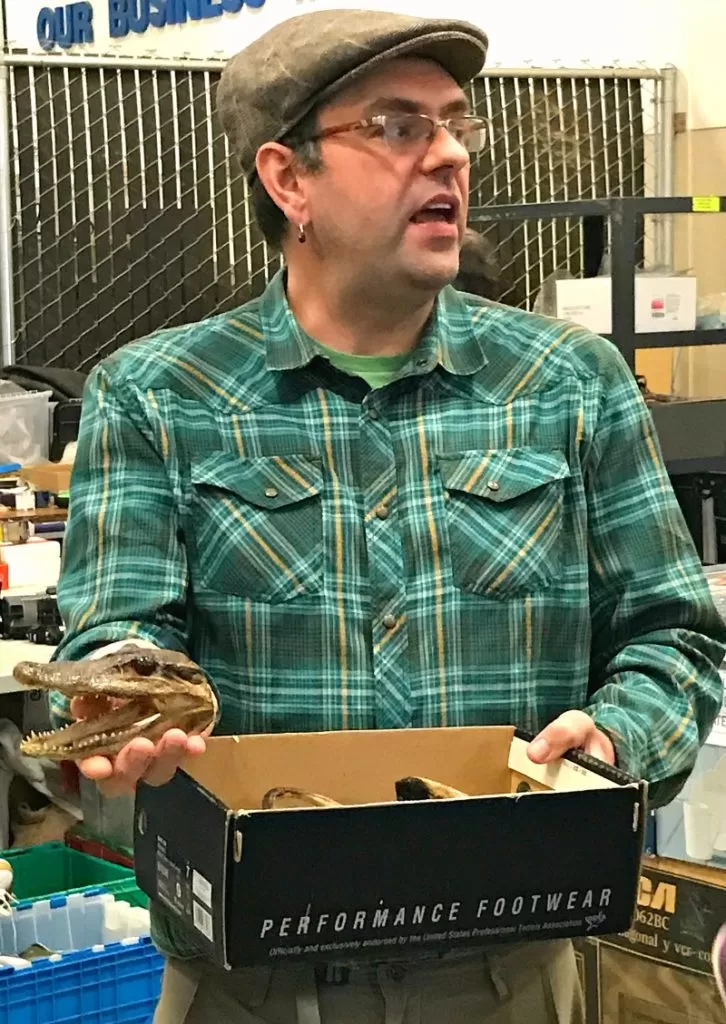 And those unique finds you'd never expect like this Alligator head! Lol!
Top 6 Categories of Items in Goodwill Online Auction Site:
These are the best categories to find items at the Online Goodwill site:
High end apparel, accessories & jewelry
Legos & vintage toys
Pop Culture Collectibles
Higher End Electronics
Higher End Decor (vintage, international, etc)
Rare items of unique interest
Tips for the Goodwill Auction Site Online :
As part of our tour of the warehouse housing the items for the ShopGoodwill website, we also had a chance to hear tips & tricks from the online auction site gurus from Goodwill. I am sharing my favorite tips I learned during this event, as well as what I learned as I had the opportunity to put my new knowledge to good use on ShopGoodwill.com
Use the Advanced Search options to narrow your search down. 
It can be overwhelming to see all the auction items available at ShopGoodwill as this is the site that houses ALL of the online auctions for Goodwill locations around the country. So, using the Advanced Search can really narrow down your options so you can find what you're looking for.  You can choose a maximum amount you want to pay for a certain item or find all items that are ending by a certain date, or the soonest, and more options.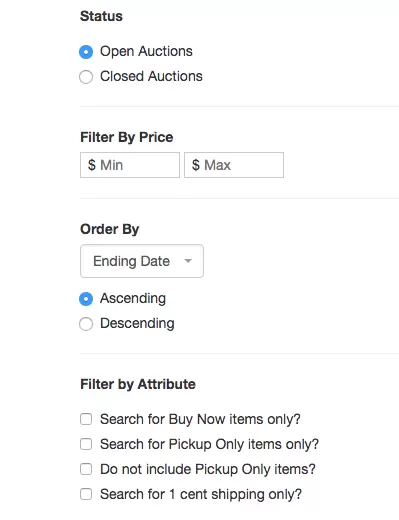 If you are looking for items that just offer $.01 shipping, then you can search for those items using the Advanced Search under "Filter by Attribute".  This can be a significant savings for you as the shipping can get high for heavier items in the Goodwill warehouses, but the $.01 shipping is a great deal.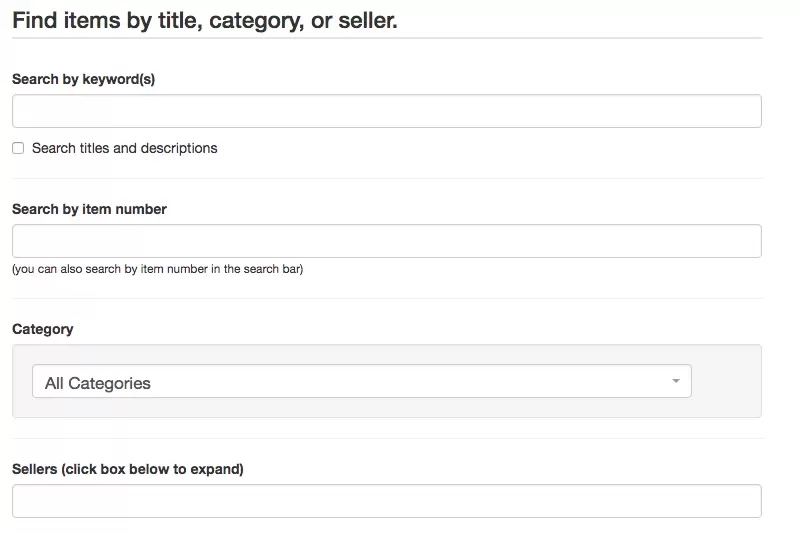 If you are local to the Northwest, you may also want to just select "WA – Tacoma" under "Sellers" as our local Tacoma Goodwill location offers $.01 shipping for everything on their online Goodwill store. Plus, you'll get it faster by selecting this option if you're local due to the shipping times.
Add items to your watch list
You can add items to your watch list by going up to the top right sidebar and clicking on "My ShopGoodwill" – on the pulldown menu bar, click on "Watch List" . You can then search for the items you want to watch in the Search bar & add them to your watch list.  This is how you can keep track of the items you are watching without bidding and driving the price up -add them to your watch list. You can then watch the progression of bids without having to make any bids yourself by keeping it on the watch list. You'll also make sure you don't miss it or bid on the wrong item.
Wait to bid till the end
By bidding right away, you are showing those who are watching that there is more interest in the sale and most likely bids will go up as they are anticipating a bidding war. It's best to wait & see and check in the last 15 minutes of an auction if you know that you will be home. Bidding in the last 5 minutes will surprise the other bidders or those watching the item, and you may get some steals of a deal that way. The Goodwill online auction folks say that this is 90% effective, so those are great odds! I'd recommend setting a timer on your phone or in your home, though, so you don't miss bidding on the auction.
Go big on your bid if you need to bid early
Now if you are definitely not going to be home when the auction ends, but you really want that item, then it may be better to bid right away with your highest bid. This strategy is basically "scaring" the market away by letting them know you really want the item & are willing to pay for it. This strategy has been effective 60% of the time, so not as effective as the strategy of waiting till the last minute to bid, but it's a good option to try if you really want an item & can't be there for the ending.
Bid in unusual  amounts 
The majority of bids are $.99, $.49, and even dollar amounts. So, if you anticipate that you might get into a bidding war and need to set your highest bid amount (or just when you are in those last minutes of an auction), think about bidding in unusual amounts. For example, if your highest bid is $50, bid instead $50.01 or $50.02. If you are even just a few cents over the highest bid, then you will win.
Do your research. 
Evaluate old listings to compare the price of what it sold for earlier. The way to do this is thru an Advanced Search.  Under "Status", choose "Closed Auctions" and search for the specific item you are looking for. If you want to know what the prices were like just for your local Goodwill's auction site, then choose "Closed Auctions" and choose the location (for example, choose "WA – Tacoma" to see the Tacoma Goodwill's auctions that have closed for that item)
I also would recommend doing a google search & checking online to see if you can determine what the pricing is like online to compare and see how high you want to bid.
Buy it Now

If you don't want to wait for the auctions to end and don't have the time to sit & be there for the ending times on the auctions & then risk getting outbid, a great option is to consider the Buy It Now option featured on many of the items. This is just like Ebay, where you can just choose to buy the item for a set price & you will win the auction right away.
We learned that sometimes the Goodwill sites will offer an item up for sale with a Buy it Now if it has previously not sold in an auction, so you may be getting an awesome deal with that Buy it Now price.
My Personal Shopper Option


If you are on the hunt for a very specific item but don' t have a lot of time to search the auctions every day, let the ShopGoodwill.com work for you & search specific items & "keywords" for you. Look under the top sidebar – "My ShopGoodwill" and select "Personal Shopper" down near the bottom of the drop-down menu. The Personal Shopper system works just like that – you can choose specific items & set up a frequency of how often you want to be notified of new auctions for those items & they will email you when there are new auctions available.
In this case, I am searching for a flute for my daughter, so I set up a Keyword Search for "Flute" under the Personal Shopper. I set it up to send me daily emails with any new auctions that pop up & then I can add the ones that I am interested in to my "watch list" to decide on what to bid.
I love this option as I am just not very good about going back in & remembering to keep searching every few days for new auctions for the item I want. But this way, I can let the Personal Shopper do all the work for me. And then just go in & check out the new auctions when I receive an email.
My Experience Using the ShopGoodwill Website:
I had the opportunity to use the ShopGoodwill.com website at the Goodwill event I attended and they gave us some tips & tricks for how to easily find items we were interested in and how to have a better opportunity to win an auction. This gave me a lot of inspiration to go home & start searching the website myself as I had the chance to see all the wide variety of items they feature on their site for the local Goodwill for Olympics & Rainier region.
My older daughter has been learning to play two instruments this year, the flute (her 2nd year) and the violin (her 1st year). She is really enjoying both instruments, so I can see her continuing to play in Junior High next year. However, we have known we'd need to be on the hunt for both a flute & a violin or pay the monthly rental rates of at least $30/mo for each instrument. We have been blessed the past 2 years that she was able to borrow a flute from the school for band and this year, she decided to play the violin in her last year of elementary school. We are so grateful as a friend has lent her violin to our daughter to use short-term as she decided whether or not she wanted to play this longer term. So, we knew that we would need to look at options very soon for finding her either a rental or an instrument of her own. With playing 2 instruments, the rentals could get very pricey at $30+/mo for each instrument (even though that money can go towards purchase of the instrument down the road), but we hoped to find some introductory instruments she could use at a better price than paying the monthly rental fee.
So, I was inspired to search for instruments on the ShopGoodwill website. This is not for everyone as you don't know what you will be getting until after you make your purchase so you are taking a risk. However, they do give as many details as possible about the condition that they can see visually.  I thought it was worth that risk, though, at the possibility of finding an introductory instrument that my daughter could use for a few years until we found a better option for her.
My Auction Experience: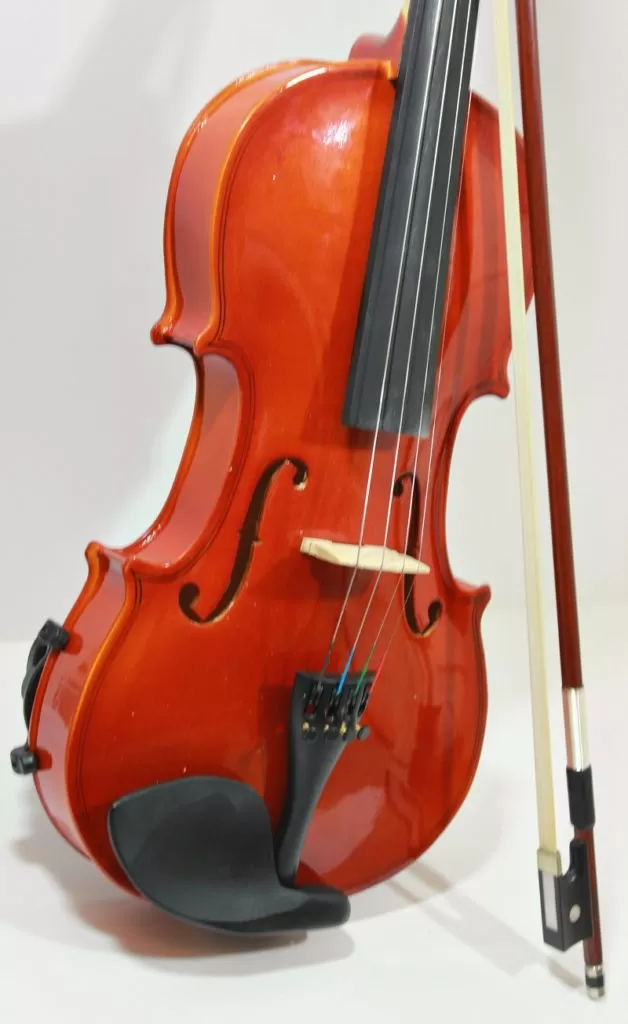 Search for Violins – I was excited to find a number of violins on the ShopGoodwill website and even better, I found several options available from the local south sound Goodwill (Goodwill of Olympics & Rainier). This meant that I could get the violin much faster thru shipping or I could even go & pick it up as they offered free pickup as well.
Add violins to "Watch List" – I made sure to add the violins that would work for my daughter to my watch list(there are different sizes, so only the size 3 or 4 would work for her as she is pretty tall).
Add reminders to my Google Calendar – Once I found the violins I wanted to watch, I added reminders to my online calendar, to make sure that I didn't miss this auction & would come back at least 15 minutes before the auction ended
Watch & wait – I kept checking in on my Watch List every day & didn't see any bids. We narrowed the violin down to just 1 – it was the size up from what my daughter is using right now, but she is growing so fast, so we thought it was better to have the largest size for her.  The starting bid was $49.99.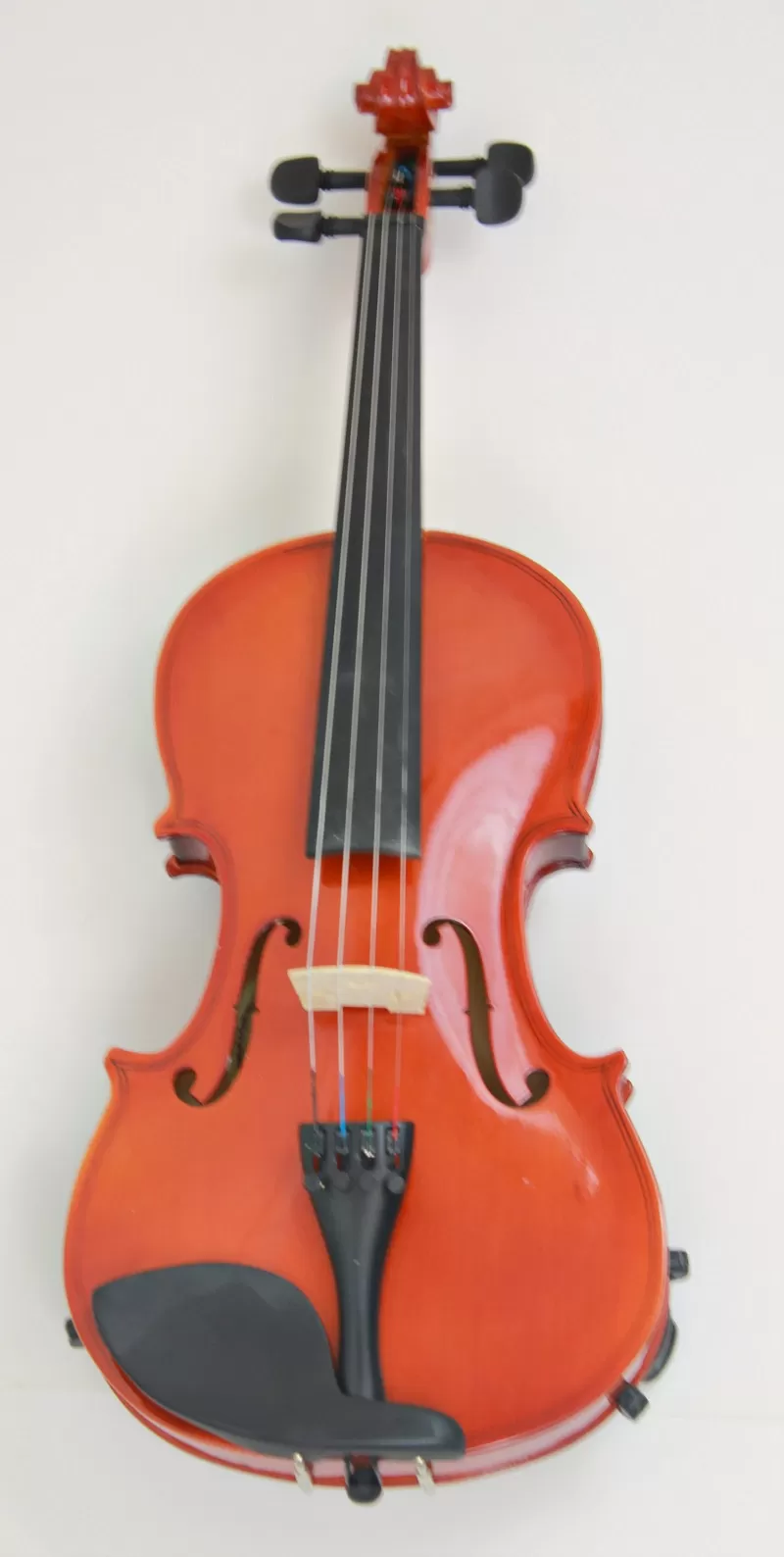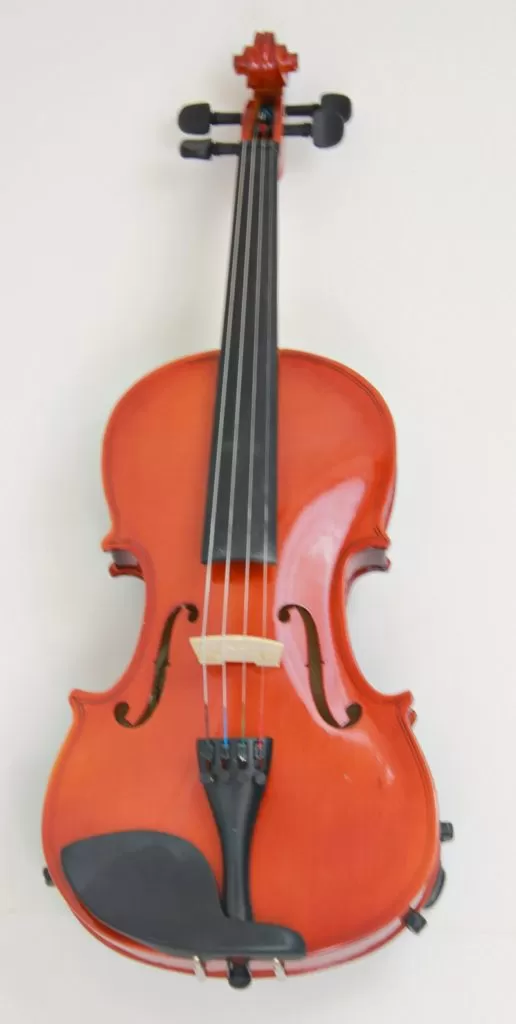 Time to Bid – I got my calendar alert on the evening that the auction was to end. I checked in about 15 minutes before it was to end & then I waited until about 5 minutes before to bid on the auction (I should mention this was in the middle of me cooking dinner, so I had the computer up at my kitchen island, constantly refreshing – ha!). I entered a bid along with our highest bid & woohoo, there were no other bids! I won the auction for the violin!
Violin Pick Up – As I mentioned, the Goodwill Tacoma location does offer $.01 shipping as well as free pickup (on a number of items). I decided with a violin that I would feel better about picking it up to keep it in its' best shape, so it wouldn't get rustled around in the mail. So my husband picked it up for free for us.
Checking out the Violin – We decided to have the local music store check out the violin to see if there was anything we needed to do before using it (tuning it, etc) & then my daughter will also bring the violin in to her teacher to check it out as she has a lot of expertise with violins. We did find out that the violin needed a new bow as the bow was warped, which was difficult to see in the pictures we saw, but violin experts were able to determine this. Otherwise, the violin was in good shape for the most part.  We also learned that the violin was definitely a beginner level violin, so we will need to get her a different violin as she gets older for better sound quality.
However, for the $50 we paid for the violin + bow cost (I think it was about $30), we felt that this was still a good investment for us at this point. At $30-$40/month for violin rentals, we have paid for the violin & bow in just 2 months and so that definitely saves us a number of months where we don't have to pay a rental fee, which really can add up over the months (especially summer months – do you return the violin if you're renting, but then lose a lot of the skills they gained over that year?)
I am now on the hunt for a flute as well. I first need to do my research on how to find a good flute, to see if it's something we can purchase online without seeing it, but I think this could be a good option for us for the next few years as we wait to see if she will want to continue on to high school.  Even just purchasing one on the Goodwill site for one year can really save on rental costs for us.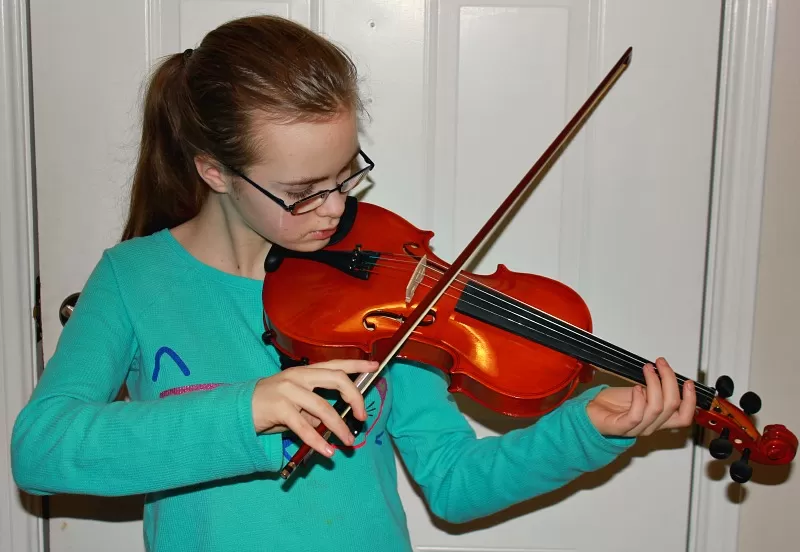 I know many of you also have children who are playing instruments in their school bands and if you have a beginner student like I did, this may be an option for you to consider rather than paying rental fees when they are a beginner. I would strongly encourage you to do a lot of research about how to find a good instrument, though, so you will know what to look for when you read the auction descriptions of the different instruments. You may even want to go in to your local music store to get their advice about what to look for when purchasing an instrument as they are a valuable resource. Once you are armed with all of your information, then you're ready to start looking online at ShopGoodwill.com. Research the brands that are listed on the auction sites when you find a few you are interested in, too.
Other Articles You Might Also Be Interested In: