Goodwill Halloween Costume Inspiration + Largest Goodwill Halloween Store!
This post may contain affiliate links and I may be compensated for this post. Please read our disclosure policy here.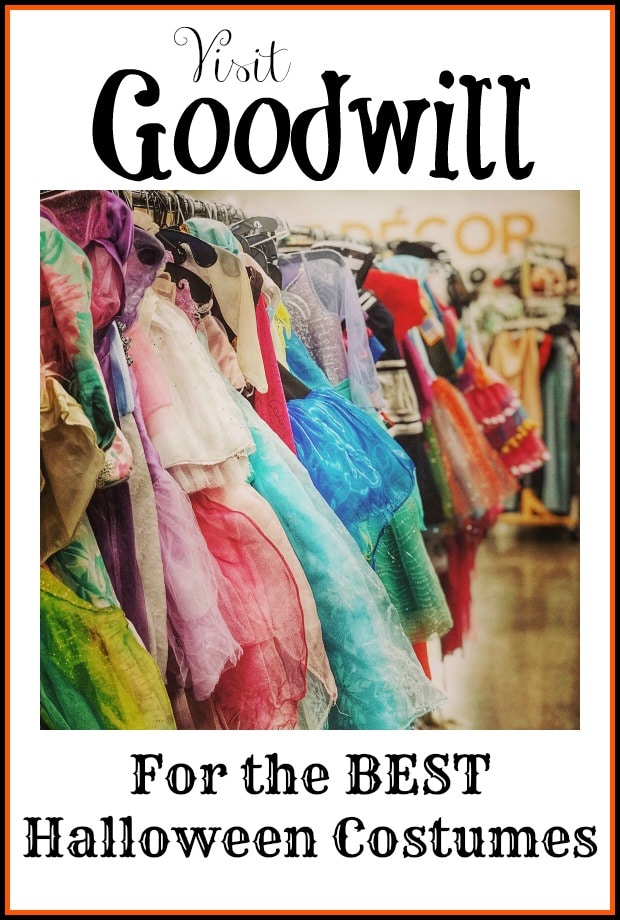 Goodwill Halloween Costume Inspiration + Largest Goodwill Halloween Store!
Did you all know that the largest Goodwill Halloween store in America is located in the Puget Sound? Not only does Goodwill have this special Halloween store, all of the Goodwill stores should have large Halloween sections in their stores this time of the year. If you're looking for some great Halloween deals, you will definitely want to check out the Goodwill Halloween stores. I have been out recently doing some shopping for the season and these prices are very good compared to some I have found  in other stores. This store carries many costumes that are new, as well as used, and at very good prices.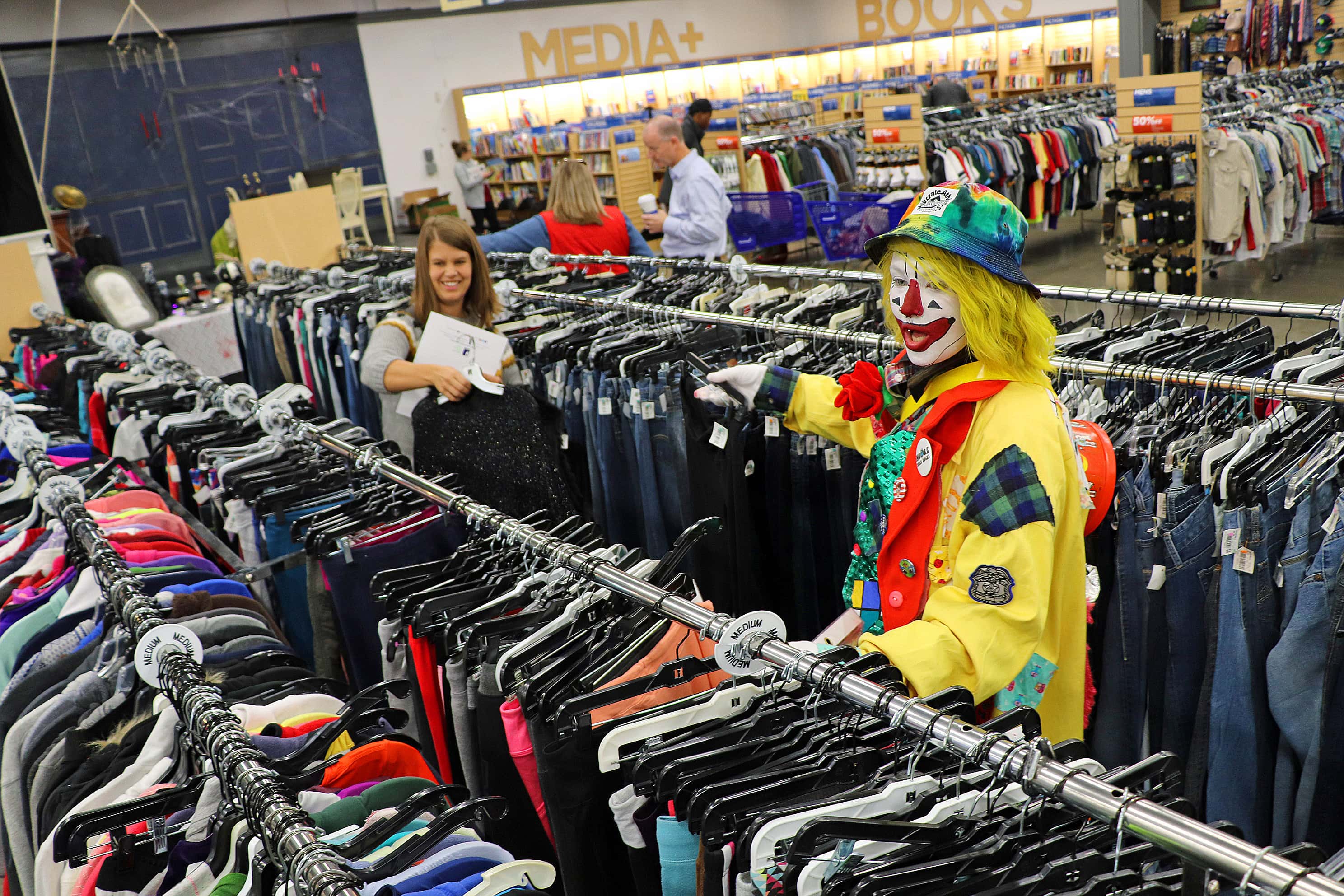 I loved this JP Patches costume, one of the Goodwill costume experts put together. So creative!
We recently visited the Tacoma Goodwill to do some costume shopping and they had tons of inventory to select from. It almost felt like a Halloween store too!
I have been shopping Goodwill stores since I was young, trying to put together fun and creative costumes. As I look back at some of my favorite costumes over the years, they have always been the DIY ones that I made by shopping thrift. I remember one year finding old "nickers" (anyone else old enough to remember actually wearing those), and a puffy white blouse, and putting together a pirates outfit with those. It was one of my all time faves. Creative costumes make better memories in my opinion!
Reasons I love to shop for my Halloween costumes and party decor at Goodwill: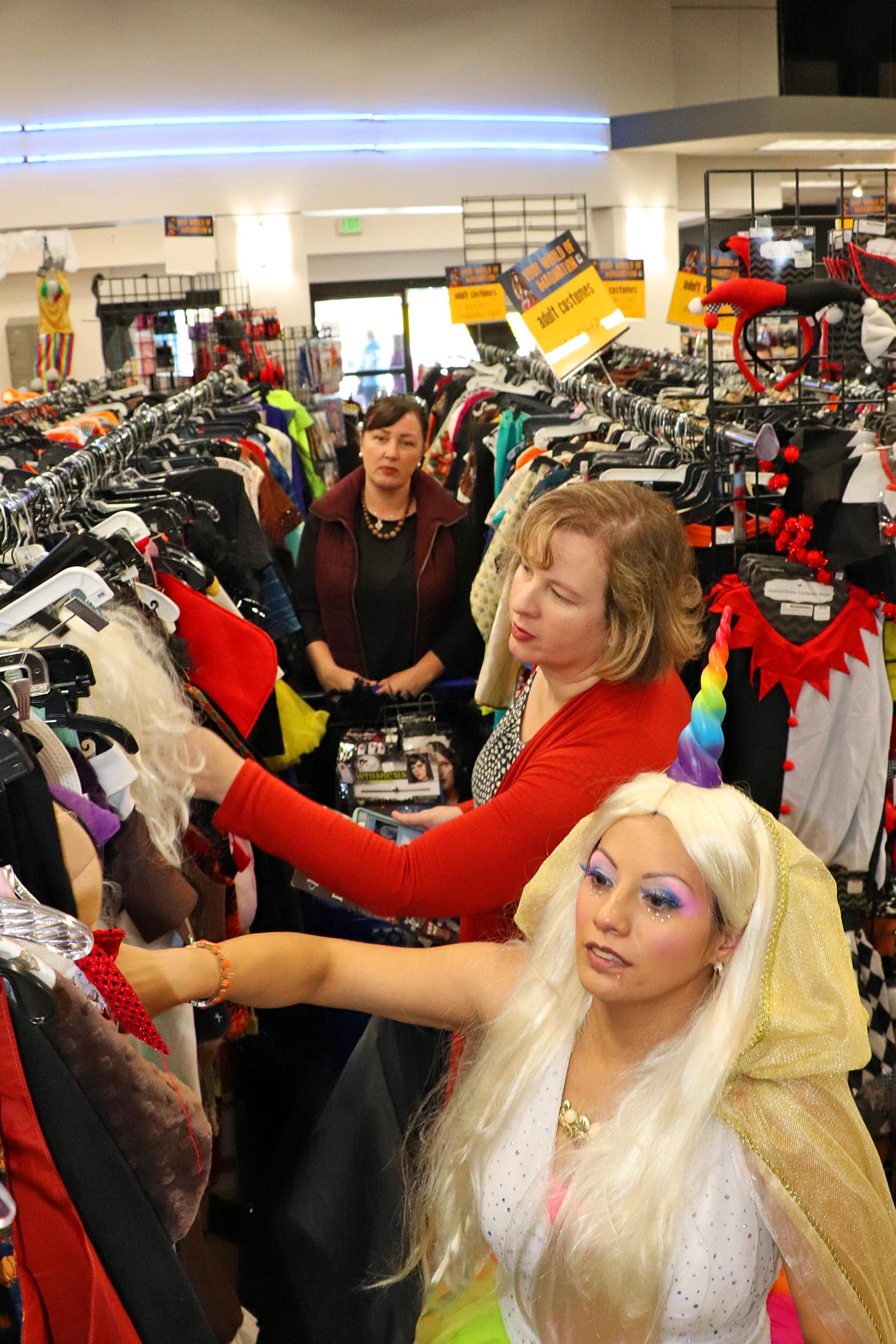 Jen and I shopping with our costume expert. She was the coolest unicorn I have ever seen, and said she has over 200 more costumes at home. She has been doing this for years and really knew her stuff!
They provide costume experts to help you shop. We shopped with one the other day and she was excellent. She helped both Jen and I find everything we needed for the perfect costumes for our kids. You tell them what you want to be, and they work their magic. You can let them know what things you already have at home that can work into the costume to save money. You can also provide them a budget and they will work to help you build your costume in that budget. I highly recommend using one of their experts, it was super helpful!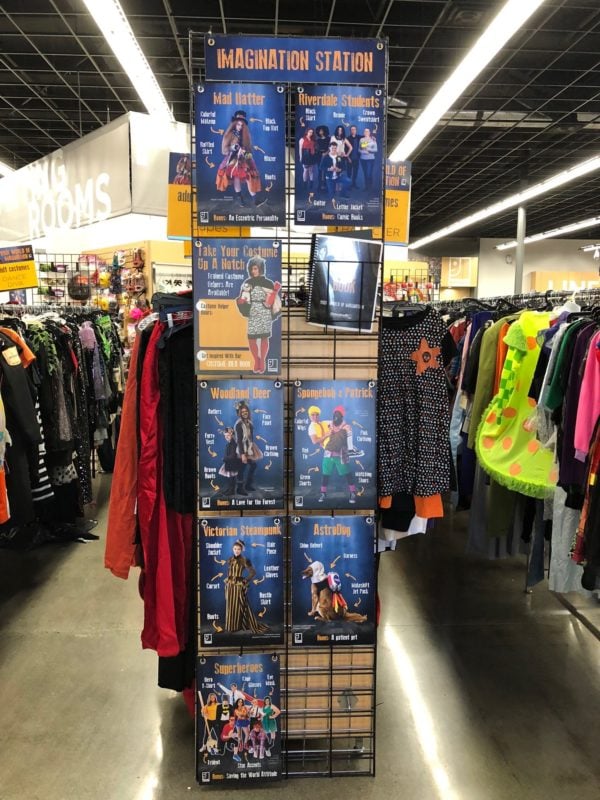 You can find out when the costume experts are available in your local Goodwill store by finding these Imagination Station signs. There should be one sign that tells you the hours of the costume experts for your store. If you cannot find your sign, just ask at the front of the store and they will direct you.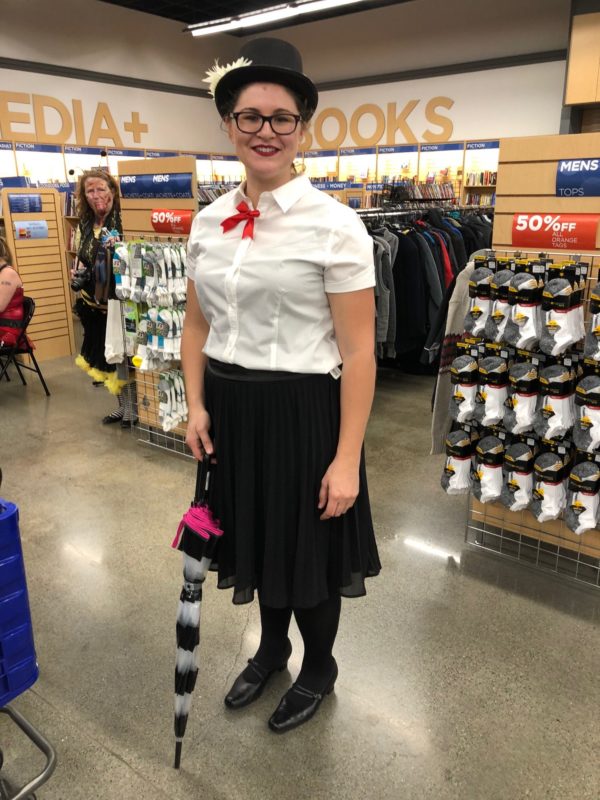 Tabitha from Love Tabitha is Mary Poppins
You can shop from their special Halloween set ups (this includes aisles of costumes and costume pieces, as well as brand new items still in the package) AND you can shop just the regular store to maximize your opportunity to find the perfect pieces. For example, this Mary Poppins costume was put together almost exclusively from shopping the regular store racks!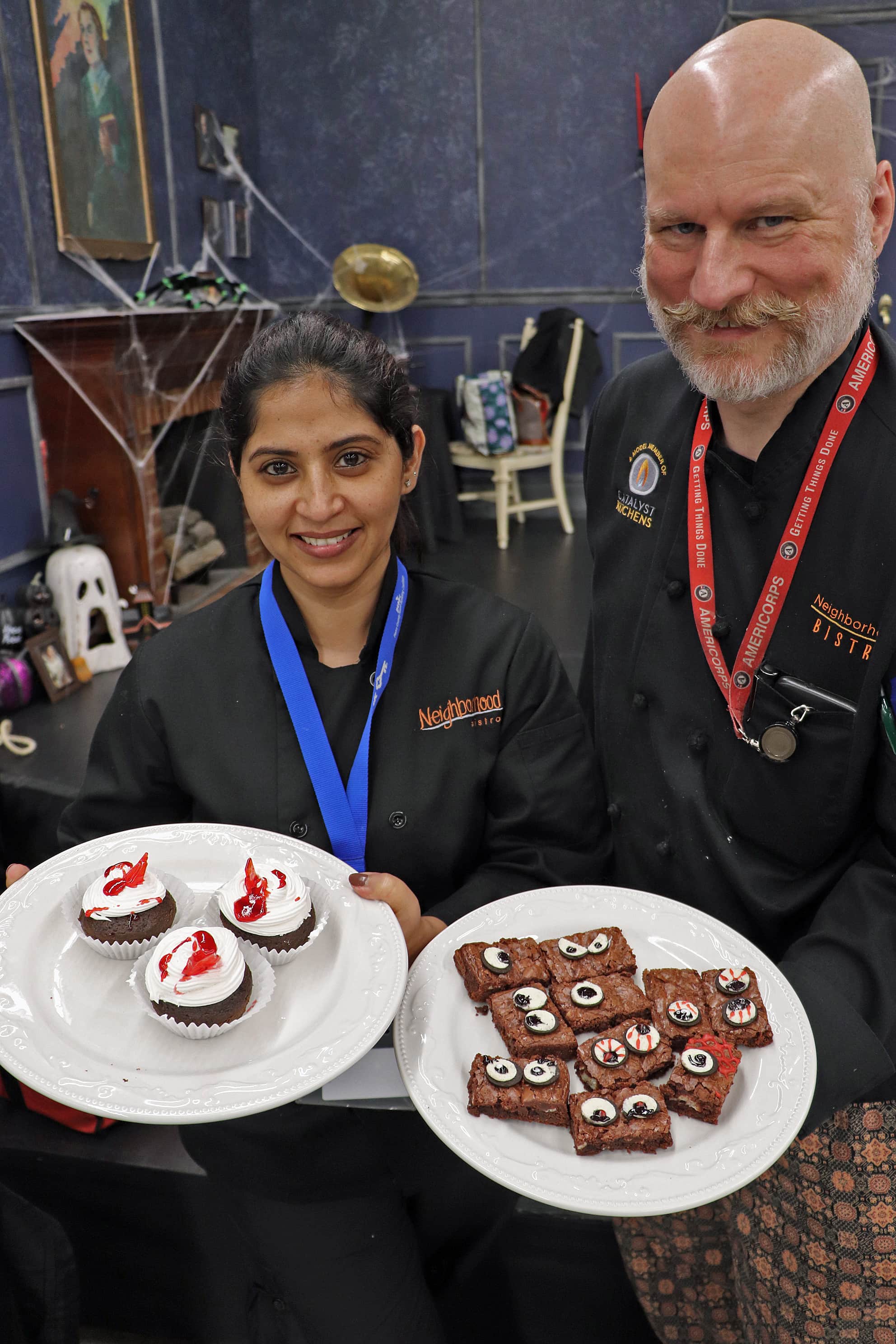 Honey Batthe is a graduate of the Goodwill Culinary School job training program, and she has launched out with her own business since graduating.
You are supporting job training and other non-profit work that Goodwill does in the local communities. We met one of the graduates from the Goodwill job training program, Honey Batthe, at the Tacoma Goodwill. She used her training from Goodwill to launch her own business and was demonstrating how to make Halloween goodies (tasty ones, that is). She enrolled in their culinary program, and said that the program changed her perspective. After graduating she started her own business. I love that my donations and purchases support things like job training for others in our communities.
Unicorns where the the costume of the day when we visited!
The costume expert that Jen and I were working with, was sharing how she repurposes her costumes. She was a unicorn today, but many parts of this costume can be used for a fairy costume she likes to do, or her dress is a Marilyn Monroe one, so she could easily convert to that. If you attend more than one Halloween party in a year, this is a great tactic to create one costume that can be transformed into another one.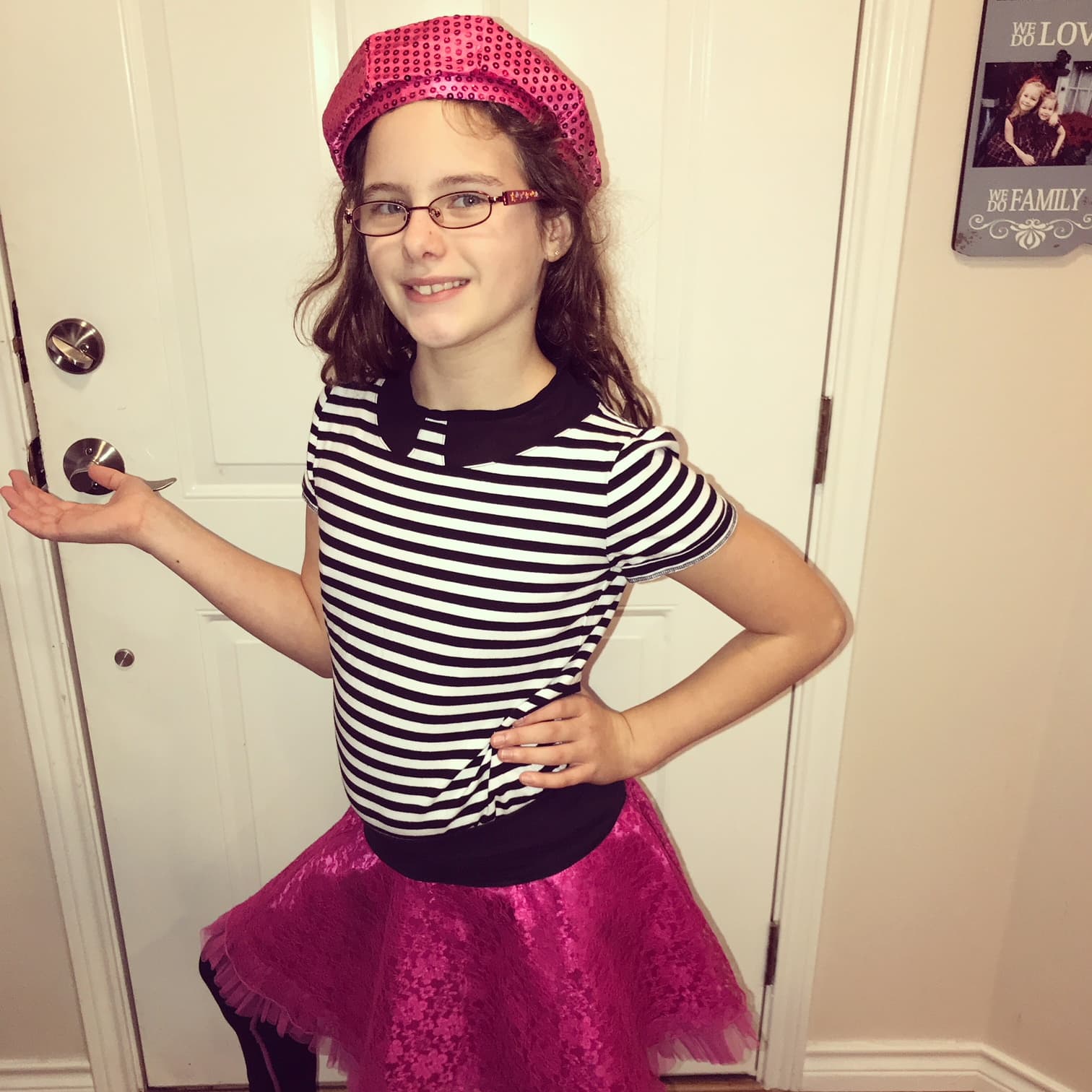 How cute is this Parisian costume, perfect for a little girl celebrating with a Paris themed party!
You can also think outside of the box and grab any costumes you need for other parties throughout the year.
The perfect Harry Potter costume for one of Jens girls!
Jen was able to get most of the items for three people in her family to be characters from Harry Potter, and she got a Paris outfit for one of her girls for an upcoming party, for around $60. That is 4 costumes for around $60, which I thought was really good!
Tips for Finding the Best Costume:
Head in when the costume experts are available to help you.
If you can shop when the crowds will be fewer (earlier on weekdays, when possible), it will be easier to navigate the isles.
Bring pictures for inspiration. If you have great pictures (on your phone or printed) it is easier to replicate your vision.
Grab a cart, as you will likely be grabbing multiple items to piece together, vs one packaged costume.
Evaluate what you already have in your closet at home, that might work with your costume idea, and take pictures of those things. The more you can build around from what you own, the more money you will save!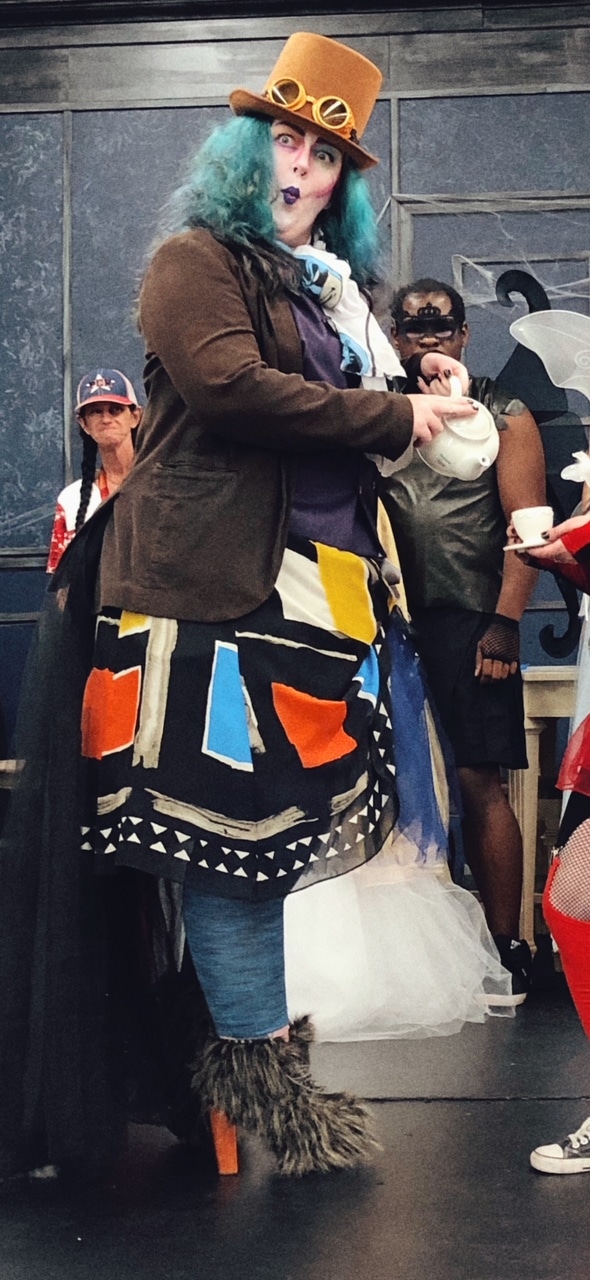 Libby from Mia Cupcakes, used one of the Lookbook Inspirations, and a costume expert to create this fantastic Mad Hatter costume. Notice the tea pot prop!
Consider buying props that can really take your costume to the next level.  For example, Mary Poppins (shown above) found an umbrella, that really made you know who she was. I loved how the Mad Hatter found a tea pot that she used to make her costume come to life. She became the full character when she started pouring tea with crazy faces!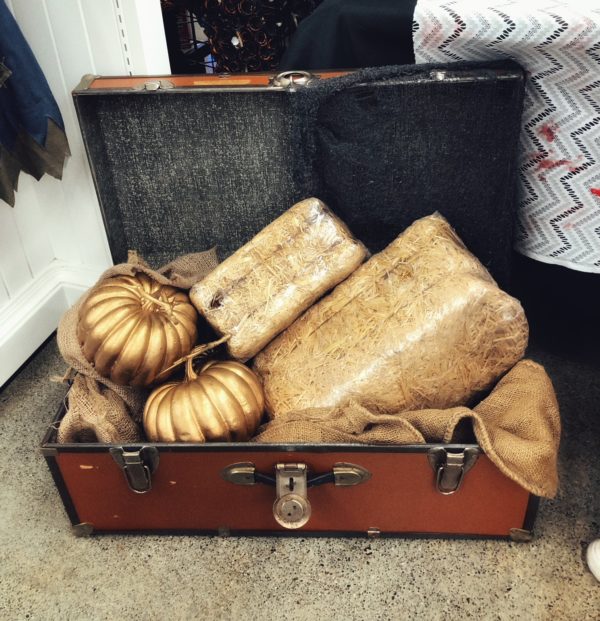 Halloween trunk designed by Leslie Pleasants of Today's Every Mom
Plus, you can shop for decor for around the house at the same time as you are looking for this costume. This trunk was only $4 at Goodwill. Spray paint some faux pumpkins, add spider webs and hay, and you have decor for your front porch that you can use through Thanksgiving.
More DIY Costume Inspiration Tips: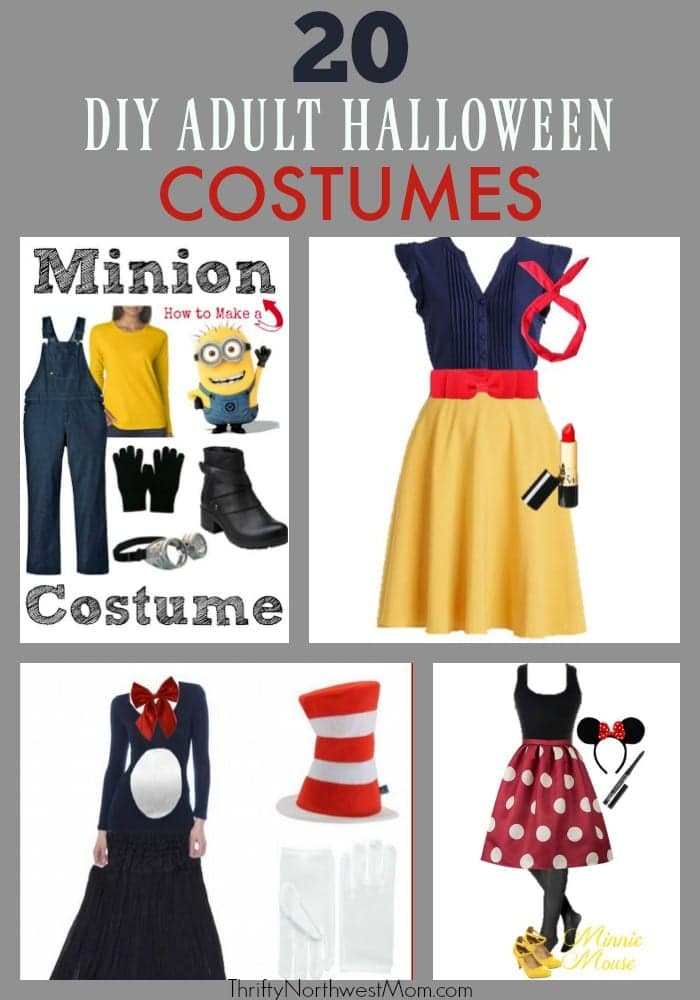 We have a full page of DIY Halloween costumes here. You can print out the picture of your favorite one, then head to your nearest Goodwill and see if you can replicate it at big savings, by finding the items in their stores.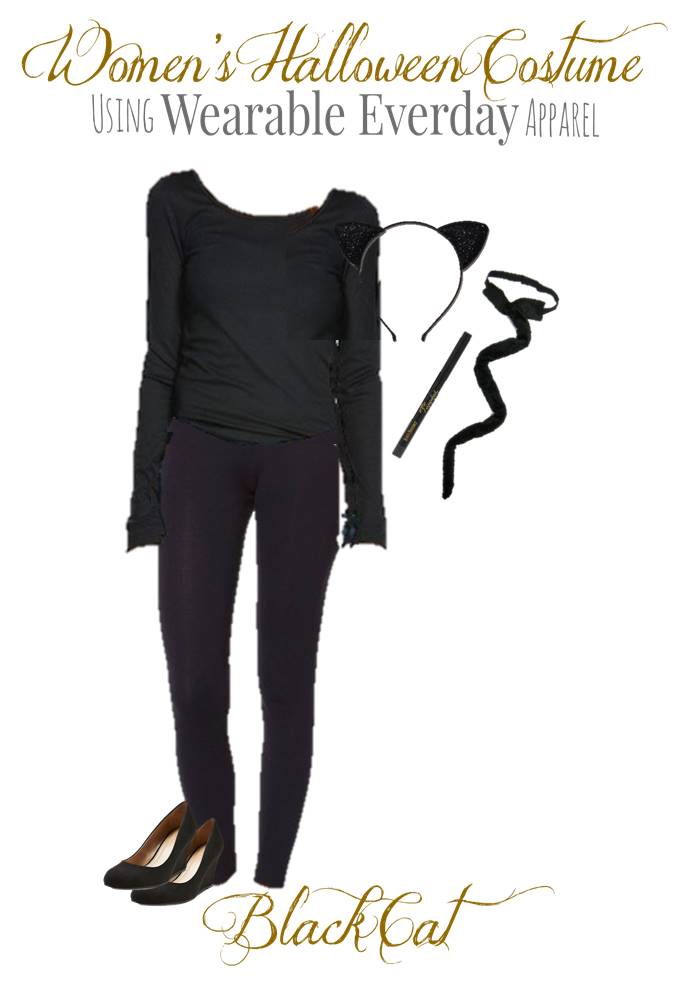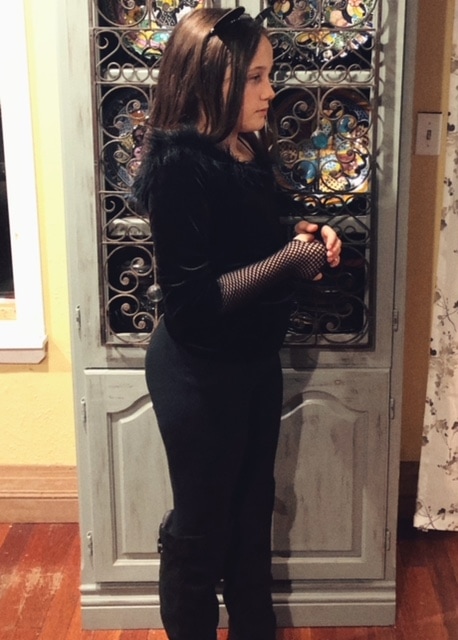 We replicated the Black Cat costume this year for one of my girls and it turned out so much cuter then the picture even. We had the leggings and shoes, so got her a shirt for $5.99 and ears for $2.99, gloves for $3.99 and then we jazzed it up with a few items she will add on Halloween to make it extra fun (whiskers for $2.99 and long eyelashes for $3.99 and a tail for $3.99). Considering the cost of the costumes in the store, we thought we got a much cuter version for less then we would have paid in a Halloween store.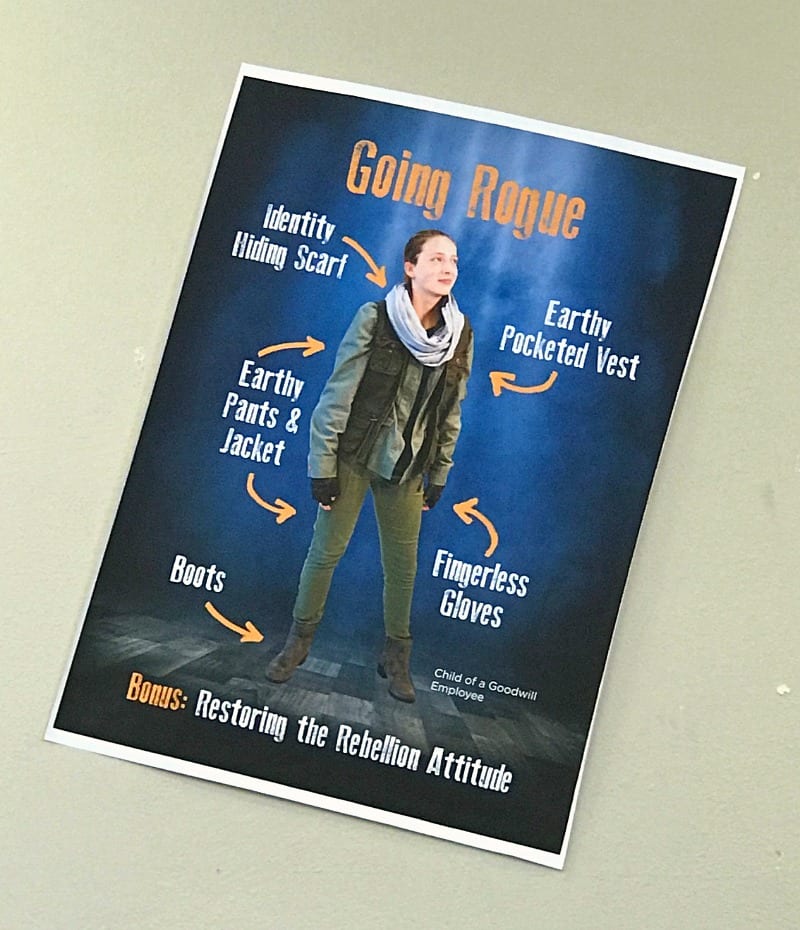 Another way to get inspiration for your costume is to check out the Goodwill Lookbook here for a ideas, as well as other DIY ideas they have put together to inspire you. There will also be signage around the store with some of the Lookbook costume ideas that you can use to help guide you.
Pumpkin Patch Discounts from Goodwill: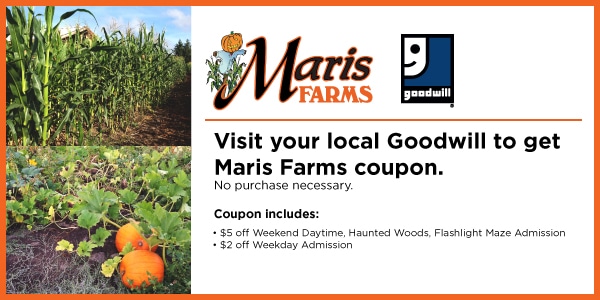 You can check out their sales and events page here, to find other days where you can save or participate in a fun Halloween themed event. They are offering coupons to visit the Maris Pumpkin Patch this year too! Stop by one of the Goodwill stores to get a $2 off weekday coupon, or $5 off weekend admission coupon.
They have it organized in sections, so its really easy to browse through (and you can quickly find something of interest).
There were aisles and aisles of adult costumes. They have marked each row at the top with the bright orange signs to let you know what kind of costumes you might find in that section. I found it to be one of the easiest Halloween stores I have shopped at, thanks to that wonderful organization.
In addition to costumes, there was everything you will need to accessorize your costume. We found rows of new items, but they also had sections with used shoes that would be great fits for DIY costumes, belts, hats and more.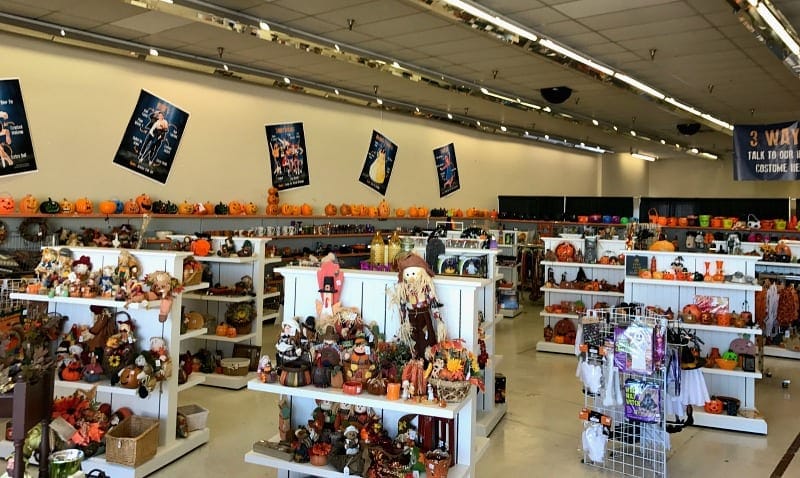 There was also quite a bit of decor items for your house too if you wanted to decorate for the season at the Spanaway Halloween store. The prices here were really good, and the selection plentiful.
If you are looking for a one stop Halloween shop that is not going to cost you a fortune, I highly recommend checking out either the Goodwill Halloween store in Spanaway, WA (Pierce County) or your local Goodwill. There are dressing rooms to try things on and the regular Goodwill store is right next door as well, if you need some items for a DIY costume. We spent over an hour there and had some great laughs trying to put together Halloween costumes for this season. And don't forget, your Halloween purchases will support job training for others in our community!
Disclosure: This post is sponsored by Goodwill. All opinions are 100% our own.