Shop These Back To School Trends At Goodwill To Save Big This Year!
This post may contain affiliate links and I may be compensated for this post. Please read our disclosure policy here.
This is post sponsored by Goodwill.  All opinions are 100% my own. See our disclosure policy for more details.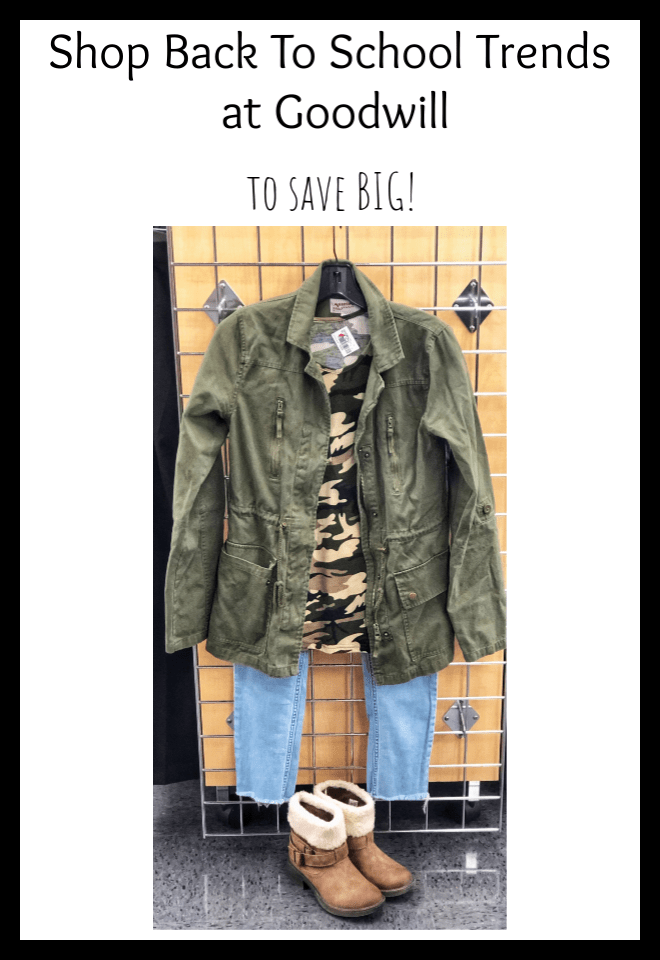 Shop These Back To School Trends At Goodwill To Save Big This Year!
Back to School clothing expenses can put major stress on the family budget. The biggest cost for many families, in trying to prepare their kids for school each year, is what they spend on school clothes per kid. We have some tips on how you can do some of your back to school clothing shopping at Goodwill, to save big, but without sacrificing style for your kids.
You do not have to do all of your shopping at Goodwill to see significant savings. Head there with an idea of a few key pieces you want to look for (we have some suggestions below), and start by saving on those. Even supplementing your back to school wardrobe with some strategic thrift pieces can help you save tons on school shopping. If you are paying $5 per shirt verses $20 (just as an example of the kinds of savings we have seen), buying 3 shirts at the thrift store could save you $45 on shirts alone. If you have more than one kiddo, those savings will really add up.
Tips to Save the Most at Goodwill for Back to School Shopping:
Use coupons and shop discount days at Goodwill, to save even more! Right now there is a $5 off $15 coupon you can find on the Goodwill Back to School blog here. It is good through August 3rd, so be sure to grab it and shop soon! This coupon is good for the Olympic and Rainier region stores (much of the South Sound). You can find a list of stores that you can use the coupon at here – https://www.goodwillwa.org/shop/store-locator/
Check their promotions calendar here, to find out what other discounts and specials will be going on for the day that you shop. For example, some days you will find certain color tagged items for $0.99 or others for 50% off, etc.
Be sure to sign up for the Goodwill newsletter here, to receive extra coupon savings, and notifications of special sales and promotions.
The other thing that I love, is that when you are thrift shopping at Goodwill, you are not only saving money, but also supporting some great job training programs. We share more details on how the Goodwill retail shops supports 30 career and life skills training programs in our article here too.
I took my daughters into one of our local Goodwill stores yesterday, to see what we could find. I let me tween and almost teen, pick out some of the items they loved to show you how you can save by starting your school shopping at Goodwill. Here are some of the outfits they found to inspire you.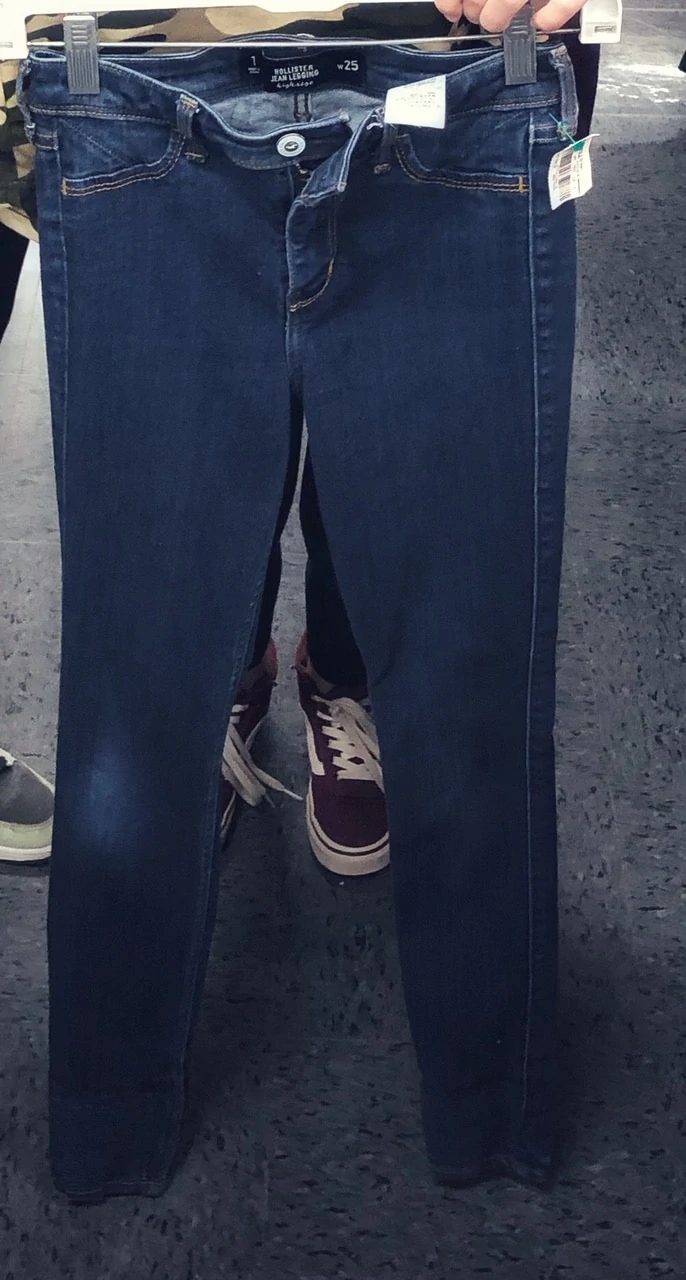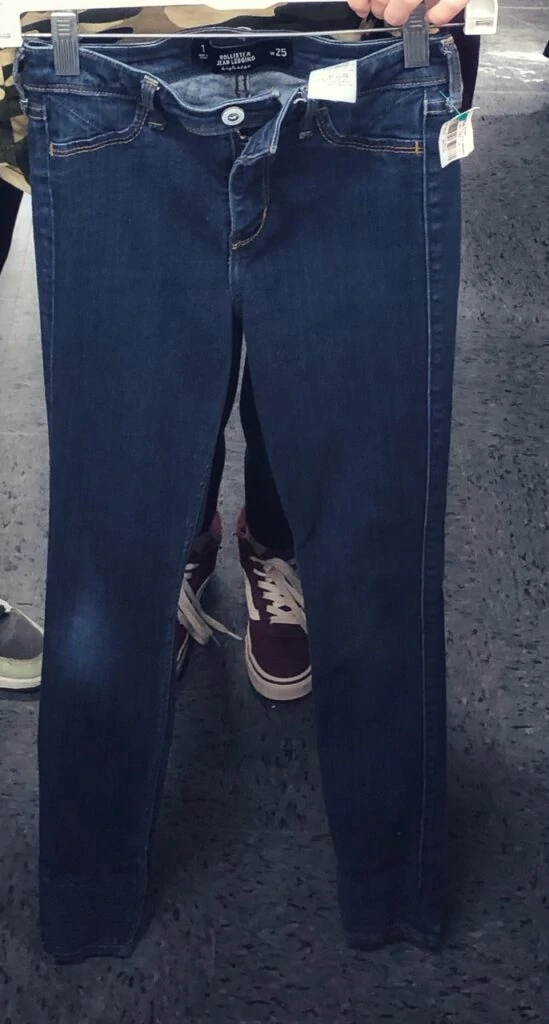 My daughter loves Hollister jeans, and we found this pair of Hollister Skinny jeans for $9.99 (compare that the $25 to $50 new). 
Shop name brand jeans at Goodwill
Hunting for name brand jeans is one of my favorite things to look for at Goodwill. Jeans can be so pricey, and this is a great way to save on your favorite brand or fit. We found brands like Hollister, American Eagle, Aeropostale and more on our trip yesterday.
Distressed jeans with that worn look, or jeans with holes in them, are big again this year. They are all over the mall, and they can be pricey. Why not save lots of money by buying jeans that have been naturally distressed through wear at Goodwill. Not only will you find some affordable options here that are already distressed, another option is to try to distress them yourself. I have one kiddo who is in between kid sizes and adult sizes. The adult jeans are not a good fit for her, and its harder to find the distressed ones she likes in kid sizes, so we thought we would create our own holes in her jeans. For this we will be buying thrift jeans at a bargain, verses buying them new and risking ruining brand new jeans.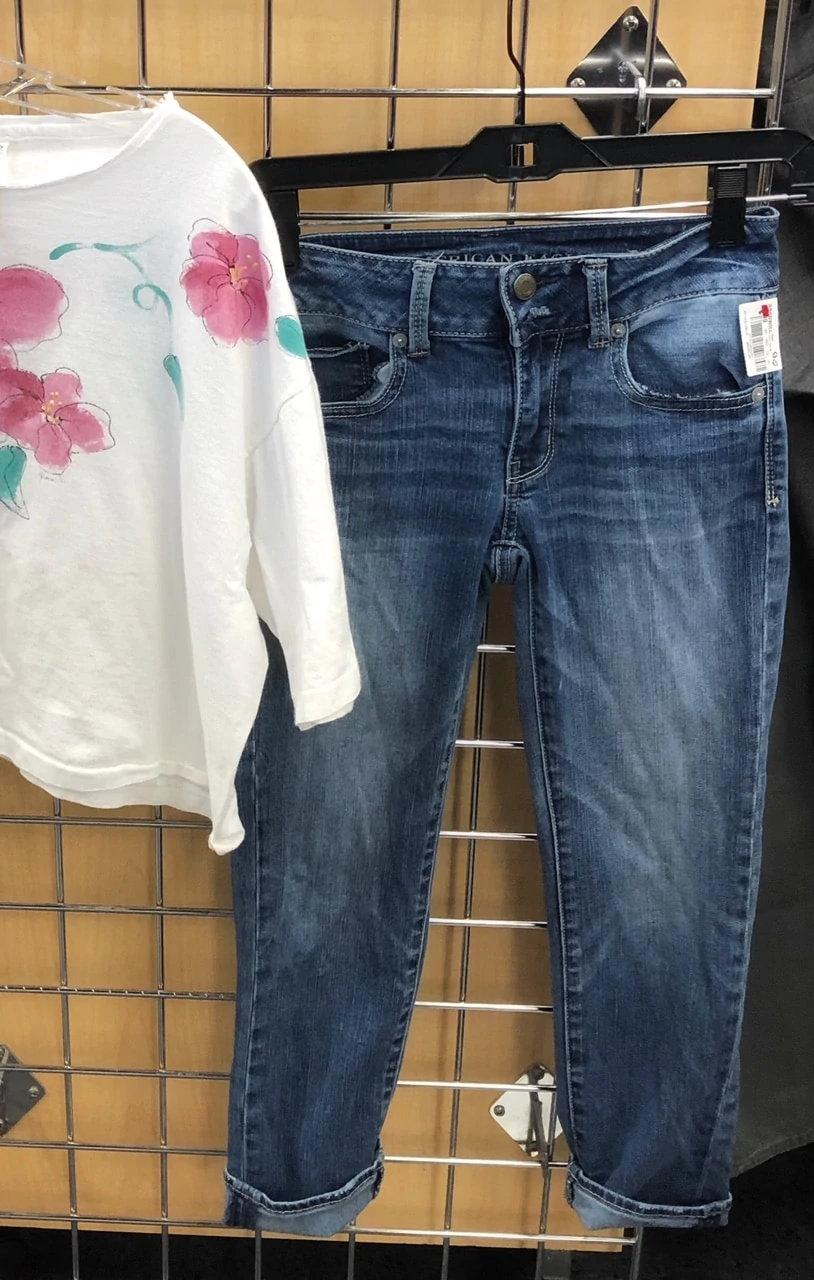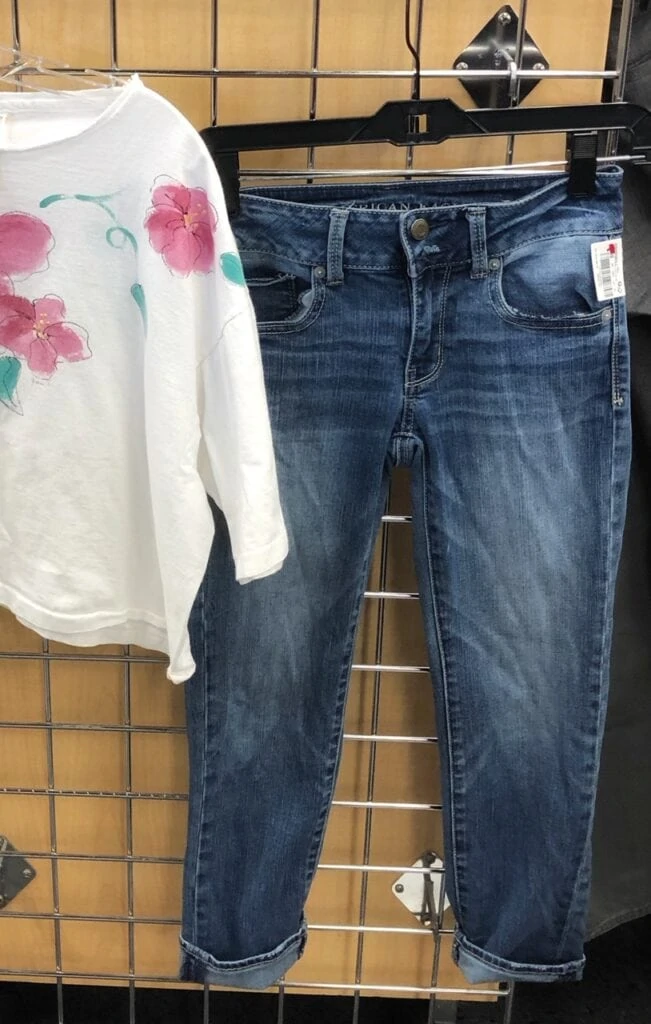 We found this pair of American Eagle Jeans for $7.99 (compare to $40 buying them brand new).
One tip I love to share with people year round, is that having your clothes tailored can make a big difference in what you love and what you just like in your wardrobe. I love to look for a great pair of second hand designer jeans (they often are still in great condition) and then spend a little extra to have them hemmed or tailored. That way I end up with a pair of great jeans that are custom fit just for my shape, and still spend less then I would buying them brand new.
Shop for brands you find in the Mall, but pay less at Goodwill
Goodwill is always fun to look for more traditional thrift styles (kitchy tees, etc), but it is also a great spot to look for name brand items at huge savings. You can find some great deals on brands your kids like to wear at significant discounts over buying them brand new. We found things like Nike, Adidas, Forever 21, Rue 21, Old Navy, American Eagle, and many other brands the kids shop for in the stores. See some of the outfits we found on our shopping trip yesterday, and how they compare to similar items currently in store. We found the Forever 21 outfit shown above for much less then you would pay for just one of the pieces in the mall right now.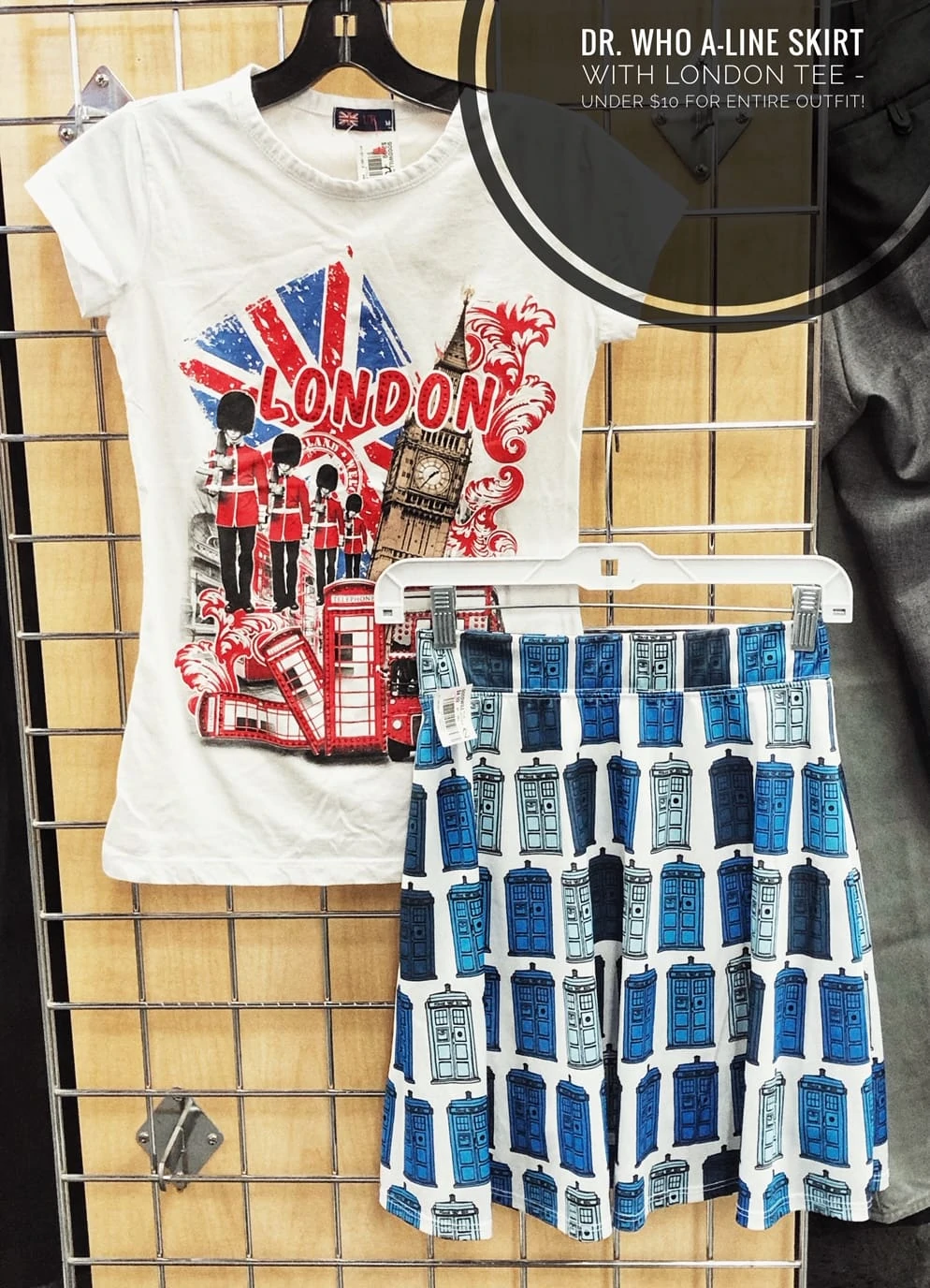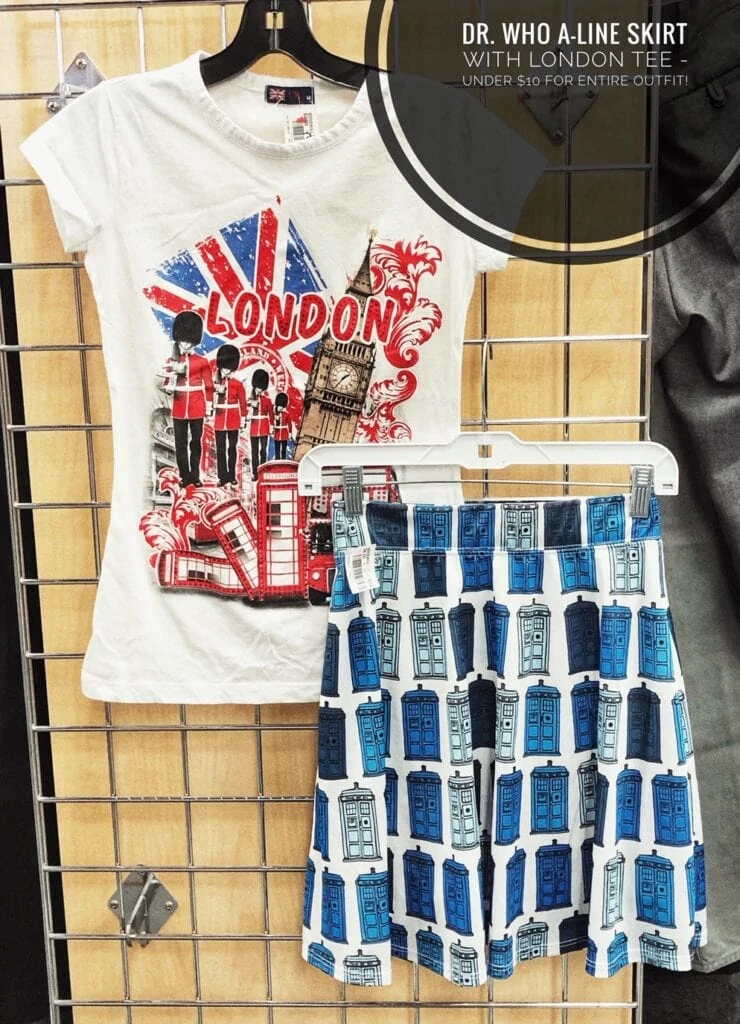 Retro Graphic Tees are in, and you can find some real bargains at Goodwill
We saw all kinds of retro style graphic tees in most of the clothing stores this year. Save your time and money, by stopping in for those at Goodwill. There are usually lots of these types of styles for your kids/tweens/teens to choose from, and your dollar will stretch so much further here. We found Superman shirts, Marvel tees, this fun Mr. Who skirt and London tee, and more. The graphic tees are all over the mall, and you can find them at Goodwill, generally priced at $2.99 to $5.99 (and use the coupon to save even more)!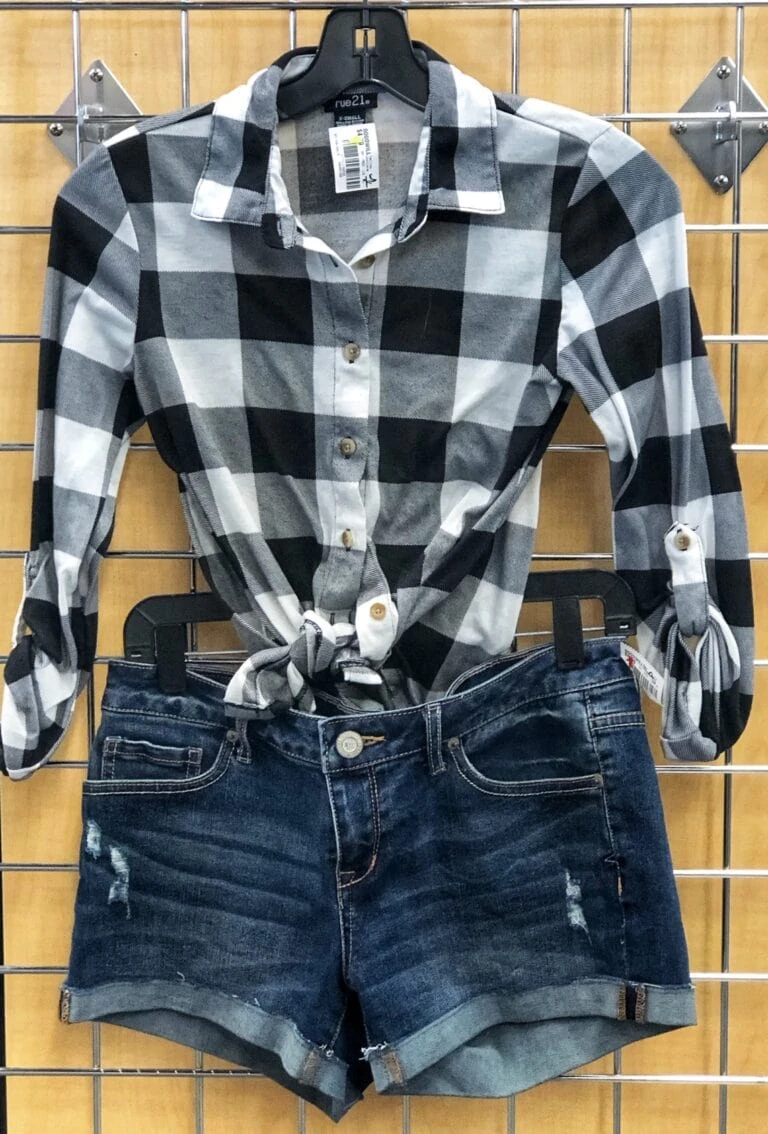 Plaids are in this year, and we saw some nice ones at Goodwill!
I was just out in the malls with my kids, and they both wanted plaid shirts. I was surprised at how much simple plaid shirts go for. A great alternative is to shop for trendy items at Goodwill, and pay a lot less for them. We found plaids in our local Goodwill for around $4.99 (compare that to the example I show you from the mall for $21.99 – same brand of shirt, just different colors, to give you and idea of how you can keep your kids trendy but save big).
This outfit was at one of the local Goodwill's, and it includes the same brands my kids would shop for in the mall. The plaids are in for both boys and girls this year, so save big on those items by shopping Goodwill verses full price stores.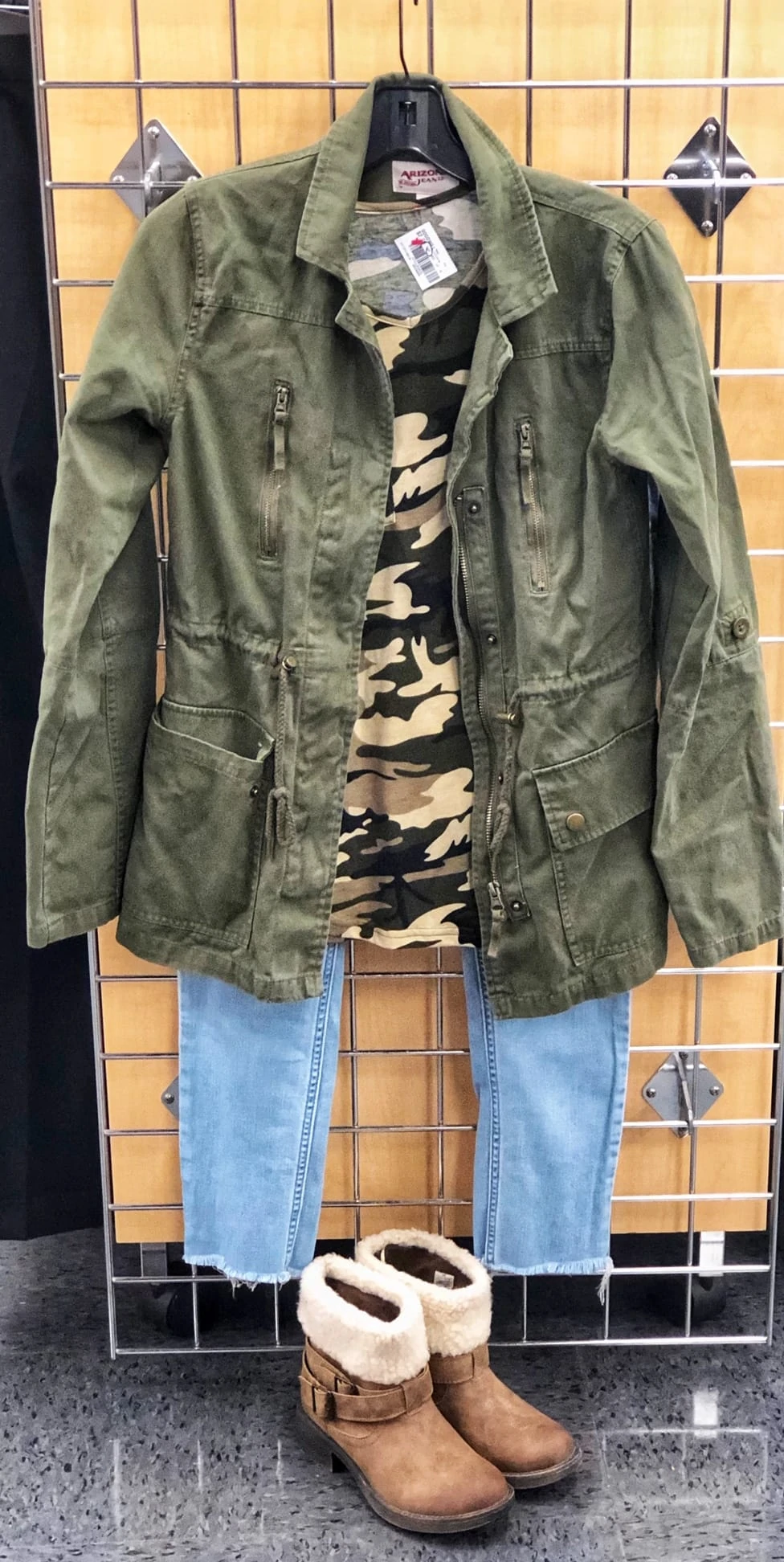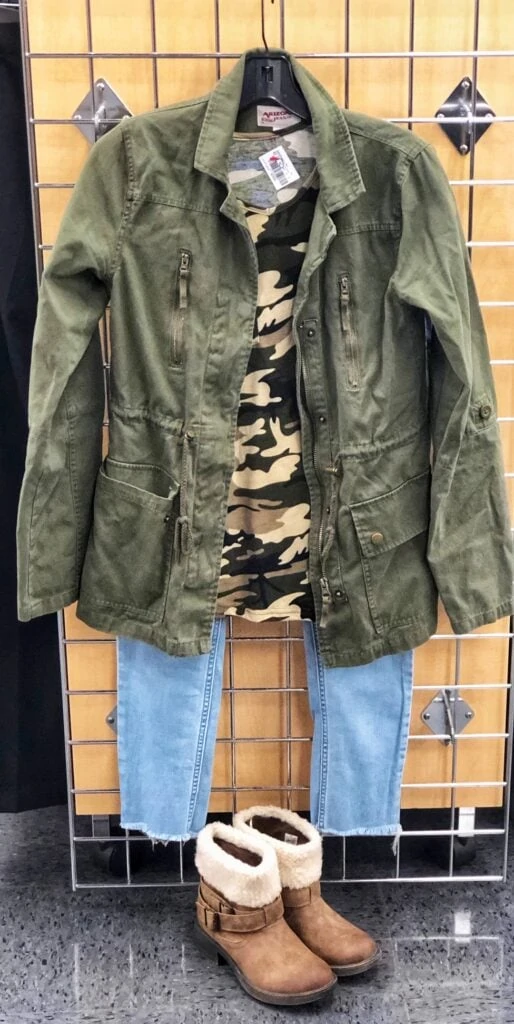 Camo is everywhere!
My kids bought lots of camo this year. I love this pattern, and the colors for myself too. We found a number of camo pieces at big discounts. This camo shirt is just $2.99! When we put this outfit together, a couple of other folks who were in the store shopping walked by and commented on how cute it was. The best part is the total outfit from top to bottom (coat, jeans, shirt, and shoes) was just $28.96 plus tax! And with the $5 off $15 coupon we mention above, that brings the total outfit price down to just $23.96! That includes a coat and shoes – its hard to find shoes for that price alone.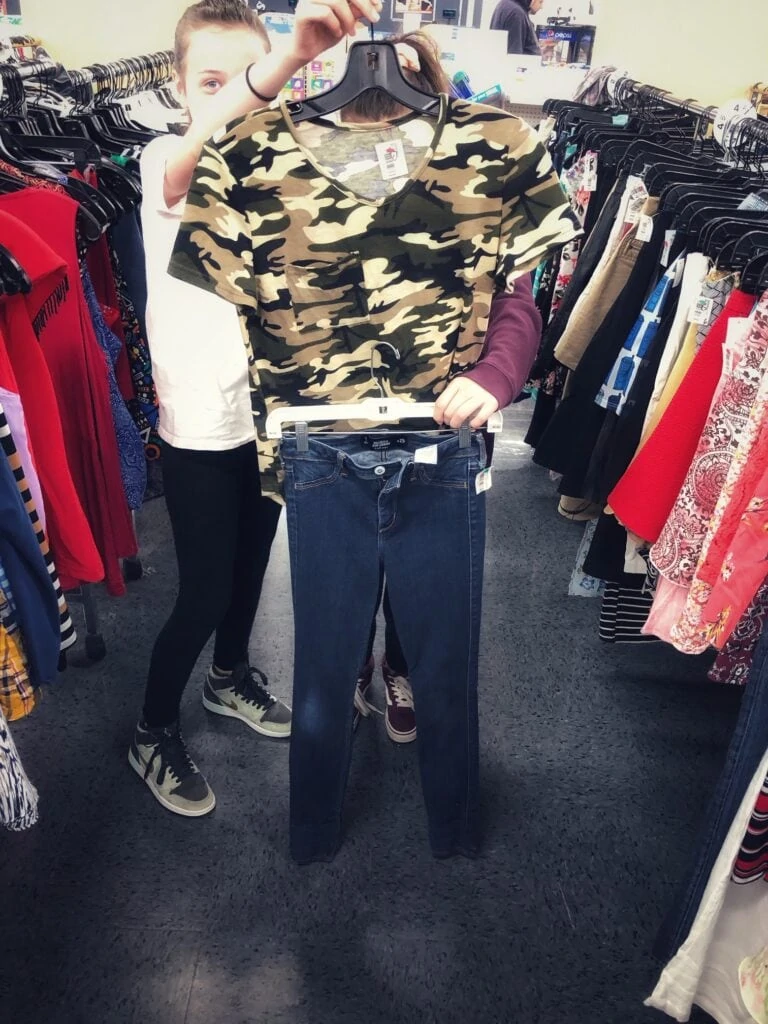 Or another simpler version of the outfit my girls found above, Hollister jeans and camo top, would be just $13 for the entire outfit ($2.99 for the Camo t-shirt, and $9.99 for Hollister jeans). You would likely pay $10 for shirt and $25 to $45 for jeans) so you are saving quite a bit. You can see from these current years examples, how you can shop thrift for current styles, but see big savings.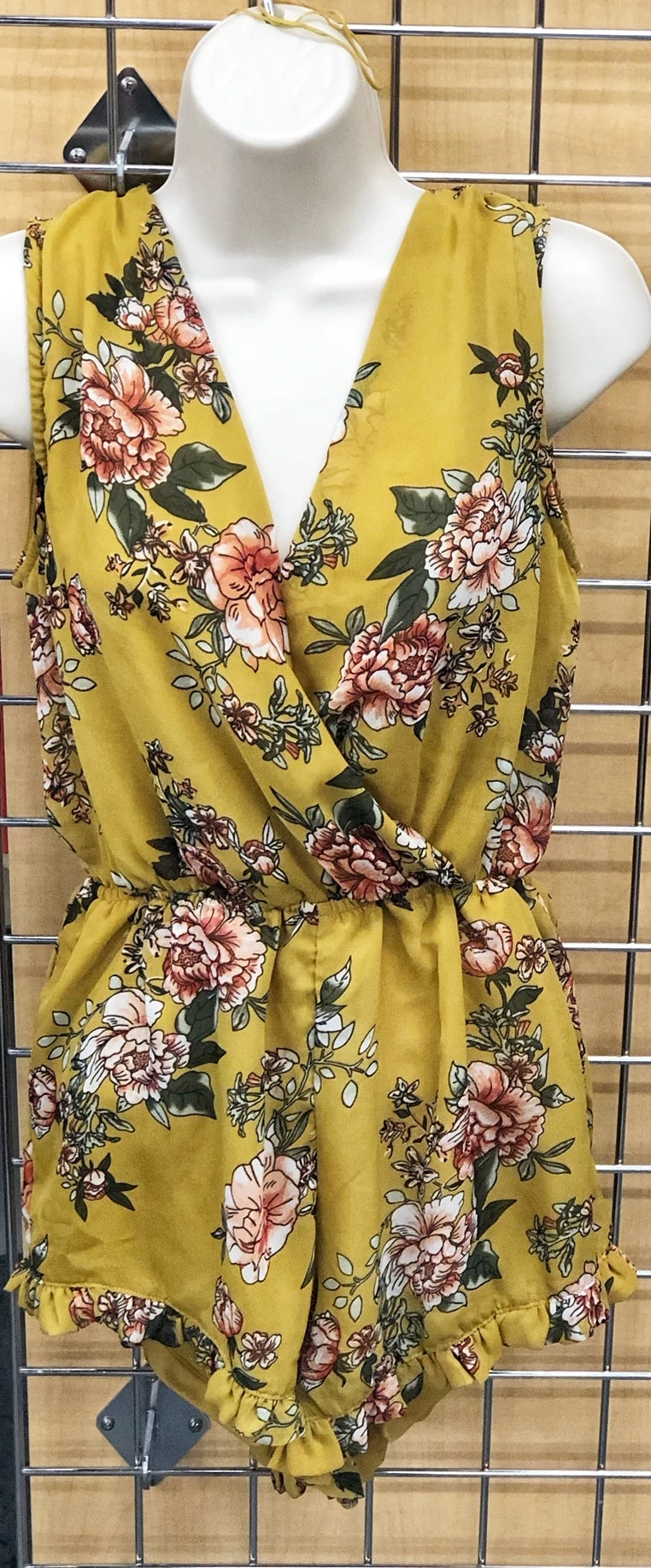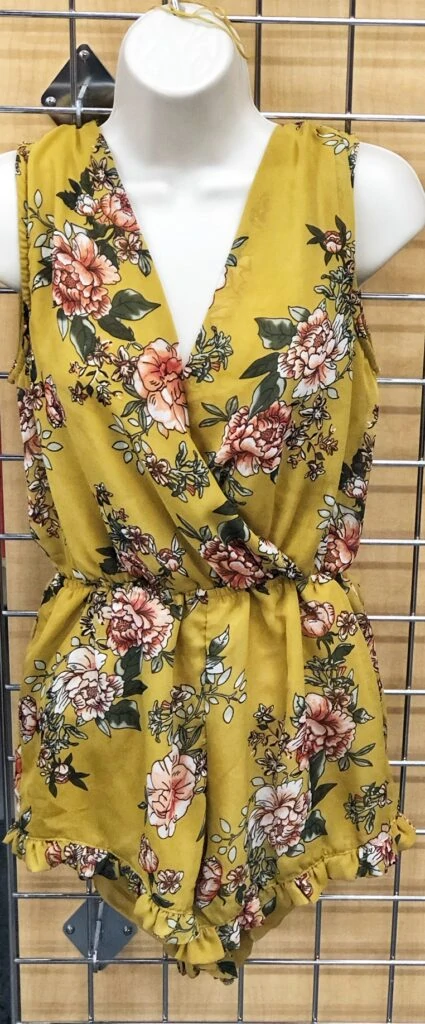 Rompers (in both long lengths, as shorts and skirts) are in this year
Here is another example of a real outfit in a local Goodwill that you will find for much more in the malls right now.  We often see warm weather at the beginning of the school year, and since they only can wear it for a shorter time, I do not want to spend too much on those items. Grab a cute sweater, and you will be able to wear it longer (or maybe you will find a romper with pants!). If you can find them at Goodwill like we did, you will save big! This romper was just $5.99. I have seen them in the mall for around $15 being clearanced out, so this is a great price.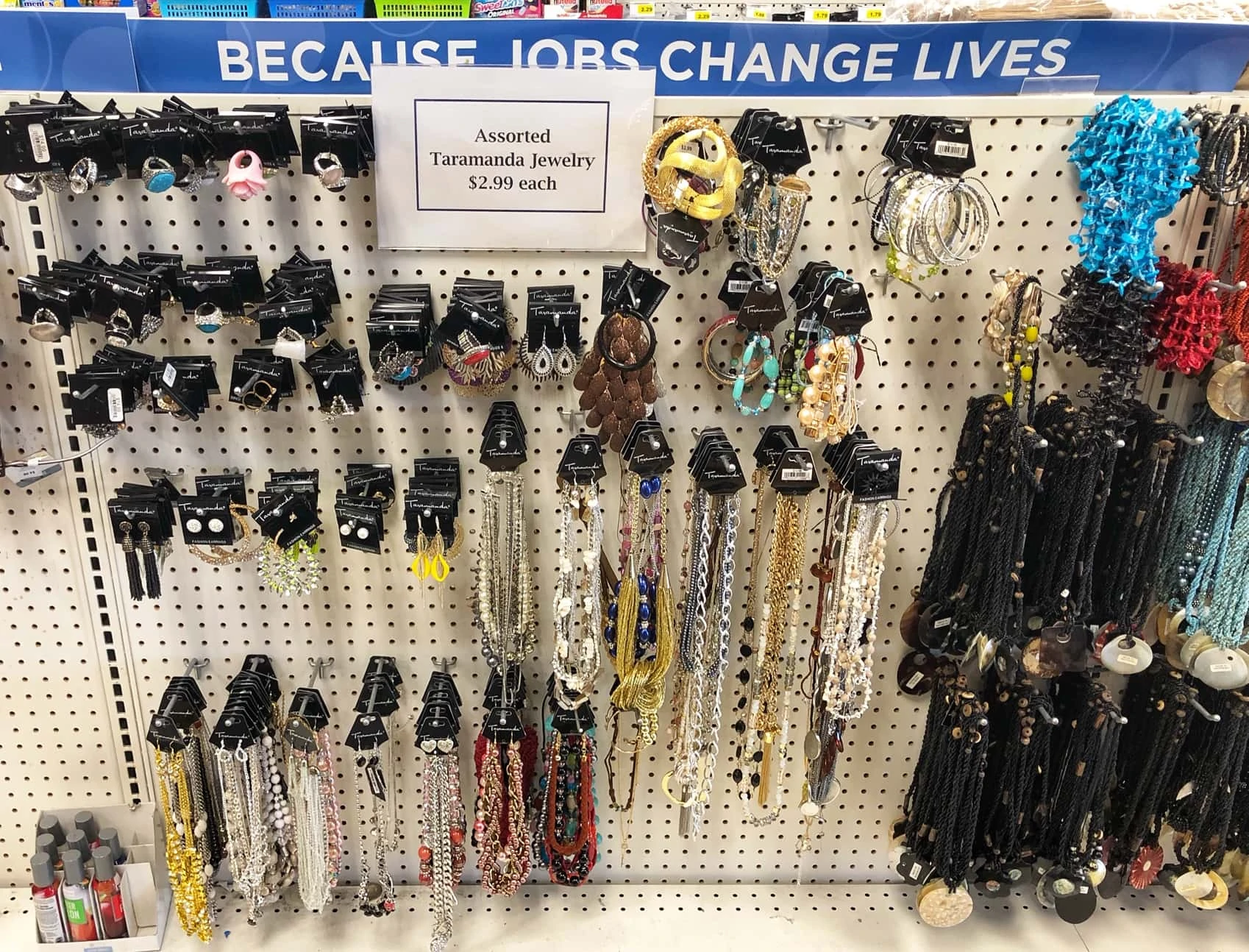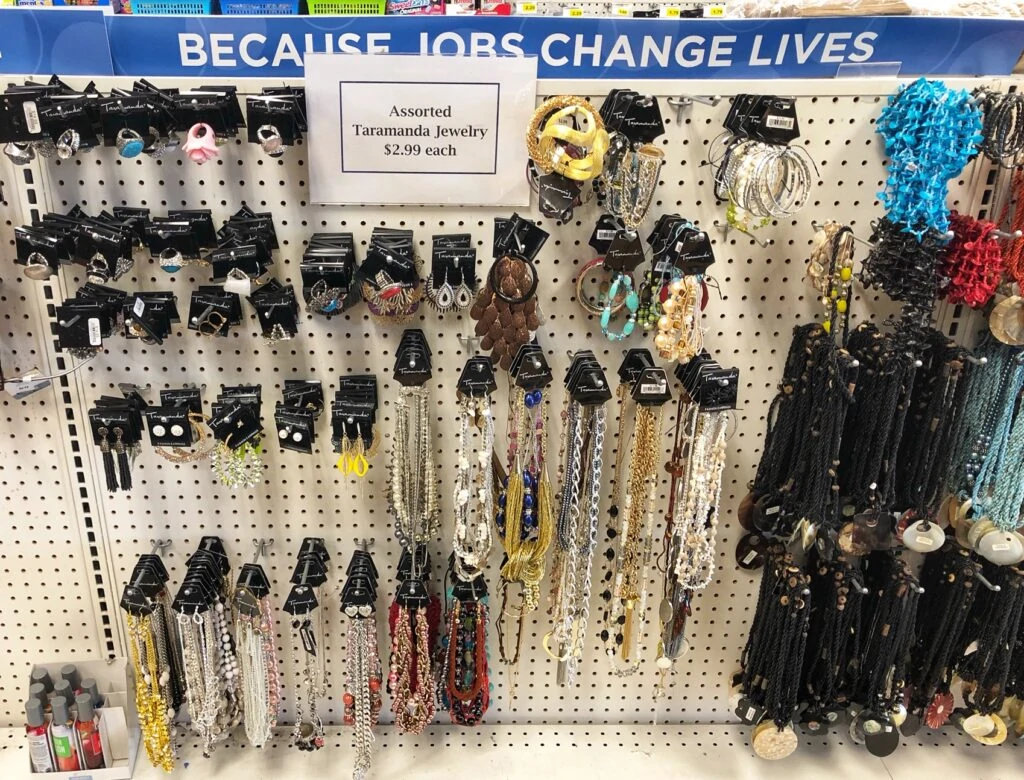 Don't Forget the Accessories!
We found an entire wall of accessories, all brand new, for just $2.99 each! There were necklaces, earrings and more. Goodwill can be a great spot to look for accessories like belts and designer bags at discounts too. We also found some great deals on brand new packs of socks throughout the store (many of these were displayed on end caps.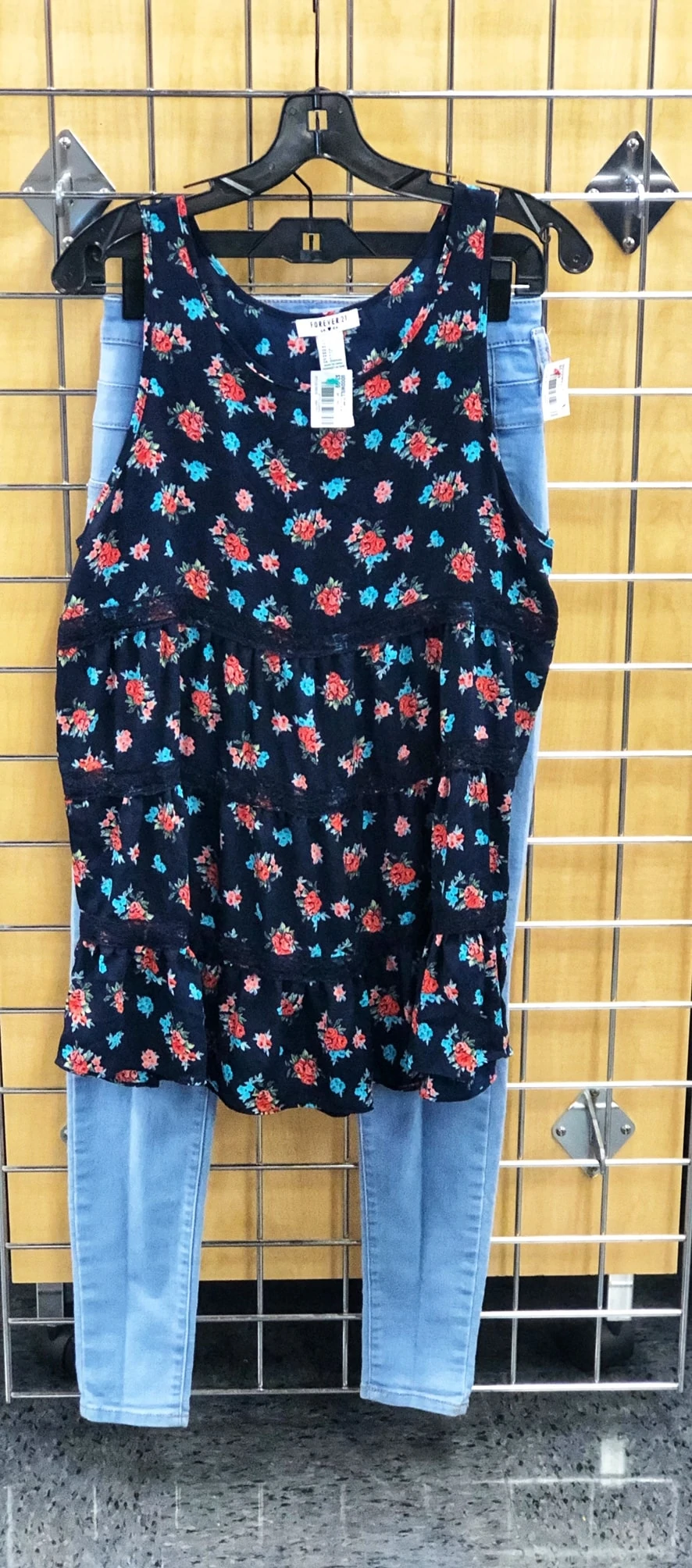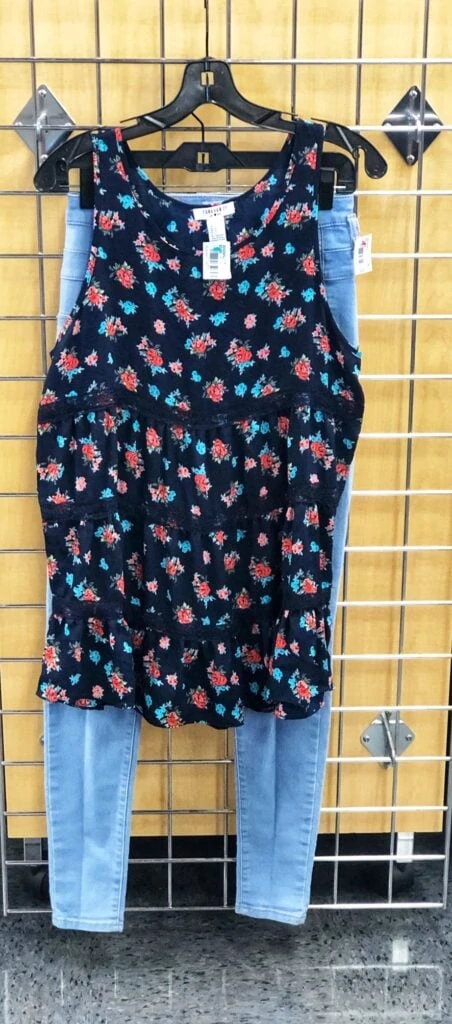 More looks we loved, at a fraction of what they would cost you in a retail store!
This is another Forever 21 outfit we found yesterday. Its a loose tank, with highwaisted skinny jeans (another style I saw alot of in the malls). I loved this one as it is so versatile. The highwaisted jeans where $5.99 and the Forever 21 tank was $3.99. That makes the full outfit under $10 before tax!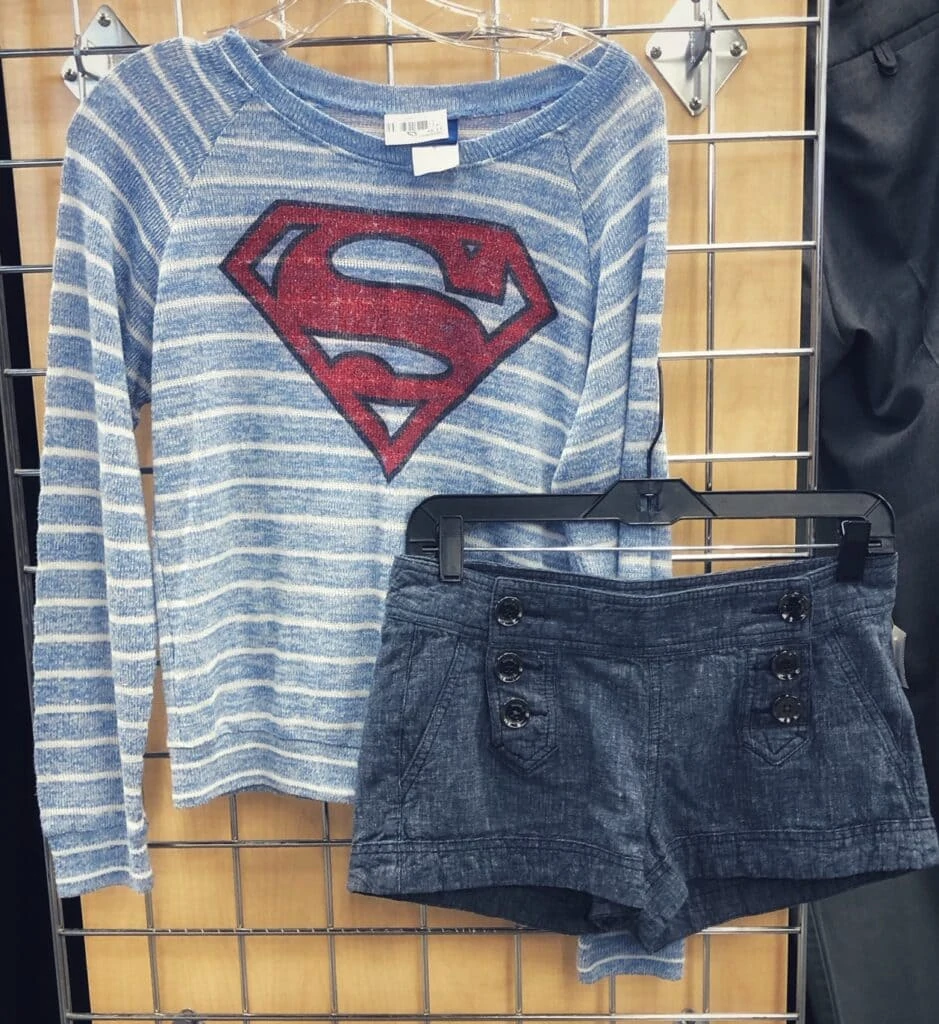 If you like the retro tees, or graphic tees, one tip is to shop in the boys or mens section for those (for both boys and girls). You might find more options by expanding your search area.
Many of the Goodwills have a Jrs. section this time of the year. That makes it much easier to do the shopping for those tweens and teens too. We found most of the outfits we show here in the Jrs. area of the Goodwill we were shopping at, so it really did not require a ton of hunting. It was all right there for the picking.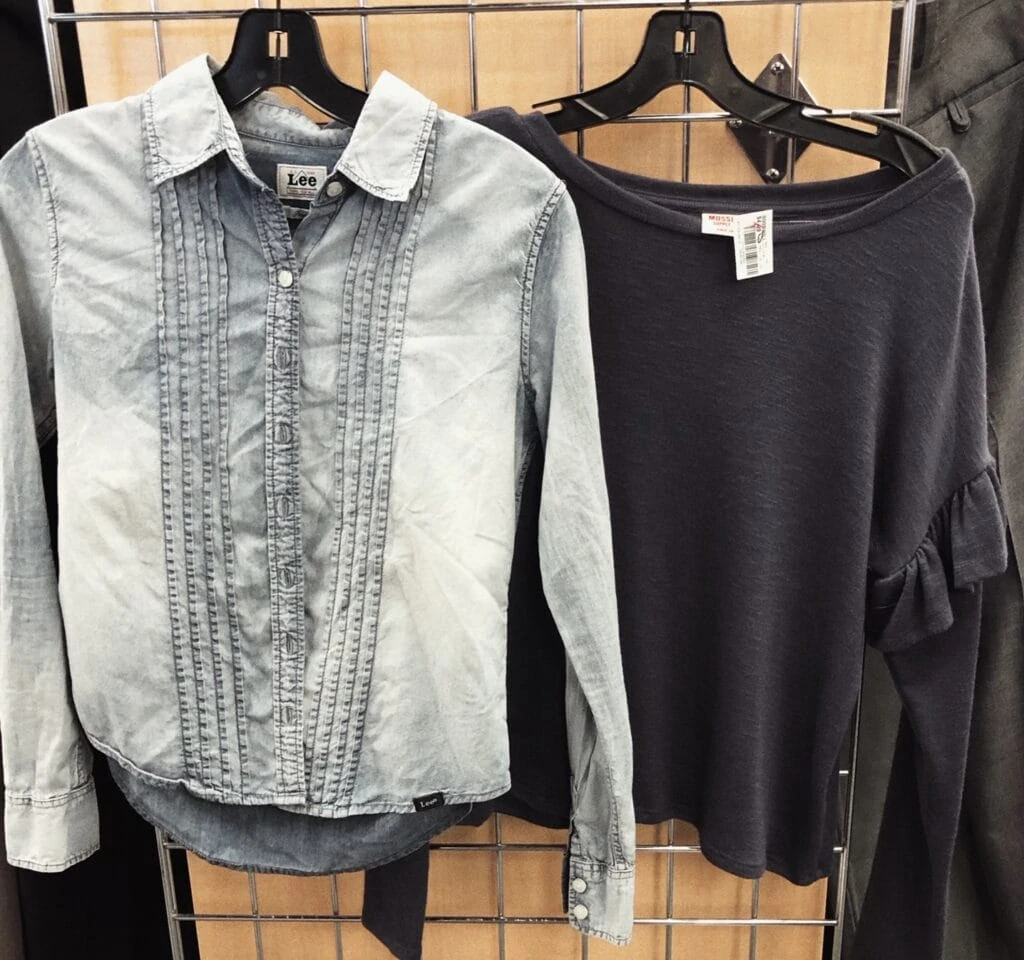 Greys are big this year, and we found them in all kinds of styles!
These are all some examples of some ideas for outfits we saw at Goodwill, to inspire you to stop by and see what cute outfits you can find at bargain prices. Let us know what steals and deals you find on your trip to Goodwill! And be sure to grab your $5 off $15 coupon here, and shop before August 3rd, to save even more!
Also, be sure to check out 8 Tips for Shopping Goodwill's Online Auction Site for Treasures, for more ways to save shopping at Goodwill.
Check out the Goodwill Back to School Pinterest board here for more Back to School looks and ideas!