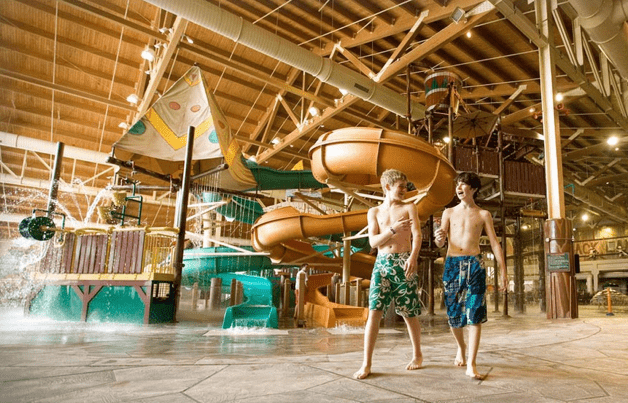 Great Wolf Lodge is having a Spring Sale right now on their website.  They are offering up to 40% off when you book a date this spring through June 26, 2014, using the promo code: SPRINGFUN at checkout. You will need to book by Monday April 21st to get these lower rates and the best dates do go quickly, so hurry on over to the Great Wolf Lodge website to check it out soon!
Rates start as low as $139.99 a night (mid-week in June is where I saw these rates) and I even saw some under $200 for Friday night as well. So these are definitely some great prices for Great Wolf Lodge rates, as it also includes admission to the waterpark for 4 people for almost 2 days.
(** Update – I just checked out their reservation system and it told me that the Discount is not available on 4/17-4/20, 4/24-4/27, 5/3-5/4, 5/10, 5/16-5/17, 5/24-5/25, 5/30, or 6/14.  Sounds like dates may be selling out quickly, so book soon if interested).
Make sure to also check out the other discounts available right now with Great Wolf Lodge:
Early Bird Savings – Save up to 20% off when you book 2 or  more nights for the summer (dates: May 26 – Aug 29th); Must book by 4/25
Stay 3, Save Big – Save up to 25% off when you stay 3 or more nights (dates: 5/26 – 8/29 – must book by 4/25)
Make sure to check out our tips for ways to save while you're at Great Wolf Lodge, too.  For more ways to save, make sure to check out additional ways to save at Great Wolf Lodge using the military discount, signing up for E-mail alerts on discounts and more.
Thanks Sounds Fun Mom!