Seahawks Game Day Party Appetizer Ideas (Quick, Easy & Affordable)!
This post may contain affiliate links and I may be compensated for this post. Please read our disclosure policy here.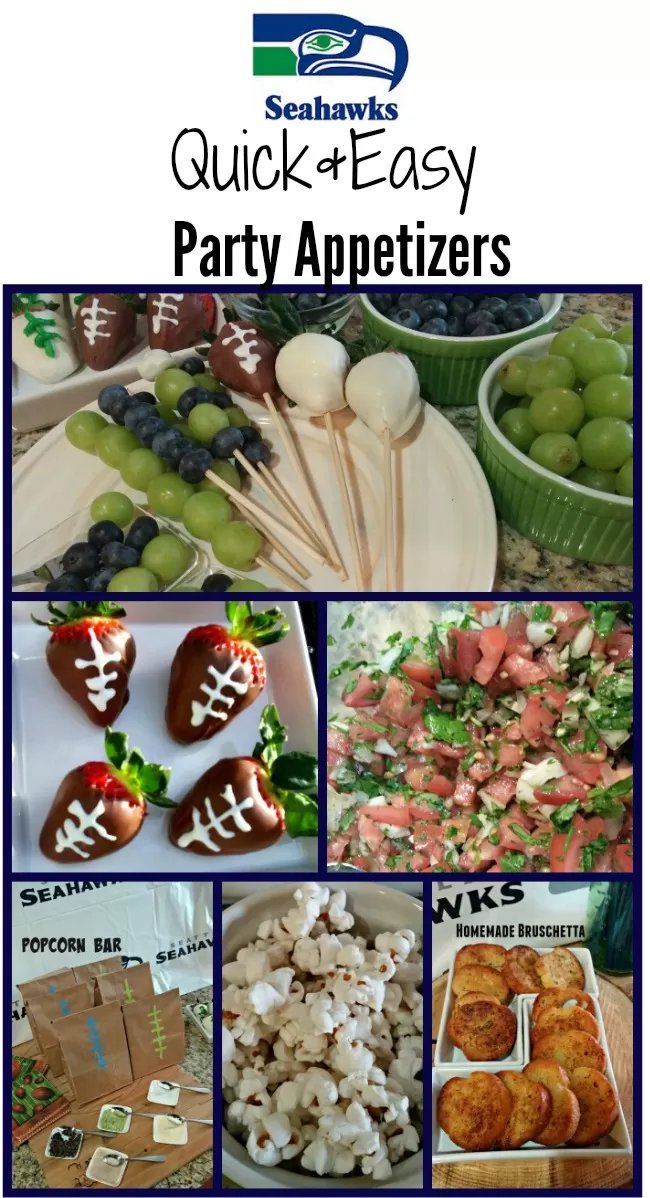 We love to entertain at my house for the Seahawks games. Many of the appetizer dishes can be on the heavier side (and longer prep times). While we love those dishes, I wanted to come up with some fun and easy (aka last minute) ideas that are geared more towards the ladies and kids at the party (unintended result is that the guys loved this stuff too)!
And don't forget to grab these FREE Seahawks Party Printables to use to decorate your party.
We also have a Seahawks deals page here too.
Here are a couple of things we plan to add to this weeks Seahawks game day spread: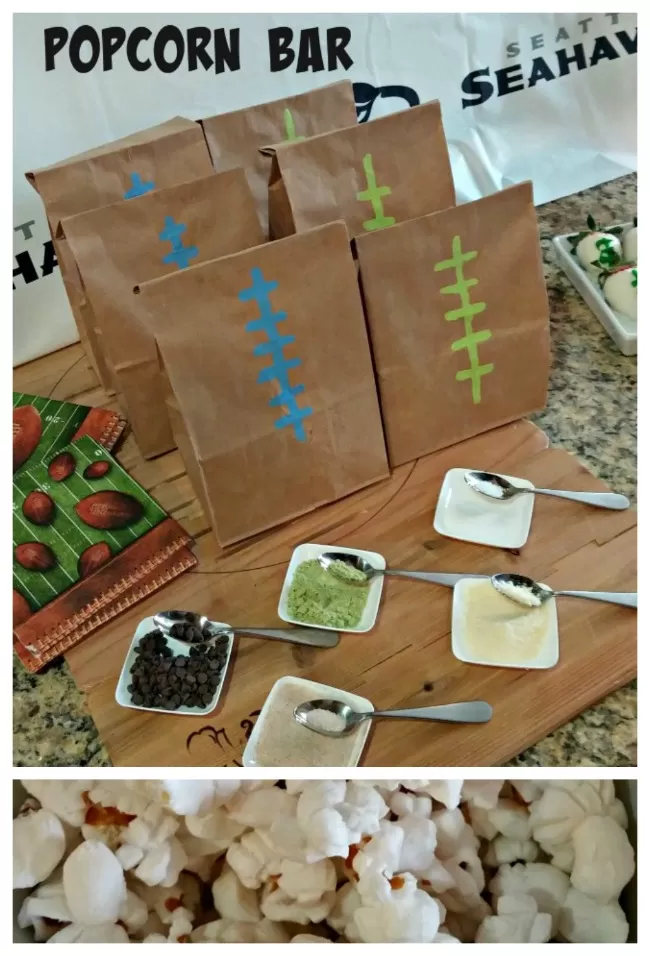 (Makes a great after school snack during football season, I have it ready for my kids to come home to this afternoon.)
Best part about a Football Popcorn Bar is that its easy, and popcorn is very affordable (use whatever you have in your cupboards for the toppings). I say that I make it for the kids, but trust me the adults love the popcorn bar too!
I made the football bags with brown paper bags ($1 a pack at the Dollar Store) and craft paint I had on hand. You could use a paint pen if that easier, and you can use white for the laces (but we loved the Seahawk colors)!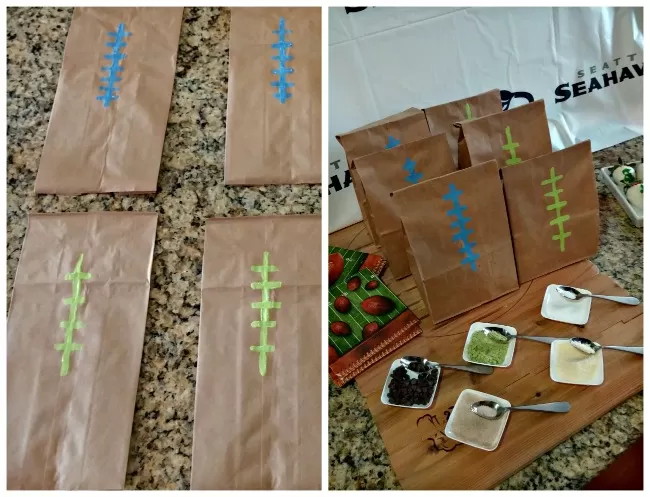 Simply lay them out on a table, and start 1/3 the way down from the top of the bag to paint your laces (you will fold the tops over, so leave room for that). It would even be a fun project to let the kids do ahead of time.
I like to fill the bags with plain air popped popcorn (microwave popcorn will work too). Then when its time for folks to arrive I will melt a cube of butter and pour it into a squeeze bottle (you can also get those at the Dollar Store often, generally used for ketchup or mustard).
Next put out some sweet and savory toppings and invite your guests to squirt a little butter in their bag, add their favorite toppings, close and shake. Thats it for this simple popcorn bar.
For toppings we used:
Mini chocolate chips
Cinnamon Sugar
Salt
Ranch Dressing (dry seasoning)
Parmesan Cheese
I will often go through my cupboards to see what I have on hand (or google popcorn topping ideas for more inspiration).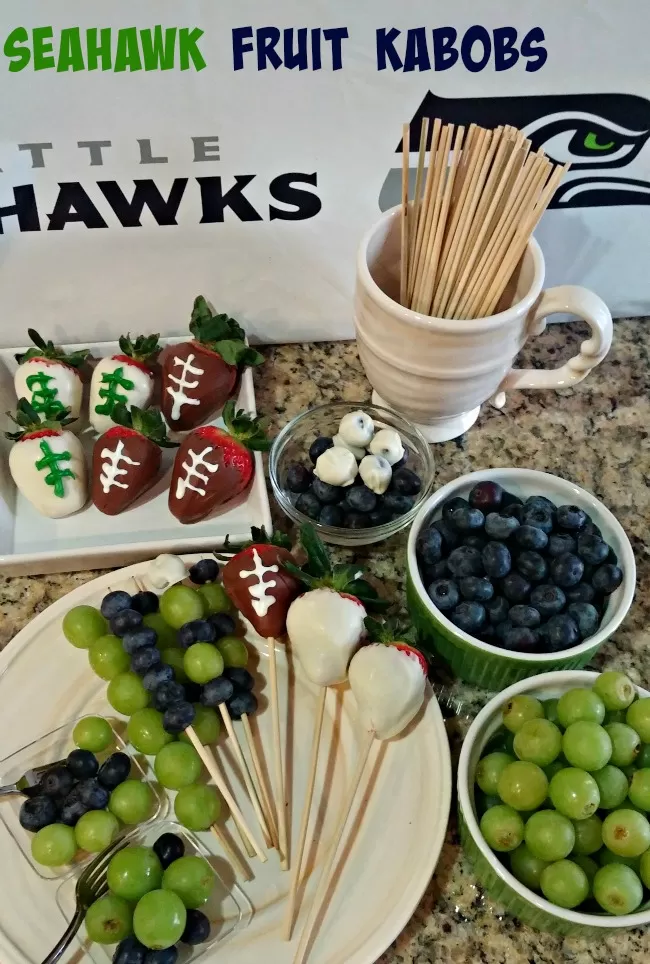 Seahawks Fruit Kabobs & Chocolate Dipped Football Strawberrys
I wanted to do a fruit bar for the ladies, but again, this is always a crowd pleaser with everyone.
The Seahawk Fruit Kabobs are super simple. Just find blue and green fruit, and display with small wooden skewers. You could also use toothpicks to make mini fruit kabobs.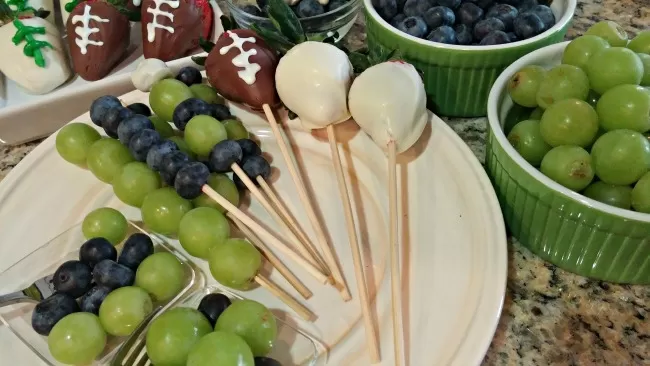 I kept it simple, and stuck with two fruits: green grapes and blueberries. Some other ideas you could use include:
Diced Kiwi
Green apples (unpeeled and diced)
Star fruits
Green pears (unpeeled and diced)
Purple grapes, and blackberries often have enough of a blue tint that they could work with these too
My preferred way of serving the fruit kabobs is to let folks make their own. Or, you can premake them and set them out for folks to just grab. If you do not have the kabob sticks you can use small condiment size dishes and either mini forks or toothpicks to keep it fun. I also like to dip a few in white chocolate to really make the kabobs special.
As for the Chocolate Dipped Football Strawberries, these are more affordable then they look. I got a large container of Strawberries at Safeway today for $5 ($5 Friday Sale)! I then used half a bag of white chocolate chips and half a cup of milk chocolate chips (you can use dark if you do not like the added sweetness).
Lay out a piece of parchment paper, and wash and dry your strawberries.
Next melt your chocolate chips in the microwave. I like to melt mine in 30 second intervals and stir it to not over cook the chocolate. It took me 90 seconds to get it nice and smooth. I also like to work with approximately 1/2 cup of chocolate chips at a time so it does not start to harden up on me before I am done dipping the strawberry (so melt only 1/2 cup of chocolate chips at a time. I get around 5 strawberries out of that).
Once you have dipped the strawberry into the melted chocolate, lay on parchment paper to dry.
After the chocolate is thoroughly hardened (you can put them in the fridge to speed this process up) you can use a thin icing tube to add the football laces to your strawberries. We did white laces for the chocolate strawberries and green for the white chocolate strawberries.
You can make these a day or two ahead of time and store them covered in your fridge until game day to make it easier.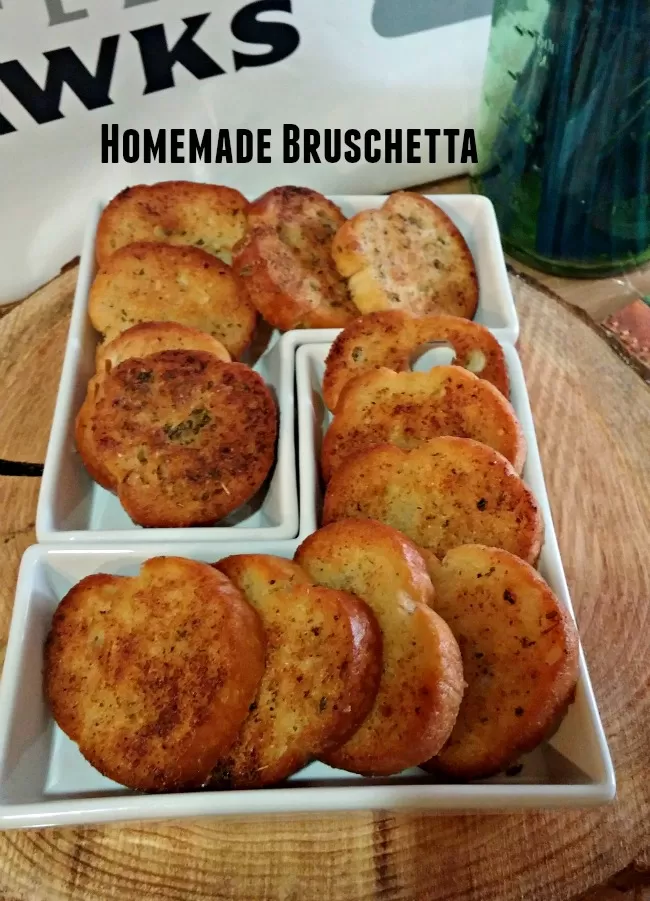 Homemade Bruschetta
This is another favorite of mine, as folks seem to like them more then crackers and they are really easy to make.  Plus, you can get alot of mileage out of them.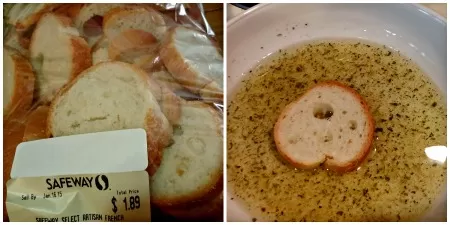 I bought the sliced bread for $1.89 for the bag (you could slice your own if you have a loaf of bread on hand).
Next, add 1 cup of olive oil to a shallow dish and a tablespoon (or to taste) of your favorite Garlic or Italian Herb spread. We love Johnnys Great Cesar Garlic Spread and Seasoning, Mediterranean Seasoning (I get it at Costco).  Stir well.
Then, simply dip one side of the bread slices into the oil and seasoning mix and put the oil side up on a baking sheet.
Broil on high for approximately 2-5 minutes depending on your broiler (watch them and remove when golden brown).
You can serve with slices of cheese and salami, or your favorite spread, but my favorite is to make one of the following game day dips and serve the homemade bruschetta with those. You can make the dips ahead of time, then quickly cook up the brushetta on game day to keep it simple.
Some of our favorite Game Day Dips to serve with include: 
Homemade Guacamole (this one I like to wait until the day of the game to make so it looks fresh, and it just takes a few minutes)
Cowboy Caviar (I took this to the Superbowl party last year and it was a big hit (serve with blue corn chips for fun)!
Homemade Pico de Gallo (this one is a perfect pairing of flavors for the bruchetta)
Plus we have lots of other great posts on Seahawks Appetizer Ideas that you can check out here: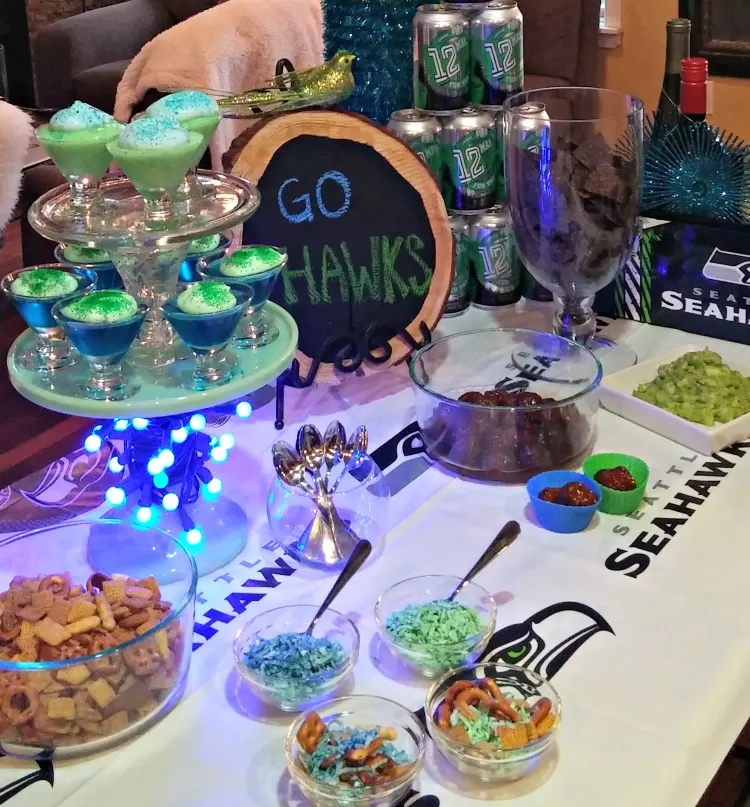 Throw a Seahawks Party with 12th Man snacks for 12, for around $25 by shopping at Grocery Outlet (we have party mix, meatball appetizers, homemade guac and chips, and desserts!).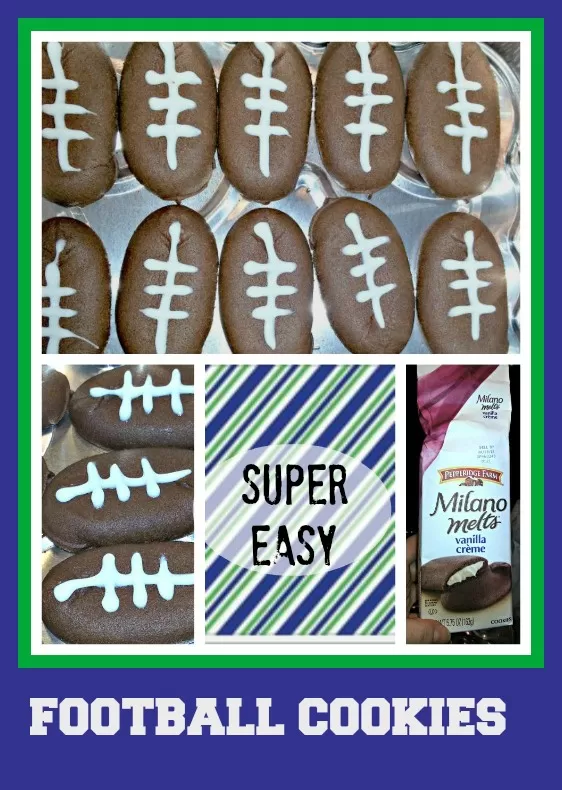 Make these cute football cookies, with store bought cookies!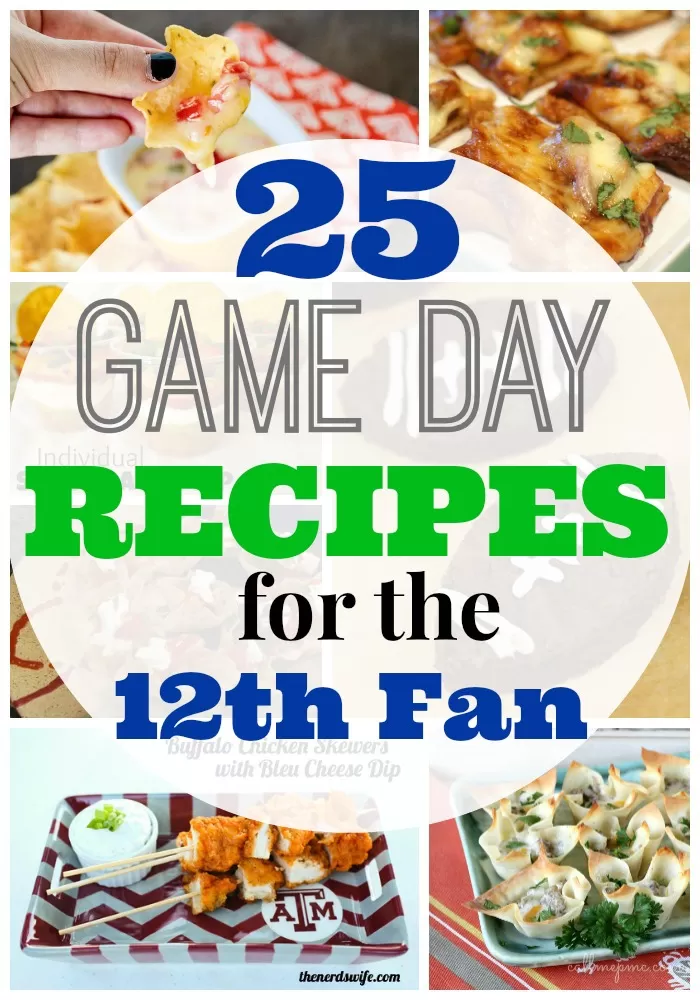 25 Game Day Recipes for the 12th Fan – roundup of main dishes, appetizers, desserts & more!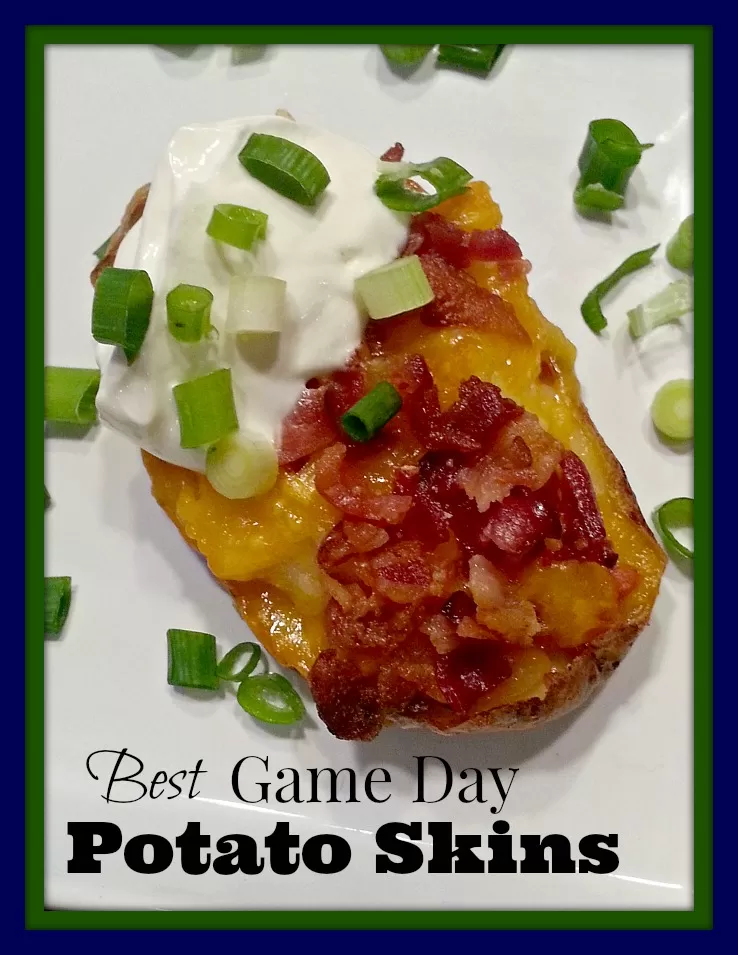 Easy Potato Skins Recipe (another party favorite)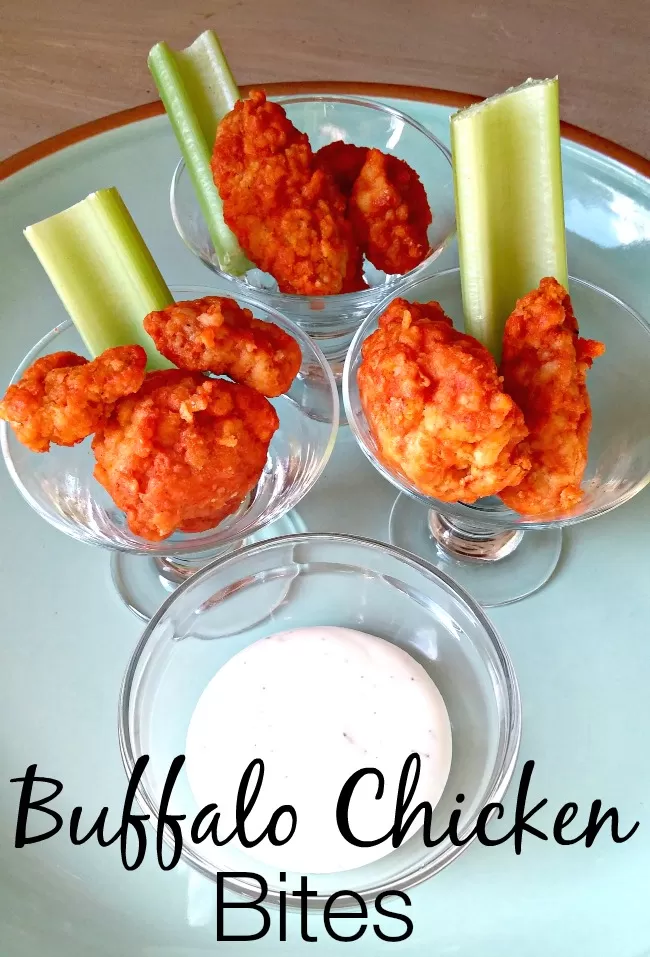 Buffalo Chicken Bites (make with popcorn chicken, so super easy for last minute parties)