Kids Gig Playground in Gig Harbor – A Hidden Gem Kids Will Love
This post may contain affiliate links and I may be compensated for this post. Please read our disclosure policy here.

Kids Gig Playground – Gig Harbor, WA
Today we're sharing another park review with you – this location is over in Gig Harbor and sure to be a hit with the kids with its castle-like play structure. And it's not as busy as many parks as it's a bit of a hidden gem tucked away.  It's called Kids Gig playground in Gig Harbor and it's located behind Discovery Elementary in Gig Harbor. The shade from the large trees will make it an ideal place to head on these hot days in the summertime.
And don't forget to check out our big list of 10 Unique Parks in Washington, including a few other castle-like playgrounds your kids will love, too.
The Pacific Northwest is filled with many opportunities to get your kids out and active on a budget. At the top of that list are the many parks we have throughout the Northwest. These include National Parks, State Parks, Neighborhood Parks, Water Parks, Lakes, Skate Parks and more! Lets face it though, not all parks are created equal. Not every family is looking for the same thing in a park outing, and different parks appeal to different ages. Some are all day outings, and some are perfect for a short outing.
We are sharing with you a series of park reviews, so you will have some more detailed info when planning a day of frugal park fun for your family. We would also love to hear your thoughts and opinions on these parks.
Please comment below with your review, additional tips, or anything else you want to add. If you have requests for additional parks that you would like to see reviews on please email us at [email protected] We are always looking for new ideas! We'd love to feature your park review too & if we use your park review, we'll send you a $10 Amazon Gift Card by email.
We also post a weekly Frugal Family Fun roundup, of each week's best and most affordable entertainment and event options for families. Be sure to check that out for more ideas on what to do on a budget!
Thanks to reader Kate for this great review!
Highlights: (Favorite aspects of the park)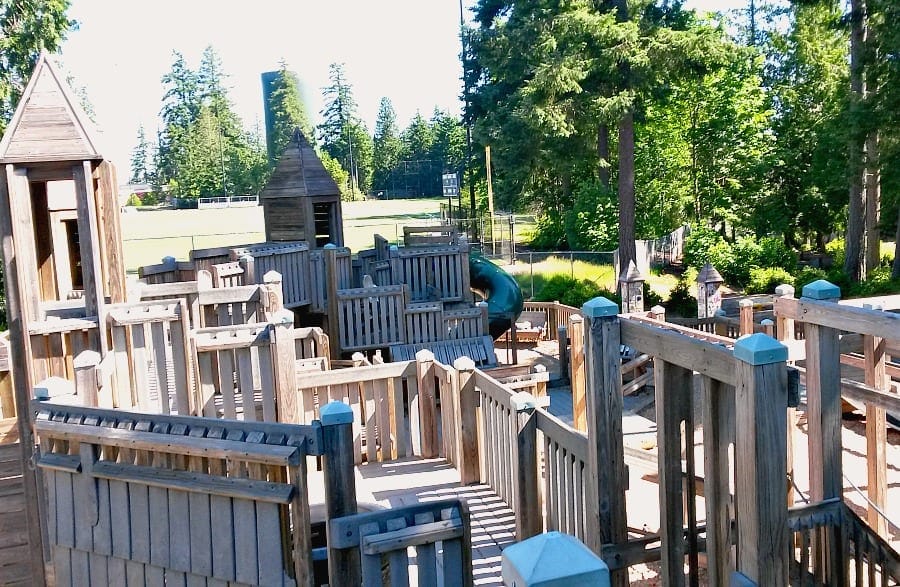 This is one unique playscape! Large wooden play structure with lots to do – slides, ropes, climbing wall, bridges, tire swing, monkey bars, and more!
Things To Know: (fees, parking availability, are there bathroom facilities, what to bring)
The park is free and open to the public when school is not in session. There are only porta-potties available, not flush toilets.
Recommended for ages:
The sign says it's recommended for 5-12 year olds, but my 3 year old had a ton of fun!
Location:
It is located at 4905 Rosedale St NW in Gig Harbor, Washington. This park is behind Discovery Elementary. You can only go visit this park when school is not in session, but perfect for summertime. You will want to park towards the back of the school and follow the paved path up a slight hill to find the Kids Gig playground.
Review: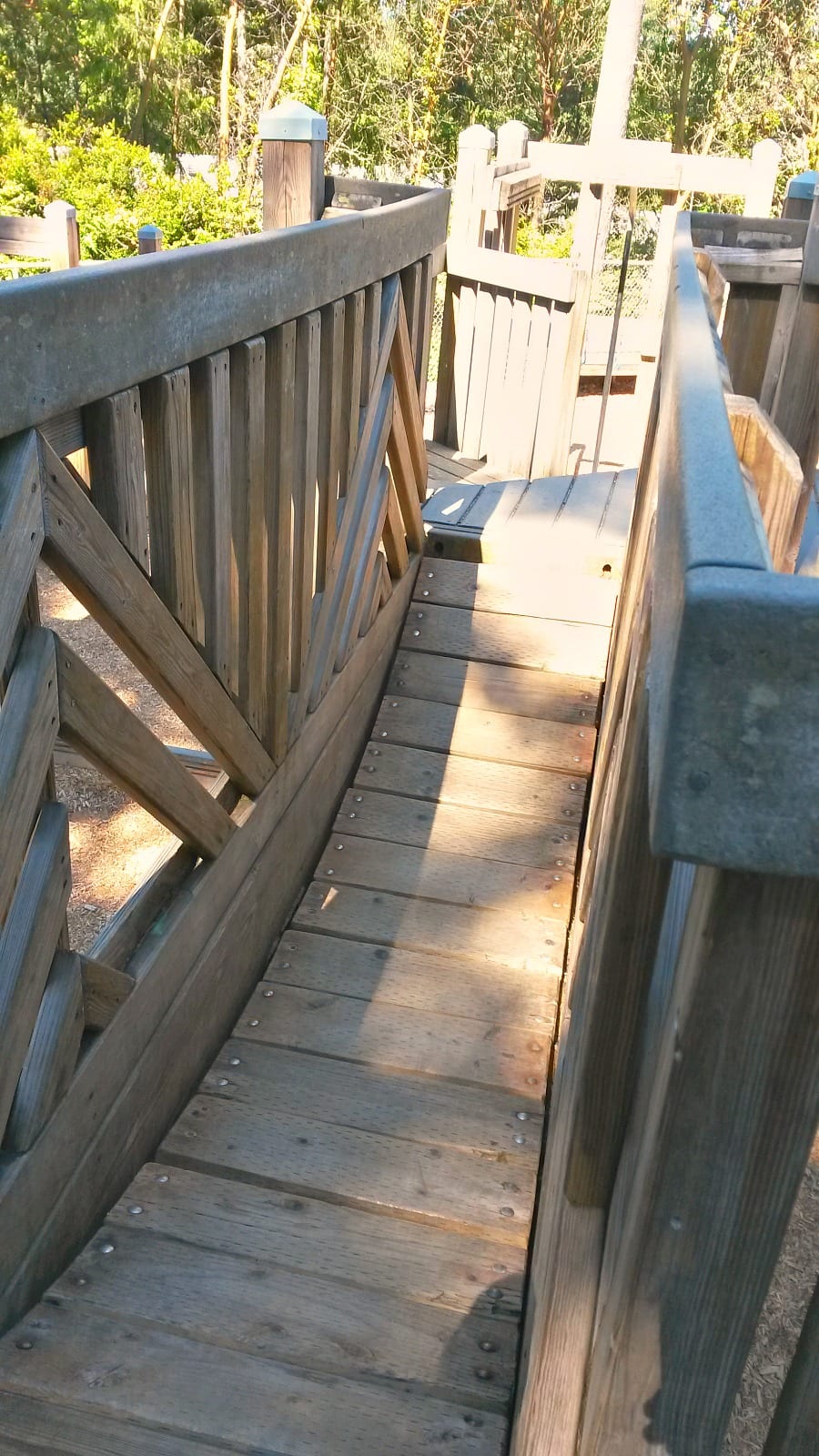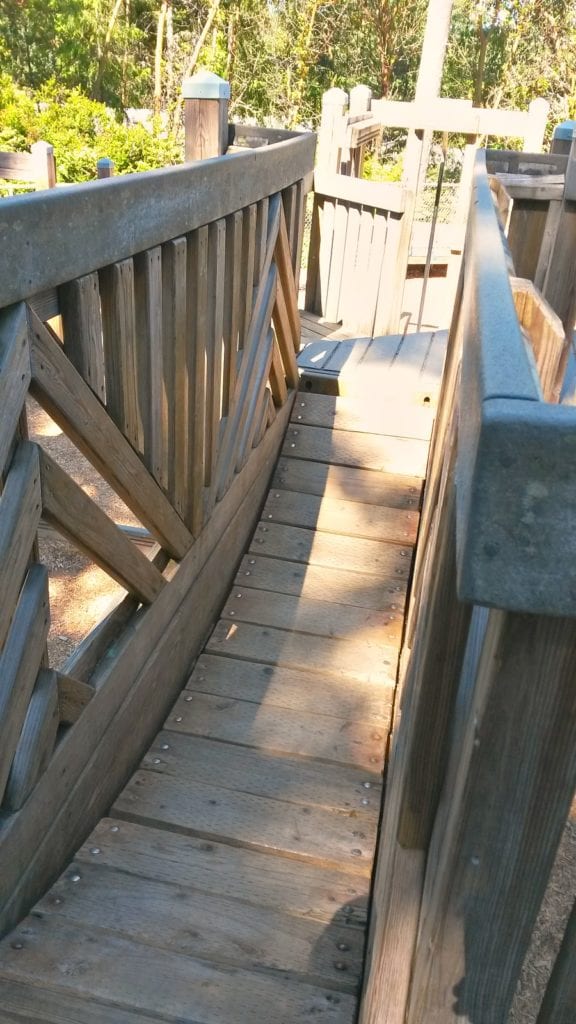 We love this hidden gem in Gig Harbor. Often not busy, there's so much space that it would be fun even if totally overrun with kiddos. It's a great playground for all types – we especially have fun climbing and playing hide-and-seek. The castle-like structure offers itself to lots of pretend play. And I really appreciate all the surrounding trees that offer shade, especially in the summertime.
Here are a few of the highlights:
Dinosaur Park – Central WA
Edmonds Beach – Edmonds, WA
Titlow Beach – Tacoma, WA
Lake Goodwin – Stanwood, WA
Lake Meridian – Kent, WA
Les Gove Park & Spray Park – Auburn, WA
Tumwater Falls – Olympia, WA
Wilson Pool – Portland, OR