Lake Goodwin – Perfect Lake For Young Children (& Big Kids Too)!

Lake Goodwin
The Pacific Northwest is filled with many opportunities to get your kids out and active on a budget. At the top of that list are the many parks we have throughout the Northwest. These include National Parks, State Parks, Neighborhood Parks, Water Parks, Lakes, Skate Parks and more! Lets face it though, not all parks are created equal. Not every family is looking for the same thing in a park outing, and different parks appeal to different ages. Some are all day outings, and some are perfect for a short outing.
We will be providing you a series of park reviews, so you will have some more detailed info when planning a day of frugal park fun for your family. We would also love to hear your thoughts and opinions on these parks. Please comment below with your review, additional tips, or anything else you want to add. If you have requests for additional parks that you would like to see reviews on please email us at [email protected] We are always looking for new ideas!
We also post a weekly Frugal Family Fun roundup, of each weeks best and most affordable entertainment and event options for families. Be sure to check that out for more ideas on what to do on a budget!
Highlights:
You can walk all the way out to the dock at this lake (waist deep water). For most of the walk you are at knee level, so great for young kids. Bathrooms are newer, so still fairly clean.
Things To Know:
Parking lot is small and it can get crowded by mid-day. Its a little bit of a drive, unless you live in the Stanwood area.
Recommended for ages:
Great for all ages, but particularly for young kids (my favorite lake for young kids)!
Recommended Places To Eat:
Check out reader recommendations on the Thrifty NW Mom Facebook Page!
Location:
Stanwood, Wa (North)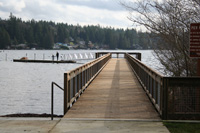 Review:
If you have young kids, you may want to consider a day trip to Lake Goodwin (out North past Marysville – think Smokey Point Exit).  I use to visit this lake as a kid, but in recent years they have opened a second public access area that is perfect for those of you with young kids.
My family loves the lake, but with little ones it can be a little bit of a stresser on me (mom) trying to make sure I have a constant watch on my kids.  This lake atmosphere did not take away the need to watch my kids, but did make it really convenient.  It seems like this area was developed with families in mind (kids old enough to hang out on their own can hit the beach on the other side of the lake, for lots of big kid fun.  There are spots for teens to swim at this lake out past the doc – my 13 year old had a blast, but we had a boat with us too).

The main reason this lake is so convenient for little ones is that you can walk out for a very long distance before the water gets deep.  Kids can walk almost all the way out to the dock before the water gets too deep (see picture above for an idea of the distance). Even at the dock an adult can easily stand up to watch kids while they swim.  On the other side of the dock the older kids can swim and have fun.
The beach is set up so its easy to watch your kids from multiple areas. There are no lifeguards on duty at this beach. My kids are too little to take any comfort in life guards, so this was not a problem for me. If its something that is important to you then this would be a con.
There is a walking ramp to the doc for those that do not want to get in the water, but need to get out to the kids.  There is also plenty of sand to build sand forts, etc. so bring those sand toys.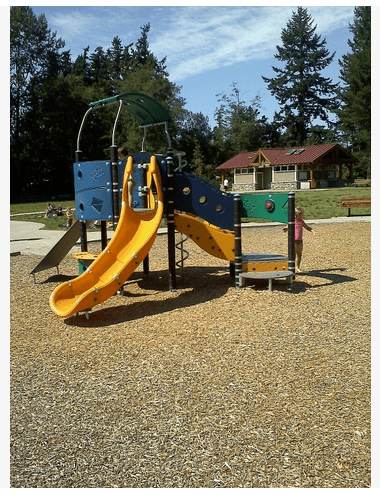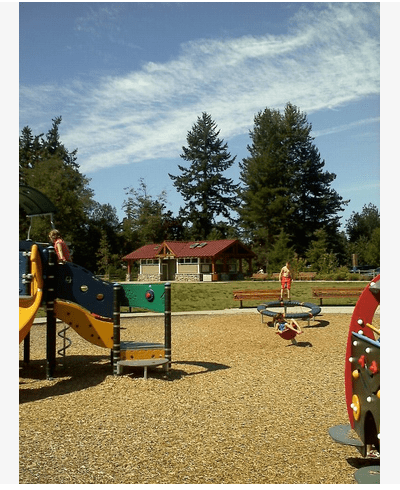 Right up from the lake there is a new play ground for the kids.  It has some neat play structures, and is just as easy to watch your kids at .   The picture above is only a partial view, there are a couple more play structures in the same space (including those fun rope webs the kids like to climb in).  The play area is directly in back of the sand area you see in the picture at the top of the page. My little ones went back and forth between the water, the sand and the play area all day. I followed them in the water, but otherwise was able to sit and relax with family members and easily watch the kids.
The area is fairly new, and the bathroom facilities are still nice (its the beige building in photo above).  Right behind the bathroom is the parking lot for the park.  We were there last weekend, and there was an ice cream truck that shows up if you want to purchase some treats.  They also have beverages for sale and other snacks.
We drove from Kent, so it was over an hour to get there and then back too.  We spent the entire day there, and we found it worth the drive. We were with family and friends and I felt relaxed at the end of the day, rather then worn out from chasing the kids everywhere (maybe that's because we had grandmas and aunts and uncles to help with the watch process too ;-).  You could turn it into an overnight trip if you wanted to camp. They have a camping facility at the other Lake Goodwin beach I referred to above (be sure to check out our 5 Tips To Save While Camping article). You could then get this park by boat or a short drive.
You can find more details on the Lake Goodwin Community Park here (directions, rental info, etc).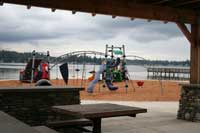 Additional Tips: (are there BBQ pits onsite, rental facilities, etc.)
There were BBQs set up throughout the park.  I recommend getting there earlier in the day to get one though. The park was fairly quiet until around 1-3pm. Then it really started to fill up (we were there on a Sunday).
There is also a shelter available for rental. If you have a boat there was plenty of inner-tubing going on, only you will need to launch at the park across the lake. You can dock right out in front of this area though.
Parking was easy if you get there early, but the lot did fill up during the afternoon.
More Park Articles You Might Be Interested In: