Top 5 Tips for Saving Money on your Next Camping Trip
This post may contain affiliate links and I may be compensated for this post. Please read our disclosure policy here.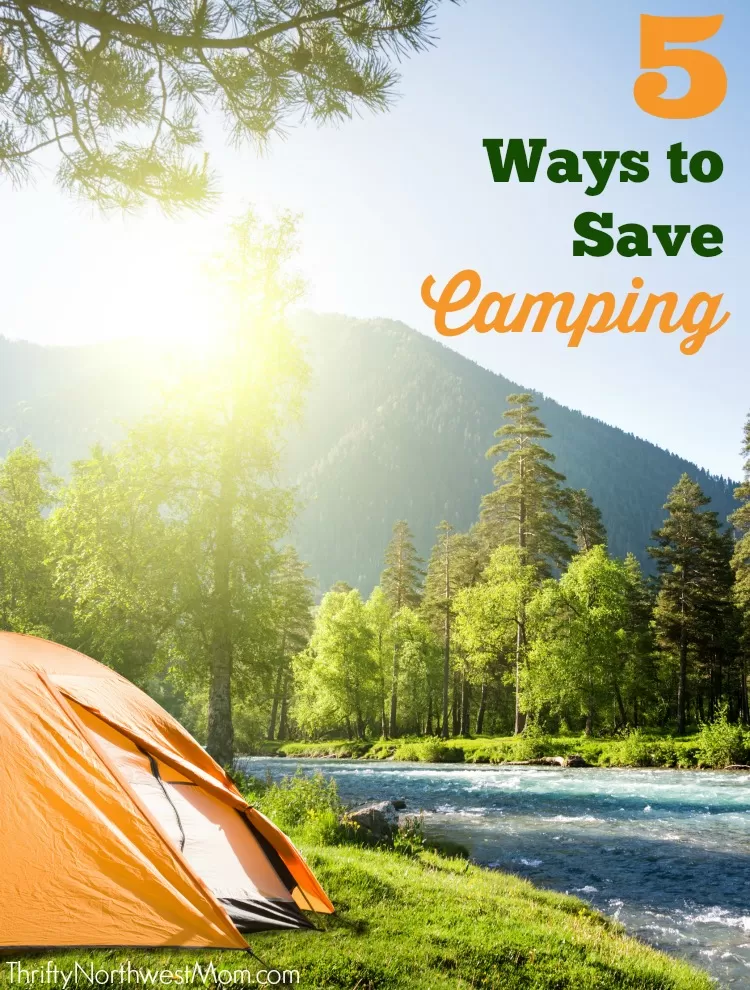 Camping is an inexpensive way to enjoy a family vacation. Especially out in the beautiful Pacific Northwest, there are so many gorgeous campground spots, whether it be on a lake, alongside a creek, camping near the ocean or up in the mountains.  But, there are possible unexpected costs can quickly hijack your thrifty alfresco adventure if you aren't prepared. We have compiled some ideas and tips to avoid the extra expenses that might come with camping, so you can keep it to a frugal and fun adventure for the family.
Check out more ways to save on camping with these frugal campground sites in the Northwest::
Free Camping – Washington & Oregon Sites where you can camp for FREE
Low Cost Campgrounds in Washington & Oregon – Sites with prices $20 or less
Top 5 Tips for Saving Money on your next Camping Trip:
Bring firewood to your campsite from another local source.
It's not cool to bring firewood from home: transporting wood threatens fragile ecosystems and introduces non-native species.  In general, you shouldn't move firewood more than 50 miles. However, buying firewood from a campground host is sometimes super expensive ($7 for a small bundle at my last campground). Instead, locate a small grocery store or hardware store that's near your campground selling firewood. You will likely save about half! Even better and free: you may also be able to collect dry wood from fallen trees and burn that wood…as long as it is allowed where you camp.  This works best when you are at a remote campsite, rather than in busy park.
Don't bring bottled water.
Typically, the water available at campground is fabulous well water, though some don't like the taste and so they bring water instead.  It is a good idea to always have some water in case the water at the campground is not usable, though. I used to fill up the cooler with bottled water before each trip. Now, I save by filling water jugs with filtered water from my tap at home. This also helps the environment and no one complains about the way the water tastes. You can also freeze the water (just remove the lid and allow room, cap it once it's frozen) and so you can buy less ice for your cooler, and drink the cold water it as it thaws.
Plan ahead and team up to reduce your food costs.
You will already be saving money by cooking your own meals, rather than eating out, on a camping vacation. If you are camping with others, you can go one step further and save by sharing meals and dividing up cooking duties.   It is less expensive (plus a whole lot less work) to make a plan for group meals if you are camping with friends or family. When our family camps every year with my husband's hometown friends, we assign the responsibility for meals to different couples who make a breakfast or dinner for the whole crowd and everyone eats lunch on their own.  By cooking for a crowd, you can be more economical with your meal choices.  You can also bring fewer groceries and ingredients that could go to waste or cost money to keep cold.  Remember to be prepared with food storage containers and bags for left-overs.
Use items that are easy to launder and dress in layers.
Our first year camping together, my husband and I noticed our super comfy but large sleeping bags were too bulky for our washing machine. I should have taken them to a Laundromat and washed them in a commercial-size machine, but I took them to the dry cleaners instead. My dry cleaning bill totaled more than the sleeping bags had cost! Now, I'm extra careful to keep things super tidy (tents should be swept out!)   I also recommend buying sleeping bags (or RV bedding) that are lightweight if possible, adding extra blankets when needed.  I try to use only what I can wash at home, which I prefer.   Also, consider making simple sleep sacks from sheets that can be used as sleeping bag liners.  I'm a happy person (and I save a lot) when I don't have to wash everything after every trip!
Choose a campground offering free programs.
Many campgrounds offer free or very inexpensive entertainment, educational programs or tours.   On a visit to Fort Stevens State Park last year, we took our daughter to a great nature program about native birds of prey.  During the hour-long program, an expert handler showed seven owls to the children and discussed their ecosystem, mating habits, and so forth.  It was educational and very fun for the kids – especially when they got to view the birds up close.  It was like a mini-zoo trip!  Seeking out parks that offer programs is a great way to obtain extra value for your camping fee, and keep the whole family happy and entertained (and they just may learn something, too).  Usually the larger parks offer programs and peak travel times (weekends, mid-summer) are your best bet.
Places around the Pacific Northwest where you'll find programs, tours or entertainment on a regular basis:
Here are some campground reviews if you need ideas of where to go camping in the Northwest::
Fort Flagler State Park Campground (WA)
Winthrop WA KOA Campground (WA)
Silverwood Campground (Idaho)
Farragut State Park Campground (Idaho)
What are your favorite ways to save money while camping?