Whistler BC – Best Places to Stay for Families & Ways to Save on Lodging
This post may contain affiliate links and I may be compensated for this post. Please read our disclosure policy here.

Whistler – Best Places to Stay for Families & Ways to Save
Whistler, British Columbia is not just a winter paradise for skiers, snowboarders and other winter sports enthusiasts. It's also an amazing location to take your family any season. Whistler is only an hour and a half away from Vancouver, BC and about 3 1/2 – 4 hours from Seattle, WA. Even though it is not too far from the city, it is this breathtaking alpine village nestled in among the Coast mountains which feels like you are hours from the city. There is quite a large variety of lodging options as well in the village of Whistler & right outside the village, compared to the lack of lodging options in many of the mountain areas of the Northwest. We love to be staying somewhere right in the midst of the beautiful mountains & loved that there were so many options with gorgeous views, serene settings & amenities the whole family would enjoy.
We are continuing our Whistler series by sharing about the best places to stay with your family in Whistler during the spring, summer & fall. Whistler is also very affordable during the off-season for lodging, but we will share even more ways to save on lodging costs for your visit to Whistler with your family.
Make sure to check out more posts about visiting Whistler with your family::
Tips for Visiting Whistler during the Spring, Summer or Fall with your Family
5 Family Friendly Restaurants in Whistler + Ways to Save more on food
Where to Stay:
The main question when you visit Whistler & decide where to stay is to decide on what you are looking for – do you want to be within walking distance to the shops, restaurants, playgrounds, and the mountains with skiing or hiking options? Or do you prefer a bit more seclusion and quiet with a little more distance from the busyness of the village?
When we went to visit Whistler in May, we stayed in Creekside Village, which is about 5 minutes away from the main Whistler village (7 km south), so you would need to have either a car or take public transportation to get to the main village and then find parking. (Or if you're a family with older kids, you could ride your bikes back & forth). I wondered at first if we would prefer to be staying right in the village, but after staying in Creekside & experiencing both villages, I think Creekside was the perfect place for our family & when we go back to Whistler, we'd love to stay in Creekside again.
I'll share what I think are the benefits & things to keep in mind to staying in either location so you can decide which is the best fit for your family.
Whistler Village: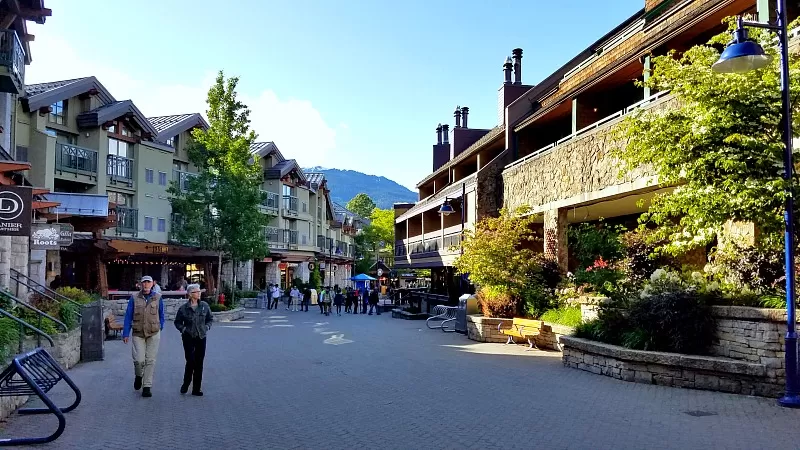 Whistler Village is divided into several areas: the Village, Village North and the Upper Village.  All of these areas are connected by a paved walkway called the Village Stroll, which is for pedestrians only (no vehicles). This is where you'll find the majority of restaurants for the Whistler area, as well as all of the shops and a big playground for the kids in the Olympic Plaza area. If you want to be able to easily walk to the shops, restaurants, gondolas for Whistler or Blackcomb mountains, while also being able to stop back in your hotel for nap time or swim times with your kids, then you'll definitely want to consider staying right in the village.
Depending on what festivals may be going on during your visit, Whistler Village may be full of people in the late evenings, summer concerts, and lots of activities, so you may or may not prefer this atmosphere for your family. It all depends on personality & what your kids & family prefers.
Creekside Village: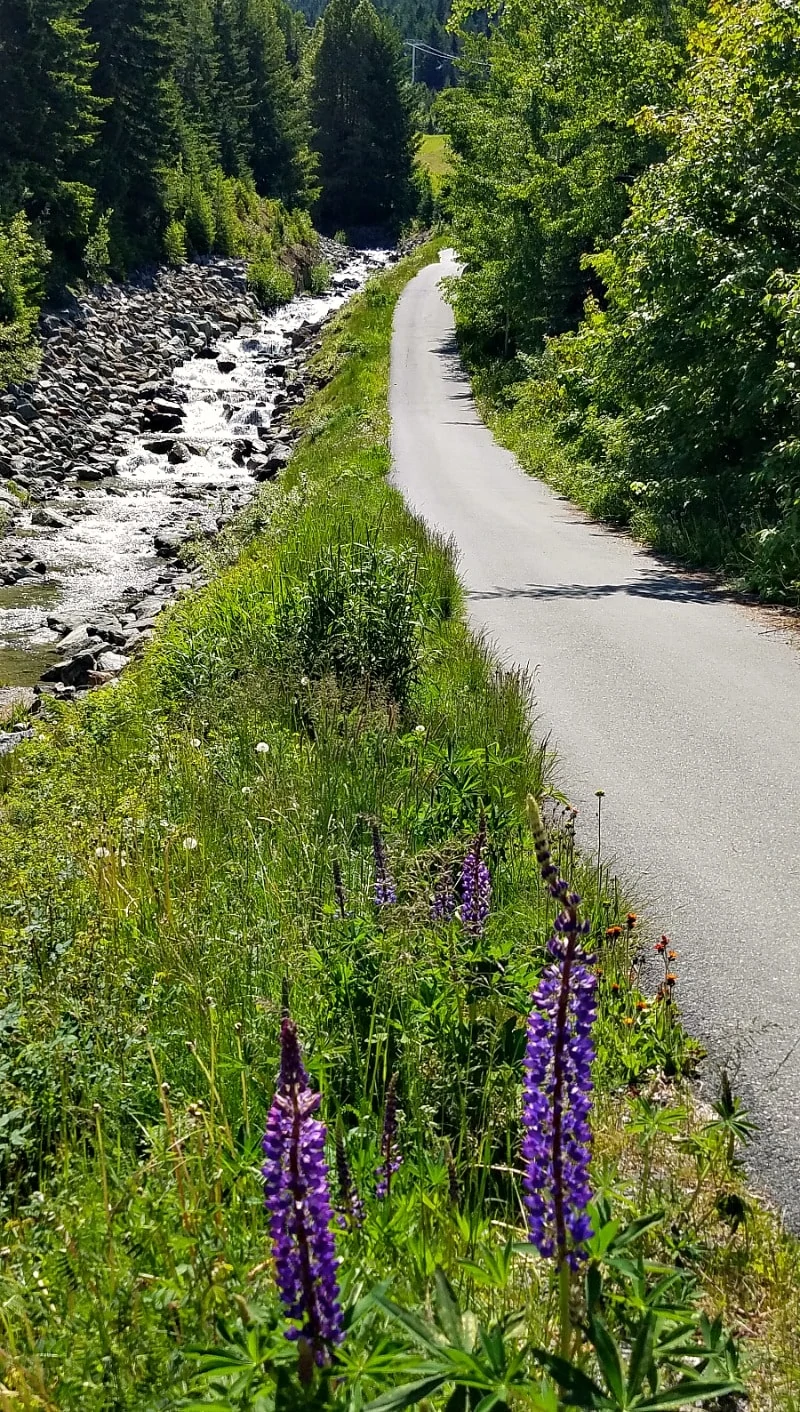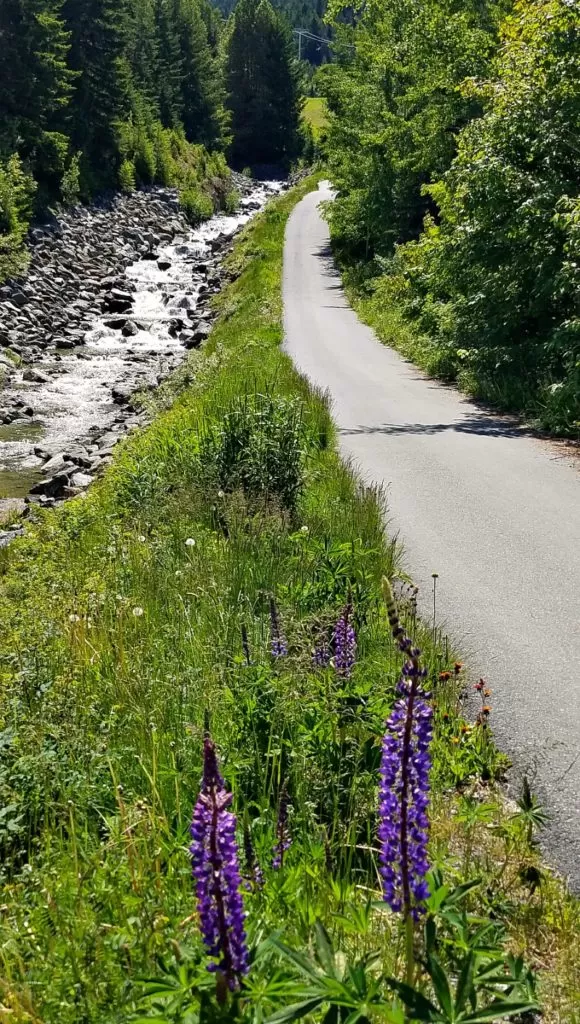 If you are heading to Whistler to get away & experience more of the outdoors, then the more laid-back Creekside Village may be more your speed. Creekside Village is the original site of Whistler before they moved it to the new location at the base of Blackcomb & Whistler mountains. It is also the site of the first gondola ride up Whistler mountain. During our visit at the end of May, we felt Creekside was just a relaxed, casual atmosphere where we saw a lot of families. Even though we were staying right in the Creekside Village, our rooms looked out over the Fitzsimmons Creek that runs thru Whistler so it felt so serene and peaceful. It was just what we were looking for after busy days full of adventures outdoors to come home to a place that was so quiet & peaceful with nature views to look out at from our windows & balcony.  Creekside Village also features one of our top family friendly restaurants in Whistler was just a short 5 minute walk away – Creekbread Restaurant, a popular pizza place.
The only downside was that we did have to find transportation into the Whistler village. We chose to drive into the village so we had flexibility about the gear/clothing/snacks we'd have in the car to access between activities.  But you can also use the public bus system in Whistler to get to & from the village, which costs $2.50/ride. We were able to park in the free parking lots in Whistler (which is between the Upper Village & the main village) and then we would just walk to where we needed to go.  If you have young children or just want to be able to access your room easily throughout the day, then you might prefer staying right in the village.
Legends Whistler Hotel in Creekside –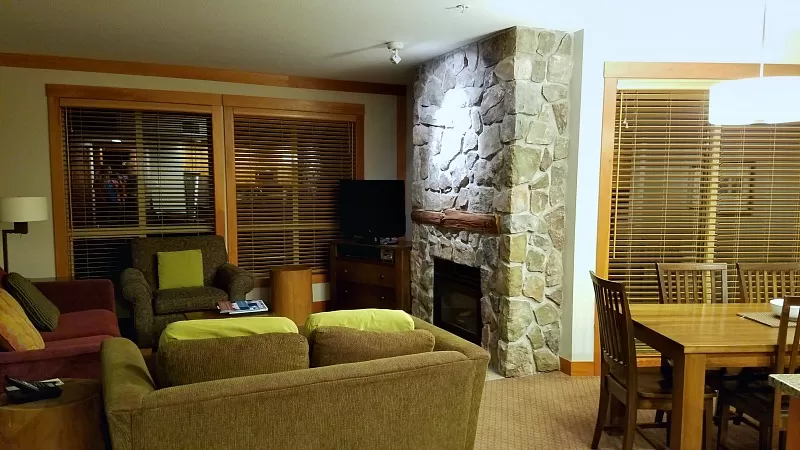 We stayed at the Legends Whistler Hotel in Creekside, which I highly recommend – we couldn't have asked for a better location for our family & what our needs were.  The Legends hotel is a condominium style resort which offers 1, 2 & 3 bedroom suites with a full kitchen, living area and washer & dryer right in the unit. It was such a cozy and comfortable suite, with a big fireplace, the softest beds (this is one thing my husband and I always look for – good beds! And this place did not disappoint!) and good sized kitchen.   Legends is right in the heart of Creekside Village, yet it felt so quiet when we were in our suite as we were situated right next to the Fitzsimmons Creek & we could leave our windows open in the evenings to hear the rushing creek. If it had been warmer at night, we would have done this all night long, too.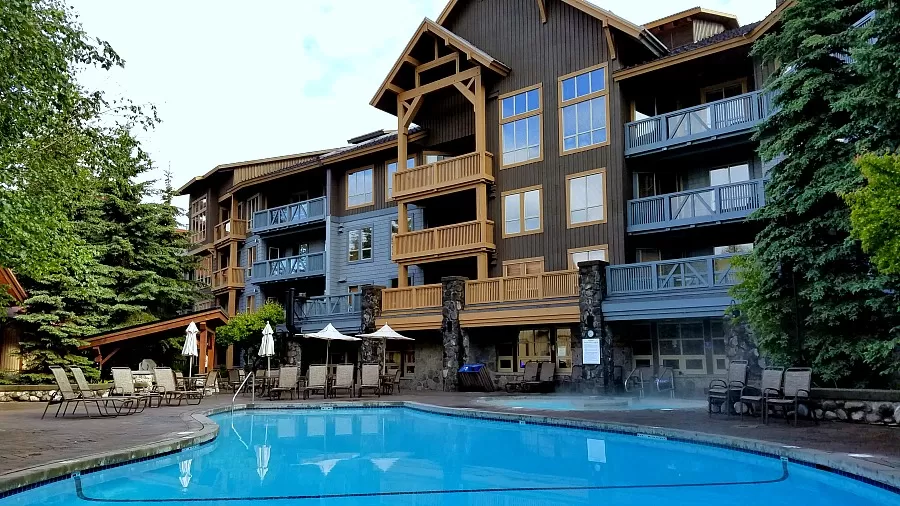 Legends Creekside Resort is a very family-friendly destination with an outdoor heated pool, hot tub & BBQ grill. Kids will love the children's game room with Wii-U stations, toys & more, plus a theater room with a schedule of movies showing as well as times you could use it to watch a movie too. My girls were excited about both of those options, but unfortunately we were just too busy with all of our activities or using the pool to take advantage of these rooms. Those are nice options to have, though, if your kids wake up early & you want to keep them occupied for a bit longer while the rest of the family sleeps in a bit.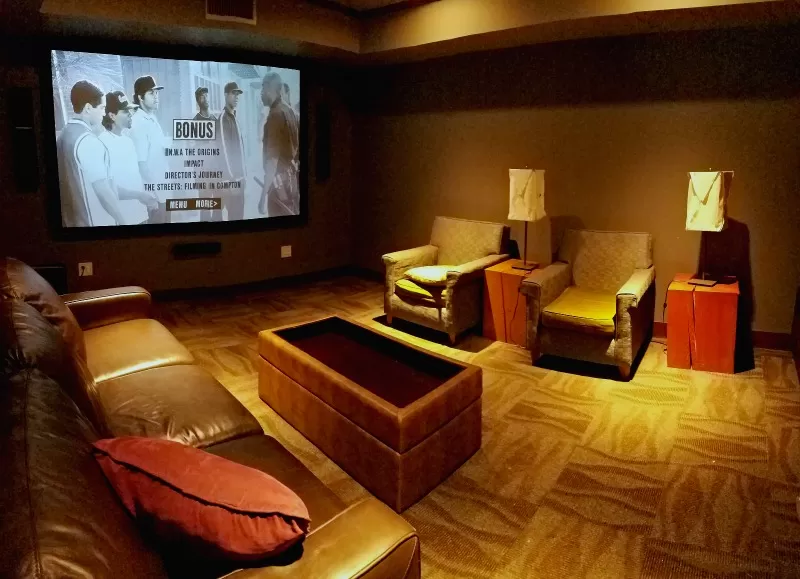 If you come to Legends for skiing in the winter, even though you are not located in Whistler village, the Creekside Gondola which goes up Whistler Mountain, is just steps right outside the door from Legends, making it so easy to ski in & ski out. There is also a ski school located just across the street for kids to learn to ski. This resort is rated with 4 1/2 out of 5 stars on TripAdvisor, my trusted source for well-though out reviews for locations.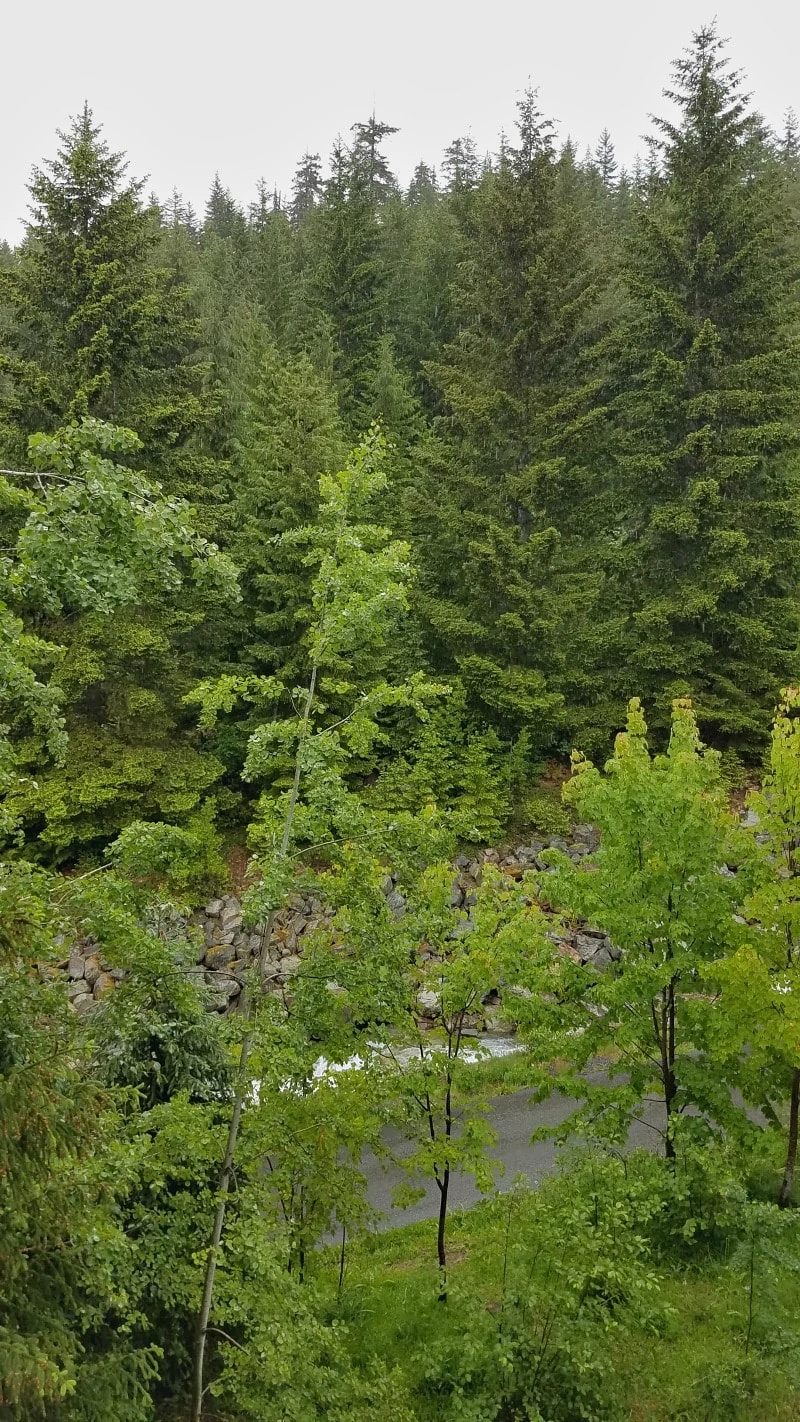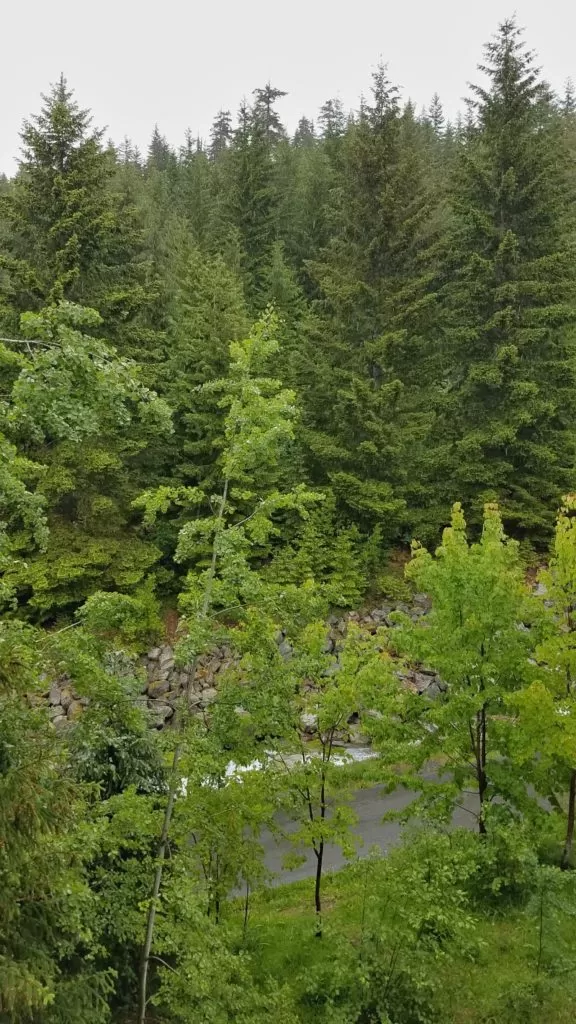 View from our room at Legends Whistler at Creekside Village
Make sure to check out the Deals & Packages area of the Legends website as they have always have special discounts available, as well as package discounts if you're planning on riding the Peak to Peak Gondola, using the bike park, spa, etc. Do keep in mind that this hotel, like most other Whistler hotels, does charge $17/day for parking (CA), so you'll need to make sure to factor that rate into your hotel budget.
Types of Places to Stay::
In Whistler, there is a such a wide variety of places to stay ,with everything from campsites to hotel rooms to condominium resorts, vacation rental homes & more.
If you're looking for hotels, condominium style resorts or homes to rent, Whistler.com has a great list of resorts listed from A-Z which you can sort based on amenities you're looking for (pool,hot tub, whether you can ski in/ski out easily, pet friendly, bike storage & more). It also lists the Trip Advisor scores for those locations, which I find so helpful, as I always look up the Trip Advisor review for any hotel or resort before we book our stay. I want to know the pros & cons for a location to see if it will be a good fit for our family. The Whistler Blackcomb website is also a good resource, along with Whistler.com, for finding deals & packages for lodging.
I do recommend checking out the suite or condominium style resorts at Whistler as a way to save overall on your vacation as you can really save on food costs by eating some meals in your unit. You can check out my tips on ways to save while eating out at Whistler for more information about how this worked for us, but it was so helpful for us to have some meals in the rooms not only for saving money, but also convenience with kids, so you can eat when they want to eat & not always have to wait for lines at restaurants.
If you're planning on heading to Whistler with friends or family, looking at a vacation home rental is a fabulous idea and a great way to save as well by splitting the cost of the home rental and then splitting food costs as well. You'll also feel more comfortable & have more time together to spend with friends or family by having those shared living spaces to hang out together & relax at the end of a busy day. Vacation Rentals By Owner (VRBO.com) has it broken down by area in Whistler for the vacation home rentals, so it makes it nice if you know the area you'd like to be staying in. You'll also save by most likely not paying for daily parking, too, so this will also cut down on your costs. However, keep in mind that you will have to pay a cleaning fee.
Camping:  
If you love to camp, there are several options for camping in or near the Whistler areas – here are a few::
Riverside RV Resort & Campground – they offer campsites as well as cabins & yurts (although these prices are more similar to hotel prices in the area)
Whistler RV Park – RV & tent camping
Here are a few more options of camping around Pemberton & Squamish, both about 20- 30 minutes away from Whistler.
Ways to Save on Lodging:
Time of Year –
Best times of year for savings on lodging at Whistler are the spring & fall, with prices up to 50% off the busy winter rates.  These are still great times to visit Whistler, though, as you can often ski in the morning & then bike or hike in the afternoon.  Visiting in the summer can be a great time to find lodging discounts as well, depending on the weekend & whether there are any big festivals going on.  Check out our tips for visiting Whistler to see why visiting Whistler during the off-season (spring, summer & fall) can still have so many benefits and be a great destination for family fun.
Longer Stay Discounts
On the WhistlerBlackcomb.com site, they offer discounts such as 30% off 2 night stay, 35% off a 3 night stay & 40% off a 4+ night stay. Whistler.com also offers up to 40% off when you stay 4+ nights. If you call or check the website for individual hotels, they also may offer discounted rates for longer stays.
Last Minute Stay Discounts
On the WhistlerBlackcomb.com site, you can get discounted rates if you book your stay last minute. They have a last-minute deal where you can get low rates on properties without knowing the name of the property. It will give you all the details you need to know about the property though (price of parking, amenities, where it's located, etc) & then once you book, you'll find out the name of the hotel.
Whistler Rewards –
If you book through Whistler.com, you will get some extra savings with the Whistler Rewards program. You can get a $50 credit for every 5th night booked thru Whistler.com.  You'll also get priority access to Whistler based travel consultants, plus special email offers for lodging, activities & more.
Hotel Tonight App –
Whistler is listed on the HotelTonight App with almost 15 listings when I checked the app tonight (it does change every night with what's available).  You could choose everything from more basic lodging up to the luxe lodging with the Fairmont, Four Seasons & more. When I checked tonight in July, I found listings as low as $92/night (US rates). So this could be a great way to save if your schedule is flexible enough to be spontaneous.
Parking Options – 
Something to keep in mind is that most hotels right in the Whistler village do charge extra for parking. This is a daily rate that you'll want to ask about as it will add to the cost of your lodging for each night of your stay. One option is to take advantage of the free parking lots in Whistler village.  From April 1 to October 31, you can stay a maximum of 72 hours in Day Lots 4 & 5 for free. However, from November 1- March 31, there is no overnight parking allowed as they need the space to allow for snow clearing. But this is an option to keep in mind to lower costs in the spring, summer or fall.
There are also several paid parking lots where you could pay $8/day (CA) to park, which could still be cheaper than your hotel parking rates, which some websites say could be up to $25/day (CA). You can also look to see which hotels might offer free parking too on this Lonely Planet travel website (I'm not sure how up to date this is, but worth checking it out).
Resources to look for discounted lodging at Whistler::
Here are some websites where you can search for discounted lodging at Whistler::
Whistler.com – they offer special discounted room rates, last minute deals, summer & winter packages, Whistler Rewards program, activity/lodging packages & more
WhistlerBlackcomb.com – they also offer discounted rates, last minute deals, longer stay discounts, activity packages & more
LivingSocial.com – Watch Living Social to see if any Whistler resorts pop up. I've seen a few here & there and they are always great deals
Groupon – Groupon also has had some discounts for Whistler as well so keep an eye on Canada when you search for destinations
Where are your favorite places to stay in Whistler? We'd love to hear your suggestions!
Disclosure: We were provided lodging at Legends Whistler resort at Creekside to facilitate my review; however, these are all my own opinions and thoughts of the hotel and lodging options around Whistler.