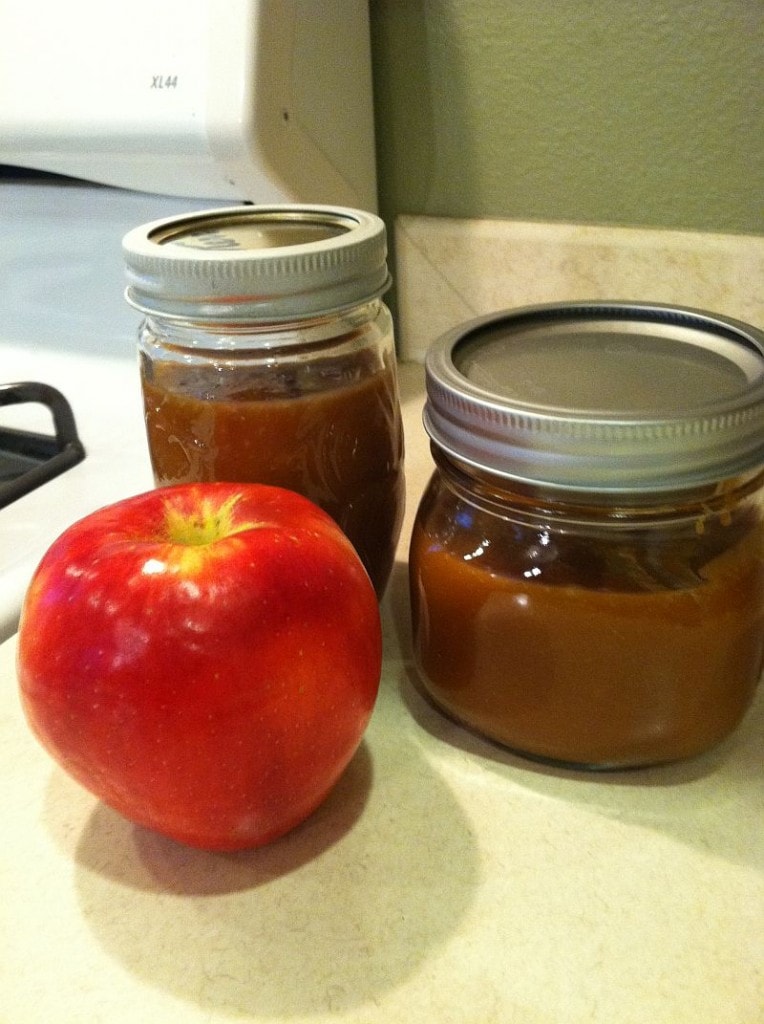 Fall is here and I love all that it brings!!  One of my favorite things to make this time of year is caramel sauce!   This would make a great homemade gift for the holidays – maybe a fun hostess gift when you attend a get-together, too. It is so versatile and really quite simple to make! There are only 4 simple ingredients – all it really requires is a little patience!
DIY: Caramel Sauce
Ingredients:
1 cup sugar
1 cup water
1 tablespoon butter
1/2 cup heavy whipping cream (you can also use milk, even skim milk – it won't be as decadent, but it will help your waist line :) )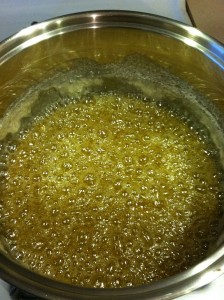 Directions:
Using a heavy sauce pan, add 1 cup water and 1 cup sugar.
Place on medium high heat and stir constantly (using a wooden spoon)  until all the water dissolves and it begins to boil.
After it begins to boil do not stir.
This next part takes the longest!  Wait until the sugar has reached a dark amber color.  The lighter the color the less caramel flavor-if you like a lighter caramel don't wait quite as long.
Once the sugar has reached a dark amber,  remove from heat.
Add 1 tablespoon butter,  stir constantly.
Add ½ cup heavy cream-the mixture will foam up.
Continue stirring until mixture is smooth.
Pour mixture in glass jars and store in refrigerator.
We love it on ice cream, in our morning coffee, in apple cider, dip for apples, on apple pie, apple cake, or really just by the spoonful!!!
Price Comparison – Homemade Caramel Sauce vs Store-Bought Caramel Sauce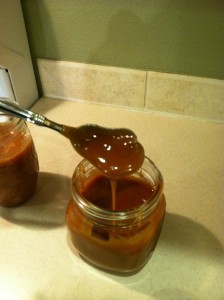 To make caramel sauce, it costs about $1 to make 8 oz. If you want to buy good, pre-made caramel sauce in the stores, it is about $2 for 8 oz. , so that's a 50% savings.  Once you make it homemade,  you won't be able to go back to the store bought stuff!!
Apple Pie Recipe using Caramel Sauce:
Ingredients:
(2) 9" prepared pie crusts
7 cups tart apples (the key to using apples to bake is using ones that are smooth on bottom-the bumpier on the bottom the less well they bake)
¼ cup sugar
½ cup raw sugar
1 teaspoon flour
2 tablespoons lemon juice
2 teaspoons cinnamon
1 teaspoon salt
6 oz. prepared caramel sauce
3 Tablespoons butter
Directions:
Place one prepared crust in greased pie pan
In bowl mix sliced, peeled apples, sugars, lemon juice, flour, salt and cinnamon
Place mixture in pie dish
Pour slightly warmed caramel over the top
Place butter in pats over the top
Put top crust on and crimp edges
Place pie in 400 degree oven for  50-60 min.
After it's finished baking, remove from oven & let it cool at least 45 minutes before serving
You may want to use crust guards to ensure the edges don't get too brown.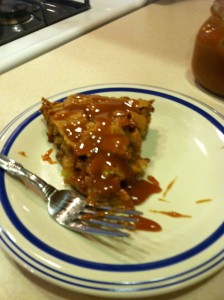 Mmm, apple pie with caramel sauce on top!
What are your favorite fall recipes?
By TNWM Contributor Sarah from Chickie Momma Crafts