Hot Fudge Cupcakes with Marshmallow Topping
Here is a fun recipe to try for Valentines Day!
If you've been looking for a new, delicious cupcake recipe, you'll want to try these hot fudge cupcakes with marshmallow topping. This one is sure to be a hit, especially with chocolate lovers! I love the addition of the caramel mixed in with the chocolate & marshmallow! Mmm!
A great addition would be to use our DIY Caramel Topping recipe for the caramel used in this recipe to give it even more flavor! Or if you'd rather add a little something different, try this with a coconut oil frosting to change it up a little!

Hot Fudge Cupcakes with Marshmallow Topping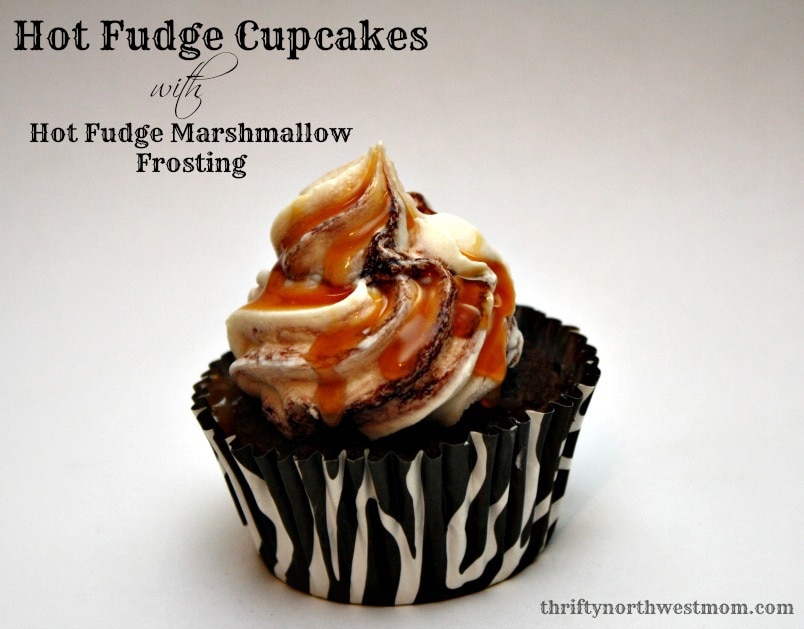 Ingredients
For the cupcakes:
1¾ cups all purpose flour
1 cup brown sugar
¼ cup unsweetened baking cocoa, sifted
1 teaspoon baking powder
1 teaspoon baking soda
½ teaspoon salt
1 cup of milk or half and half
1 egg, slightly beaten
⅓ cup vegetable oil
1 teaspoon vanilla
1 cup semisweet chocolate chips
2 teaspoons caramel topping
2 teaspoons hot fudge
For the icing:
½ (8 ounce) cream cheese package, softened
¼ cup butter, softened
1 (7 ounce) jar marshmallow creme
2 teaspoons vanilla extract
2½ cups powdered sugar
Instructions
Preheat the oven to 350F. Line muffin tin with liners; set aside.
Mix your flour, brown sugar, baking cocoa, baking powder, baking soda, and salt in a medium sized bowl with a wooden spoon.
Whisk the milk, egg, oil, and vanilla in a small bowl.
Mix the wet mixture into the dry ingredients with a wooden spoon to make sure that all of the dry mixture gets coated with the milk and egg.
Fold in chocolate chips, caramel, and hot fudge.
Bake for about 23 minutes or until toothpick comes out clean. Cool completely before frosting.
To make the frosting, using an electric mixer, beat cream cheese, butter, marshmallow creme, and vanilla on medium, until creamy. Reduce speed to low, and slowly add your powdered sugar until thoroughly blended and smooth.
Toppings: Swirl as much or as little hot fudge and caramel over your frosting as you like.
Adapted from this chocolate cupcake recipe from Food.com.
Make sure to check out more delicious desserts: