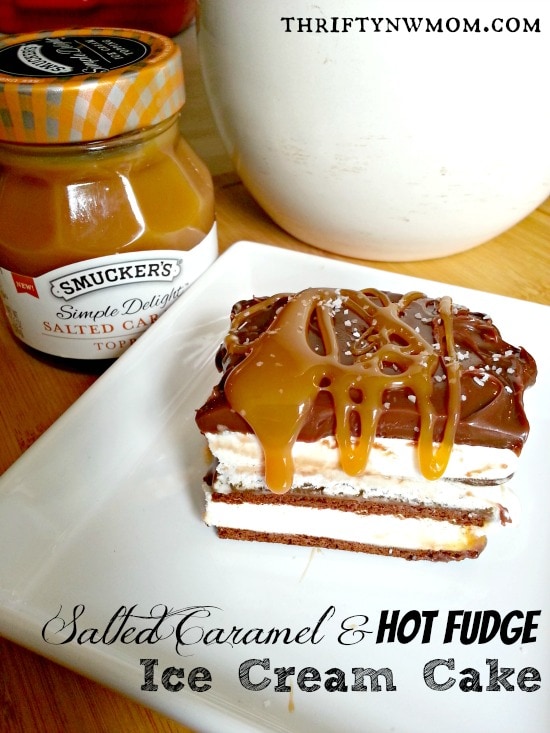 Looking for a simple ice cream cake you can make at home? This hack version uses ice cream sandwiches to make a quick, easy and much more affordable version of the ice cream cake (I went to my local ice cream store recently and it was going to be $30 for a small ice cream cake recently). By using Ice Cream Sandwiches as your base, you can make a super easy and affordable version of an ice cream cake. My two favorite recipes are Salted Caramel and Hot Fudge or Peanut Butter Chocolate. If your making it as an easy home snack you can buy the lower cost ice cream sandwiches. If its a special occasion you might want to splurge on the thicker versions (like Fat Boy, etc) to make a heartier ice cream cake.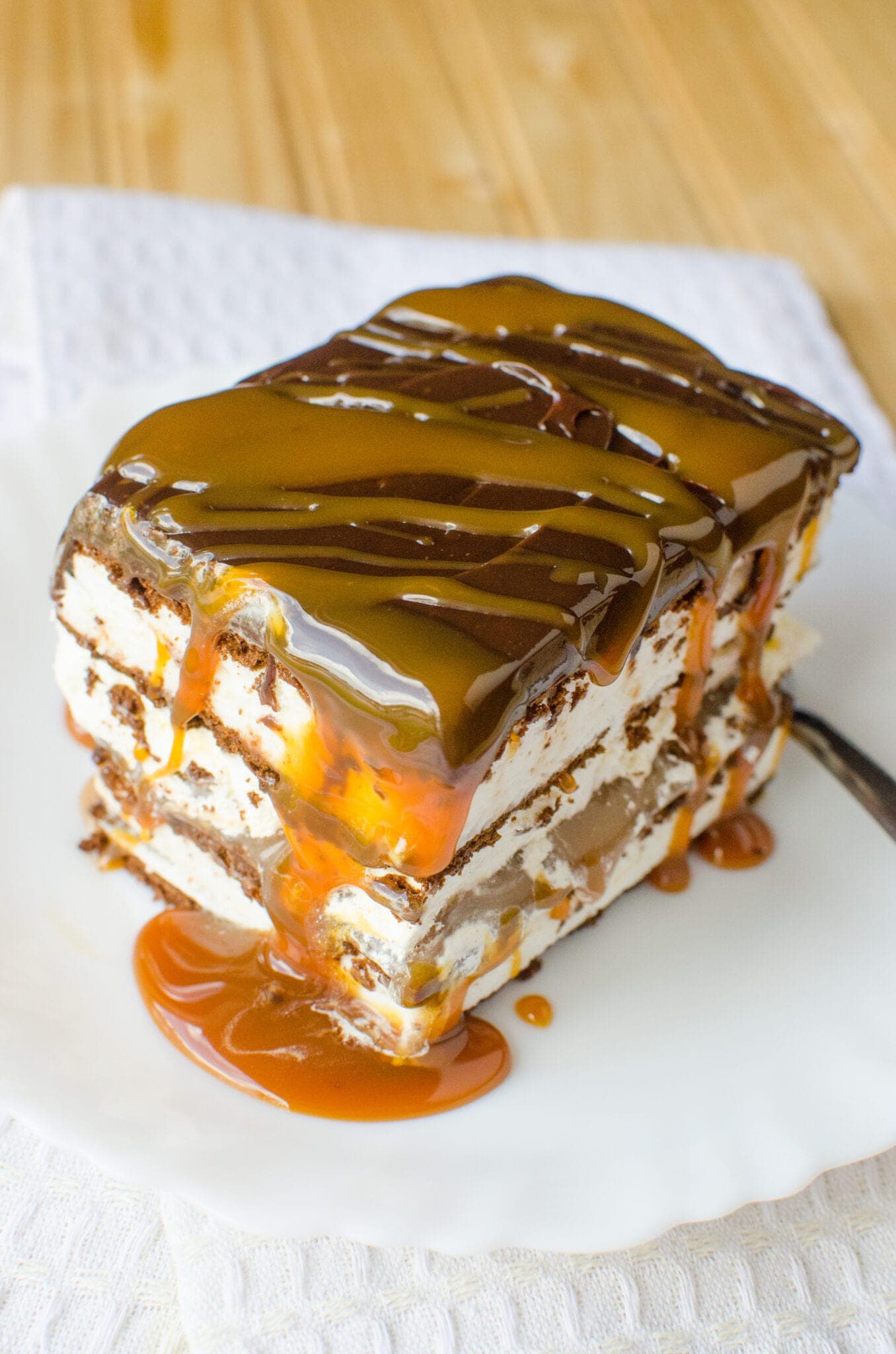 Here is how to make them -
Start with an 8x8 pan, and add a layer of the Ice Cream sandwiches to the bottom.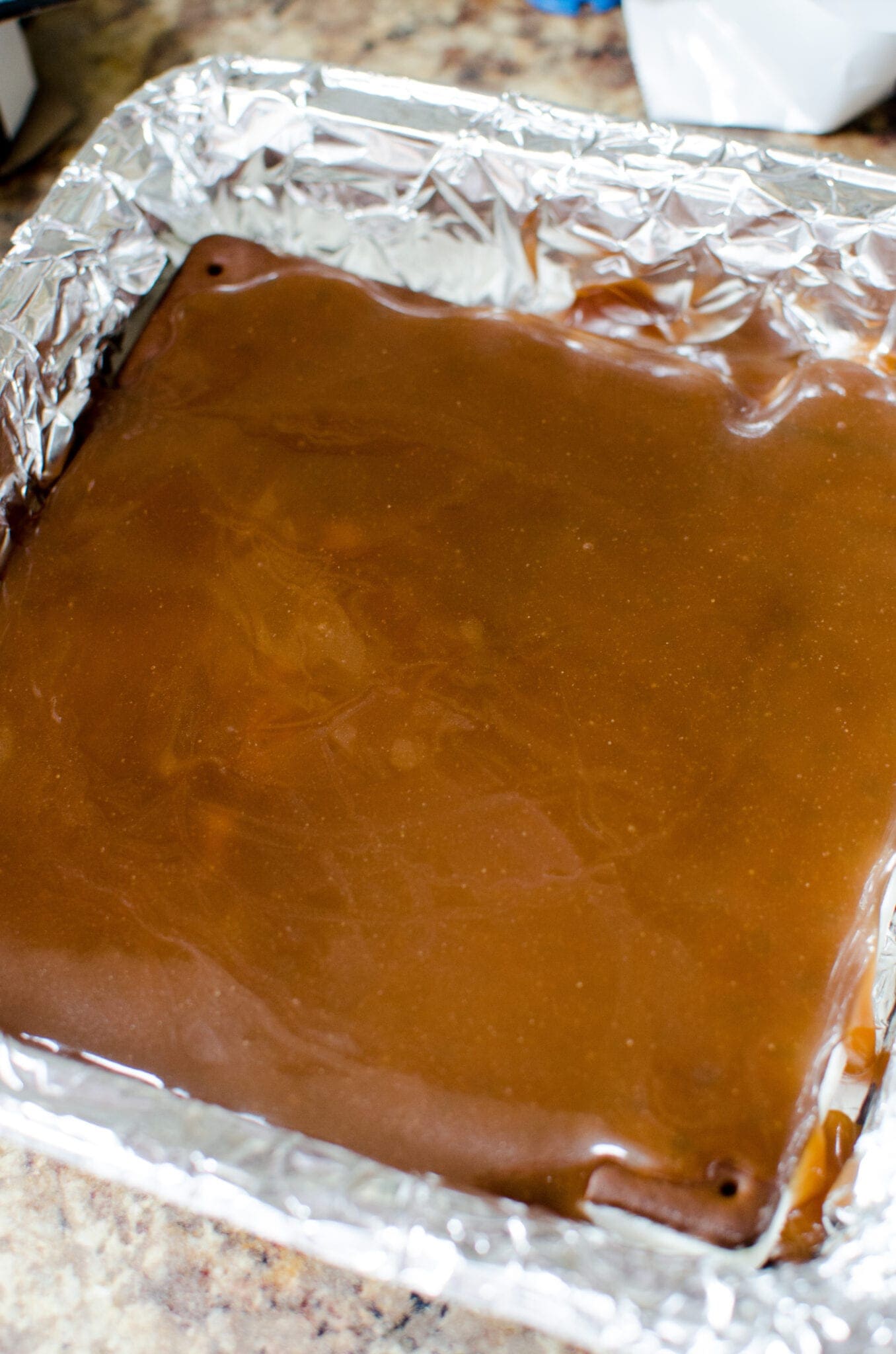 Melt the caramel in the microwave for about 30 seconds so its easy to cover the first layer of ice cream sandwiches.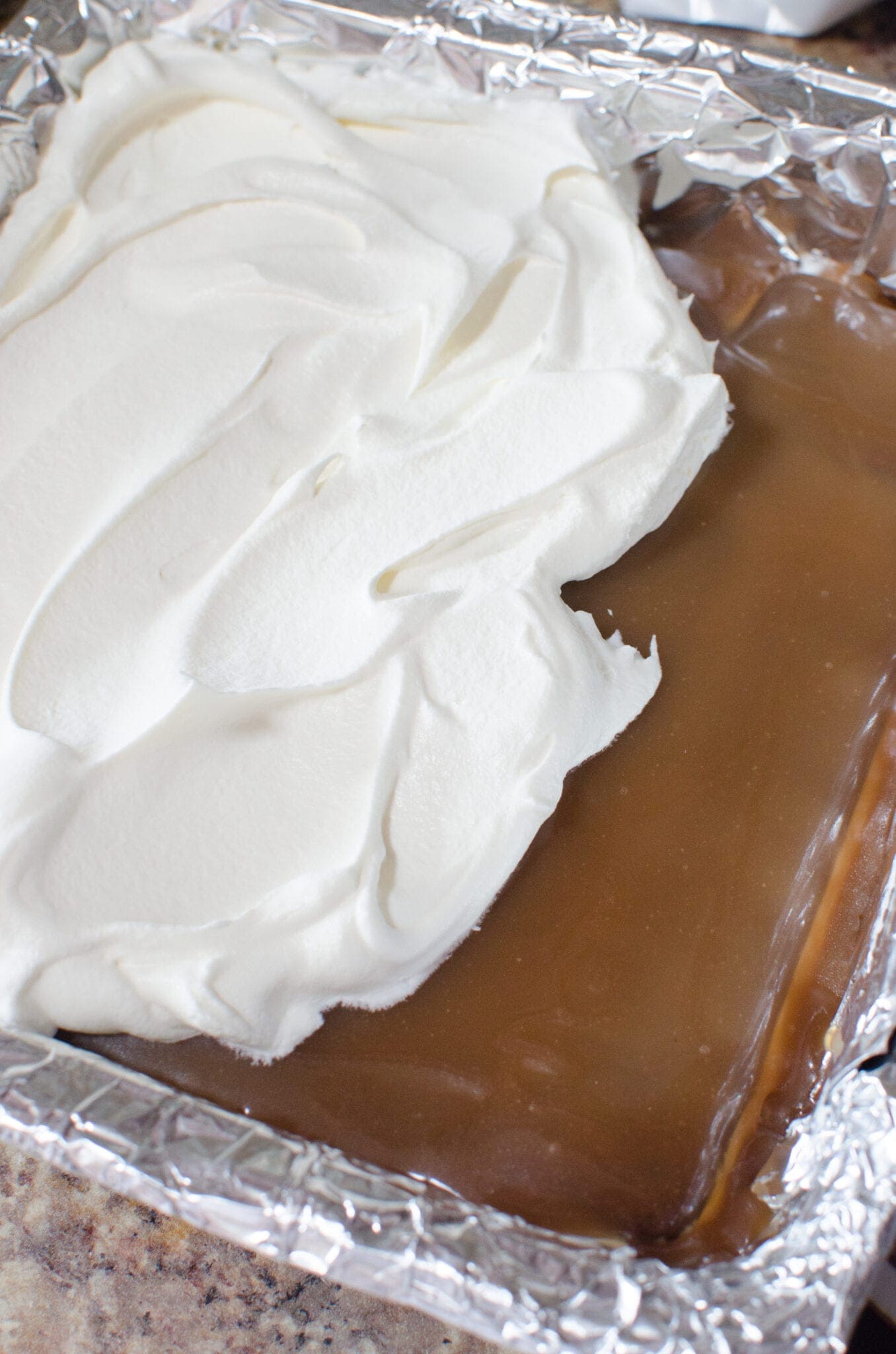 Add a layer of whip cream on top of that. Add another layer of Ice Cream Sandwiches, one more layer of hot fudge, and then drizzle with caramel. Put in the freezer for 40 minutes to an hour to set, and then it should be ready to serve!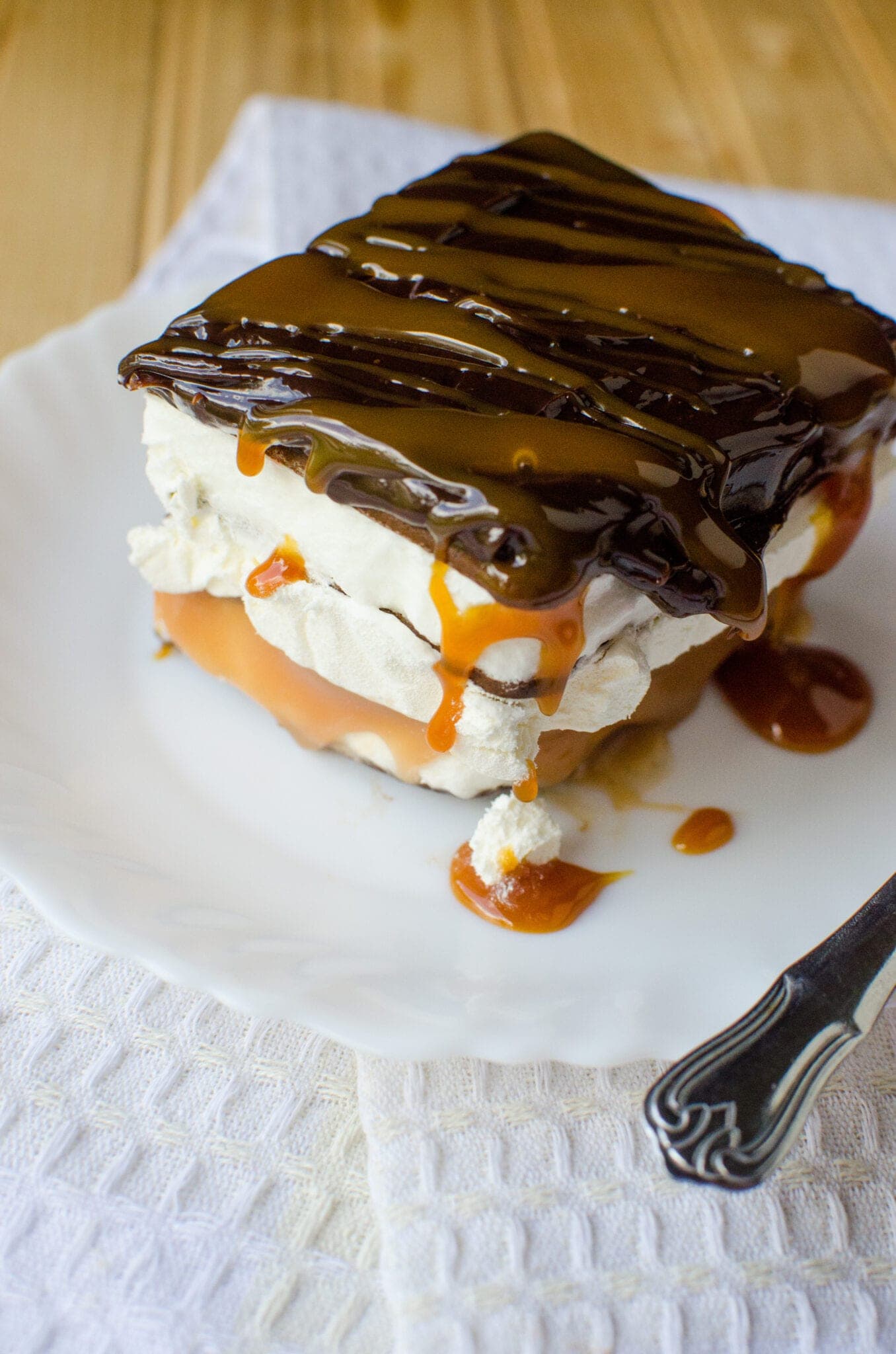 Note - you can
make your own caramel sauce
if you want and just add a sprinkle of salt to each layer too. In addition to the Salted Caramel Ice Cream Cake you can use the same basic recipe to make a chocolate peanut  butter version. In this case you would omit the salt and caramel sauce from the recipe above and instead get a jar of peanut butter and one of chocolate sauce (like a Hershey sauce). You will still want the hot fudge sauce. You can also get peanuts to top it optionally (dry roasted peanuts work really nice for the sweet and salty effect. Make the recipe the same way, but instead of adding caramel to the middle layer mix 1 cup of peanut butter with 1 cup of chocolate syrup and cover your first row of ice cream sandwiches with that mix. Next add the cool whip, more sandwiches and fudge topping as noted in recipe above. You can coarsely chop the peanuts and sprinkle over the top before freezing if you wish too. YUM!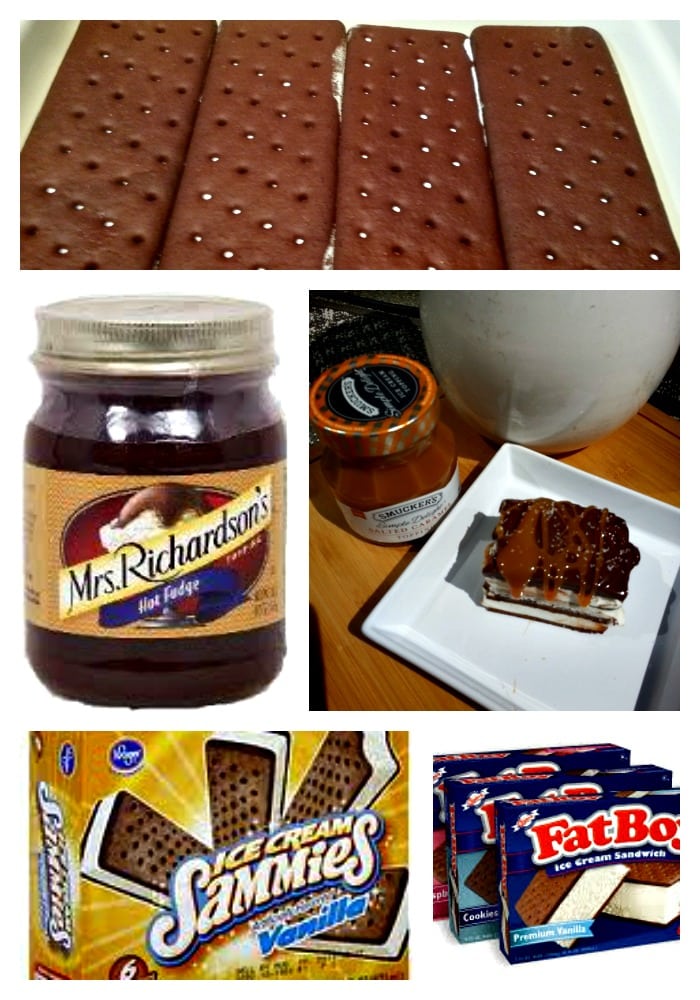 Salted Caramel & Hot Fudge or Peanut ButIce Cream Cake (Super Easy)!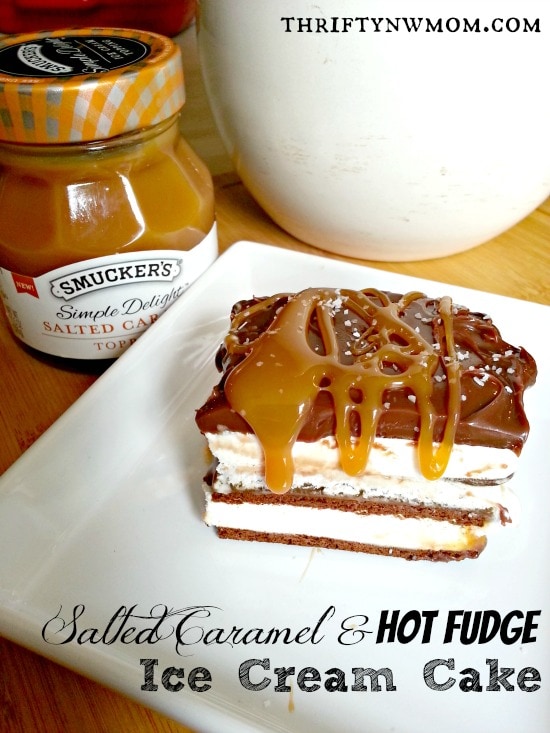 Ingredients
Ice Cream Sandwiches (box of 26)
1 container of cool whip
1 jar of Salted Caramel
1 jar of Hot Fudge (not chocolate sauce, but the thick hot fudge, I like to use Mrs. Richardsons)
Course Salt (just a dash when you are ready to serve)
Instructions
Arrange a layer of the ice cream sandwiches on the bottom of an 8x8 baking dish
Top with a layer of the salted caramel sauce
Top with a layer of cool whip (cover all the ice cream sandwiches)
Add a second layer of ice cream sandwiches
Frost that final layer with the Hot fudge (you can cover just the top, or you could frost the sides too if you have room in your dish)
Cover with foil and freeze for a few hours
Cut a slice and drizzle with the salted caramel sauce and a sprinkle of the course salt just before serving