DIY Farmhouse Decor Kits – 50% Off First Kit!
This post may contain affiliate links and I may be compensated for this post. Please read our disclosure policy here.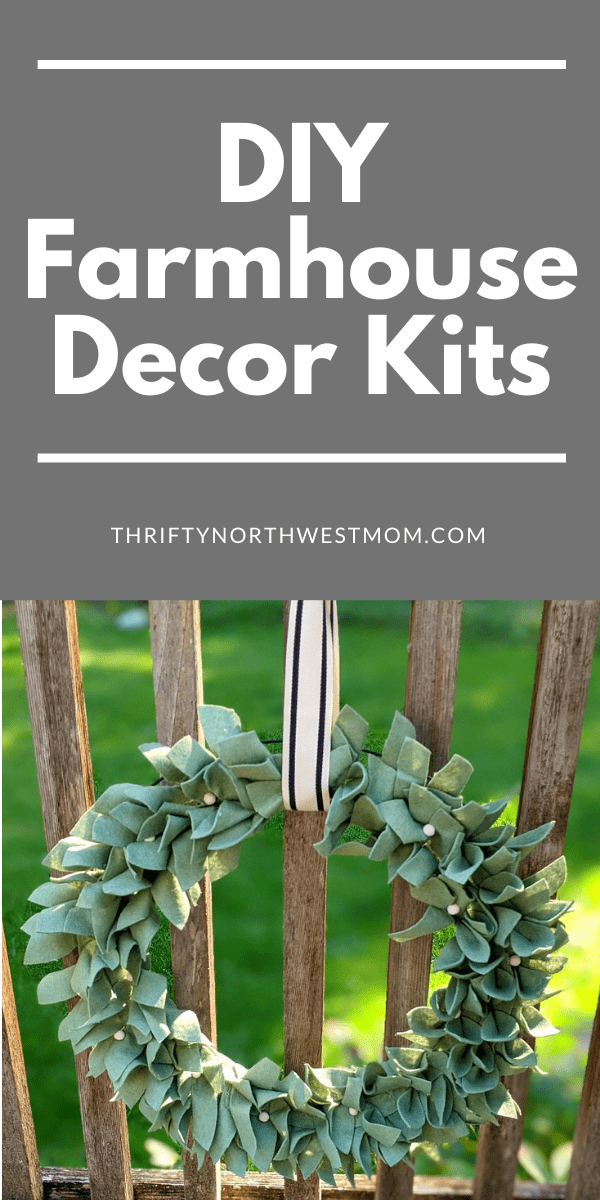 DIY Farmhouse Decor Kits – 50% off First Kit
How often do we as women stop & take time for ourselves? I find that I can be so busy with a big list of to-do's for my family, that doing something for myself is often way down on the list. That's why I love the idea of the DIY studios such as The Makery & AR Workshops where you can go somewhere & have fun creating & come home with a beautiful completed project.  However, I am looking for more opportunities to have some creative avenues at home,  so I was so excited to discover these Annie's Creative Kits for women as it's something you can do right in your own home. Even better, I discovered they now offer a Farmhouse Style Kit Club & the decor items are just darling!
With the Annie's Creative Kits, they send you a full kit with very detailed instructions with full pictures and everything you need to create this craft (all I needed was a hot glue gun & glue sticks, items you would have on hand at your house or they are easy to find/borrow, etc). They also prep the materials so that it doesn't feel so overwhelming, especially for someone like me who loves crafts but I can be a bit craft-challenged (ha!), so this was important that it didn't feel out of my league.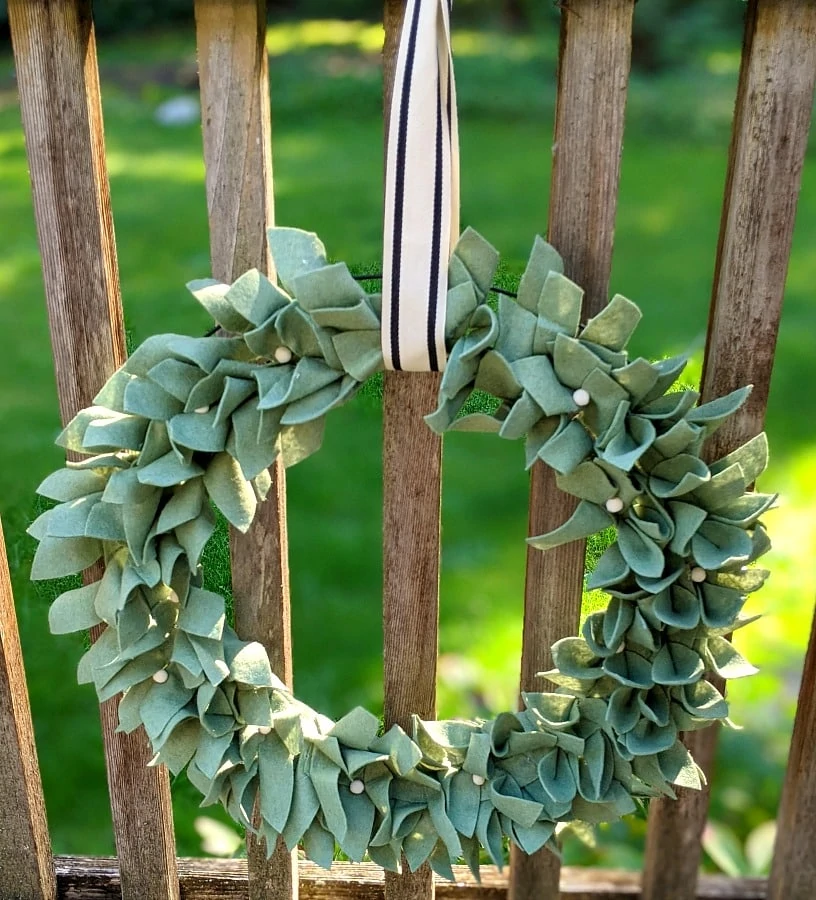 I absolutely love the finished product from my DIY Farmhouse kit, too! The Tallulah felt wreath is so versatile & really can complement so many home decor styles honestly. I wasn't sure how it would turn out since I don't always have the best luck with the completed project looking as good as what I had hoped it to look like, but I am definitely impressed with how it turned out & how easy they made it to put it all together. You can also add more to it or switch it up a bit if you want it to make it more personalized to you such as adding more embellishments to the wreath, change the ribbon to fit your color scheme / decor, etc.
What a fun project – I was sent this kit by the company to try it out to review it, but it was so fun for me to just relax & work on this & end up with a beautiful piece of decor for my home. So, I definitely think I will sign up for more kits, just to add more unique pieces of decor to my home that I have created.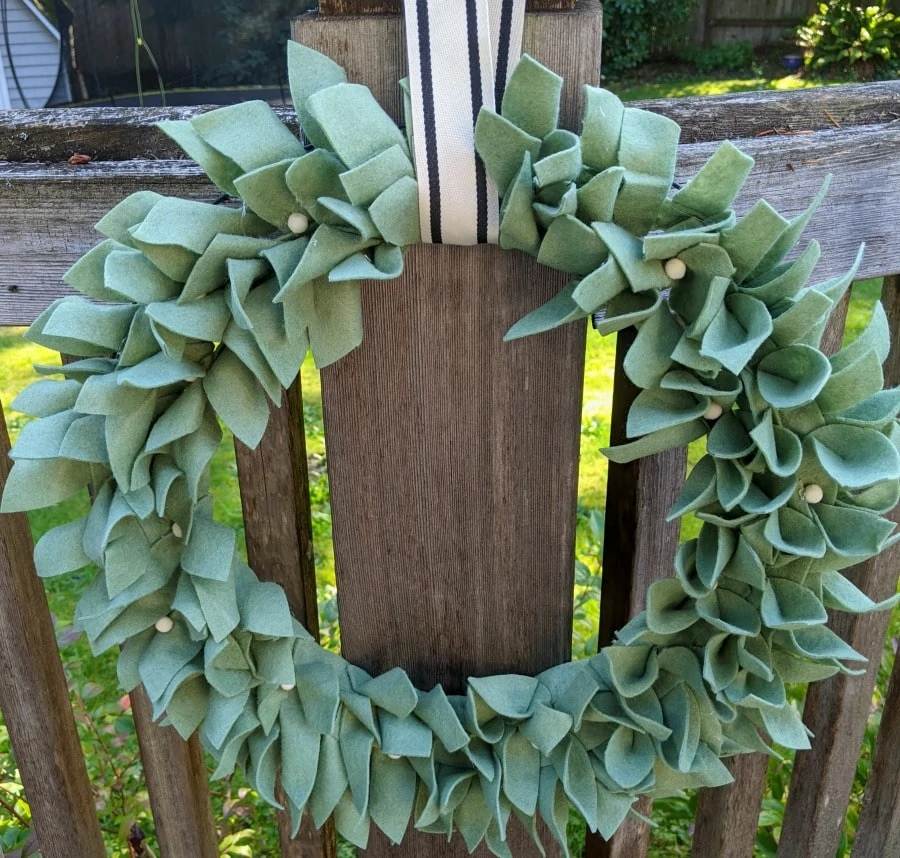 Here's how it works:
Right now, you can try your first Annie's Farmhouse Style Decor Kit for 50% off too! It's normally $19.99 for a full kit, but you can use the promo code: SHARE50 to get 50% off the price – making it just $9.99 for the kit. You'll also pay $5.95 s/h, so the total price for your first kit is $15.94! This is honestly such a great price for the quality decor piece that you will have once you are finished with your project.
The felt wreath is a large wreath & it is mounted on a wire frame that is quite sturdy. I definitely would have paid the full price for this kit to have this fun & fulfilling project & end up with a gorgeous piece of wall decor for my home.
Here's how to sign up for your first kit:
Head to the Annie's Farmhouse Kit Club website – click "Join Now"
Enter your mailing info & billing info. (this can be sent as a gift as well to a friend or family – would make such a fun gift!)
Enter the promo code: SHARE50 (although it should be automatically entered – make sure before you click buy) for 50% off your first box
Final Price: $999 + $5.95 shipping (+ tax) = $15.94 (+tax) for your farmhouse craft kit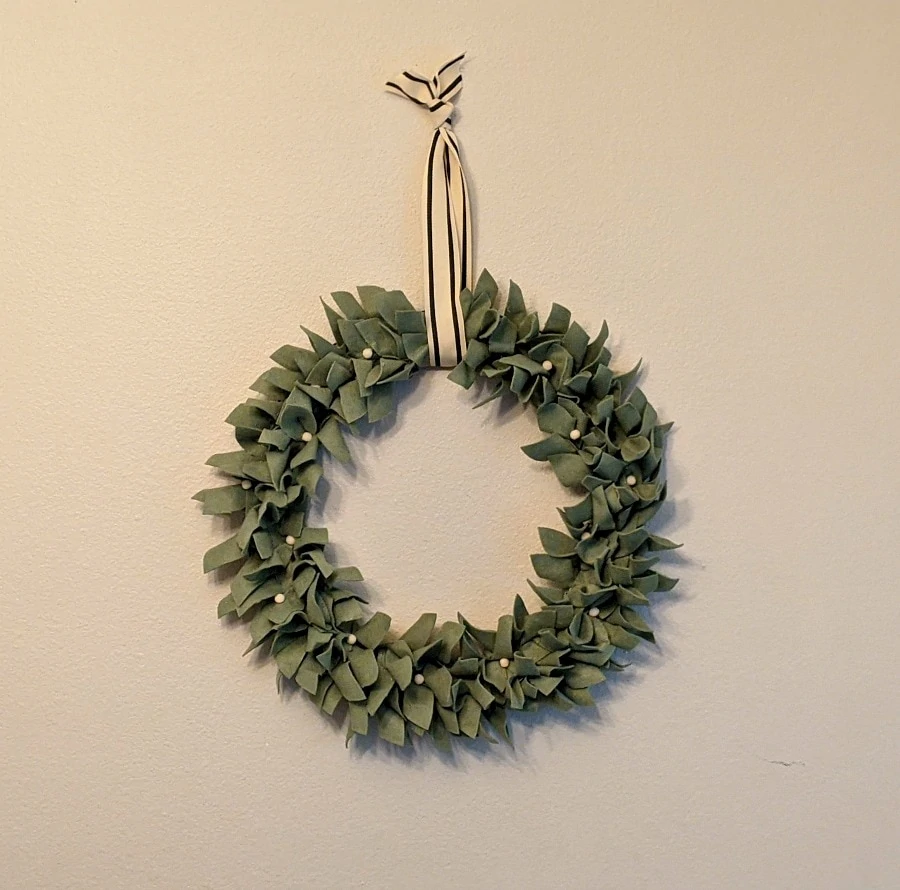 *Shipping could take up to 3-4 weeks for your first box (I've been ordering the Creative Girls craft kits from Annie's & typically ours only take a week or so to arrive, though)
*You are signing up for a subscription box service. Every 4 weeks, you will receive a different DIY farmhouse decor kit with all of the necessary items to make your item.
*The kit I received had all of the materials – all I needed was a hot glue gun & glue sticks. That's it! Everything else was included & ready made for me to put it together in a fun kit.
*You do not have to continue the membership after receiving the first box if you choose not to. You can cancel your subscription at any time from your account online or by email with no issues (you can also call). Just make note of when your account will be charged to cancel before that time.
I received the DIY farmhouse kit from Annie's Creative Kits to try out and I really enjoyed putting this kit together. The finished project turned out so much better than I could have hoped for and it will definitely be a decor piece that we could use in so many places in our home.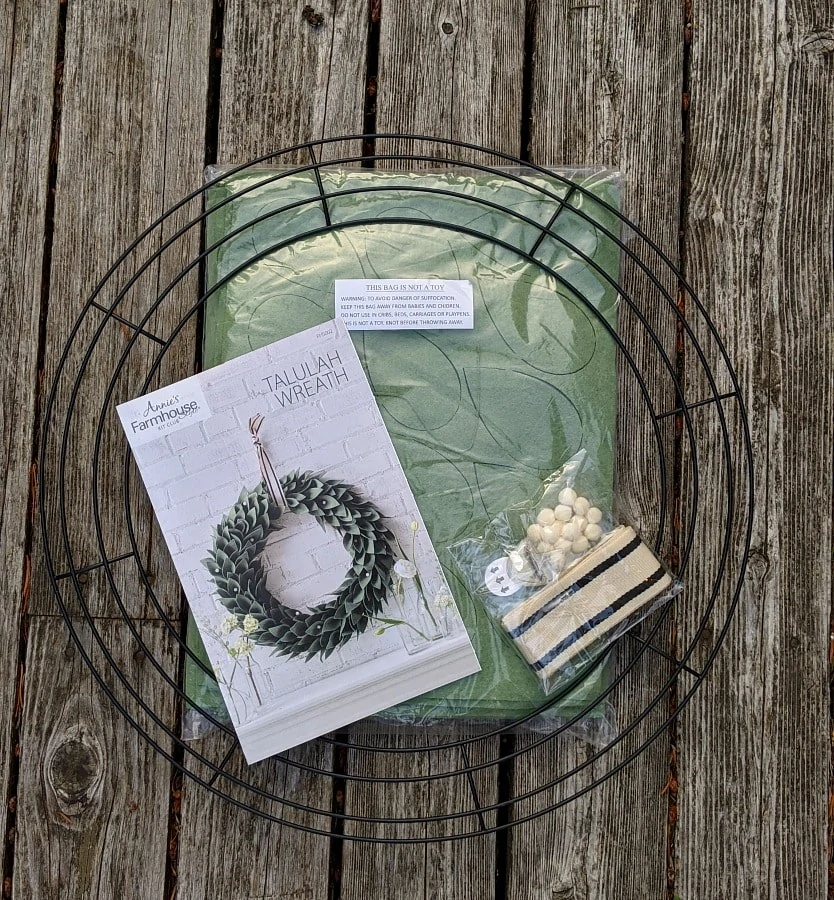 The kit comes with all that you need to put together the felt wreath with the exception of a hot glue gun and glue sticks, which you need to provide
Felt leaves for wreath
White round emblishments
Black/white ribbon
Wire wreath frame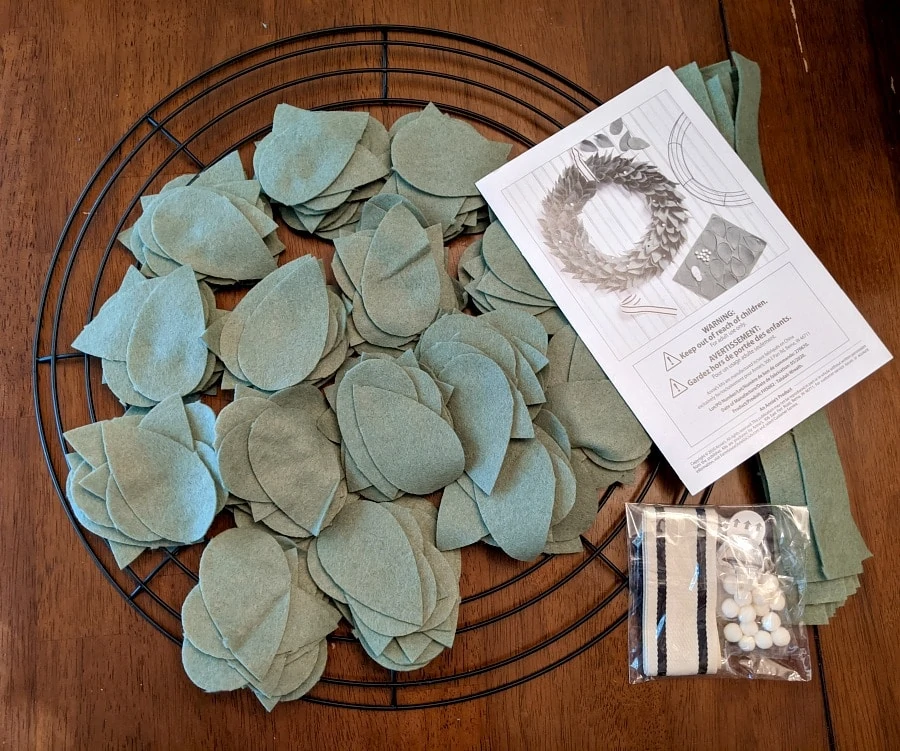 All of the felt leaves for the wreath are pre-cut but they are attached in 3 places. So, the first step was to work on cutting out all of the leaves (unattaching from the felt) for 168 leaves. This does take awhile because of the amount of leaves, but it was so easy to do while sitting in front of the tv watching a show.
The next step is to use the hot glue gun to pinch the leaves together at the base to make the leaf shape. Once that is completed, you will then need to glue the leaves to a strip of felt (7 leaves on one side & 7 leaves on the opposite side). This also was easy to do while sitting and watching a tv show as I first glued the leaves together & then glued them all to the felt strips. It did take a few hours to do all of this, but it's a nice way to relax & unwind while working on this task.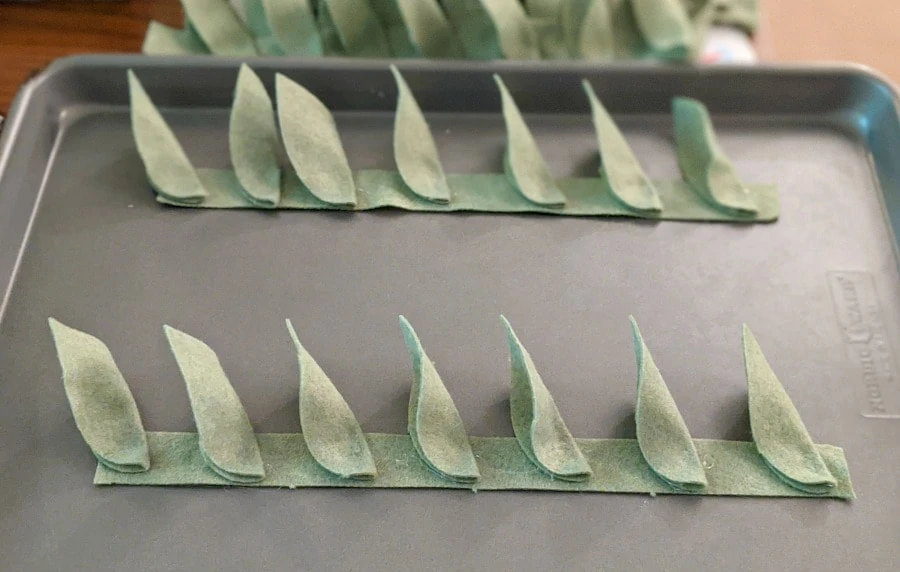 The last step is to glue the strips of leaves to the wire frame, starting with the inner circle & then moving your way out. This was all laid out thoroughly with clear pictures so I was able to follow it easily & get it all glued & looking good on the frame. I then glued the little white round balls on to the wreath & then attached a ribbon at the top & it's ready to hang! It's pretty foolproof & even someone who isn't always as good at crafty instructions like me was able to put this together easily! I loved it & now I have a beautiful wreath to enjoy in my home!
This honestly would make a fantastic gift idea for someone, especially if they are looking for ways to stay busy at home and in need of some new crafty inspiration. They would love having a fun, relaxing project like this to put together & such a gorgeous piece of farmhouse decor to enjoy in their home! You can send this to yourself or gift it to someone else! And if you decide you only want the one project, you can easily cancel at any time once you receive the box. But, I think you might find that you really enjoy these projects & pretty farmhouse decor & want to keep ordering these boxes, too.
Sign up now for your DIY Farmhouse Kit!
Find more craft subscription kits here:
Annie's Creative Girls Craft Subscription Boxes  – 80% off! 2 Kits for just $4 total + s/h = $9.93 shipped for 2 craft kits!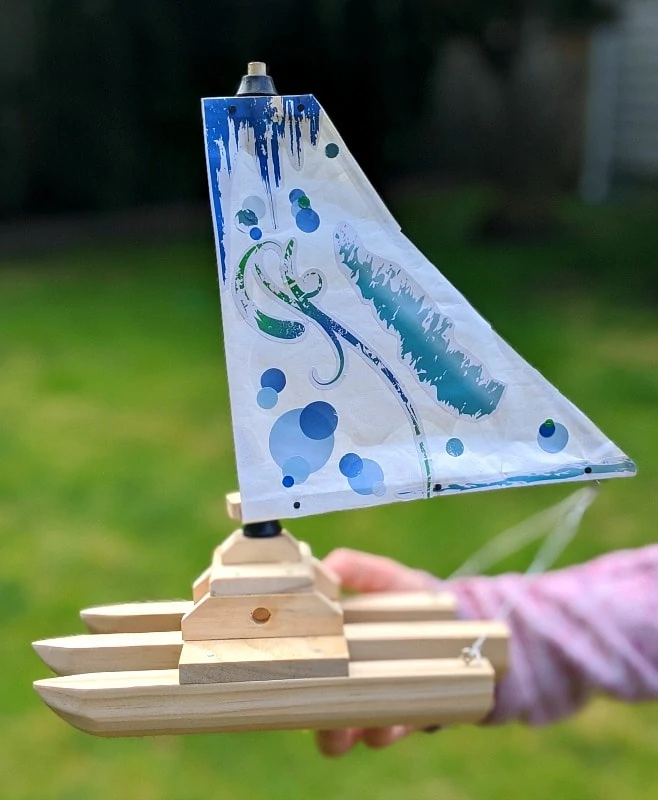 Young Woodworker's Kit – 50% off first box – $9.99 + $5.95 s/h = $15.94 shipped