14 Places to Stay when visiting North Idaho
This post may contain affiliate links and I may be compensated for this post. Please read our disclosure policy here.
14 Places to Stay when visiting North Idaho
North Idaho is such a gorgeous area of the Northwest with such a wealth of outdoor adventures and beautiful landscapes to enjoy – we absolutely love visiting this area because there is so many different types of adventures to enjoy and gorgeous lakes & mountains to gaze on. There are an abundance of delicious restaurants & fun shops to check out, too. Plus, our family loves Silverwood Theme Park in the summertime as our favorite theme park in the Northwest! It really has so much for every age to enjoy all year round!
Summer is definitely the most popular time to visit with the abundance of the beautiful lakes in north Idaho! But, we love visiting at other times, too, as there really are so many things to do in the area. You'll want to figure out what is on your agenda as far as activities & outdoor adventures & then you can determine where is the best location for you to be based.
We've put together some of our favorite places to stay around north Idaho, based on the different areas so you can first choose the area you want to stay & then consider which lodging option is the best for your family & for the season you're visiting. We also share a few camping spots, too, if you want to stay on a budget.  We'd love to hear your favorite places to stay around north Idaho, too!
Find more ideas of things to do in Idaho here and a few options below:
Couer d'Alene Hotels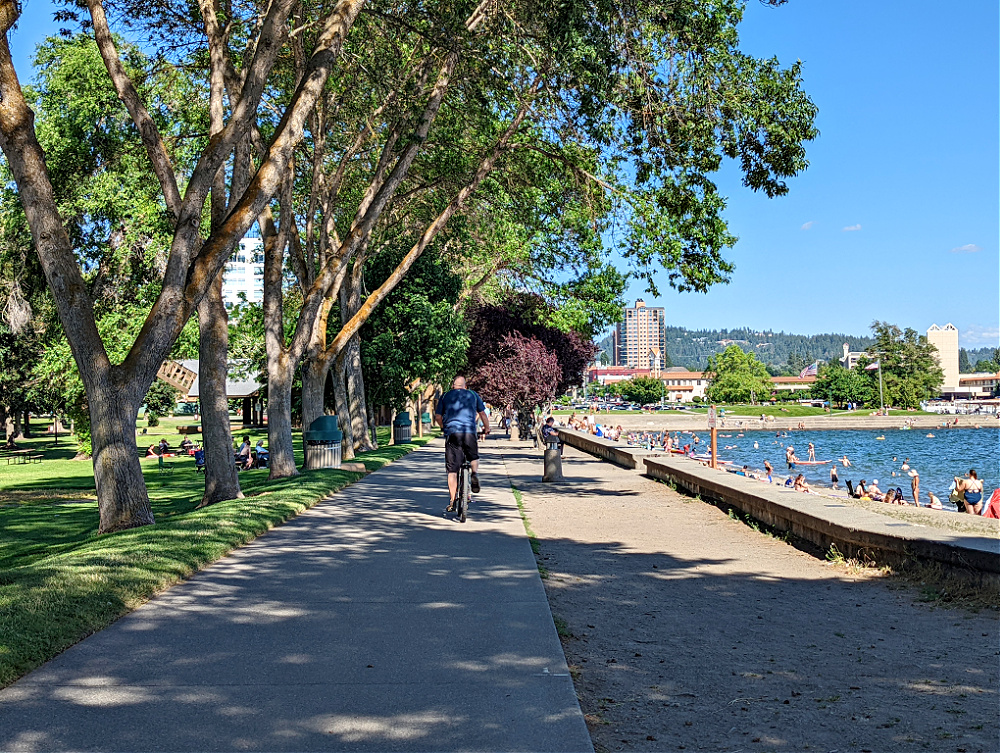 There are 2 popular areas to stay when visiting Couer d'Alene – the downtown / waterfront area or the Riverstone complex, which is about 10 minutes away from the downtown/waterfront area. If you want to be able to walk easily to the lake and all the downtown boutique shops, plus have picturesque views of Lake Couer d'Alene, the downtown area is the place to stay. It's so nice to be able to walk out your door & be right in the heart of the city, as well as be so close to the lake for summer activities. During any season, there are plenty of outdoor activities with awesome parks & Tubbs Hill hiking trails right in town that you can walk to.
While downtown is a beautiful place to stay in Couer d'Alene, there are only a few options and depending on the season, it could be pricier. So, the nearby Riverstone complex along the Spokane River is just 10 minutes away or less, but also has easy on/off freeway access to I-90. This area has a lot of nice hotels which can offer both hotel rooms & suites and other fun amenities such as 24 hour pools, warm cookies in the evening & complimentary light dinner & more. You're also right in the heart of a popular place filled with restaurants, shops & a movie theater at the Village of Riverstone, which kids & teens will enjoy. This area has a boardwalk along the riverfront in some areas & the Centennial trail  runs thru the area as well (this is a 23 mile trail that runs from the ID/WA state line to the end of Lake Couer d'Alene drive). One of my favorite places to eat breakfast in Couer d'Alene, Le Peep, is located right on the river here.
One Lakeside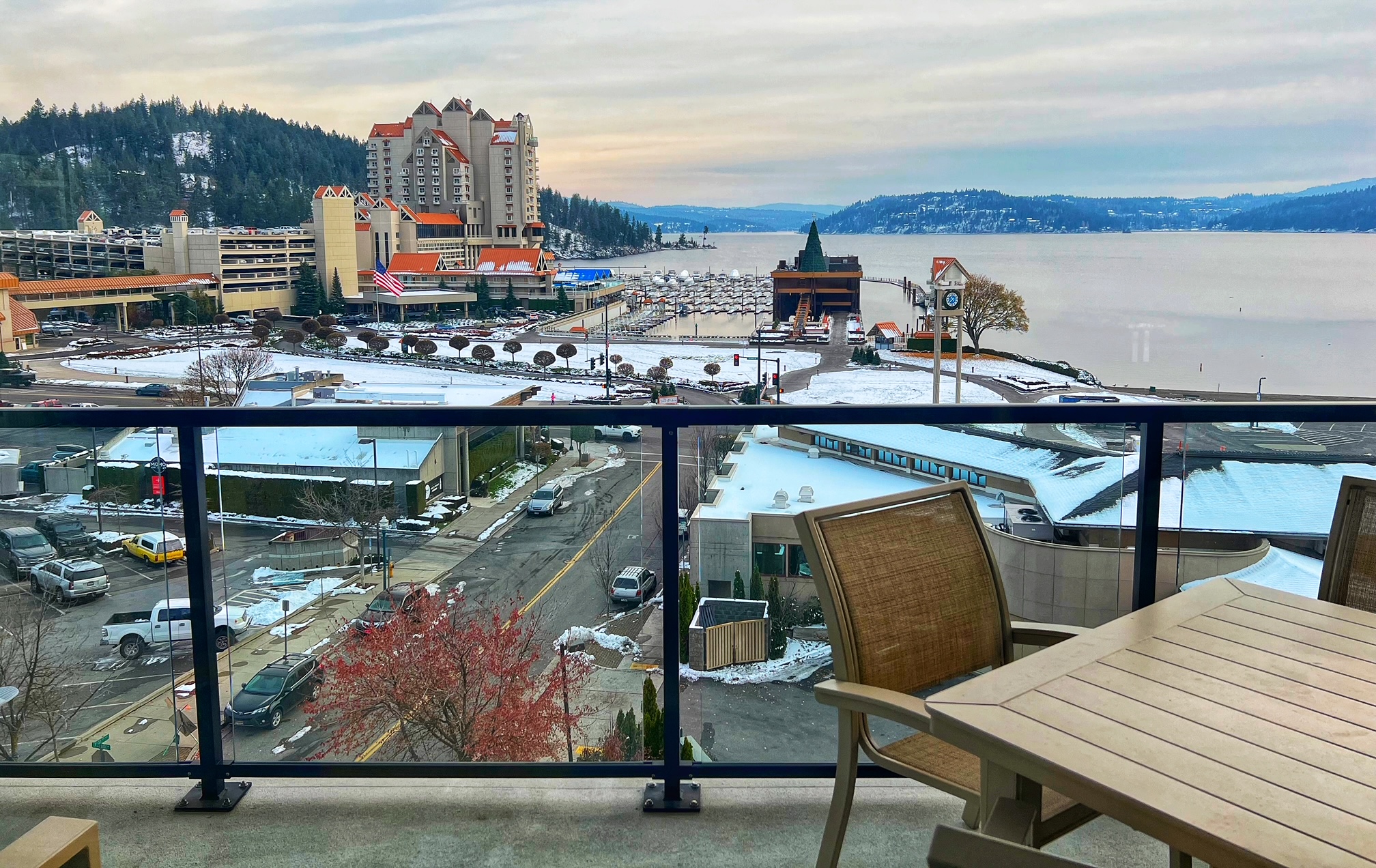 View from Balcony of One Lakeside Suite
If you will be visiting north Idaho with a larger family, 2 families or just enjoy more space to spread out, the newer One Lakeside hotel in downtown Couer d'Alene is such a convenient location and it's all suites, so you are getting plenty of space for your vacation. They offer one, two & three bedroom suites which include bedrooms, living space, kitchen, laundry & balconies. Views range from the downtown Couer d'Alene area to stunning views of Lake Couer d'Alene just across the street.
If you want to be right in the heart of Couer d'Alene, with all of the convenience of walking around town to the cute boutique shops & restaurants, parks, lake access, Tubbs Hill & more, but with plenty of space to spread out & relax during your vacation – this is the place to stay! All of the suites have living rooms, dining rooms, laundry room & full-size kitchens so you can cook (which is a great way to save money). Plus, beautiful outdoor balconies to enjoy the gorgeous scenery of the lake & the town. There is an outdoor, rooftop hot tub for adults to enjoy (at an additional cost) & you'll also have a secure parking garage to park, so you don't have to deal with finding parking around town.  It's also dog-friendly if you want to bring your pup along.
Check out our One Lakeside review here!
Hampton Inn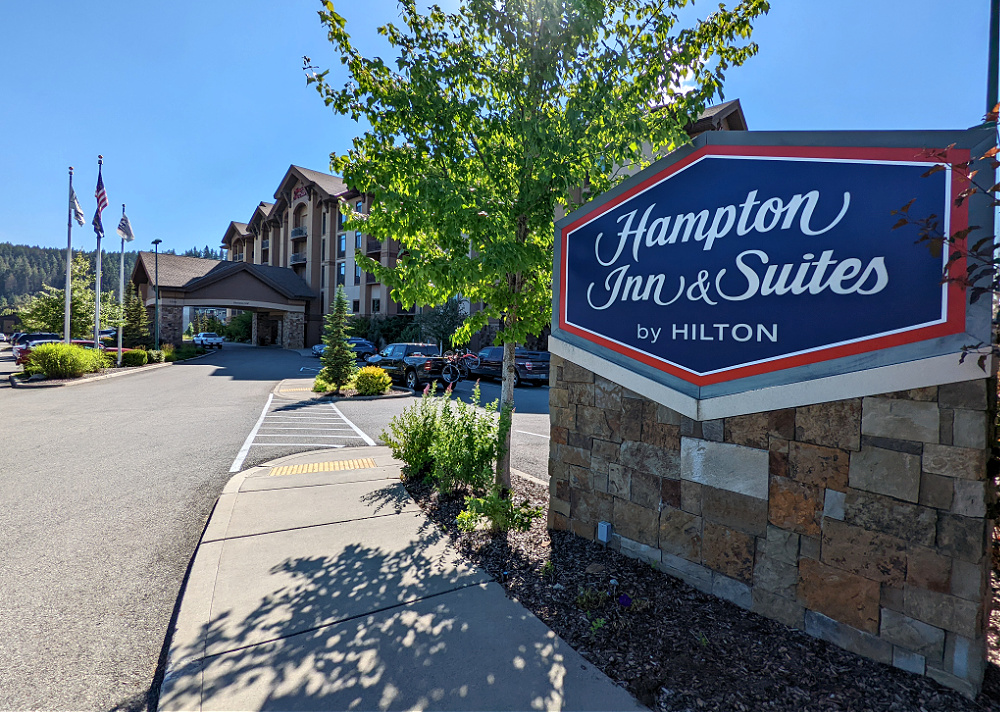 If you are looking for a nice hotel in a great location in Couer d'Alene, we found the Hampton Inn in Couer d'Alene to be a great option because of its proximity to the freeway – you can easily head to Silverwood Theme Park in about 30 minutes. And it's just minutes away from downtown Couer d'Alene, the lake & all the many activities downtown.
The Hampton Inn offers nice amenities such as free breakfast, indoor pool & hot tub. It's pet-friendly, too, so it's a great family friendly hotel for your north Idaho stay.
Plus, it's in a beautiful area of the city as it's close to the Spokane River & the popular Riverstone Complex with plenty of great restaurant, shops & movie theater within walking or easy driving distance.
Holiday Inn Express & Suites 
Sia's family has stayed at the Holiday Inn Express (an IHG hotel) a few times and they love all that is offered for the price at this hotel. It is easy to get larger rooms for families at fairly affordable prices (depending on the season). The hotel offers some great amenities including an indoor pool that is open 24 hours a day (that is rare to find at hotels). Plus, you'll get a free hot breakfast and milk & cookies in the evening. They also offer a free light meal Sun – Thurs evenings with beer, wine & sodas included as well.
The location is very convenient as there is an easy walking path down to the Riverstone complex where you'll find the restaurants & shops. It's also just minutes from downtown Couer d'Alene but with the ease of access to the freeway, too, from this location.
Staybridge Suites
The Staybridge Suites (an IHG hotel) is a newer hotel right in the heart of the community & also close to the Riverstone complex where you'll find a variety of restaurants & shops & the riverfront. Plus it's just minutes away from downtown Couer d'Alene & the lake. Sia's family loved that they offer some larger family-friendly rooms, which you can find for some great prices in different seasons. It's a great option for families to give you some extra space with these rooms, often at better prices than you'll find compared to neighboring hotels and close to restaurants & shops & all the activities in Couer d'Alene.
Springhill Suites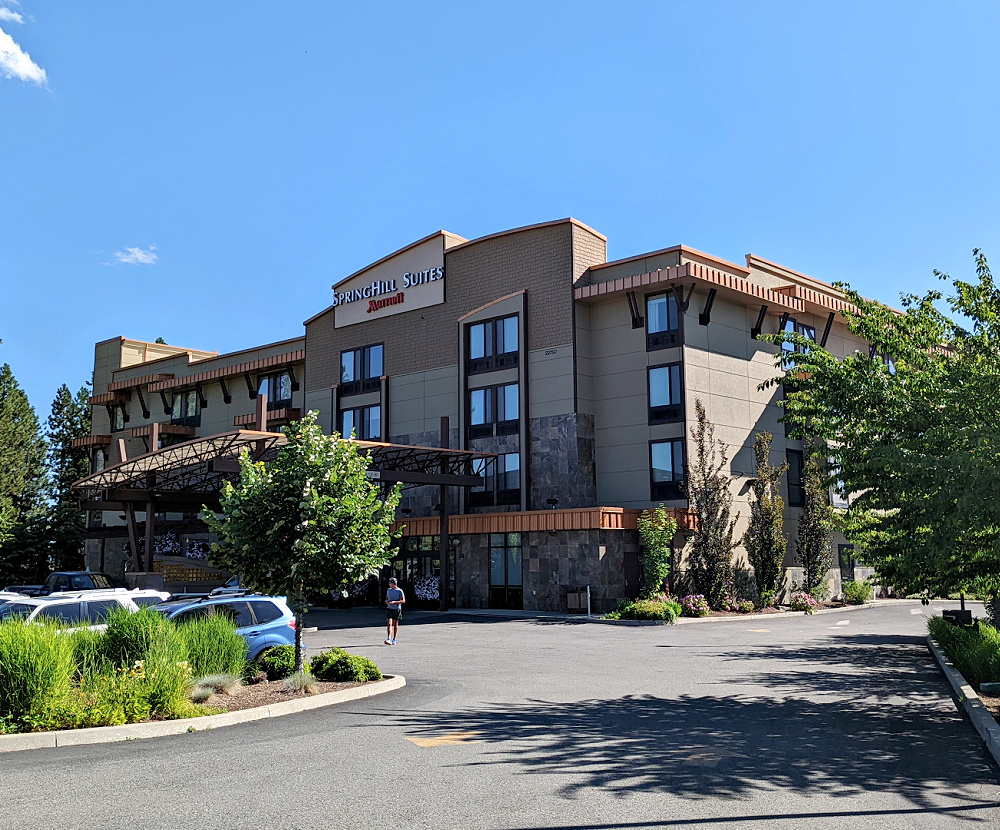 The Springhill Suites (a Marriott hotel) is also located in the same Riverstone complex general area, both close to the freeways as well as the riverfront & just 10 minutes or so from downtown Couer d'Alene & the lake. They offer a complimentary hot breakfast, pool, & fitness center. And a unique offering here is a 3 hole putting green as well as an outdoor splash pad. They have some outdoor fire tables & a BBQ for guests to use as well.
This hotel is one that Sia's family has stayed in as well  and they really enjoyed it. It can tend to be a bit pricier than the other hotels and a little harder to find deals, unless you're looking more in the off-season. But it's a beautiful place to stay with some great amenities & convenient location.
Hotels in Hayden Idaho Area (& camping & more)
Farragut State Park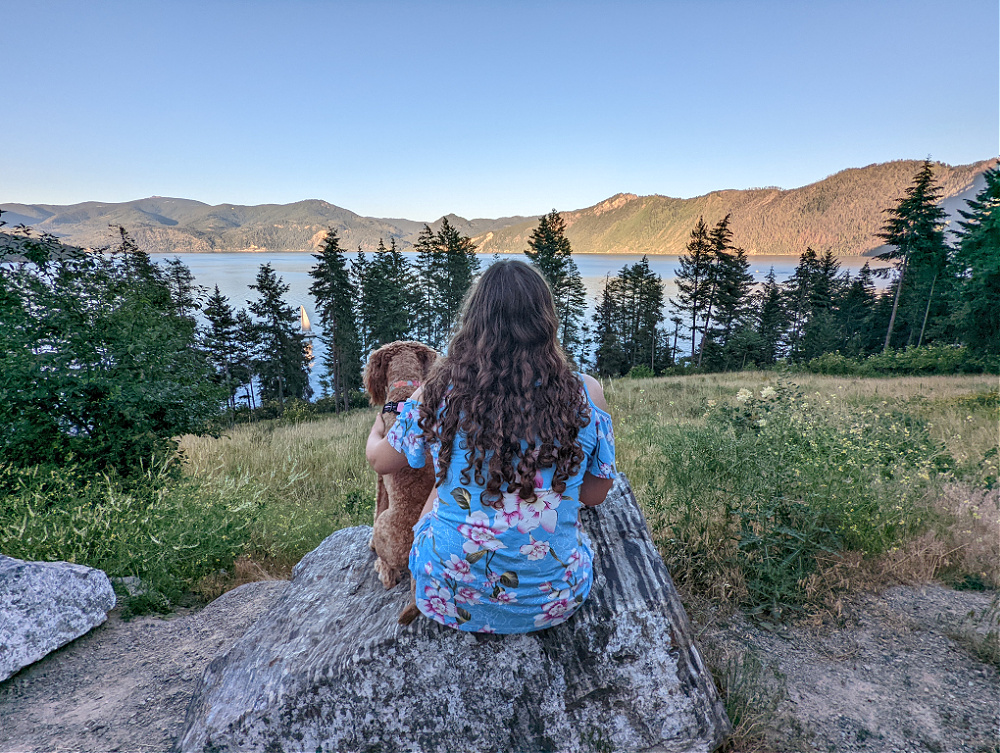 Farragut State Park is a gorgeous state park located at the southern end of Lake Pend Oreille, about 10 minutes from Silverwood Theme Park and between Sandpoint & Couer d'Alene. This is a 4000+ acre park, which used to be a WWII era naval training station. It's now a state park offering both camping as well as day use activities like hiking, boating, swimming & more. There are 10 cabins here as well if you prefer "glamping" to camping.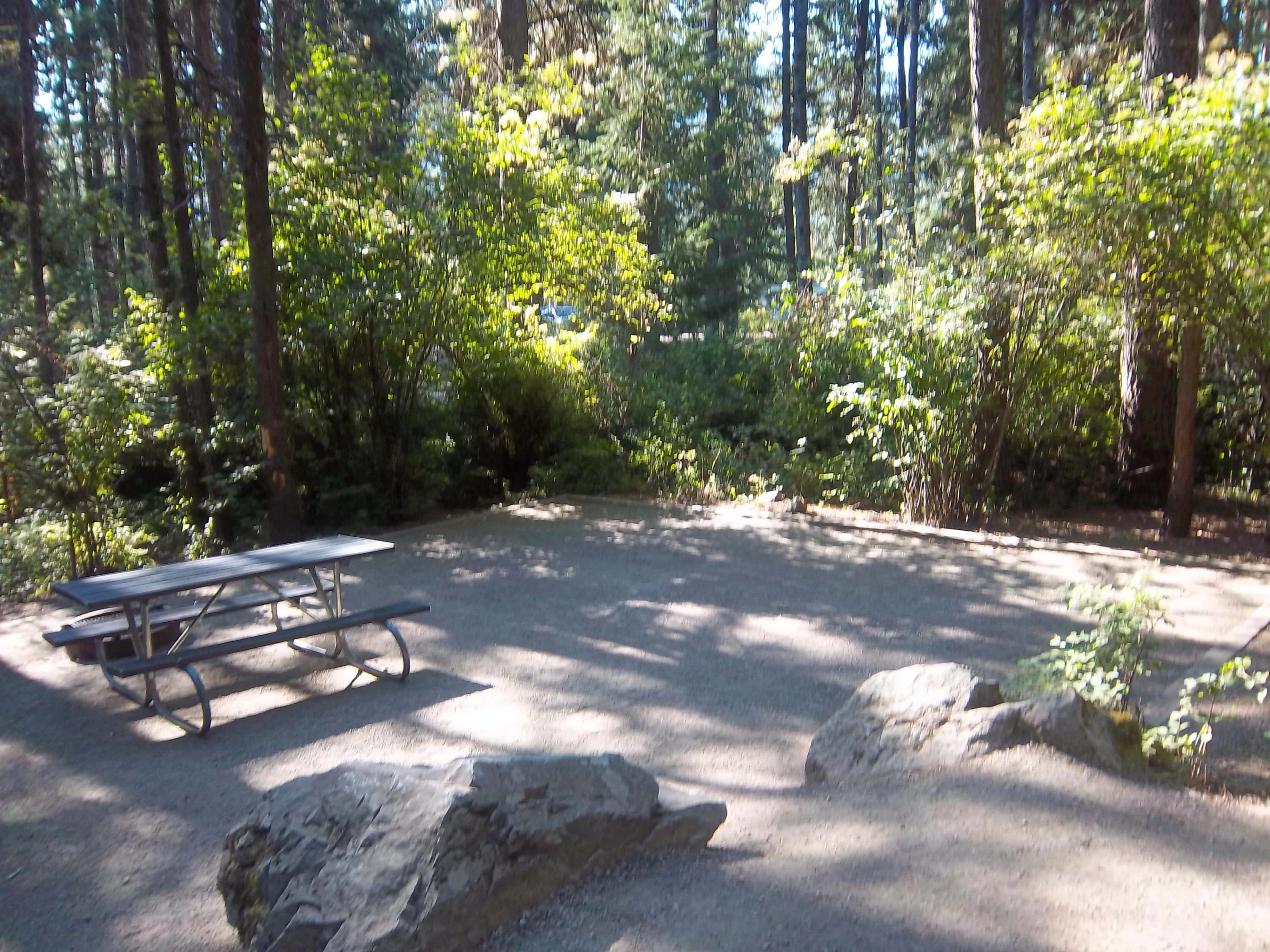 The campground here is large with over 220 sites, but it is very popular & does fill up fast.  So, you'll want to reserve early if you are wanting to camp here. The campsites are very nice with nice bathroom & shower facilities, too. While north Idaho can get quite hot in the summer, the shade from all the trees at Farragut definitely helps to keep things cooler at camp.
Plus,  there are so many activities for kids around the campground which make this a very popular place to camp. You'll find multiple playgrounds for the kids, lots of hiking trails all around the park & along the lake, swimming areas in the lake, 3 frisbee disc golf fields, a radio-controlled airplane field, biking, fishing & much more! You can visit the Museum at the Brig to learn some WWII history of the area. The Tree to Tree Adventure Park/Ropes Course is also located within Farragut State Park if you want a little more adventure during your stay here.
Triple Play Resort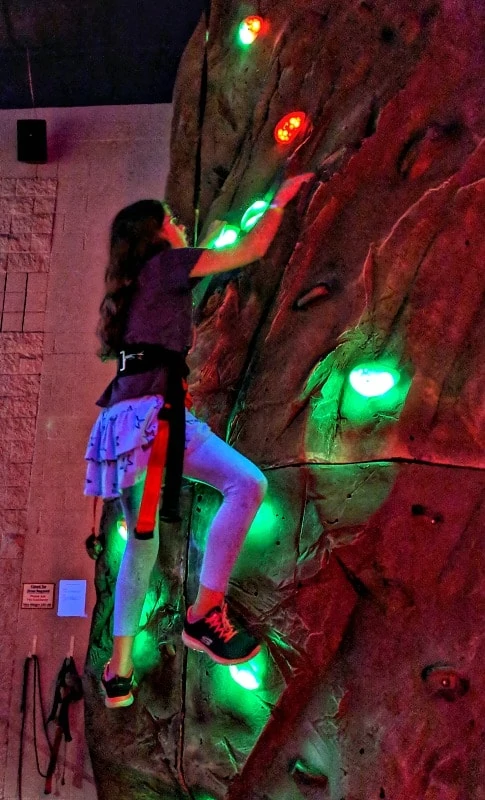 If you're looking for Hayden ID hotels and one of the closest hotels to stay near Silverwood Theme Park, the Triple Play resort is definitely quite close – less than 20 minutes away in Hayden Idaho. Triple Play is a hotel + family fun center & water park all in one. Plus, it comes with a free breakfast so that makes for extra savings when you factor in a meal for your family included.  Make sure to ask about the package rates if you want to include all of the water park & family fun center options or if you'd rather pay separately for those items, it's always good to compare costs.
The highlight of this hotel is the amazing indoor & outdoor entertainment options for kids & teens. This resort & family fun center is open all year round, so it's a highlight for families during any season & any weather (there are a couple outdoor activities that may not be running depending on the weather like rain or snow, though).   Teens will love the adventure aspect of the resort – everything from the thrilling Raptor Reef waterslides to Laser Tag to Go Karts, it's definitely a cool place to hang out with friends & family. Find out more about Triple Play in our review here!
If you are looking for a quiet hotel to relax & unwind away from the hustle & bustle, this is not the place to come – it's filled with kids everywhere.  But your kids will love all the activities on site at the entertainment center.
Cedar Mountain Bed & Breakfast & Cabin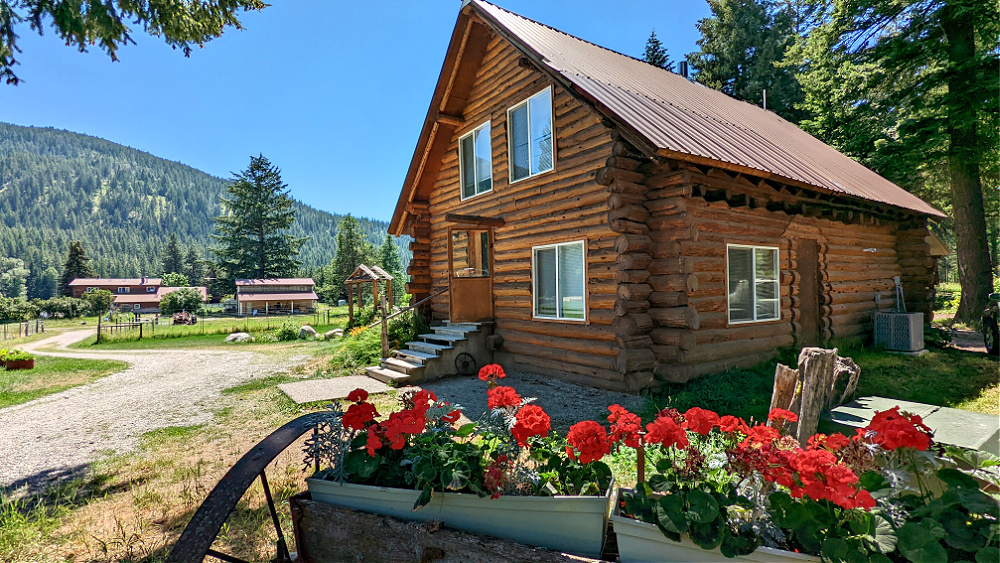 The Cedar Mountain farm is located at the same exit as Silverwood and it's just 2 miles away from the theme park. Since there are not any Athol ID hotels within 10 minutes or less of Silverwood, this is definitely such a convenient place to stay because of its proximity. They offer several different lodging options during the summer, including a log cabin with your own kitchen, as well as a stay in their farmhouse which offers a delicious home-cooked breakfast included in your stay. If you are looking for a more budget-friendly option, they also have a campground on site as well for RV or tent sites.
The best part about staying at this farm is that it's on over 440 acres in the valley and filled with animals to visit during your stay, as you explore the farm property & all of the many hiking trails & places to relax & unwind in nature. Kids will love hanging out with the mini ponies, rabbits, goats, sheep & more to feed & pet.
Silverwood RV Park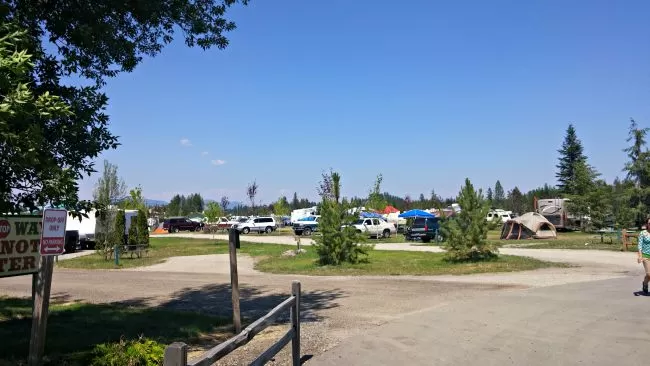 If you're headed to Silverwood Theme Park & want to maximize your time there and be able to take breaks during the day, staying at the Silverwood RV Park is the place to be, especially as there are no Athol ID hotels. You won't have to worry about drive times or parking fees, you will be right there across the highway from Silverwood & next to the Silverwood parking lots. So, it's perfect if you have little ones who might need a break or two for naps or just some quiet time during the middle of the day. Or head back to your campground for either lunch or dinner to save on food costs.
This can be helpful if you have kids who span across different age groups – for example preschoolers to teens. The little ones can head back for naps while the older kids / teens can stay longer at the park, without the whole family having to leave. You can bring tents or RV's to the campground so it's definitely one of the best budget-saving options for lodging near Silverwood. But, the downfall of this is that you are right next to the freeway, so you will hear freeway noise as well as the noise from the Silverwood parking lots right next door. There's also not a lot of privacy or trees at this campground.
Sandpoint  Idaho Hotels
Best Western Edgewater Resort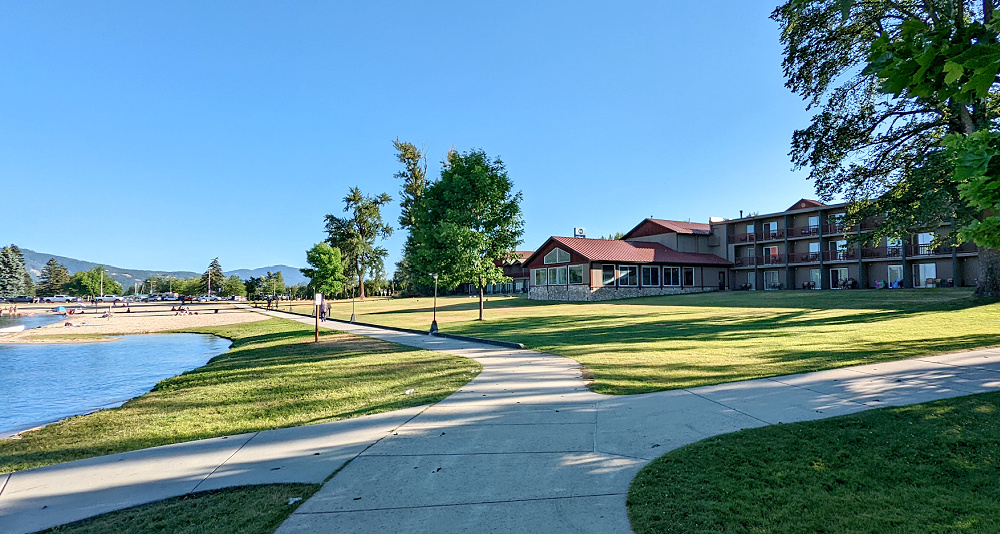 We love the quieter pace of the small town of Sandpoint, located about an hour north of Couer d'Alene & 35 minutes north of Silverwood and on Lake Pend Oreille. If you want a hotel right on the water & close to food & shopping (the city beach and downtown Sandpoint both within minutes walk) – the Best Western Edgewater Resort definitely has a gorgeous location on the lake. It looks like it's an older hotel, but the location can't be beat especially if you stay on the ground floor – walk right out your patio doors & head out to the beach. It's a quick walk into town to a number of great restaurants and don't forget to stop for delicious ice cream at Panhandle Cone & Coffee.
Cedar Street Hotel & Suites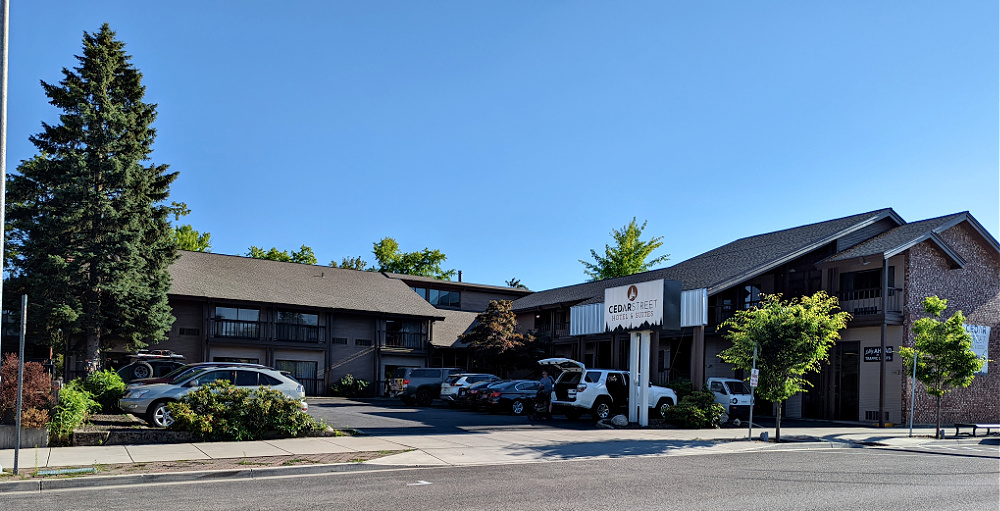 If you want to be right in the heart of small-town Sandpoint, Cedar Street Hotel & Suites is where to stay. This is just a block or two away from the main downtown street, so it's easy walking to all of the shops & restaurants in Sandpoint. They offer an outdoor pool as well as indoor hot tub and a fitness center. You'll find everything from standard hotel rooms to various sized suites for larger families or groups. They even have a loft suite & a hot tub suite as well for a variety of options.
Hotel Ruby 

The Hotel Ruby is on the northern end of Sandpoint into Ponderay, ID. It is located right off the main highway, Hwy 95 & right next to a shopping center area, but it's often been one of the most affordable locations even in the prime summer season, so it's definitely somewhere to consider. It may be a bit noisier due to its location off the highway & near shopping.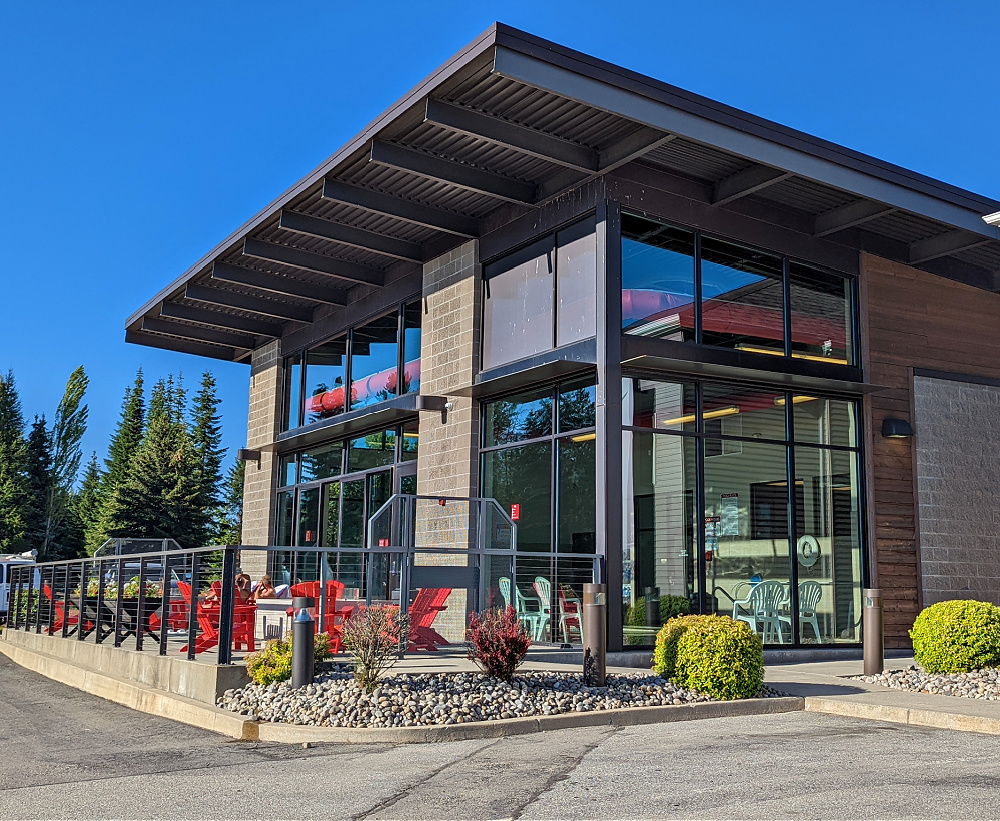 They offer a free breakfast as well as a heated indoor pool & 2 hot tubs as well as a fitness center. There are in-room Blu-Ray players and movies at the front desk to enjoy, too.  There is also a sunning patio with fire pits to enjoy (this does look out at the parking lot) but still a nice amenity. It is dog friendly & 100% non-smoking. It's near the base of Schweitzer mountain, so a great central location for skiing, as well as visiting Sandpoint & Lake Pend Oreille.
Talus Rock Retreat 
The Talus Rock Retreat is located just 1 mile from downtown Sandpoint, but it's situated on 18 acres of wilderness, so it's a very peaceful getaway. This villa is more like the size of a bed & breakfast as there are only 6 rooms, but the rooms can be reasonably priced, depending on the season. They do also provide a self-service breakfast buffet with options such as organic farm fresh hard-boiled eggs, fresh fruit, organic rolled oats, yogurt parfait & more.  Many of the items from their breakfast comes from their farm as they have own hens to provide the eggs, an organic garden, & a small greenhouse, as their goal is to be self-sustaining.
Some of the amenities on site include: private decks, fire pits, hot tub, sauna, outdoor pool, waterfall, bass stocked pond, paddle boats, wooded nature trails, pool table, board games & DVD's & much more.
Hotels in Wallace ID & Kellogg ID
Silver Mountain Resort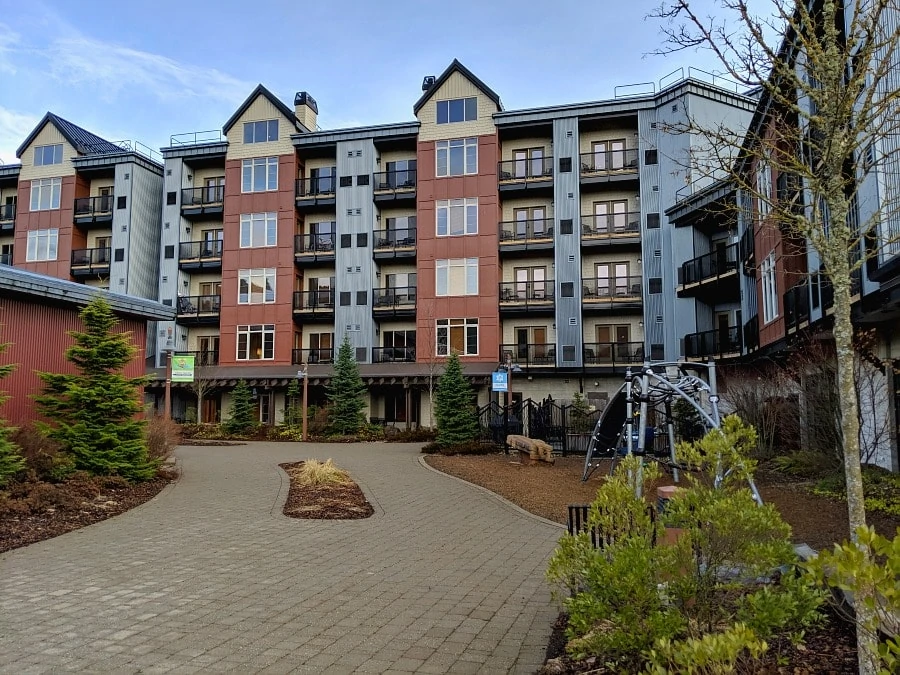 The Silver Mountain resort is one of the best family-friendly resorts in the Pacific Northwest. Families travel from Washington & Oregon just to stay at this hotel as it offers so many amenities right on site or nearby in Kellogg & Wallace areas. It is perfect for any season, but winter is definitely my favorite time to stay at Silver Mountain.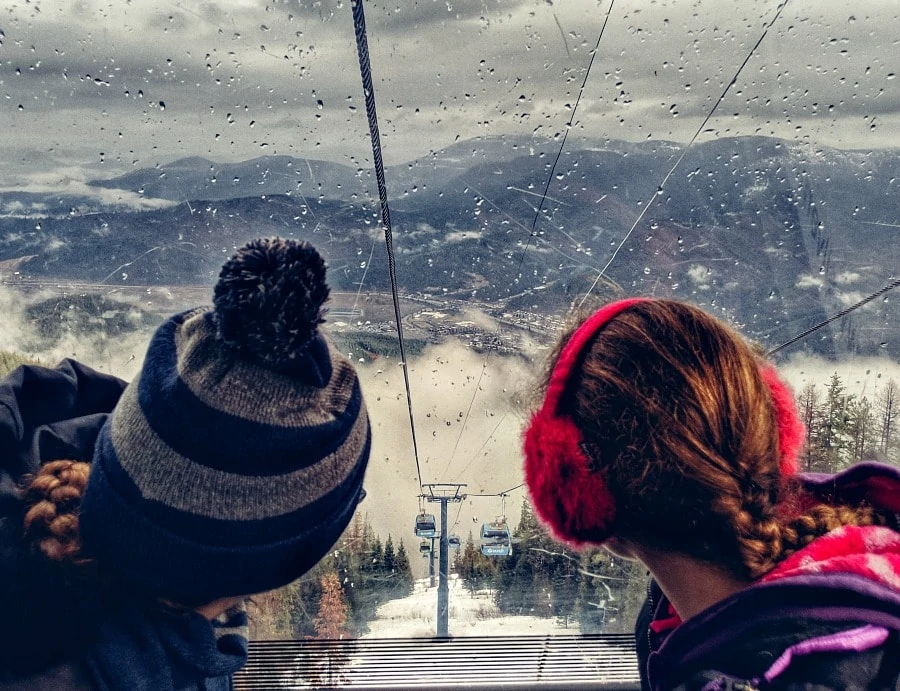 Silver Mountain offers condos in a little village right in the heart of Kellogg & at the base of a ski resort. You can take a gondola right from the Silver Mountain little village directly up to the ski resort for skiing, snowboarding & tubing fun. In the summer, you can use the gondola to access beautiful hiking trails & mountain bike trails on the mountain.
It's also just a few short minutes off Highway I-90 for easy on/off access and a great stopover destination if you're on your way to Glacier or Yellowstone national parks.  Rooms range from studios to 2 bedroom condos with full kitchens to save on food costs if you want to cook in your room.  Within the village there at the resort, you'll find several restaurants & shops to visit & the town is just 10-15 minutes west of Wallace with plenty more shops & restaurants to enjoy.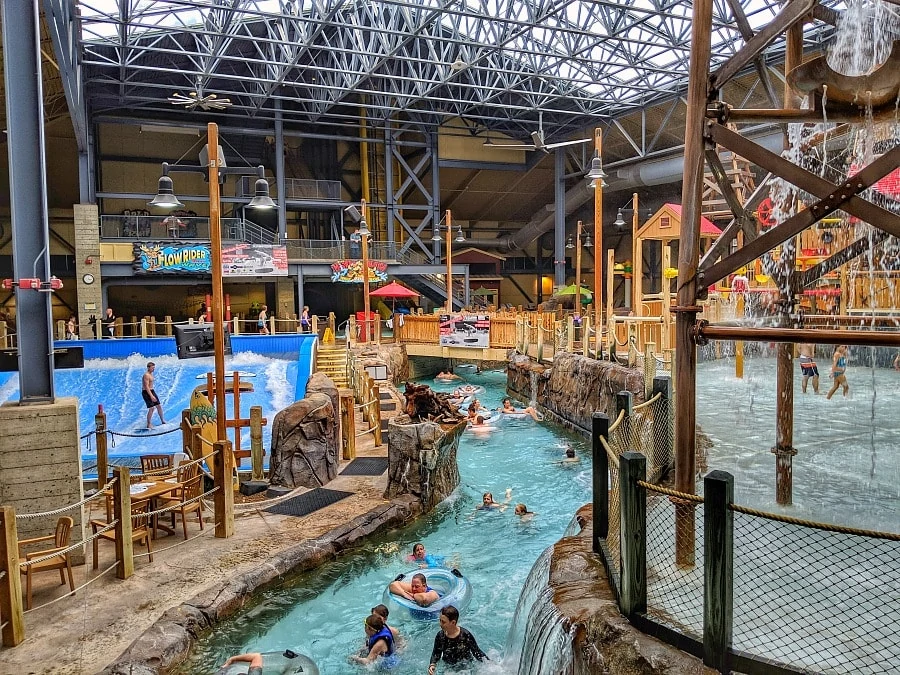 The biggest reason people love Silver Mountain resort is the amazing water park on site, Silver Rapids, with multiple water slides, lazy river, Flow Rider surfing/boogie boarding area, water play areas, splash zones for younger kids as well as several hot tubs. The resort itself also has outdoor fire pits around the property to add to the cozy feel of the resort.
Check out our review of Silver Mountain & Silver Rapids water park here!
Wallace Inn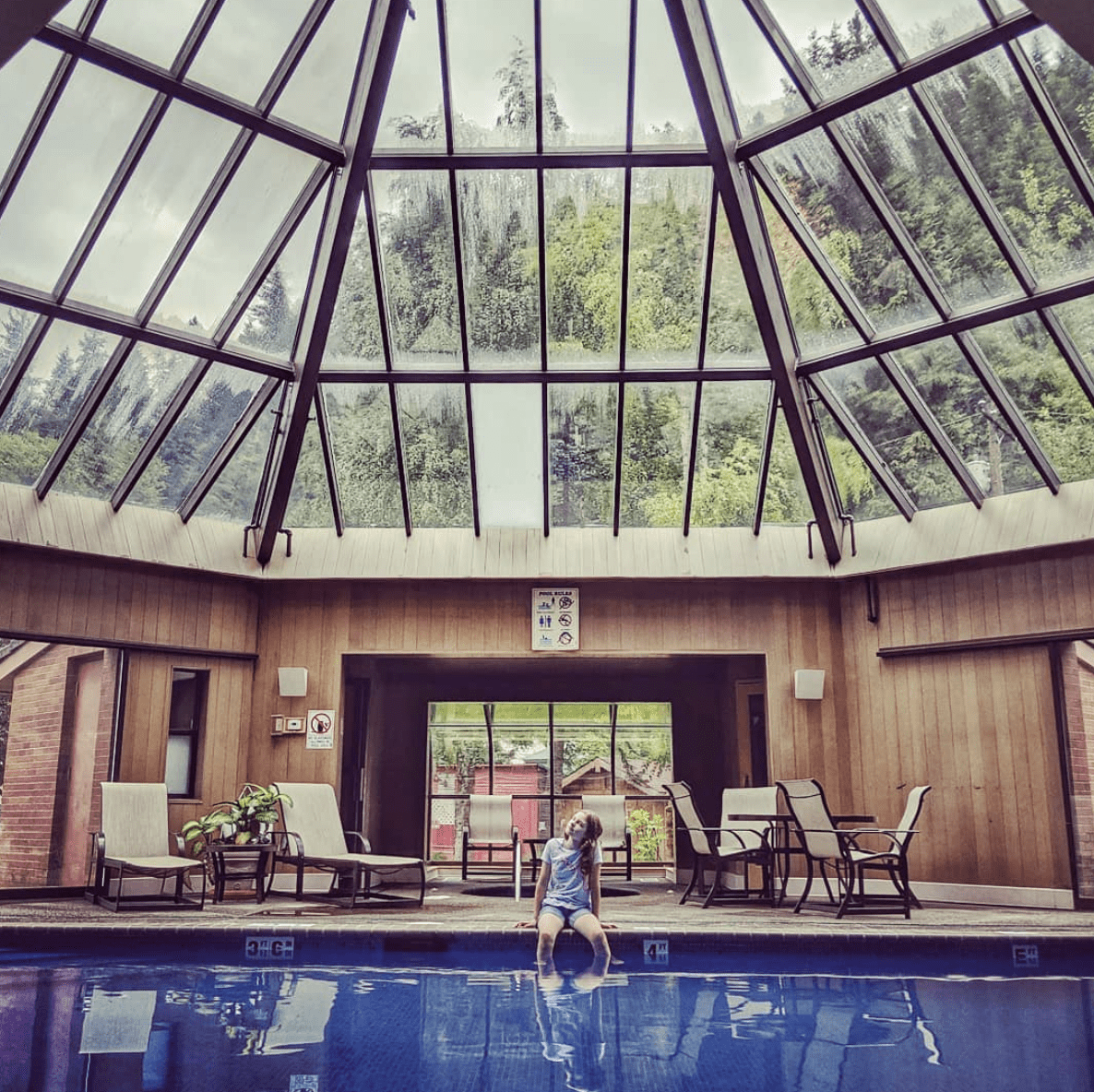 If you're looking for hotels in Wallace ID,The Wallace Inn is another easy to access hotel off the I-90 freeway, located in Wallace, which is just on the Idaho/Montana border. It's a fairly standard hotel, but the prices are often much more reasonable than you might find elsewhere for clean & tidy rooms. And it has an absolutely gorgeous indoor pool with large skylights & windows! All of those windows surrounding the pool make it just so beautiful in any season, but especially gorgeous with the snow falling outside, while you relax & unwind swimming lazily in the pool.
Check out our review of the Wallace Inn here!
Spokane Hotels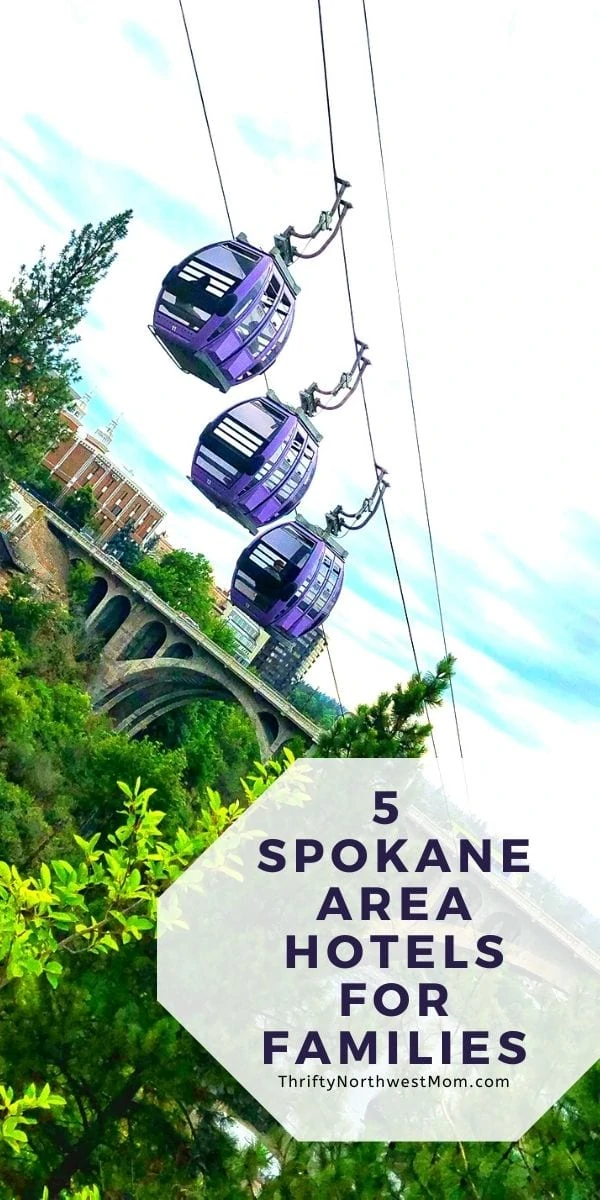 While Spokane is not in north Idaho, it's just across the border & about 30 minute away from Couer d'Alene, so it's often a popular destination for families to stay as their base if visiting north Idaho, just for more options.
Check out our post with 5 family friendly Spokane hotels to check out for your stay.
Have you visited any of these locations – where is your favorite place to stay near Silverwood?