Board Games Holiday Gift Guide – Gifts for every age to enjoy!
This post may contain affiliate links and I may be compensated for this post. Please read our disclosure policy here.
 
Board Games Holiday Gift Guide
One of our favorite things to do as a family is play games for family game night and my girls love to play games with anyone who visits for a playdate, too. We thought it would be fun to share some of our favorites as well as others that we have heard great reviews for and want to check out ourselves!
Let us know what your favorite board games are in your family!
Preschool: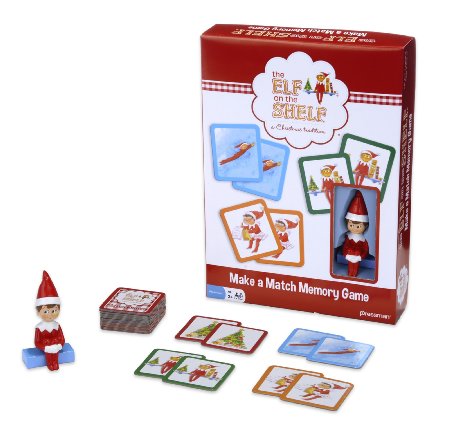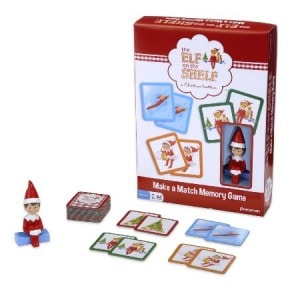 Elf on the Shelf Make-a-Match Game
Classic game play with a fun Elf twist

Players collect a real Elf as they try to make matches

Reinforces memory and image recognition skills

Includes an Elf figurine

Tested for safety and quality

Includes an Elf figure!

For 2 to 4 players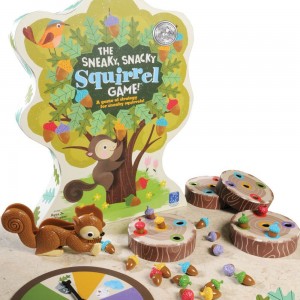 Squirrel themed game

Game board doubles as packaging

Develops matching, sorting, strategic thinking, hand-eye coordination, fine motor skills, and pre-handwriting skills
Kids have fun and build confidence every time they say, "I found it!"

Encourages teamwork

Promotes attention to detail

Reinforces object identification and matching skills
Elementary Age: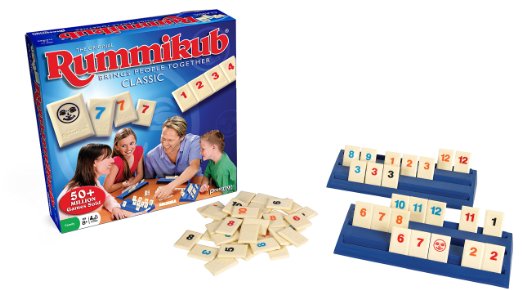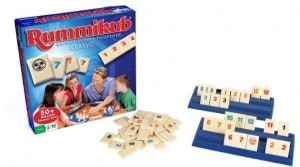 Rummikub — The Original Rummy Tile Game
One of the world's most popular games

106 high-quality tiles and updated rules

Reinforces STEM skills

Great for play with family and friends

Form runs and sets as you try to play all your tiles

Featuring one-piece tile racks and brightly-colored, easy-to-read numbered tiles

Includes 106 tiles, four playing racks, and instructions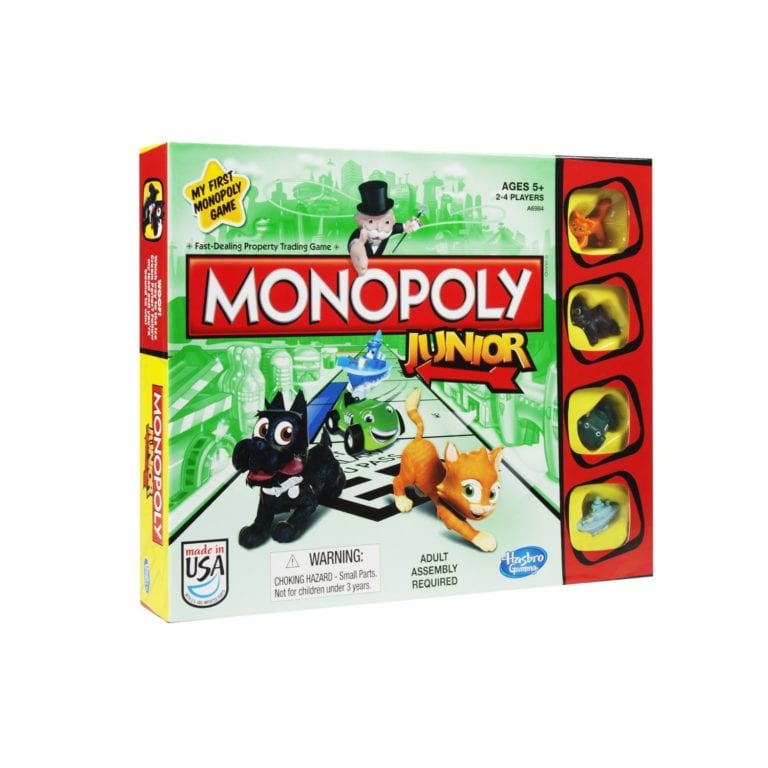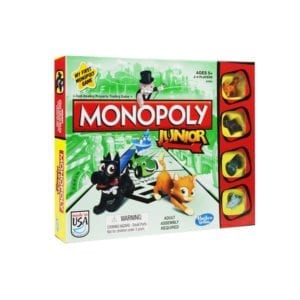 Fast-trading Monopoly Junior game is for a younger player

Comes with 4 junior tokens before they grew up.

Buy cool properties such as the pet store, the candy store, and the video game arcade.
Twister – This is a classic, but always sure to bring out lots of laughs with the kids when you pull this game out! This is another favorite of our girls to bring out when they have friends over to play.
 Twister game challenges you to put your hands and feet at different places on the mat without falling over

Be the last player standing to win

Fun Spinner's Choice ideas on the back of the spinner

If the spinner lands on air, the player must put a hand or foot in the air

Includes 1 Twister mat, 1 spinner, and instructions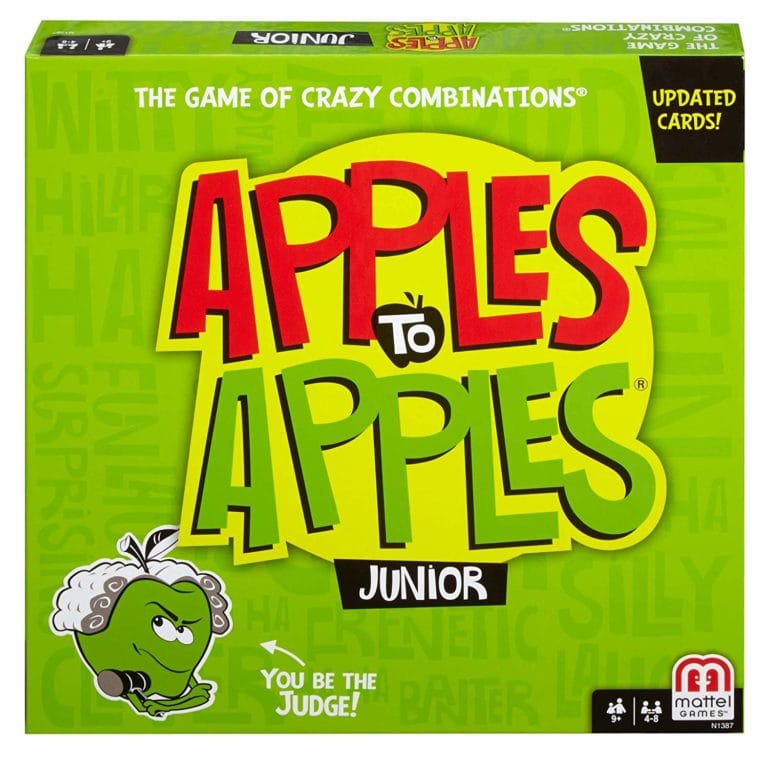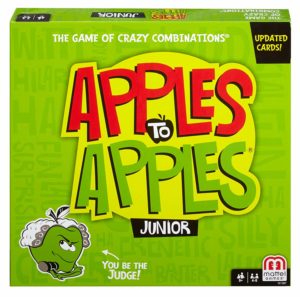 Apples to Apples Junior – The Game of Crazy Combinations! – Apples to Apples is another game that is a favorite for a game night & our girls really enjoy the junior version. I think it's a nice learning tool, too, to help increase their vocabulary.
Apples to Apples is a game of hilarious comparisons
Contains 576 cards and provides hours and hours of fun
Players will delight in the crazy comparisons while expanding their vocabulary and thinking skills
Does not contain duplicate card sets
Good for hours of fun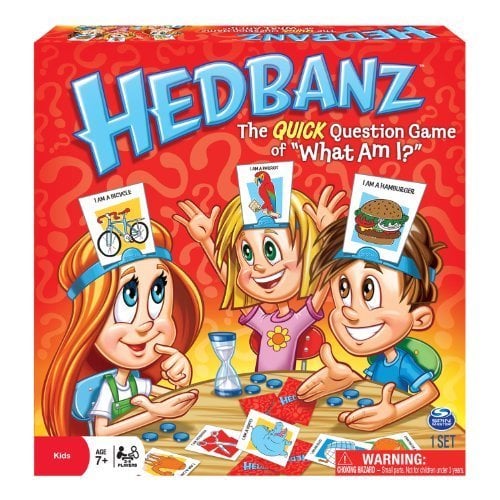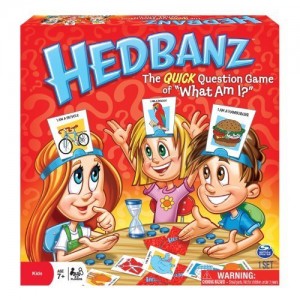 HedBanz  – This is a favorite game around our house and when we have kids over to play as the kids can get so silly trying to think of the answers or hearing the guesses. It's great because it's portable, too, so you could bring it on a trip, too. The kids could even use it in the car if they remember what each person has.
Get ready for the award-winning, a goofy guessing game of "What am I?" with Hedbanz

Kids use their heads in more ways than one while asking yes or no questions to figure out if the cartoon on their head

Be the first player to guess what you are and win

Hedbanz the game where everybody knows by you

Comes with everything kids need for non-stop fun Including Hedbanz rule sheet, 74 cards, 24 chips, 6 headbands, and sand-clock timer.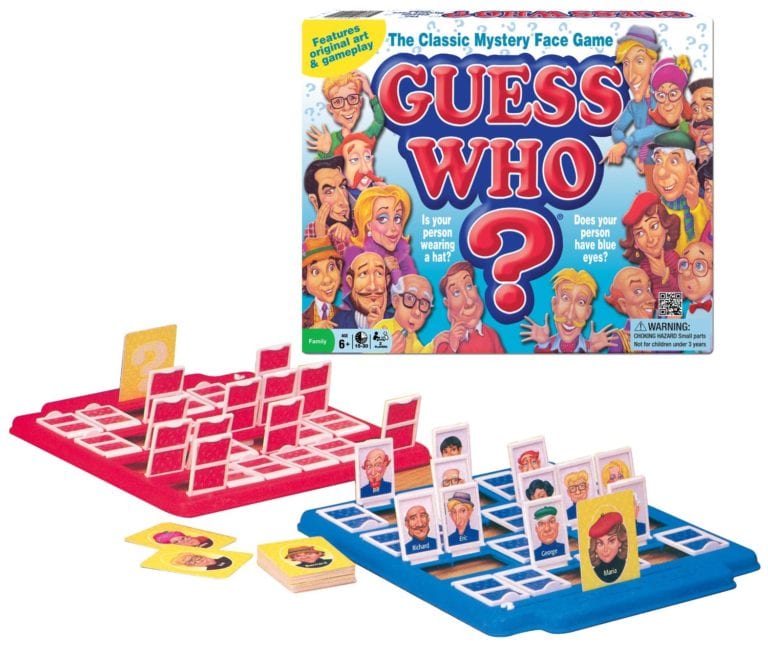 Guess Who – This classic game is so much fun! It will leave you guessing who is left!
Spot It – This is another one I have on our girls' gift list as I've heard rave reviews about these
Cardstock

Imported

Award-winning game of visual perception for the whole family

Between any two cards, there is always one and only one matching symbol. Spot it fast to win!

Five challenging ways to play for hours of frenzied fun for 2 to 8 players

Develops focus, visual perception skills, speech-language skills, and fine motor skills

Includes 55 cards and illustrated rules in a durable travel-size tin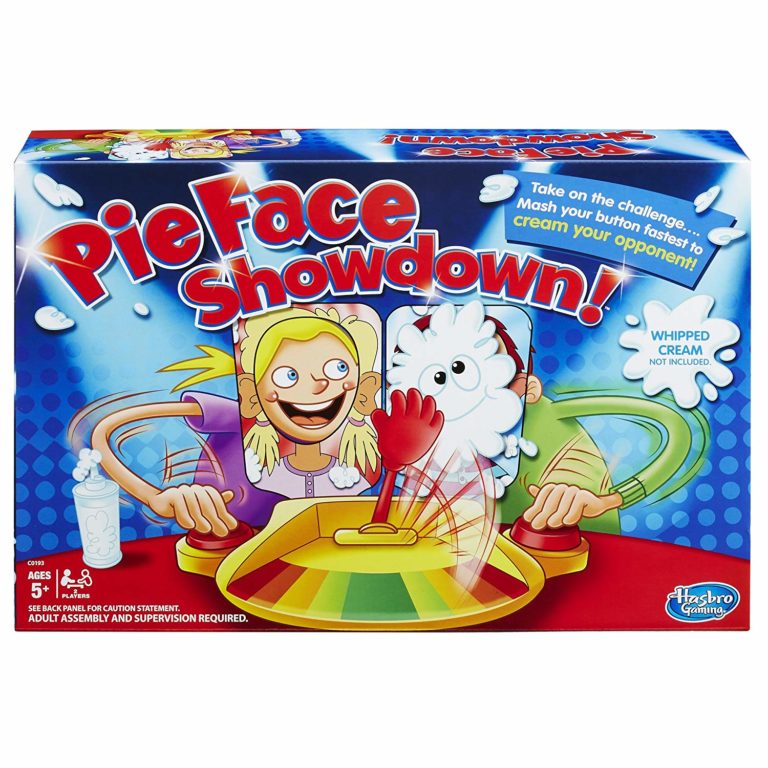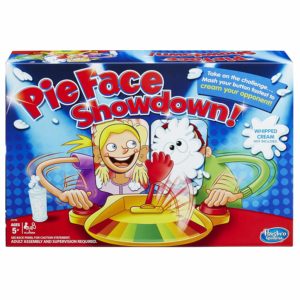 The player who doesn't get "creamed" wins
Hilarious, family fun
Throwing arm could launch at any moment
Easy to set up and clean
Includes 1 pie thrower, 1 throwing arm, 2 chin rests, 2 splash-card masks, 1 sponge, and instructions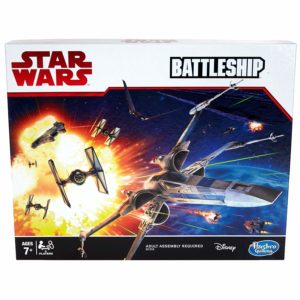 Hasbro Battleship: Star Wars Edition Game
Battleship gameplay with Star Wars theme
Play as X-wing pilot or TIE Fighter
Destroy opponent's starship fleet to win
Keep track of hits and misses on the Star Wars themed grid
Includes space grid base, vertical target grid, 8 plastic starships, 8 clear risers, 8 clear starship bases, 60 red "hit" pegs, 140 white "miss" pegs, label sheet, and instructions.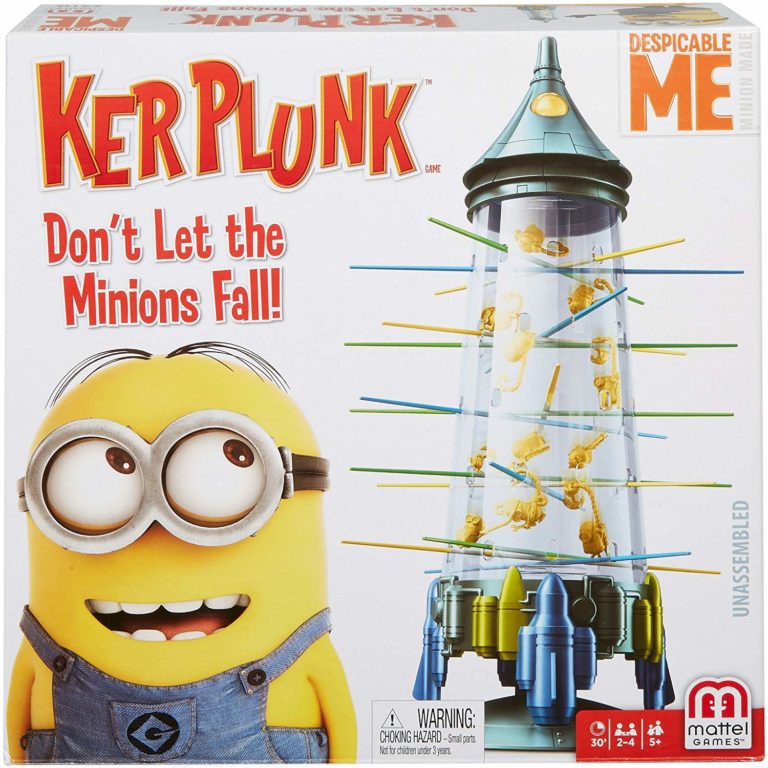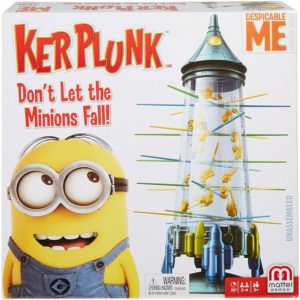 Kerplunk Despicable Me Minions Game
It's a "despicable" new twist on a hilarious kids' game!
Create a web of sticks across the Ray Gun Tower and place the Minions inside the Tower
Spin the top of the tower to determine which color sticks will come out first
Carefully remove a stick and try not to let those Minions fall!
The player to drop the fewest Minions wins!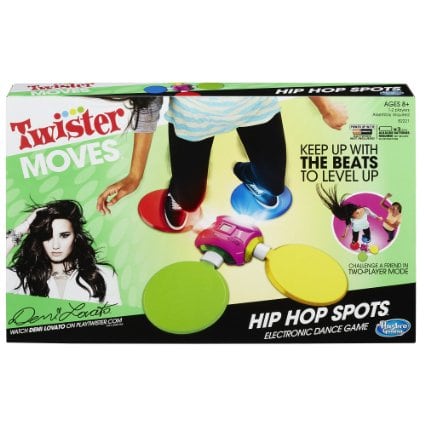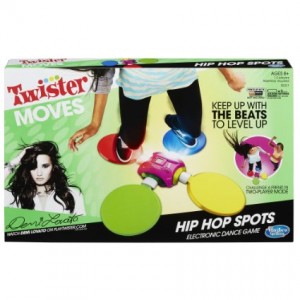 Hasbro Games Twister Moves Hip Hop Spots
Twister Moves Hip Hop Spots Electronic Dance game lets you level up and master your moves while you follow the lights and keep up with the beat

Use the Twister Moves Moves Tracker (sold separately) to digitally count your score

Use the Twister Moves Moves Tracker (sold separately) to combine your moves score with Twister Moves Skip-It and Twister Moves Hoop!

Includes 1 Twister Moves Hip Hop Spots game unit, 4 spots, and instruction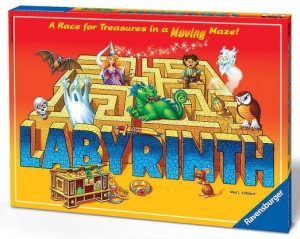 Gain the advantage over the other players by inserting the extra tile to move walls and open passages of the Labyrinth

Learn cause and effect, plannina, association, recognition, and taking turns

Ages 8 and up

For 1-4 players

Ravensburger's popular trademark is found on every box, the blue triangle, which American consumers value as a sign of quality for over 125 years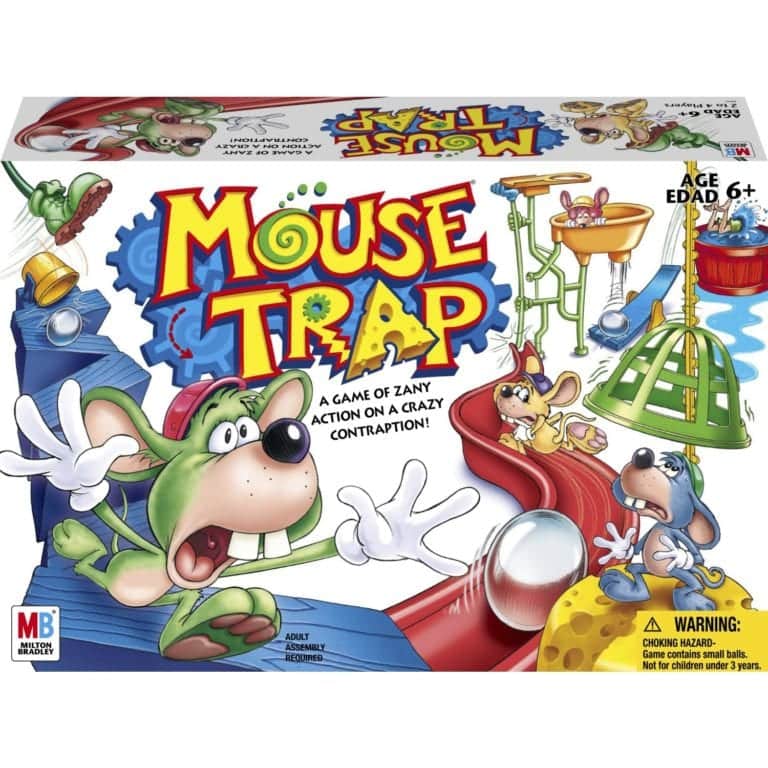 Scurry-to-the-finish game challenges you to get your mouse around the board without getting trapped

Race to the finish and nab your opponent's mouse before your own gets caught

Includes gameboard, 4 plastic mice, 2 metal balls, 25 mouse trap building parts and accessories, rubber band, 52 cheese pieces, die, and instructions
Teen/Family: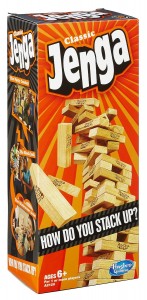 Jenga – Jenga is not only fun to play as a classic game, but here's an interesting twist – use it as a conversational piece, ice-breaker type of game. Put numbers on the pieces & each number corresponds to a question that someone has to answer. Thanks to my friend Faith for this great idea!
Pull out a bock without crashing the stack to win at Jenga

54 hardwood Jenga blocks

Win by being the last player to remove a block without causing the stack to crash

Includes stacking sleeve

Includes 54 wood blocks and stacking sleeve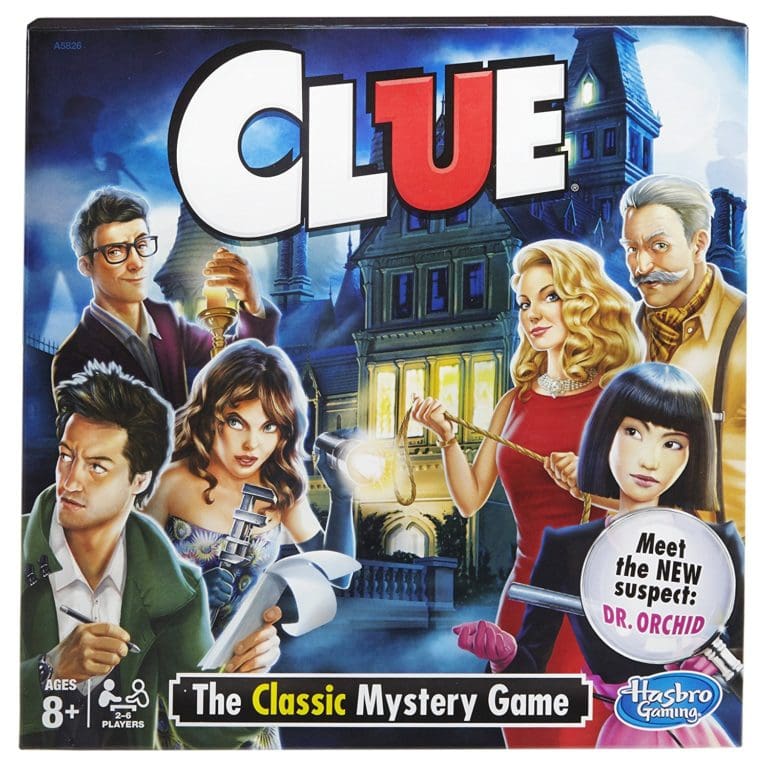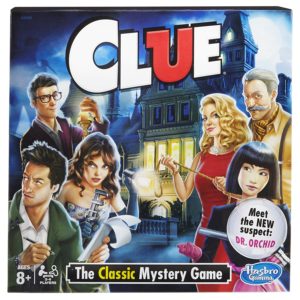 Who committed the murder in the mansion?.
Eliminate the suspects and discover whodunit, with what and where.
Correctly guess the murderer to win.
Introducing a new character, Dr. Orchid as one of the suspects.
Includes 1 gameboard, 6 tokens, 6 miniature weapons, 30 Cards (6 character cards, 6 weapon cards, 9 room cards, and 9 clue cards, 1 case file envelope, 1 pad of detective notebook sheets, 2 dice, and game guide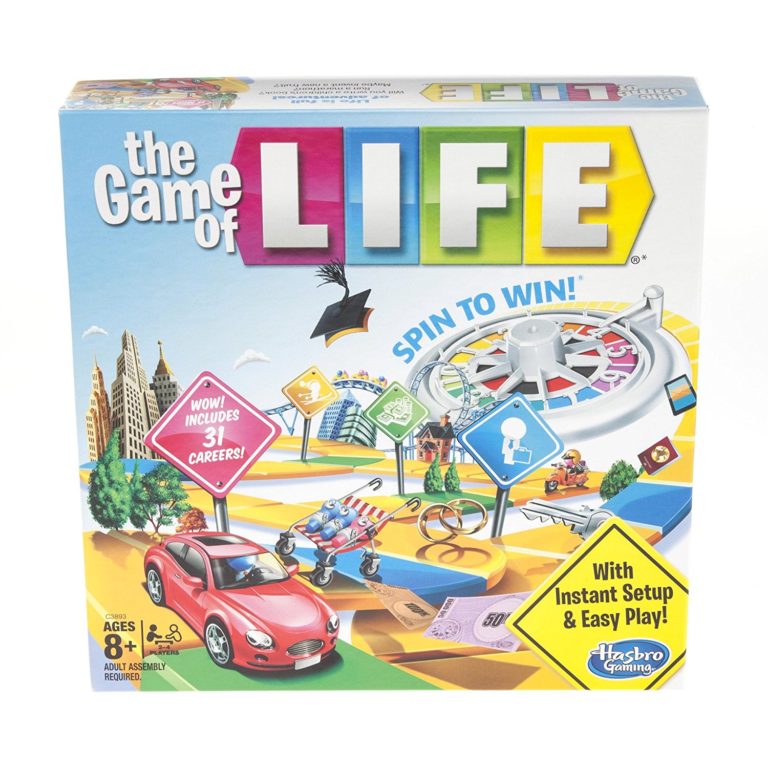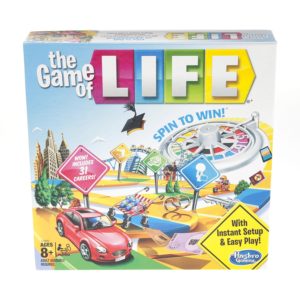 This edition of The Game of Life game includes 115 cards offering exciting choices as players move through the twists and turns of life
Players can choose from 31 Career cards featuring unusual or quirky careers such as ice cream flavor maker or a secret agent
Take a ski trip, a safari, or go snorkeling in a coral reef. Choose an awesome vacation from adventurous to relaxing
Who's bound for instant wealth and fortune? Play Spin to Win and find out! At the end, players pay debts, add up the wealth, and whoever has the most money at the end of the game wins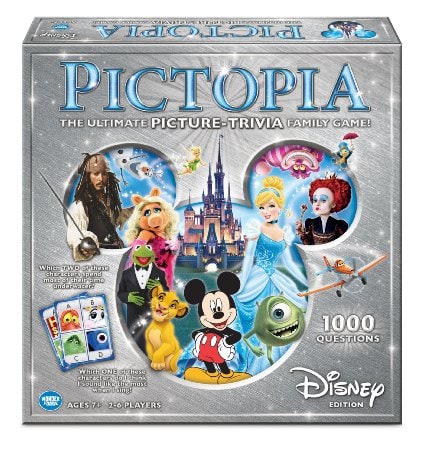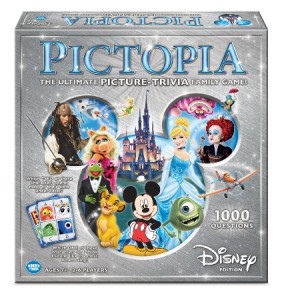 Pictopia-Family Trivia Game: Disney Edition
Promotes family together-time

Encourages strategic thinking

Encourages cooperation and teamwork

Features content from the world of Disney!

Free Pictopia App with BONUS content and Lightning-Round finish!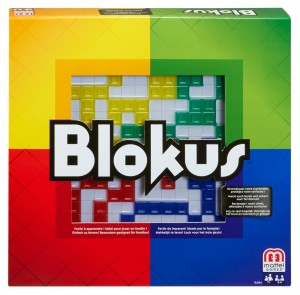 Blokus is the perfect strategy game for the whole family – less than a minute to learn with the depth to challenge all ages

As players take turns placing their 21 pieces on the board, each piece played must touch another piece of the same color, but only at the corners

Stake your claim and protect your territory by fitting as many of your pieces on the board as you can while you strategically block your opponents

Easy to learn and great for families, Blokus is the fast-paced strategy game that delivers One Rule, Endless Possibilities

Includes 84 total pieces, game board, and instructions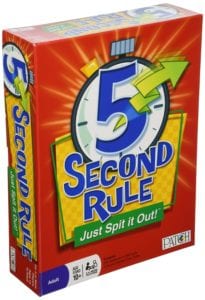 Pick a card, read the seemingly easy topic, then start the timer! Now with only 5 seconds to name 3 things that fit the topic, it doesn't seem so easy!

Players get tongue-tied, funny answers come flying out and laughter is sure to follow in this fast-paced party game

The twisted timer makes a fun zoooooop! Sound as the marbles race down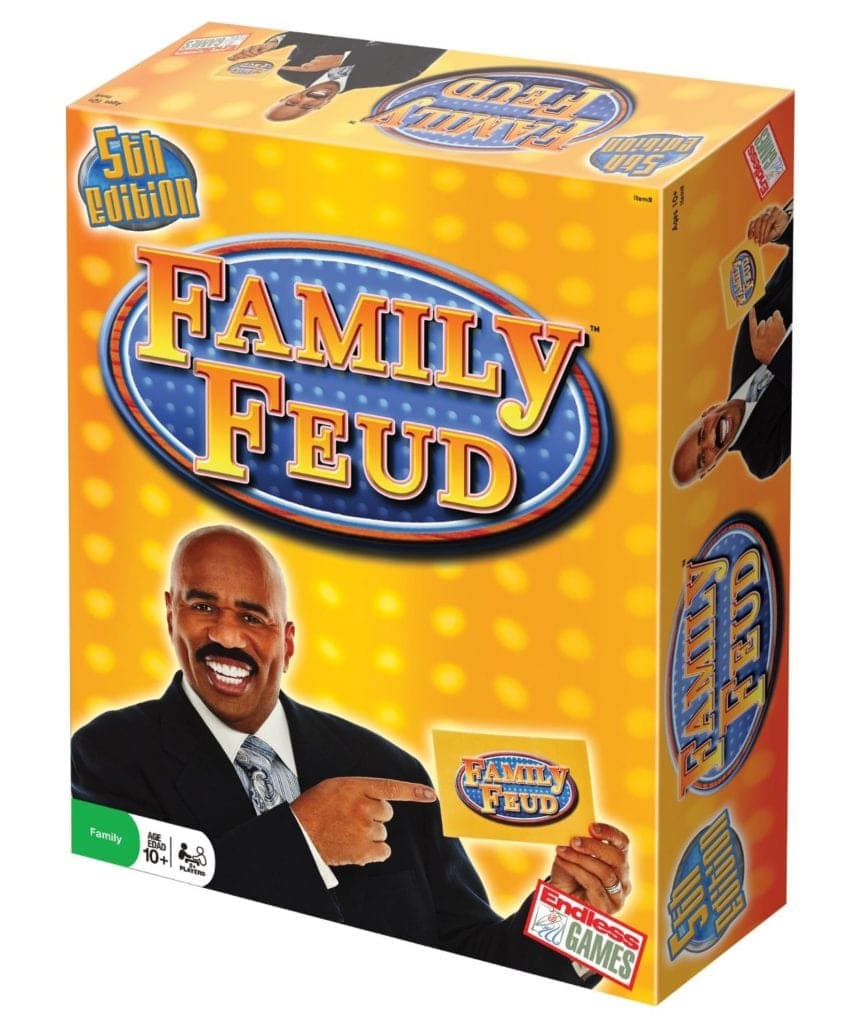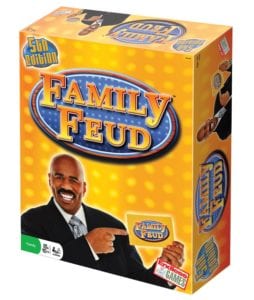 Family Feud – This game of family fun will have you laughing!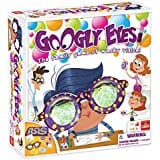 Put on the vision-altering goggles and draw–no need to be an artist

Can you get your team to guess what you're drawing before time runs out?

Great for people of all ages to play together–the goggles make it challenging for everyone to see (and draw) straight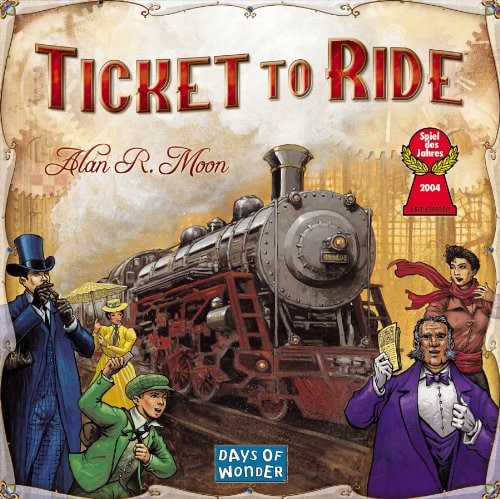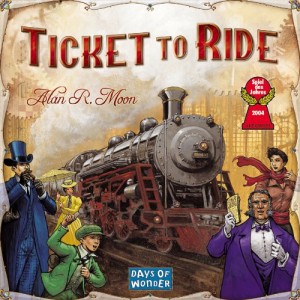 Ticket To Ride –  This is a definite favorite of ours – probably my 8 year old's favorite game to play but we play this with adults all the time as well! You can use strategy with it, but it is not too intensive & can be played in 30 min (with adults) to an hour (with kids).
For 2-5 players

Tons of replay value

One of the most popular specialty games of all time

Takes 30-60 minutes to play

There are 225 Colored Train Cars
 Good Party Games: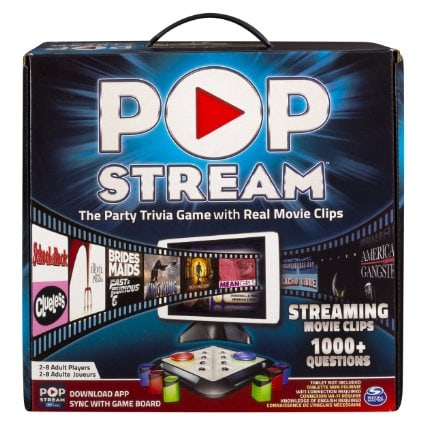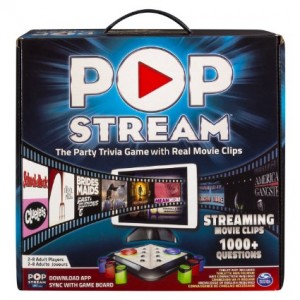 Pop Stream is the ultimate Movie Trivia game! Stream hundreds of movie clips on your tablet as two teams go head-to-head in a game of cinema smarts!

When you know the answer hit the "Buzz In" button on the game board, then wager an amount to win or lose.

Over 10 different question types will challenge you and your teammates! You can even take selfies and watch them come to life on screen!

Pop Stream is for adults. Tablet required for play. Download the Pop Stream App for both Apple and Android devices.

Includes: 1 "Buzz In" Interactive Game Board, 1 Tablet Stand, 6 Wager Tokens, 1 Instruction Sheet
Race to recreate the pattern on the challenge card by bouncing balls into the grid
The first color to complete the pattern wins the card!
Compete against up to 6 other players!
Two ways to play mean everyone can bounce together or play by a relay
Includes 6 game grids, 32 balls, 6 ball trays, and challenge cards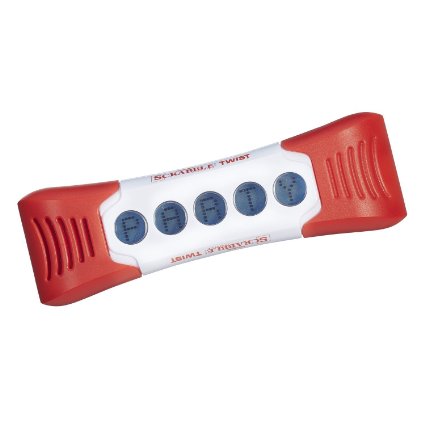 Scrabble Twist game challenges you to find words in the displayed letters

3 different games: Party, Turbo and Solo

Game gets harder as you play

Game unit banks words for you as you play

Includes 1 Scrabble Twist game unit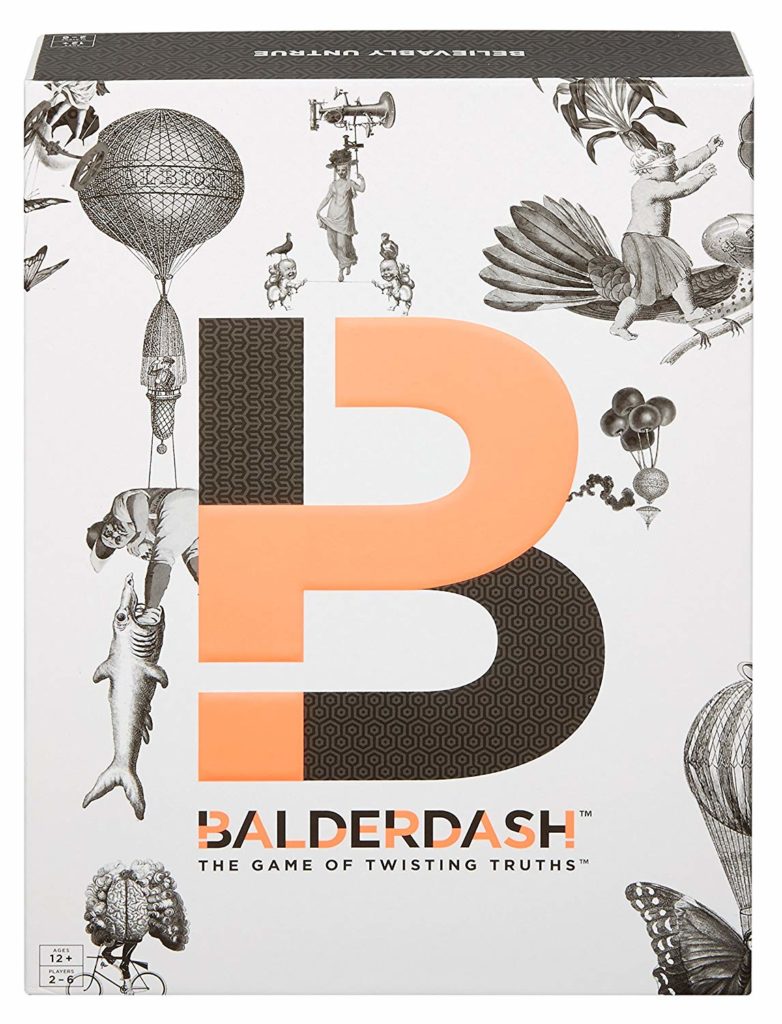 Time to grab the "bull" by the horns and hope other players don't call your bluff!

Balderdash game features compelling, unbelievably true content and categories include people, words, initials, and movies

Make up phony definitions to read alongside the real answers

How well can you fake it? Score points when you do and when you can call other players' bluffs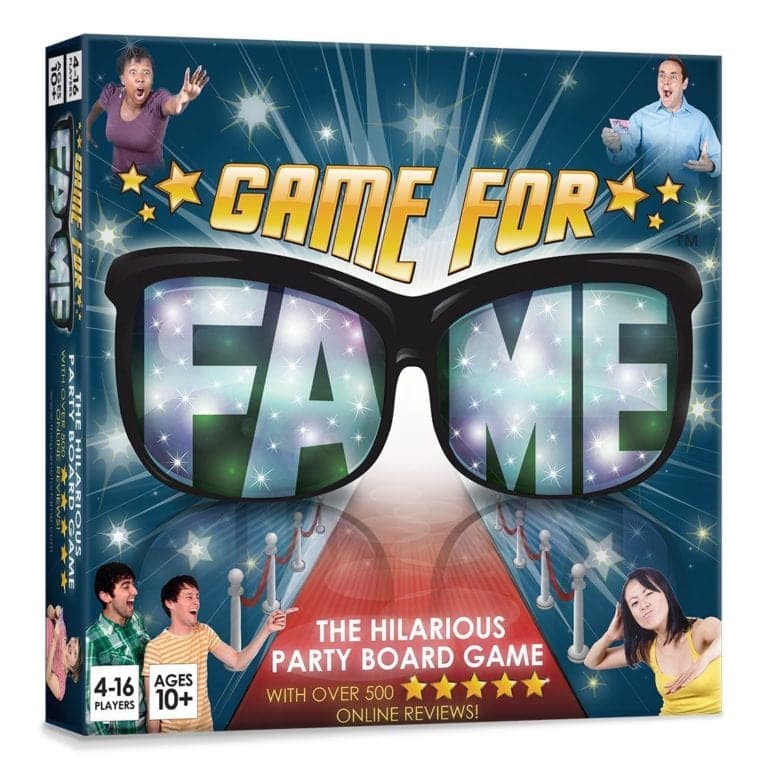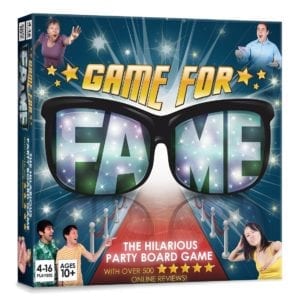 Game For Fame is the hilarious party board game for families, adults and kids that has Amazon reviewers 'CRYING WITH LAUGHTER' (scroll down to see!). How do you play? Easy! No complicated rules or boring instructions. Get into teams, pick up a Money Maker card and start the fight for fame and fortune!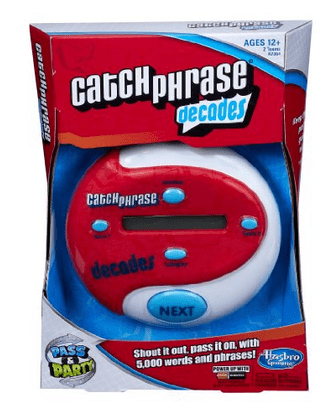 Catch Phrase Decades Game – You know the classic Catch Phrase game? This is an Electronic version & it's a Decades version, which would be fun when you're playing with a variety of ages.
Electronic Catch Phrase game challenges you to guess words and phrases

Timer keeps track and buzzes when you're out of time

Word and scores of each team appear in the display area

Choose from 5 decades: the 70s, 80s, 90s, oughts, and 10s

5,000 words and phrases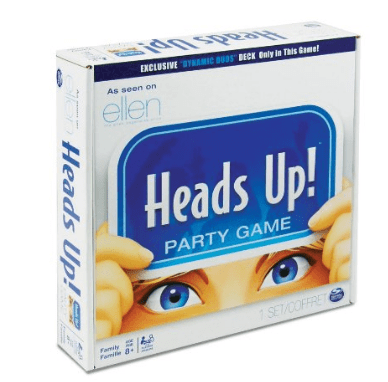 Heads Up – This is a great game for a big group of people at a get-together or party. You can get this version or they also have an iPhone app you can use as well. I heard from several friends who have frequent large get-togethers or groups where they have games & this is a definite favorite!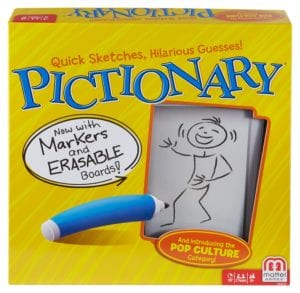 Get together with friends to find out who's an artist and who really isn't!

The classic quick-draw game since 1985

Makes a great way to get any party started!

The guesses can be just as hilarious as the sketches!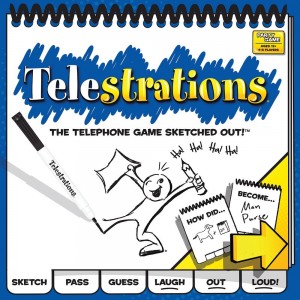 Telestrations 8 Player – The Original  
Telestrations "The Original" for 8 players is what got the party started!

Over 1,700 words, 8 erasable sketch books, 8 dry erase markers, 8 clean-up cloths

Perfect for families, small parties or friends; LOL fun for everyone!

Award Winning Party Game – a great icebreaker

No Drawing Skills Required; Stick figures & sense of humor welcome!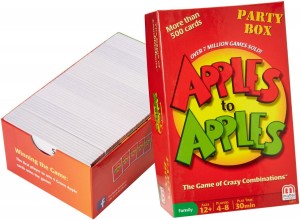 Apples to Apples – This is always a favorite at any party we've been to! Great for just a few people or for a larger group as you can play 4-8 people with this game.
It's as easy as comparing apples to apples; just open the box, deal the cards and you're ready to play

Select the card from your hand that you think is best described by a card played by the judge

Includes over 500 cards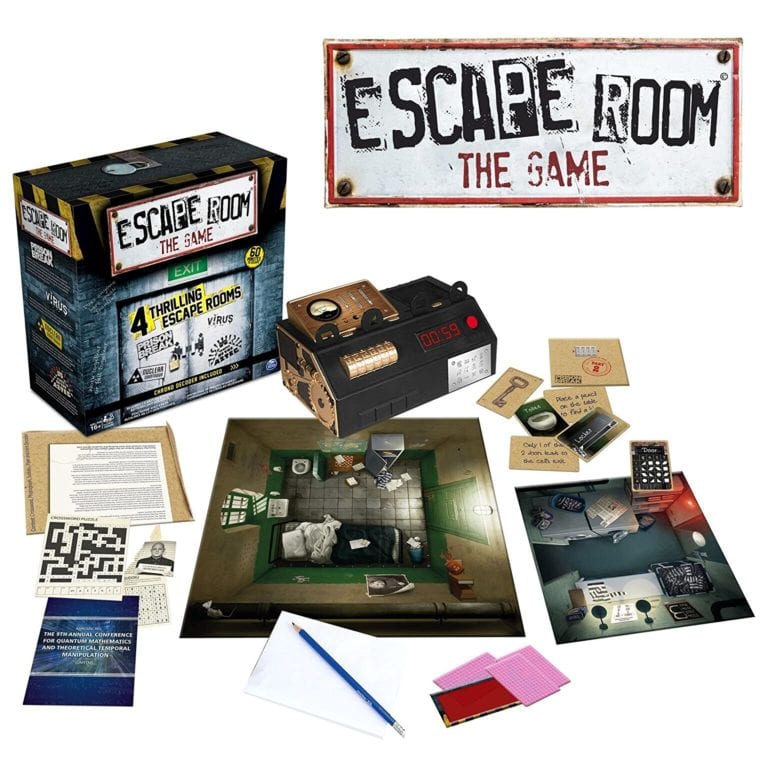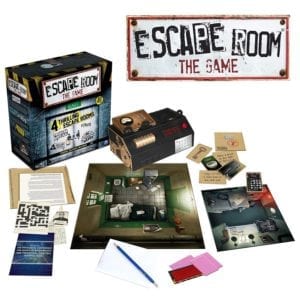 Bring home the fun and excitement of an escape room to play with friends and family at home!

You have 60 minutes to enter the correct keys on the Chrono Decoder to escape: it will count down remaining time, and emit intense sounds to let you know you're almost out of time.

Features 4 thrilling escape rooms: Prison Break, Virus, Nuclear Countdown, and Temple of the Aztec.
We'd love to hear what is YOUR favorite game to add to our list?  We always love hearing new ideas for games. 
Check out more Holiday Gift Guides for every age::
KIDS & Teen Gift Guides:
American Girl Holiday Gift Guide
More Gift Guides:
University of Washington Huskies Football Gift Guide