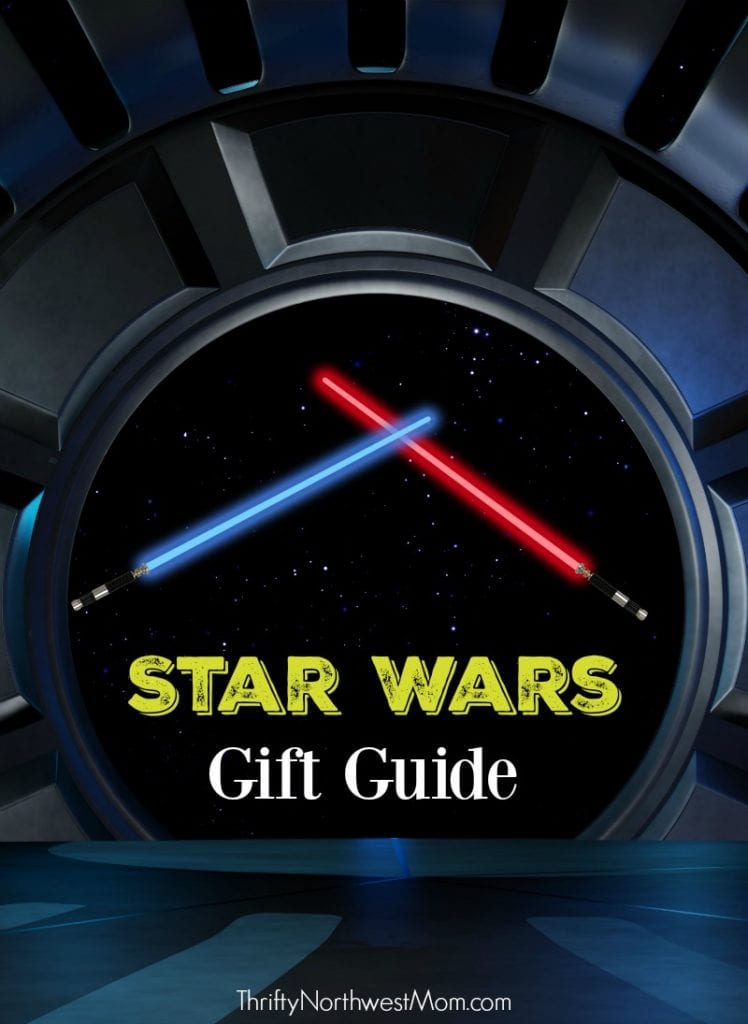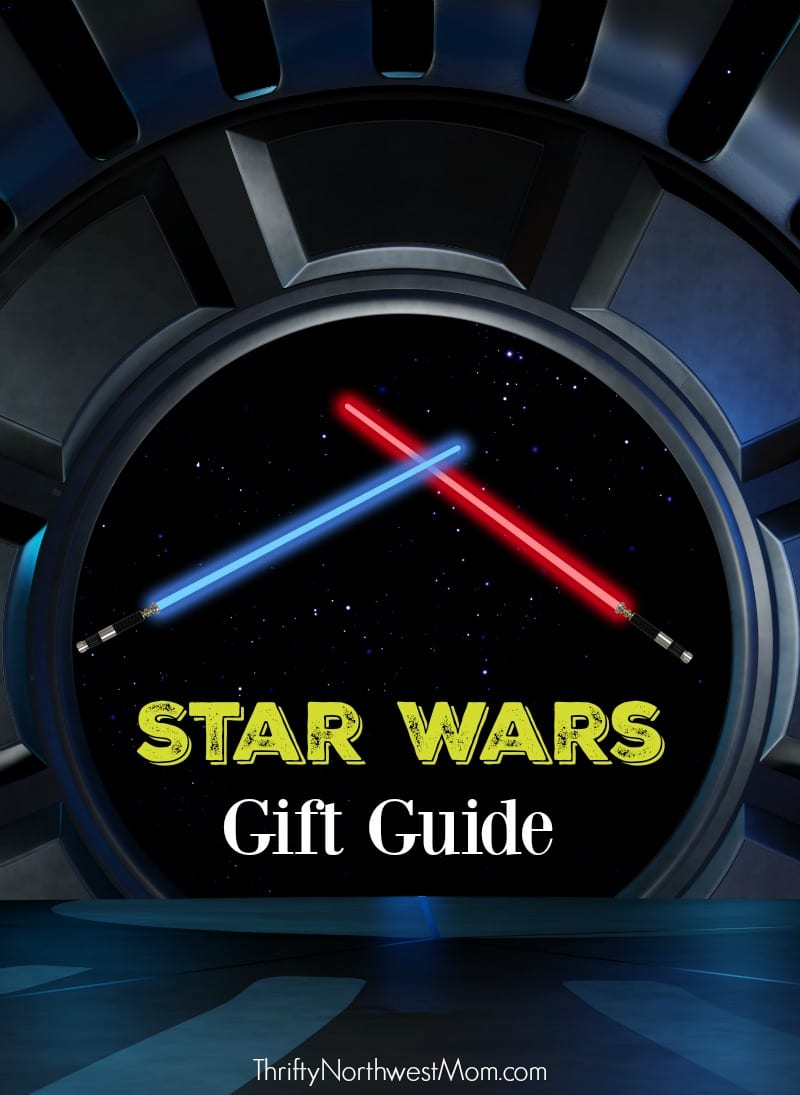 The  newest Star Wars movie, Rogue One,  is coming out this Friday December 16th, 2016 . This is the perfect timing to give a Star Wars gift to a big fan for Christmas, just days after the movie is released. We have compiled an assortment of ideas for the ultimate Star Wars fan – from toys, collectibles, board games, books & more!
Star Wars Toys:
Uncle Milton Star Wars Science Millennium Falcon UV Light Laser – $8.80
Create glowing light battles and light drawings on your walls!

Handheld Millennium Falcon UV Light Laser with real ultraviolet light and laser blasting sound effects

Shoot at the glowing Imperial Ships before they magically disappear!

Also includes glow-in-the-dark TIE fighter decals

Science learning poster inside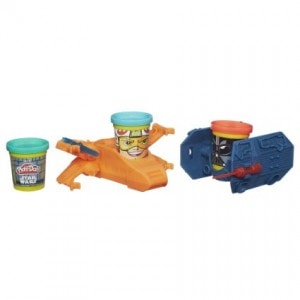 Play-Doh Star Wars Luke Skywalker vs. Darth Vader Can-Heads – $11.79
Create your own Star Wars battles with Play-Doh Can-Heads characters

Features Darth Vader, Luke Skywalker, and Death Star cans

X-Wing and TIE Fighter vehicles hold Lightsaber tools and create accessories

Each Can-Heads character contains 2 ounces of Play-Doh compound

Includes X-Wing Starfighter vehicle, TIE Fighter vehicle, 2 accessories, and 3 cans of Play-Doh Brand Modeling Compound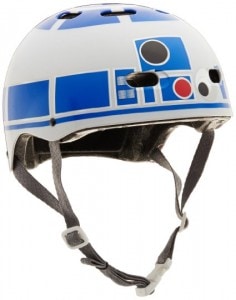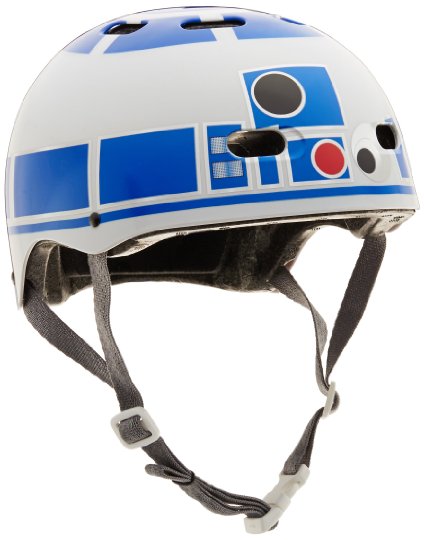 Child R2D2 Helmet – Starting at $14.89
Fits head sizes: 51-54 cm

Hard-shell protection for the trails or skate park

Top and rear vents keep you cool

CPSC bike and ASTM F1492-08 skate compliant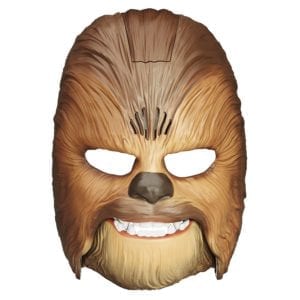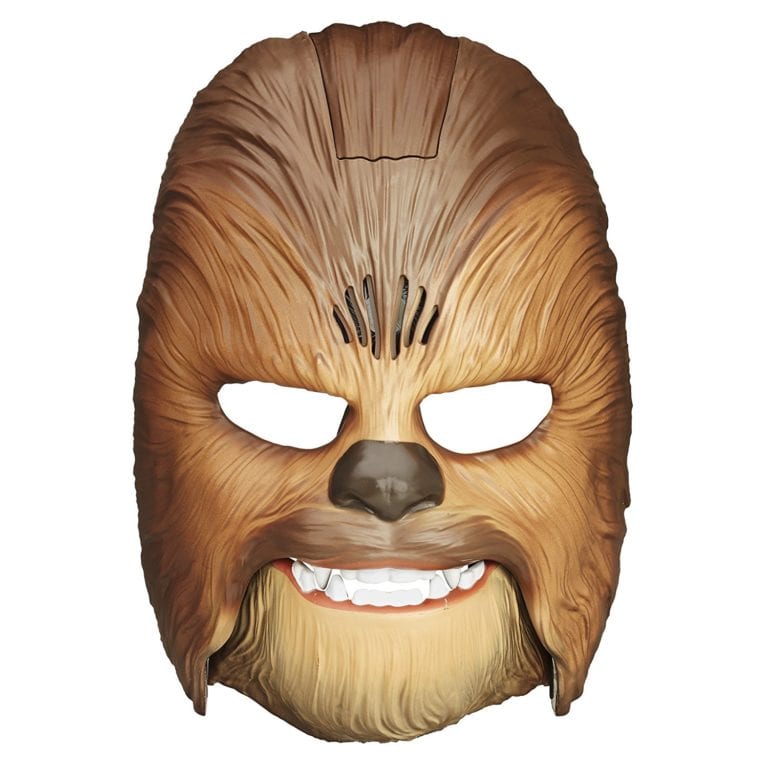 Star Wars The Force Awakens Electronic Chewbacca Mask – Starting at $32.89
Movie-like appearance

Open mouth slightly to hear Chewbacca roar

Open it wider, and the roar gets louder

Use straps to adjust fit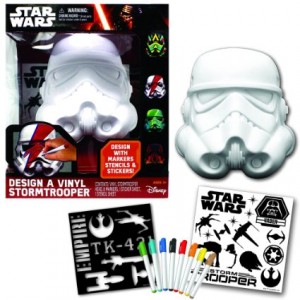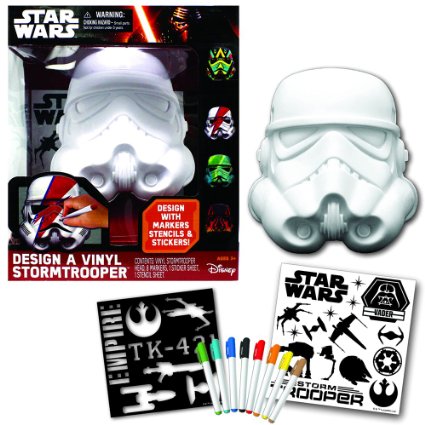 Star Wars Deluxe Design a Vinyl Storm Trooper Play Set – $19.99
Great for kids to be creative and display in their room!

Create your own designs or use the suggested designs included

Includes one large vinyl Storm trooper head, markers, sticker sheet and stencils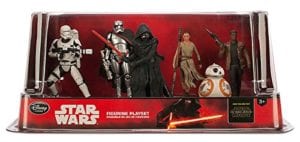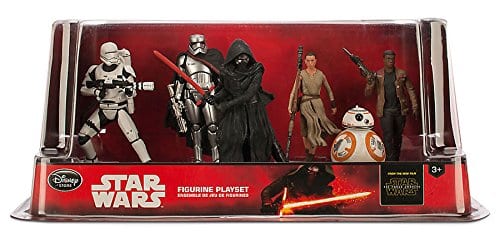 Star Wars Figurine Playset – $21.29
Set Includes: Flametrooper, Captain Phasma, Kylo Ren, Rey, BB-8, and Finn
Hot Wheels Star Wars Escape from Jakku Play Set – $21.99
Two of kids' favorite brands – Hot Wheels and Star Wars – have joined forces!

This play set allows kids to play out the starship action of the upcoming film Star Wars: The Force Awakens!

Works with Star Wars starships made with Hot Wheels die-cast

Recreate your favorite scenes from the movie

Makes a great gift for kids, collectors and Star Wars fans of all ages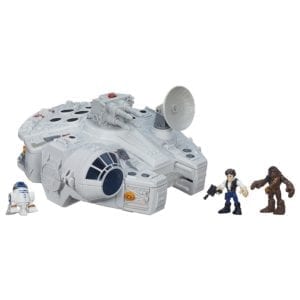 Star Wars Millennium Falcon & Figures – $23.79
Recreate the classic Episode IV escape scene

Compatible with C-3P0 figure (Sold separately. Subject to availability.)

Includes Millennium Falcon vehicle, Han Solo figure, Chewbacca figure, R2-D2 figure, sensor dish, cannon, ladder, and label sheet.
Hot Wheels Star Wars Starship (6-Pack) – $27.99
Kids will love this 6-pack of iconic Star Wars starship vehicles

Flight Navigator lets kids "fly" their starships

Flight Navigator doubles as a display stand so kids can show off their collection

An instant collection of vehicles in a scale that's small enough to fit in your pocket

Makes a great gift for Star Wars fans of all ages

This item's packaging will indicate what is inside. To cover the packaging, select Ship in Amazon box on the checkout page.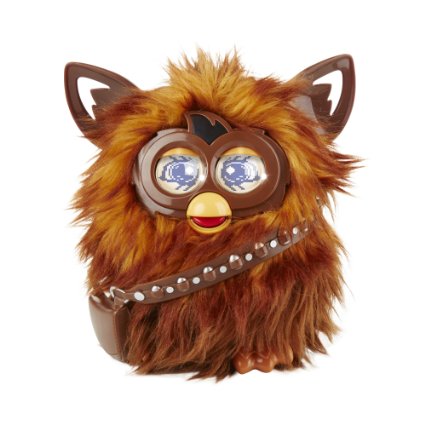 Star Wars Furbacca – $55.90
Interactive toy reacts to motion and touch

Creates an extra level of interactive play when Furbacca app is engaged

Create adventures and scenes from the Star Wars Universe

Unlocks Star Wars Furby Furblings

Includes Furbacca figure and instructions.

This item's packaging will indicate what is inside. To cover the packaging, select Ship in Amazon box on the checkout page.
Star Wars Lego Sets:
LEGO Star Wars Geonosis Troopers – As low as $14.29
Features a walker with a never-before-seen rapid shooter

Weapons include 4 stud blasters; Spare ammunition also included

Inspired by The Clone Wars universe

Expand your LEGO Star Wars collection with this great battle pack

Walker measures over 5″ (15cm) high, 2″ (7cm) long and 1″ (5cm) wide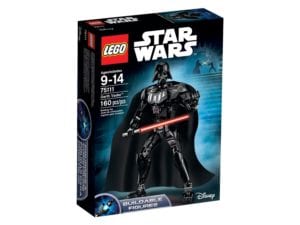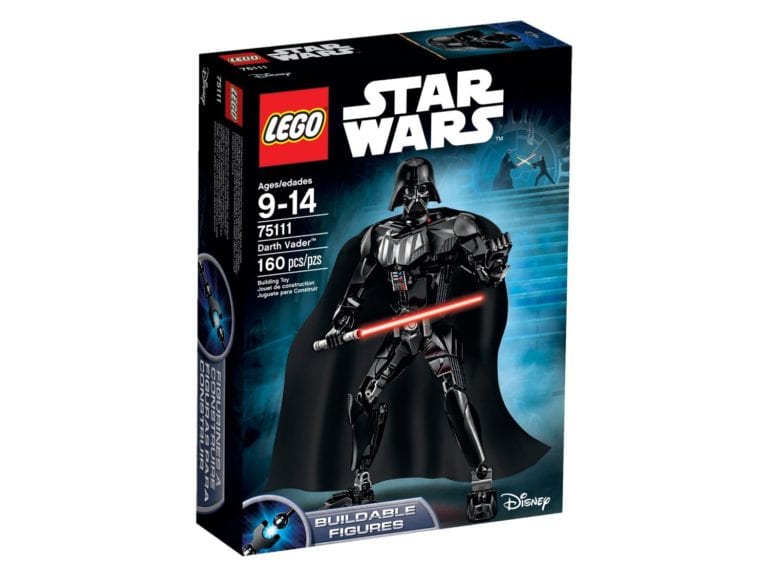 Star Wars Darth Vader Building Kit – $28.28
Features fully posable limbs, black armored suit, fabric cape and a buildable red Light saber

Grab your Light saber and prepare for intense battle; feel the power of the dark side

Pose Lord Vader like never before; sturdy and durable design for intense action play
Star Wars Naboo Starfighter Building Kit – As low as $58.83
Fire the twin spring-loaded shooters

Uncuff the Naboo Pilot

Display the model on the supplied stand

As seen in Star Wars: Episode I The Phantom Menace
Star Wars Poe's X-Wing Fighter – $62.00
Fire up the engines, retract the landing gear and launch; iconic design

Recreate fantastic scenes from Star Wars: The Force Awakens

The perfect addition to any LEGO Star Wars collection

Play out exciting snow-planet battles against the 75100 First Order Snowspeeder

Measures over 4″ high, 14″ long and 12″ wide with wings open and over 3″ high with wings closed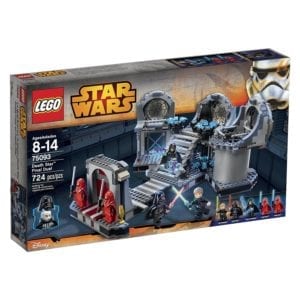 Star Wars Death Star Final Duel – $74.01
Act out the iconic final battle between Luke and his father and decide Luke's fate for yourself

Send the evil Emperor tumbling down the reactor shaft!

Will Lord Vader overcome the evil power of the dark side?

As featured in Star Wars: Episode VI Return of the Jedi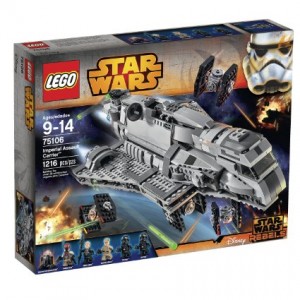 LEGO Star Wars Imperial Assault Carrier Building Kit – $90.99
Fire the twin spring-loaded shooters; rotate the gun turret into position and fire

Rearm with the extra ammo; lift off the fuselage for easy access

As featured in the Star Wars Rebels animated TV series

Imperial Assault Carrier (with TIE Fighters attached) measures over 5″ (14cm) high, 18″ (46cm) long and 8″ (22cm) wide

Each TIE Fighter measures over 1″ (4cm) high, 1″ (4cm) long and 1″ (5cm) wide
Star Wars Collectibles: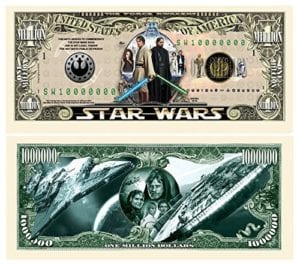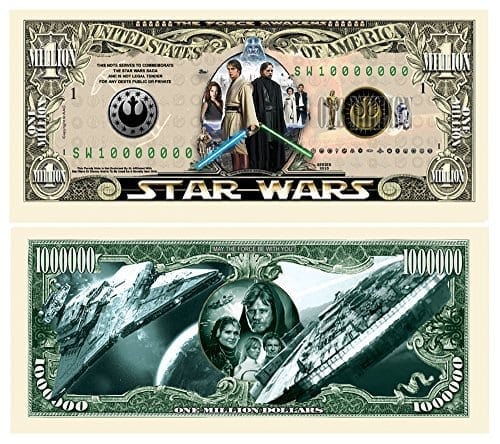 Limited Edition Star Wars Million Dollar Currency– $5.95
Special Million Dollar Bill featuring Star Wars!

Comes complete in High Quality Collector's Grade Protective Currency Holder.

They make great gifts for friends or family and will be shipped to you within 24 hours of your order.

4 COLOR FRONT AND BACK PRINTING with great detail.

Same look, feel and size as real money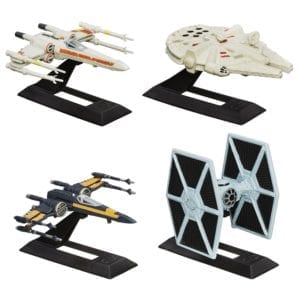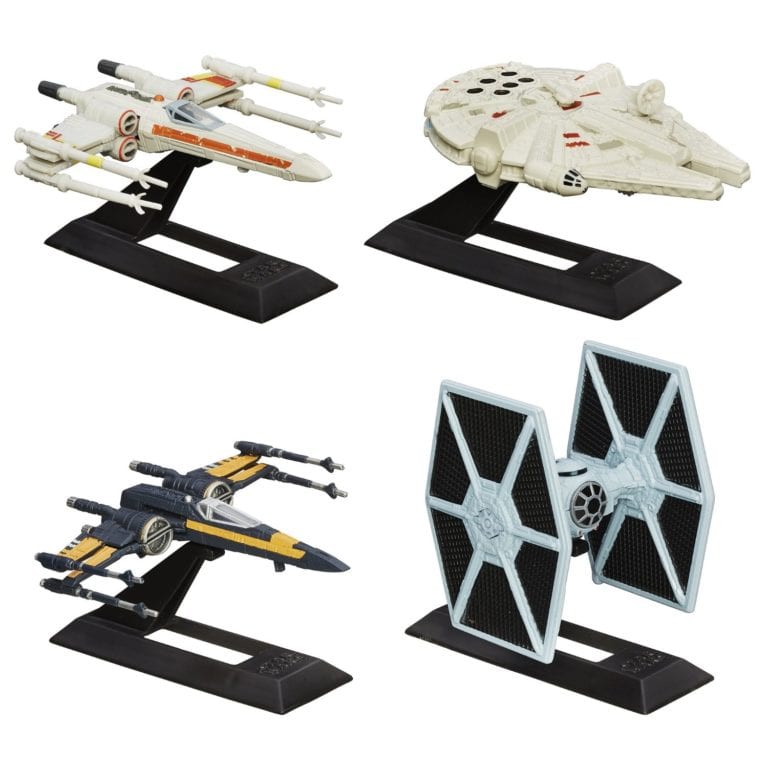 Star Wars Titanium Series Vehicle Multipack – $17.95
Stand helps simulate hovering effect

Detailed vehicles look just like the ones in Star Wars: The Force Awakens

Play with the 4 included vehicles

Expand and enhance Star Wars collections

Includes 4 vehicles and 4 stands.
Star Wars Clothes: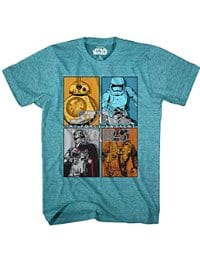 Star Wars Boys T-Shirt – As low as $8.51
Star Wars DJ T-Shirt My Style Yoda – As low as $9.78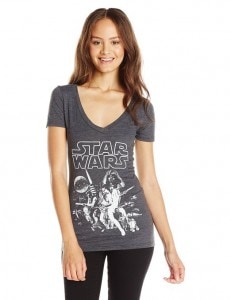 Star Wars Juniors' Classic Poster Graphic V-Neck Tee – As low as $11.92
Star Wars Men's Casual Day T-Shirt – Starting at $13.86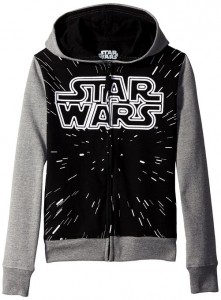 Star Wars Girls' French Terry Zip-Front Hoodie Sweatshirt – As low as $17.41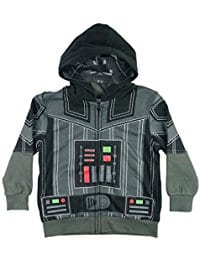 Star Wars Darth Vader Zip Front Sweater For Boys – Starting at $18.98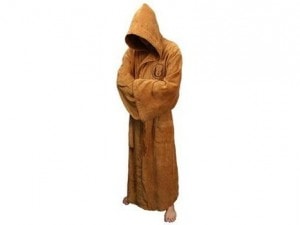 Jedi Bath Robe – $26.99
Star Wars Books:
*Don't forget that there is an extra 25% off coupon code for books (thru tonight 12/15) that are sold & shipped by Amazon – use the coupon code: MERRY at checkout .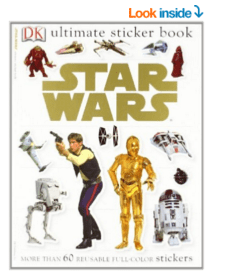 Star Wars Ultimate Sticker Book – $5.06
With over 60 full-color, well-chosen stickers from the original Star Wars trilogy, DK Publishing has put together a collection of characters, ships, droids, and gadgets that'll please die-hard fans and pint-size sticker freaks alike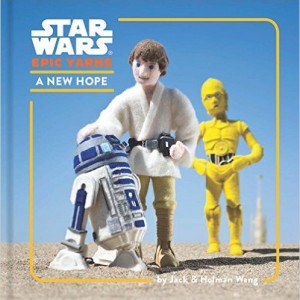 Star Wars Epic Yarns: A New Hope – $7.06
Share your love of Star Wars with your baby! In twelve needle-felted scenes and twelve child-friendly words, rediscover the iconic moments you know and love. Simple words, sturdy pages, and an epic story make these books the perfect vehicle for early learning at lightspeed. Jedi apprentices and little princesses alike will delight in this (heart)felt retelling of the Star Wars trilogy made just for them!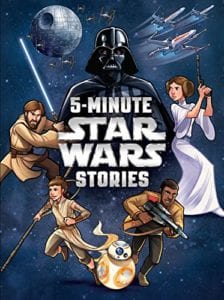 Star Wars Five Minute Stories – $9.21
Blast off into hyperspace with these eleven action-packed Star Wars tales! Jedi Master Yoda has a lightsaber showdown with the dreaded Count Dooku; Luke Skywalker and the Rebels race against time to destroy the Death Star; and the brave Rey makes a new friend when she meets the droid BB-8. Each of these stories is the ideal length for reading aloud in five minutes–perfect for galactic adventures at lightspeed.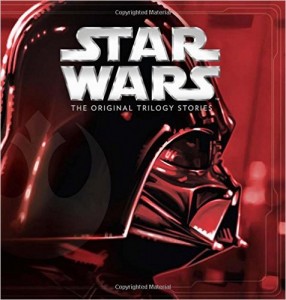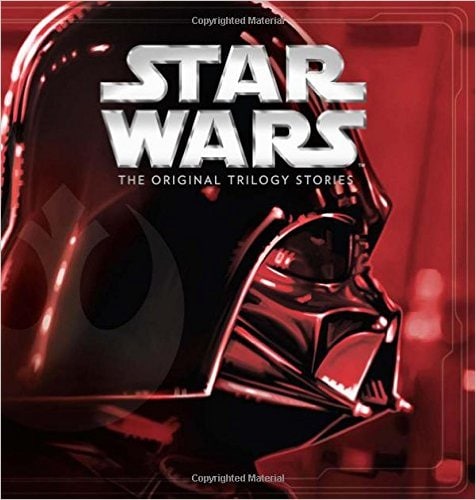 Star Wars: The Original Trilogy Stories – $11.51
Join Luke Skywalker, Han Solo, and Princess Leia for one action-packed adventure after the next! This collection features 18 stories from the original Star Wars trilogy, beautifully illustrated by Star Wars artist Brian Rood. With foil on the cover, gilded pages, and over 250 pieces of both spot and full-page art, this storybook is a must-have for fans!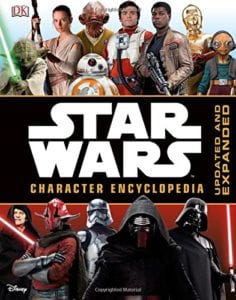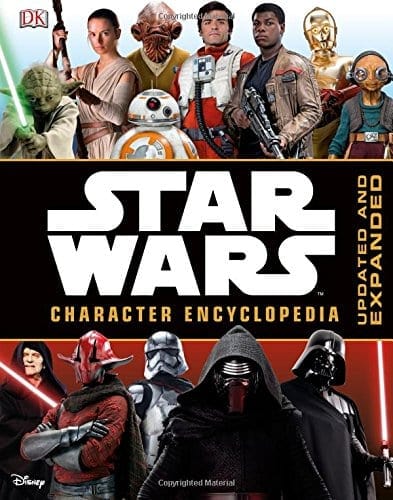 Star Wars Character Encyclopedia – $12.36
Star Wars Character Encyclopedia: Updated and Expanded, the definitive guide to the people, aliens, and droids of the Star Wars galaxy, is back, bigger and better than ever before, and packed with new Star Wars characters!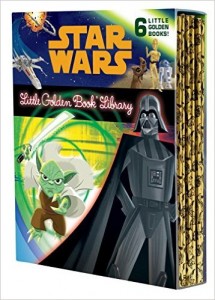 The Star Wars Little Golden Book Library – $20.22
The first six episodes of the epic Star Wars space saga—The Phantom Menace, Attack of the Clones,Revenge of the Sith, A New Hope, The Empire Strikes Back, and Return of the Jedi—are retold in this Little Golden Book library! Featuring stunning retro illustrations, this boxed set of six Little Golden Books is perfect for Star Wars fans of all ages!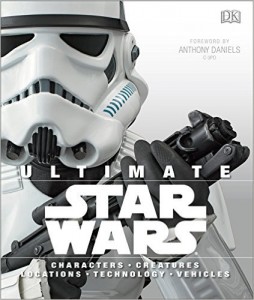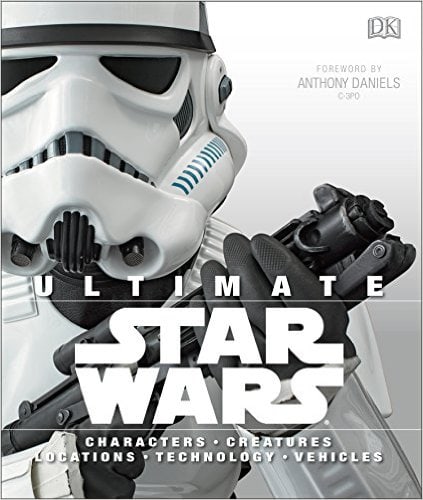 Ultimate Star Wars Book – $23.80
Become an expert on the Star Wars galaxy!  Ultimate Star Wars® is an in-depth visual feast exploring the characters and storylines from the Star Wars galaxy. This is a beautifully illustrated guide that is structured chronologically and packed full of information about key characters and storylines from the Star Wars movie saga, The Clone Wars, and Rebels™. Ultimate Star Wars will get new and old fans caught up and knowledgeable on all things Star Wars.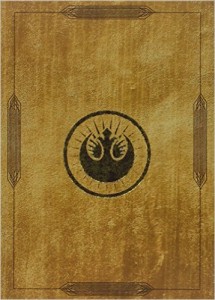 Star Wars: The Jedi Path and Book of Sith Deluxe Box Set – $30.93
This box set brings the light and dark sides of the Force together for the first time. The Jedi Path is the ancient training manual that has educated and enlightened generations of Jedi, including Yoda, Qui-Gon Jinn, Obi-Wan Kenobi, and Luke Skywalker. They have handwritten their comments into this text, the only remaining copy in existence. Book of Sith is a compilation of six legendary dark texts gathered and bound together by Darth Sidious, and featuring comments from Darth Vader, Mace Windu, Darth Maul, and others. This deluxe edition contains an exclusive portfolio with two prints, each depicting a prominent figure from either side of the Force. With these two titles, students of the Force can study and more fully understand the complex powers of good and evil.
Star Wars Video Games: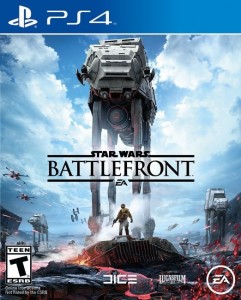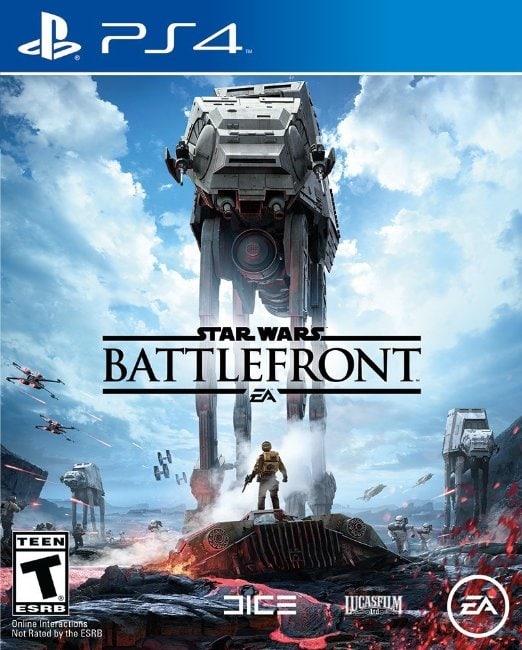 Star Wars: Battlefront – Standard Edition – $9.99 for XBox One  and PS4
Visit classic planets from the original Star Wars trilogy, detailed with an unprecedented amount of realism and sense of authenticity that will transport you to a galaxy far, far away

Pilot a diverse set of ground-based vehicles including nimble speeder bikes, massive AT-ATs, and more

Encounter a variety of beloved characters from the original trilogy such as C-3PO and R2-D2

Pilot the Millennium Falcon, X-wings, TIE fighters, and more of your favorite vehicles in exhilarating aerial combat

Battle alongside your friends online or in offline split-screen Co-op mode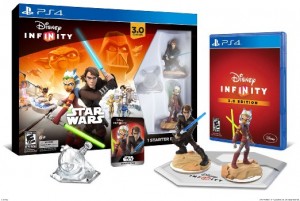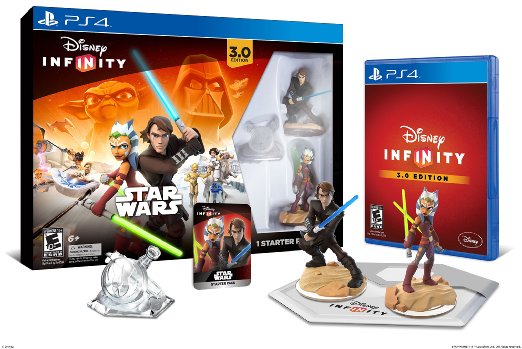 Disney Infinity 3.0 Edition Starter Pack for PS4 – $17.49
1 Disney Infinity 3.0 Edition Video Game (Unlocks Play Set and Toy Box Modes)

1 Disney Infinity 3.0 Edition Base

2 Star Wars Figures: Ahsoka Tano, Anakin Skywalker

1 Star Wars Twilight of the Republic Play Set Piece

1 Web Code Card

Expand your Infinity 3.0 collection with the Amazon Exclusive Fear Character, and the Amazon Exclusive Inside Out Bundle.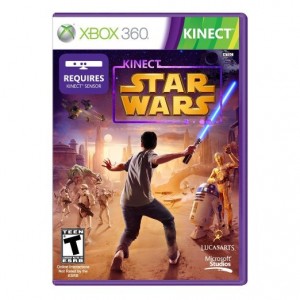 Kinect Star Wars for Xbox 360 – $19.99
With no controller in the way you can live out the ultimate "Star Wars" fantasy.

Stunning visuals transport you into the worlds of many of the movies, complete with the iconic characters, vehicles, ships and droids that you'd expect.

Fulfill your destiny as a Jedi, pilot iconic ships and Speeder Bikes, race Pods, and much more.

Share the fun with friends through co-op and competitive modes.

With multiple difficulty levels playable simultaneously, fans of all levels can enjoy the game together.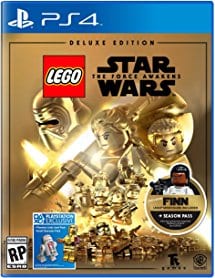 Lego Star Wars The Force Awakens Deluxe Edition – $56.99 For PS4
The Force is strong with this one. Get the Deluxe Edition now and gain access to the main game, season pass content, and an exclusive Finn (FN-2187)TM MinFig.

The No. 1 LEGO videogame franchise triumphantly returns with a fun-filled, humorous journey based on the blockbuster Star Wars film.
Star Wars Board Games: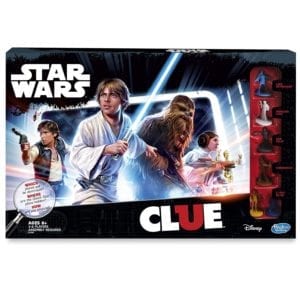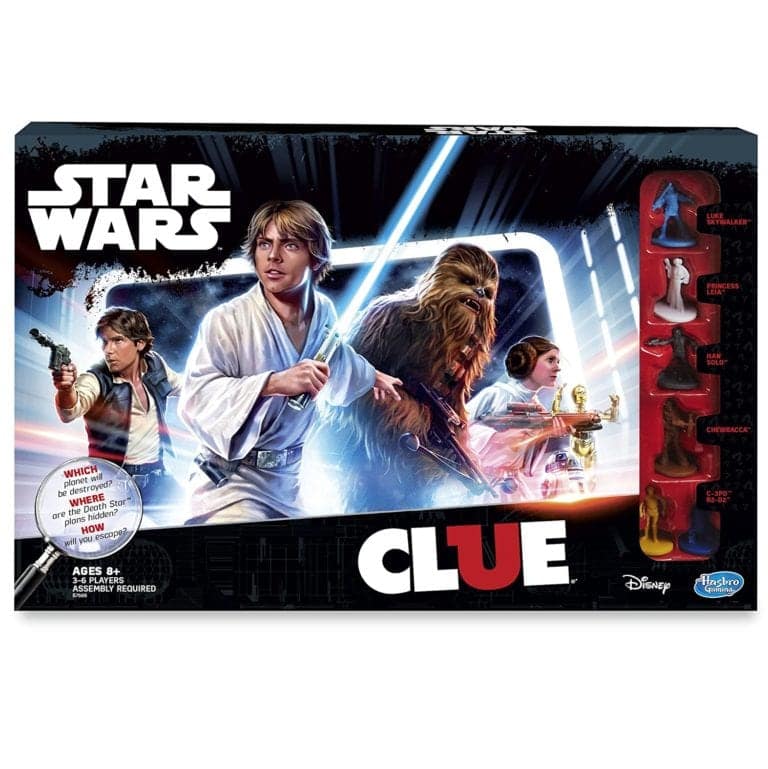 Clue: Star Wars Edition – $15.00
Play as Luke, Leia, Han, Chewbacca, R2-D2, or C-3PO

Save the Galaxy from destruction by the Empire

Figure out Darth Vader's next target

Find the secret plans to the Death Star

Steal the correct vehicle to escape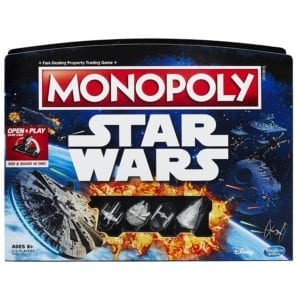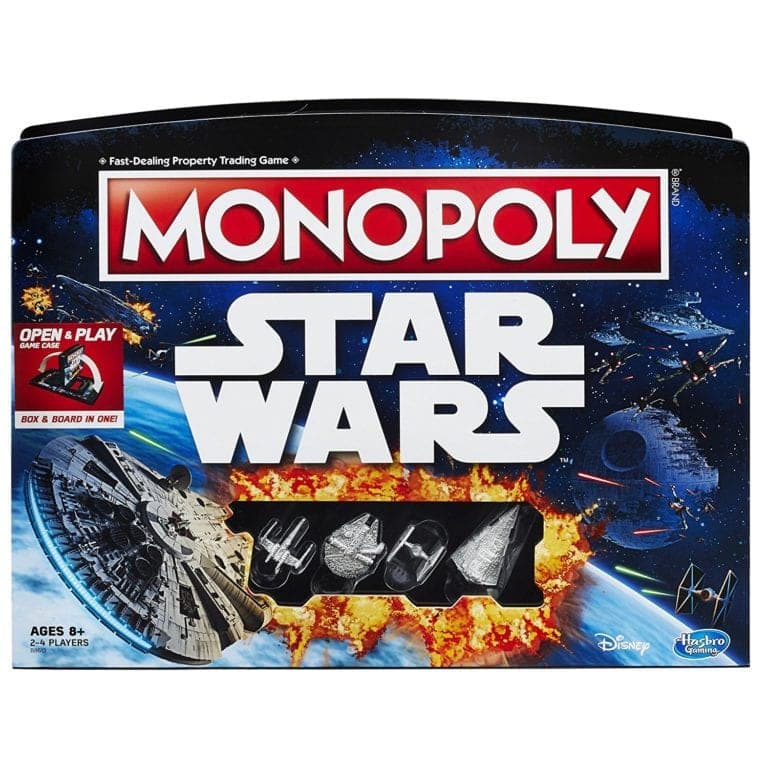 Monopoly Star Wars – $17.99
Star Wars-themed Monopoly game

Buy and collect rent from iconic Star Wars locations

Use the Force for special abilities

Features Open and Play Case

Includes gameboard, 2 dice, 4 ship tokens, 64 cardboard property markers (16 for each ship), 16 Chance cards, 1 money pack, and game guide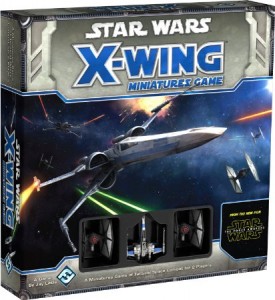 Star Wars: The Force Awakens X-Wing Miniatures Game Core Set – $18.98
A two-player game of high-speed Star Wars dogfights set during The Force Awakens

Three highly detailed and pre-painted miniature Starfighters, one T-70 X-wing and two TIE/for fighters

Maneuver dials and templates make it easy to plot and execute your ships' maneuvers

Combat is fast and deadly

A pre-existing range of expansions and rules for squad-building allow you tremendous freedom to explore different squad-builds, strategies, and even new factions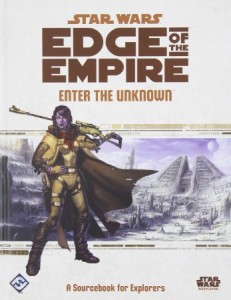 Star Wars Edge of The Empire: Enter The Unknown Game – $21.49
Includes new Explorer specializations such as the Archeologist and Driver

Features new options for backgrounds, Obligations and Motivations, based on the themes of exploration, hunting and trade

Introduces new equipment options useful to all players

A powerful tool for GMs to use in crafting campaigns with an exploration theme, or to more deeply involve Explorer characters

Objective sets for each affiliation are playable in both multiplayer and head-to-head games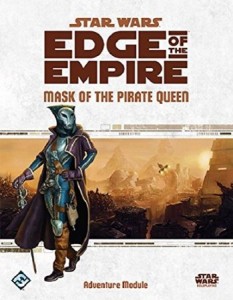 Star Wars: Edge of The Empire: Mask of The Pirate Queen: Adventure Module Board Game – $25.55
A new 96-page adventure book for the Edge of the Empire roleplaying system

Includes detailed gazetteers of the worlds Orc Mantel and Saleucami

Helpful Game Mastering tips throughout the adventure

Numerous full-color illustrations depict the adventure's exotic locations and characters

Fully compatible with Star Wars: Age of Rebellion and Star Wars: Force and Destiny systems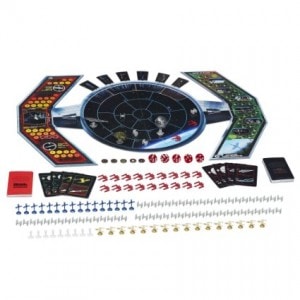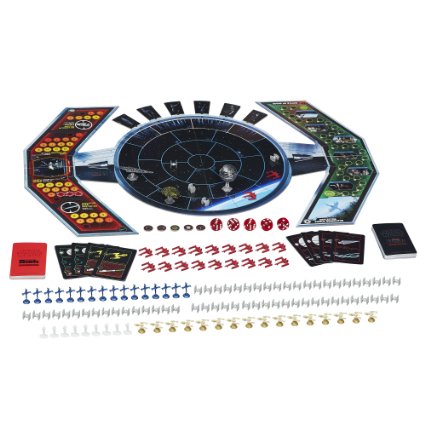 Star Wars The Black Series Risk Game – $32.10
Star Wars version of the classic Risk game lets players conquer the Death Star or the Rebel fleet

Includes X-wing, Y-wing, and TIE fighters for attacks

Order cards let players attack and defend

Tilt the game one way or the other by destroying Luke Skywalker or Darth Vader

Includes 3 gameboard pieces, 20 X-wings, 16 Y-wings, 56 TIE fighters, 6 Rebel fleet markers, Millennium Falcon ship with stand, Executor with stand, Death Star with stand, 4 hit tokens, 9 Stormtrooper figures, Rebel Strike Team token, 30 Empire order cards, 30 Rebel order cards, and 5 translucent dice.
Star Wars: Armada Game – $57.81
A two-player miniatures game of tactical fleet battles in the star wars universe

Core set contains includes three pre-painted capital ship miniatures, ten unpainted fighter squadrons, and more than 130 cards and tokens

Ships utilize a unique, articulated maneuver tool to quickly set their courses

Rules for stacked commands force players to strategize multiple turns ahead, even as they make difficult tactical decisions in the heat of battle

Command the unmatched power of the imperial fleet, or prove your tactical acumen as an admiral in the rebel alliance
Star Wars Blu-Ray / DVD's: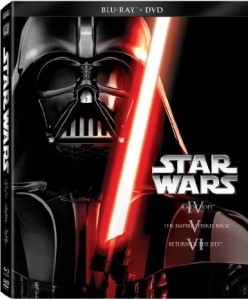 Star Wars Trilogy Episodes IV-VI (Blu-ray + DVD) – $34.99
Star Wars Trilogy Episodes I-III (Blu-ray + DVD) – $34.99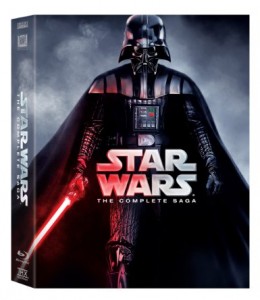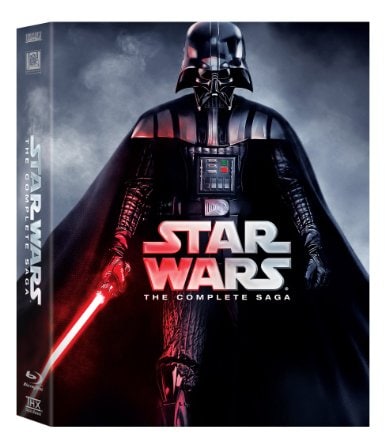 Star Wars: The Complete Saga (Episodes I-VI) [Blu-ray] – $79.99
What are your favorite gifts to give a Star Wars lover? We'd love to hear any unique suggestions you have!