Lego Holiday Gift Guide – Lego City, Lego Friends, Books, DVD's & more!
This post may contain affiliate links and I may be compensated for this post. Please read our disclosure policy here.

Lego Holiday Gift Guide
It doesn't seem to matter which year it is, Legos are a classic toy that are popular every year with kids.  We've found some of the most popular Lego products& deals we've found this holiday season to give you some ideas for the Lego lover on your Christmas List!
Also, make sure to check out our roundup of the best deals for Lego Dimensions Starter Kits & games.
Lego Books:
365 Things To Do With Lego Bricks 365 Things to Do with LEGO Bricks inspires you to look at your LEGO bricks in new and exciting ways. This book features imaginative play and building ideas, from LEGO projects that take just a few minutes and require a handful of bricks to inspirational build ideas and activities to keep you occupied for hours.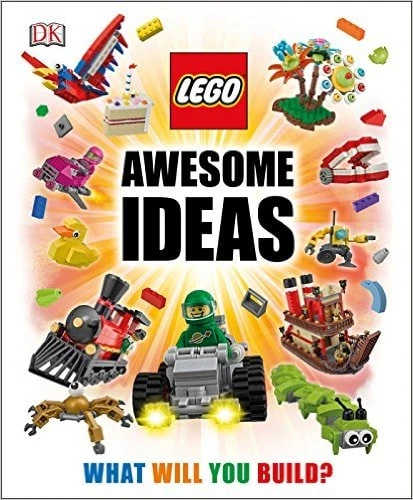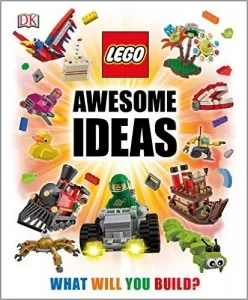 Journey through five incredible worlds bursting with hundreds of new LEGO approved fan ideas and building tips! Learn how to make a wild west train, outer space aliens, a realistic-looking cell phone, and much, much more. Create your own amazing models with step-by-step guides that unlock the secrets of great LEGO building.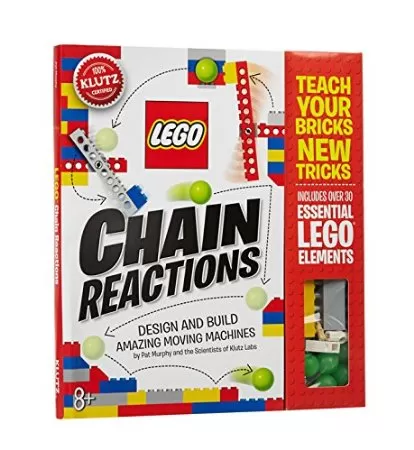 Klutz LEGO Chain Reactions Craft Kit
Design and build 10 amazing moving machines – teach your bricks new tricks

Comes with 80 page instructions, 33 LEGO pieces, instructions for 10 modules, 6 plastic balls, string, paper ramps, and other components

Includes a 80-page instructional book with Klutz certified crystal-clear instructions

Includes more than 30 essential Lego elements

Recommended for children ages 8+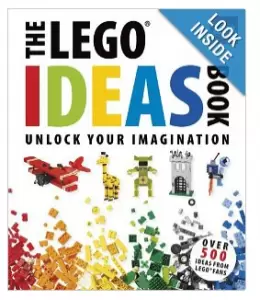 Key models and spreads to inspire your designs
Hints and tips from Master Builders
User-friendly guide

Lego Star Wars Yoda Chronicles
Relive Yoda's adventures in the LEGO® Star Wars® galaxy with this all new format from DK
Includes an exclusive minifigure
First in a new-series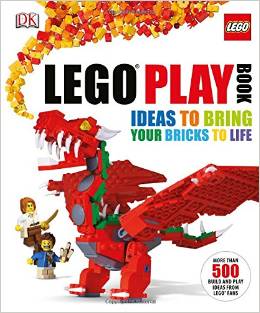 LEGO Play Book: Ideas to Bring Your Bricks to Life 
Features more than 200 different builts
Simple, medium, and complex models
Offers tips and tricks to get the most of your blocks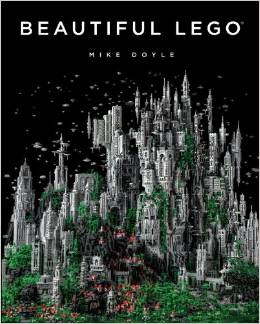 LEGO artwork showcasing a stunning array of pieces
Read interviews with the LEGO artists
As seen in The Wall Street Journal, Reader's Digest, The Los Angeles Times, Slate, TODAY.com, Wallpaper, USA Today, MAKE, and more!
Basic Lego Supplies: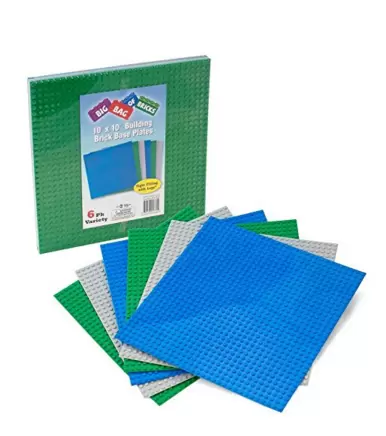 Brick Building Base Plates, Large 10×10 Baseplates (6 pack variety pack) -this is not the Lego brand, but it says it's compatible with Lego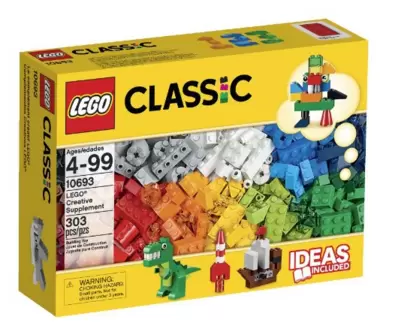 Lego Classic Creative Supplement
Includes a range of LEGO bricks in 20 different colors and a brick separator

Features 2 sets of eyes for building all kinds of creatures

Encourages budding builders to stretch their imaginative muscles and inspires open-ended creativity

Ideas included with the set and online at LEGO.com/classic to help you get started; All models pictured can be built from this set simultaneously

LEGO Classic sets are an ideal supplement to any existing LEGO collection
Lego City: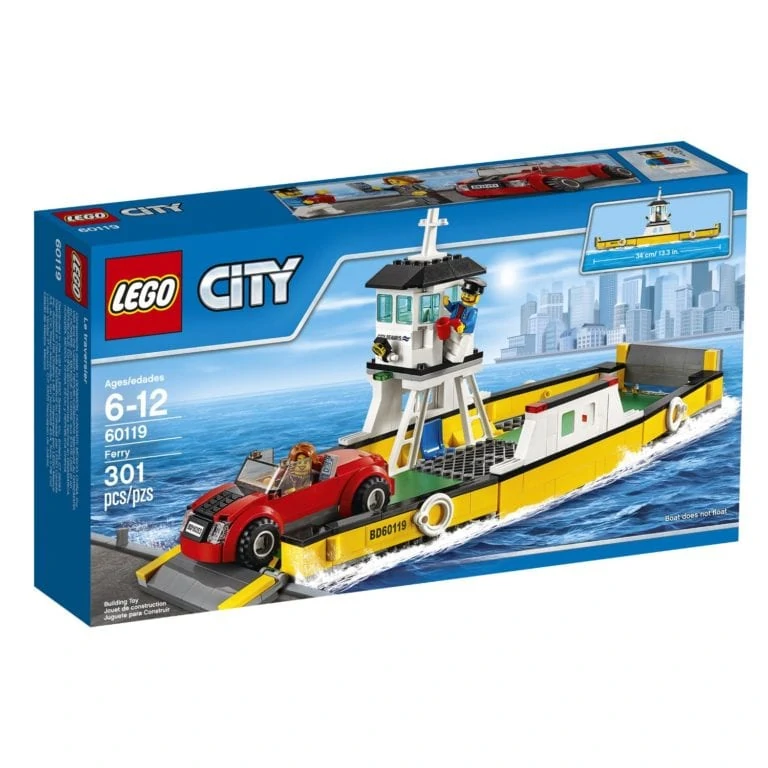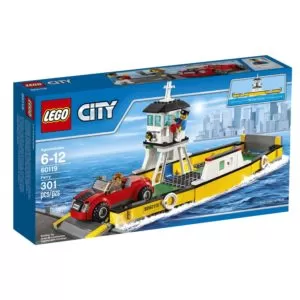 Features a Ferry with gates that can be raised and lowered and a space above the deck for the captain to pilot the boat

Accessory elements include a car, a mug, phone, and 2 fire extinguishers

Includes 2 minifigures: a businessperson and ferry boat captain

Ferry measures over 6″ (16cm) high, 13″ (34cm) long and 5″ (13cm) wide, car measures over 1″ (4cm) high, 3″ (10cm) long and 1″ (4cm) wide

Open the gate and help the captain load the car onto the boat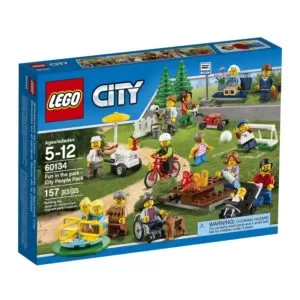 Features a range of buildable models for a colorful park setting

Accessory elements include a park bench, picnic table, hot dog cart with hot dog and umbrella, 2 trees, bike, paint roller and bucket, lawnmower, ball, croissant, basket, sign, fence, briefcase and flowers

Includes 14 minifigures, plus baby and dog figures

Get on the merry-go-round and take a dizzying spin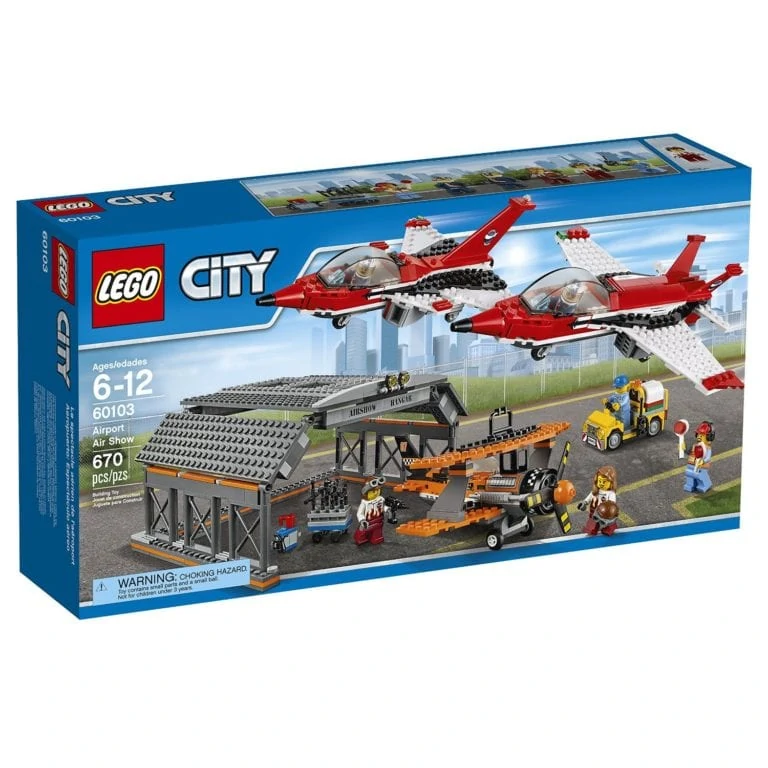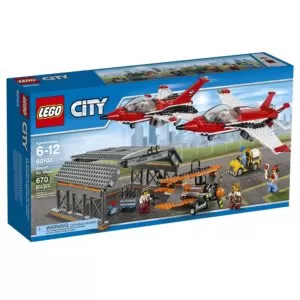 LEGO City Airport Show Building
Features a hangar big enough to hold a plane, a gasoline barrel with roll-out hose, old-fashioned plane with turning propeller, 2 jets with opening cockpits, airport service car and tool wagon

Accessory elements include a tool rack with tools, a mug, walkie-talkie and 2 paddles

Includes 6 minifigures: male and female jet pilots, male and female stunt pilots, a mechanic and an airport worker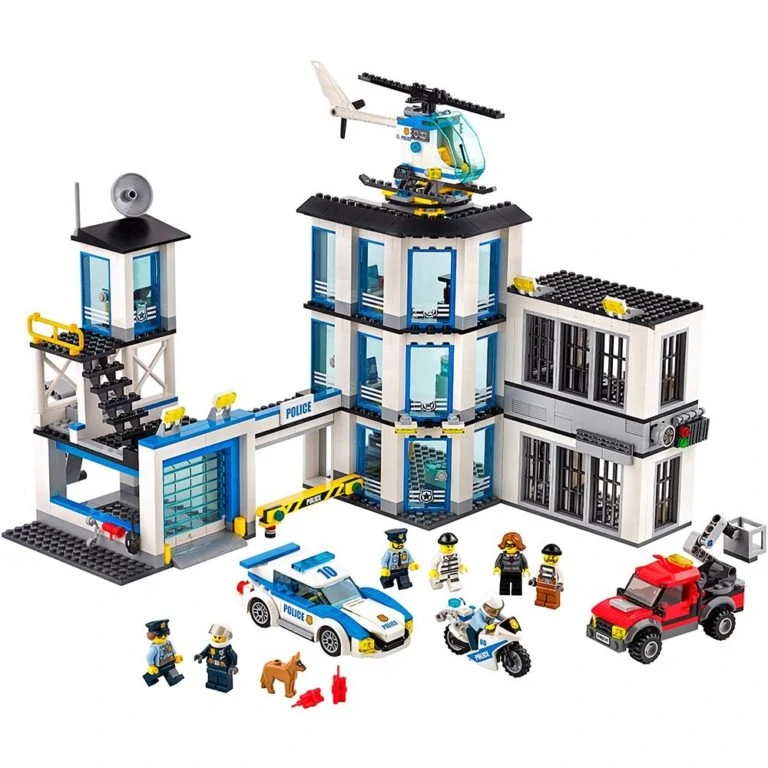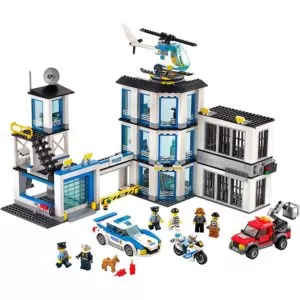 Build a three-level Police Station, including a jail cell with exploding wall function and watch tower!

Vehicles included are a helicopter, police pursuit car, police motorbike plus the crooks' truck with rotating, extendable cherry picker

Includes 7 minifigures: four police officers and three crooks, plus a police dog figure
Lego Star Wars: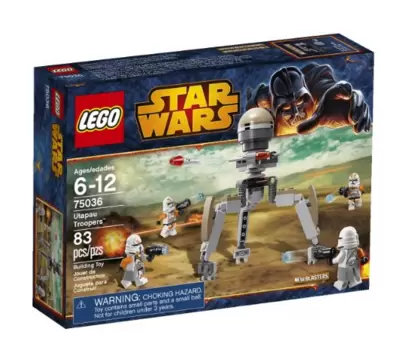 Lego Star Wars Utapau Troopers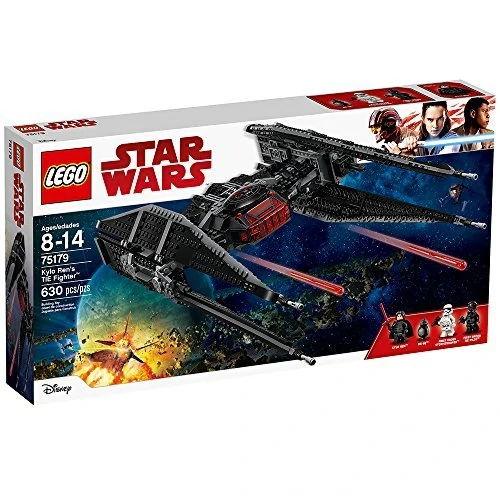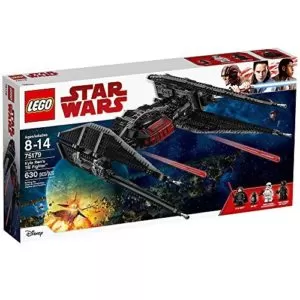 Lego Star Wars Kylo Ren Tie Fighter
Features an opening minifigure cockpit, large wings, red exhaust detailing and 2 trigger-activated spring-loaded shooters

Includes 3 minifigures: Kylo Ren, a First Order TIE Pilot and a First Order Stormtrooper, plus a BB-9E figure

First Order TIE Pilot's helmet features new-for-September-2017 red-stripe decoration

Weapons include Kylo's Lightsaber, a blaster and a blaster pistol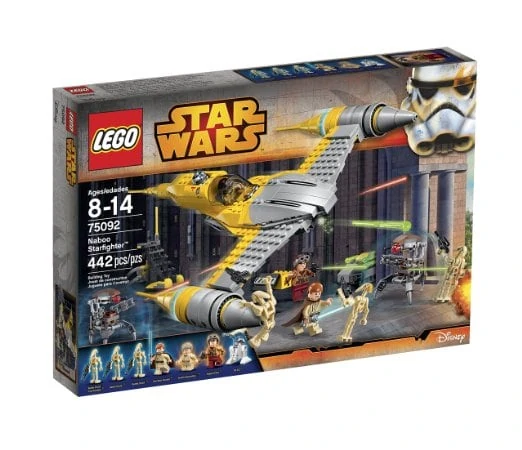 LEGO Star Wars Naboo Starfighter 75092 Building Kit
Fire the twin spring-loaded shooters

Uncuff the Naboo Pilot

Display the model on the supplied stand

As seen in Star Wars: Episode I The Phantom Menace

Naboo Starfighter measures over 1″ (5cm) high, 13″ (35cm) long and 9″ (25cm) wide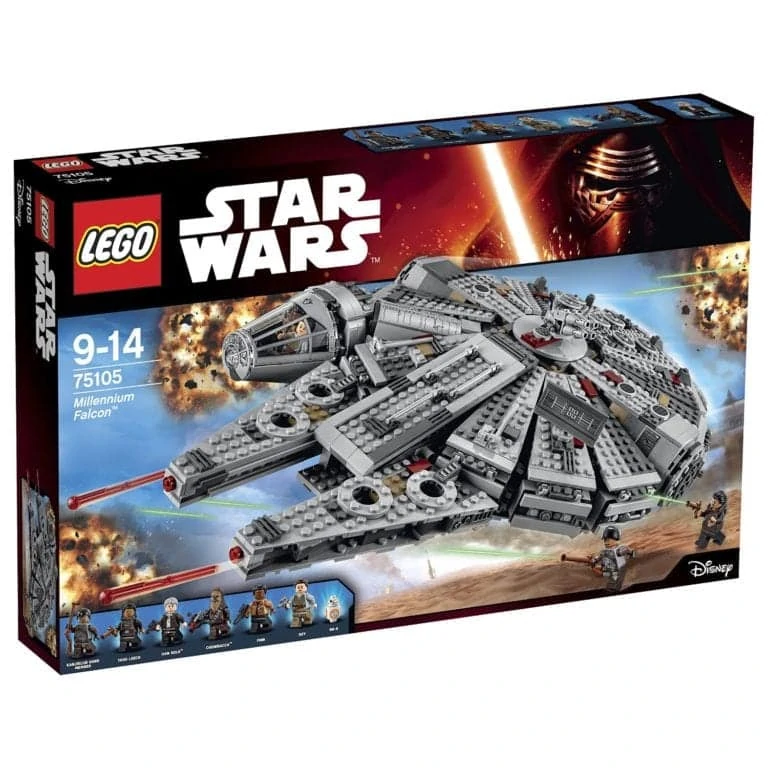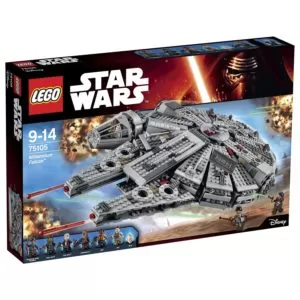 LEGO Star Wars Millennium Falcon
Hide weapons and other cargo in the secret compartment

Pretend to activate the hyperdrive and make a fast getaway

Recreate fantastic scenes from Star Wars: The Force Awakens

The perfect addition to any LEGO Star Wars collection
Lego Architecture: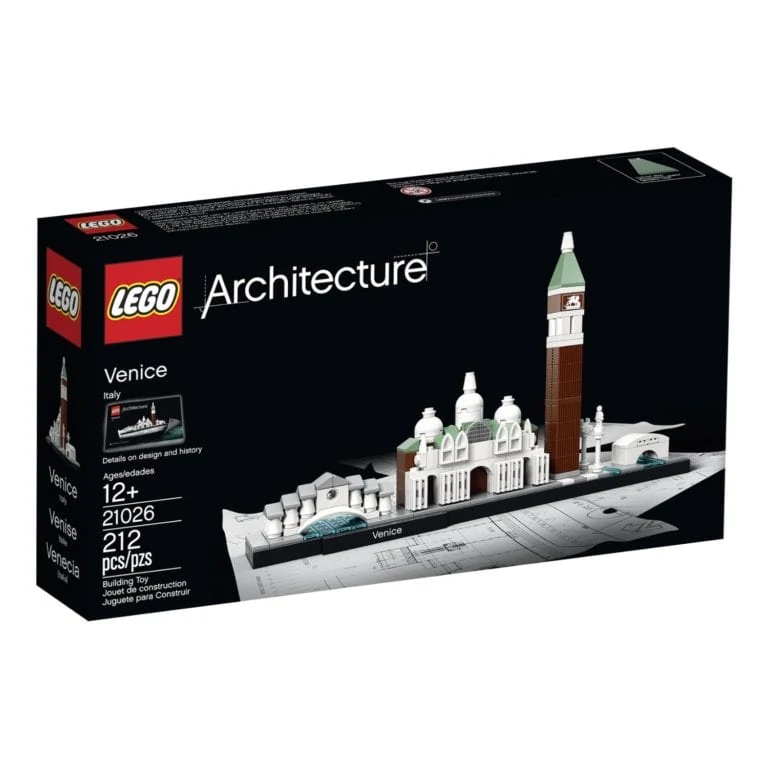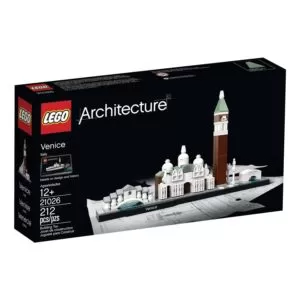 Features the Rialto Bridge, St. Marks Basilica, St. Mark's Campanile, St. Theodore and the Winged Lion of St. Mark, and the Bridge of Sighs

Venice's rivers and canals are represented by blue tiles in the baseplate

Measures 5″ (14cm) high, 9″ (25cm) wide and 1″ (3cm) deep

The included booklet contains information about the designer, architecture and history of each structure, as well as historical facts about Venice and its architectural heritage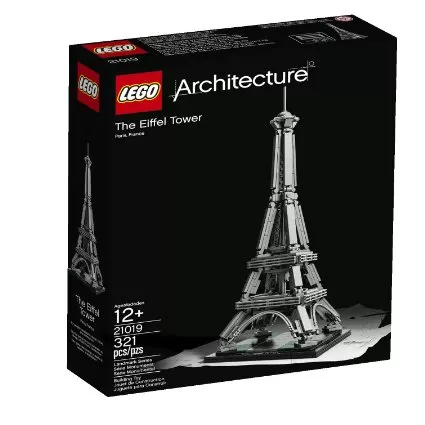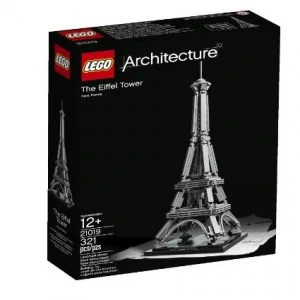 LEGO Architecture 21019 The Eiffel Tower
Interpretation of real-world architectural landmark The Eiffel Tower in LEGO bricks

Booklet included with details on design, architecture, and history of the tower

The LEGO Architecture product line is about celebrating the world of architecture through the medium of the LEGO brick

The LEGO Architecture product line is for all those with an interest in design, architecture, and history

Measures over 12″ (31cm) high, 4″ (11cm) wide and 4″ (11cm) deep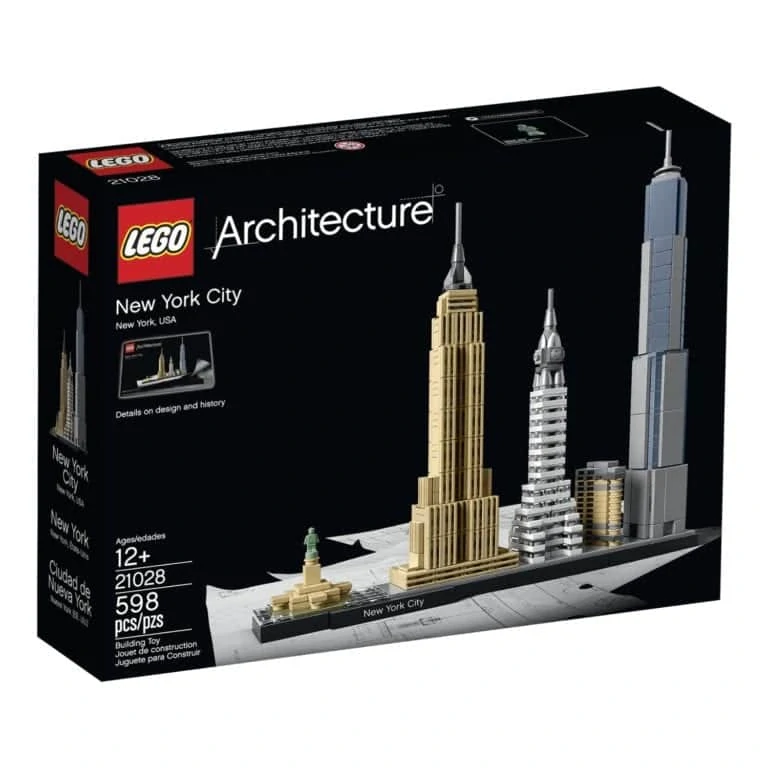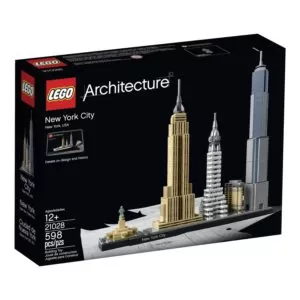 LEGO Architecture New York City
Features the Flatiron Building, Chrysler Building, Empire State Building, One World Trade Center and the Statue of Liberty

Includes a 4×32 tiled base with decorative "New York City" nameplate
Lego Ninjago: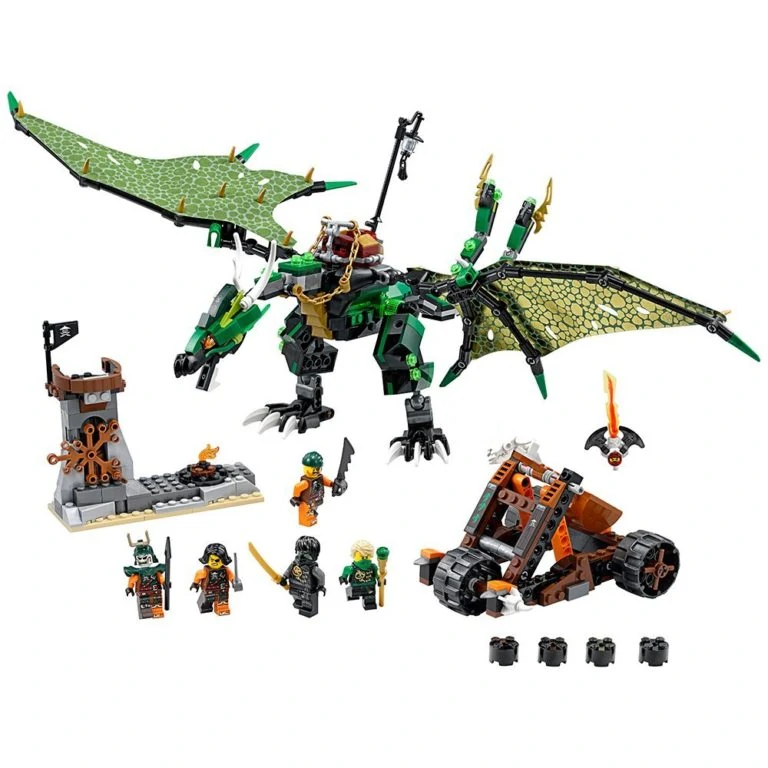 LEGO Ninjago The Green NRG Dragon Building Kit 
Lloyd's Green NRG Dragon features a saddle for Lloyd, golden chain-style reins, posable head, foldable printed textile wings with spike details, posable legs, talons, and posable split tail with 2 stud shooters

Weapons include Cole's golden sword, the sky pirates' sword, standard sword, spear, and the Djinn Blade

The Green NRG Dragon measures over 5″ (15cm) high, 14″ (37cm) long and 8″ (21cm) wide with folded wings, and 22″ (57cm) wide with unfolded wings

Includes 5 minifigures: Lloyd in Sky bound outfit, Ghost Cole in Sky bound outfit, Bucko, Cyren and Battle Doubloon

The sky pirates' catapult measures over 3″ (10cm) high, 5″ (13cm) long and 4″ (11cm) wide, the sky pirates' lookout tower measures over 4″ (12cm) high, 1″ (5cm) long and 4″ (12cm) wide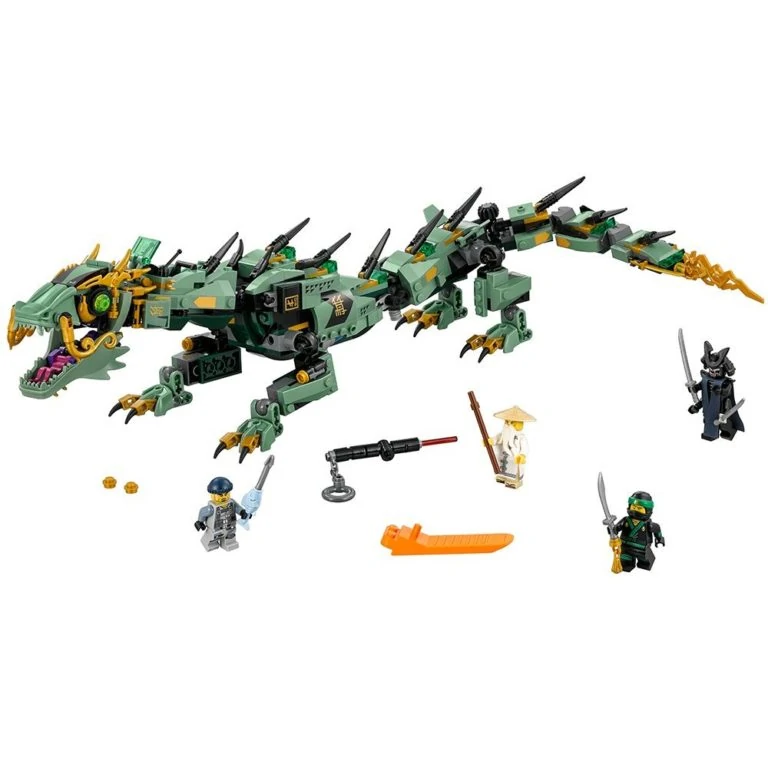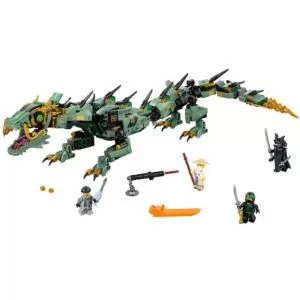 Lego Ninjago Movie Green Ninja Mech Dragon
Green Ninja Mech Dragon features minifigure cockpit, articulated snapping jaws, posable body, wheel-activated swooshing tail with spikes, 2 leg-mounted stud shooters, 2 pop-out thrusters in front legs

Includes 4 minifigures: The Green Ninja, Wu, Garmadon and Charlie

Weapons include The Green Ninja's tasseled sword, Wu's staff, Garmadon's laser-style pointer and 2 katanas, and Charlie's fish spear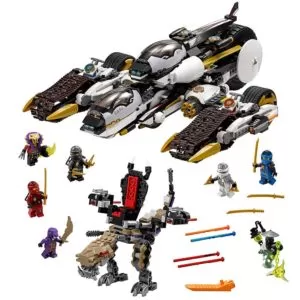 LEGO Ninjago Stealth Raider Building Kit
he Ultra Stealth Raider features 2 opening cockpits plus 2 open cockpits, big tracks and wheels, twin 6-stud rapid shooters, 2 spring-loaded shooters, 6 detachable golden ninja swords, 2 golden shurikens, plus a splitting function

Weapons include Master Chen's Jade Blade, Master Yang's Aero blade, an Anacondrai blade, Anacondrai sword, 2 golden sai, 4 golden swords, and 2 golden shurikens

Ultra Stealth Raider (full-size) measures over 4″ (11cm) high, 14″ (38cm) long and 13″ (34cm) wide

Includes 7 minifigures: Cole, Zane, Jay, Kai, Master Chen, Eyezorai and Master Yang

This set includes the 4-vehicles-in-1 Ultra Stealth Raider and Chenosaurus
Lego Friends: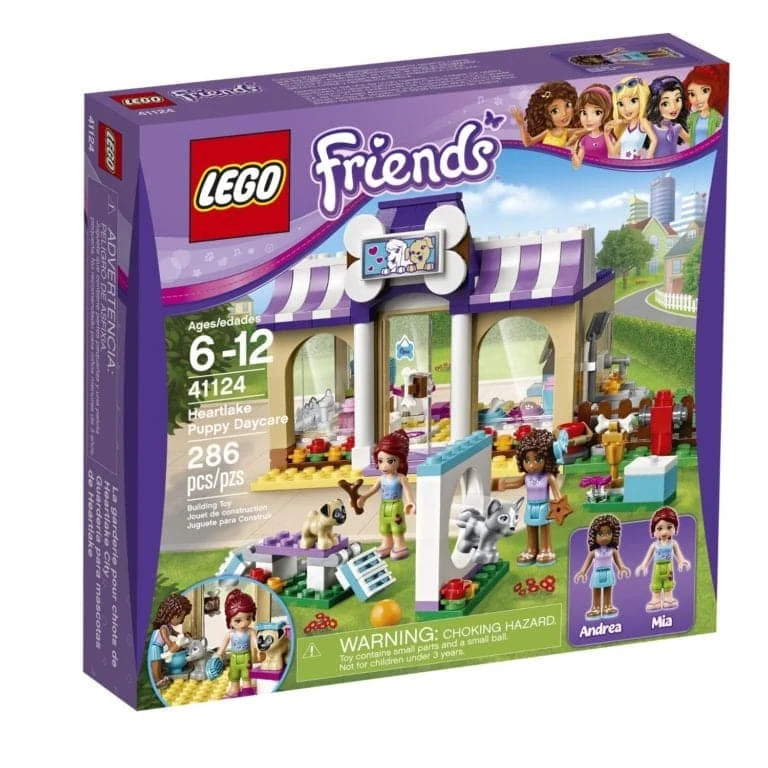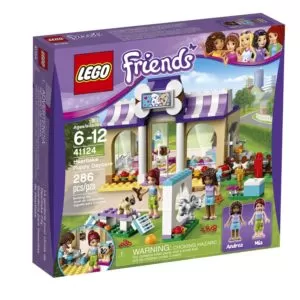 LEGO Friends Heartlake Puppy Daycare
Features a Heart lake Puppy Daycare building with an opening door, bath, grooming station, dog beds, feeding area, office area, and a doggy door out to the garden

Accessory elements include a computer, phone, grooming brush, dog shampoo, hair bows, feeding bowls, dog biscuits, bones, fire hydrant, shovel, bucket, ball, stick and a trophy

Includes Andrea and Mia mini-doll figures, plus a Husky and a Pug

The garden features an agility course with 2 obstacles and a turning roundabout, podium and a drinking fountain

Heart lake Puppy Daycare measures over 3″ (9cm) high, 7″ (19cm) wide and 4″ (12cm) deep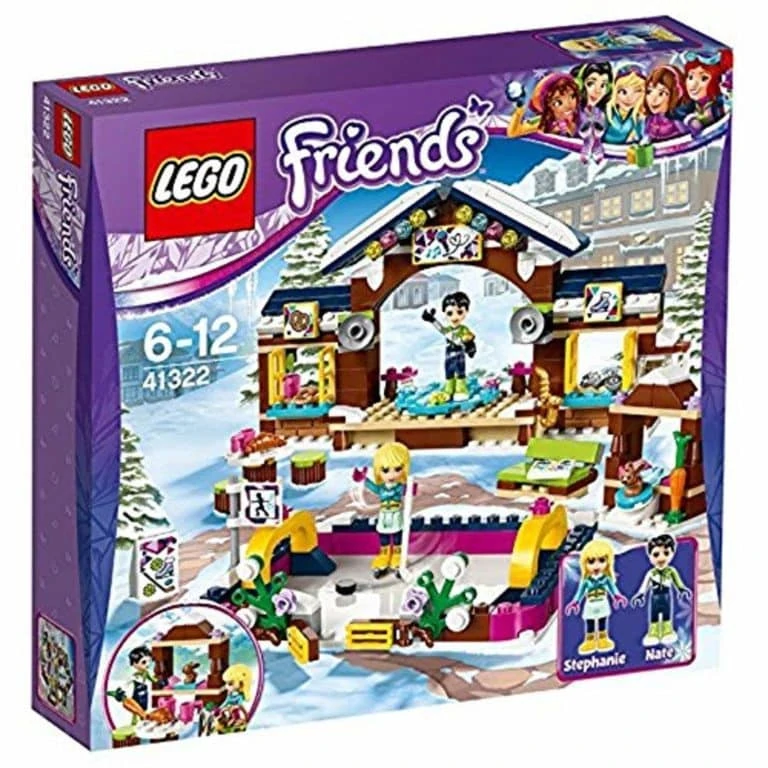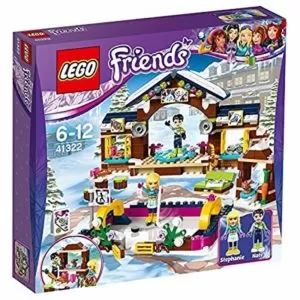 Lego Friends Snow Resort Ice Rink
307 pieces – Includes Stephanie and Nate mini-dolls in ice skating outfits, plus a Moka the bunny figure
Build your own Snow Resort Ice Rink, complete with opening doors and removable hockey goals, skating lodge with revolving stage area, pretzel shop and equipment rental area!
LEGO Friends brick building toys are compatible with all other LEGO construction sets for creative building
Ice rink measures over 1" high, 4" wide and 3" deep. Skating lodge measures over 4" high, 7" wide and 1" deep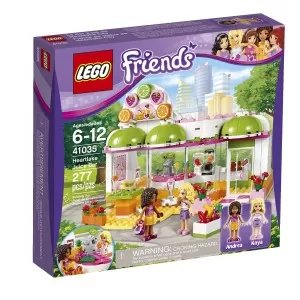 LEGO Friends 41035 Heartlake Juice Bar 
Includes Andrea and Naya mini-doll figures

Features glass windows, counter with blenders, juice squeezer, sink, and cash register

Also Features inside and outside seating areas with 2 chairs, a table and a big box of fruit; Accessories include flowers and a handbag

Order fresh smoothies from Naya the juice bar attendant; Help Naya to make a range of delicious fruit drinks for Andrea to try

Juice Bar measures over 5″ (14cm) high, 7″ (19cm) wide and 5″ (13cm) deep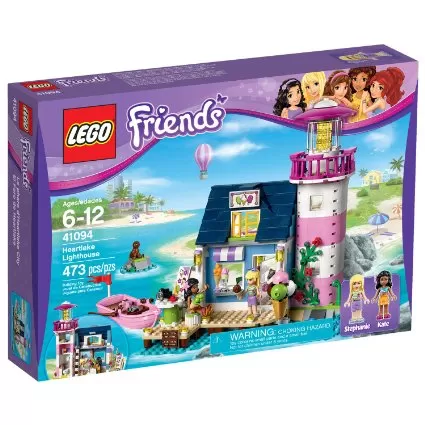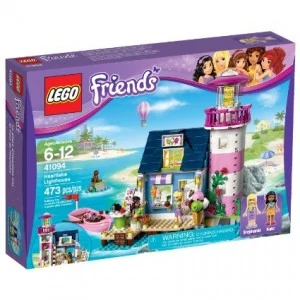 LEGO Friends 41094 Heartlake Lighthouse
Includes 2 mini-doll figures: Kate and Stephanie, Features a 2-story lighthouse with ice cream shop, attic, pier, rowboat and a rock for the seal

Lighthouse, ice cream shop features a counter, freezer, bathroom, secret room, viewing platform, table and stools, windows a door and movable ladder

Lighthouse measures over8″ high, 7″ wide and 4″ deep, Rowboat measures over 3″ long, 1″ wide and under 1″ high

Lots of accessories included

Combine with the 41097 Heart lake Air Balloon for more sightseeing fun with the LEGO Friends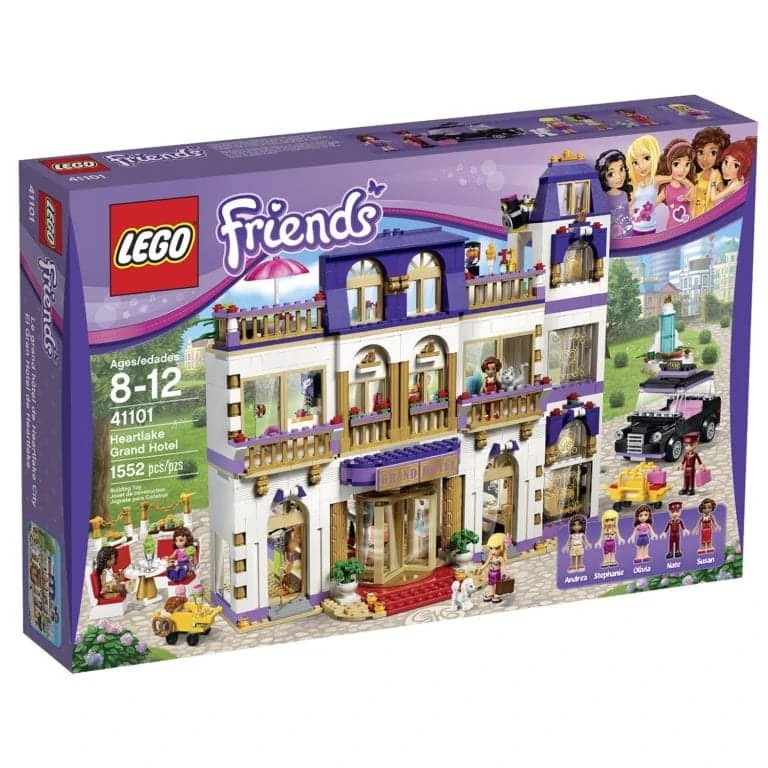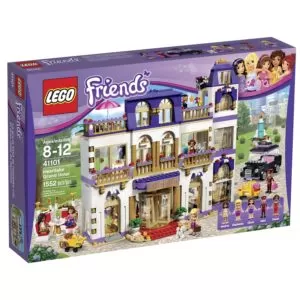 LEGO Friends Heartlake Grand Hotel Building Kit
The single bedroom features a single bed, en-suite shower room, flat screen TV element and a sliding door to the balcony

Accessory elements include a bellboy trolley, suitcases, glasses, cakes, perfume bottles, tables, chairs, room keys, 2 fences, a flag and more

Build this gigantic hotel with all its amazing features and accessories to create your own vacation stories; rearrange the hotel however you wish

Put your luggage in the trolley and check in at reception to get your room key; push the lever to take the elevator up to the second and third floor

Hotel measures over 11″ (30cm) high, 12″ (32cm) wide and 6″ (17cm) deep; black cab measures over 2″ (7cm) high, 4″ (11cm) long and 1″ (5cm) wide
Lego Movie: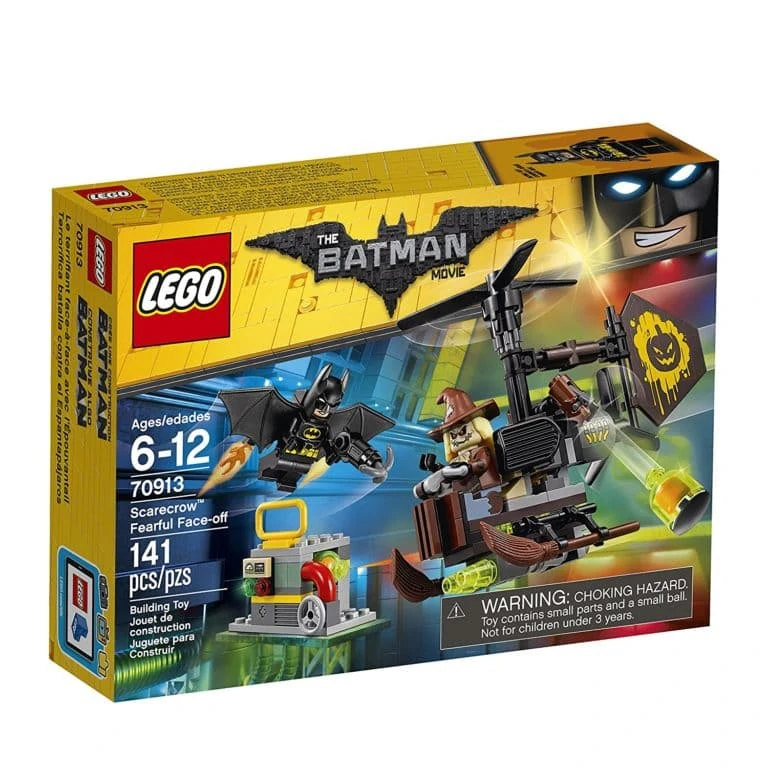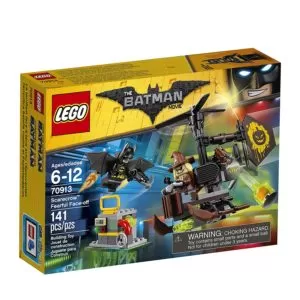 Lego Batman Movie Scarecrow Fearful Face Off
Scarecrow gyro-copter features top and rear spinning rotors, an adjustable rudder, two bomb-drop functions, and three translucent-green fear gas bomb elements

LEGO Batman toy includes two minifigures: Scarecrow and Batman

The power plant mini build has space for a fear gas bomb element and an explode function

Also includes batman's jetpack with Batwings and two adjustable boosters with translucent flame elements and batman's grappling gun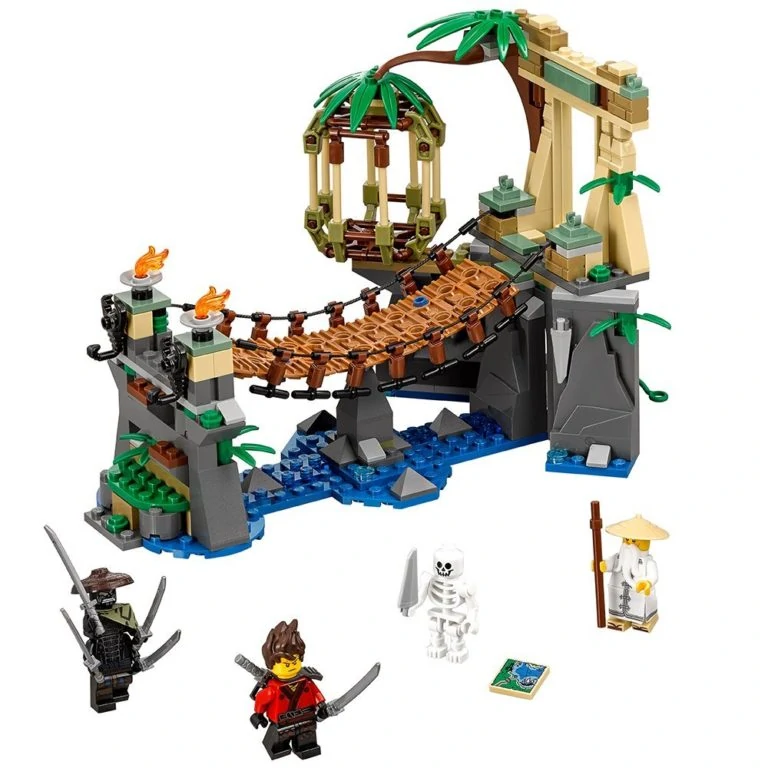 Lego Ninjago Movie Master Falls
Build your own Master Falls, complete with jungle bridge, opening cage, hidden cave with skeleton, tropical leaf elements and accessories!
Includes 3 minifigures: Master Wu, Kai and Jungle Garmadon with four arms and jungle outfit decoration
LEGO NINJAGO brick building toys are compatible with all other LEGO construction sets for creative building
Jungle bridge measures over 6" high, 8" wide and 5" deep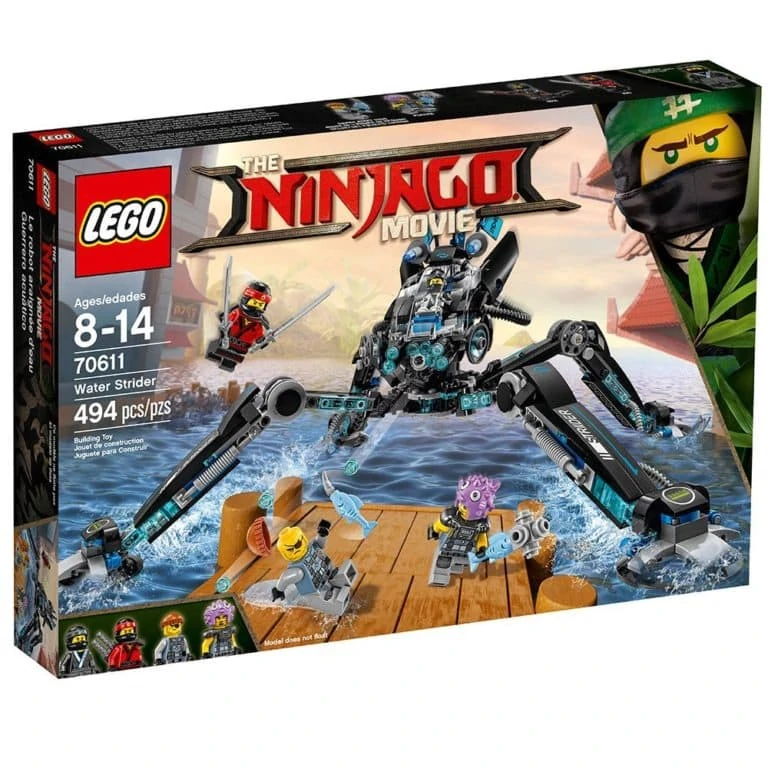 LEGO Ninjago Movie Water Strider
Build a mech with 360-degree rotating minifigure cockpit, 6-stud rapid shooter and 4 posable legs!
Includes 4 minifigures: Nya, Kai, Puffer and Shark Army Thug
Lego Superheroes:
Includes 2 minifigures: Armored Batman and Superman

The skyscraper rooftop minibuild features a rotating and exploding Bat-Signal, a detachable barrier, Armored Batman minifigure launch stick function, and translucent elements

Weapons include Armored Batman's silver Batarang and his 3-in-1 buildable stud-shooting bazooka weapon, which can be converted into 2 smaller guns: a stud-shooting gun and a grapple hook gun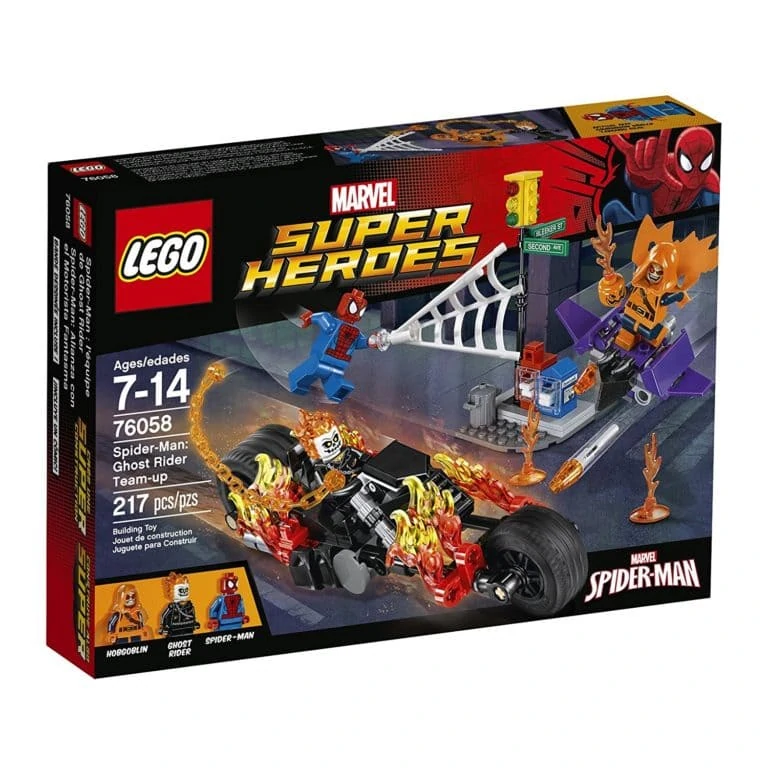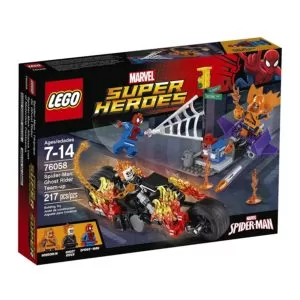 LEGO Spiderman Ghost Rider Team Up
Ghost Rider Bike features turning wheels, fire elements, and a saddle, Goblin Glider has 2 flick missiles

Traffic light model includes traffic lights, 2 translucent flames, 2 newspaper boxes with 4 newspaper elements inside, and a trash can with trash elements

Weapons include Ghost Rider's fire chain and Hobgoblin's flaming pumpkin bomb

Includes 3 minifigures: Spider-Man, Hobgoblin and Ghost Rider
Lego Minecraft: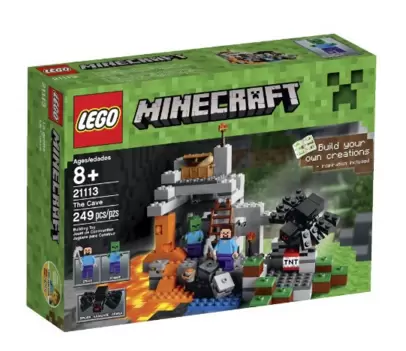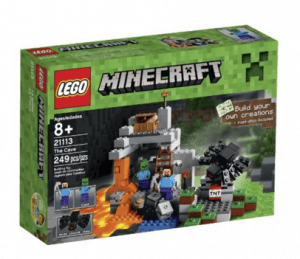 Lego Minecraft The Cave Playset 
Includes 2 minifigures with assorted accessories: Steve and a zombie, plus a spider

Eatures waterfall, lava fall, coal, iron, redstone, gold and obsidian elements, plus TNT, torch and a ladder

Includes 249 assorted LEGO pieces; Combine this set with others in the series to create your own LEGO Minecraft world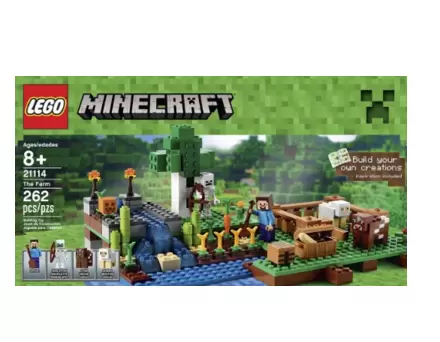 Includes a Steve mini figure with an accessory, plus a skeleton, cow and a sheep, Also includes a skeleton's bow, a shovel, and 262 assorted LEGO pieces

Features a crafting table, pumpkin helmet, 2 torches, fences, waterfall, sugar cane, pre-mature and mature wheat, carrots, tree, and a chest

Experience The Farm! Nurture precious crops and supplies! Watch out for the evil skeleton! Rebuild for more LEGO Minecraft creations

The perfect gift for fans of LEGO building and Minecraft! Combine with other sets in the series for an even bigger LEGO Minecraft adventure!

Add other biomes in the series to create your own LEGO Minecraft world! Measures 4″ high, 10″ wide and 6″ deep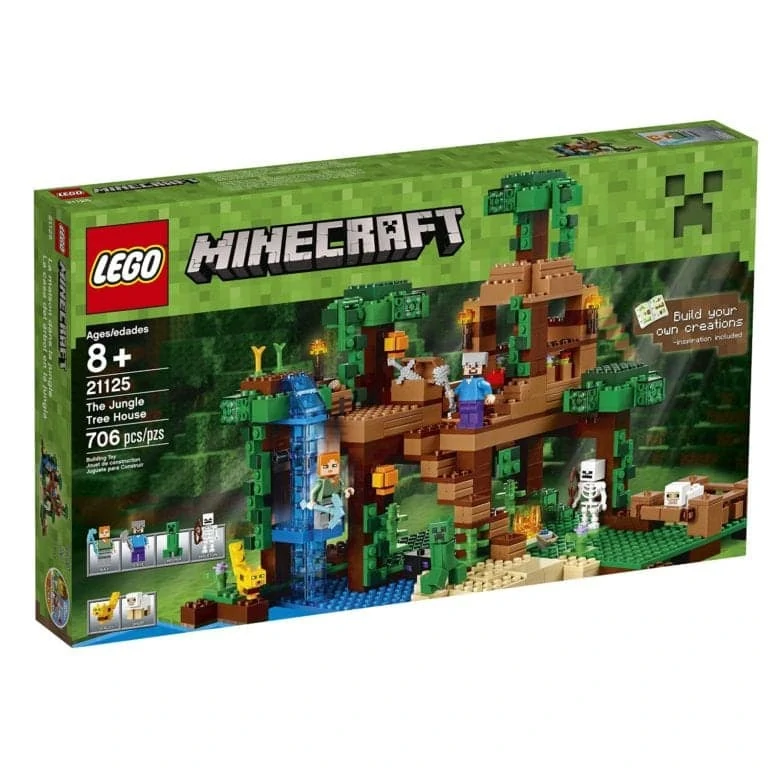 LEGO Minecraft The Jungle Treehouse
Activate the floor trap function to foil the exploding Creeper attack, remodel the set by moving the top section of the house onto the sheep pen

Accessory elements include Steve's helmet, Alex's armored leggings, crafting table, bed, fire, bucket, cocoa pods, wheat, cookies, and 4 buildable flowerpots

Includes 2 minifigures: Steve and Alex, plus a Creeper, skeleton, ocelot and a sheep
Lego Video Games: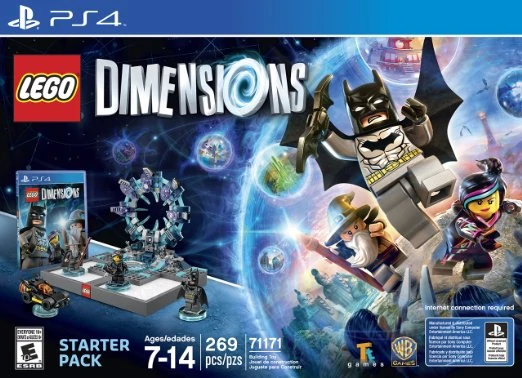 LEGO Dimensions Starter Pack for PS4, Xbox One, Nintendo WiiU, PS3, or Xbox 360
LEGO characters from a mix of some of the best brands in the universe join forces and battle in worlds outside of their own. A Dark Knight, a Wizard, and a LEGO Master Builder traveling together down the Yellow Brick Road is just the beginning.

By purchasing additional expansion packs, players can grow their collection with a variety of their favorite brands to create even more crazy combinations.

Bring up to seven, vehicles and/or gadgets into the game all at once by dropping them on the LEGO Toy Pad for the most exciting and action-filled game around.

Players can let imagination guide their solo journey or have a friend join the adventure with co-operative, drop-in/drop-out play.

LEGO Dimensions is a system of play that offers continued compatibility – everything bought today or expanded with tomorrow will continue to work.
Make sure to check out our roundup of the best deals for Lego Dimensions Starter Kits & games. 
Lego DVD's: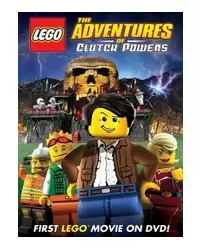 Lego: The Adventures of Clutch Powers DVD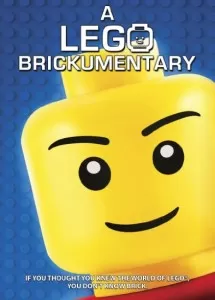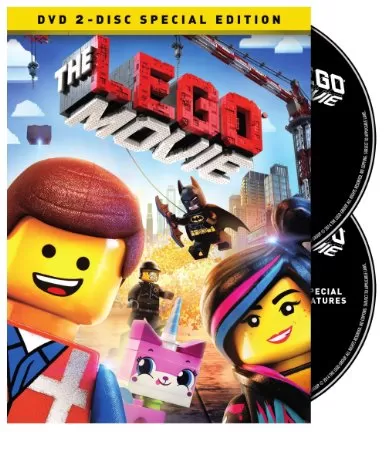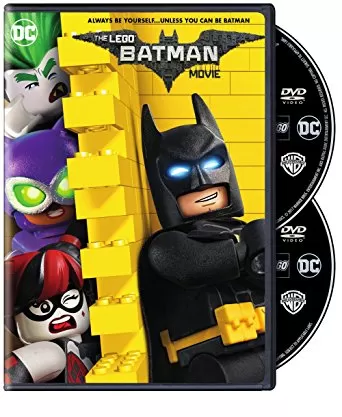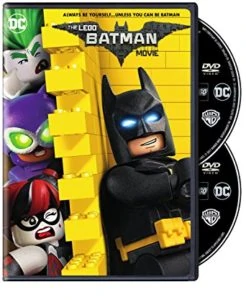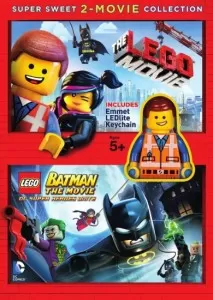 Lego Super Sweet 2-Movie Collection 
What are your favorite gifts to give a Lego lover? We'd love to hear any unique suggestions you have! 
Check out more holiday gift guides::
Save
Save
Save