3 Ingredient Dinners for Busy Nights – 7 Easy & Delicious Options!
This post may contain affiliate links and I may be compensated for this post. Please read our disclosure policy here.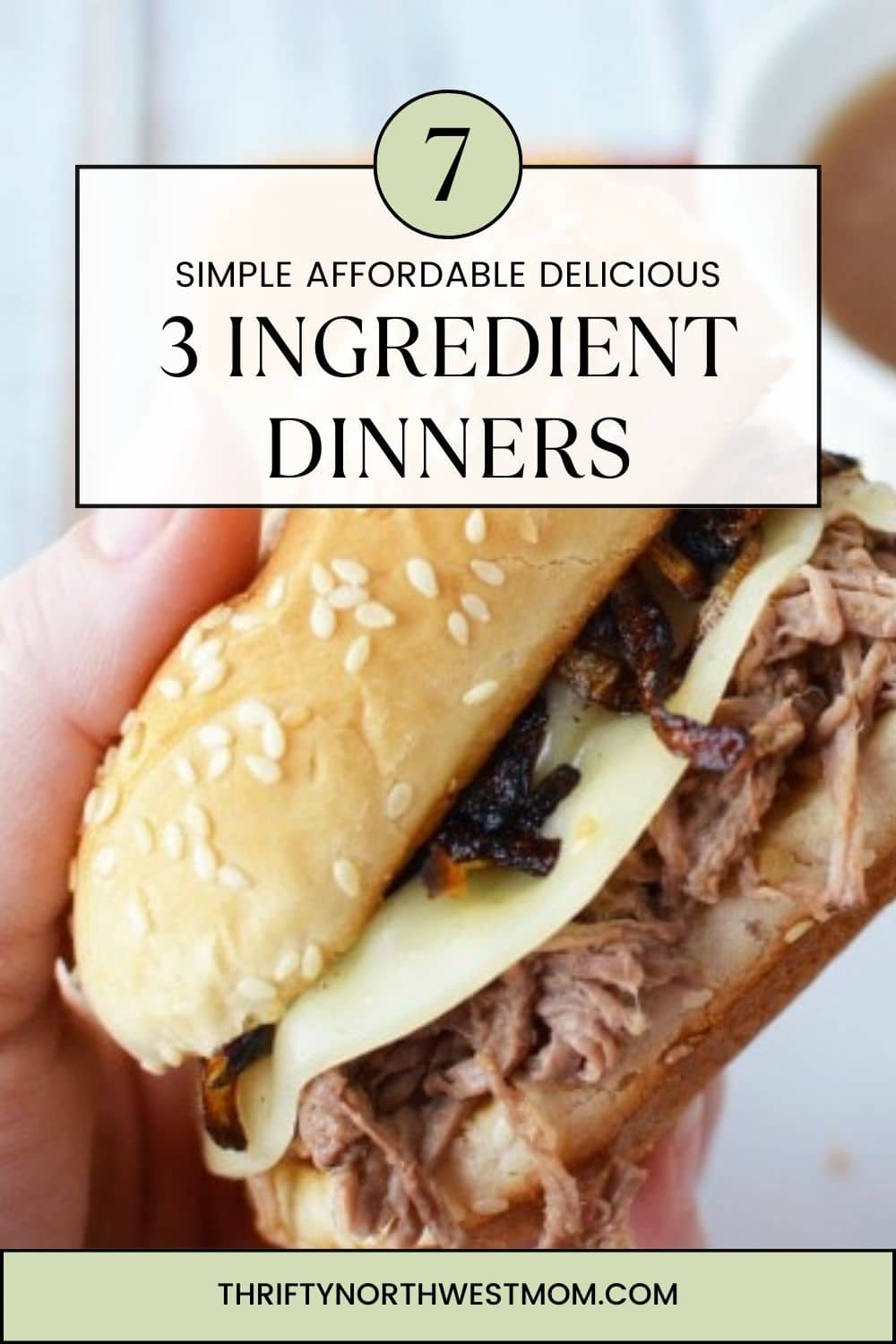 7 Easy & Delicious 3 Ingredient Dinners for Busy Nights!
There are often evenings where I do not feel like cooking, but I would still like to get a meal of real food on the table for my family, and avoid the costs of take-out. Sometimes I will use freezer meals, but other times I just want to get a meal cooking quickly and be done. Here are 7 simple meals I can put together, that are 3 ingredient dinners, and can be on the table quicker than you can pick up take out. They will cost less than take out usually, and still are tasty simple meals.
Many of these 3 ingredient recipes are a scaled down version of recipes I use often with more ingredients. I have modified them, so I have one version I make when I want the full recipe, and then a simple version I make on busy evenings that I want a quick, but still tasty meal. Also, where bottled sauces are recommended, these are the ones we have found taste the closest to our homemade recipes (so switching them out with other brands can really affect the flavor).
Simple 3 Ingredient Dinner Recipes For Busy Nights
These are a few of my go to recipes, when I want cooking to be easy. They are all meals my family will eat, and have been staples in our meal line up for years now.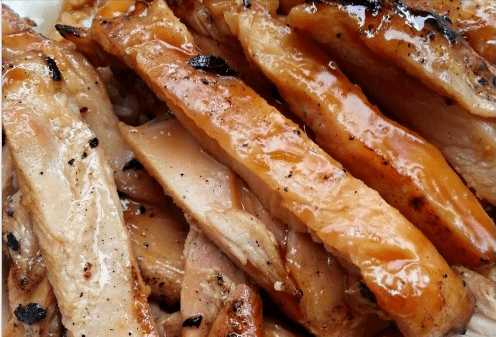 I love when I can find a good marinade that I do not have to make from scratch. This 3-ingredient Teriyaki Chicken recipe has that, and because there are only three ingredients needed it is one you can make quickly. You can add more veggies to turn it into a stir fry if you want, but on those nights you want to get a real meal on the table with minimal work, this one is always a hit at my house. Sometimes I will put the chicken and teriyaki sauce in the slow cooker, then make a batch of rice in the rice cooker right before serving. It does not get much easier than that.
Three ingredients needed: 
Chicken (I like to use the chicken tenders, because they cook up very quickly and are tender – but you can really use any kind of quick you want to for this one)
White Rice (sticky rice is even better if you have that).
Bottle of Yoshidas Teriyaki Sauce (this sauce is the key to making it a 3 ingredient recipe that tastes great).
You can serve just the teriyaki chicken over rice. I like to serve an Asian salad on the side (I just buy the kit and it takes minutes to throw together), on a busy night. Find the full recipe here.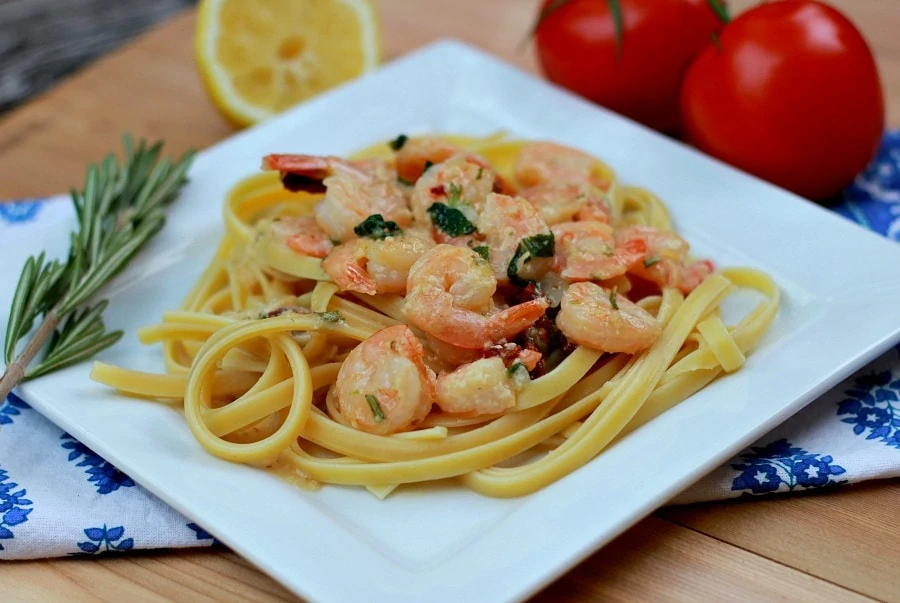 2 – Shrimp Scampi Over Pasta
You can find our full Shrimp Scampi recipe here, for evenings when you want to spend more time cooking. But for those evenings you want a really quick recipe option, that still tastes great, try this one.
Three ingredients needed: 
Frozen Shrimp (you can use fresh shrimp too, but frozen is usually more affordable, and then you have all ingredients on hand for whenever you want to make it).
Pasta (we like to use fettuccini noodles, but you can use whichever you like)
Bottle of this Scampi Sauce in a bottle.
This one is so simple. Thaw your shrimp according to package directions. While shrimp is thawing, get a pot of water going, and boil your noodles. Cook the shrimp in a skillet on medium heat, and add the bottle of scampi sauce. Cook until shrimp is cooked through (approximately 5 minutes).  Toss with the fettucine noodles (or whatever noodles you decide to use).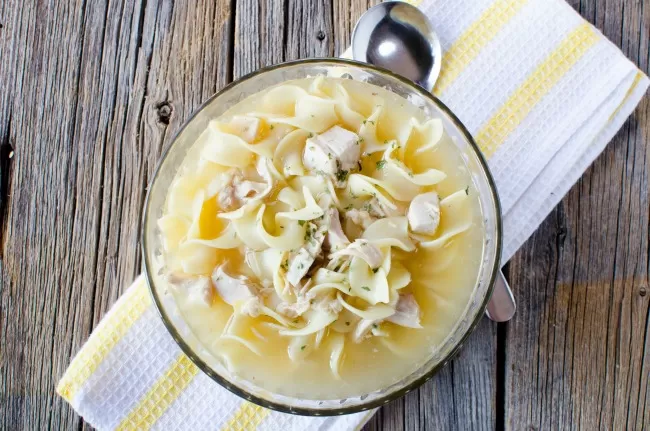 This is comfort food at its best, and so easy to whip together too. For the longest time I made my homemade chicken noodle soup, by starting with my own homemade bone broth – and while that is still the best, there are now great broth options that allow you to put together a great homemade soup on a busy weeknight. You can of course add veggies to your recipe, but on a cold night when I am tired, these three ingredients simmered together hit the spot and are so easy to put together and get on the table for the family to enjoy. I love to serve a pot of this with a loaf of rustic bread too.
Three ingredients needed: 
Chicken (can use baked or rotisserie)
Egg Noodles (you can break up spaghetti noodles instead if you want that more traditional soup)
Chicken Broth
I like to use the Better than Bullion to make my stock, if I do not have homemade chicken stock on hand.
Find the full chicken noodle soup recipe here.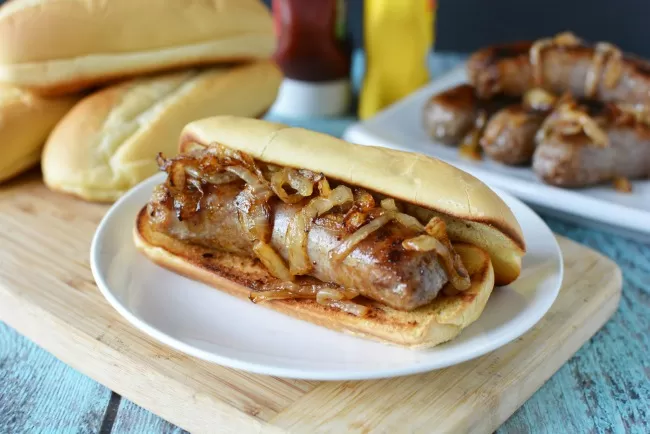 Brawts can be made year round, and we serve them up here with onions...but you can skip those to keep it a true three ingredient meal (or keep the onions, and lose the fries)! You can make these on a grill for easy summer time meals, or on the stovetop for an easy meal year round.  Follow the instructions to cook these brawts up here, toast your buns, and serve with a side of fries and you have a hearty meal that was easy to make.
Three ingredients needed: 
Favorite Brawts
French Rolls
Frozen Fries
This three ingredient french dip is so tasty, and works best if you cook the meat in the slow cooker for the day (or use a left over meat from a steak meal, or previous roast dinner), but it is flexible. You can even use sliced roast beef from the deli if you want something that cooks up the quickest. The key is to warm your meat (whichever kind you use) in the Au Juice.
Three ingredients needed: 
Beef
Au Jus (or get the Johnnys Powder Seasoning to keep on hand and make your Au Jus from that, which is what I usually do)
Rolls (cheese optional)
Here is a recipe for making the roast beef, but the simplest version is to put a pot of Au Juice on the stove and warm. Add your meat to the juice to warm. Toast your buns in the oven. Strain your meat and add to the bun, and serve the Au Juice on the side in a cup to dip your sandwich in.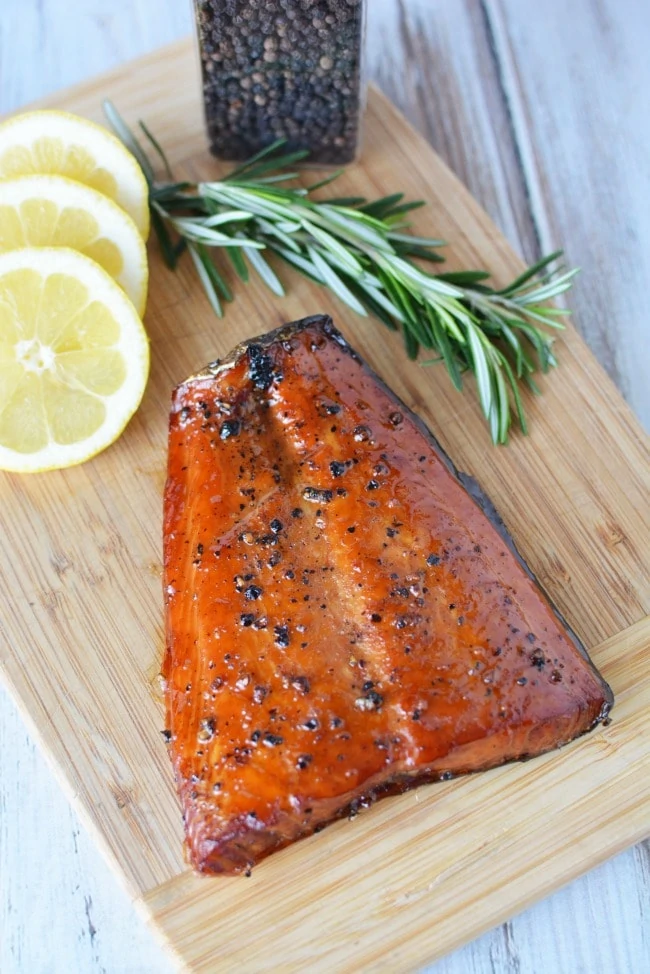 6 – Baked Salmon
I used to live on Whidbey Island, and the Puget Sound was my front yard. We caught our own salmon and it was a staple meal in our home during that time. This is the simple recipe I grew up on, and although I have tried "fancier" recipes since, this one is still my favorite. Sometimes less is more, and I think that rings true with baked salmon.
The trick to this recipe is cooking it in foil, to keep it moist (this is great especially if you are new to cooking salmon, as it is a more forgiving way to cook fish).
Three ingredients needed: 
Fillet of Salmon
Small White Onion (or yellow will work too)
Lemon
(to season you need salt and pepper, and some like to add a sprig of rosemary)
For this recipe you slice up one small white or yellow onion, and one lemon. Lay out your salmon fillet on top of a sheet of foil, and salt and pepper it to taste. Then top with your lemon slices and your onion slices, and create a foil pouch by covering with a second sheet of foil.
Bake at 375 until the salmon is just flaky (usually 15-20 minutes – cook time will depend on the thickness of your fillet).
Again, you can serve it with a salad made from a salad kit to keep it really simple, healthy and delicious.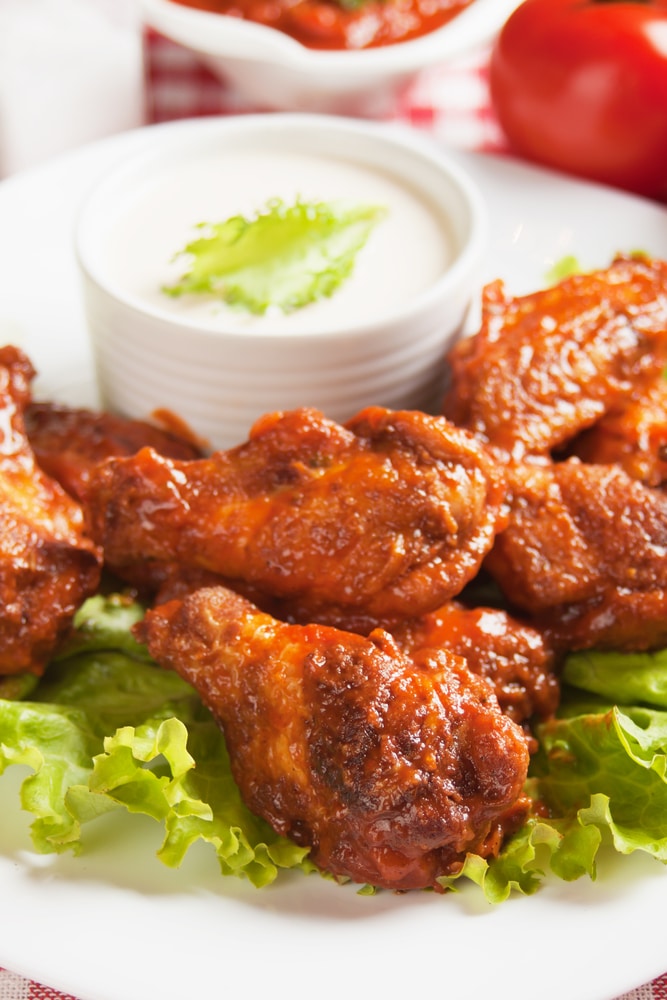 7 – Buffalo Chicken Wings & Salad
This recipe is ideal if you have an air fryer (and very kid friendly), but you can make them on the stove or in the oven too. You can start with frozen bags of wings, but my family prefers when I cook up the wings. Having an air fryer is a game changer in the chicken wings department. I generally toss mine with seasoning salt, and then fry them (per your air fryer instructions). Once they are crisped up you can toss in the sauce (then I like to let them sit in the oven for a few minutes on low for the sauce to really marinate).
This one is popular with my kids. I included it here with the Buffalo Sauce on it, because we are looking at three ingredient recipes, but my kids prefer when I make the wings with no sauce on them, and then add dipping sauce on the side (they can dip in buffalo sauce, ranch, or any other favorites your family has).
It is a go to recipe in my household on busy nights, because I literally let the air fryer do the work, and throw a salad kit in a bowl to serve on the side. So simple, but it is real food to feed your family.
Three ingredients needed: 
Chicken Wings
Salad Kit (I like to serve this one with the Buffalo Ranch Salad kit to keep the flavors similar)
Bonus 3 -ingredient recipe ideas:
Bake up some chicken, add it to an Asian Salad Kit, and roll it up in a tortilla, for a shortened version of these Asian Chicken Rolls! This is also a great way to use up any left over teriyaki chicken you might have from the recipe list above.
Any kind of baked meat + salad kit + baked potato. I like to do a pork chop, or chicken dish often, but this one is a go to staple around my house when I want to get a real meal on the table, with little effort. If you work outside of the home, you can put your potatoes in the crock pot before you leave for work in the morning, so half the work is out of the way when you get home.
These are just some ideas on how I have modified more time consuming recipes, that have helped me serve real meals vs. relying on take out more than I want to.

What are your favorite simple 3 ingredient dinner recipes, or ways you get food on the table in an "easier than usual" way on busy nights?