Turkey Panini Sandwich Recipe with Apple, Cheese & Sage – So Delicious!
This post may contain affiliate links and I may be compensated for this post. Please read our disclosure policy here.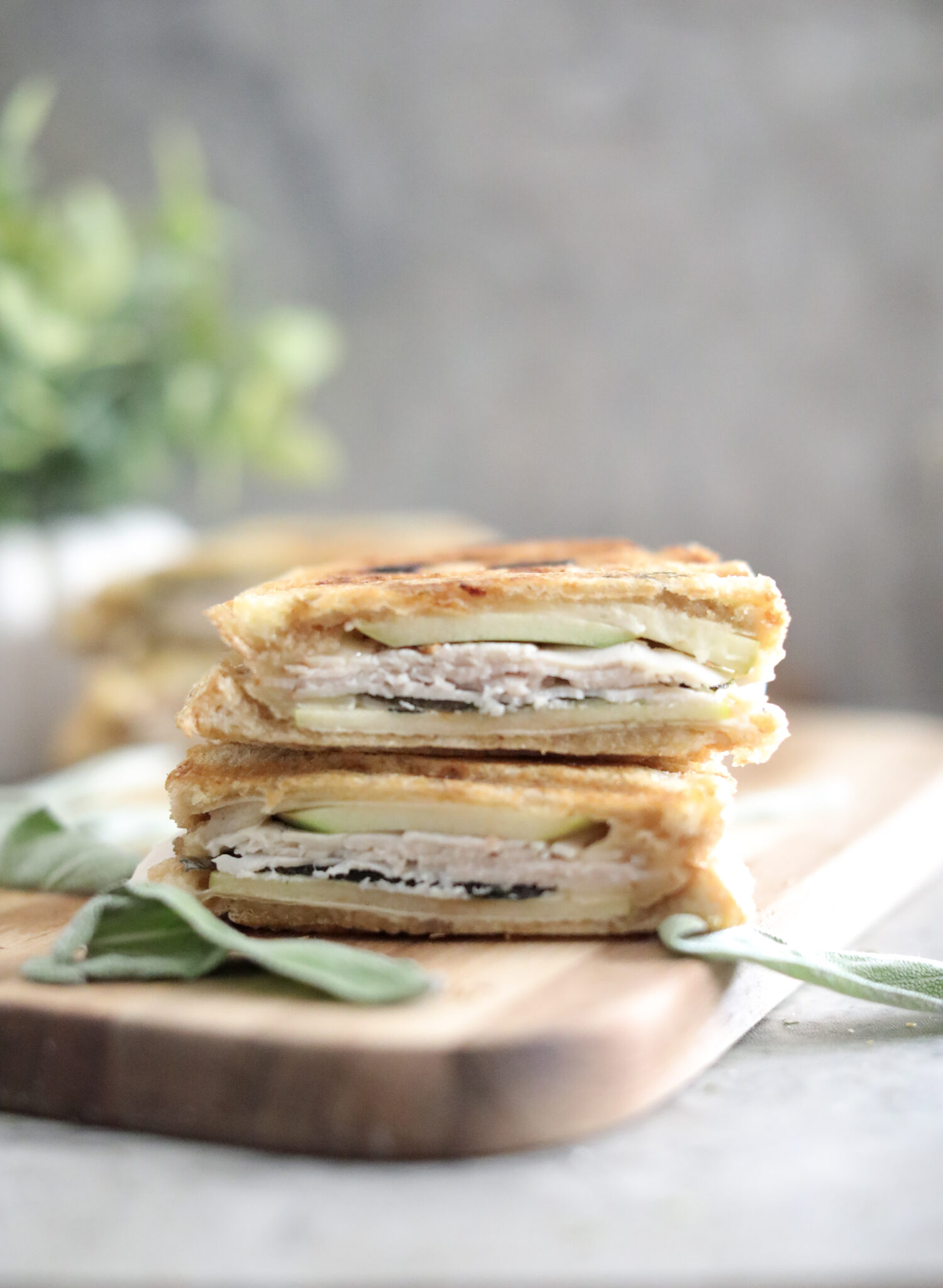 Turkey Panini Sandwich Recipe with Apple & Cheese – So Delicious!
Looking for a recipe for a Turkey Panini Sandwich? Not only is this one delicious, but it is also unique too. Ok this sandwich is crazy good. It is better then the ones I usually like to sneak away and get at Starbucks when I want a grown up sandwich. The flavors might sound strong, but they balance out really nicely in the sandwich, and you get a nice subtle taste of each of them. What makes it unique is adding fresh apple slices and fresh sage. The other ingredients are a bit standard, but all used together may this such a wonderful Panini!
We used deli sliced turkey in this sandwich, but it would also be a great one to use for leftover turkey too. Another idea is to put all of the ingredients out buffet style, and let everyone customize their own sandwich just the way they like it from the ingredients list below. You could also assemble the sandwiches ahead of time, and grill them up right before you are ready to eat. That makes it the perfect recipe for entertaining too.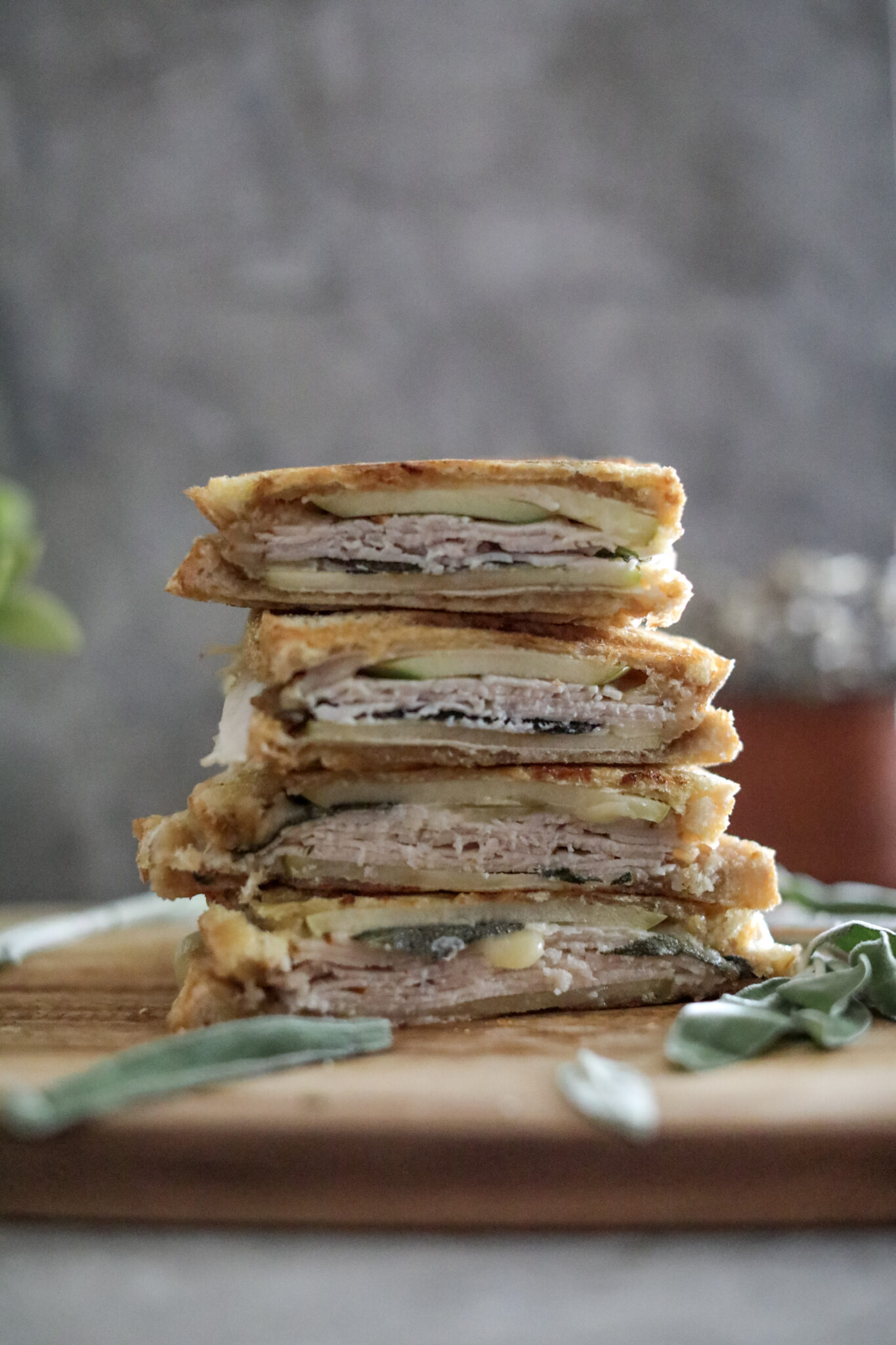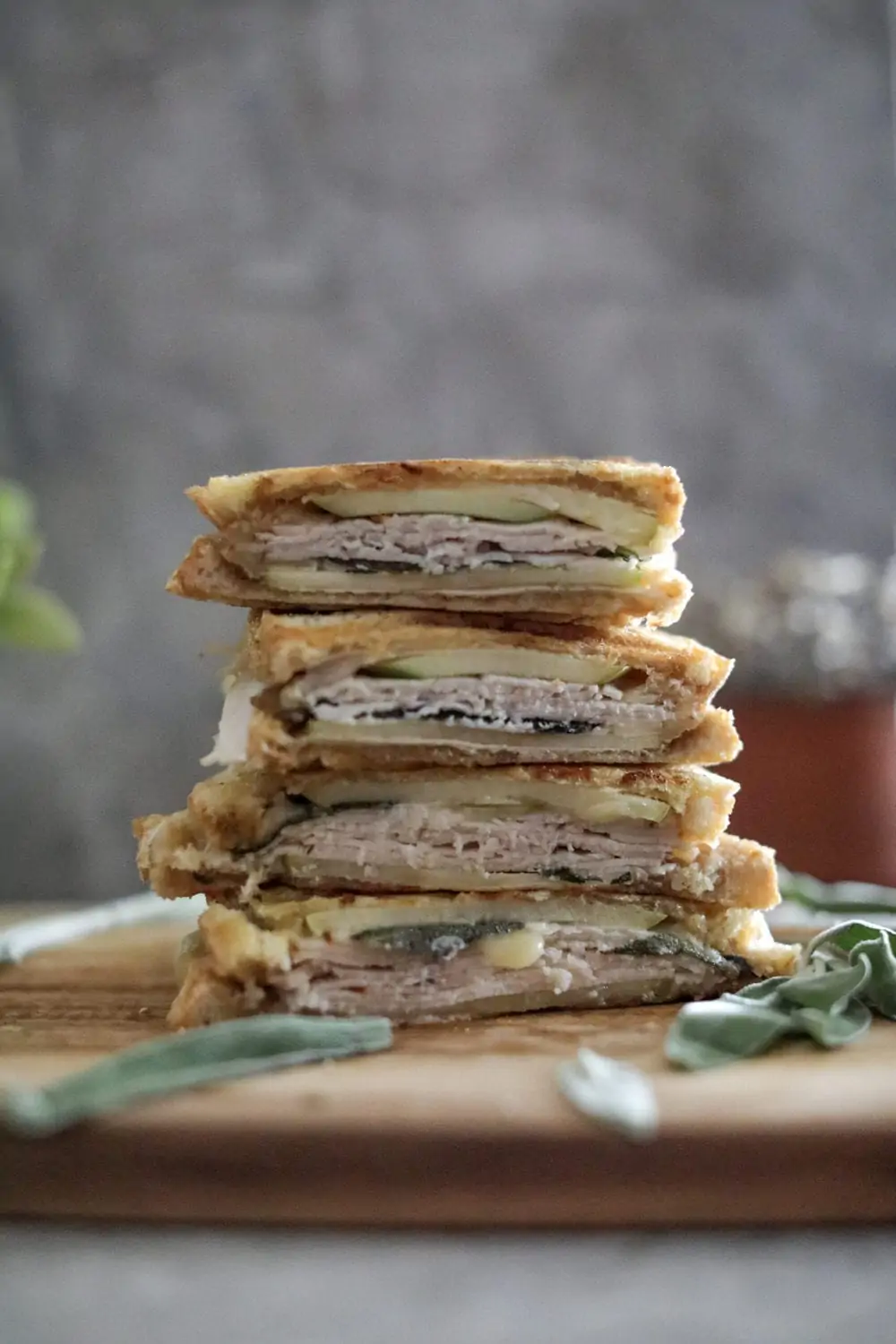 This is the best turkey panini, with the crispness of the bread, slight sweetness of the apple slice, savory flavors from the sage, and the creaminess of the melted cheese – all pairing perfectly with the turkey in this sandwich. This one is delicious, and perfect if you are looking for a simple sandwich but for a special meal!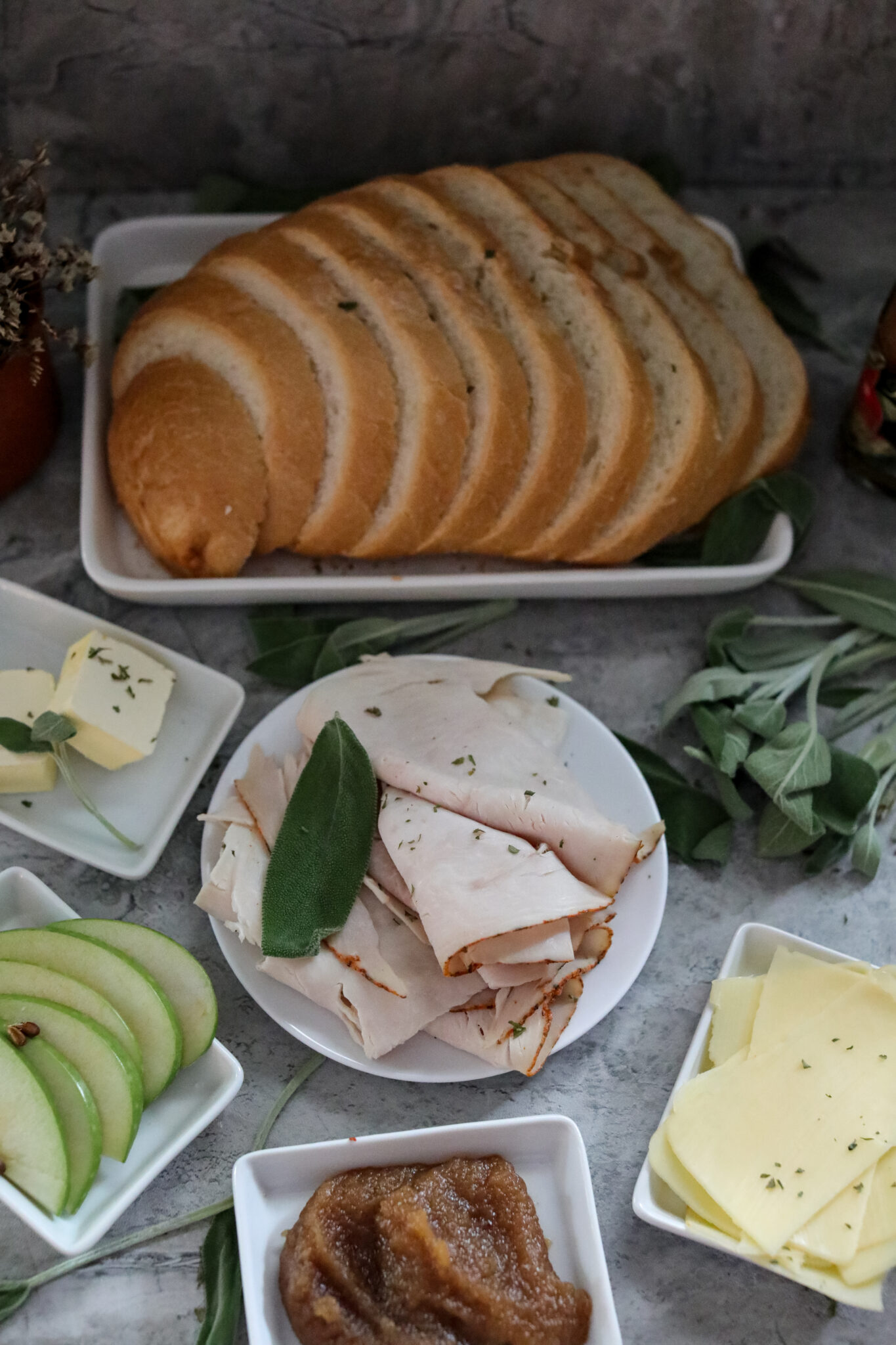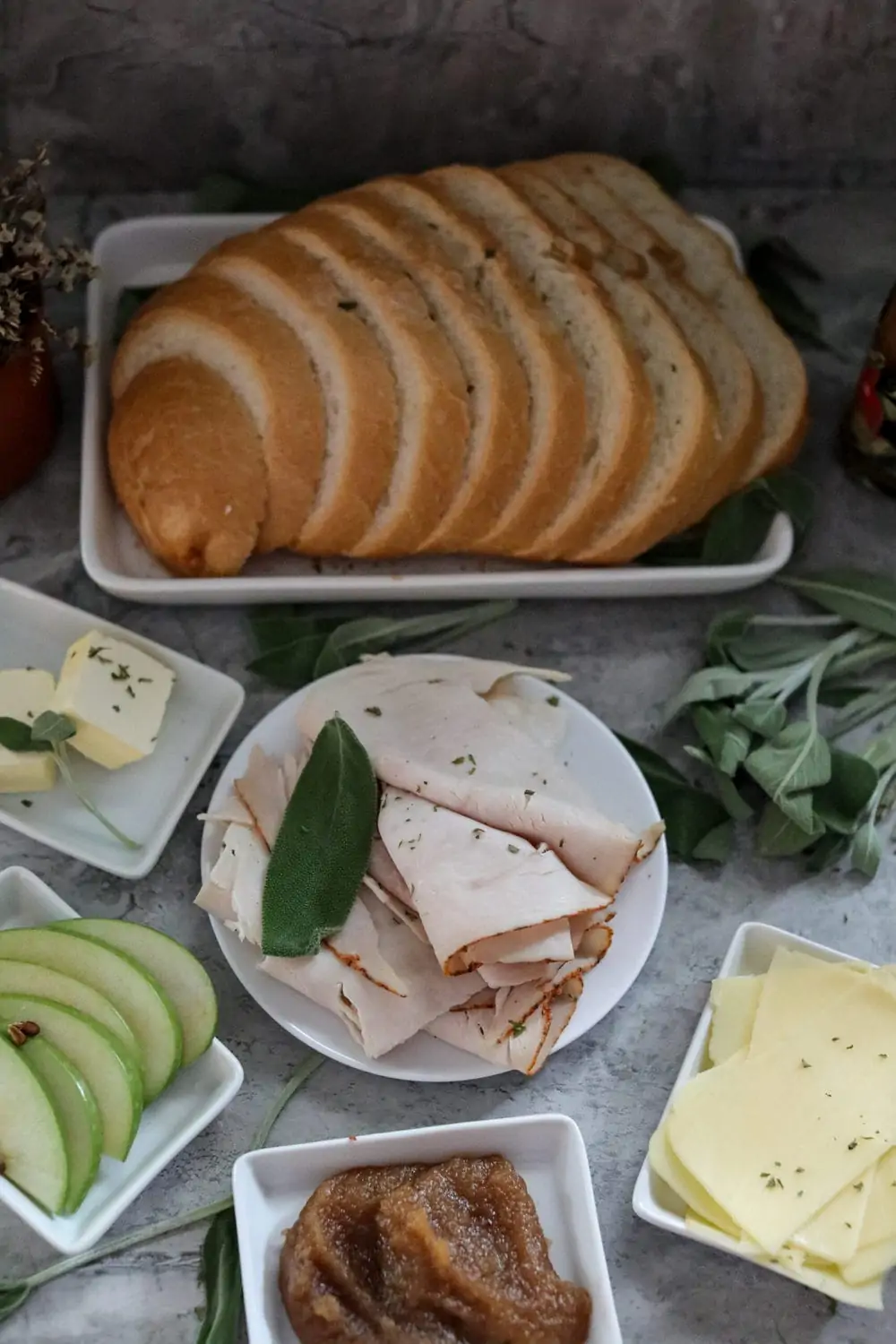 Ingredients Needed for this Turkey Panini Recipe – 
This sandwich just needs a simple ingredients list, but there are a few options you can pick from to customize it to your tastes.
½ pound sliced deli turkey (or you can use any kind of turkey you have on hand, you will just want it thinly sliced).

4 oz cheese, thinly sliced (Cheddar, Gouda and Havarti are all nice choices for this sandwich)

1 apple, thinly sliced (we like to use green for the color, but your favorite variety will work too)

¼ cup apple butter (optional). A fig spread also works well with this one if you like it a little sweeter. 

8 leaves fresh sage

2 tbsp butter, softened

4 slices of hearty bread (a sourdough or rustic French bread are perfect)
How To Make This Panini Sandwich: 
Start by pre-heating your panini maker or grill,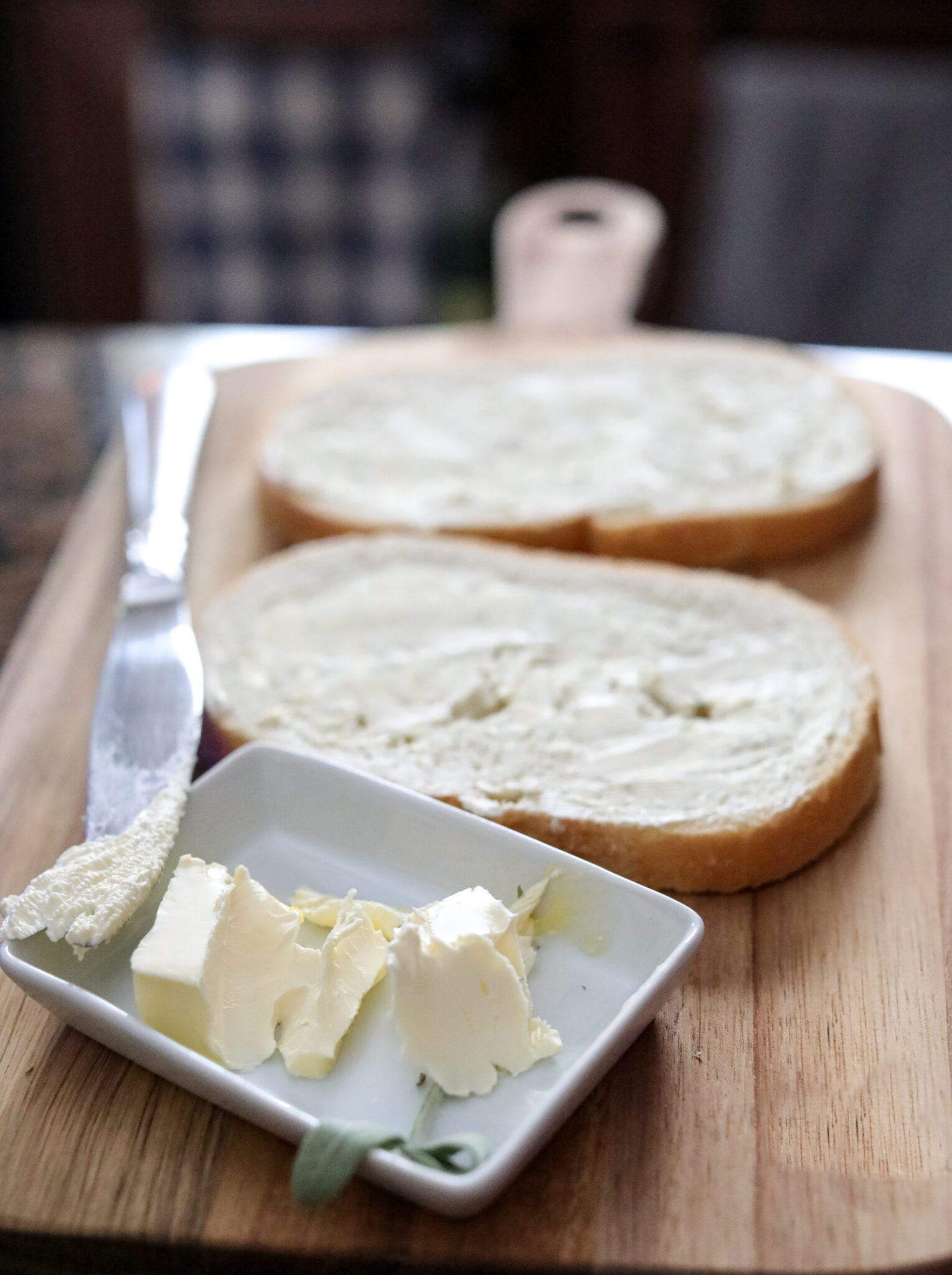 Spread butter evenly on one side of each slice of bread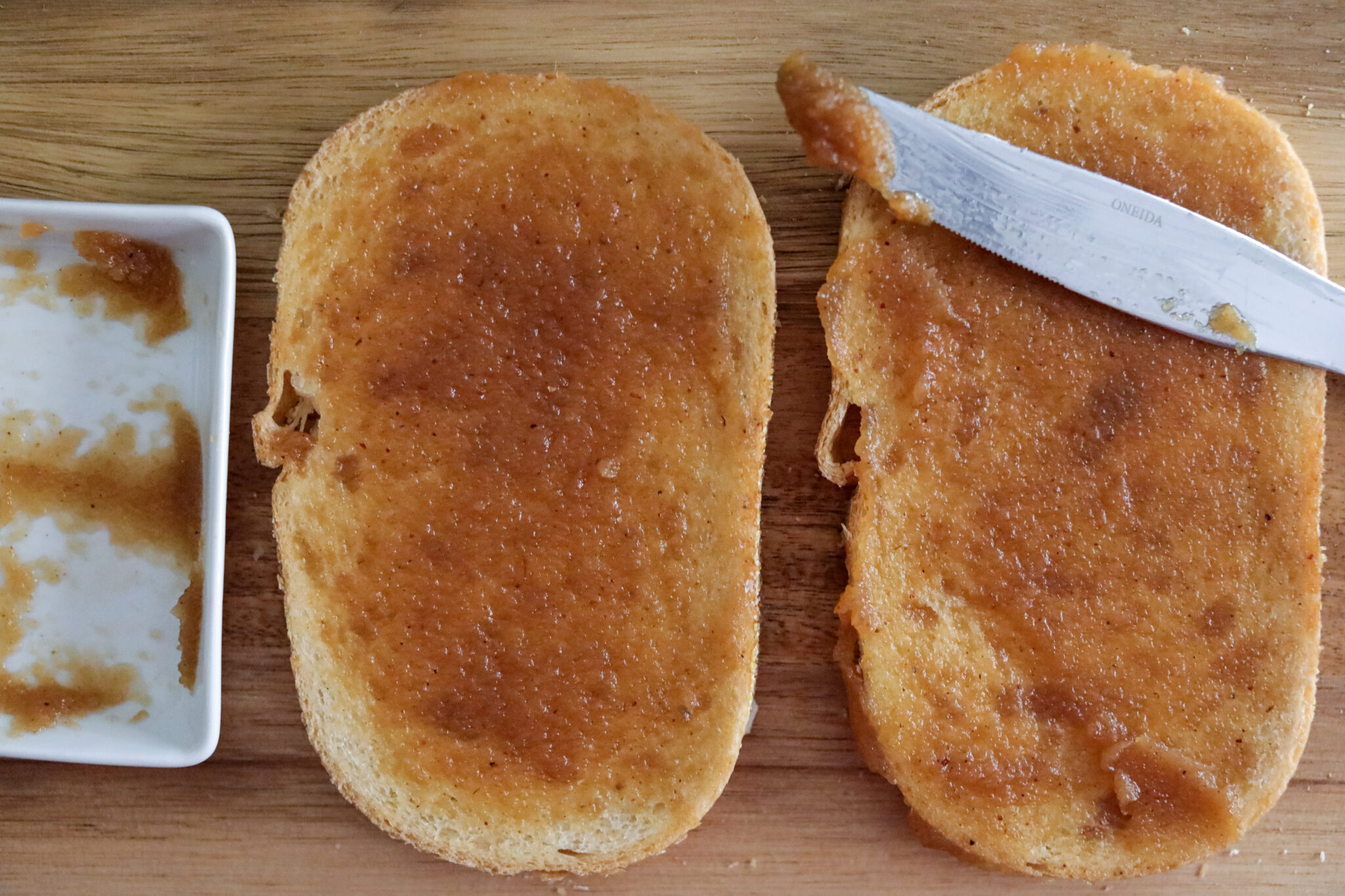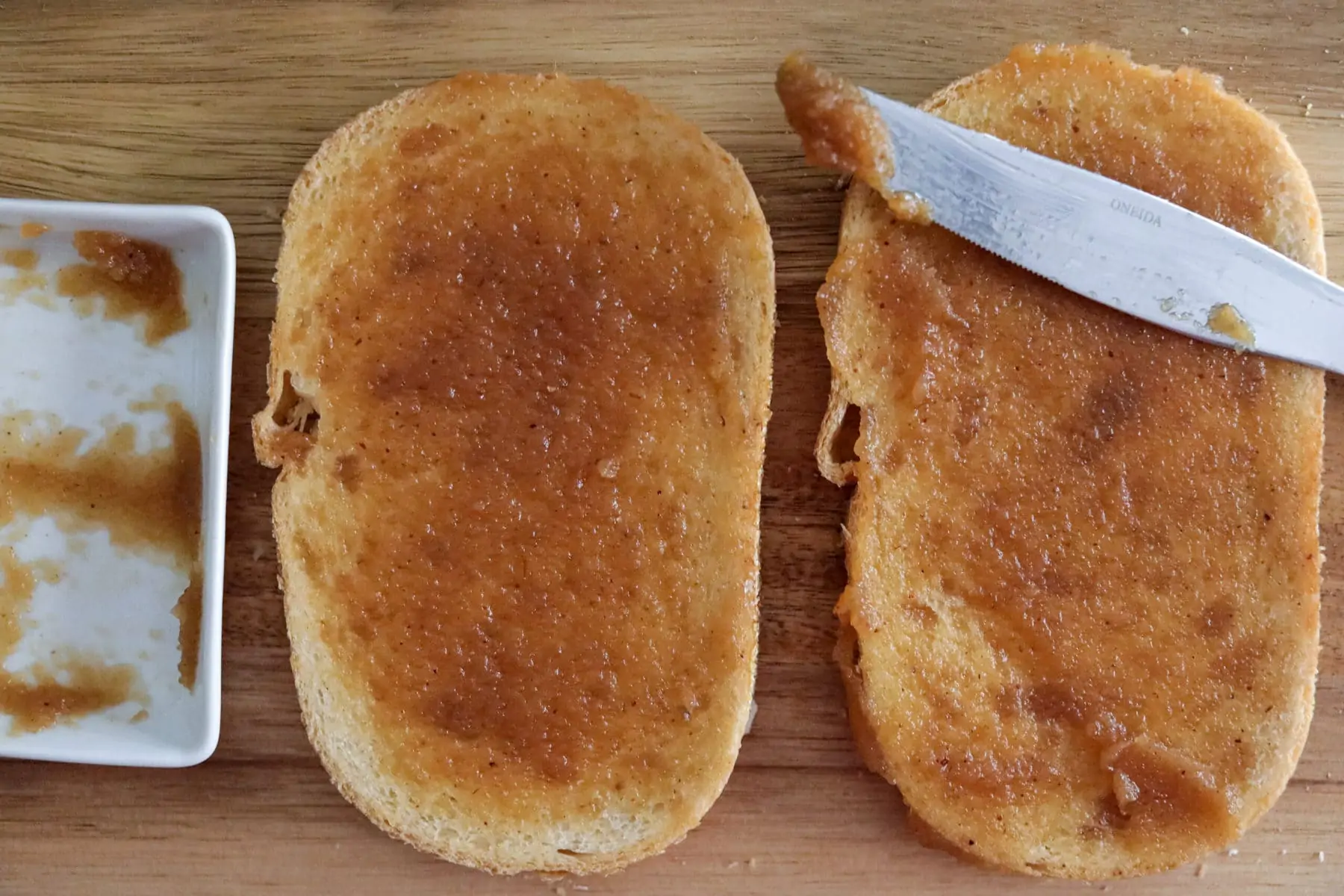 Place buttered side of bread down, spread apple butter evenly over each slice of bread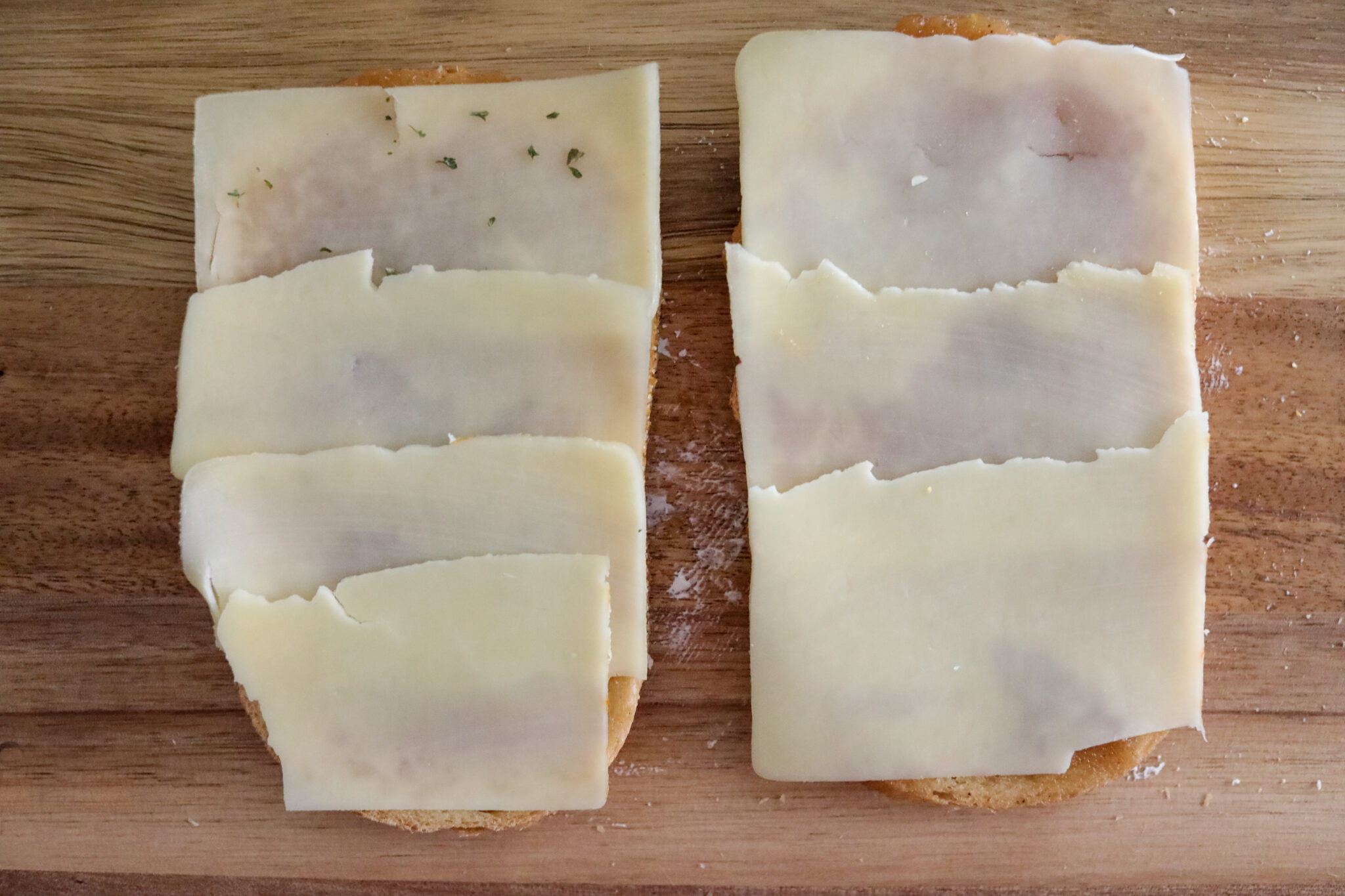 Layer each side with a slice of cheese.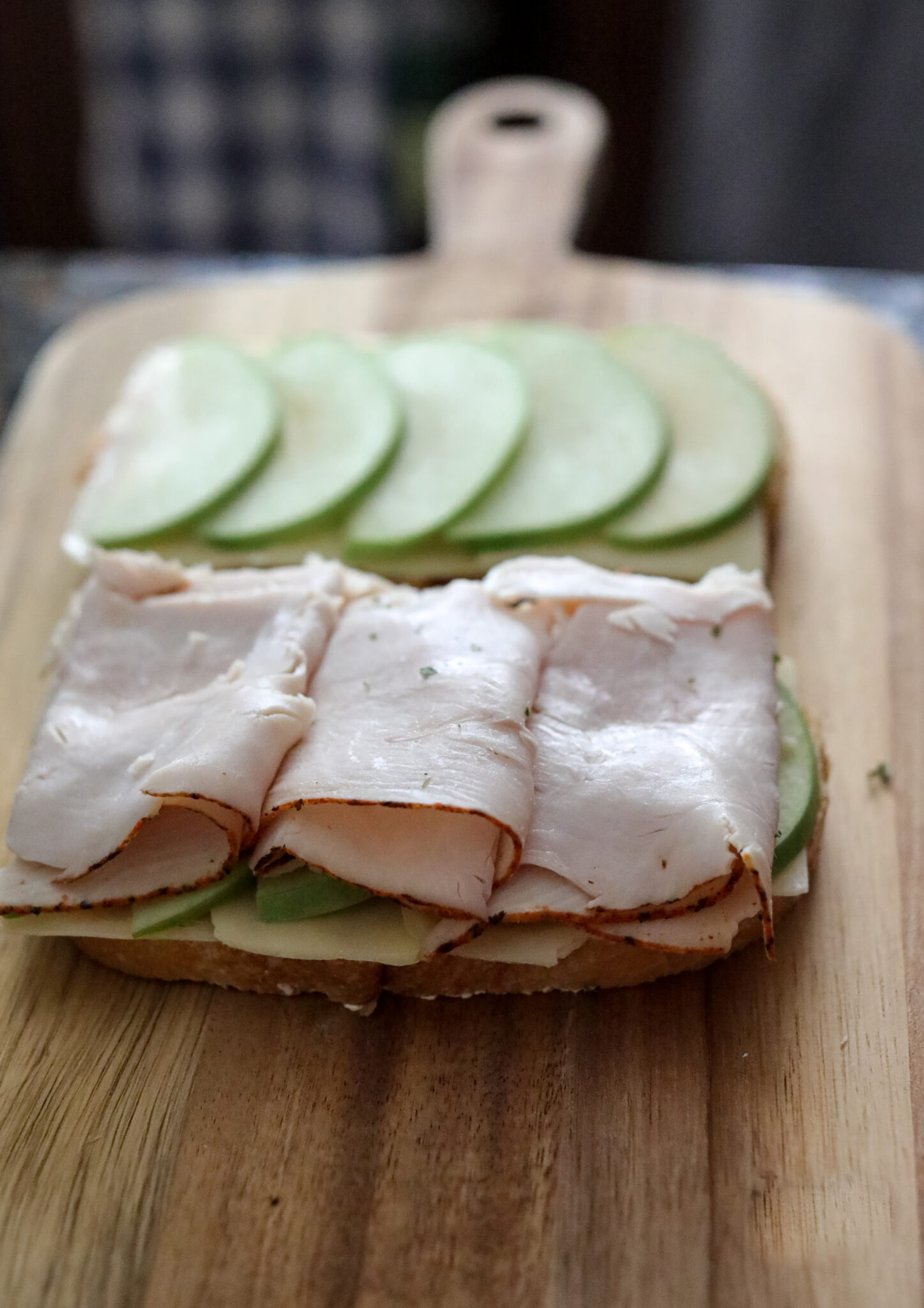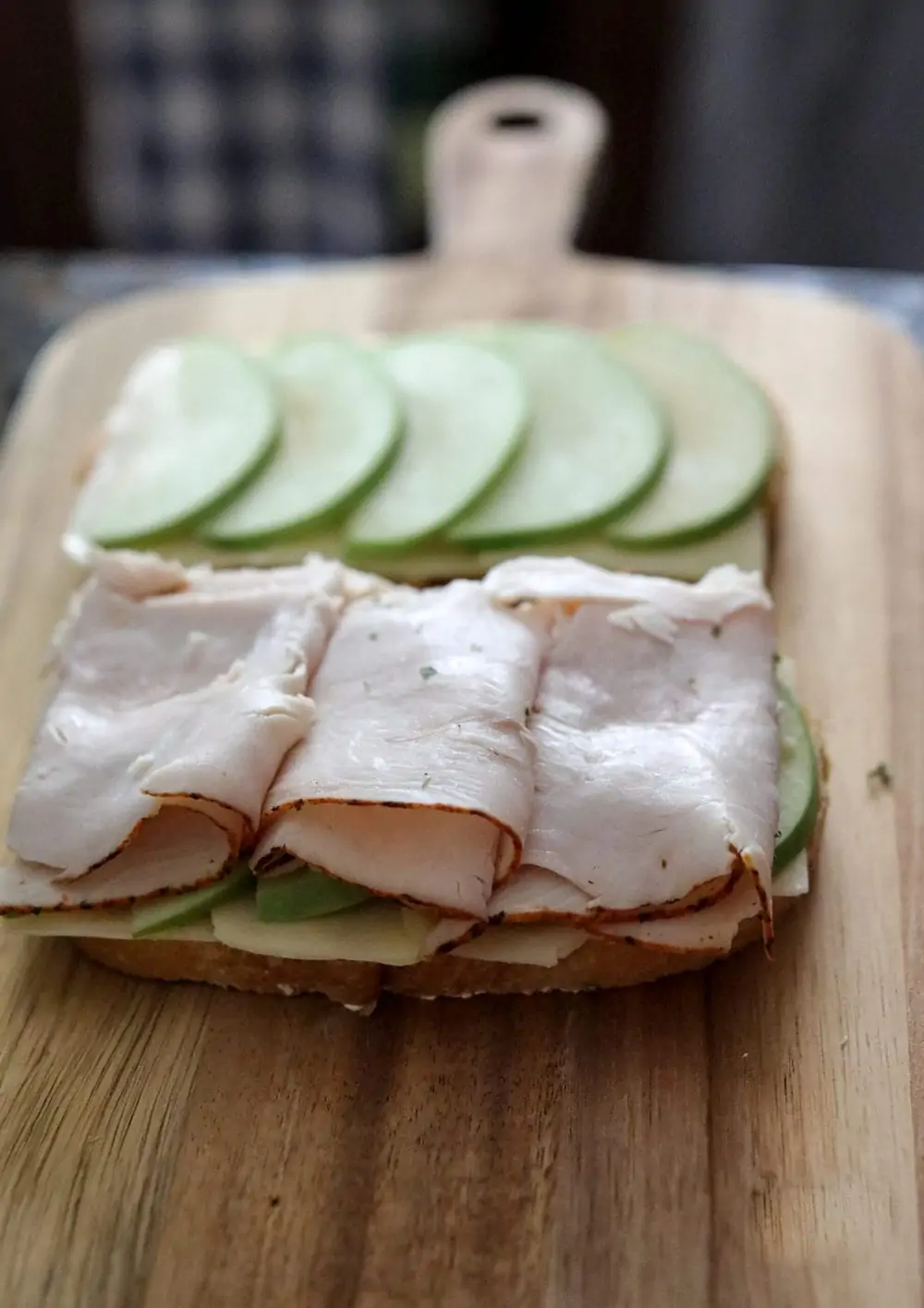 Add your sliced apples to one side, and the turkey on the other (or you can layer it all straight up too if you do not want to have to worry about closing the sandwich).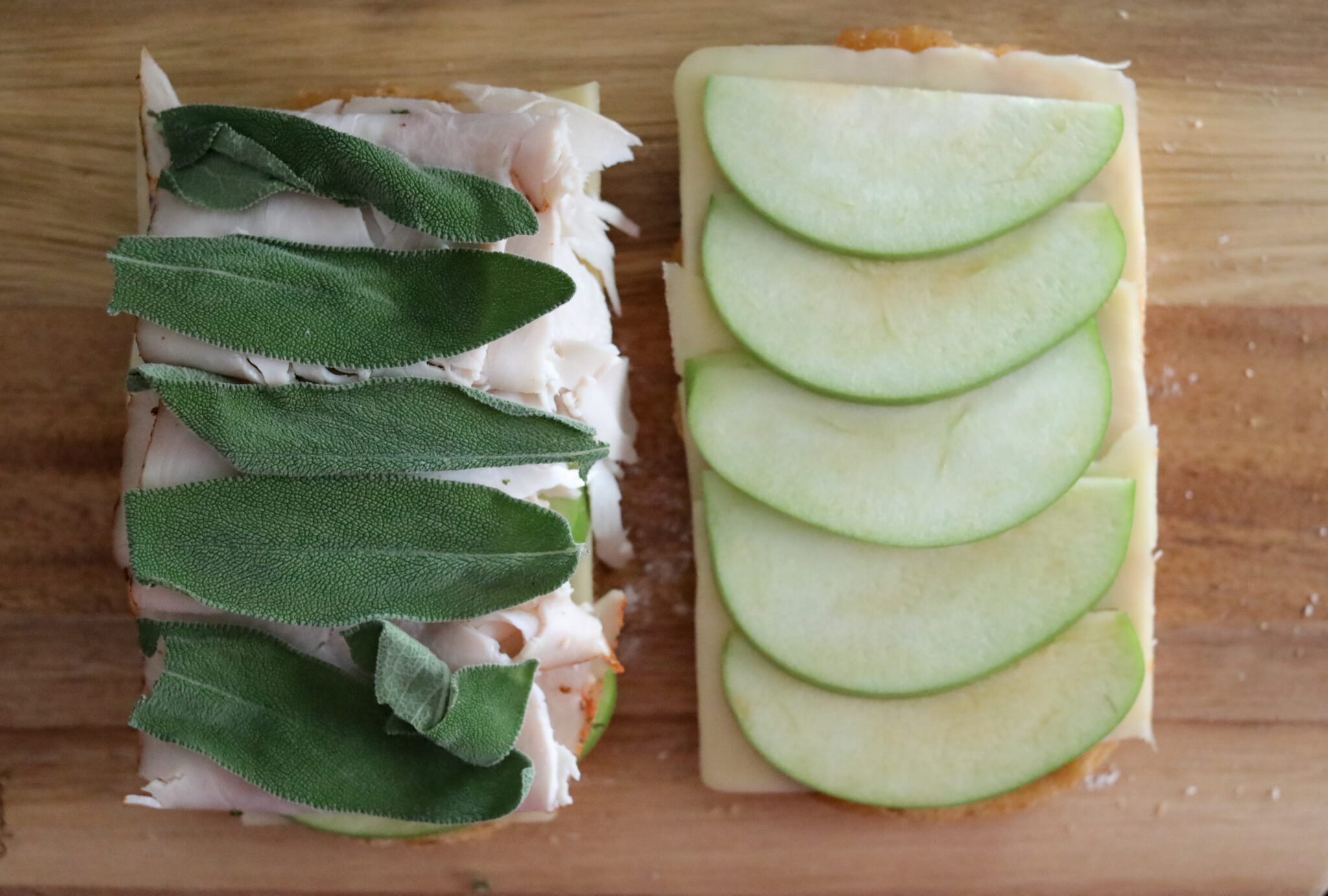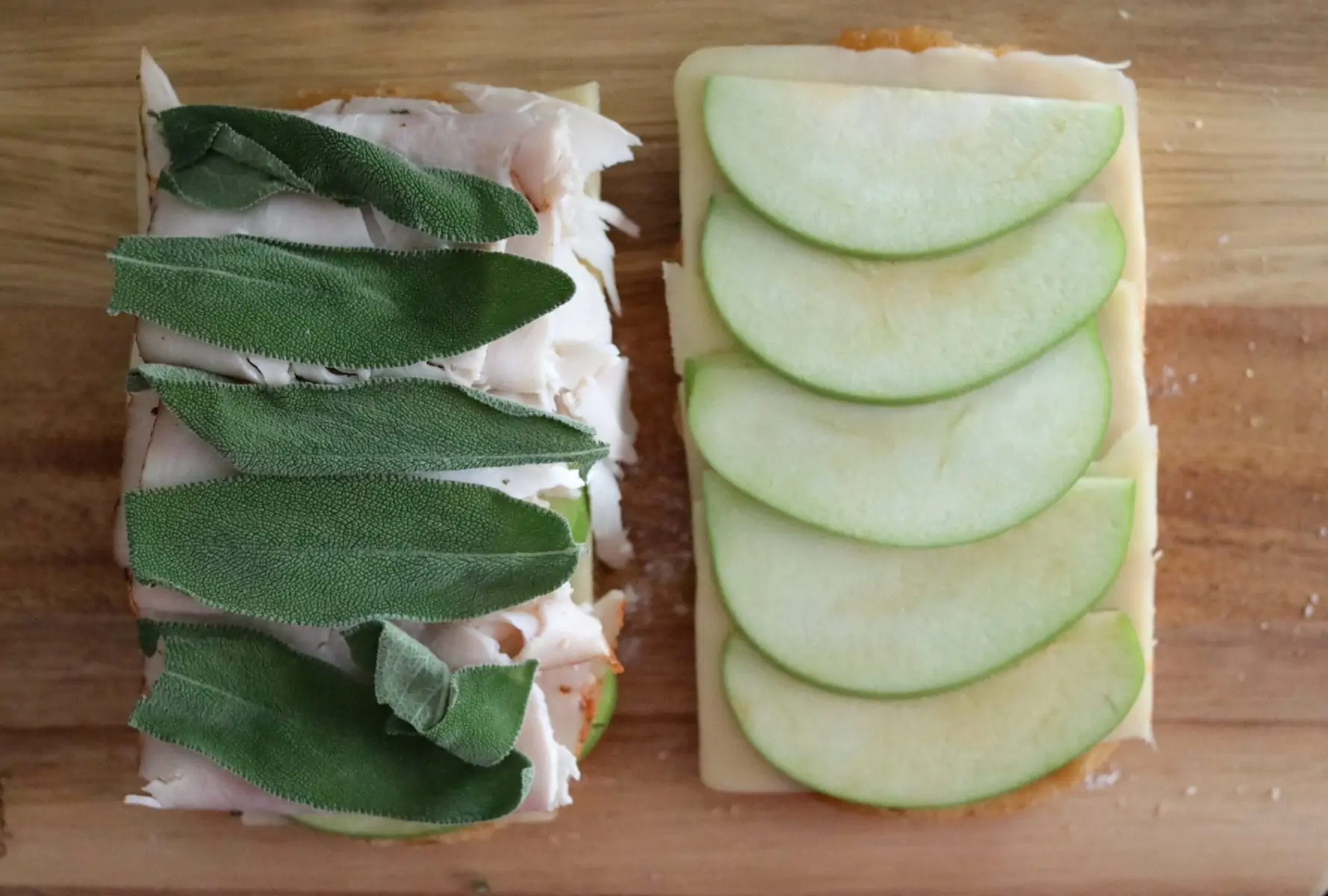 Add your sage leaves (using them whole will add more of a savory flavor, or if you want a more subtle taste then shred it up and use it more sparingly).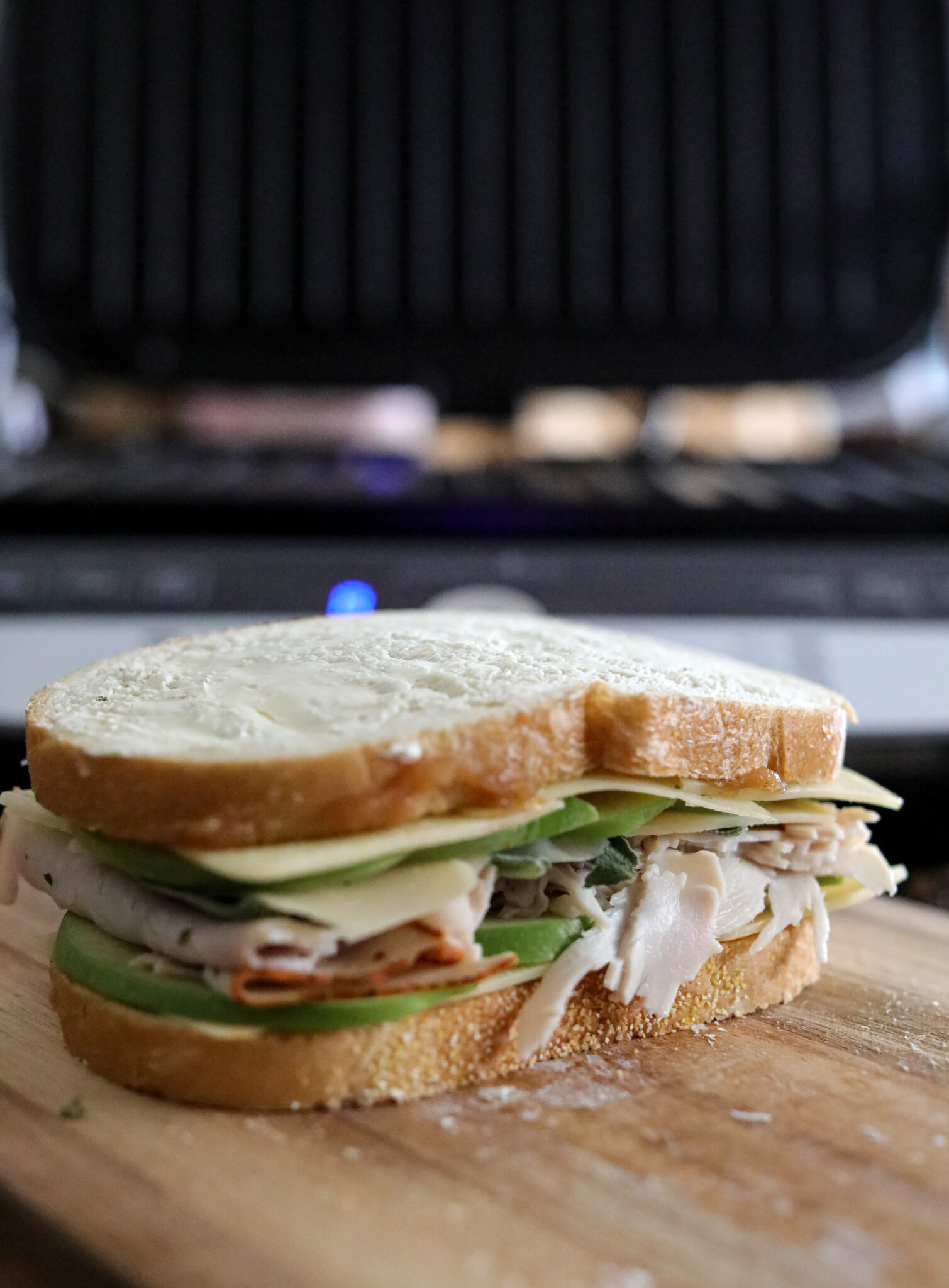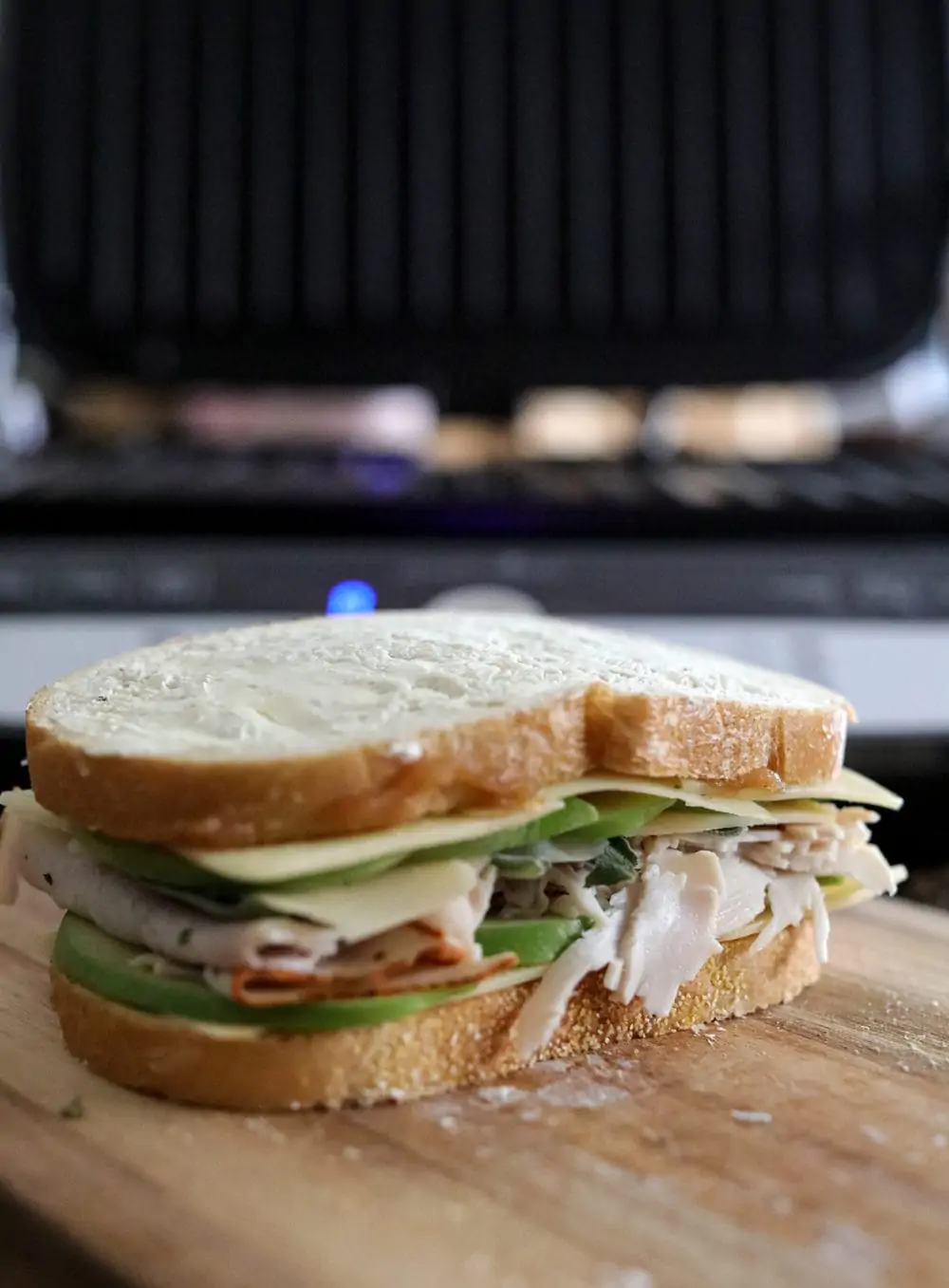 Carefully place the pieces of bread together to turn it into a sandwich.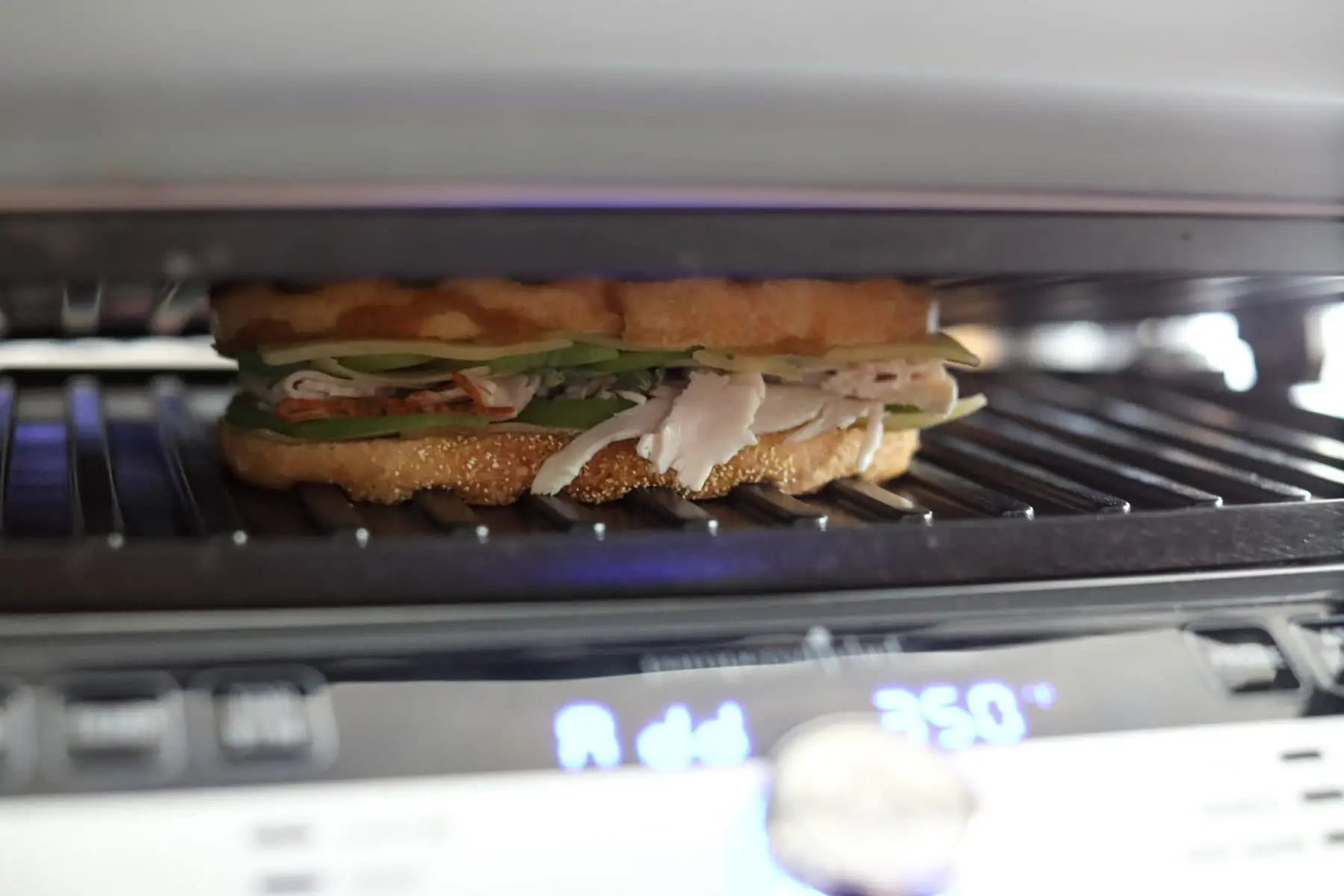 Place sandwiches on pre-heated panini press and close to press the sandwiches together. Cook for 3-5 minutes until the bread is crispy and browned, and the cheese melted.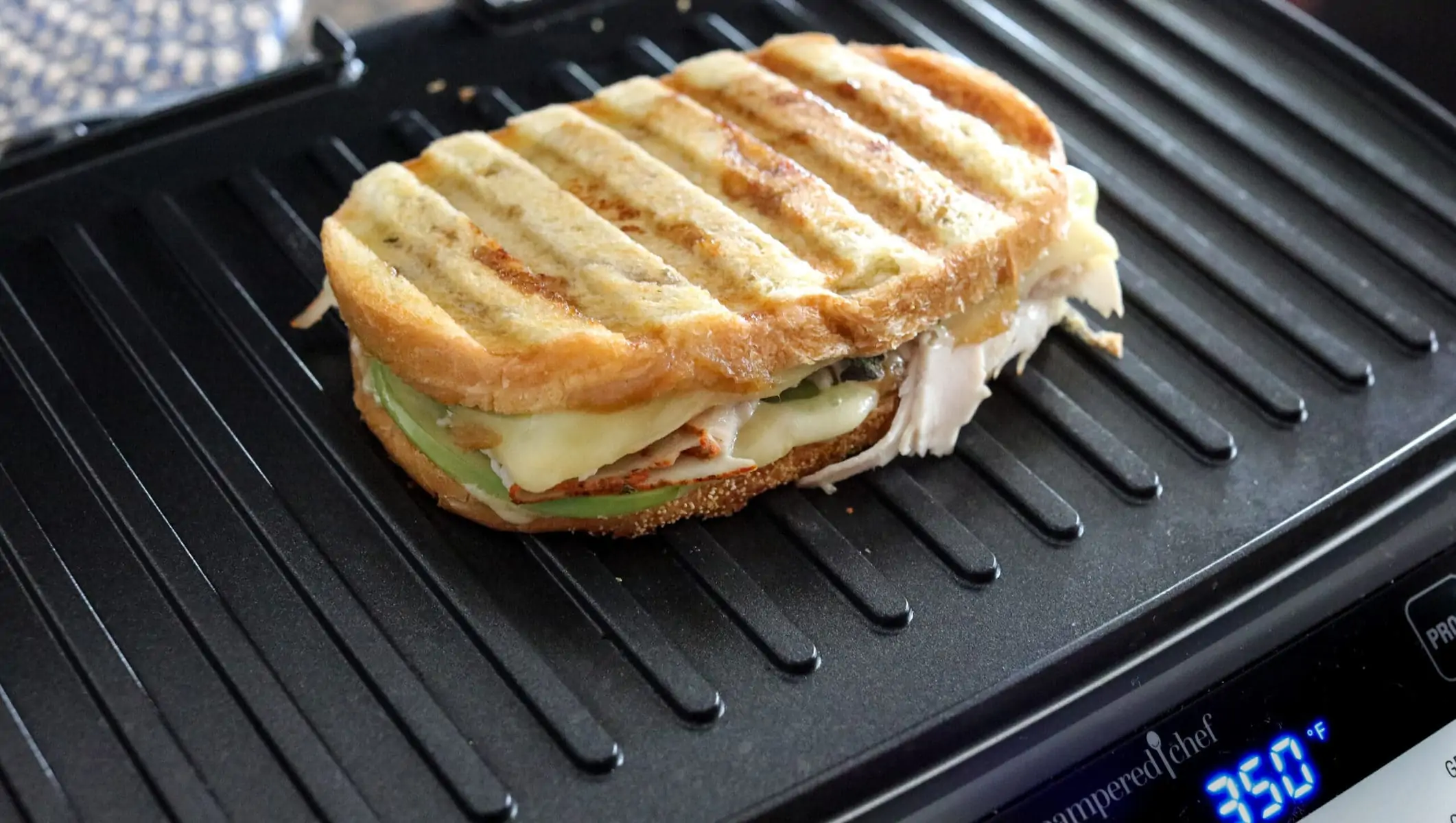 If you do not have a Panini Press you can also use a grill, just cook it one each side until golden with grill marks, and cheese is melted through. If you want a Panini Press they are pretty affordable. We use this George Forman grill here for under $15 when we are on the go.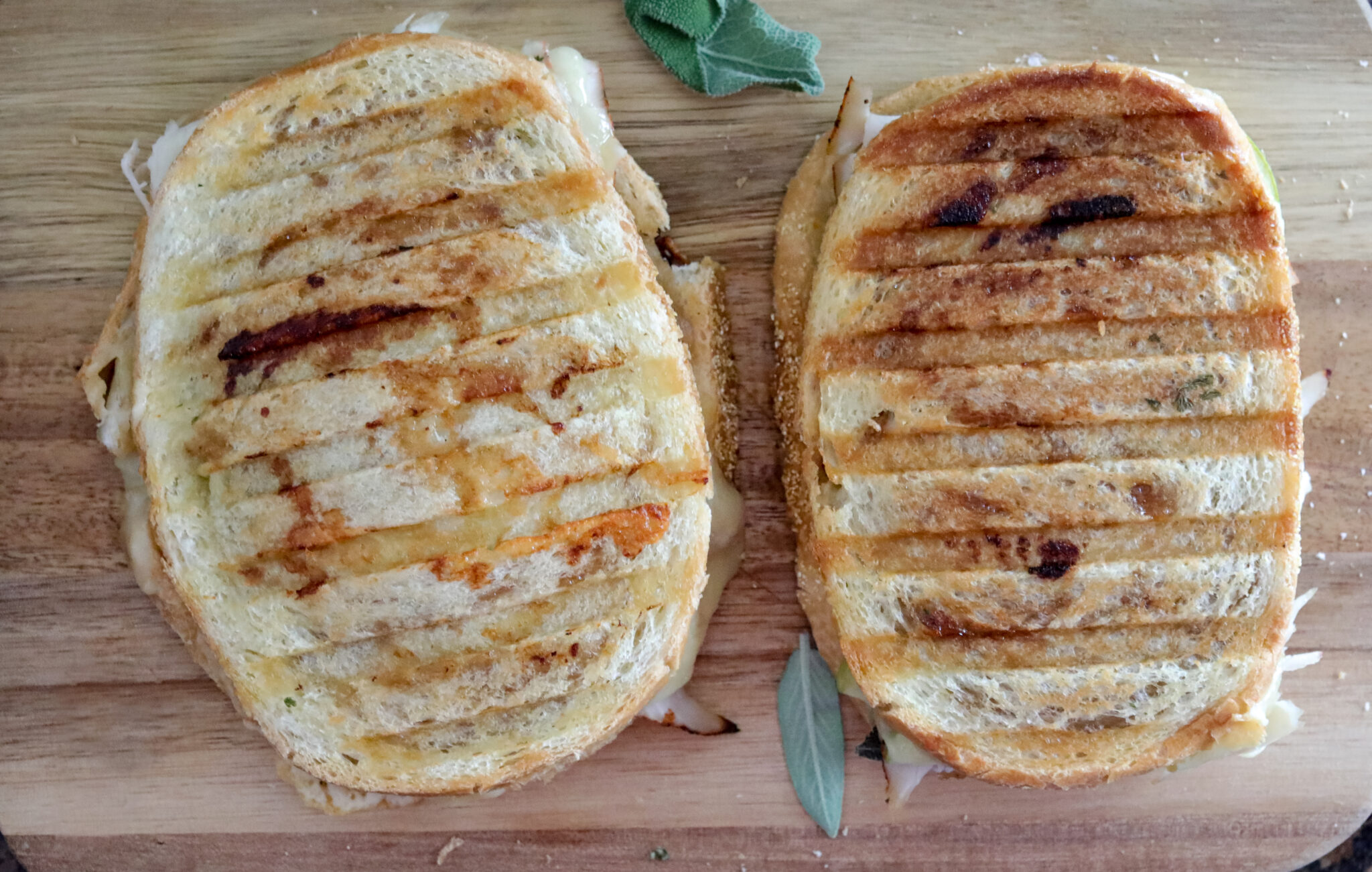 Serve warm. Something about serving a hot sandwich makes it feel so much more special than "just a sandwich" too.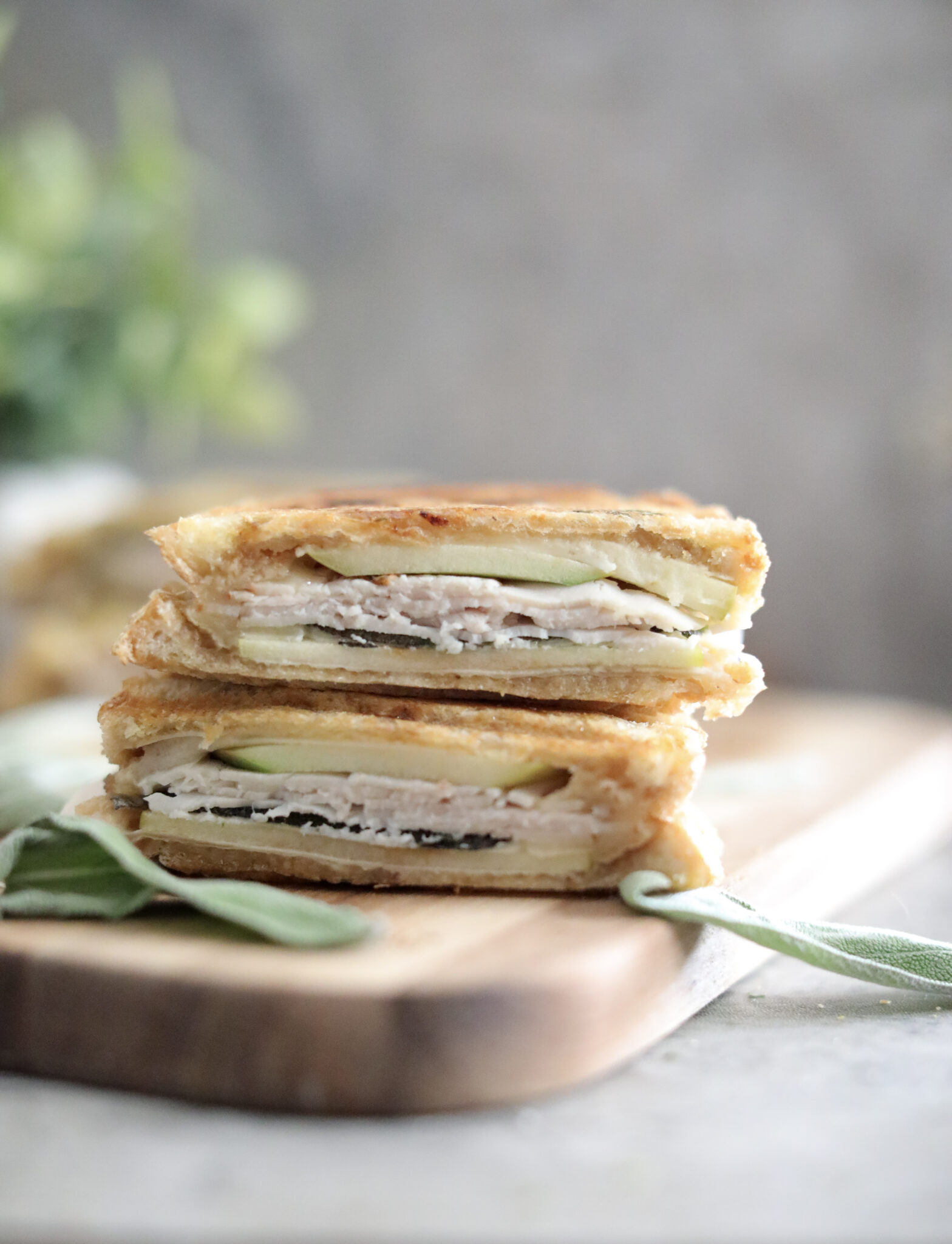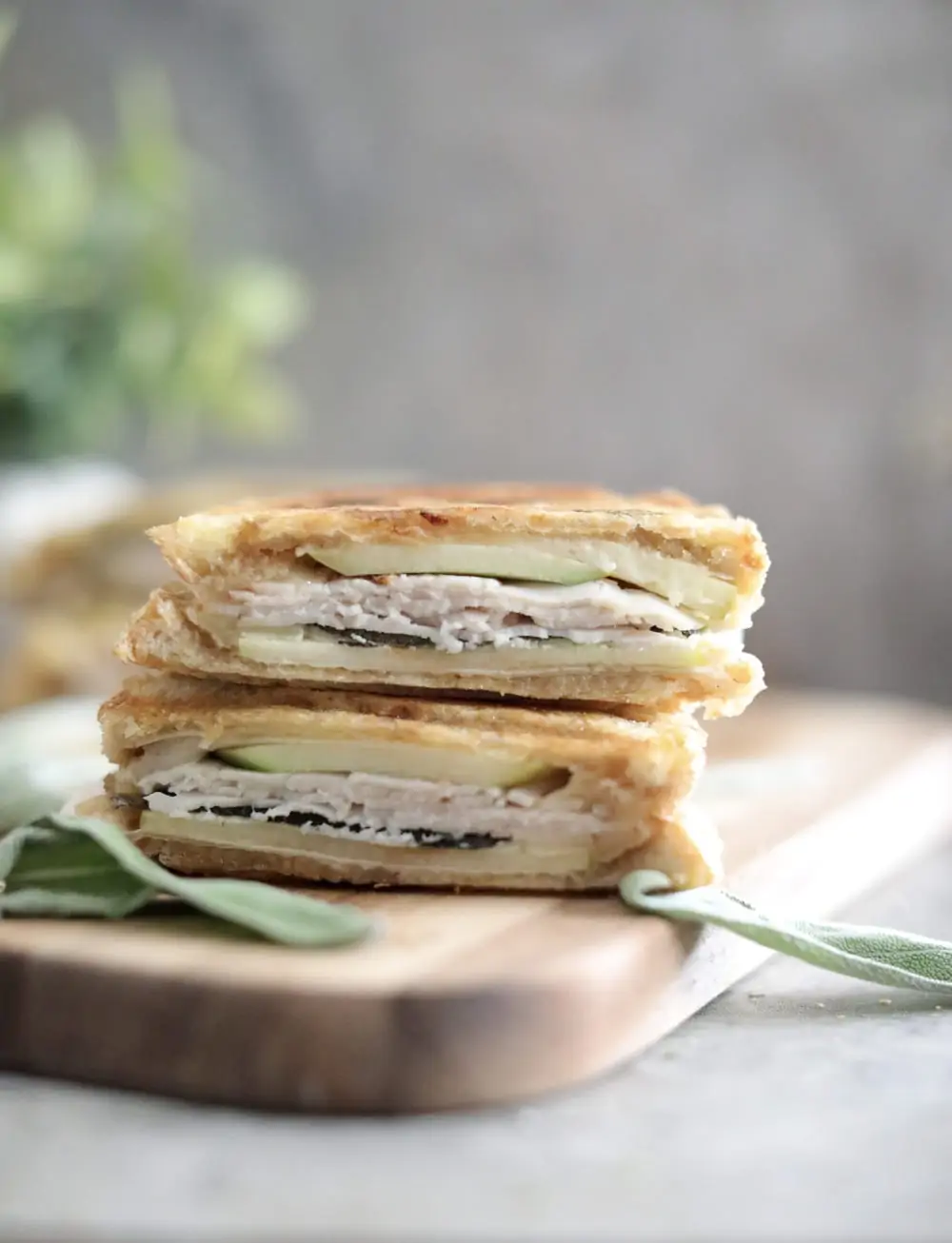 Look how beautiful these paninis show too, when they are cut in half.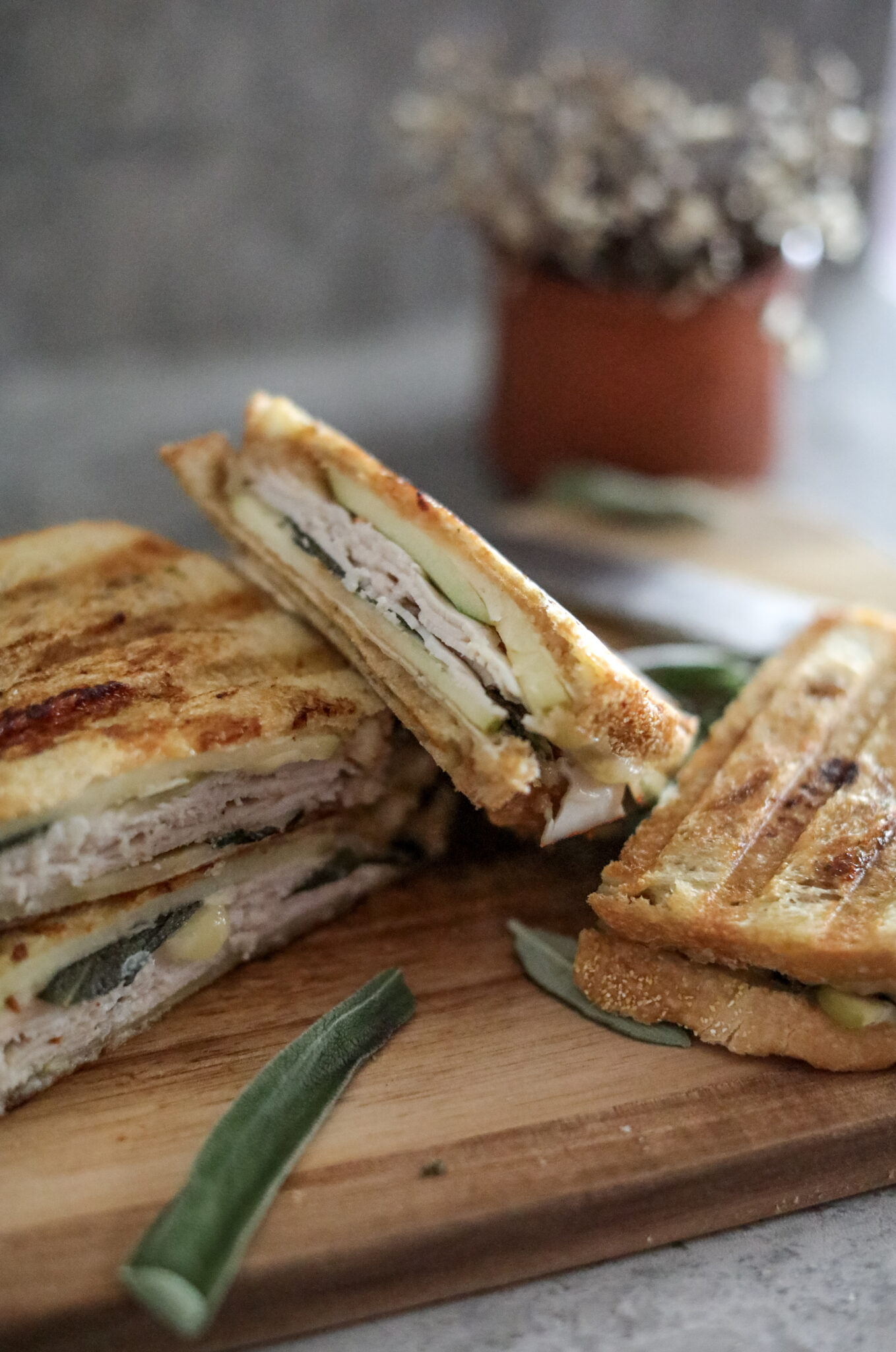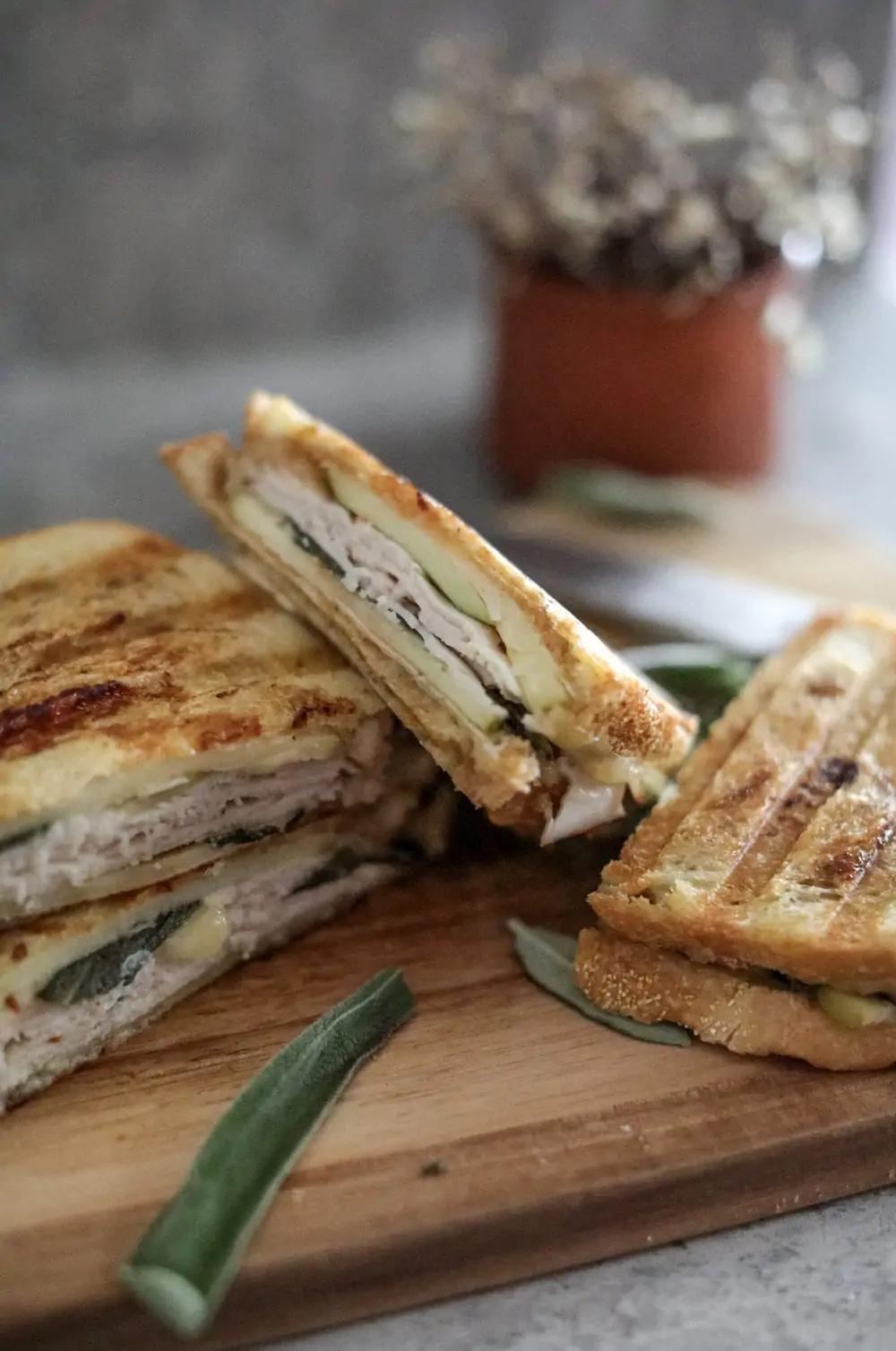 The gooey cheese, and crunch of the grilled bread take this sandwich over the top! My favorite way to eat them, is at home with nothing special planned. They sound fancy, and are fancy enough to serve at a party or holiday event, but tasty and easy enough to put together to enjoy for a regular family weeknight dinner too.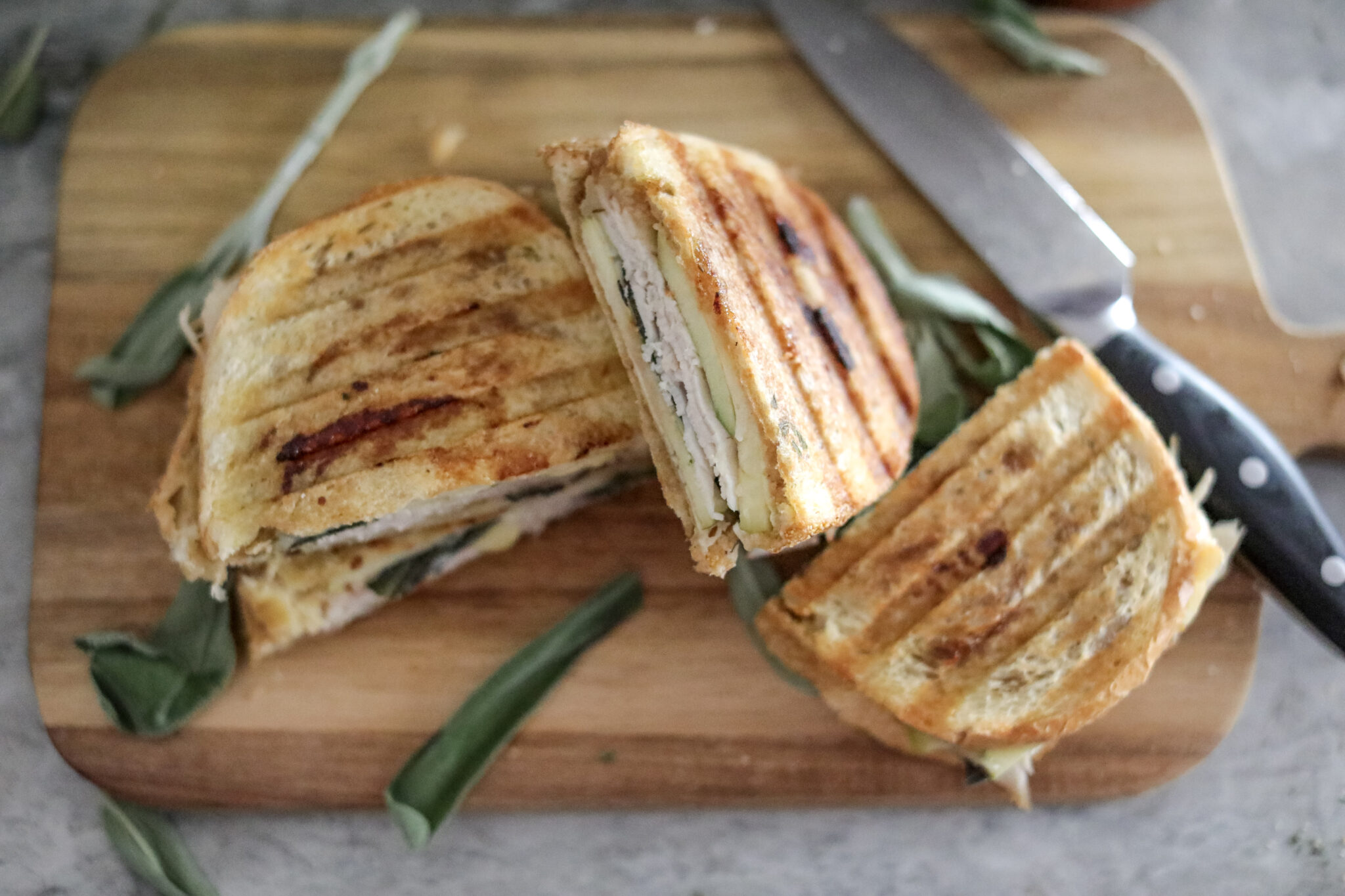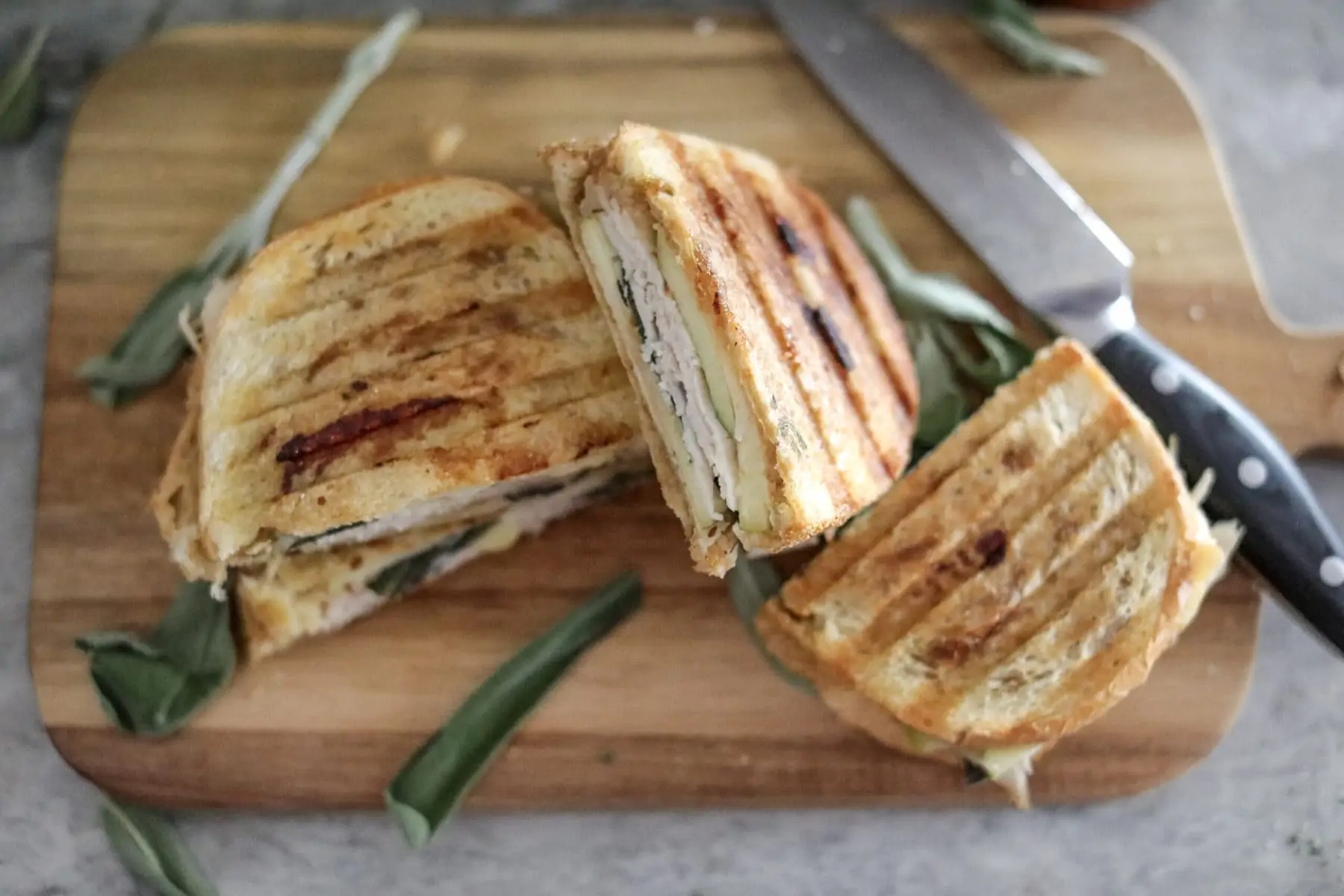 You could cut them in quarters too (instead of just in half) if you wanted to use them as tea sandwiches, or for a luncheon buffet with other items to eat too.