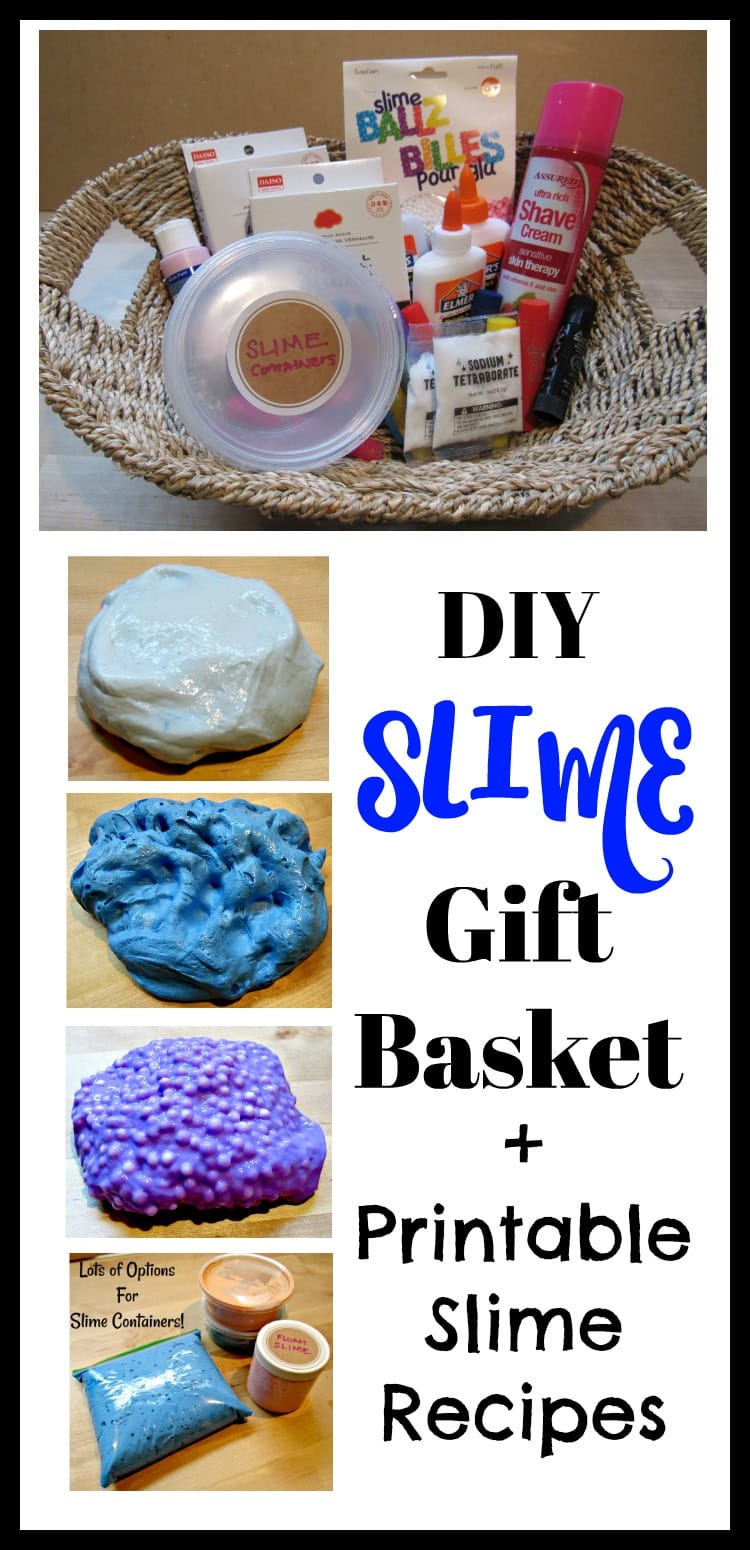 Slime Gift Baskets (Everything Your Kids Want You To Know) & Printable Slime Recipes
Slime has become so popular with kids these days, companies are starting to come out with slime packages that are sure to be a hit this year. I have found (through trial and error of my kids making slime) that many of the slime kits out there are not really that great (or a good value). You get a lot more for your money when you buy the items on your own, and put together your own slime kits. My kids recently got a unicorn slime making kit, and the texture of the slime was really bad. They ended up letting it dry out, and save it as something to look at, and start from scratch on their own. Plus, the slime kits can cost you upwards of $20 + for a small kit. You can make a large basket for that price, and get a much greater value for your dollar! We also provide a number of printable slime recipes, so the kids have that info on hand too.
My kids have gotten so good at making so many kinds of slime, that I have learned how to make some really fun slime gift baskets, based on the recipes and ingredients they want to use the most, and thought we would share some of those ideas with you. They spent lots of afternoons watching You Tube videos on slime making, and then trying things out themselves, so this what my kids have told me to share with all of the parents out there. I double checked with many of the neighborhood kids, and they agreed – this is what parents need to know to put together a great Slime Kit for Christmas or any other time of the year.
If your looking for a fun gift for someone who loves to make slime this Christmas, here are a number of items you can pick from to put together a special slime gift basket for them.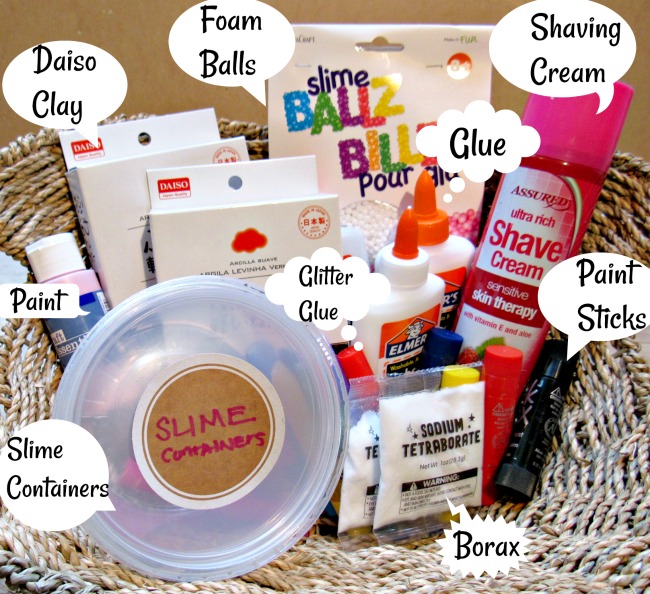 DIY Slime Kits!
We put together a slime gift basket for under $15 – and look how much it includes! You can add as many or as few items as you want, but you will want to add at least:
One (1) glue
One (1) activator
and One (1) color option
Slime Recipes Card (print out one here for free)
Those are the basics that they will need for slime making.
Once your kids get down basic slime, they will quickly want to move to adding more to it. This is my kids favorite part of slime making. The kids love the mix ins, and my girls always want a cool container to store their slime in to. So the perfect gift basket would have at least one of each of those items in it too.
You could make a small gift basket (that would make one slime) or a large one, that would let them make lots of slime. That is the fun thing about these gift baskets, they are so flexible! A small gift bag, to make one slime could be put together for under $5!
Kinds of Slime To Make:
If you want to make a slime basket for a specific kind of slime that the kids like to make, you can print these slime recipes out, and add the correct ingredients and the printed recipe!
(these are the recipes my kids like, after trying many, and use most often)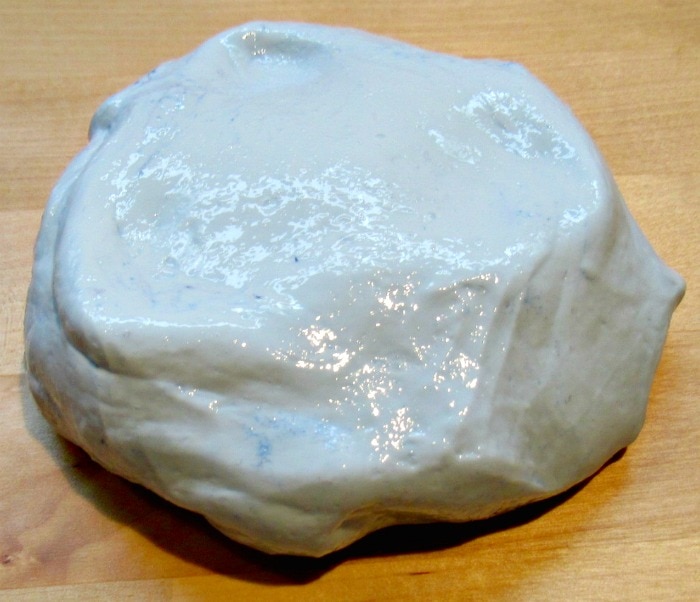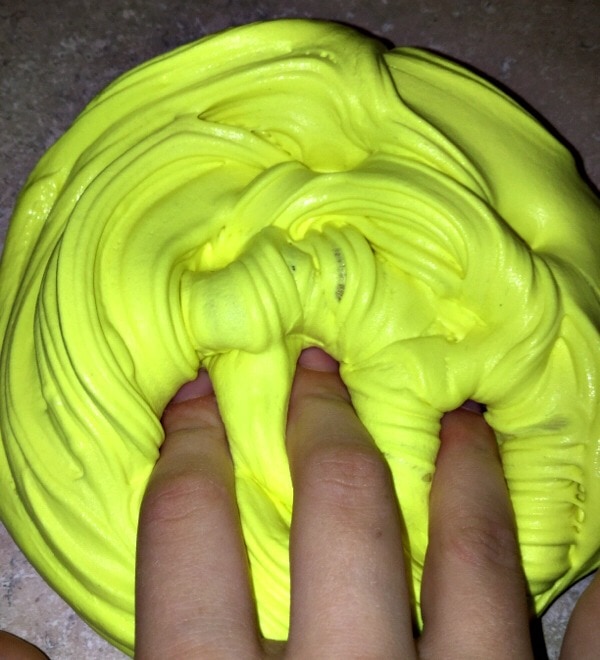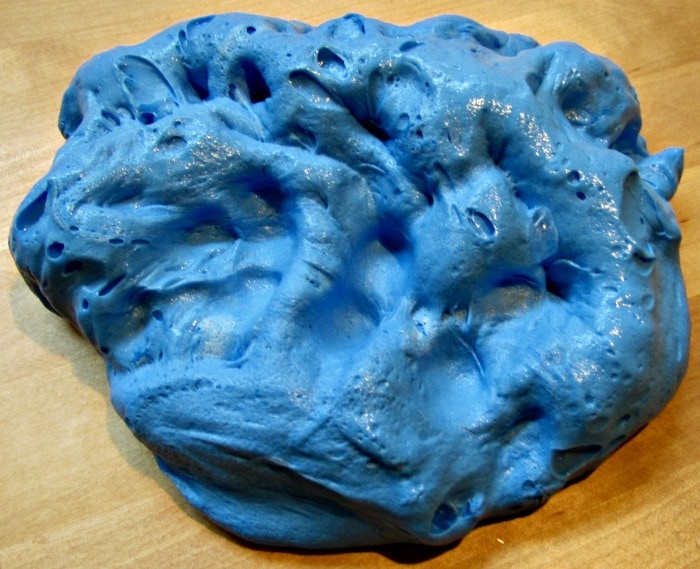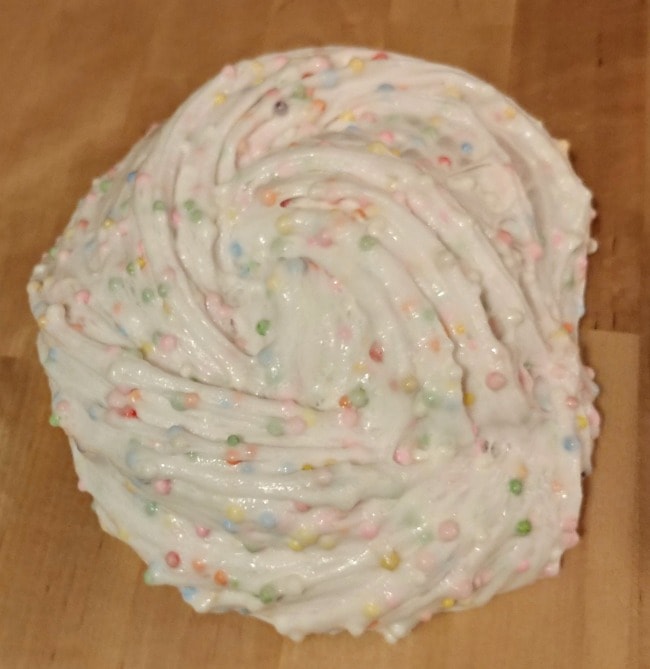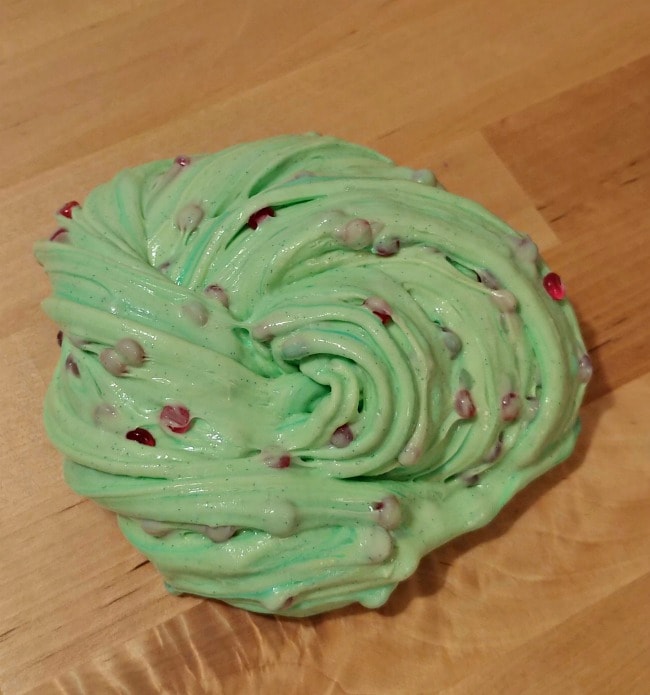 Kinds of Glues to include:
We have used many different kinds of glue. Elmers is always the preferred brand with my kids. The kind of glue you use will impact the kind of slime the kids can make. The most common one to use is just regular Elmers glue. I find that buying it in the Gallon size is much more cost effective then purchasing the single sizes. The clear glue will cost more, but the kids can make some unique kinds of slime (like the Gem Slime shown above) with the clear glue. There are also some specialty glues out now (like glitter glue and glow in the dark glue). These are pretty cool, but they will cost a lot more then making your own versions with regular glue.
Activators (they mix these with the glue for different slime recipes):
These are what will turn glue into slime. Some parents prefer for kids to stay away from Borax, so Stayflo is a nice safe one to use that makes great slime, if your not sure which one to use.
Stayflo (some recipes will call for using Tide instead of Stayflo, as a liquid starch, but the Tide recipes irritated my kids skin, so we stick with Stayflo).
Lotion
Mix Ins the Kids Love:
Mix ins are things that the kids love to add to their slime once they have made a recipe, to take it to the next level. Some will change the consistency (like the Daiso Clay – it makes it butter slime, or the shaving cream makes it fluffy slime) and others will just add another texture to the slime recipe (like the foam beads or fish bowl beads). The slime charms are usually things that you just add one to a batch, to make it themed (ie if your doing watermelon slime you could add a watermelon charm, and a fruity scent to that batch). My kids love to have multiple options, when making slime, so the more the better to create with in their opinion!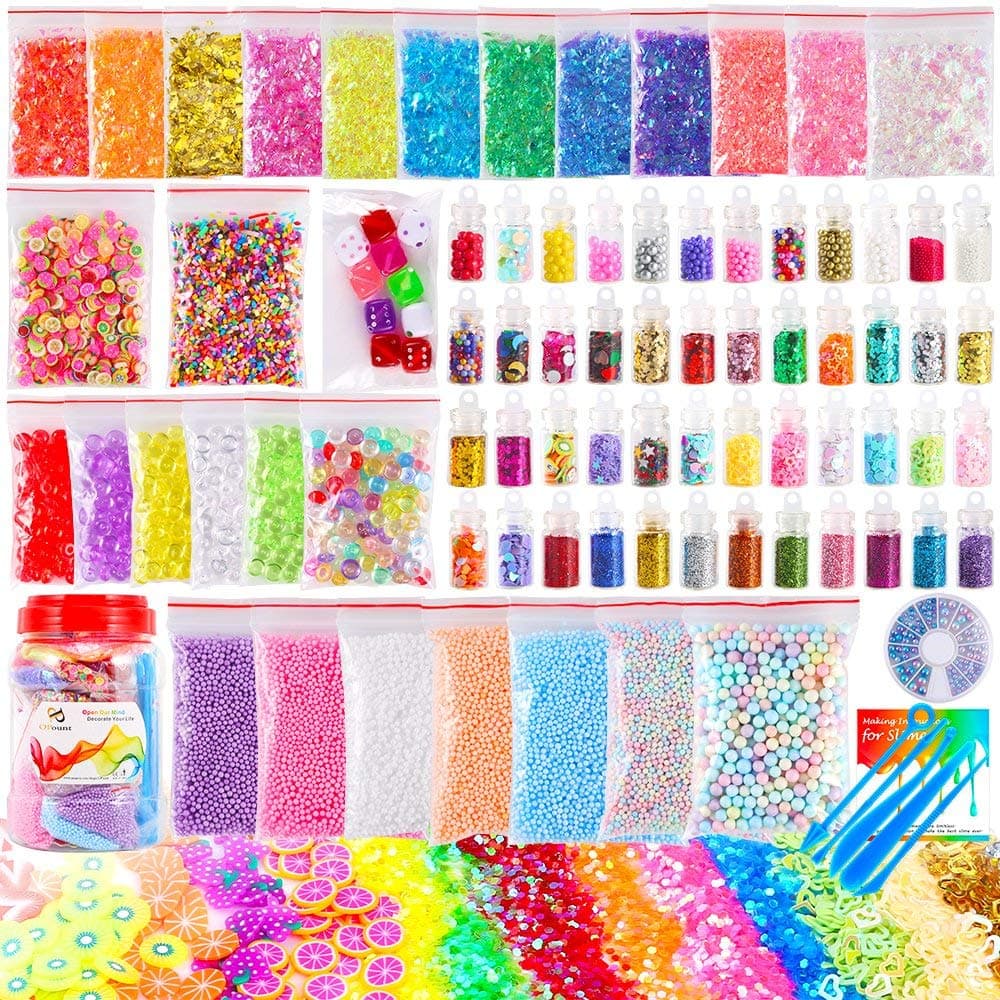 You can also buy a slime supply kit like this one, and it may be the most cost effective way if you want to add lots of different options for mix in's into your slime kit.
Coloring Slime:
Food Coloring
Marking Pens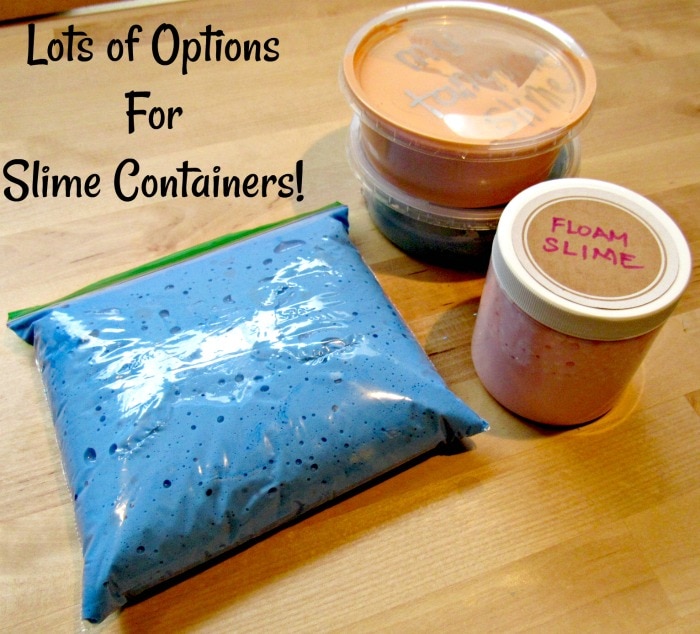 Containers & Labels (to store their slime once its made):
Once the kids have made a batch of slime, they will need something to store it in. My kids love containers of all sizes (from small condiment cup sizes for sample slimes, to shoe box size plastic containers for giant slimes). Something that is around 6 to 8 oz is a good starting size for most slimes, and usually kids can get a couple of containers full out of one batch of slime.
Places to get containers:
Amazon (we use these ones often because they are so cost effective, but these ones are my kids favorites)
Cash & Carry (we go into the store and buy the to go food containers (deli style).
Michaels (although I would recommend shopping on one of their sale days, or with a coupon, to make these cost effective.
You can also add in the supplies they need to create their slime (like a large Tupperware bowl, and a silicone spatula). We found the silicone spatulas for just $1.50 at Daiso, or this set would work out to just over $2 per spatula on Amazon.
This kit is bound to be a hit with most kids. My kids love to have slime party, and they play with it, trade it, sell it (yes, they made $45 one day selling it around the neighborhood) and it keeps them busy for hours.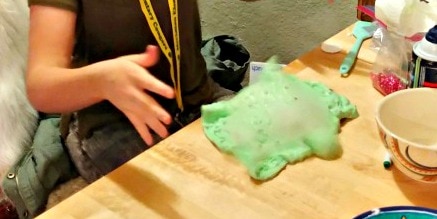 This is one of my kiddos making a slime bubble with her crunchy slime. She made it in Christmas colors, and asked that I play Christmas music while she did it. Slime making can even be a fun holiday event for the kids!
Are there things your kids love to use making slime, that we did not include here? Be sure to let us know if we missed anything!
More Slime Recipes You Might Like: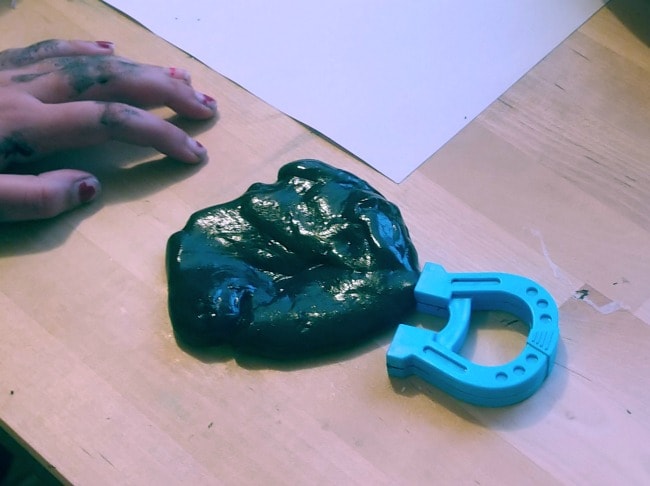 Magnetic Slime Recipe – Great for Science Projects & More!
Glow In The Dark Slime Recipe – My Kids Favorite!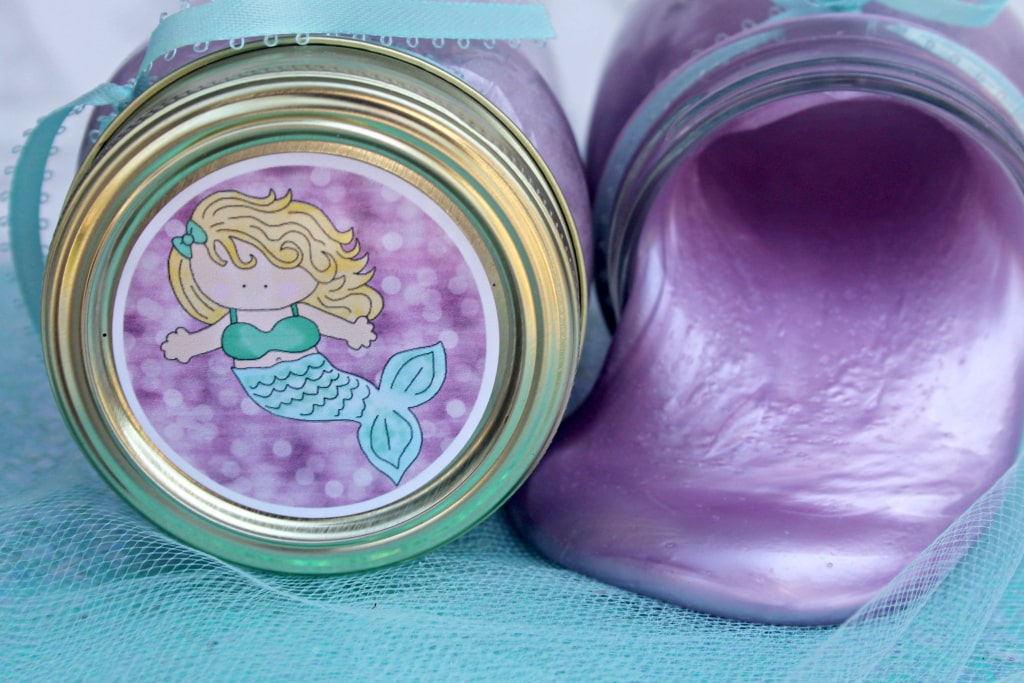 Mermaid Slime Recipe (Using Fluffy Slime Recipe)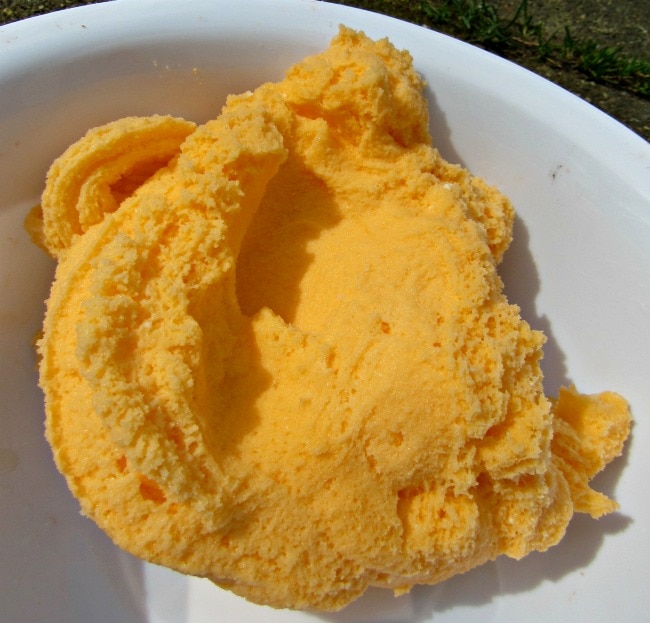 Cloud Slime Recipe (Made with Instant Snow) – A Favorite For Kids!