SeaTac Airport Parking – Best Parking Rates & Park, Stay & Fly Packages!
This post may contain affiliate links and I may be compensated for this post. Please read our disclosure policy here.
SeaTac Airport Parking
If you are planning some travel out of the Seattle Tacoma Airport (SeaTac) you might be wondering what the best options for parking at or near the airport are. We have parked nearby and walked or shuttled to the airport, parked in the SeaTac airport garage, done Stay, Park and Fly packages at SeaTac Airport area hotels, and taken taxis and Ubers to get to the airport for our trips. Here are some of the details on each of these options, as well as ways to save the most, to help you decide what the best option for your travel plans will be.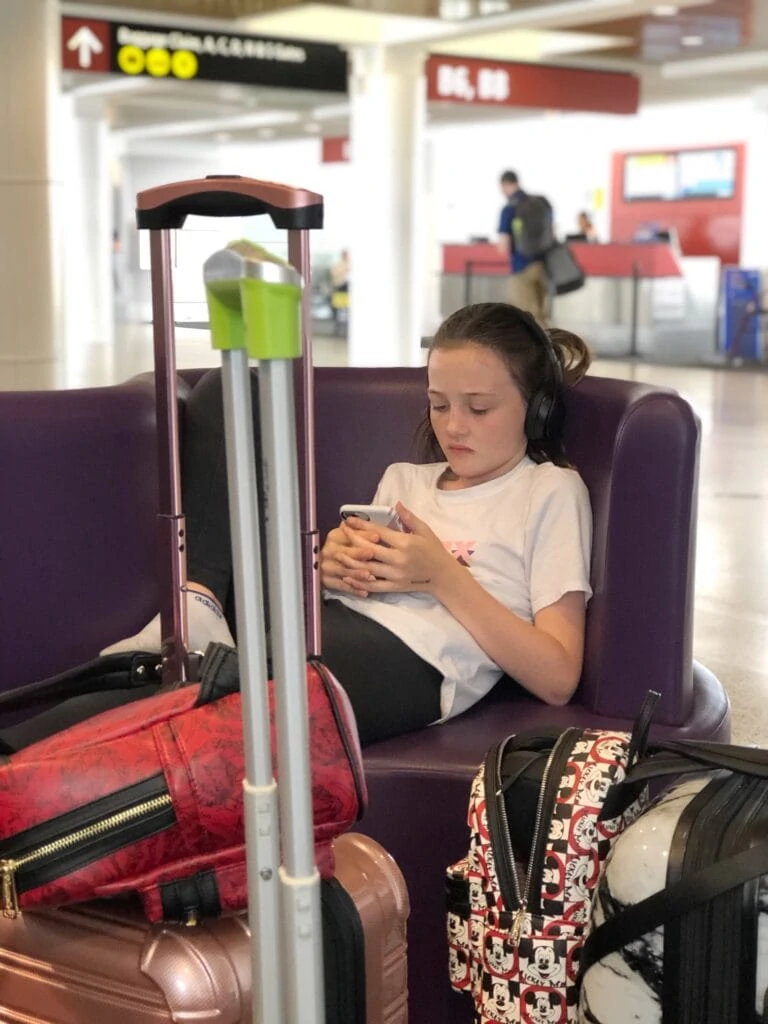 Of course, if you have someone to drop you off and pick you up, that will be the most affordable option. If not then, you will have to choose between what are the most important things to you:
Convenience – this might vary depending on logistics of your trip. For example if you have a really early flight, staying in a hotel right across the street might make the travel day the easiest, or parking on site at the airport.
Cost – Do you want the cheapest available deal, or are you looking for something that balances cost and convenience?
We break all of the details down below, so you can find the best option for your next trip.
Pro Tip for Drop Off & Pick Up:
One tip to use if you are getting dropped off by family or friends, and picked up, is to have them drop you off in the arrival lanes in the morning, and pick you up in the departure lanes for the afternoon and evening. That might help you avoid some of the biggest traffic congestions in those lanes.
When we are traveling together as a family, we generally do not have anyone to drop us off, so we have explored many of the options available for getting to and from the SeaTac Airport. If you do not have someone to provide transportation, do not fret. There are many options, and some will even help you extend your vacation by a day! We have the breakdown on some of our favorite ways to get to and from the SeaTac airport for air travel.
Seattle Airport Parking Options & Ways To Save
There are lots of parking options at the SeaTac airport, and they will range from parking on-site at the airport, to parking nearby and using their shuttles to get to the airport.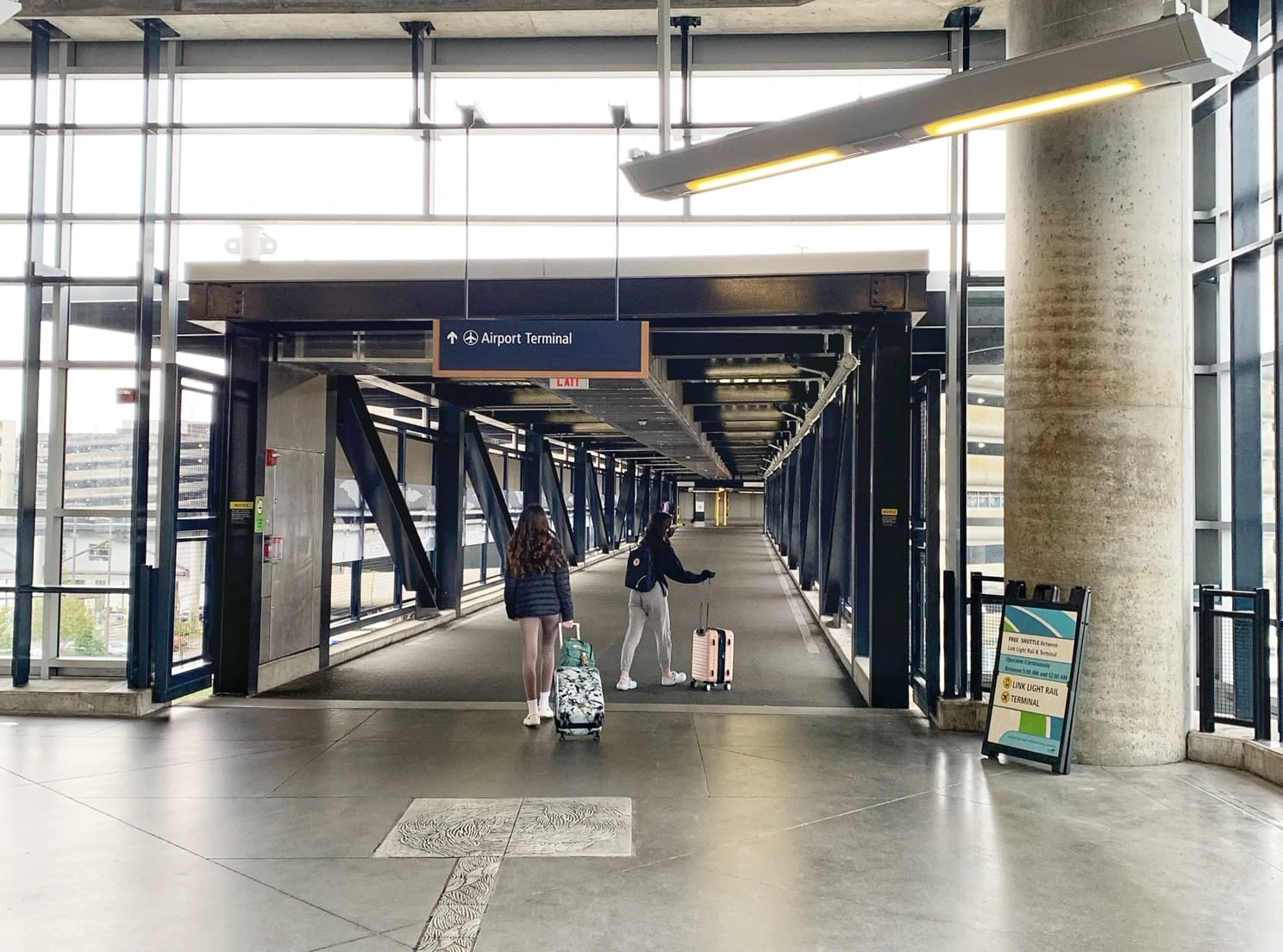 Parking in Walking Distance from the Airport –
SeaTac Parking Garage Prom Codes & Deals :
You can park directly at the Airport, in the parking garage there, but it will cost you (to the tune of $32/dy). They do offer coupons and deals on parking there from time to time, and you can sign up here to get those when they are available.  We have done this for short term trips, when they have coupon codes, and it is so convenient to just walk out to the garage at the end of a trip.
The SeaTac Parking Garage is the most convenient, but there are a few more areas that you can walk to easily from the airport (but they also offer shuttle service if you prefer).
The Radisson is right across the street from the airport and easy to walk to. They have some parking spaces available for use for airport parking.
The Hilton Seattle Airport & Conference Center – is right next to the light rail. You can park in their garage, walk through the hotel, and then cross the street to the light rail. From here you take the elevator up to the main level, and there is a walking path from there that leads you right into the SeaTac parking garage with easy access to all terminals. We found a great rate by booking through Airport Parking here on our last trip, and found it to be a great fit for us. It is a 5 to 10 minute walk (depending on how fast you walk) and I am not sure it is a great fit if you are traveling at night (we walked it at night, but I honestly am not sure if most people would be comfortable doing that) – but you can shuttle it too if you want. We paid less then $10 per day to park here and walk across the street recently.
Park & Fly Lot – this is right next to the Hilton, so same walking information.
Parking with Shuttle Service to the Airport –
** Pro Tip for catching the shuttles back to the parking lots:
You will walk out to a bay for the parking pick ups, that aligns with the airlines you fly (they are in alphabetic order (ie  A1, A2, B1, B2, etc.). Some of the shuttles you will have to call to pick you up. There are phones out in the pick up area. Many of them just run regularly though (so you will see them come through every 15 minutes, for example). If you are riding one of the shuttles that runs often, I suggest walking up to one of the A bays. Sometimes if you are further down the shuttle will be full before it gets to you, then it won't stop to pick you up. We learned after watching one parking lots shuttles pass us up three times, that it was worth our time to walk to the first pick up areas to catch one (especially if you are traveling as a family).
The way you will save the most on parking, is to reserve your spot ahead of time. If you wait until you get into the area and just pick a lot, you will be stuck paying their rack rates. You can make online reservations on your way to airport and still save big, so it does not have to be way ahead of time.
This is by far one of the cheapest parking option that we have found so far. We were a little bit apprehensive to park at some of these spots to be honest, but we tried it and everything worked out just fine. My tip here is to just look for a lot that has 24 hour monitoring of the lots (which most of them do these days).
Here is how it worked for us for the lowest priced option we were comfortable with: 
We pulled up Airport Parking Reservations on our phone the morning of our travel date (you can do it much earlier, we just decided at the last minute this is what we were going to do). We found a spot that had 24 hour attendance available for $5.95 parking per night + taxes. We used a $5 off coupon code (see below for those), and thought this was a super price. The rates will depend on when you are flying out, and note that the more affordable rates are usually a bit further from the airport, so plan some extra time to get parked and catch the shuttle to the airport.
To get $5 off Airport Parking use promo code SAVINGS5 or for $5 off Seattle area parking SEA417 (or find more current coupon codes available here to save on parking rates).
If you care more about convenience over pricing with shuttle parking options, I would consider Wally Park or SeaTac Park. They both have multiple shuttles and they run regularly, without having to call them in my experience. The DoubleTree Seattle Airport is also often listed on here with some great rates, and they are fairly close to the airport too.
If convenience is your number one factor in finding a parking lot, Park N Fly is a site that only offers availability for 9 of the premium parking garages, so you do not have to filter sites out that you might not be interested in. These sites are generally closer to the airport, have frequent shuttle options, and 24 hour lot monitoring.
Other ways to save on parking near SeaTac include: 
Check the actual websites of the parking service your looking at. Many of them offer coupons or other savings options on their websites.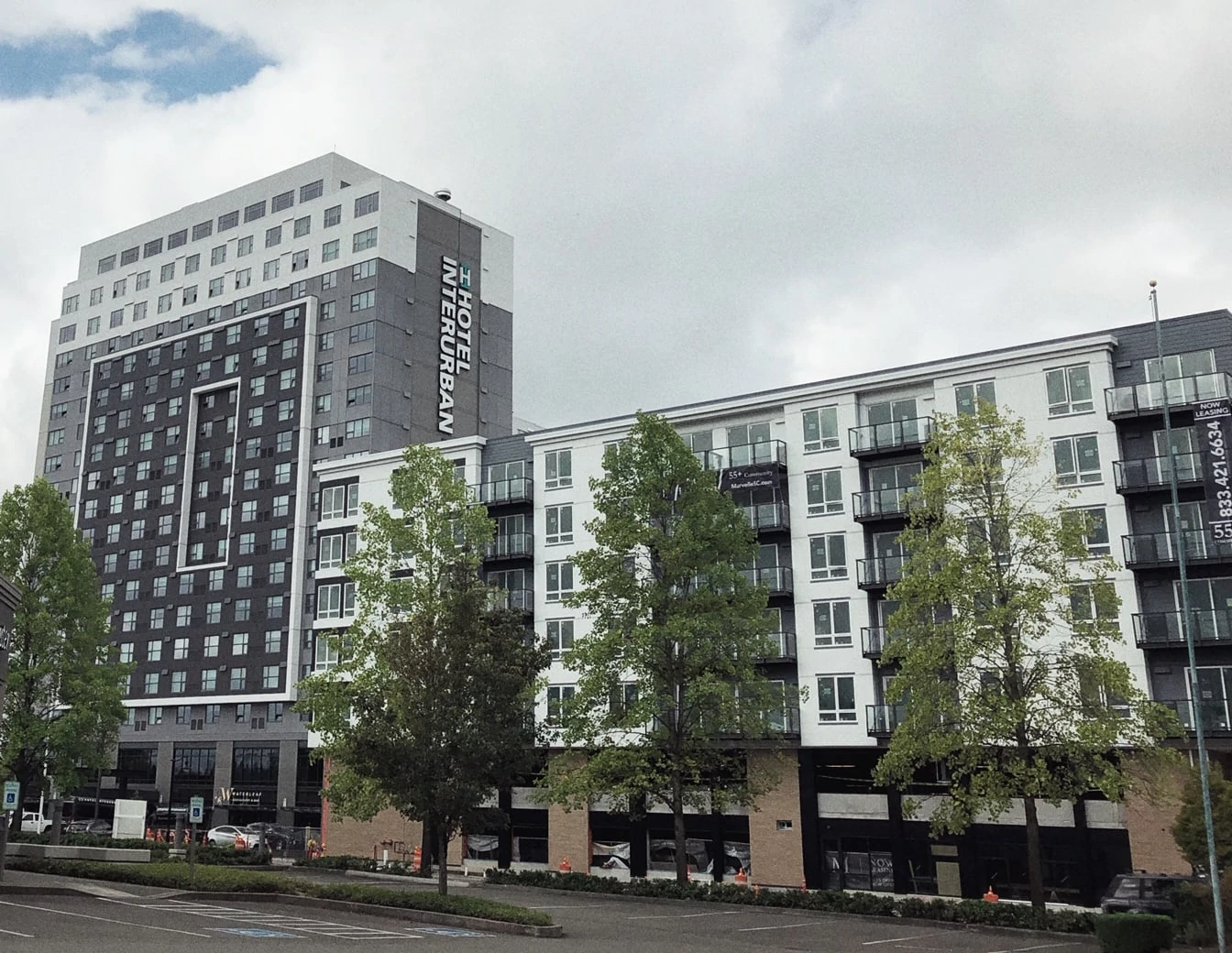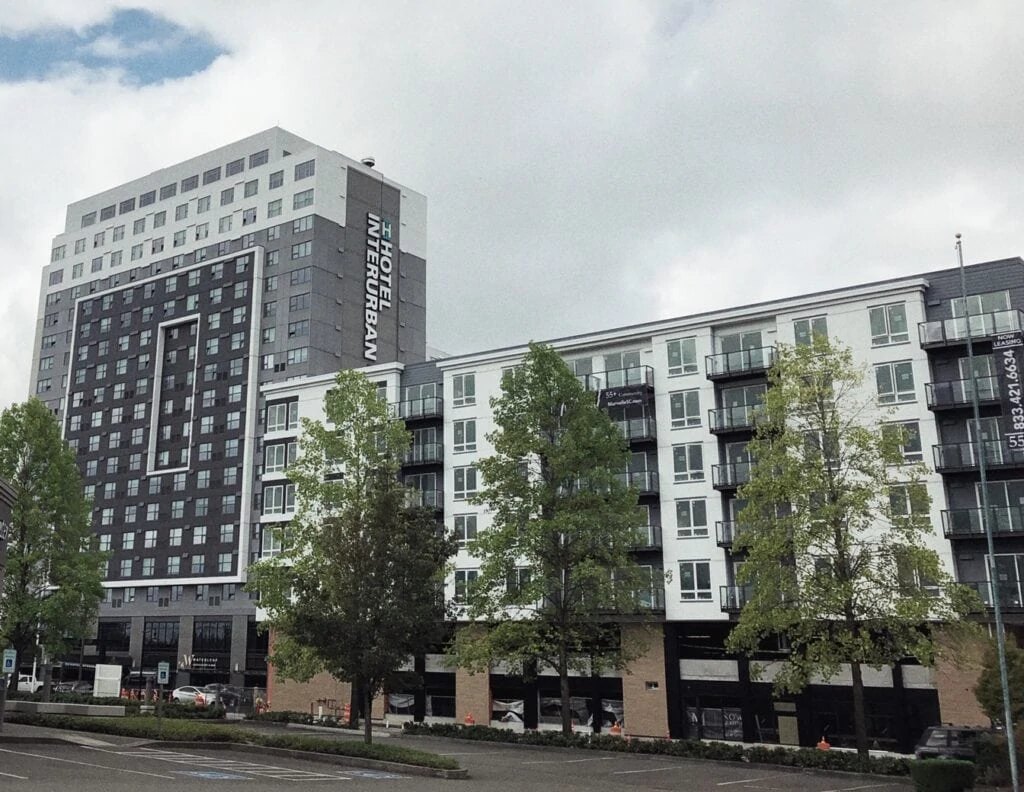 We have done a few of the Stay, Park and Fly packages for our family vacations. What I love about doing these, is that we are able to start our vacation a day early, by enjoying the hotel we stay at. This will generally cost more then the other options, but sometime the convenience and the desire to get out and on vacation earlier makes this option one of my families favorites. It has become my families favorite way to get to the airport and back, and if you find a great package deal and compare that to the cost of parking for the time you are away, sometimes you will find you are not paying too much extra for the hotel stay. Book a spot that offers free breakfast, and that will make it an even better deal.
It took quite a bit of research when we were looking to find great options, so we have shared what we have learned below. There are some hotels that offer these packages, that I would not be comfortable staying at in the SeaTac area, but here are some that we really enjoyed, and have either stayed at or heard from others that stayed there and recommended it. We cover tips for doing a Stay, Park and Fly package at SeaTac area hotels, based on our experience and research, and recommend a handful to spots that might make sense for your family too, depending on what your priorities are.
If the primary reason you are wanting to do a Stay, Park and Fly package is to….
Enjoy an early start to your vacation, and you do not have a really early morning flight out
… stay at the Hotel Interurban (pictured above)
We stayed here our on most recent getaway this past summer, and it was wonderful! We had a little later flight, and so we wanted to stay someplace we could enjoy a little staycation, prior to flying out. This hotel is a newer hotel in the Tukwila area (in walking distance to the Westfield Mall, as well as many restuarants) and near many activities. It is a wonderful place to stay, if your looking to start your vacation early, as there is so much to do in the immediate area, and the hotel is nice. We provide information on our full review of this hotel below, but in short they offer a salt water swimming pool, complimentary breakfast for rewards members, new and modern (and comfortable rooms), and more.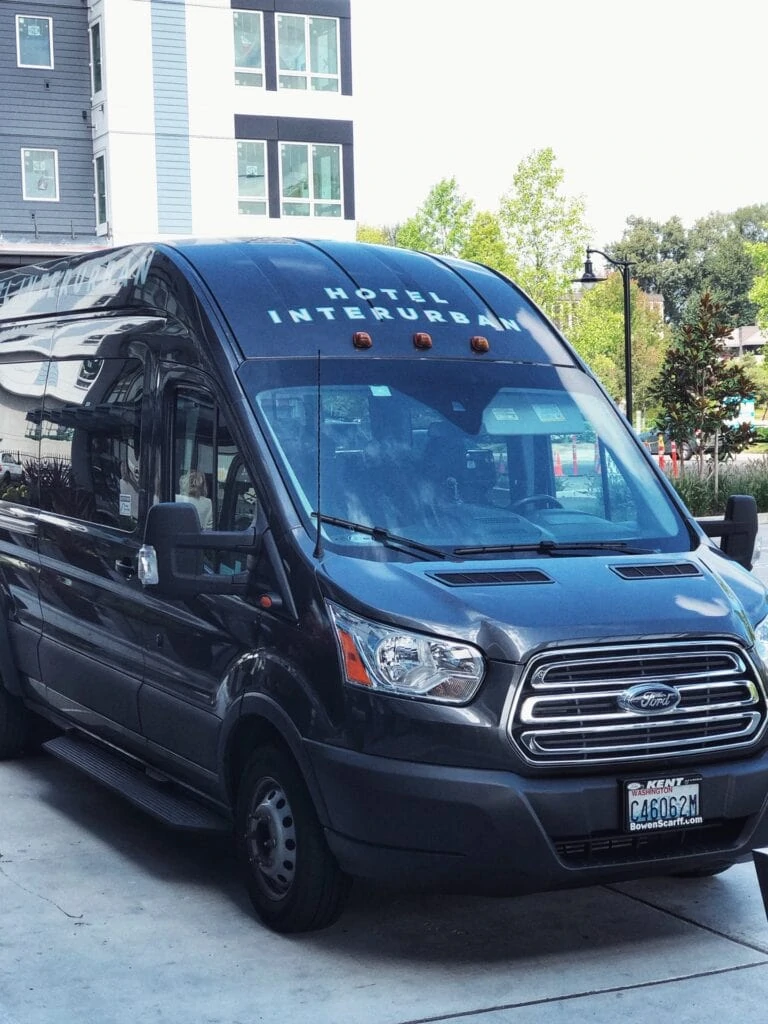 Their shuttle runs on demand (you just let the front desk know you need it), and they offer Valet parking for your car, so I felt great about leaving my car. The shuttle ride is a bit longer, but is very comfortable (the vans are newer, and we never waited long for them). We had airline employees on both of our shuttle rides, so they were able to provide us extra travel tips, and that was great. The driver was very knowledgeable, and it all worked out really smoothly for us. For the trip back, you will need to call them. It takes them around 20 minutes to get there, so I recommend calling them once you have your bags, but it was still a very convenient service, and we loved staying with them.
We have a full review of the Hotel Interurban, and all the things there are to do nearby here.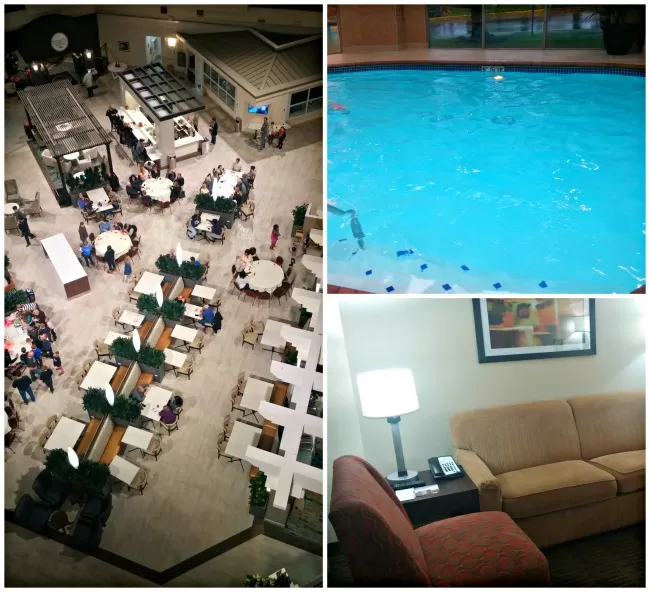 One more spot we stayed at out in the Tukwila area, that is near many fun family activities, is the Embassy Suites. You can read our review of that stay here, and what we did for fun during that stay. Although we were enjoying a staycation during our stay, they do also offer Park, Stay and Fly packages.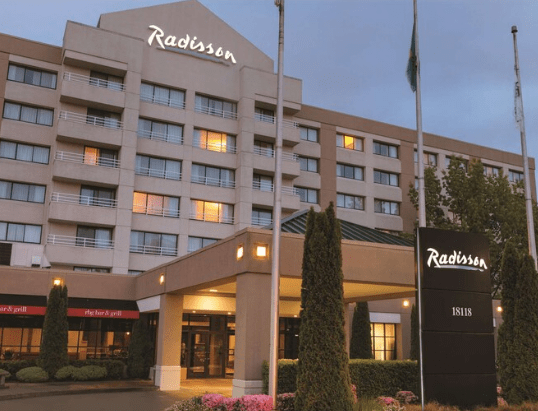 Looking to stay as close as possible to catch a really early morning flight out –
…stay at the Radisson SeaTac Airport Hotel .
They have been on Groupon lately, so you might be able to find a deal here.
We stayed here when we had a 6:30am flight out of Seattle to Florida, and found it to be a great experience.  We were able to sleep in an extra hour (which makes a big difference to me when it is that early), as this hotel is directly across the street from the airport. We were able to walk right out the hotel, cross the street and walked up a short path to the airport. It took us less then 5 minutes to get from the hotel to the airport (and there is a shuttle to use if you prefer). When you do a Stay, Park and Fly package with them you just park your car out in the front of the hotel, and they give you a slip to leave in it. You keep your keys with you, so when you return you walk right to your car and take off. It was super convenient!
We arrived at around 4pm the day before and checked into our room, then went out for dinner. 13 coins is right next door, and is a fun option to eat at. They also have a pool on the ground floor so the kids enjoyed that, and we relaxed in the Lobby restaurant/bar area after that before heading to bed to get some good rest before our trip. It is also within walking distance to the Light Rail if you wanted to check in earlier and enjoy sometime downtown Seattle before your travel day.
While it is not the most affordable, this has to be one of the most convenient ways we have traveled out of SeaTac. We found that after considering the cost it would have been to pay for just parking,
Another one we will try next time is the Hilton Seattle Airport & Conference Center, for proximity. It is a nice backup to the Radisson (seems to be a bit more affordable these days). We parked in their garage on our last trip, and walked through the hotel on our way to the airport. We decided that for the rates currently available for park and stay packages, this is the spot we will be booking for the next trip we fly out for.
If you're looking for a great couples stay or nicer (and quieter) family stay,
…consider the Cedarbrook Lodge with their Park and Fly packages!
We have stayed here and loved it as a family. It would make a very nice couples stay, too, with the fine dining and onsite spa options. The Cedarbrook Lodge sits behind the main SeaTac strip, so you feel like you are away from it all, with beautiful green grounds, cozy rooms, nice restaurant, and comfortable rooms. My families favorite part about staying at the Cedarbrook is that they offer free snack rooms that had things like gourmet malt balls, Haggen Dazz ice cream, Tim's Cascade chips and more available during our stay. And did I mention all of those snacks are complimentary! Breakfast is also included with every stay, and they have items like smoked salmon and bagels, great oatmeal with all the fixings, bakery items, coffee, tea and more.
Plus, they offer special perks, like you can get your car vacuumed and washed while you are gone too. It might cost a little more, but it provides some really nice perks if that is what you are looking for.
More great Stay, Park and Fly packages near SeaTac Airport inlcude: 
Using Uber or Taxi's (Getting to the Airport without Having to Worry About Parking) –
Maybe you do not want to deal with parking at all, in which case taking a taxi or ride service like Uber or Lyft are great options. There are shuttle services, but unless you are traveling by yourself, they are usually never as cost effective, you sometimes have to wait while they make other stops to pick up other folks, so not as convenient either. There are also other options like Limos and Towncars (that are on the pricey end) and bus lines and the light rail (which we be very affordable, but not convenient with luggage). Generally speaking either Uber / Lyft or Taxis provide the best options for most people.
When I used to fly more often for work, I always took a taxi. It was billed to the company card, and it was just what we did (there were not all these options back then). Now, you can choose which ride service you want to use to get to the airport, if you choose to use this option, and here are some tips to consider when making that decision.
Remember that what ever option you choose from below, you will need to double the price estimation (to get there and to account for the return trip home).
Taking a taxi to and from the airport
One of the benefits of taking a taxi is that you can get curb side drop off and pick up from the baggage claim area. If you want to walk the least distance to catch your ride, this is it. Another thing that you can do in a taxi that you cannot usually do in an Uber, is pay with cash. So if you are using cash, this is your best bet.  You can get curbside pick up, when you reserve a taxi pick up online or through one of the taxi apps (search the taxi service of your choice, and you should find thier app info on their website). If you have not reserved a taxi pick up, you can catch one 3rd floor of the parking garage on the north and south curb (cross the sky bridge to get there).
During most travel times though, a taxi ride will cost you more then either Uber or Lyft. The exception might be in peak travel times, in which case you will need to compare. Here is some info on how to find out what a taxi ride will cost you ahead of time so you can be prepared.
Now days, they offer two kinds of taxi services at the SeaTac airport. The first is a metered rate taxi. These work like they traditionally have, where they charge you an iitial meter rate, then you pay a per mile fee and a wait time fee. These are the black taxis at SeaTac. The second kind are the blue and yellow taxis, and they run on a flat fee basis ($10 minimum). So this is going to operate similar to Uber, where you get a quote ahead of time and know what your trip will cost you. You can find a rate for your trip, by scanning the QR code on the poster on this page, and entering your zip code.
Yellow Taxi service provides a flat rate of $40 for trips to downtown Seattle (find a map of the flat rate zone here).
If you want a really quick estimation of what a taxi will cost from your area, go to the Seatac Airport Taxi page here, and you will find rate estimations based on the city you are traveling from.
Using Uber or Lyft Services to get to the Seatac Airport
There are actually three app based ride services that you can use out of SeaTac. They are Uber, Lyft and Wingz. I am familiar with the first two personally, so will focus on those options. You can find all three of them on the third floor of the parking garage (again, take the sky bridge from baggage claim area to get there). When you are arriving they will be able to drop you off at your airlines terminal area.
Generally speaking, these options will be more affordable, unless you are traveling at peak times when there is a price surge. If you are a first time user, there are usually coupons you can find and use to save even more. Find a list of available Uber Coupons here or use code NEWRIDER15 for $5 off of your first 3 rides. 
Uber and Lyft are both used when you download their app on your phone, set up your payment information, and then you can tell the app where you want to go (so in this case to the SeaTac Airport) and where you want to be picked up from (your house), and it will give you a price quote that you can select, and it will connect you with a driver. In my case, traveling from my house via an Uber vs taxi saved me about $10 per trip (so $20 round trip). Of course this will vary depending on when you are traveling.
A couple of notes about using Uber. The app will match you with available drivers when you put in that you are looking for a ride. If you have an early morning flight you want to make sure you do not miss, you might want to get a reservation set up the night before to make sure a driver is available to pick you up. I have seen folks do this by asking in local community groups if there is a driver available.
Also, if you are traveling with alot of luggage, for a family for example, you might need to request a more premium Uber ride, and that will cost more – but important to consider ahead of time. We used UberX for a recent trip we made to the Las Vegas airport (it is an economical Uber option), and we were 4 people traveling with carry on luggage only. It just fit in the trunk of the car that picked us up, but had we had more or larger luggage, we would likely have needed to pick a different Uber option like and Uber XL – which is another reason you will want to make sure that a driver with the right size car is available to pick you up ahead of time.
They provide you the name of the Uber driver, picture of the car, and license number, so for safety reasons be sure to confirm those things match up before using the service.
Now that you have the details on some of the main ways to get to and from the Seattle Tacoma airport, and what they will cost you, you can decide what the best option for your next trip is based on your priorities.
Do you have any great tips about SeaTac Airport Parking & getting to and from the SeaTac Airport that we missed here?
More articles you might be interested in: