Dinosaur Discovery Exhibit at Woodland Park Zoo
This post may contain affiliate links and I may be compensated for this post. Please read our disclosure policy here.
Disclosure: We were hosted at the zoo & Dinosaur exhibit so we could share our thoughts about the exhibit & our own photos with you. All opinions are our own. 
Dinosaur Discovery Exhibit at Woodland Park Zoo
Have you heard about the new exhibit that just opened at the Woodland Park Zoo this weekend? The Dinosaur Discovery exhibit is a brand new exhibit to Woodland Park Zoo & it will be here all spring & summer. It's a special exhibit at the zoo that is very affordable to add on to your zoo trip and absolutely worth it!
The Dinosaur Discovery exhibit is an immersive exhibit that features life-size, animatronic dinosaurs, up to 35 feet high. You'll get a glimpse of what life was like during dinosaur times with these dinosaurs that breathe, move & roar. There are over 20 dinosaurs you will see on this exhibit. It is something to see just how large these dinosaurs were and how small you feel when looking at some of them! Definitely an exhibit that the whole family will love, no matter the age, as there are plenty of interesting dinosaur facts throughout the exhibit, too, to learn as you check out all the dinosaurs.
The Dinosaur exhibit was designed & created by a world-famous dinosaur expert, "Dino" Don Lessem,  who is a scientist who has excavated some of the largest dinosaur fossils in the world. He also was an advisor on Steven Spielberg's Jurassic Park movies. So, these dinosaurs were created under scientific supervision to be as life-like as possible in their design & their movements.
What to Expect at the Dinosaur Discovery Exhibit?
The Dinosaur exhibit is a one-way pathway through a forested area with dinosaurs interspersed throughout the walkway for you to get up close & see them moving & listen to their various sounds. The exhibit is located near the South entrance of the zoo in the temperate forest area. You will enter the exhibit & the first thing you see is the 35 foot tall Brachiosaurus (the tallest animal that ever lived) in front of you. He's so tall that his head is slightly hidden among the leaves of the tree, as he chomps away at the leaves. Make sure you stop for a few minutes & watch him as he will slowly move his tail & you can watch him breath.
You will then continue on the winding wide pathway & come upon different dinosaurs at every turn. There are interpretive signs for each of the dinosaurs, too, so you can learn some interesting facts about each of them. There is also a fossil replica wall to show you what the fossil bones look like as they excavate them. There are actually 22 dinosaurs along the pathway, it's a good-sized length – not too long for younger children, but definitely long enough that we felt we got our money worth & it was well worth visiting the special exhibit.
Along the pathway, which is ADA accessible, you will walk up quite close to the dinosaurs, which provides plenty of excellent, fun photo opps & a chance to really hear them well as they are roaring, the babies are chirping & more. It also makes you realize just how massive many of these dinosaurs were in comparison to our size.
While younger kids will absolutely love this (especially those big dino fans!), I was glad to see that my tween & teen were both very interested & really enjoyed the exhibit, too. And my science teacher husband loved reading all of the facts & information about the dinosaurs. So, it's definitely an exhibit that people of all ages will enjoy experiencing.
If you have a dino lover or just want to remember your visit, they will also have a dino gift shop open up across from the exhibit as well with dino products (it wasn't open when we were there, but it was a little tent kiosk to check out).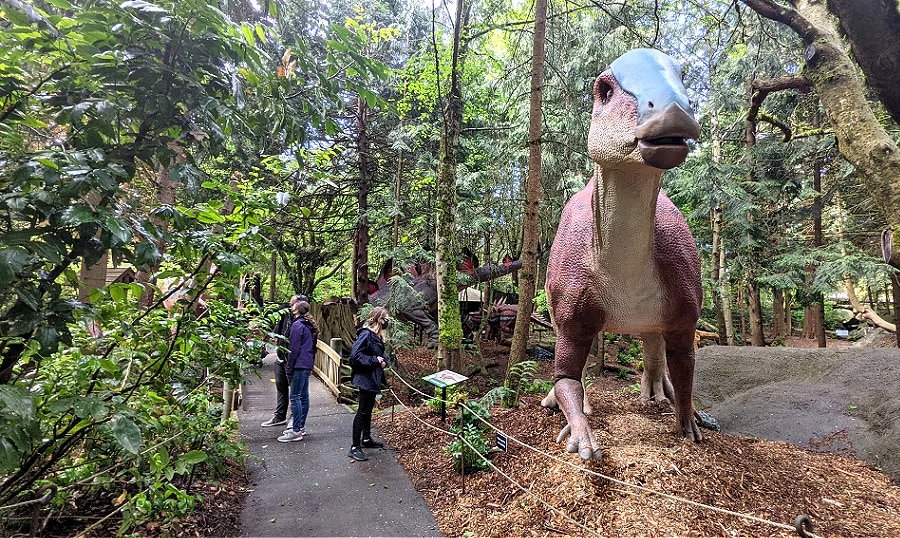 Hours & Dates of Event
This dino exhibit is open from May 1st, 2021 – September 6, 2021 (Labor Day), so plenty of time to head to the zoo to see this exhibit this spring & summer.  This exhibit will be open the same hours as the zoo, which is 9:30am – 6pm.
You will wait to buy your tickets for this special exhibit when you get to the zoo at the exhibit & then enter at that time. So, make sure to head to the exhibit area when you are ready & buy your tickets to visit the dinos.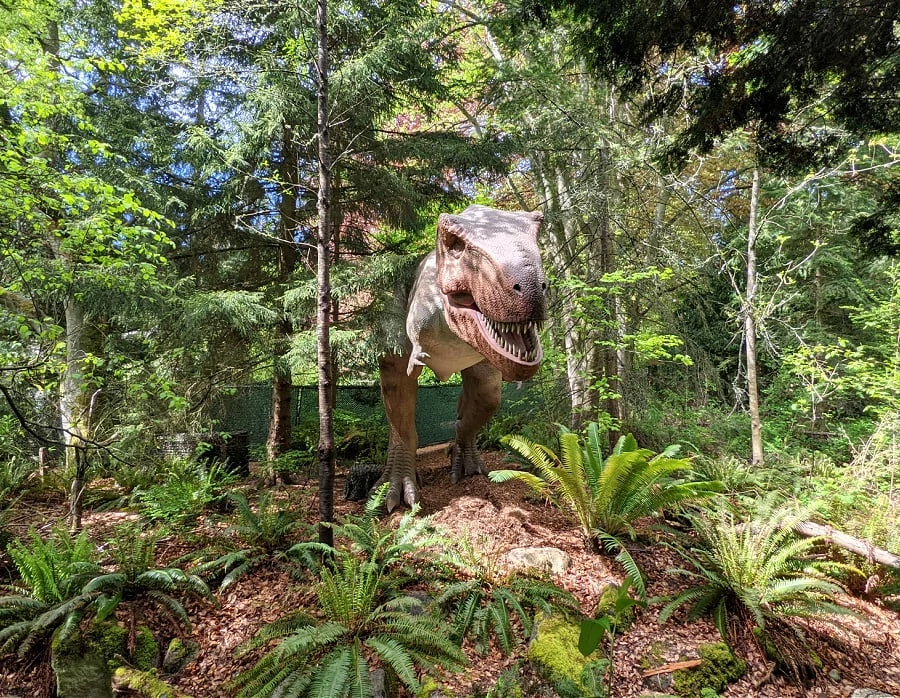 How Much Does it Cost?
The cost for this special exhibit is $5 for ages 3 & up (or $4 for Woodland Park Zoo members), ages 2 & under are free. This is a special exhibit fee on top of the regular zoo admission.
You can purchase your regular zoo admission either online with timed ticket entry or you can purchase it at the zoo. The special Dino exhibit tickets will be purchased on site at the exhibit.
Here are the costs for zoo admission:
Adult -$24.60
Youth (ages 3 – 12) – $15
Seniors (ages 65+) – $22.60
Toddlers (ages 0-2) – free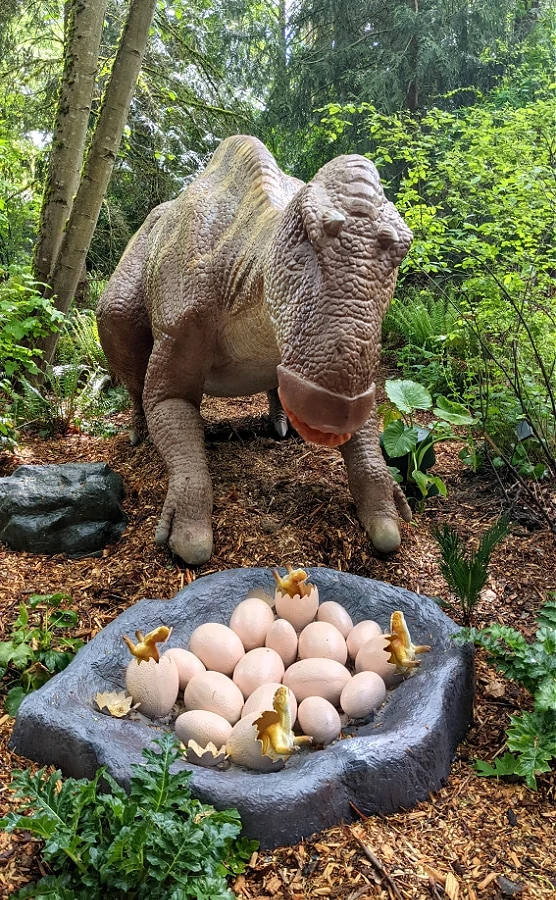 2021 Precautions
The Dinosaur discovery exhibit is a one way exhibit on a winding, wide pathway which is set up to ensure social distancing while enjoying the exhibit. While you will not be purchasing your dinosaur exhibit tickets ahead of time, you will be purchasing them right at the exhibit before you enter. This will ensure that they can maintain proper social distancing for the event.
Face masks are required to be worn for anyone over the age of 5 & they do have hand sanitizer stations set up around the zoo. Food & drink is only allowed in designated food areas, whether you purchase food at the zoo vendors or bring your own food.
These are the areas that are currently closed at the zoo (for precautions):  Zoomazium, Tropical Rain Forest building, Historic Carousel, Willawong Station, Bug World, Molbak's Butterfly Garden,  All playgrounds, Mother's/Nursing room, Vending machines, Drinking fountains and water refilling stations, Face painting, Kiosks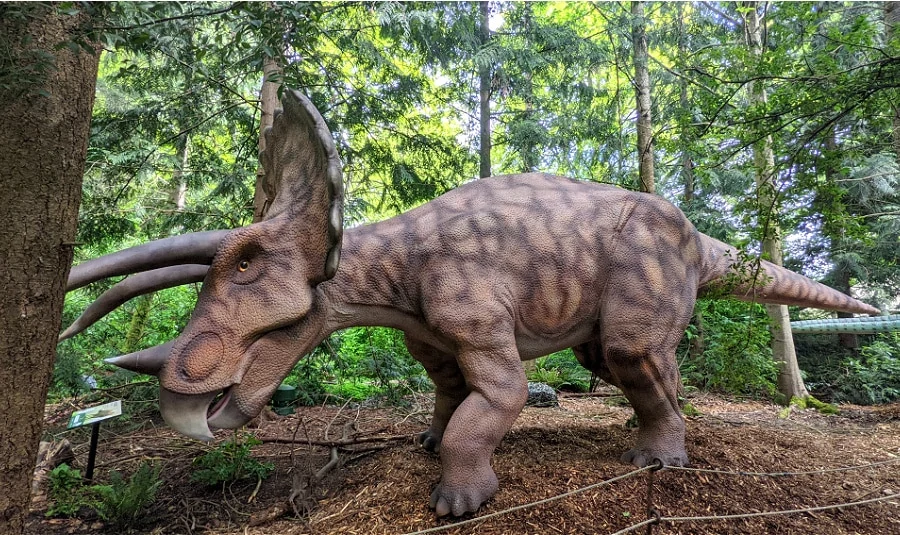 Parking at the Zoo
Parking costs differ based on which lot you park in. The Otter, Bear & Penguin lots are $6 for the first 2 hrs & $2/ea for additional hours (+ taxes/fees). The Hippo & Flamingo lots are $4 for the day (+taxes/fees).
Where to Eat?
If you want to eat while you are there, you are welcome to bring in your own food or snacks (eat them in designated eating areas) or they do have one restaurant open right now (this might be changing with the longer spring hours).  The 1899 Grove dining area has indoor & outdoor seating with several vendors for food options for lunch/dinner (indoor seating is reduced capacity).
Let us know if you go & visit the Dinosaur Discovery exhibit & what you think!