Pumpkin Rice Krispie Treats with a Surprise! Perfect for Halloween Parties!
This post may contain affiliate links and I may be compensated for this post. Please read our disclosure policy here.

Pumpkin Rice Krispie Treats with a Surprise
If you're looking for a simple Halloween treat for a Halloween party, especially if you're needing something for a class party, these Surprise Pumpkin Rice Krispie Treats are the perfect idea! I love that you can get your kids involved in making them – my girls loved making them & shaping them (plus hiding the surprise inside).  And you can make these as a gluten-free treat, too, if you have any kids with allergies in your house or in your child's class.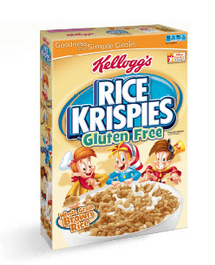 In order to make these gluten-free, you'll need to buy the gluten-free Rice Krispies cereal. The marshmallows & tootsie rolls are both gluten free (as well as frosting if you make green frosting leaves). I searched online & it looks like Winco and select Walmart stores near me offer the gluten-free Rice Krispie treats (you can find a location near you which carries the gluten free Rice Krispies).  If you want to avoid the artificial colors, you could juice carrots & mix the carrot juice in with the marshmallows to give it the orange coloring. (You may want to add some vanilla to these, though, to cover up a little of the carrot flavor though).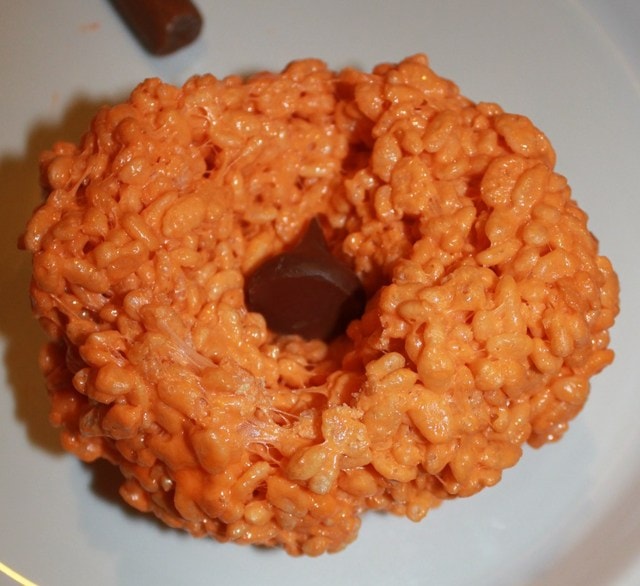 For the hidden surprise, I used Hershey's kisses (also gluten free if you use  the Milk Chocolate variety), but you could also change it up & add a Reese's Peanut Butter cup (just be aware of nut allergies with kids), Rolos, or any of your favorite yummy candies that are soft to bit into. It just gives a little pizazz to these yummy treats and a fun little surprise for kids!
Check out the other fun kid-friendly Halloween party ideas we tried at a Halloween party a few years ago.
Print
Pumpkin Rice Krispie Treats with a Surprise! Perfect for Halloween Parties!
---
– 6 cups of Rice Krispies cereal
– 1 package of regular size marshmallows (10 oz size) – or you can use 4 cups of mini marshmallows
-3 tablespoons of butter
– Candy for surprise middle
-Tootsie Roll Candies
-Green frosting (use pre-made or make your own frosting & die it green)
-Orange food coloring (or red/yellow to make orange)
---
Instructions
– Melt butter in saucepan over low heat.
– Once butter is melted, add in marshmallows; stir until they are all melted
– Add orange colored food coloring to the mixture & stir.
– Add Rice Krispies cereal & stir until it is well coated with the marshmallow mixture.
– Let mixture cool enough to handle (you don't want it to cool too long or it will be too hard to shape)
– Shape the Rice Krispie mixture into balls
– Spread out the ball mixture & add in your "surprise candy" – this could be Hershey's kisses, Reese's Peanut Butter cups or anything you'd like to add for a yummy surprise.
– Close the ball up
– Add a tootsie roll to the top for the stem
-To add green leaves, you can use green frosting piped onto the top of the pumpkin in the shape of a leaf or you can use green fruit rollups shaped like leaves.
Check out more of our Halloween & Harvest ideas this fall::
Ideas for a Kid-Friendly Halloween Party
5 Frugal Fall Entertaining Ideas
5 Halloween Candy Alternatives for Kids
Pumpkin Centerpieces Ideas – Use A Pumpkin As A Vase And Add To It!
Rustic Fall Pumpkin Decor Using Reclaimed Wood!
Hot Fudge Cupcakes with Marshmallow Hot Fudge Topping