Creating a kid-friendly Halloween Party with HERSHEY'S + 20 Readers Win HERSHEY's Halloween Candy
This post may contain affiliate links and I may be compensated for this post. Please read our disclosure policy here.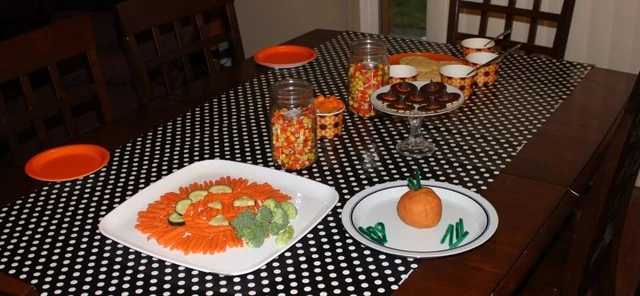 Halloween is almost here & I have just been loving all the fun kids activities I've been finding on the HERSHEY'S BOO BLVD site. Each week, HERSHEY'S has been spotlighting bloggers & sharing their fun Halloween ideas to try with kids. I've also been finding inspiration from Pinterest – make sure to check out this fun Halloween Pinterest board I put together with all sorts of cool ideas for Halloween and Harvest Parties – recipes, decorating, & more!
We decided to invite some friends over to try out some of these yummy goodies & have a little Halloween party ourselves.  We like to focus more on the Harvest theme versus a scary party, especially with the little kiddos. This was a very easy party to put together, too, as my friend & I got everything ready in about an hour. It was also quite frugal as I only spent around $50 for everything – decorations, candy, food & party favors (& that was without using coupons – I could have saved more if I'd had more time to gather coupons & such). The best part is that there were a number of ways that the kids could help us get things ready to go  – from stirring & kneading the Pumpkin Pie playdough to filling the jars with candy corn for decor & more!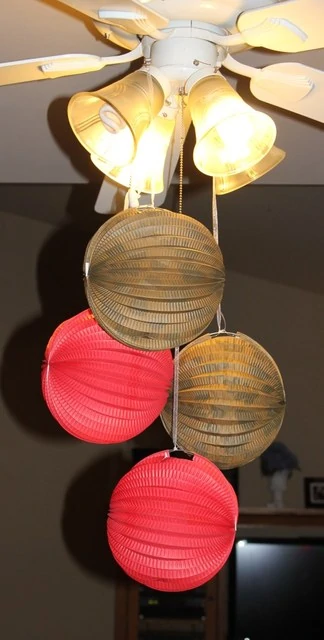 Decor:
I kept the decor for the party very simple, so that the food & goodies would be showcased. It also helped to keep the costs down for the party. I love how the orange pops with the black & white table runner! It looks simple yet tasteful!
Here's what I used:
Black & White Polka Dot Wrapping Paper – Instead of spending money on a fall-themed tablecloth, I decided to go with a fun pattern with the polka dots. Wrapping paper used as a table runner also makes for easy clean-up – just roll it up with all the crumbs included & throw away. I actually saw some fun wrapping paper patterns for just $1/roll in the Target Dollar Spot today (mainly general or birthday themed)
Orange Plates & Napkins – These are just basic orange plates & napkins, but I got these at the Target seasonal clearance sale last year for 70% off. Always watch those clearance sales & stock up for the future.
Paper Lanterns – I actually found these at the Target Dollar Spot – just $1/lantern. They are brown with a fall pattern & orange (even though they look red in the picture)
Candy Corn Jars – We kept the centerpieces simple with just mason jars, candy corn & votive candles. Not only were they fun to eat, they've been fun to snack on too (although I think they're just too tempting for my girls – I keep finding little hands sneaking into the jar when I'm not looking!). I had the mason jars & votive candles, so it was just the bags of candy corn that I paid for at the store.
The Food:
I didn't want to overwhelm the kids with too many treats so I just picked out my favorite ideas to try – while also having a veggie tray to balance out all the sweets.
Pumpkin Shaped Veggie Tray – this is so simple to create – just use mini carrots, cucumbers & broccoli. We used this Pumpkin Veggie Tray as inspiration & just left the dipping sauce separate since it could have gotten really messy with kids. :)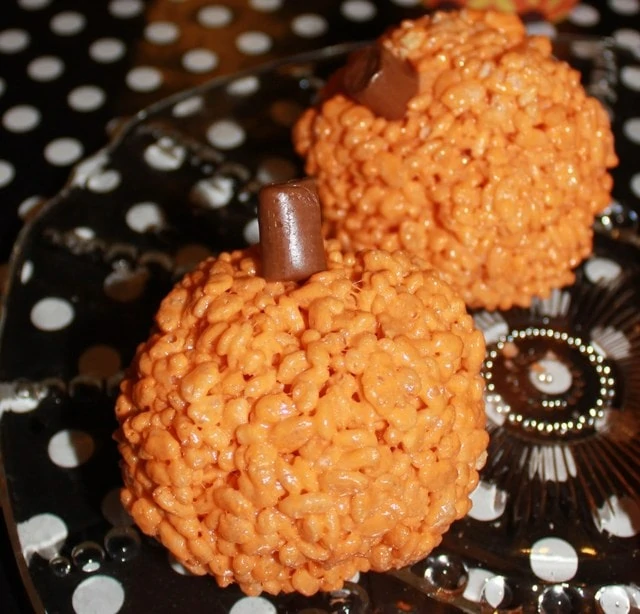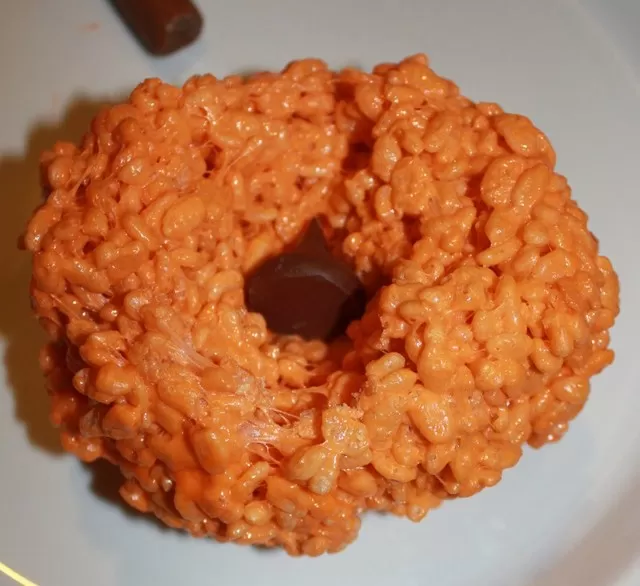 Surprise Pumpkin Rice Krispie Treats – I've seen the various Halloween shaped rice krispie treats on Pinterest (Pumpkin, Ghost, etc) – but I thought we'd make them even more fun by adding a HERSHEY'S KISS in the middle. You just make these as regular rice krispie treats, but add orange food coloring & shape them into a pumpkin shape when they've cooled. Before you finish, though, hide a little HERSHEY'S KISS or a HERSHEY'S CHOCOLATE bar in the middle for a special surprise!
Pumpkin Sugar Cookies to decorate with icing & sprinkles – Ok, I cheated on this one & bought the pre-made ones because we were running short on time, but you could save more money by just making your own sugar cookies or buy the bag of pre-made Sugar cookie dough in the refrigerated section. Then roll them out into pumpkins & decorate away. This was definitely the most popular thing for the kids to do!
Witches' Hat Cookies with HERSHEY'S KISSES – These were so simple to make – Keebler Striped Fudge Cookies, orange frosting & a HERSHEY'S KISS – it's just that easy! Fill the hole in the fudge cookie with icing & then add a HERSHEY'S KISS on top & the icing will hold it in place. Yum!
Favors: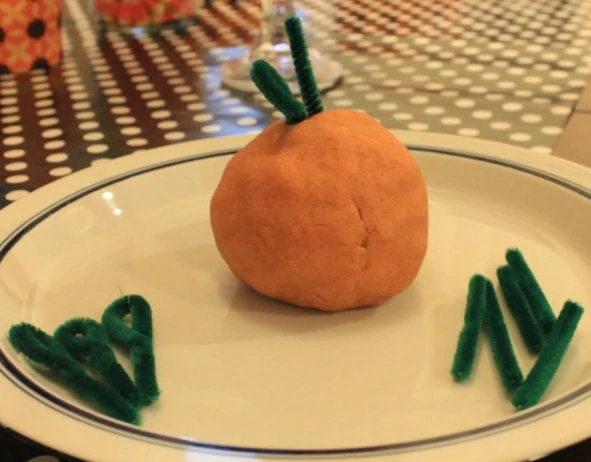 Pumpkin Pie Playdough – this could be not only used as a favor, but you could also have fun trying it out as an activity at a party. I used this recipe from Moments of Mommyhood.
Bubbles – I got a 15 pack of bubbles at Walmart in Halloween colors for around $1.50 – cheap fun! Another item that could be an activity or a favor to take home!
Here are a few pictures of all the fun that we had at the party: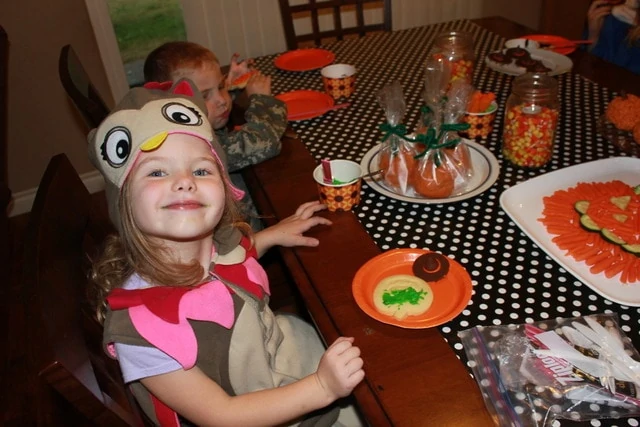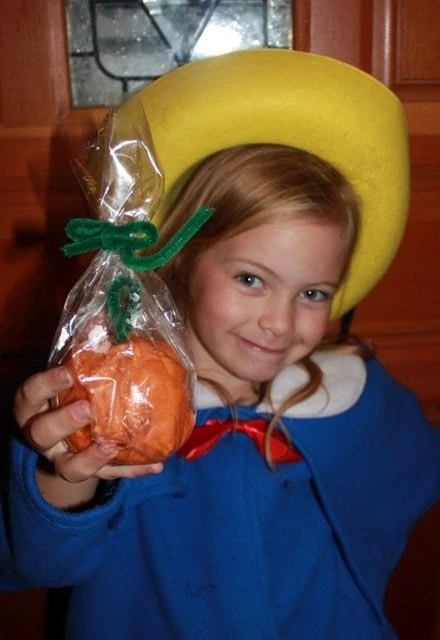 Giveaway – 20 Winners win a big bag of HERSHEY'S Candy Bars!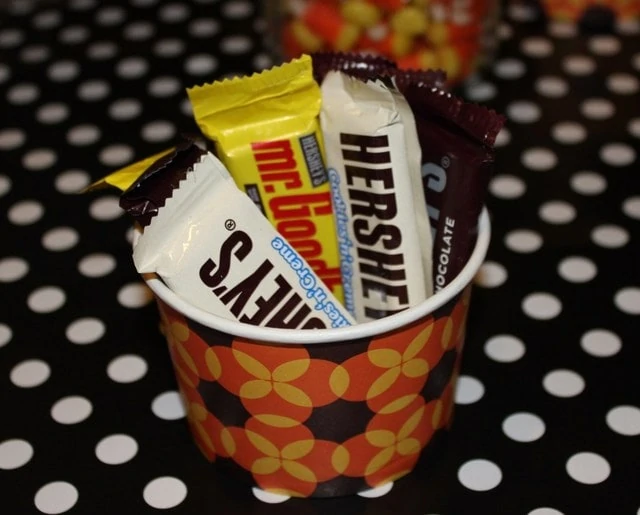 Just a small sampling of the yummy candy bars you'll receive!
HERSHEY'S has offered to give 20 Thrifty NW Mom readers a big bag of HERSHEY'S candy bars so you can celebrate Halloween with some yummy chocolate goodness from HERSHEY'S.
This giveaway will end on Tuesday October 30th  at 9pm pst.
The winners will be drawn using "And the Winner Is" plugin and announced on the blog.  We will also email the winners. The winners will have 48 hours to contact me, otherwise a new winner will be drawn. US residents only & you must be 18 yrs or older to enter the giveaway.
Here's how to enter this giveaway::
1st Entry (required entry): Tell us what your favorite Halloween candy is.
Extra Entries : (make sure these are all separate comments, with a comment for each entry)
1) Leave a comment here saying you signed up for the Thrifty NW Mom email newsletter. 
Disclosure:   I am participating in the HERSHEY'S BOO BLVD. campaign via Mom Bloggers Club. This post was sponsored by HERSHEY'S. All opinions expressed are 100% mine. See our disclosure statement for more details.