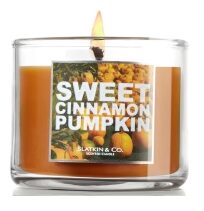 Bath & Body Works is offering a FREE mini candle (1.3 oz size) with no purchase necessary.  All you need to do is head over to Facebook and click to "Get offer" from Bath and Body Works. They will then send you the coupon via your email. The coupon is valid from today, October 26th – Sunday October 28th.  This item is valued up to $3.50
You can either print off the coupon or use your phone to pull up the email to show them the code, too, if you want to save your ink or if you forget your coupon.
Thanks Sarah's Deals!