Make Your Own Blind Wine Tasting Kit – At Home Wine Tasting Kit!
This post may contain affiliate links and I may be compensated for this post. Please read our disclosure policy here.

Make Your Own Blind Wine Tasting Kit – At Home Wine Tasting Kit!
Are you looking for an At Home Wine Tasting Kit that you can put together yourself easily? I recently made this DIY Blind Wine Tasting Kit Gift for my mom, and boy was I glad this was one of the gifts I gave her when we got snowed in over the Christmas holiday. It was so fun to do while we were snowed in, and ended up stuck in the house for days. It would be really fun to do for a small get together with friends too. Make one of these for yourself, or as a gift for someone you know who loves wine. It works great for both.
This blind wine tasting kit was not only fun to make, but you can splurge, or make it on a budget. It really is something you can customize to so many different tastes and styles.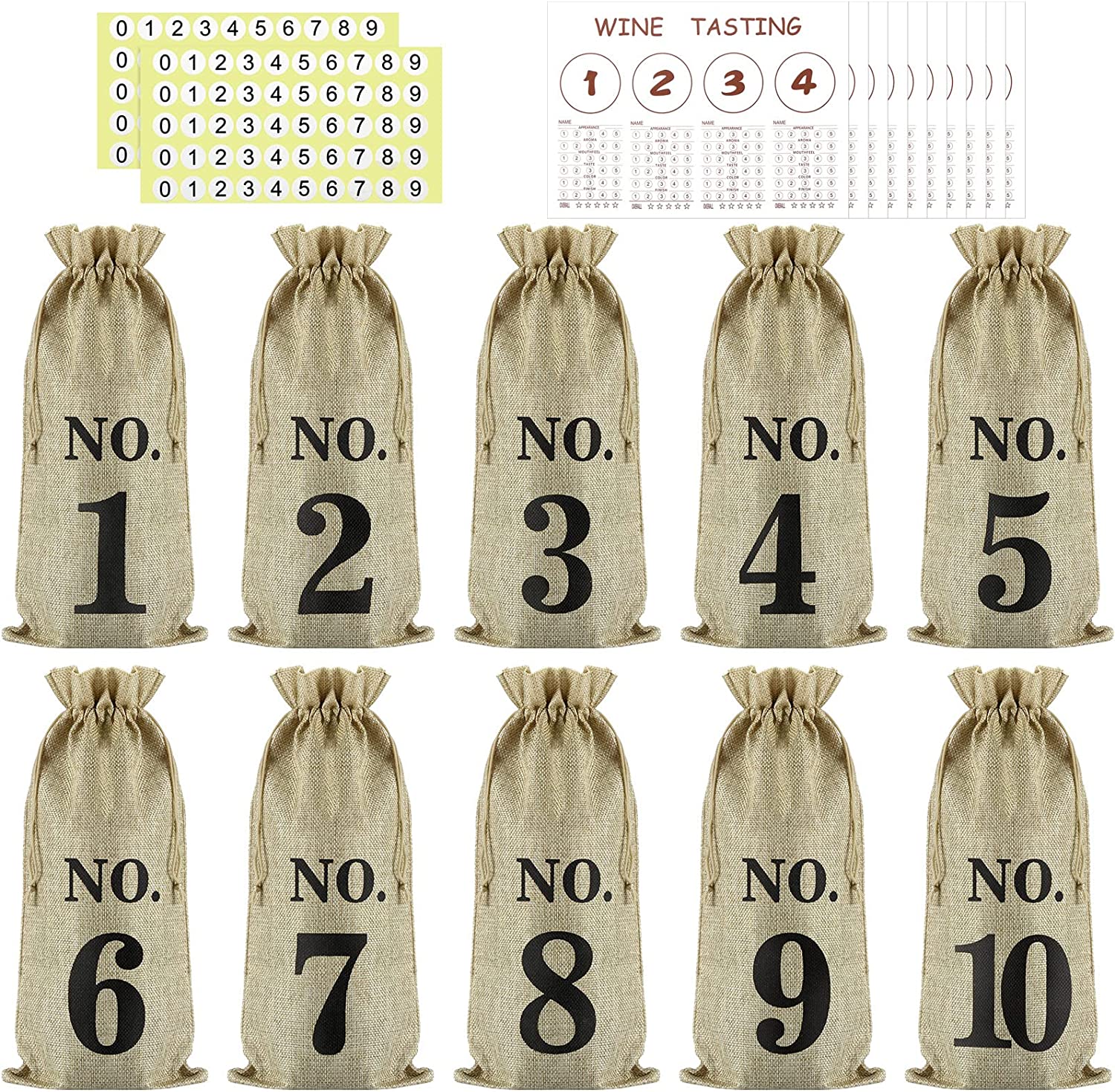 I had lots of fun making ours, but if you prefer to not go to the work, and still want to host a blind wine tasting, you can grab this pre-made At Home Wine Tasting Kit. You will still need to grab the wine to taste, but this will get you many of the basics you need.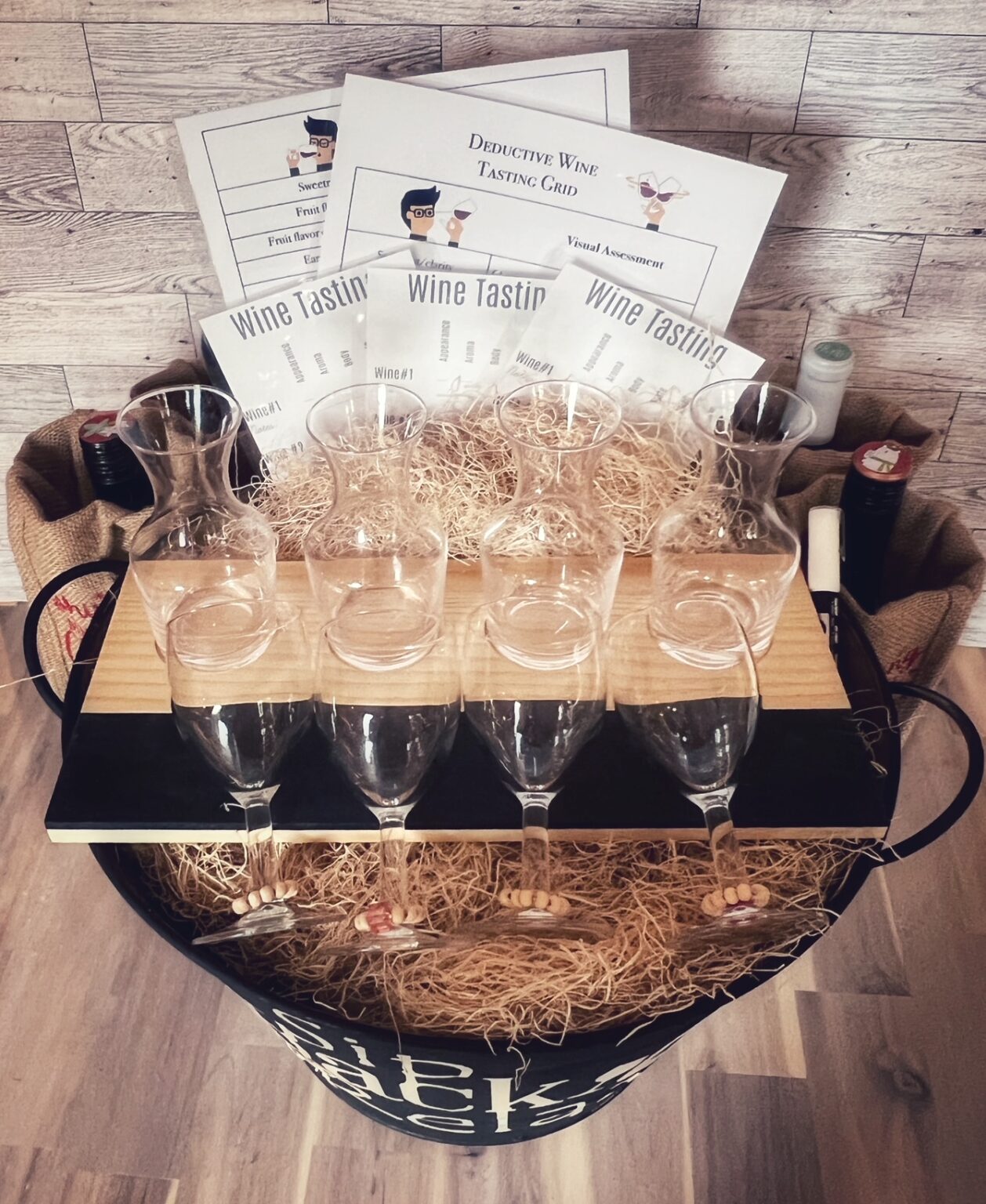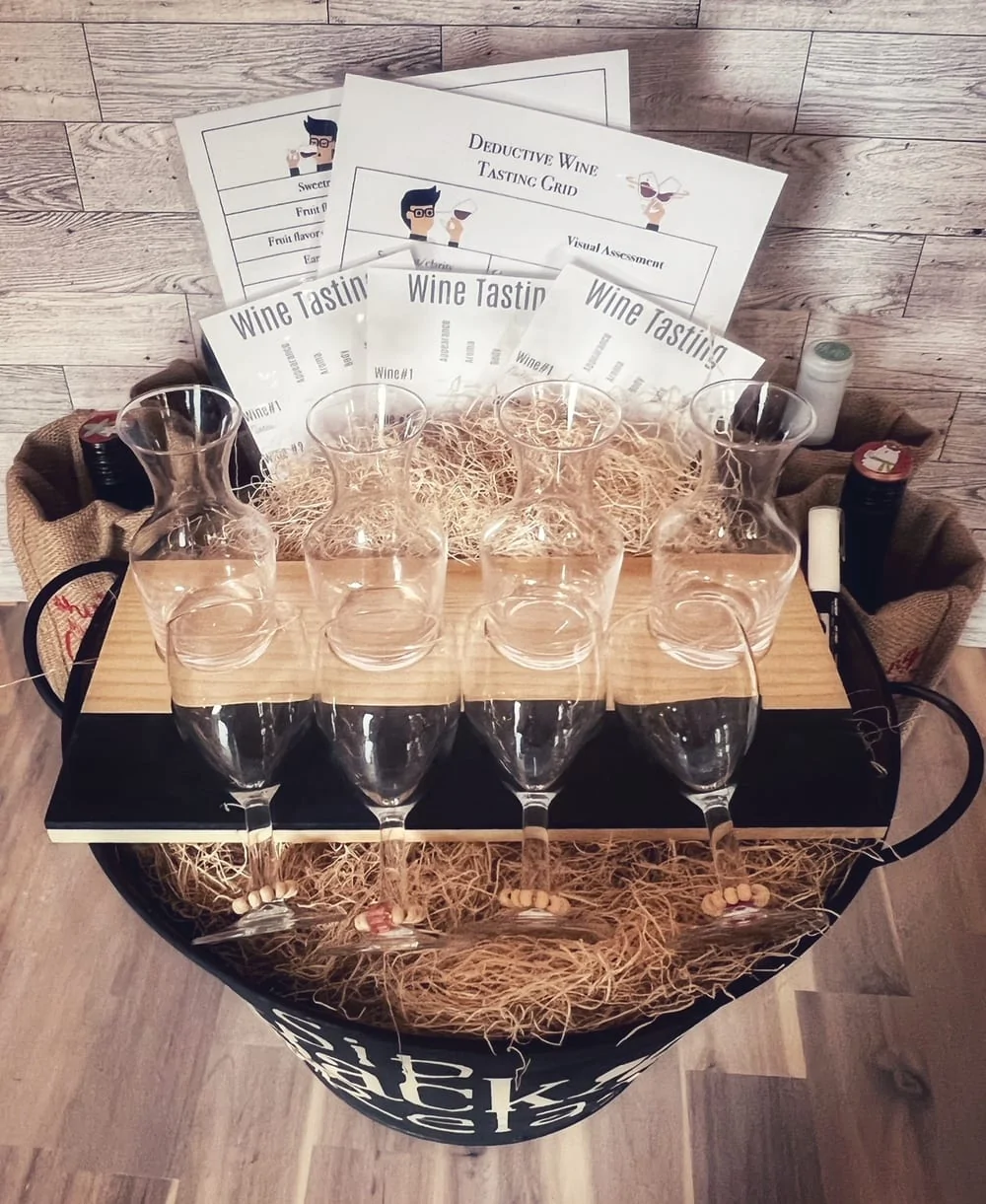 When making it as a gift like we did you will first need to decide how many people you will make it for (your making it for one person as a gift, but how many people will it have supplies for to participate in the wine tasting)? The one we made here is set up to host a wine tasting for 4 people. That means my mom (recipient of this gift), should be able to easily host for 4 people over and over with this set.
Also, you will want to decide how to package it. You could put it all in a gift bag, or box (or gift each piece individually). I chose to use an ice bucket that she can later use to chill wines that need to be kept cold (I used a metal one, or there is this one that is more affordable). I used my Cricut to make the custom sign for the front of i
What is a Blind Wine Tasting Kit:
This is a kit you can put together to use to do "Wine Tastings at home". What is different about them, is that you are hiding the bottle of wine you are tasting – and then revealing that after you are all done with your tasting. I love doing wine tastings this way, as sometimes we are really surprised by what our favorites are, and it is always so much fun to do the reveal after we have rated each wine we tasted.
To Make Your Own At Home Wine Tasting Kit:
Making your own blind wine tasting kit will save you lots of money, and it can be as simple as you want or as elaborate as you want. There is lots of room to customize these. When you buy a kit, they can be pretty pricey, so this is a really nice way to create something custom, and personal and in whatever budget range makes sense for you and your guests.
Supplies Needed for your Wine Tasting Kit –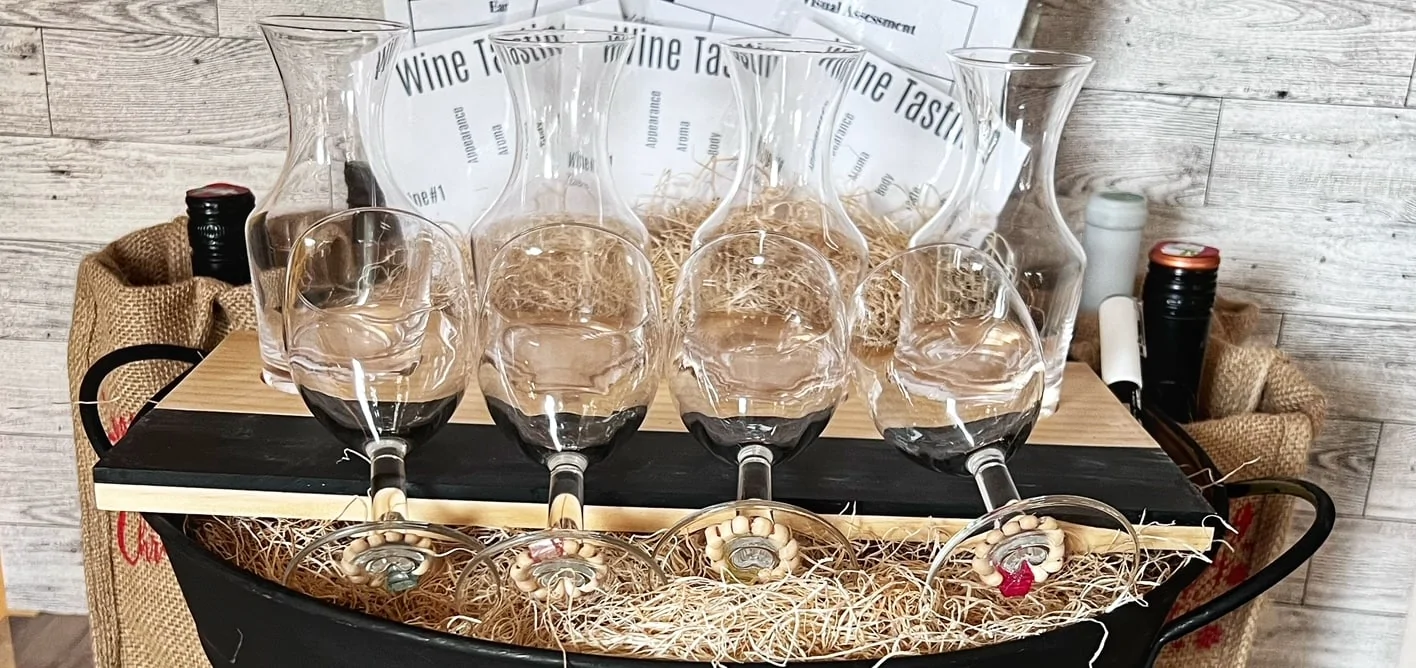 Wine tasting glasses – 
There are really only three things you need to make one of these kits. One is wine to taste, two is some way to taste it (wine glasses) and three is someway to rate it.
You can use regular wine glasses of course, but we find it fun to use the small tasting size glasses. I found a set of 4 at my local thrift store for around $2 a cup – and grabbed them and love them! If you cannot find them at your local thrift store, Amazon has these shot glass sizes that could work for a tasting too.
I love the Tossware plastic wine cups, and usually grab them when they go on sale and keep them on hand. If you will be doing a tasting someplace that you do not want to have to worry about glass, these are amazing. I actually use these often when we are traveling. We love to do this at our hotel often, and this is what I pack up for those occassions.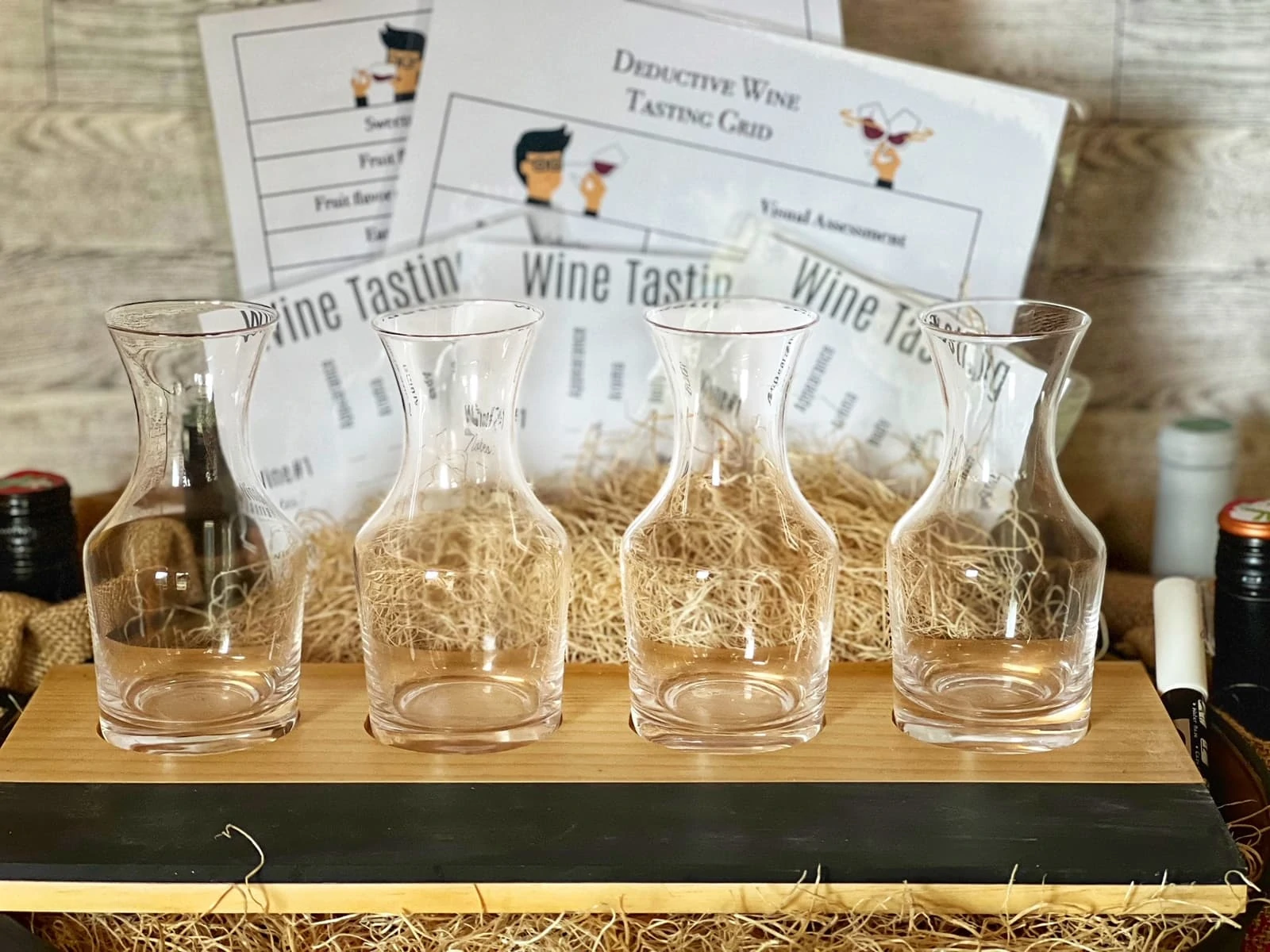 Wine tasting decantur set –  
This is completely optional, but I love to have one. It just makes the process feel a little higher end to me. I got this Wine Tasting Flight Sampler Set – 4-6oz Decanter Glasses w Paddle, Chalkboard on Amazon, and thought it was pretty affordable, considering I can use it over and over. 
I love that I can set the tasting up by pouring a little bit of each wine into each glass container, and then write the number of the wine on the chalkboard in front of it. That way when we are tasting, we can simply refer to each one by number.
Again, this one is completely optional, so if you are working on a tight budget – skip it – but if you want it to feel a little more high end then I recommend grabbing one!
In addition to the glasses, I made these wine glass charms out of items I had around the house. You can buy them too.
To make mine, I used jewelry string and these mini wood beads, with a different color plastic bead for each cup. It was so easy, I just strung the beads until I liked the width that they were, and then tied them to the glass bottoms.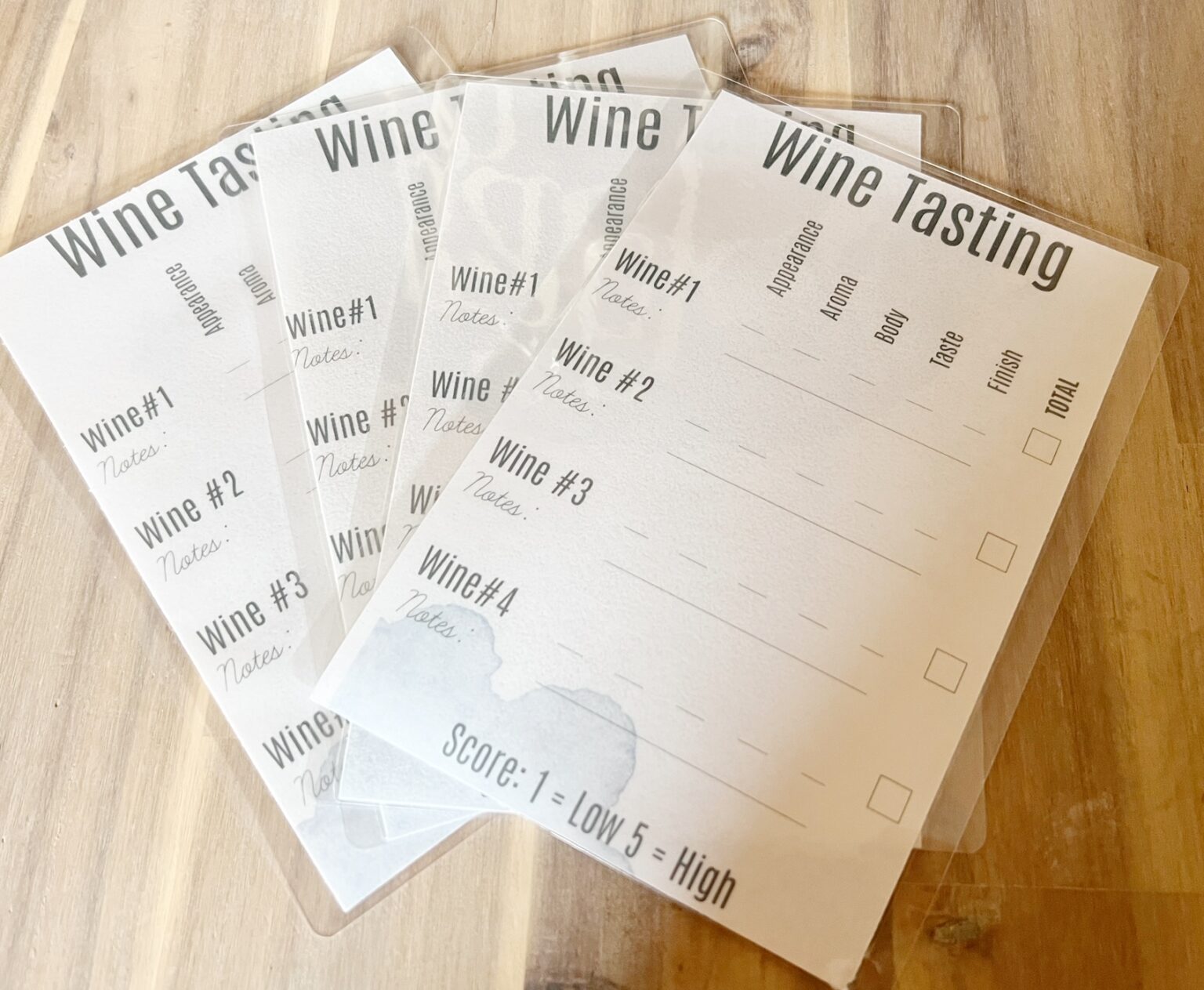 Printable Rate Cards to rate your wines with – 
You can buy a number of different options off of Etsy if you want a nice selection.
We used this set of free wine tasting rate card pintable's we found here. I simply printed them out, and laminated them to make them reusable. We used dry erase pens for our tastings when rating, so we could wipe them clean and use again when we were done. Alternatively you can print multiple copies and discard after one use too.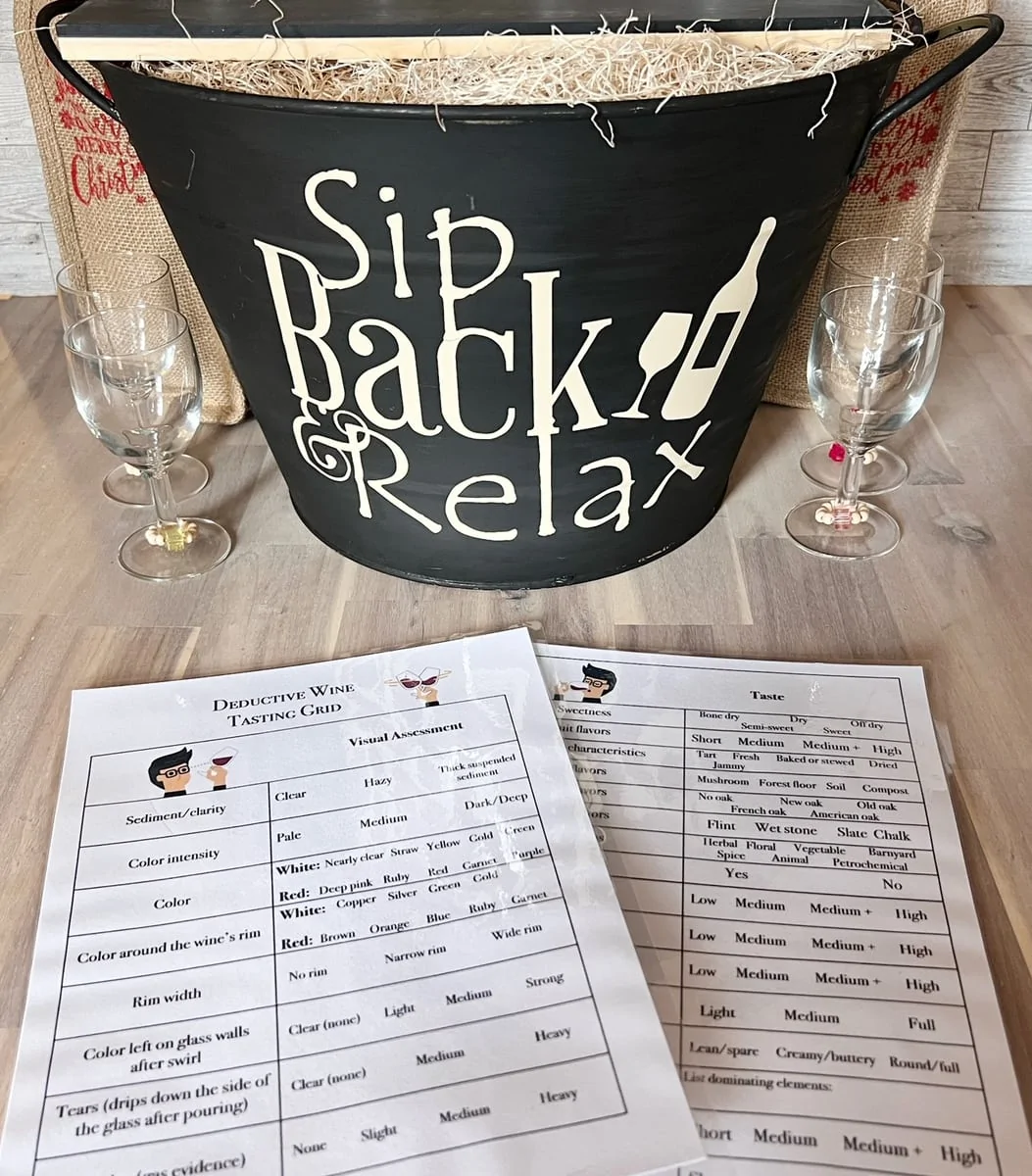 In addition to the rate cards, I printed out this list of things to look for during the tasting too, for those of us less experienced. I also laminated these, and left them on the table for participants to review if they wanted to.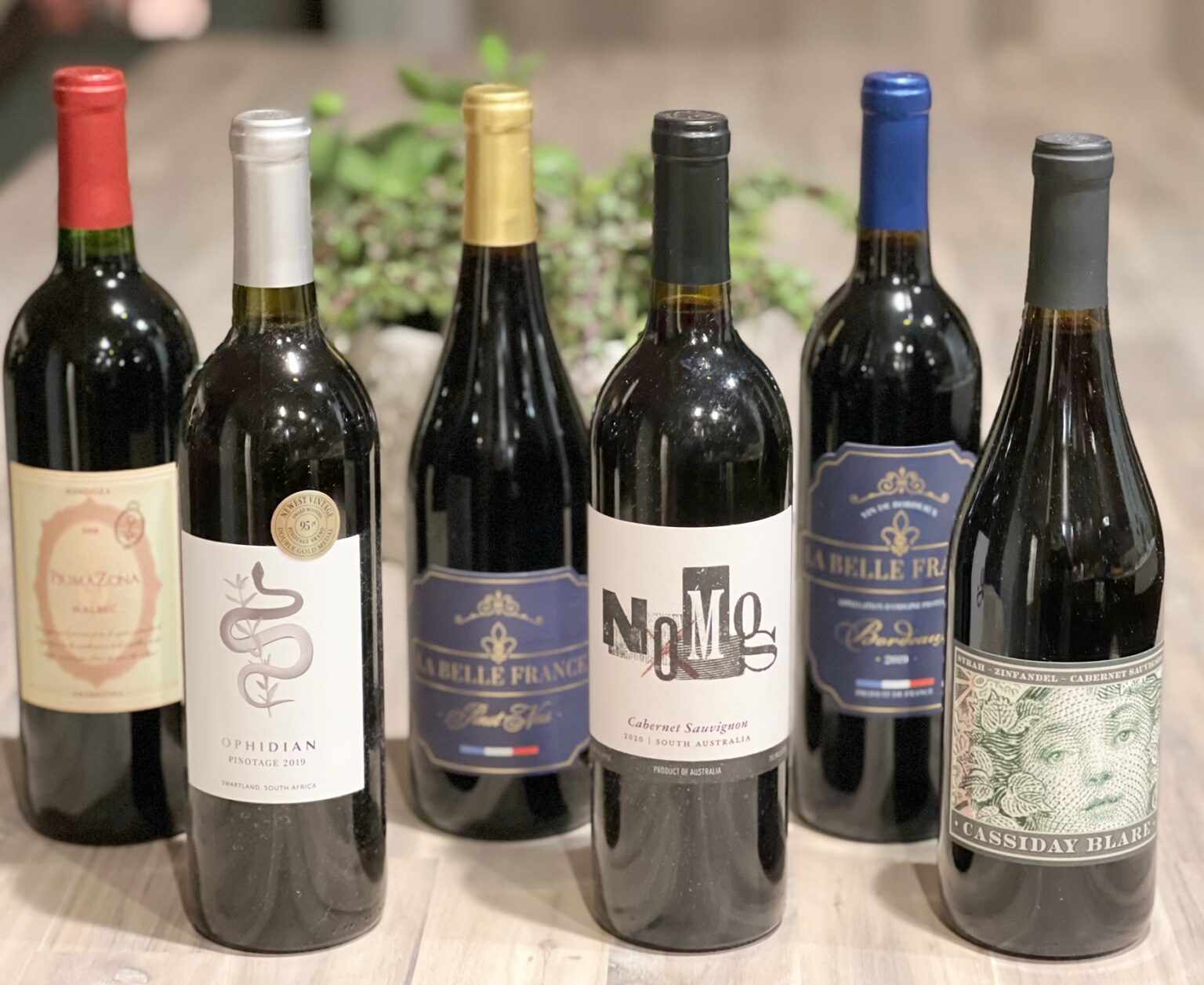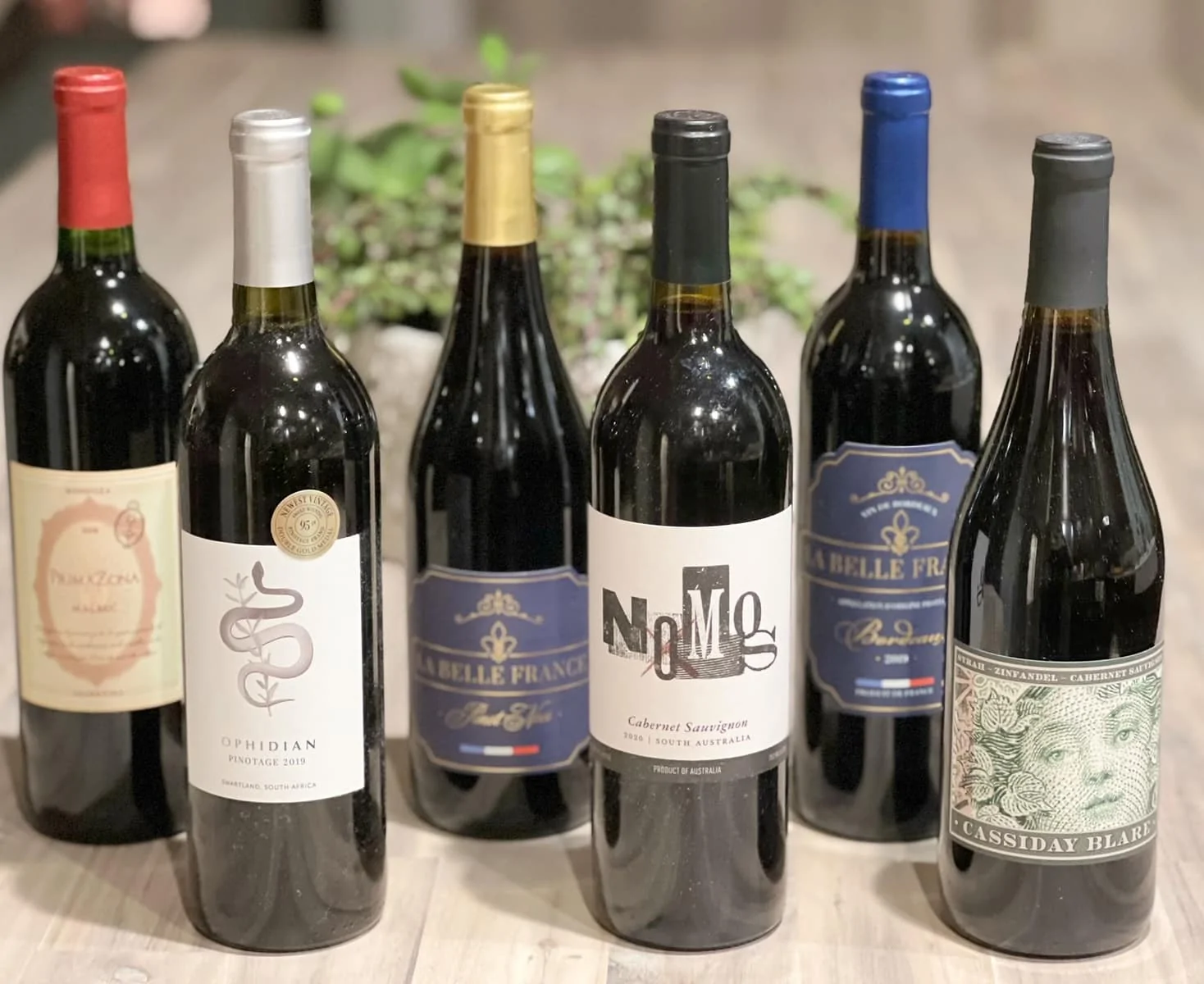 Where to Get Your Wine for Wine Tasting Kit –
Wine Clubs: This is my favorite option!
I find that you can get some of the best prices on higher quality wines when you join a wine club. Many of them will offer super prices for your first delivery of wines (and you can cancel at any time if you do not want to continue). I got these for around $5 per bottle, and they are $20 bottles – so I love this option. I ordered this Firstleaf Wine Subscription offer for the selection shown above. We also list a number of other Wine Subscription Clubs you can choose from here too.
A couple of other spots to find really great prices on wines for your tasting include: 
Trader Joes – This is one of my go to spots, as they have really affordable wines (starting at under $5 a bottle). They do have folks who know their wines on hand at this store too – so ask for some help at the customer service desk and they will send someone over to help you pick out your wines too!
Grocery Outlets – This will vary by location, because Grocery Outlets are individually owned…but many of them have a great wine selection at discount prices. My local Grocery Outlet even hosted monthly wine tastings, so look for that!
Costco – They have a nice selection, and generally a wine expert on hand too. Their price points vary widely, but you can often find some great deals there too.
Look for sales at your regular grocery stores (like Fred Meyer and Safeway, etc). – I like to check out the sales when I am in at my local grocery store, and pick up bottles here and there when they go on sale.
— Note: many stores offer folks who work specifically in the wine section, and are usually very happy to help you pick out some wines for your tasting, so do not be afraid to ask. I have gotten some of our favorites, by asking for their recommendations. They will usually ask you a few questions about wine preferences and price points, and then make custom recommendations based on that. Outside of being able to visit specific wineries to get their recommendations, this is the next best thing.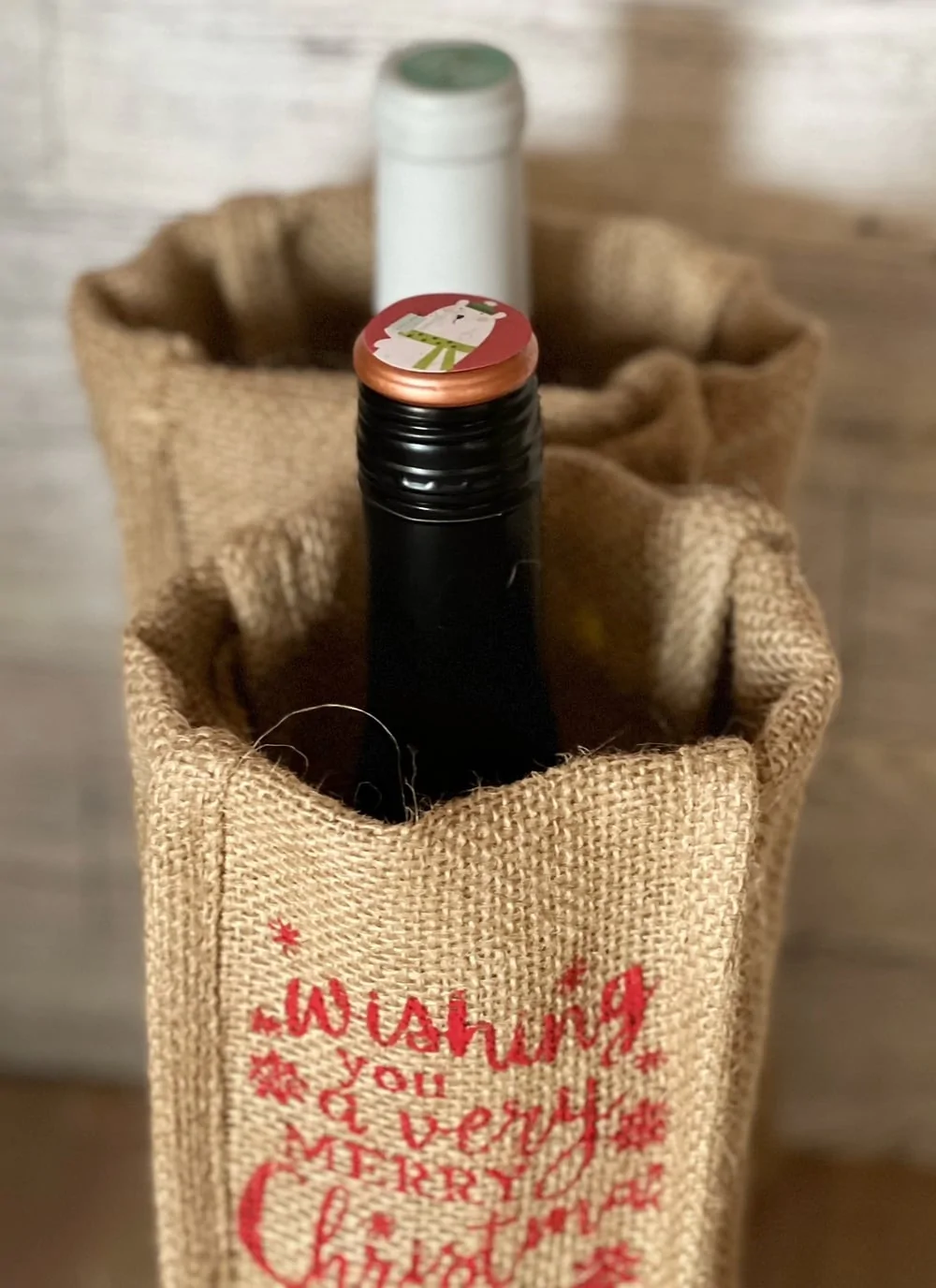 How To Cover Your Wine To Make It A Blind Tasting –
There are lots of things you can use to cover your wine bottles, so no one will know what they are tasting until it is time to reveal it. I bought these burlap bags that we put our wine bottles in for just $1 each at the Dollar store.
You can also just cover your bottles in foil or a simple brown lunch bag, or add a label to them to cover them (or wine gift bags will work too).
The other thing to mention is that often times there is some identifying info on the cork. To cover that I just used circle sized stickers (check your dollar store for that). Truthfully, unless you are serving folks who have more experience with wines this probably is not a big deal, but I chose to cover them anyway.
Hosting The Blind Wine Tasting –
We made this at home wine tasting kit as a gift!
I made this set for my mom for Christmas. However we got stuck in the house over the holidays due to a snow storm, so we ended up doing our wine tasting, and had so much fun doing it. Here is how we hosted ours:
We poured a little bit of the wines into the small carafs, and numbered each one.
We then reviewed the main wine sheets as a refresher of what we were looking for (smell, taste, look, etc.).
We then poured a little into our personal wine glasses, and tasted each one. Take your time doing this. Start by reviewing the color, then move to smelling it before going on to tasting it.
You can then fill out the wine rating card per wine.
Move on to number 2, and so on doing the same thing, until you have tasted all the wines.
It is nice to have a little cheese board out to eat off while tasting. You can also use water crackers as pallet cleansers between different wines. Many tastings recommend that you have something folks can spit wine out in – but we never quite get that – we like to drink ours!
Other than that just have fun with it. This makes a really fun gift for the right person, or is great to make and keep around your house to host some fun tasting parties. It is so simple, but so fun!