Celebrating at Disneyland Christmas Style! Visiting During The Holidays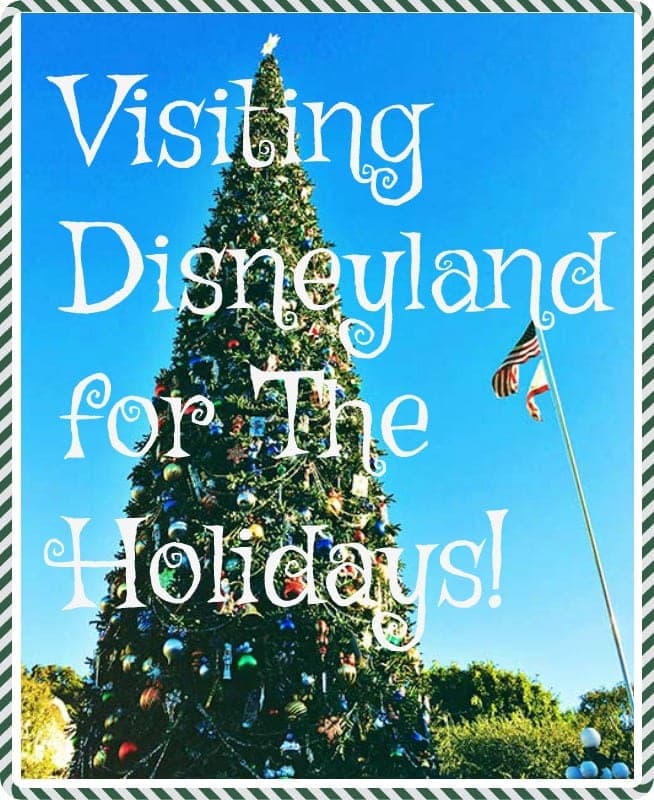 Celebrating at Disneyland Christmas Style! Visiting During The Holidays
Celebrating the Holidays at Disneyland 
Disneyland is always magical, but there's something even more magical about it during the holidays. From beautiful décor to festive food and spectacular shows, the Holidays at the Disneyland Resort are sure to take your breath away. It's easy to see why so many families rate the holidays as the best time to experience Disneyland!
The festive fun only gets better when you know you're saving on your tickets and hotel! Book with our friends at Get Away Today for the best priced Disneyland packages. Plus, you'll save even more when using our exclusive promo code ThriftyNW. There's no better way to save on your holiday trip to Disneyland.  
Here is what you can expect to find at Disneyland for the Holidays in 2017!
The holidays are officially here and Disneyland is relishing in the celebration. With festive décor, dazzling entertainment and exclusive food options, you won't want to miss out on any of the fun. If you're wondering if you can still go – don't fret! There is still plenty of time to join in on the festivities. Just make sure to travel before it ends on January 7, 2018. Below, I've showcased my six favorite things for you to do during Holidays at the Disneyland Resort.
If you're planning on visiting Disneyland during the most wonderful time of the year, or anytime at all, make sure you book with Get Away Today for the best deals.
Holiday Toy Drummers:
Returning this year are the Holiday Toy Drummers. This show may not be elaborate and grand as the others, but it is sure to put a smile on your face. Here, you can find four talented "toys" who come and rock out to some of your favorite Christmas songs. You can find the Holiday Toy Drummers at the edge of Paradise Pier in California Adventure Park with multiple showtimes daily. Plus, this show is only about 10-minutes long, so you won't have to take a large portion of your day to watch it. The Holiday Toy Drummers have become one of the most beloved shows during Holidays at the Disneyland Resort and is certain to become one of yours too.
Festive Foods Marketplace:
During the Festival of Holidays, California Adventure also showcases the Festive Foods Marketplace. During this celebration, you can try food and beverages from various cultures from all over the world. They have twelve different kiosks to choose from that vary from Spicy Celebrations and Grandma's Favorites to Brews and Bites. Because there is such a wide variety, everyone is sure to find something that they'll enjoy. Make sure to save some room for all of these delicious goodies!
"it's a small world" Holiday:
This classic ride has a new makeover for the holidays. Not only will you be able to travel around the globe, but you'll be able to do it to your favorite holiday tunes. As a tip, I would recommend riding this cherished attraction at night. Every evening, it becomes lit with thousands of colorful lights and décor that is sure to get you in the holiday spirit. Plus, "it's a small world" has a new FastPass option just in time for the holiday season. This way, you can enjoy the festive fun without having to wait in line.
Candy Cane Beignets:
Of course, the food at Disneyland is one of the best parts of your vacation. Luckily, the treats during the Holidays at the Disneyland Resort are no exception. One of the best treats that you can get during the holiday season are the Candy Cane Beignets. These goodies can be found in New Orleans square at the Mint Julep Bar. These sweet treats are just like the original, but are topped with a peppermint powder. I also recommend pairing these with a hot chocolate or famous Mint Julep. Your sweet tooth will be sure to thank you when you try this delectable treat.
World of Color – Season of Light:
World of Color has been a fan-favorite nighttime show since it premiered in 2010. If you're worried that World of Color – Season of Light won't live up to its name, don't worry. This version of World of Color show might be my favorite one yet. This show tells stories of family, love and friendship synced with classic holiday songs. Plus, catch appearances from some of your favorite Disney characters like Olaf, Goofy, Mickey and so much more. Make sure to get a FastPass for this nighttime spectacular to get the best viewing experience.
Believe… in Holiday Magic Fireworks:
To end your perfect day at Disneyland, make sure to catch the Believe… in Holiday Magic Fireworks spectacular. This firework show includes twinkling lights, pyrotechnics and festive music. Plus, you'll also be able to experience snow fall onto Main Street, U.S.A. If you want to have the best seat in the house, make sure to save your spot about an hour early. This show truly is a magical one, so make sure not to miss it.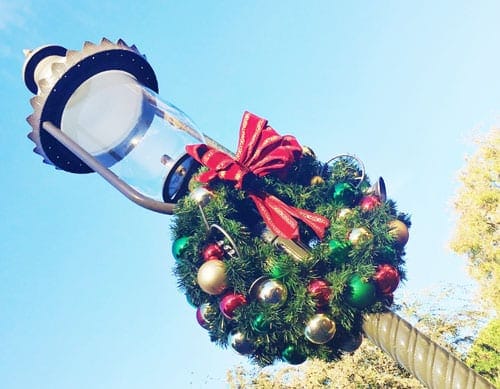 Decorations
The holiday displays at Disneyland blow any enthusiastic neighbor out of the water! Both Disneyland and Disney California Adventure transform into winter wonderlands, complete with twinkling lights and a touch of pixie dust. You'll find a bit of holiday magic no matter which park you visit – but hopefully you make the time to visit both!
Throughout Disneyland you'll find ribbons, pine wreaths and glistening lights on every surface imaginable. Sleeping Beauty's Castle wasn't decorated for the holidays last year due to the 60th Celebration, but is back to wowing guests with icicle lights and a dash of snow. It's hard to imagine just how many lights are on the castle since the Christmas Tree on Main Street USA uses 70,000 lights alone.
You will be just as amazed with the festive decorations in Disney California Adventure! Buena Vista Street has tinsel and garland as far as the eye can see. Make sure to stop by Cars Land where you'll find mufflers and hub caps being used to spread the holiday cheer. Don't forget to head to the Grizzly River Run to meet Santa Clause too! The jolly saint can be seen with his elves until December 24th, then Santa Goofy will be taking his spot so he can get back to his workshop.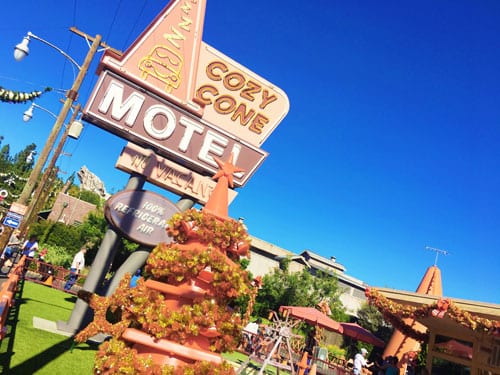 Food
Disneyland's seasonal food is just as dazzling as their holiday decorations. Café Orleans and the Mint Julep Bar in New Orleans Square feature beignets with a candy cane twist that have become a family favorite. You can also find peppermint ice cream at the Gibson Girl Ice Cream Parlor on Main Street U.S.A.. If peppermint isn't your favorite, give the Pineapple Upside-down Funnel Cake from Hungry Bear Restaurant a try.
You'll find even more holiday fare at the Festival of Holidays in Disney California Adventure. This new holiday celebration brings several marketplace kiosks for you to enjoy on the road from Cars Land to Paradise Pier. The food is inspired by different cultures, showcasing items such as Sweet Spiced Noodle Kugel, Adobo Pork Bao and Green Chile Pozole.
Don't forget all the holiday treats from the bakery either! You can find Christmas cookies and other holiday-themed sweets throughout both parks. You're sure to be only a few steps away from a green-sprinkled Mickey cookie wherever you are in the park!

Rides
On top of the food and décor, Disneyland adds a touch of holiday magic to select rides throughout the park. It's an experience you don't want to miss!
First, you'll notice Jack Skellington and his friends have taken over the Haunted Mansion to prepare for a ghoulish Christmas, creating Haunted Mansion Holiday. You're sure to see some festive frights on this holiday overlay!
Next, head over to "it's a small world" holiday to experience the seasonal edition, including a mash-up of Jingle Bells and the original song. You'll be dazzled by the regional decorations as you sail along a winter waterway.
Finally, stop by the Jungle Cruise in Adventureland. This boat ride becomes the Jingle Cruise for the holidays, complete with jolly decorations. Well, it should be, but the plane with the supplies crashed before making it to base camp… No matter, you'll still be laughing all the way as you explore several rivers that seem much more festive than usual!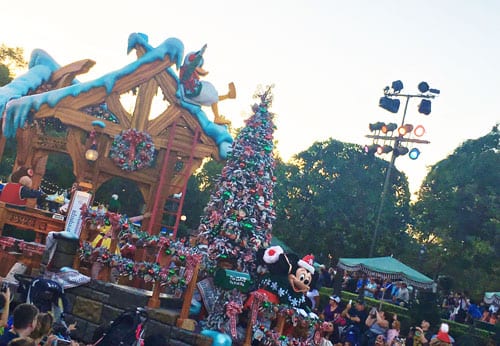 Entertainment
While Disney California Adventure may not transform any rides for the holidays, they do have a ton of great holiday-themed shows! This is the first year of the Festival of Holidays at DCA and it has quickly become a favorite. You'll notice all kinds of celebrations inspired by cultural traditions during this fun time of year. The Viva Navidad! street party features Latin-American flair while daily live music showcases traditional Indian dance and Latin Jazz.
The Festival of Holidays also includes Princess Elena's Grand Arrival to the Disneyland Resort. Your family will be able to welcome the Crown Princess and her friends with a fun fiesta around Paradise Pier in Disney California Adventure. After the procession, your little ones will be able to meet Princess Elena and pose for pictures.
On top of the new festival, Disney California Adventure debuted a new holiday spectacular, called 'World of Color – Season of Light'. This majestic water show will fill your heart with the spirit of the holiday season. It's a perfect combination of cherished holiday classics and your favorite Disney characters. You don't want to miss this nighttime show!
Another spectacular you won't want to miss is the return of the "Believe… In Holiday Magic" fireworks in Disneyland. This amazing show took a hiatus last year with the 60th Celebration, but has returned full swing. Your family will love the colorful displays projected onto the castle as well as the "snow" on Main Street!
If you're looking for daytime holiday entertainment in Disneyland, you won't be disappointed with "A Christmas Fantasy Parade" on Main Street U.S.A.. This fun parade includes Disney characters dressed for the season as well as some classic holiday friends. Your family will love singing along to welcome Santa Clause to the park. It's also a great chance to rest your feet and snack on some of the sweet holiday treats!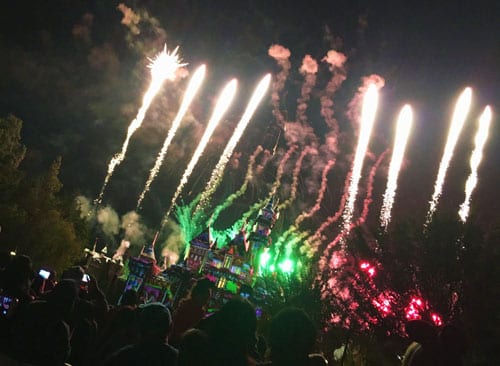 Give the gift of a holiday vacation
As you can see, the holidays at Disneyland are such a fun time to visit and make memories. It's one of the many reasons a Disneyland vacation makes the perfect family gift. Family vacations mean time together and long-lasting memories.  These memories are the reason so many families are opting to gift experiences instead of things this Christmas.
The best part is that it's not too late to start planning a holiday vacation! Whether you're planning for this holiday or next, book with Get Away Today for the great ticket and hotel prices (and they allow you to put your vacation on layaway if you want to spread the payments out). Plus, use promo code: THRIFTYNW to save an extra $10 off Get Away Today's already discounted packages. Book at getawaytoday.com or call 855-GET- AWAY to book your vacation. Just mention Thrifty NW Mom sent you!